Should We Open a Joint Bank Account Together After the Wedding?
It's always a good idea to do a little research before making any big financial decisions together. Read this guide to find out what you need to know about merging finances with your soon-to-be spouse.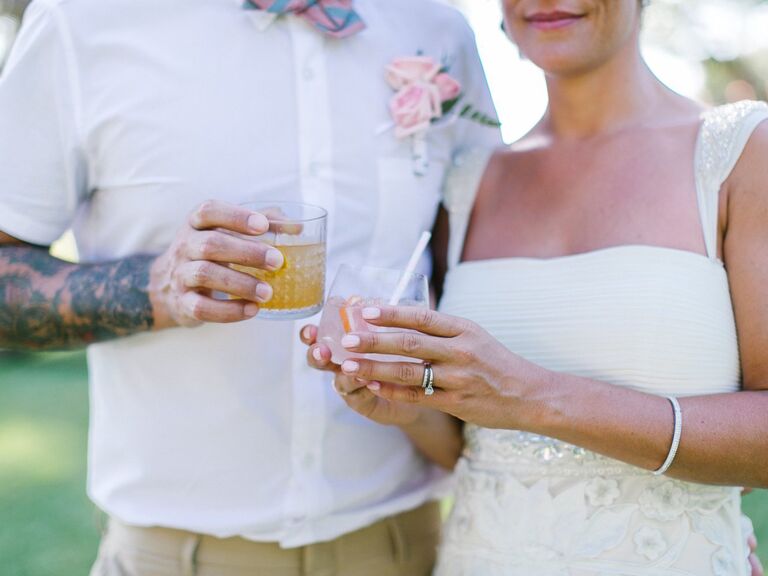 Anthem Photography

As your wedding date approaches, it's only logical to start thinking about all the things you have to do to prepare for the day. But it's a good idea to squeeze in some time to work on the details of your life after the wedding, and organizing your finances with your partner should be on that list. (We know it doesn't sound fun, but hear us out!) One of the most popular options newlyweds choose is to open a joint bank account together; you're already sharing everything else, so merging your finances together almost seems like a no-brainer. But is it really the best choice for you and your partner? "It depends," says Ric Edelman, chairman and CEO of Edelman Financial Services and author of The Truth About Money. "There are a few foundational elements all couples need to consider before they decide to go that route."
A joint account might be right for you and your spouse-to-be if...
...you've already talked finances.
Money is a touchy topic for a lot of people, so discussing the nitty-gritty details of your financial status with your soon-to-be spouse might not exactly be painless. That said, despite how difficult it may be, it's a good idea to make the money talk a priority before the wedding, Edelman suggests. "Too many couples have no clue about the finances of the person they're going to marry," Edelman says, which can lead to unpleasant surprises down the line once your money is merged. If you're considering opening an account together, strike up a conversation. Start by reviewing salaries, bonuses and the like. Then move on to sharing your credit ratings, assets, student loans and other parts of your financial portfolios. If you've already done a check of each other's financial baggage (and you're both comfortable with what you've found), that's awesome! But double-check that you haven't glossed over anything—it can sometimes take multiple conversations for all the little details to be covered.
...you think in terms of ours, instead of yours and mine.
You already feel like you're partners and on the same team. But before you open a joint bank account together, make sure you're both taking a collaborative approach to your finances as well. It often doesn't work when newlyweds add money to their personal bank accounts first, then put the remaining cash in the joint account, Edelman says. "It becomes too much of a turf battle about who should be contributing more."
Instead, pool all of your and your soon-to-be spouse's income into the joint account first, and dole out an "allowance" from that lump sum to spend each week. That being said, there's nothing wrong with keeping your own account on the side. But ideally, your joint account should be more of a communal money pot in which you both initially deposit your entire salary—then get to dividing it up for groceries, phone bills, mortgage payments and savings. "There's no more 'your income' and 'their income' once you're married. It's 'our income,' " Edelman says.
...you've established financial goals together.
If you and your soon-to-be spouse are working toward postwedding financial goals, like a down payment on a house or retirement, opening an account together might actually help you reach them. For starters, it's easy to keep track of how much you're saving when your money is in one centralized account. And because you both have shared participation in the account, Edelman says, you both have equal responsibility for making it successful. Most importantly, though, having a joint account will make it easier for you to talk about money with your partner. When you're both able to see how much you're each contributing every week, you're more likely to talk about your finances in a healthy, constructive way.
A joint bank account might not be a good idea if...
...there are major differences in the way you both think about money.
Money is already a source of contention for a lot of married couples—and bickering about every little withdrawal and deposit won't help you or your soon-to-be spouse come to a solution in the long run. But, if you want to take on the challenge, get on the same page about how to handle your finances together as a couple before opening an account together, Edelman says. (Especially if one of you spends money more freely while the other is more frugal, or if you have contrasting views on how to spend and save money.) It might require something as simple as a conversation about how you both can compromise your beliefs. Don't forget that if a financial planner isn't enough, a marriage counselor can be your best friend in this situation too; they'll help smooth out some of the differences you both may have, as well as guide you to the solution that works best for you as a couple.
...you have relatively unequal assets.
Property, inheritances, stocks, bonds—you bring all of these assets with you into your marriage. But if one of you has significantly more assets than the other, it might make more sense for you to maintain those funds separately, Edelman says. Doing so protects your assets should anything unforeseen happen, like if one of you is sued or served with a lawsuit. And be especially cautious if you share ownership over the assets with other family members or business partners. First and foremost, let them know that you plan to merge finances with your spouse, so they can plan accordingly. Financial mediators and other experts will help facilitate the changes so everyone is satisfied with the outcome.
If you're looking for more ways to navigate money discussions with your partner, check out Lasting. The science-based app backed by The Knot gets to know your relationship and the topics important to you, then creates a customized program just for you and your significant to help you shape a better marriage or relationship.