Here's How to Actually Stick to Your Wedding Budget
Plan ahead and manage expectations (we'll help you).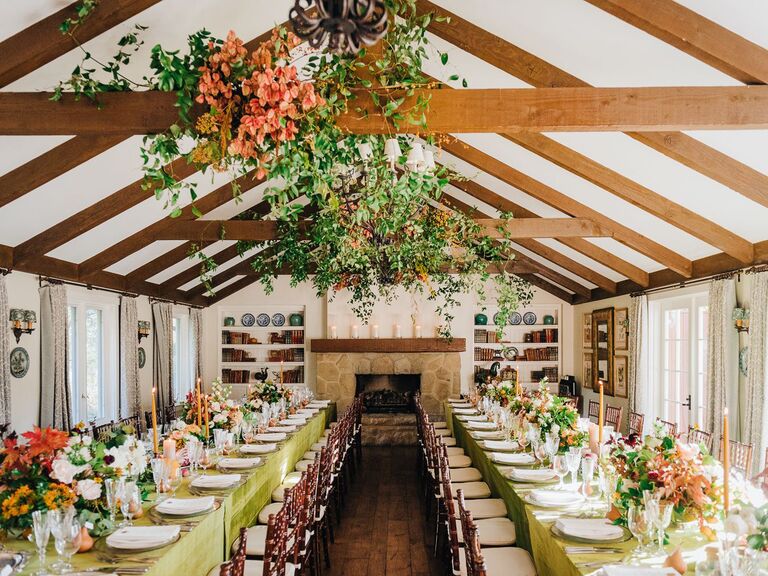 MOLLIE CRUTCHER PHOTOGRAPHY
According to our most recent Real Weddings study, nearly half of couples admit to spending more than they initially intended—but that doesn't mean it's impossible to stick to your wedding budget. A lot of couples end up overspending because they don't factor in all the unexpected expenses and small fees that can really add up. But don't worry—we're here to walk you through the process of creating and following the right wedding budget for you. Follow these four key steps to make sure your spending is where it should be.
1. Establish a Wedding Budget System That Works for You
Decide on a budgeting system to track all the money coming in and out. The easiest way (in our opinion)? Get your hands on The Knot Budget Calculator, which automatically tells you how much you should be spending on everything from ceremony musicians to wedding party gifts, and allows you to track all your payments and their due dates.
2. Consider Hidden Wedding Costs and Extras
Knowing about potential hidden costs up front will guarantee your budget can actually cover it all. Here are the most common wedding fees that sneak up on you.
Overtime Fees
If the party's hopping, those extra 45 minutes may fly by—but you'll likely pay in overtime costs for everyone from the photographer to the DJ. If you have a feeling your wedding may go over the times you've specified in your vendor contracts, work overtime costs into your budget. And think of it this way, if you don't use it, it'll be a nice surprise chunk of cash.
Tipping Your Pros
From wedding dress hem alterations to the hotel concierge who delivers your welcome bags, even conservative vendor tips can add hundreds to your wedding cost. (And, no, you can't skip vendor tips!) Make sure to account for tipping costs when you first start drafting your budget.
Vendor Trials
Remember, prewedding trials aren't always free. A florist's demo may be gratis the first time, but if you make repeated changes, you risk being billed. The same goes for hair and makeup trials, so factor these possible costs in too.
Miscellaneous Extras
Things like stamps for invitations and RSVP cards (the thicker your paper, the more expensive it'll be), marriage license fees and packaging for welcome bags or favors seem so small you can shrug them off, but like any costs, they add up. Going "just over budget" in a few different categories, with a vague plan of making it up somewhere else, can push you past your limit without realizing it.
3. Plan in Advance to Go Over Budget
You're probably thinking, "Um, excuse me?"—but hear us out. If you account for budget overages, then you never actually blow your budget. Try to earmark 5 percent of your budget for unforeseen costs. A few examples might include:
Flowers: a last-minute realization you want to decorate a previously unconsidered corner of your venue, or order another boutonniere or corsage for an additional family member.
Weather-related expenses: umbrellas for a rainy day, space heaters for unseasonably cool temperatures, or additional shade if it's particularly hot or humid.
Small accidents: spur-of-the-moment spot removal, something breaks in the days before the ceremony, menus get damp and need to get reprinted.
4. Be Smart About Tracking Wedding-Related Spending
Take advantage of budgeting and money management tricks along the way. For instance, put all your wedding money in one separate account, so you can easily track additions and withdrawals without getting it confused with the rest of your day-to-day funds. Pay for as many of your expenses as possible on a credit card to receive benefits like mileage, rewards or cash back. Finally, make sure everyone making wedding-related purchases on your behalf (your partner, mom, honor attendants and so on) are all on the same card system, allowing you to benefit from the rewards and also from the easy tracking of your purchases.
Want more budget advice? Here are 22 easy ways to save on your wedding.