How to Write a Thoughtful Letter to Your Daughter on Her Wedding Day
Put all those years of parenthood to paper with these tips.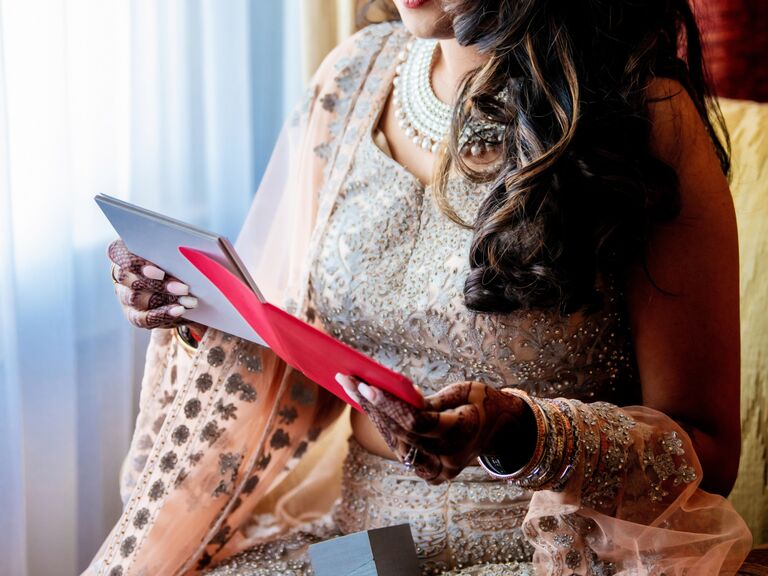 Photo: Ali Ashraf Syed / Shutterstock
Weddings can be emotional—and not just for the happy couple at the center of the celebration. If your little girl is tying the knot, you're bound to shed some happy tears, too. How to express the (many) emotions swirling around: a thoughtful letter to your daughter on her wedding day.
Sure, a sweet wedding gift for your daughter is important, but we're willing to bet that a thoughtful letter or card filled with sentimental wedding wishes for your daughter will mean just as much to her (if not more) as she officially leaves the nest. That being said, putting pen to paper and somehow capturing 20-plus years of love and parenthood is no easy feat (don't worry, you can save some of that for your parent-of-the-bride speech), which is why we're here to help. Below, we'll walk you through everything you need to consider as you write a note to your daughter on her wedding day, including important points to keep in mind and an example letter you can make your own if you're stumped on what to say. Take a deep breath, we'll get through this happy-sad occasion together.
In this article:
Wedding Day Letter to Daughter Template
When writing a message to your daughter on her wedding day, it's best not to wait until the actual wedding day to start writing. You're going to want to take your time with this special piece of prose, so we recommend starting at least a few weeks ahead of time so you can carefully consider your words. Wondering what else you should keep in mind as you pen a message to your baby girl? Follow the template below to ensure you leave nothing unsaid.
1. A Sweet Greeting
The best letters start with a simple greeting, and this one is no different. You want your daughter to be able to look back on your words and be instantly transported back to the most important day of her life. Make sure to set the scene by acknowledging how she's reading this letter on the morning of her wedding and noting just how special of a day it'll be. If you have any nostalgic pet names or nicknames for your daughter, feel free to address her as such in your letter. If not, simply call her by name—no need for formalities, like "To my daughter on her wedding day" or "To the future Mrs. Ross" (unless you want to, of course!).
2. A Sentimental Flashback
As her parent, you've been there since the beginning—and we mean the real beginning, not just the start of her relationship with her soon-to-be spouse. Pay tribute to your unique parent-child bond by reminiscing on one or two special moments from her childhood, whether it's how she used to dress up as a bride any chance she got or the time she wowed the crowd during her school play. Avoid calling to mind any sad moments or bringing up any instances laden with bad blood, even if she was a pill during her high school years. You want this letter to bring about happy tears and smiles, so keep things light and playful.
3. A Proud Moment
We're sure there are many (many) instances over the years where your daughter has made you incredibly proud, and there's no better time to fluff her ego a bit than her wedding day. Show your appreciation for all she's accomplished and the person she's become by mentioning just how chuffed you are to be her parent. Whether you call to mind the time she persevered through a health struggle or worked hard to earn an epic promotion, no letter to your daughter on her wedding day is complete without a proud parental moment.
4. A Bit About Her Spouse
It goes without saying that your daughter is the star of the show on her wedding day—but the celebration is also about her partner, too. Show her you appreciate the most important person in her life (or maybe second or third most important, after her parent or parents) by including a bit about her spouse in your message to your daughter on her wedding day. Whether they're like a second child to you or someone you're hoping to get closer to in the future, a kind mention of your future in-law will go a long way with the bride-to-be. Consider mentioning a few of your favorite things about her future spouse or recall your first time meeting them. When in doubt, you can always talk about how they bring out the best in your daughter—you may be biased, but it's probably true.
5. Your Best Advice For the Future
As a newlywed couple, the advice and experience of those who have "been there, done that" is invaluable and, frankly, comforting to hear. Now's your chance to pass along any hard-earned marriage advice you've gleaned over the years—trust us, your daughter will be a captive audience (for once). Give her and her future spouse a few words of wisdom or share an anecdote from your early years of marriage. Not only will it be a great way for your daughter to see you as an equal (and learn a bit about your marriage), but it will also give them valuable takeaways they can apply to their own union.
Wedding Day Letter to Daughter Example
We get it—writing such an important letter can be more than a little stressful. If you've been hit with a gnarly case of writer's block and could use a little more assistance beyond our template, don't fret. We've written a sample wedding day letter to your daughter that you can use as inspiration or tweak slightly to make your own. All that's left to do? Buy a beautiful card and brush up on your father- or mother-of-the-bride duties.
Dear Honeybee,
Today is your wedding day and I could not be more thrilled. It's hard to express just how fast our time together has gone. It seems like just yesterday we were bringing you home from the hospital, rocking you during those late nights (you were never a good sleeper!), watching you take your first steps, helping you learn to ride a bike, cheering you on while you graduated—it has all flown by. In short, raising you has been the adventure of a lifetime.
As you begin the next chapter of your journey, know that we will be here to support you and love you, just as we've always been. But also recognize there will be a new person cheering in your corner, too. Alexis is everything we could have ever hoped for in a partner for you. She's kind and strong; she knows when to push you and when to treat you with tenderness; she's respectful and smart; she's funny (funnier than you even—a true feat) and playful. She's the perfect complement to you—and to our family.
When you were younger, you once asked me what it means to be in love, and today I'm so thrilled to say you've found the answer. But know this: Being in love and being married are two vastly different things. Marriage asks for patience, compassion and more love than you sometimes think you have to give. But if you work at it, it will give you much in return, too—a soft place to land and a family of two (or maybe more) to call your own. As you walk down the aisle today, know that we are with you every step of the way. I can't wait to watch your beautiful love story unfold.
Forever yours,
Mom