10 Tips for Meeting the Parents, Aka Your Future In-Laws
Find out how to stay calm, cool and collected when you're feeling anything but.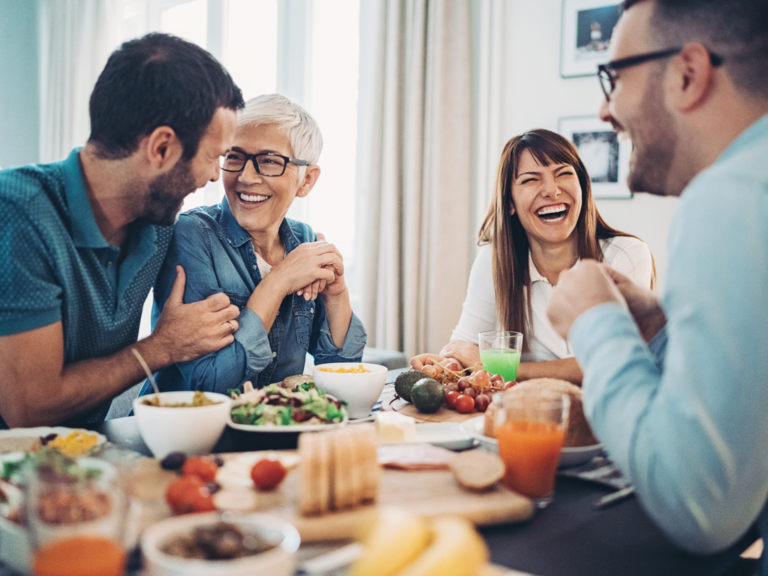 Photo: Pixelfit / Getty Images
Congratulations: You're officially engaged and about to gain a brand-new family. If you haven't already, meeting the parents marks the first of many relationship milestones ahead as you prepare to embark on a new journey together as a married couple.
While meeting your future in-laws is exciting and a big deal, it can also be stressful. Instead, shift your mindset: Think of the meeting as an opportunity to truly get to know them while bonding over your mutual love for their child—your soon-to-be spouse. You can also use this time to learn more about your partner's childhood and upbringing, which can help bring you closer together in the long run.
You may feel pressured to present yourself in a certain light to impress your future spouse's parents; however, it's important to stay true to yourself. So, don't get caught up in the nitty-gritty—i.e., spending hours picking out the "perfect" outfit, coming up with a seemingly endless number of conversation starters and rehearsing each and every possible scenario in your head. Remember: Just like your prospective spouse, your in-laws will love you for you, and it's crucial to keep this in mind going into the long-anticipated meeting.
If you're still feeling overwhelmed, fear not. Read on for 10 need-to-know tips to help you ace that first meeting with the parents—along with answers to some of the most commonly asked questions concerning your future in-laws.
In this article:
Tips To Help You Shine When Meeting The Parents
Meeting the parents for the first time can be nerve wracking. That's why we compiled a list of our top tips to make the special moment all the more memorable (and stress-free!).
1. Be yourself.
This one's a given! Your future spouse fell in love with you exactly as you are, and, chances are, so will their parents. So, don't put so much pressure on yourself when it comes to acting or behaving a certain way. The key here is to give yourself permission to shine and showcase your awesome personality. So, for example, if you love to laugh and make others do the same, don't be afraid to crack a light-hearted joke or two.
2. Tap into your partner's knowledge.
Your partner knows their parents better than anybody else, so, if you're feeling anxious ahead of meeting the family, use them as a resource. If it hasn't come up in conversation already, it may be worthwhile to sit your partner down and ask them about their parents' hobbies, areas of interest and passions. That way, you can organically work them into your conversation.
3. Ask questions.
Don't be afraid to take charge of the conversation by asking questions. This puts you in the proverbial driver's seat, affording you the opportunity to steer the conversation to ensure it flows easily. Some examples include: How did you two meet? What is the funniest memory you have of John as a child? What's your favorite movie?
Of course, remember that this isn't a game of 20 questions: Dialogue is important! It also goes without saying that you'll also want to show you've been actively listening and engaging by making eye contact, nodding your head and so on.
4. Just breathe (really).
Whether you're introverted or extroverted, it's normal to feel a bit nervous before meeting your future spouse's parents and family members for the first time—after all, they are your future in-laws! Before going in, take a few moments to relax, unwind and take some deep breaths so that you are cool, calm and collected ahead of the big introduction.
5. Remember—they're probably nervous, too!
Let us fill you in on a little secret: You're not the only one who's anxious about the meeting! Your in-laws-to-be are human, too, and it's possible that they're also nervous about impressing you just as much as you are anxious about winning them over.
6. Steer clear of touchy subjects.
Keep the dialogue light and breezy by avoiding potentially messy topics like money, politics and religion out of conversation. If they do happen to come up, don't fret: Instead, approach the topics with curiosity as opposed to acting defensively.
7. Be respectful.
You don't have to be over-the-moon obsessed with your future spouse's parents—remember, it's your partner that really matters here: You're marrying them, not their family! That said, you do need to show respect. Be courteous and friendly, use your manners, and you'll be well on your way to a successful relationship with your in-laws.
8. Fake it 'til you make it.
Even if you're still feeling anxious after reading through these tips—which is completely valid—throw on a smile and do as they say: Fake it 'til you make it. Think of it like a job interview. After the first initial moments of introducing yourself, you'll slowly but surely feel more at ease with each passing minute.
9. Have fun!
Meeting the parents is an important milestone in any relationship, which means it's something to celebrate! Despite feelings of nervousness, remember that this is a happy occasion—so have fun and enjoy every second of this special time.
10. Bonus: Bring a (small) present.
While completely unnecessary, presenting your in-laws with a small gift is a little something extra you can do to show your appreciation—and excitement—for them welcoming you into the family. They'll appreciate how thoughtful it was for you to consider their likes and needs to dream up an incredible present, be it a celebratory bottle of bubbly or a scented candle inspired by their favorite vacation destination. Need more inspiration? We've got you covered with the best gifts for in-laws.
FAQs About Meeting The Parents
Meeting the parents for the first time is undoubtedly exciting, but you may have some questions about the monumental event in your relationship. Now that you've already read our top tips for meeting the parents-slash-future in-laws, we're answering all of your burning questions about meeting the parents for the first time, below.
What do you say when meeting the parents?
When first introducing yourself, say something short and sweet along the lines of "Hi, Mr. and Mrs. Smith, I'm Zoe—it's so nice to finally meet you!" Some parents like to be called by their first names, while others prefer Mr. and Mrs. [last name]: Play it safe by sticking with the latter unless they correct you. Also, if it's in your nature, don't be afraid to go in for a hug; otherwise, a handshake will suffice. You can also follow your future in-law's leads: If they're going in for a handshake, stick with that; alternatively, if you see them start to reach their arms out, be prepared to go in for a hug."
What do you wear when meeting the parents for the first time?
When picking an outfit to meet the parents, remember that comfort is key. Pick something that you feel comfortable and confident in. Of course, you also want to feel polished and put-together, but showcasing your personality is equally important, be it a floral dress, a patterned skirt or jeans and a nice blouse.
You'll also want to take into consideration how casual—or formal—the event is. If you're meeting at home, then jeans and sneakers or sandals are totally acceptable. However, if the four of you have a dinner reservation at a restaurant, you may consider dressing up your outfit a bit with some accessories or coming up with another look that's more suitable, like an of-the-moment midi dress.