Do You Have to Ask Your Future Sister-in-Law to Be a Bridesmaid?
In short, it's completely up to you.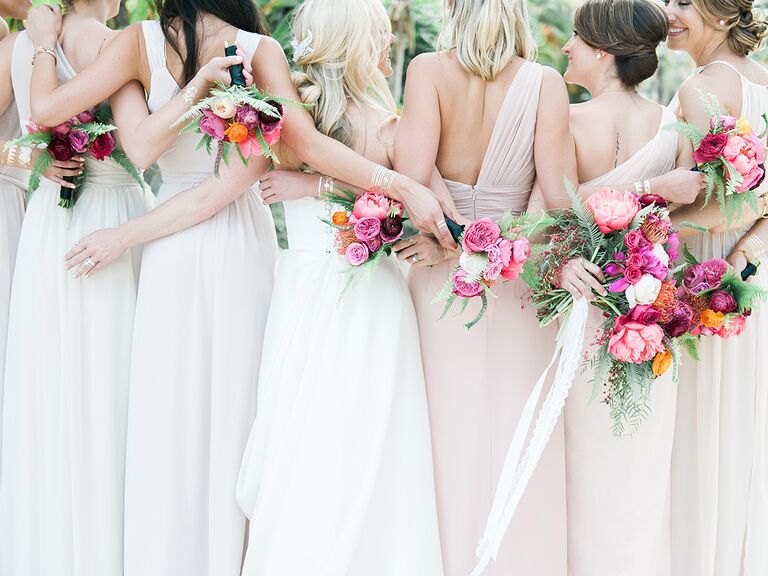 SHEA CHRISTINE PHOTOGRAPHY
It's no secret that family factors can impact your decision about who should be in your bridal party, especially if your soon-to-be spouse has siblings. Are you automatically expected to ask your fiancé's sister to be a bridesmaid? The short answer to whether or not you have to include anyone, even a family member, in your wedding party is no. This is your wedding, and you and your partner should do whatever feels right. But while there's no rule that says you need to include soon-to-be siblings-in-law in the wedding party, excluding them can lead to hurt feelings if you're not careful. If you're struggling to make a decision, help ease the process by asking yourself these questions.
How important is she to you?
If you're deciding between having your future sister-in-law and another friend in the bridal party, will you regret excluding your friend? Or vice versa? Or maybe you simply aren't close or don't click. Consider how much of a priority it is for you to bond and foster a positive relationship with your future sibling. If you can predict a guilty conscience and awkward family dinners with a bitter sister-in-law, it's probably best to extend the invitation to her.
How important is it to her?
Your sister-in-law will be in your life forever, and if excluding her will hurt her feelings and cause lasting damage to your relationship, it's probably not worth it. Chances are, even if you're not close yet, she'll be an important part of your life in the years to come. On the other hand, she might be completely okay just sitting with her family for the ceremony, in which case it's probably fine to leave her out of the lineup. Go with your gut on this one, or, if you approach it tactfully, you might ask her how she's feeling herself.
How important is it to your partner?
Sit down with your partner and discuss how you both want your siblings to take part in the wedding. If your partner wants and expects their siblings to be in the wedding party, you should probably extend the invitation. Or, consider having a coed wedding party with groomswomen and bridesmen. That way your partner can include their sister without it affecting your side of the aisle.
Can you change the number of attendants?
If you're worried about an uneven wedding party, you can always have your partner add another person to their group so you can add their sibling—they'll probably be happy to do it in order to make their sister feel included. And don't worry, there's nothing wrong with having a mismatched number of groomsmen and bridesmaids. There's no law of symmetry when it comes to picking the people you want standing next to you on your wedding day.
Can you honor her in a different way?
If you really feel like you're in a tight spot and can't budge from your bridal party picks (it happens), give your future sister-in-law a special role in the proceedings. She could be an usher, a reader or candlelighter with one of your own siblings during the ceremony, give a toast at the rehearsal dinner or reception, or help you with a DIY project you know she'll love (just don't force anything on her).
Now it's your turn to weigh in: