27 Gifts for Your Significant Other's Parents That'll Instantly Earn Approval
Your partner's family will love these gifts almost as much as they love you.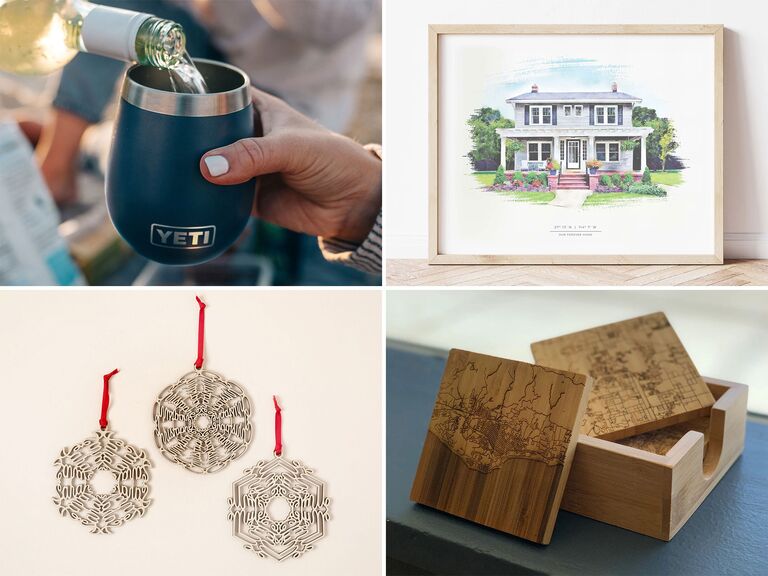 We have included third party products to help you navigate and enjoy life's biggest moments. Purchases made through links on this page may earn us a commission.
Feeling under pressure to pick the perfect gift for your girlfriend or boyfriend's parents? We get it: Impressing your (hopefully) future in-laws is important (and not always easy). If you aren't sure where to start, you're certainly not alone. That's why we've rounded up the most memorable presents for your significant other's parents. These unique picks will instantly put you in their good books, whether you're meeting them for the first time or you always spend the holidays together. Plus, nailing an anniversary, birthday or Christmas gift for your partner's parents is sure to score you some extra points with your other half too.
Should You Buy a Gift for Your Boyfriend or Girlfriend's Parents?
Not sure whether you should buy gifts for your significant other's family? When it comes to parents, the answer is usually yes. That said, you don't have to go over the top (or blow your budget) buying gifts for a partner's parents. In a lot of cases, a small token like a bottle of wine or box of chocolates is more than enough. If you've been in a relationship with your S.O. for a while and feel pretty close with their 'rents, then you can consider upping the ante. Buying a thoughtful holiday gift, housewarming present or anniversary gift is a nice way of showing them you care (and maybe even consider them your own extended family).
Of course, every family is different. If exchanging gifts isn't a big deal to your S.O.'s parents, they might feel more comfortable receiving a card or simply being invited over for dinner. Think back to previous holidays, birthdays and other celebrations to try and figure out if they'll appreciate a present. If it's your first time celebrating together, err on the side of caution with something small like flowers or a family board game to break the ice. (And if you're still feeling stuck, you can always ask your partner for their thoughts too.)
What to Get Your Significant Other's Parents as a Gift
If you're shopping for something special to give your significant other's parents, we're here to help. We've rounded up 27 thoughtful and creative picks your partner's parents will love, from gifts for your first meeting to holiday presents once you've secured a seat at the table. You'll find options to suit every occasion and budget.
1. Gourmet Coffee Subscription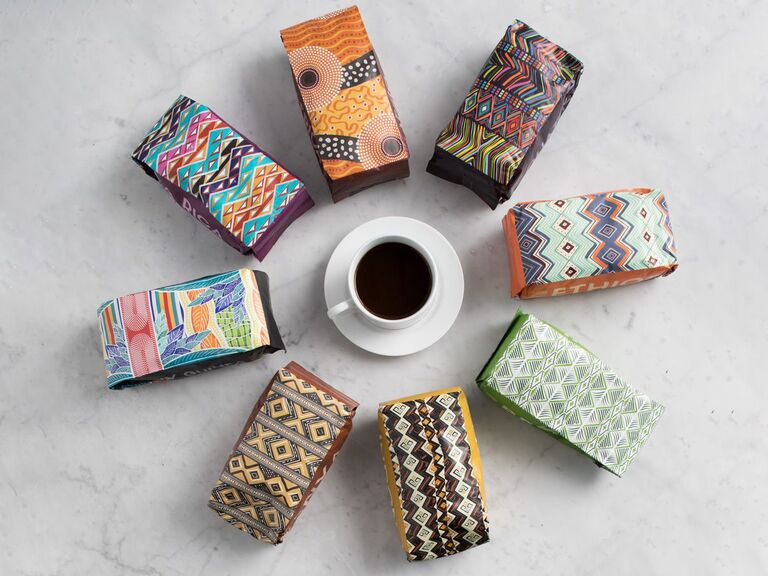 Awesome gift ideas for your girlfriend or boyfriend's parents don't have to end with the holiday season. A subscription box will be a gift they can enjoy for the next year (or however long you choose). If your partner's parents like to start every day with a nice cup of joe, they'll really enjoy Atlas Coffee Club. Each month, the brand will deliver freshly roasted, premium coffee from around the world straight to their door. They'll also get tasting notes and brewing tips so they can make the perfect cup. Mmm, ahh! (Do they prefer tea? There's a subscription for that too.)
2. Home State Mugs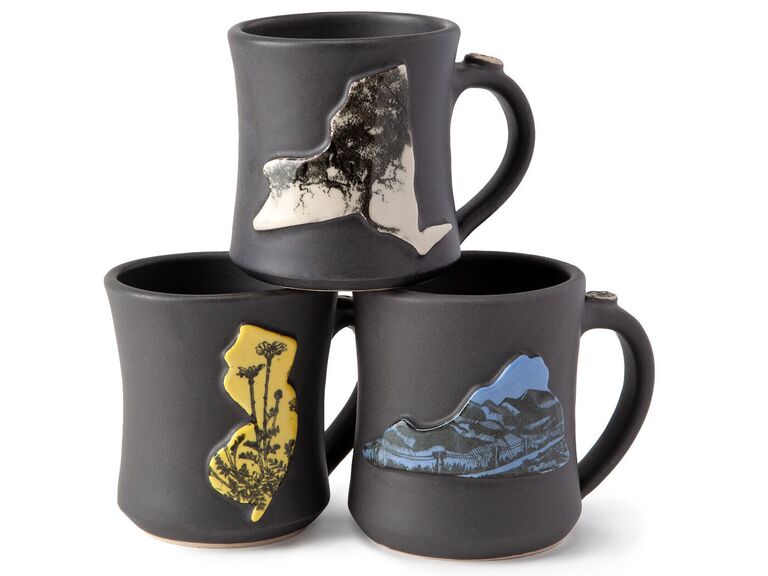 Share a little bit about yourself with your partner's parents by gifting them a homemade mug that features a 3D outline of your home state that's then screen printed with a native tree, plant, landscape or iconic landmark significant to the area. It's an especially great gift idea if you're meeting your boyfriend or girlfriend's parents for the very first time.
3. DIY Pizza Night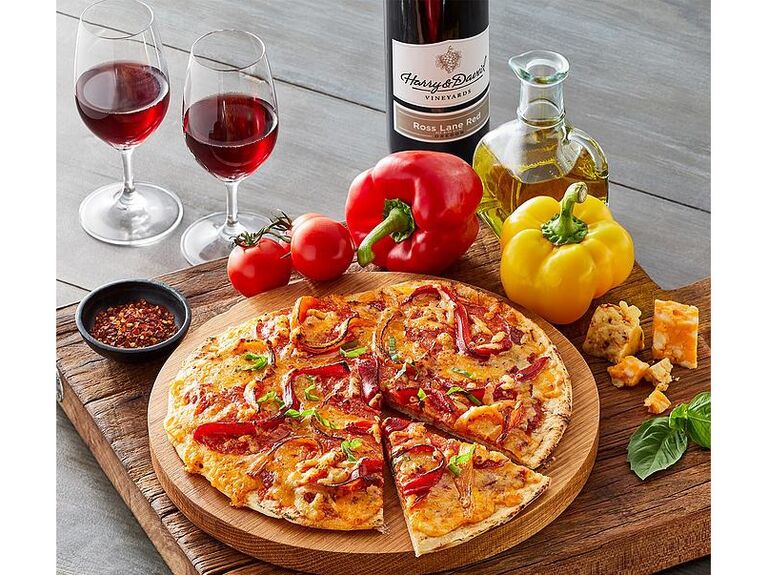 You can never go wrong with an edible gift for your significant other's parents—especially if you don't know them super well yet. This gift basket has all the ingredients they'll need to make two delicious pizzas right at home. To top it all off, it also comes with a bottle of red wine. It's the tastiest way to get a pizza their heart!
4. Insulated Wine Tumbler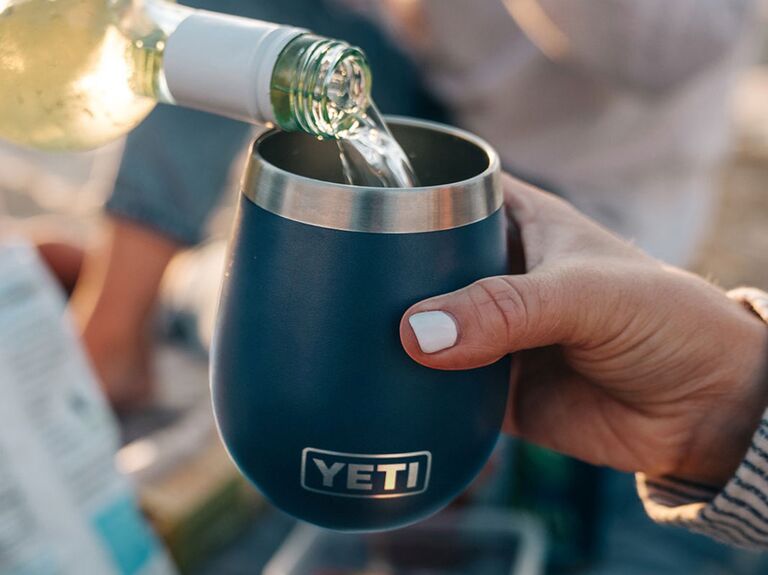 Did you meet your significant other's parents for the first time at a picnic, concert or tailgate? Play up their favorite pastime (drinking outdoors) with insulated tumblers that will keep their beverage of choice cold or hot all day long. Plus, the kitchen-grade stainless steel vessels mean these can go where glass can't. Take advantage of YETI's customization tool for an extra special touch.
5. Fun Virtual Experience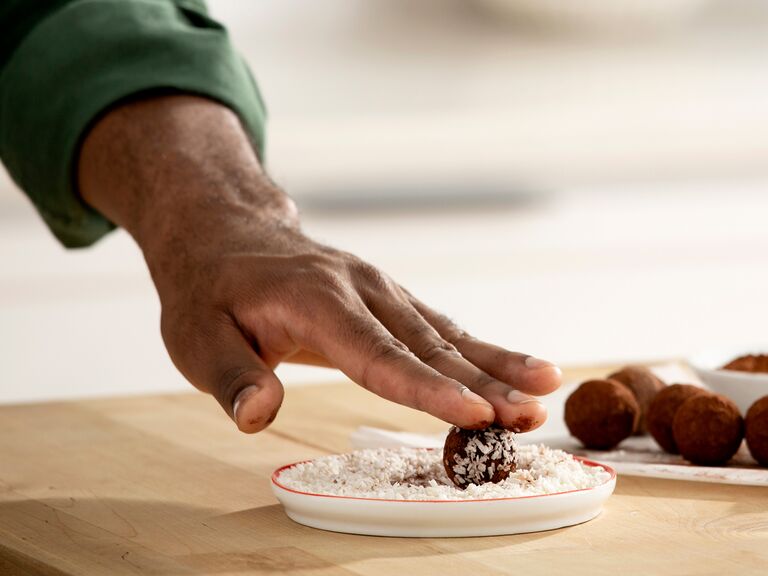 Instead of a physical gift for your girlfriend or boyfriend's parents, how about a virtual class? Uncommon Experiences offers dozens of unique activities, from learning how to arrange flowers to painting and mixology lessons. It's definitely a gift they'll remember and will give you something to talk about the next time you see them.
6. Custom Home Decor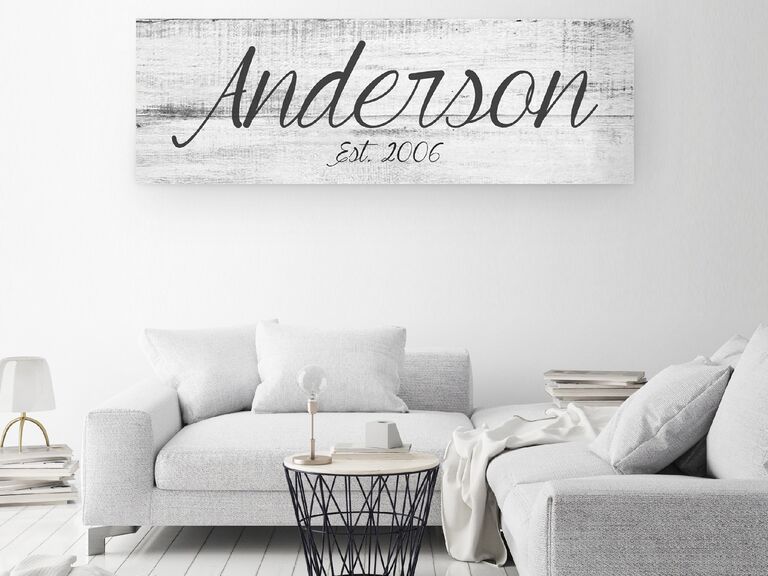 Personalized home decor is one of the most unique gifts we can think of for your future parents-in-law. This canvas wall art features their family name and established date so they can proudly display their greatest value: togetherness. There are eight different size options, so finding one that suits their space should be a breeze.
7. Unique Address Doormat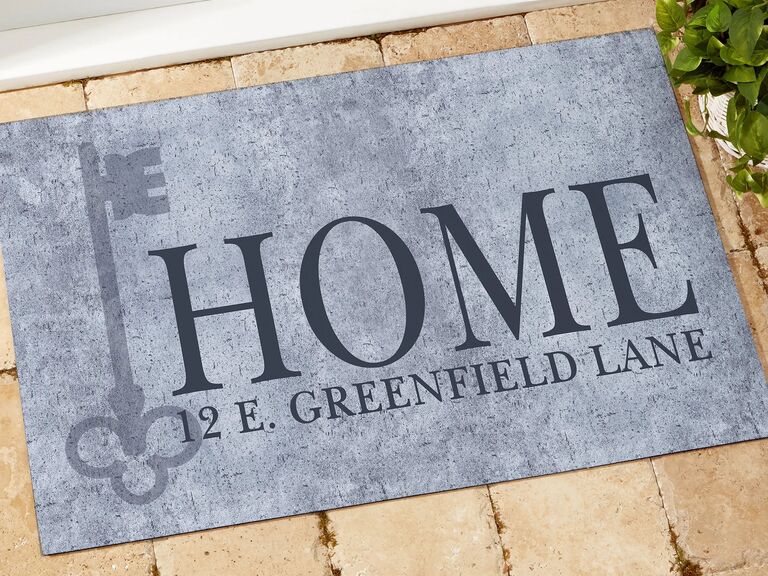 Why not give them a custom doormat with their address on it? It'll add a cute, personal touch to their home, plus their guests (and the delivery man) will instantly know they're in the right spot. It's especially fitting if you're shopping for a housewarming present for your significant other's parents to get them excited about their new residence.
8. Super-Soft Throw Blanket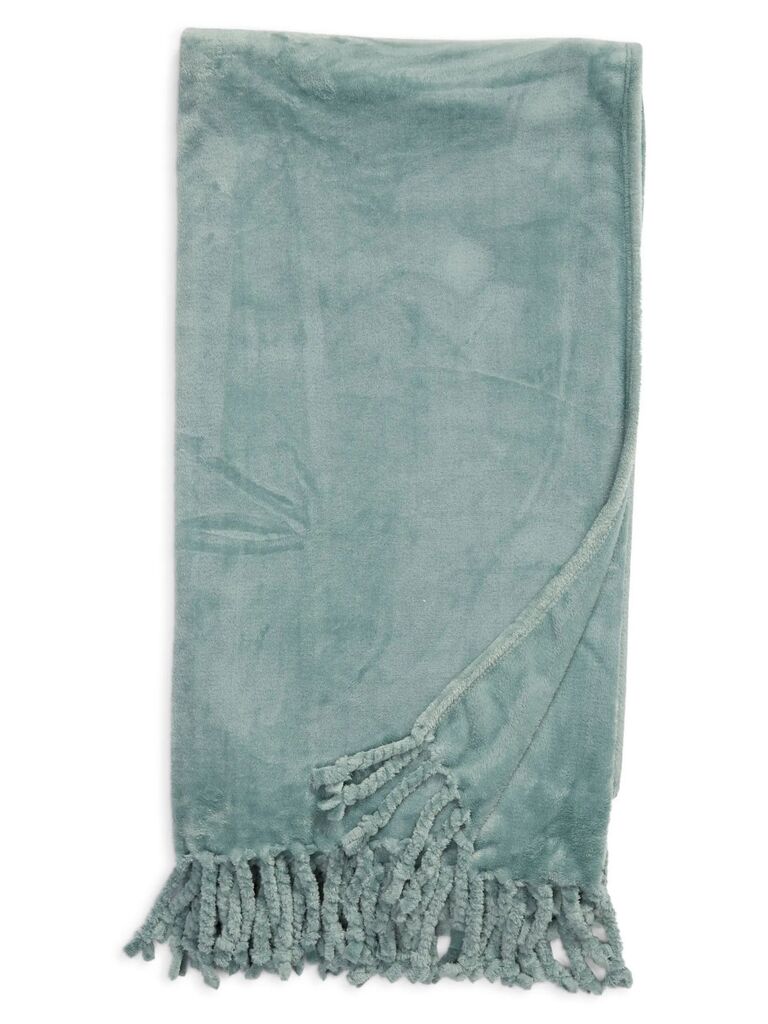 Thank your boyfriend or girlfriend's parents for welcoming you into their home with a cozy throw. This plush blanket is deceptively soft given the affordable price. Don't just take our word for it though—it has over 2,000 boastful reviews.
9. Decorative Travel Map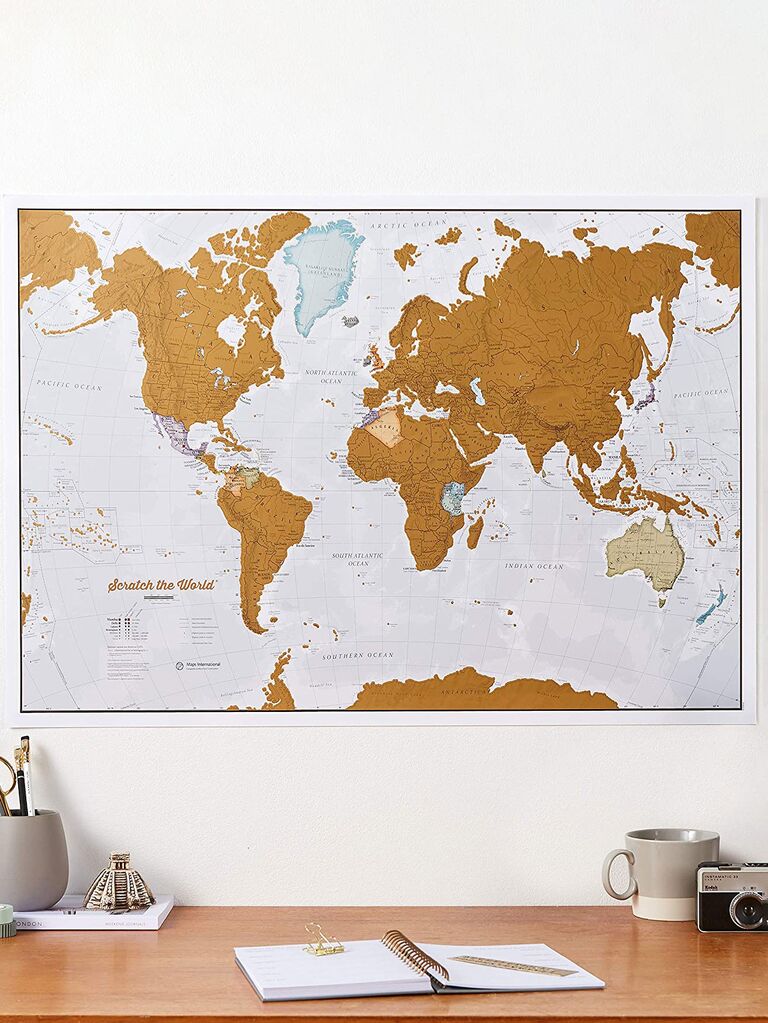 Whether you're embarking on your first vacation with your S.O's family or have become a regular traveler with them, this thank you gift for their parents will be well appreciated. It's an interactive world map so as they explore new states and countries, they can scratch it off on the map eventually changing the brown atlas to rainbow. Talk about a unique way to track their travels and inspire new trips. (That you hopefully get invited on!)
10. Stylish Scented Candles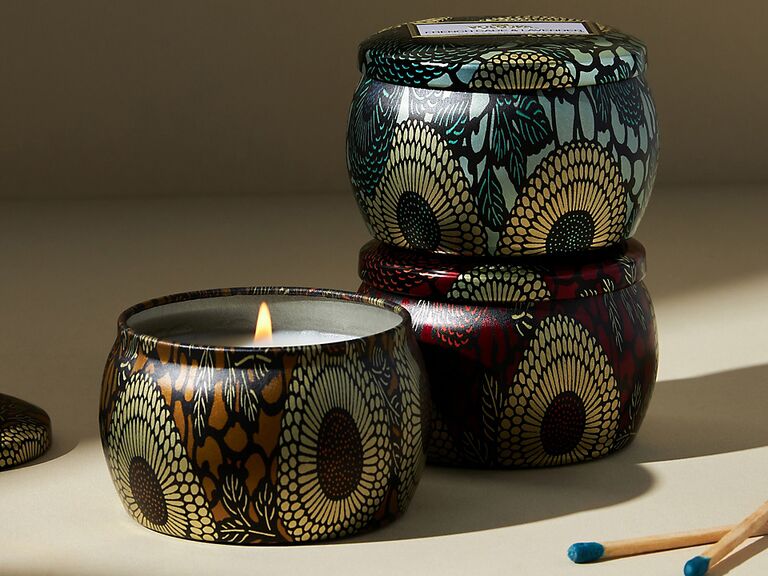 Nothing feels quite as luxe as a scented candle. This set of three mini flames from Anthropologie have fresh, woodsy scents of Baltic Amber, French Cade & Lavender and Goji Tarocco Orange and come in chic, decorative tins that add color to any tabletop. All in all, they make great gifts for significant others' parents whether you're meeting them for the first time or need a festive holiday gift to bring to their Christmas party.
11. Funny Board Game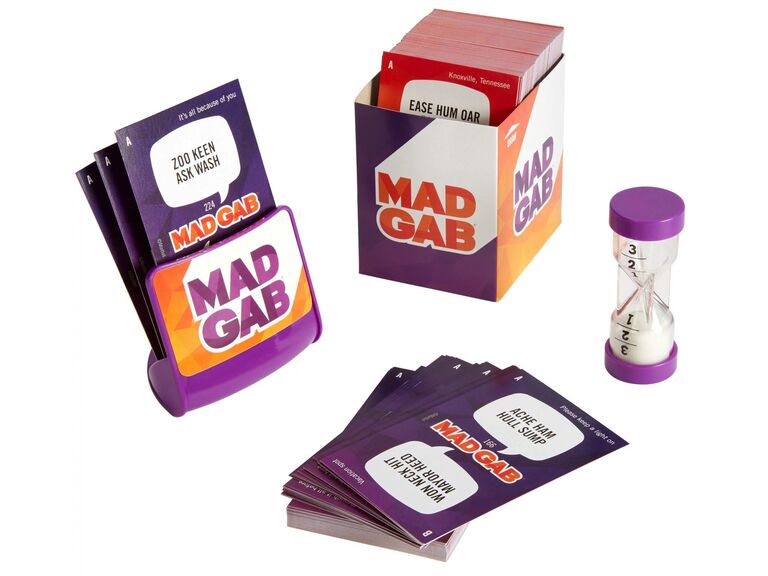 Add a new deck to family game night with this editor-approved gift for your boyfriend or girlfriend's parents. Mad Gab is a team game where you have to decipher groups of unrelated words into real phrases before time runs out. The faster a team guesses the saying, the more points they'll get. With 800 puzzles to solve, they'll have hours of enjoyment thanks to you.
12. Family Recipe Book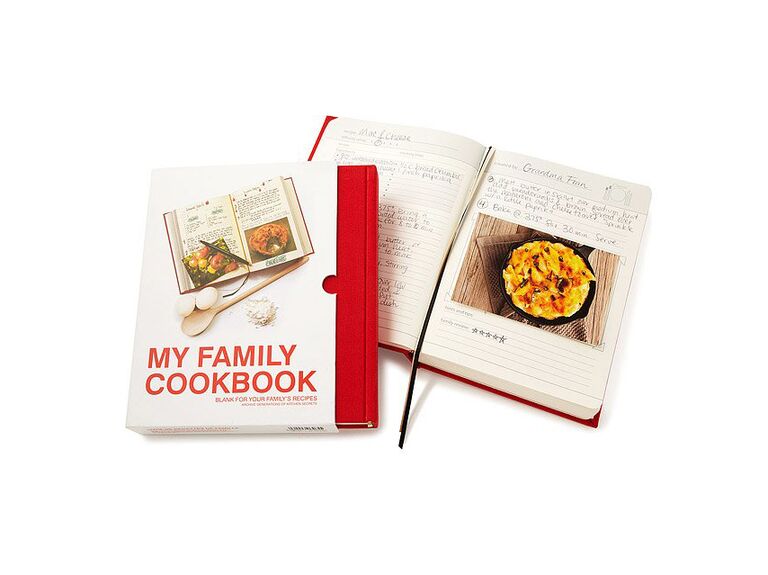 Here's a thoughtful gift for your significant other's parents: A DIY cookbook to store all their favorite family recipes. It's a present they can cherish for years (and generations) to come. Feeling like there's a proposal on the way? Add in one of your own recipes for a personal touch.
13. Wine-Chilling Sleeve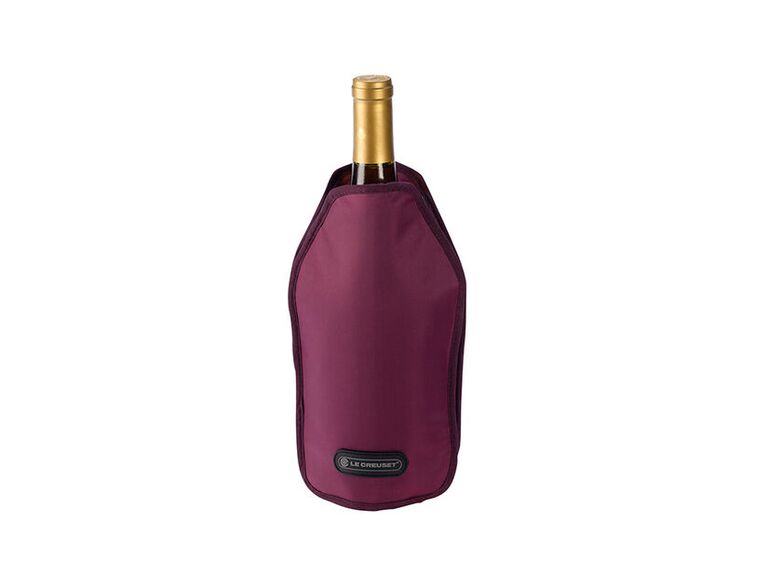 Stumped on what to get your boyfriend or girlfriend's parents for Christmas? Wine is a classic option. Pair a bottle of their favorite vino with this handy sleeve that will keep it cool outside of the fridge for over 90 minutes. Now that's a gift worth toasting to!
14. Engraved Map Coasters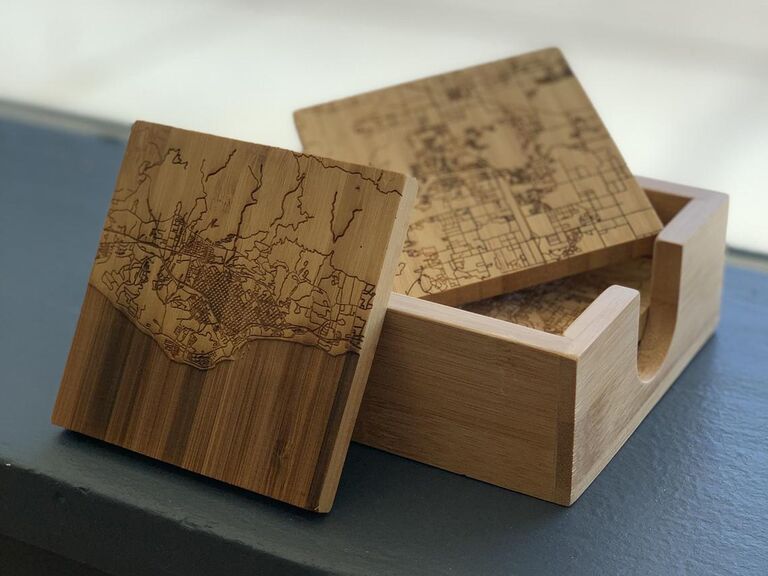 Personalized gifts for your significant other's parents aren't as challenging as you may think. This custom set of coasters comes engraved with up to four cities of your choice. Have your partner help pick a place (or places) that are meaningful to their parents, like where they grew up or their current neighborhood. They'll be blown away by the attention to detail both on the coasters and in your gift shopping!
15. Pet-Friendly Houseplants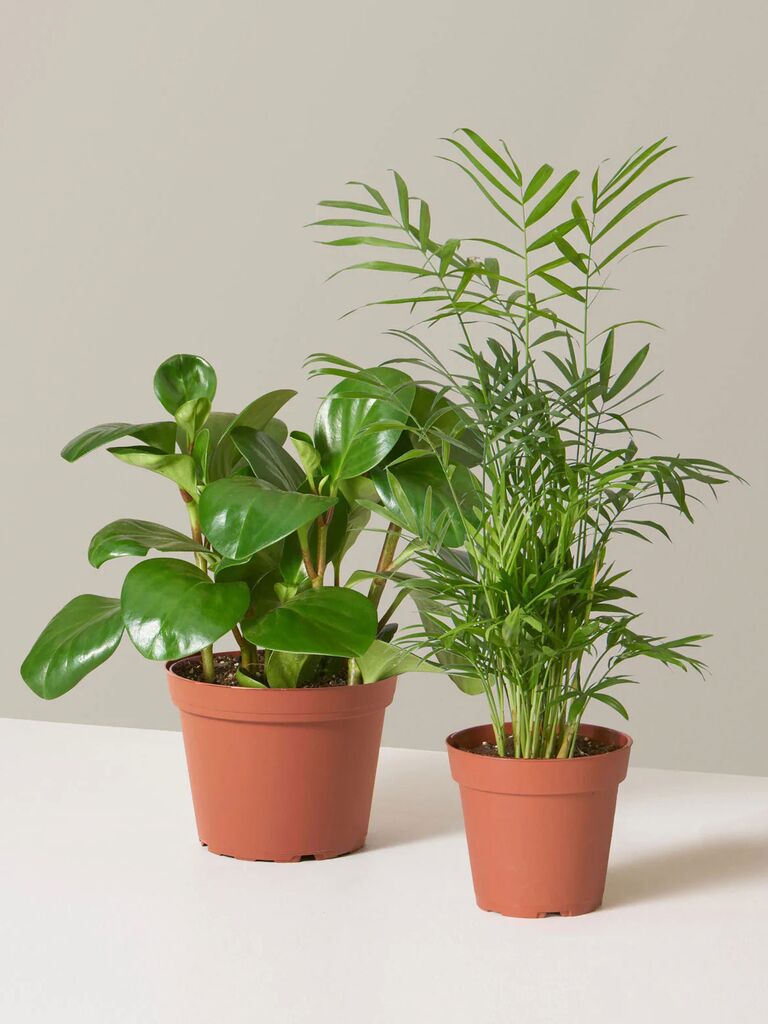 This one is for the plant parents! Add to their collection with a duo of beautiful greenery. Both plants, a Parlor Palm (known for its air-purifying qualities) and Peperomia Obtusifolia are easy to care for and pet-friendly. Whether you're Hanukkah or Christmas shopping for your S.O.'s parents (or need a gift for the whole family, furry friends included), they'll love decorating their house with a little plant life, especially when their backyard vegetation is covered in snow.
16. Personalized Beverage Tub
Asked to bring a case of beer to your S.O.'s family BBQ? Up the ante with a personalized beverage tub for your girlfriend or boyfriend's party-prone parents. This enameled steel bucket will keep bottles and cans nice and cold, while the side handles allow for easy transportation (even when it's full!). Just don't forget a bag of ice!
17. Online Cooking Class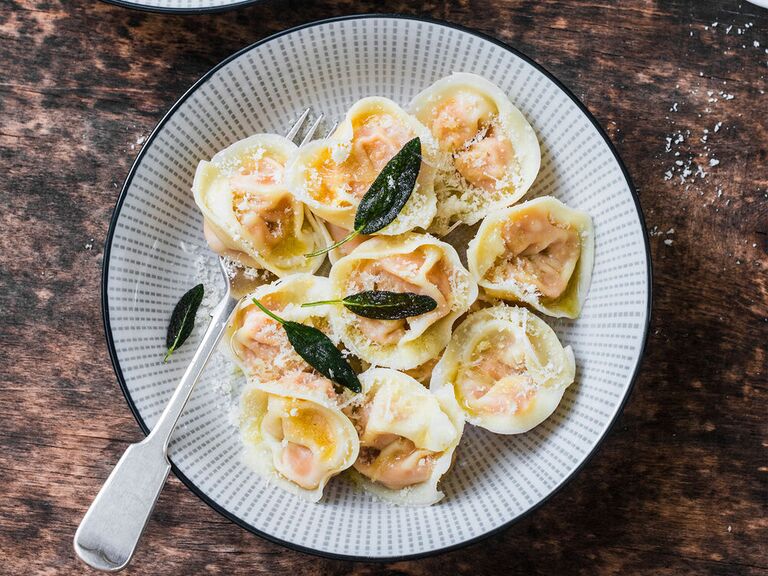 Don't show up to your significant other's parent's house for the first time empty-handed—or without a plan. Gift them an online cooking class where the price is per household so you can join them for a real bonding experience! Sur la Table's inventory of virtual lessons is frequently updated to reflect the season and has options for appetizers, entrées, desserts and even cocktails.
18. Custom Engraved Cutting Board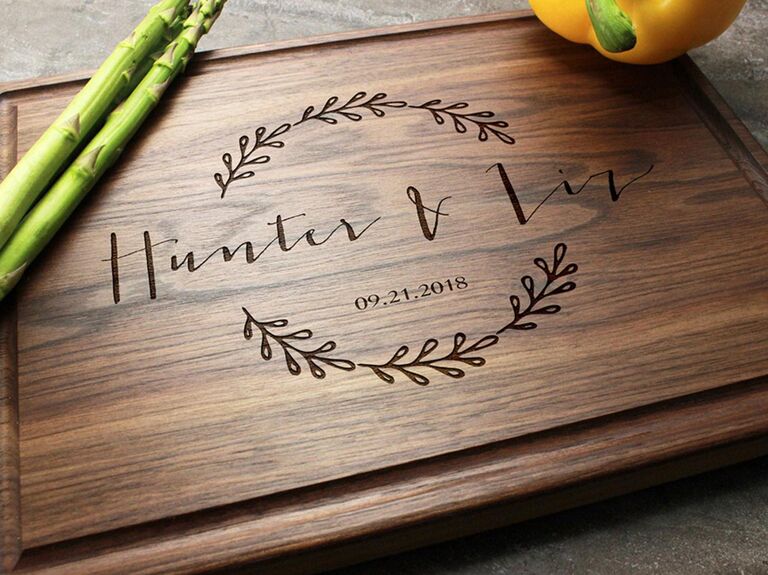 Add this one to the list of gifts to bring your girlfriend or boyfriend's parents for their anniversary. If their happy place is the kitchen, they'll love this sleek wooden cutting board engraved with their names and wedding date. After all, the couple that cooks together stays together. What an inspiration for you and your S.O.!
19. Personalized Snowflake Ornament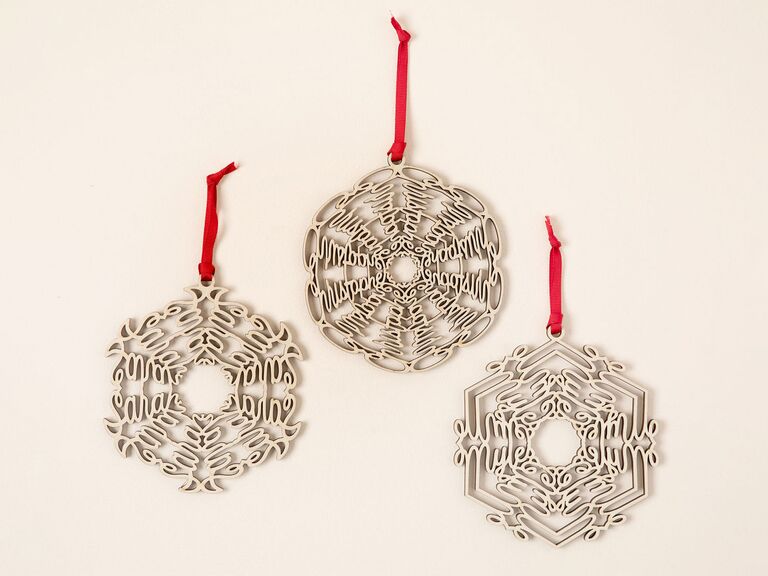 Look closely…While ornaments are classic Christmas gifts for your significant other's parents, this one is extra special. The wooden snowflake is designed using their family name, so like real snowflakes, each one made is 100% unique.
20. Beautiful Bouquet Subscription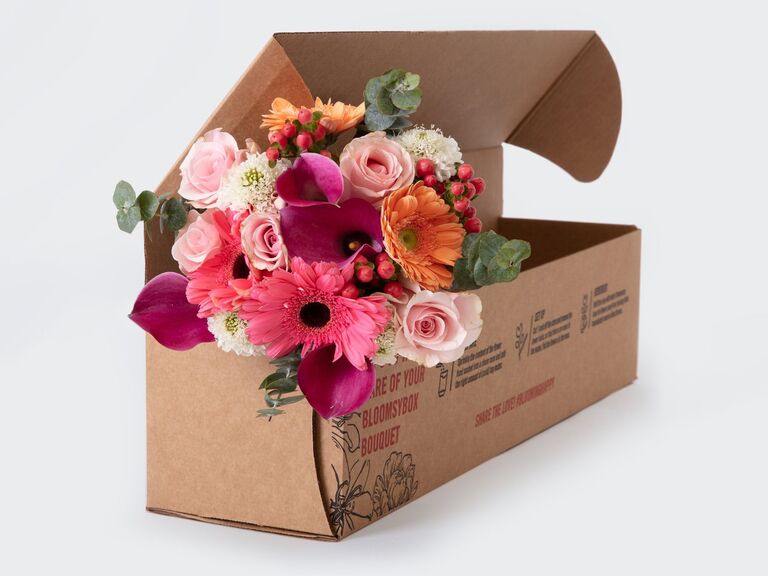 Flowers always make a good gift for your significant other's parents. That said, this unique delivery service offers much more than your standard bunch of blooms. If they're celebrating something big (like a milestone anniversary), a bouquet subscription from BloomsyBox will knock their socks off. Every month, they'll be treated to beautiful fresh flowers delivered right to their door for a gift that keeps on giving.
21. Decadent Sweet Treats
You don't need to be a candy connoisseur to appreciate these delightful confectioneries. A box of delicious pecan brittle is the ultimate thank you or "just because" gift, whether you opt for the classic variety, the chocolate-covered version or a combination of the two. You could also snag one of these gift boxes to make meeting his or her parents even sweeter.
22. Craft Cocktail Kit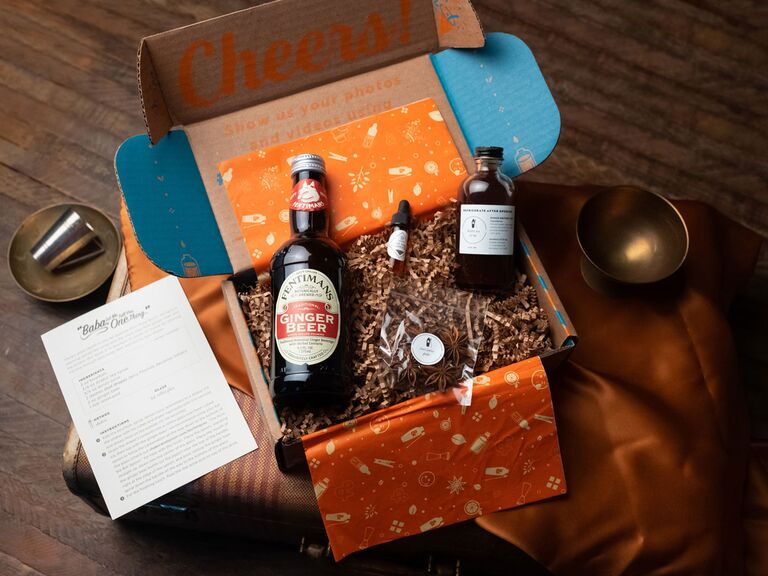 Did your partner get their mixologist skills from their parents? Don't be afraid to get boozy with gifts for your future mother-in-law or father-in-law. Shaker & Spoon has specialty craft cocktail kits that include everything needed (besides the liquor) to make artisanal drinks right from the comfort of home. Choose one cocktail recipe to surprise your significant other's parents with or give them a gift card for a monthly subscription. Then they'll receive four new recipes every month for the duration of your choosing.
23. Scenic Jigsaw Puzzle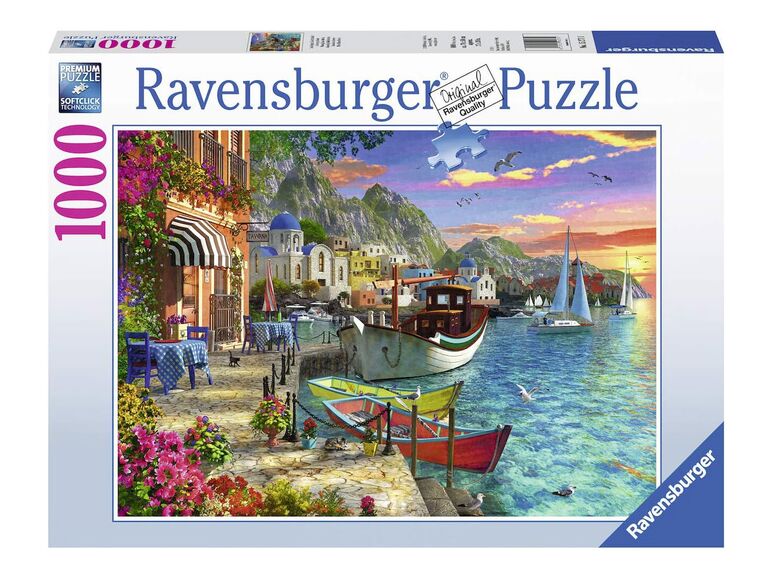 If your significant other's parents have a bit of time on their hands, help fill it with a beautiful yet complex jigsaw puzzle. This 1000-piece puzzle depicts a coastal scene in Greece with colorful boats, homes and flowers. They'll definitely want to glue and frame it once they're done.
24. Cool Indoor Garden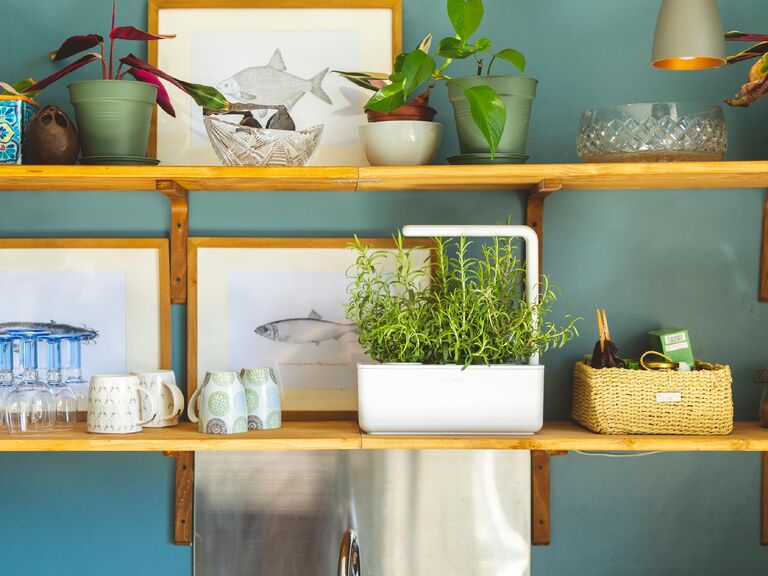 Still wondering what to get your girlfriend or boyfriend's parents for Christmas? If you're willing to splurge a little, this holiday gift idea will surely win them over. Click and Grow's smart indoor garden automates plant care so they can grow (and then cook with) fresh herbs and veggies. Each device comes with three basil pods, but if you're feeling extra, extra generous, shop over 75 seed varieties to add on.
25. Custom Home Portrait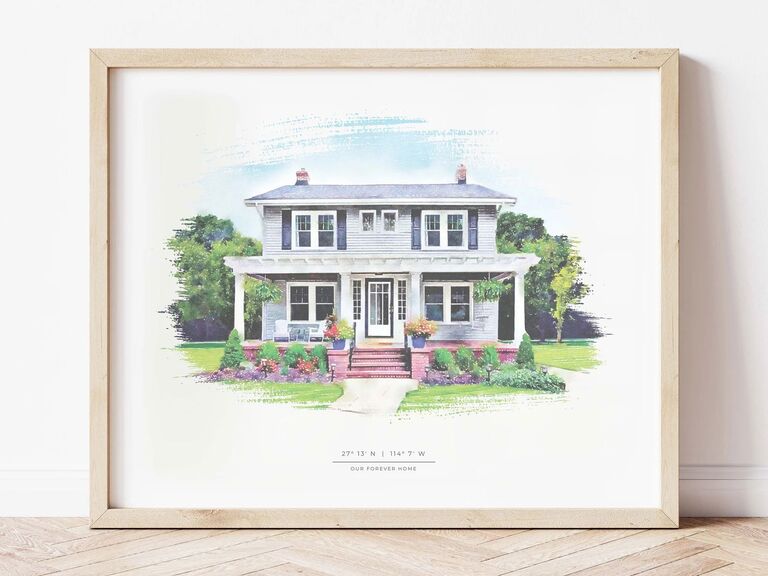 A custom piece of decor will be appreciated by anyone, even your significant other's parents who have everything. This beautiful print boasts a custom watercolor portrait of their home and can be further personalized with their family name and an important year, such as the date they moved in, or the home's specific coordinates. Plan ahead so you can get this framed before handing it over for their birthday, a holiday or their wedding anniversary.
26. Celebrity Video Message
Your partner's parents definitely won't see this one coming. If they have a favorite celebrity—be it an actor, professional athlete or reality TV star—Cameo coordinates personalized video messages from them to really shock your S.O.'s family. Ask the celeb to wish them a happy birthday, Merry Christmas or congratulations on their anniversary.
27. Illustrated Pet Pillow
If your significant other's parents can't get enough of their furry friend, they'll get a good chuckle from this adorable decorative pillow. It features a custom illustration of their pet and you can even customize the background so it looks like their pet is driving, a member of royalty or a superhero. Too fun!