27 Gifts That'll Instantly Win Over Your Partner's Parents
These thoughtful picks are worth a thousand words.
We have included third party products to help you navigate and enjoy life's biggest moments. Purchases made through links on this page may earn us a commission.
Feeling under pressure to pick the perfect gift for your girlfriend or boyfriend's parents? We get it, impressing your future in-laws is important (and not always easy). If you aren't sure where to start, you're certainly not alone. That's why we've rounded up the most memorable presents for your significant other's parents right here. One of these unique picks will instantly put you in their good books, whether you're meeting them for the first time or you always spend the holidays together. Plus, nailing anniversary, birthday or Christmas gifts for your boyfriend or girlfriend's parents is sure to score you some extra points with your other half too.
Should You Buy a Gift for Your Boyfriend or Girlfriend's Parents?
Not sure whether you should buy gifts for your significant other's family? When it comes to parents, the answer is usually yes. That said, you don't have to go over the top (or blow your budget) buying gifts for your partner's mom and/or dad. In a lot of cases, a small token like a bottle of wine or box of chocolates is more than enough. If you've been in a relationship with your S.O. for a while and feel pretty close with their 'rents, then consider upping the ante. Buying a thoughtful holiday gift, housewarming present or whatever is a nice way of showing them you care (and maybe even consider them your own extended family).
Of course, every family is different. If exchanging gifts isn't a big deal to your S.O.'s parents, they might feel more comfortable receiving a card or simply being invited for dinner. Think back to previous holidays, birthdays and other celebrations to try and figure out if they'll appreciate a present. If it's your first time celebrating together, err on the side of caution with something small like flowers or a nice rosé. (And if you're still feeling stuck, you can always ask your other half for their thoughts too.)
What to Get Your S.O.'s Parents as a Gift
If you've decided to pick out something special for your significant other's parents, we're here to help. We've rounded up 27 thoughtful and creative picks below, from housewarming and anniversary presents to xmas gift ideas. You'll find options to suit every occasion and budget.
1. Gourmet Coffee Subscription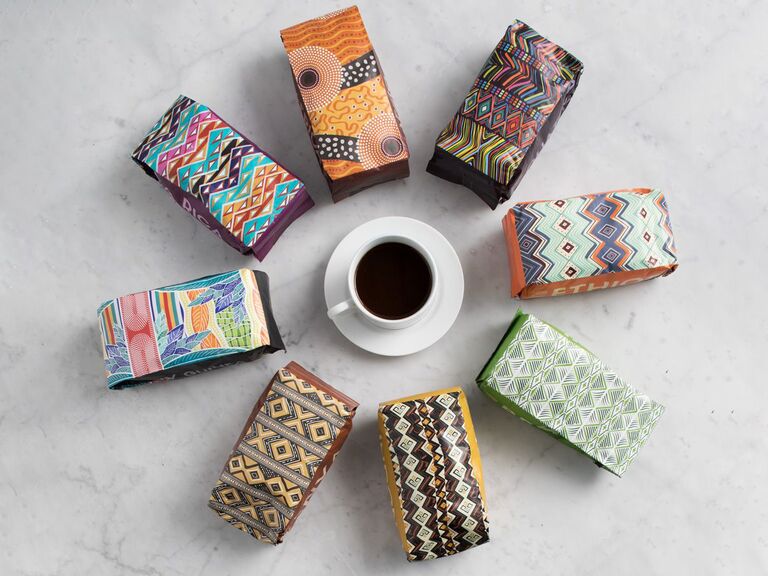 Awesome gift ideas for your girlfriend or boyfriend's parents don't have to end with the holiday season. A delicious coffee subscription is a present they'll appreciate all year round. Each month, they can enjoy freshly roasted coffee from somewhere new across the globe. (And if they prefer tea, there's a subscription for that too.)
2. Decorative Travel Map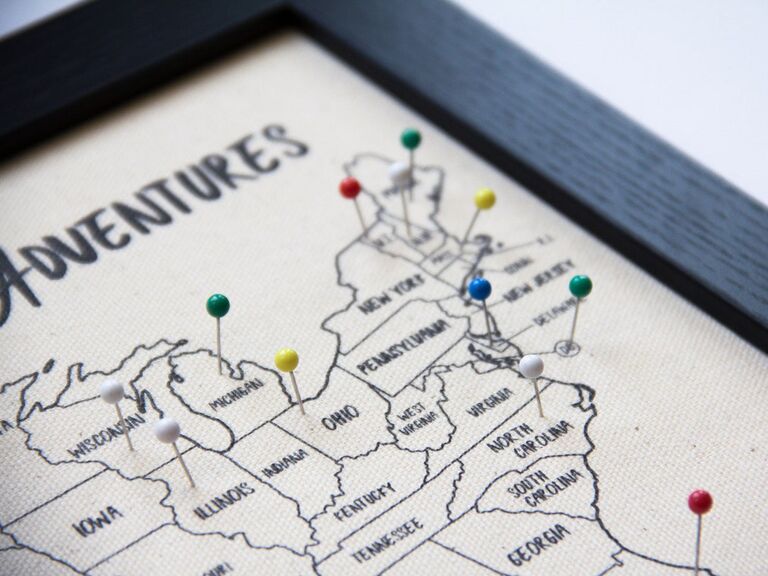 Some of the best gifts for your boyfriend or girlfriend's parents are things that reflect their interests. If they're always on the move exploring different cities, camping spots or hiking trails, this personalized map of the US will serve them well. The canvas art is available with push pins so they can mark off where they've been (or where they want to go next).
3. Online Cooking Classes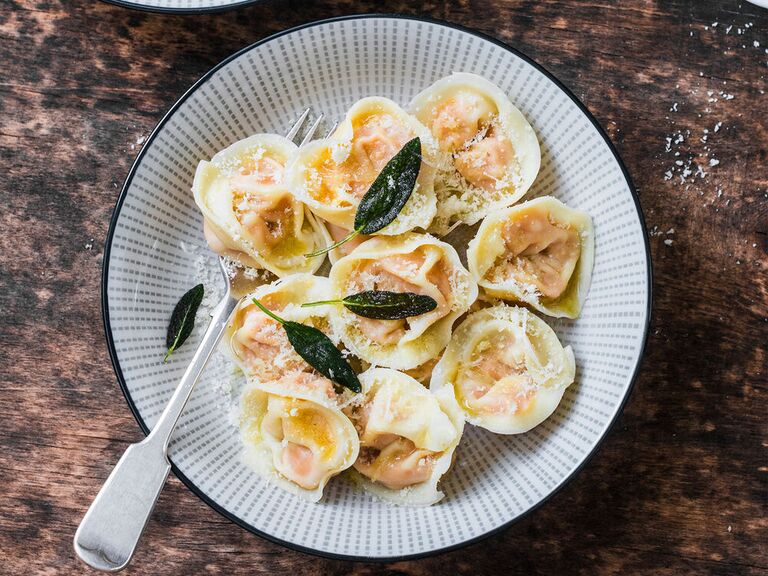 Shopping for the parents who have everything? They won't be expecting this. Give them the opportunity to upskill in the kitchen with a fun online cooking class they can do together. Sur la Table's inventory of virtual lessons is frequently updated to reflect the season. There's a class for pretty much everything you can think of, from learning how to make appetizers and entrées to mastering cocktails and desserts.
4. Painted House Ornament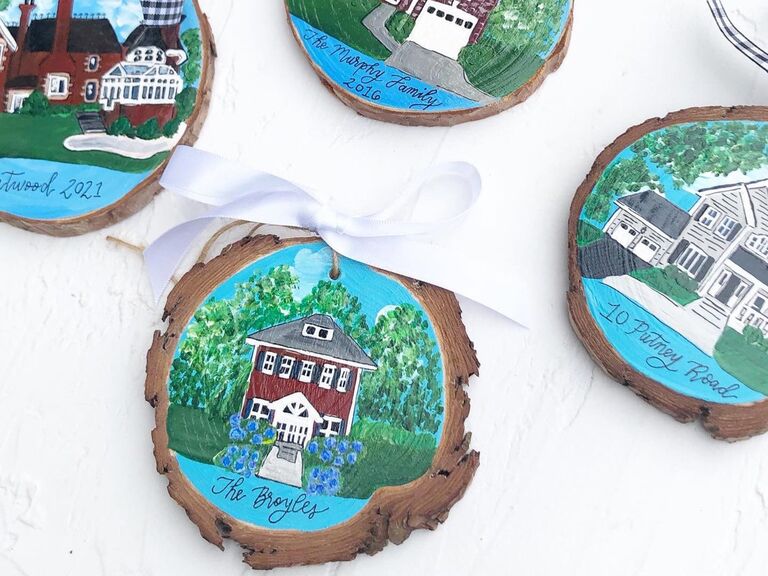 On the hunt for Christmas gifts for your significant other's parents? A custom piece of decor will be appreciated by anyone who celebrates the holiday (especially if they put up a tree). This beautiful wood slice is painted with an illustration of their home and can be further personalized with their family name and an important year, such as their wedding anniversary or the date they moved in.
5. Family Recipe Book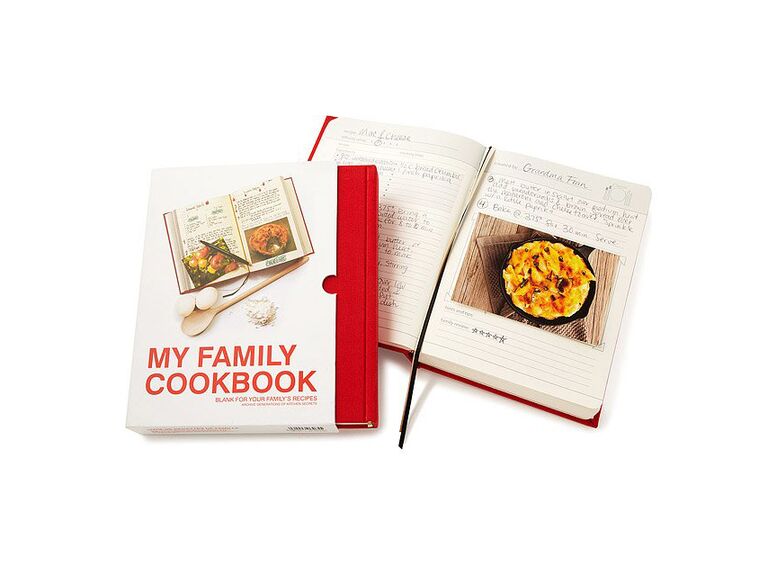 A DIY cookbook to store all their favorite family recipes? That's got to be one of the most creative gifts for your girlfriend or boyfriend's parents. It's something that can be cherished for years (and generations) to come.
6. Unique Address Doormat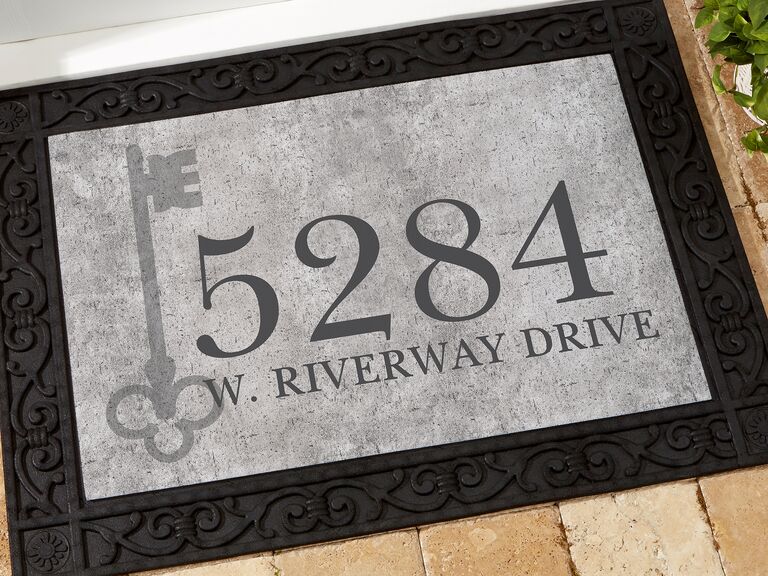 Why not give them a custom doormat with their address on it? It'll add a cute, personal touch to their home from the moment guests come to the door. It's especially fitting if you're shopping for a housewarming present.
7. Sweet Houseplant Set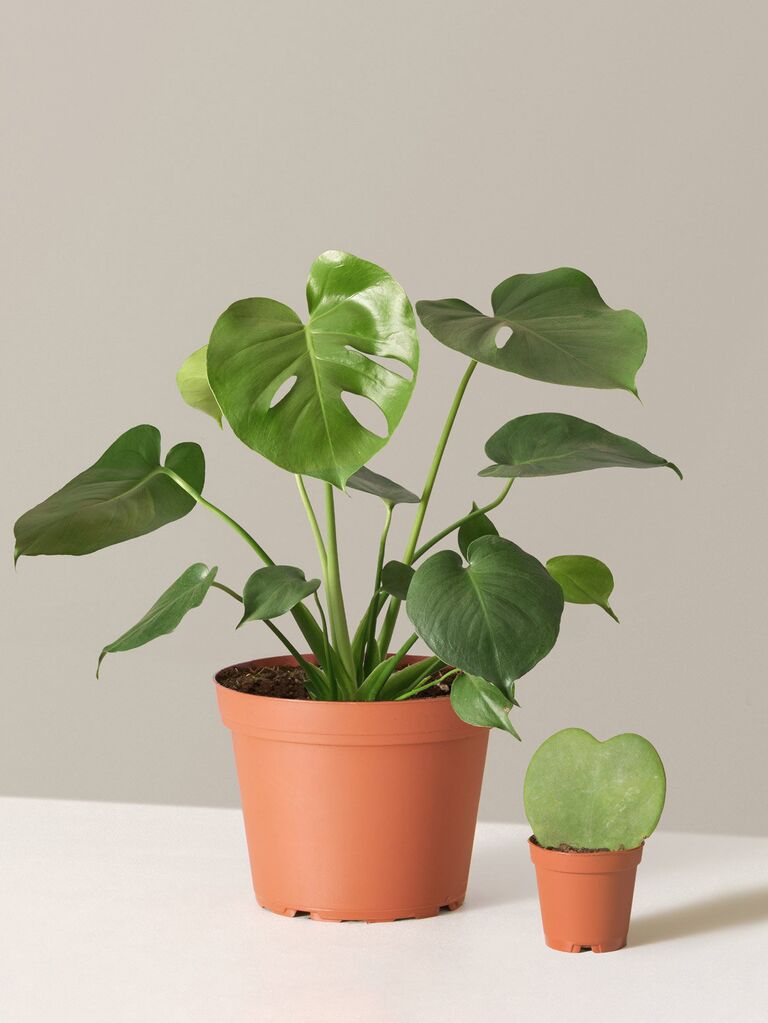 This one's for the plant parents. Add to their collection with a duo of beautiful greenery that'll bring any space to life. It's a tried-and-true gift for moms and dads who are hosting everyone for the holidays.
8. Custom Home Decor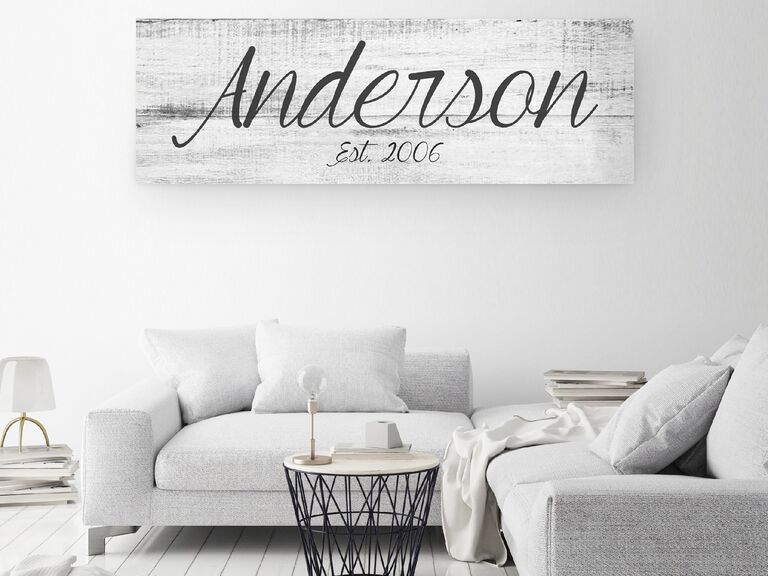 If they're big fans of personalized decor, this pick is sure to be a hit. A family name sign is one of the most unique gifts we can think of for your future parents-in-law. There are eight different size options so finding one that suits their space should be a breeze.
9. Stemless Wine Glasses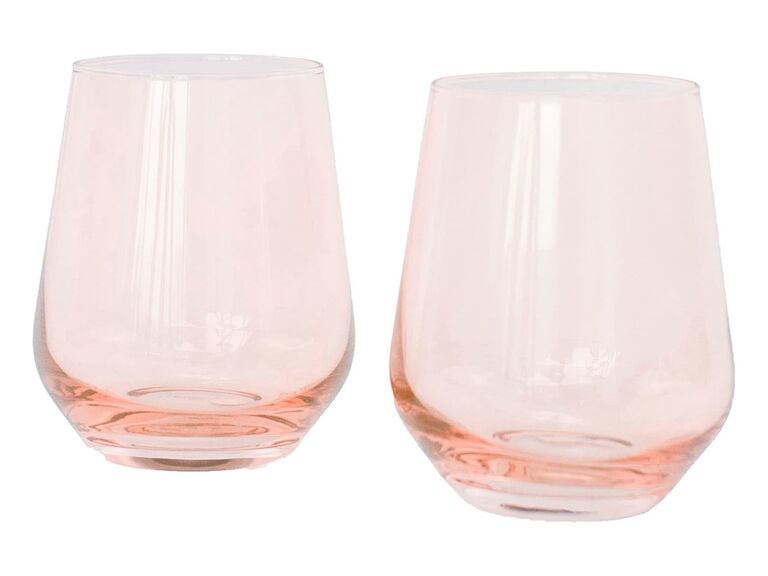 Depending on the occasion, a toast might be in order. Make it an extra-special one by gifting your partner's parents this set of sleek wine glasses. Each one is hand blown from beautifully colored glass into a trendy stemless shape that'll instantly elevate their vino.
10. Self-Care Gift Set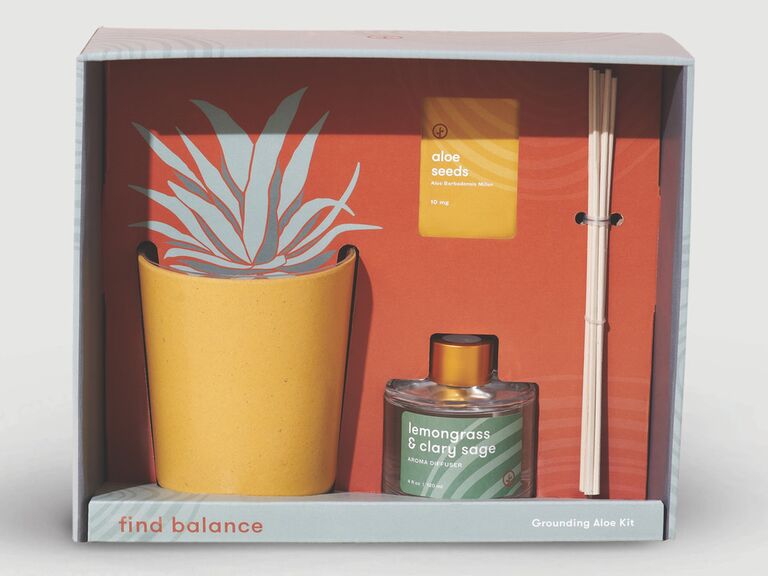 If you're stuck on what to get your significant other's mom or dad for their birthday or the holidays, a pampering gift box is a thoughtful gesture. This set comes with an aloe vera grow kit, plus a relaxing lemongrass and sage-scented reed diffuser. If you're giving it to them as a couple, it's the perfect way to encourage self-care in their relationship.
11. Fun Virtual Experience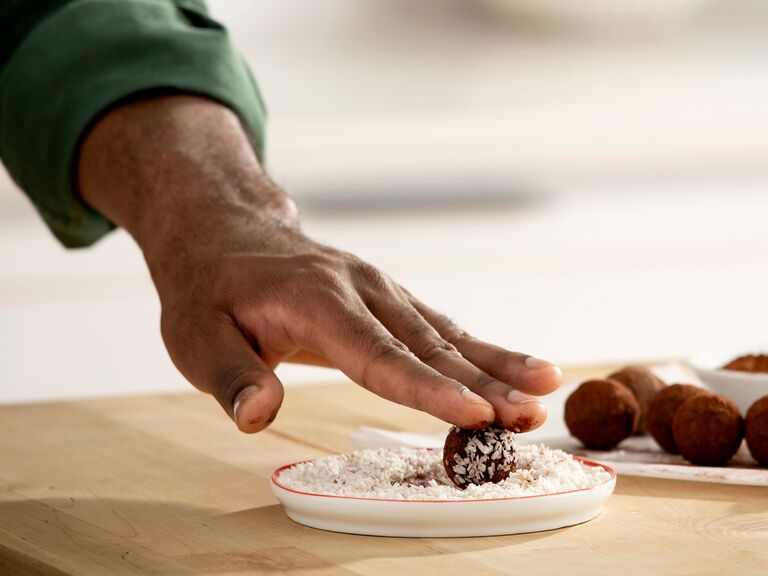 An interactive online class is a good gift idea for your girlfriend or boyfriend's mom, dad or really any important person in their life. Uncommon Experiences has plenty of unique activities on offer, from learning how to arrange flowers to baking and mixology lessons. There are also classes designed for couples if you're looking for a gift you can give both of your partner's parents.
12. Contemporary Photo Calendar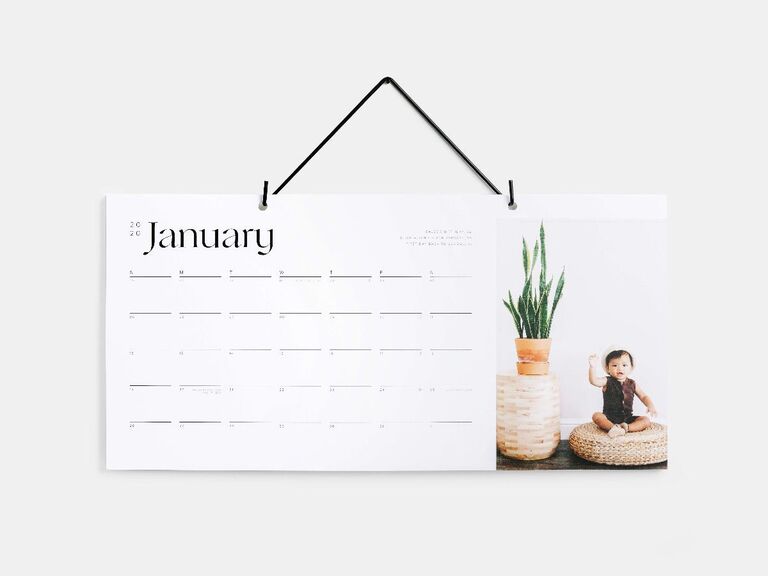 There's something extra sentimental about photo gifts. Team up with your S.O. for this one to create a personalized wall calendar filled with sweet family snapshots. The calendar isn't just a great gift to give your partner's parents for the holidays. You can choose to start from any month of the year, meaning it'll make a meaningful present for any occasion.
13. Wine-Chilling Sleeve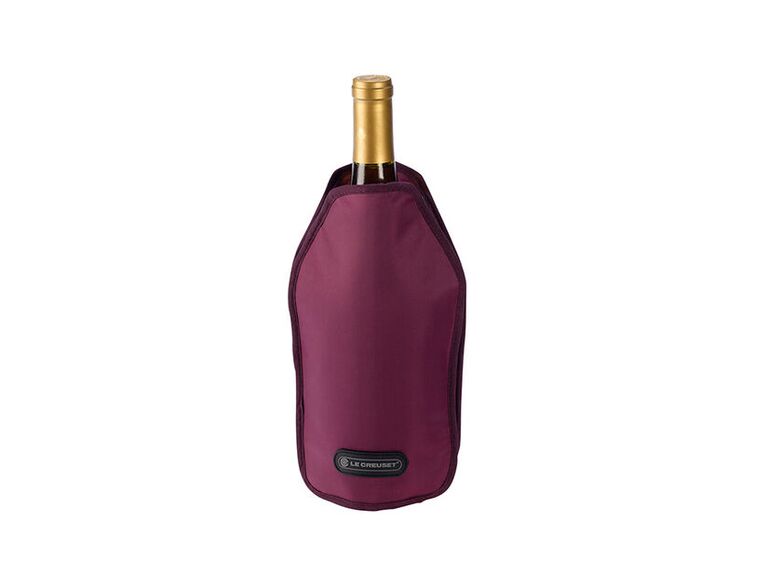 Whether you're searching for housewarming or holiday gifts for your future parents-in-law, you can't go wrong with something wine-themed. Once frozen, this handy sleeve can keep their vino cool for over 90 minutes, whether they're sitting at the dinner table or picnicking outdoors. It's available in five classic Le Creuset colors—bonus points if you're able to match their Dutch oven.
14. Coordinate Catchall Tray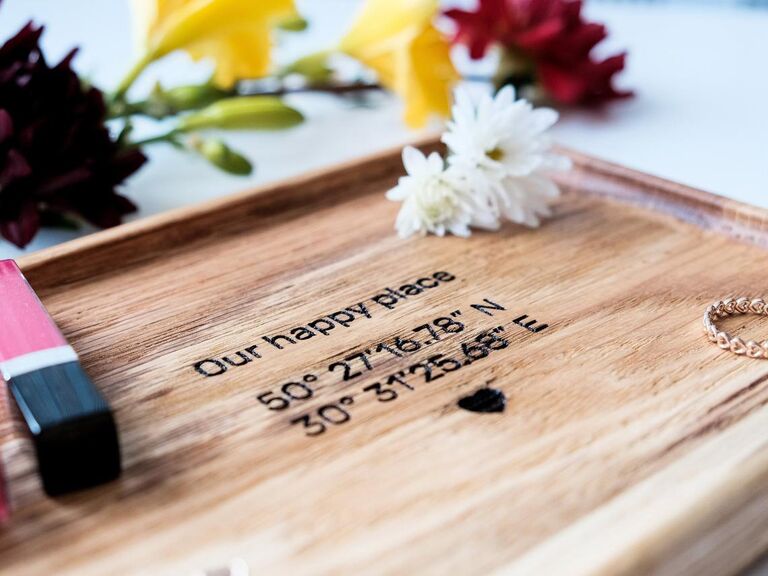 Everyone could use a handy valet tray in their home to keep track of jewelry, keys and other loose ends. This one can be personalized with their family name or the coordinates of their home to make an extra-special gift for your girlfriend or boyfriend's parents.
15. Stylish Scented Candles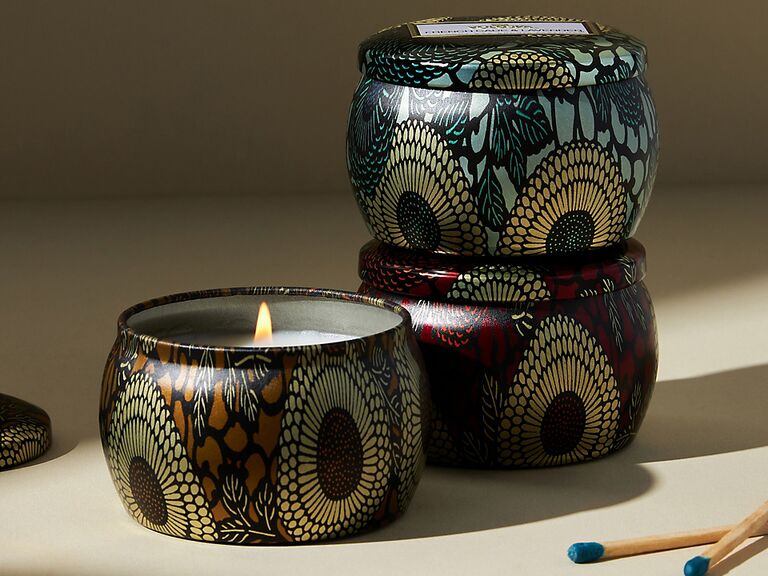 These mini scented candles are inexpensive gifts that certainly don't look cheap. Who doesn't love the luxuriously fresh scent of a Voluspa? And that's not to mention the chic, decorative tins. All in all, they make great gifts for meeting the parents.
16. Beautiful Bouquet Subscription

Flowers always make good gifts for your significant other's parents. That said, this unique delivery service offers much more than your standard bunch of blooms. If you're celebrating something big (like a milestone anniversary), a bouquet subscription from BloomsyBox will knock their socks off. Every month, they'll be treated to beautiful fresh blooms delivered right to their door.
17. Punny Coffee Spoons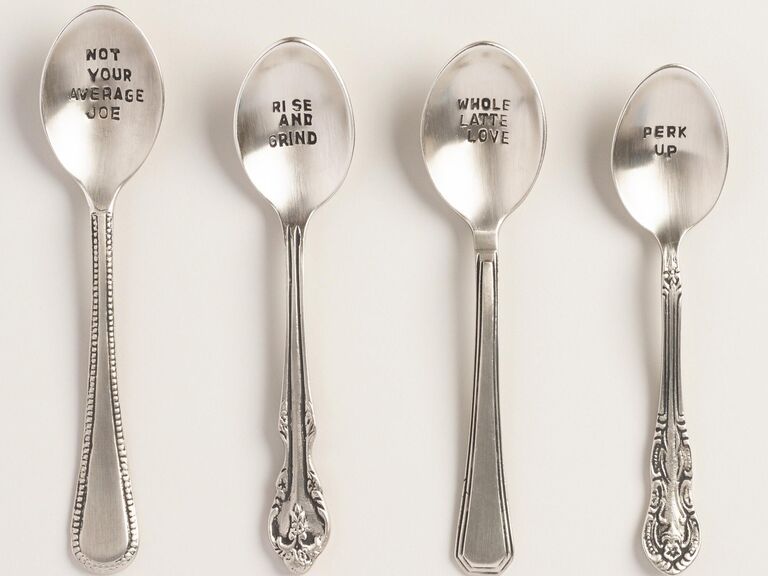 We love the humor behind these thoughtful coffee spoons, featuring quippy one-liners like "not your average joe" and "whole latte love." If your partner's parents love a good laugh, they'll appreciate this unique (and budget-friendly!) gift.
18. Make-Your-Own Margarita Set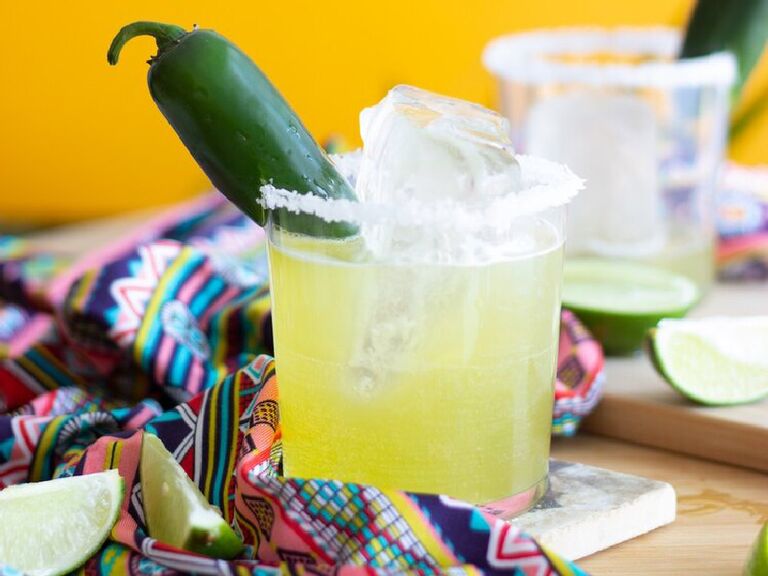 Margaritas, anyone? Don't be afraid to get boozy with gifts for your future mother-in-law or father-in-law. This awesome set comes with enough lime juice and agave syrup to make five or six delicious cocktails. Simply pair it with a bottle of their favorite tequila and fetch some cute wrapping paper (gift wrap with their face on it, perhaps?).
19. Personalized Cutting Board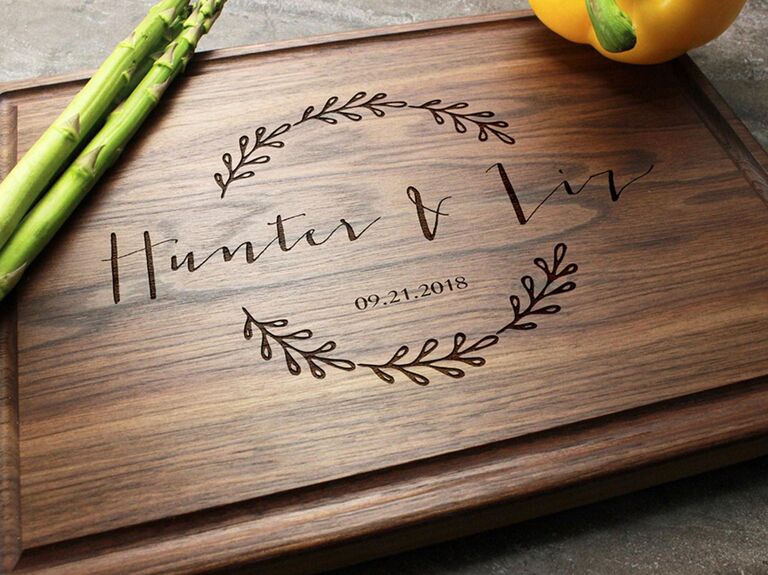 If their happy place is the kitchen, you can't go wrong with a sleek wooden cutting board engraved with their names and a meaningful date. Add this one to the list of gifts to bring your girlfriend or boyfriend's parents for their anniversary. The couple that cooks together stays together.
20. Super-Soft Throw Blanket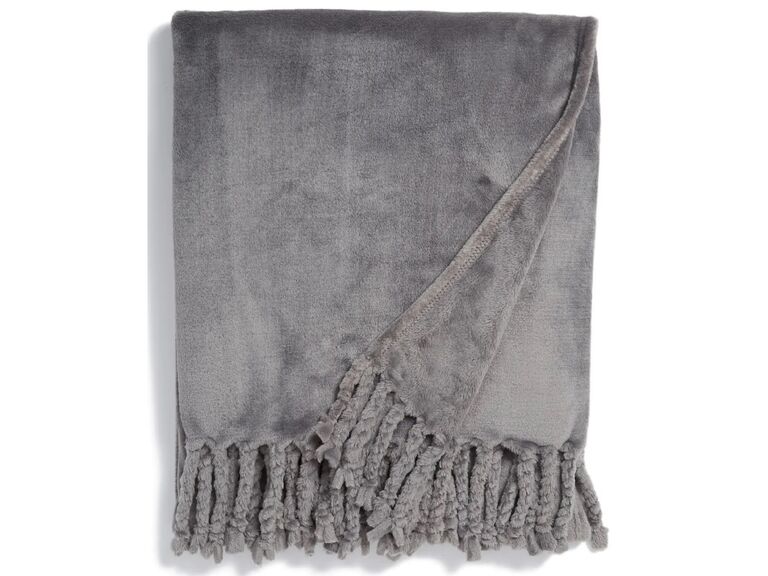 Keep things simple with a snug throw they're sure to appreciate, especially in the cooler months of the year. It's one of the best holiday presents for moms and dads who like to wrap up warm.
21. Decadent Sweet Treats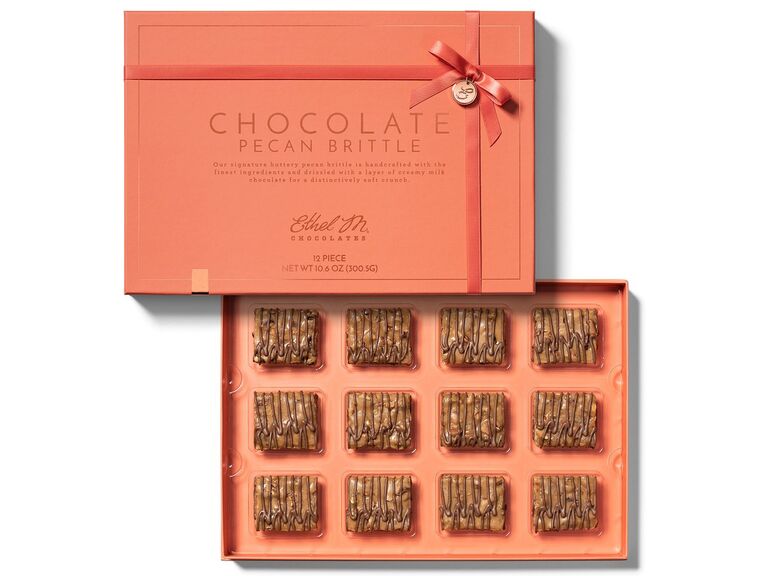 You don't need to be a candy connoisseur to appreciate these delightful confectionaries. A box of delicious pecan brittle is the ultimate thank-you or "just because" gift, whether you opt for the classic variety, the chocolate-draped version or a combination of the two. You could also snag one of these gift boxes to make meeting his or her parents even sweeter.
22. Cool Indoor Garden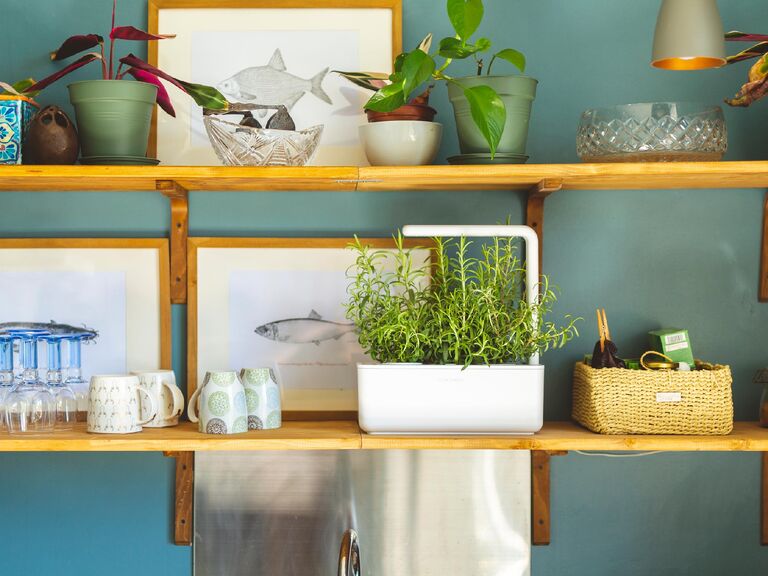 Still wondering what to get your boyfriend or girlfriend's parents for Christmas? We've got plenty more holiday gift ideas that'll win them over. If they enjoy cooking with their own herbs and veggies, having a smart garden on their countertop is a game changer. This clever device automates plant care to make growing their favorite greens a breeze.
23. Cute Coffee Mugs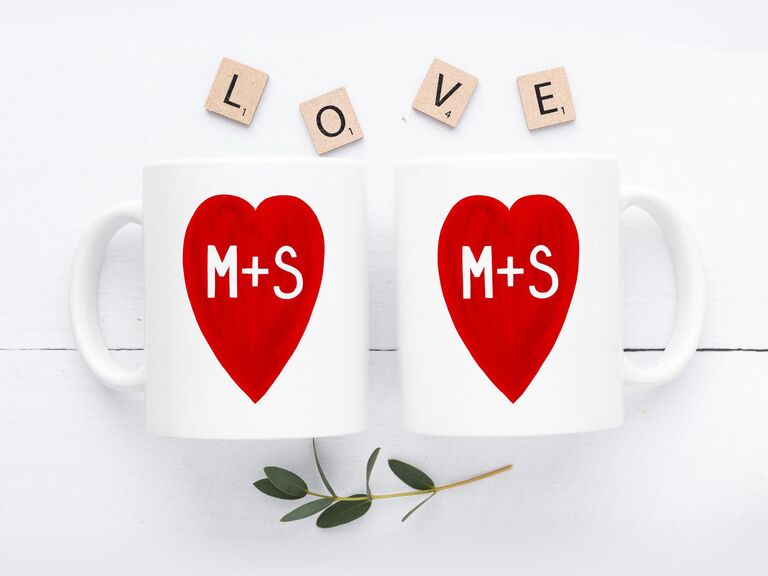 The best holiday gifts for your future parents-in-law are things they'll actually use, like these adorable coffee mugs. Painted with their initials inside vibrant red hearts, this handmade present is sure to brighten up their morning brew.
24. Celebrity Video Message

Shopping for your S.O.'s entire family this holiday season? When it comes to gift ideas for his or her parents, don't be afraid to think outside the box. As far as out-of-the-box gifts go, a personalized video message from one of their favorite celebrities pretty much tops the list. Your partner's mom and dad definitely won't see this one coming.
25. Engraved Map Coasters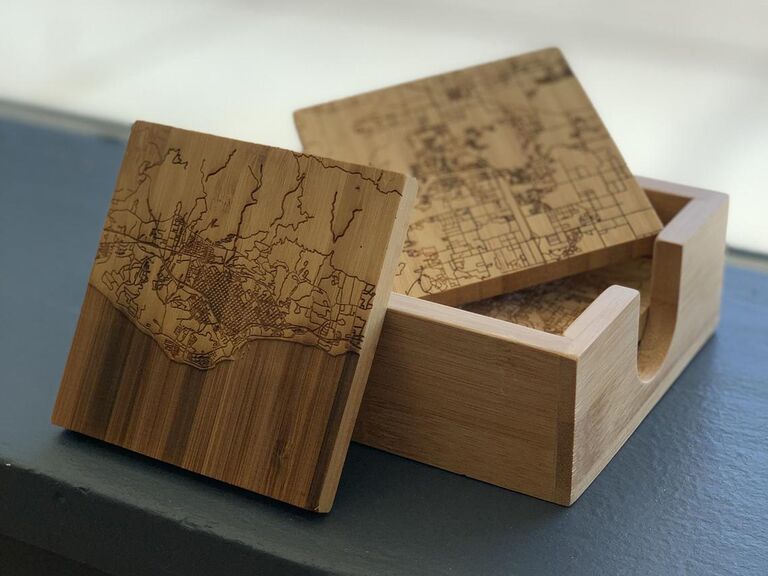 This custom set of coasters comes engraved with up to four cities of your choice. Pick places that are meaningful to your partner's parents, like where they grew up or their current neighborhood. They'll be blown away by the attention to detail (both on the coasters and in your gift shopping!).
26. DIY Pizza Night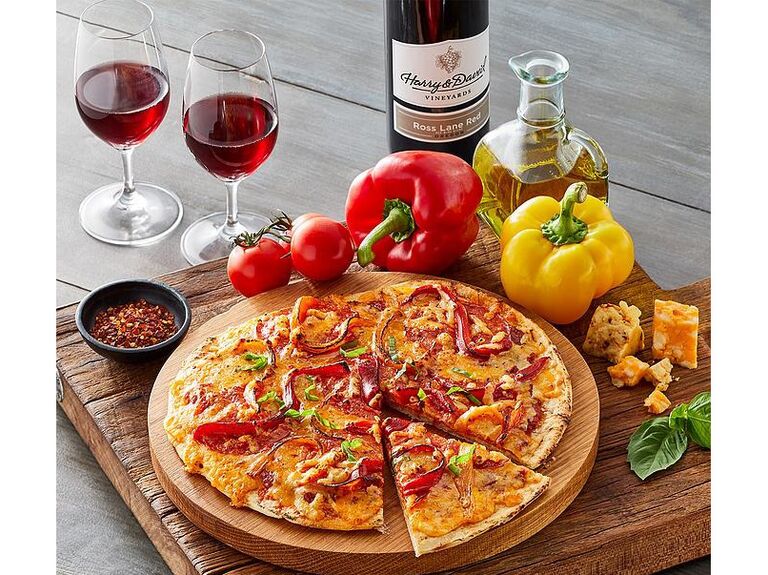 If your other half isn't giving out any hints, not to worry. Christmas gifts for his or her parents don't have to be super sentimental. Any couple will appreciate a gift basket with all the fixings for a delicious DIY pizza night (and to top it all off, a bottle of red wine).
27. Practical Packing Cubes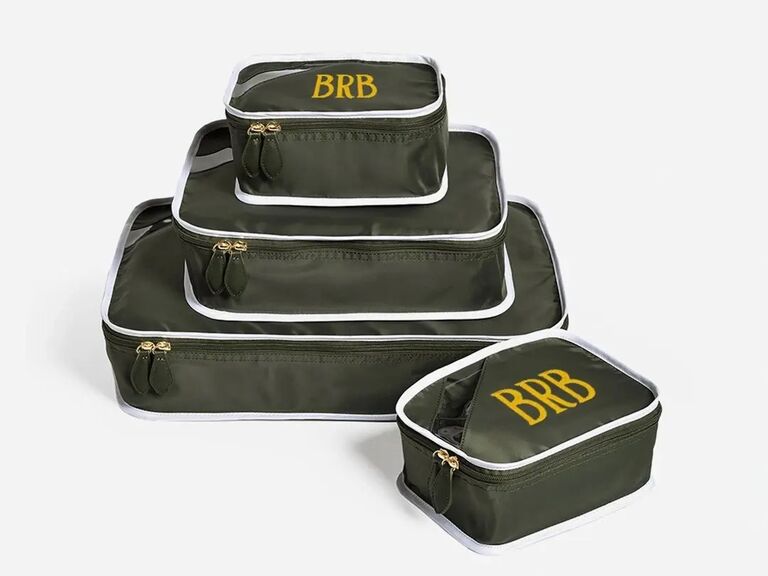 Shopping for a pair of jet-setters? Personalized packing cubes are the travel accessory they never knew they needed. This handy set includes four different sizes that'll make organizing their luggage an (almost) painless experience. Bonus: The cubes are made from sustainable materials and can be embroidered with a monogram.