Apparently Millennials Prefer Small, Intimate Weddings to Big, Expensive Ones
All hail the small wedding.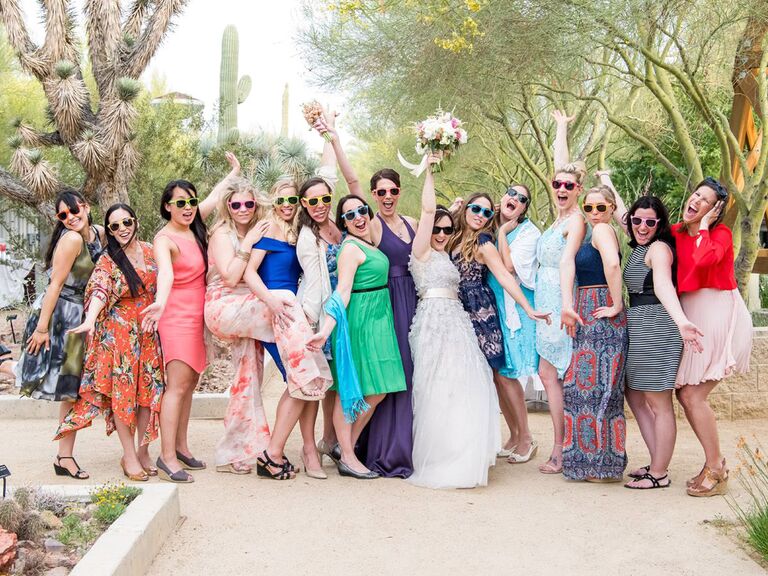 KMH PHOTOGRAPHY
When it comes to weddings, it looks like less is more. Over 2,200 millennials cast their votes on The Tylt, a digital social polling and opinion platform, and made it very clear they're more interested in celebrating marriage with a more affordable, intimate wedding than a big, expensive bash. When asked which size wedding they'd rather have, 70 percent of survey takers chose small weddings over large affairs.
Surprised? Looking back at the most recent The Knot Real Weddings Study, this preference for a tight-knit event actually makes sense. The national average cost of a wedding has dropped from an all-time high of $35,329 in 2016 to $33,391 in 2017, while the average head count showed a similar decrease from 141 guests in 2016 to 136 in 2017. That does mean the average cost per guest has increased, however, so couples seem ready to invite fewer people but spend more on each person to make the day truly unforgettable. More than ever, we're seeing intimate and casual weddings—even microweddings—replace pricey black-tie events with massive guest lists and all the trimmings.
And what about wedding guests themselves? They have opinions too, you know. The Tylt asked users to get real about what they really think of wedding guest expenses. An overwhelming 92 percent of participants agreed it's a special honor to attend someone's wedding and definitely worth spending the money to make it happen. Fifty-six percent of millennials even said something as tempting as a month free of rent couldn't trump the feeling of being in their best friend's wedding party—even though everyone knows being a wedding attendant can cost a pretty penny.
You've probably been in a wedding or two for which the cost of travel, gifts, clothing and grooming made you groan with frustration. But when it comes down to it, isn't it always worth a little dough to be there when someone you love says "I do"? After all, you'd hope they'd do the same on your day too.