Here's How Much the Average Wedding Guest and Attendant Spend
The Knot 2016 Wedding Guest Study surveyed over 1,000 people to find out just how costly attending a wedding is.
by Ivy Jacobson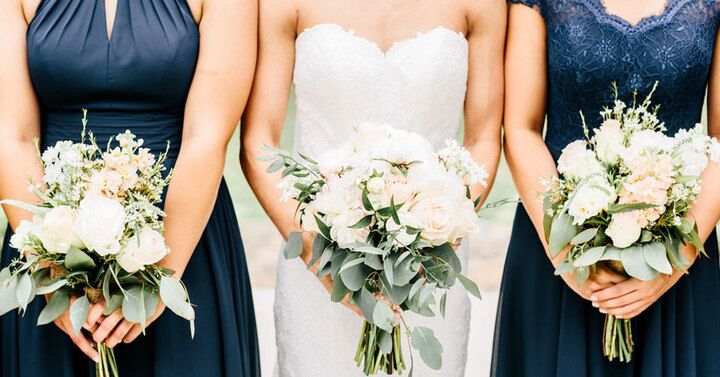 Hay Alexandra Photography
With wedding gifts, travel and attire, it's no surprise that being a wedding guest can be one expensive honor—but just how expensive? For The Knot 2016 Wedding Guest Study, we surveyed over 1,000 people who've been a guest or attendant at a wedding in the past three years, and the findings are eye-opening. We found that the average guest spends $118 on the wedding gift, and wedding attendants are spending even more at $177, on average. (But remember, this number is an average, which means depending on where you're attending each wedding, your spend could be higher or lower.) 
Plus, if you're a member of the wedding party, you're shelling out for a more expensive type of gift: 6 in 10 spent $500 or less on the bachelor/bachelorette party (including attire, drinks, meals, activities and party favors, and not including flights, accomodations or gifts). But on average, men spend more ($738) than women ($472). Find more of our guest and attendant stats below, coupled with tips on how to save.
How to Rein in Spending on Wedding Gifts
Personal wedding websites remain the number one way couples share their gift registries with guests (83 percent). Official wedding registries continue to be the most popular place to select a gift to give the couple, with 37 percent of wedding guests and attendants purchasing a wedding gift directly from a registry. Cash and checks are also popular gift options, with nearly one-third (29 percent) of guests gifting either cash (21 percent) or writing a check (8 percent). One in 10 (10 percent) wedding guests and attendants provide the couple with a gift card as their wedding gift. Seven percent of guests contribute funds to the couple's honeymoon as their wedding gift. And with the spirit of giving back on the wedding day on the rise, 1 percent of guests gift a charity contribution on behalf of the couple as their wedding gift.

However, guests should never spend more on a gift than they're comfortable with. That said, to help rein in gift spending, stick with the couple's wedding registry and buy early. About half (46 percent) of a couple's registry items are under $50, so guests should look up a couple's registry on TheKnot.com and buy gifts in their price range before all the moderately priced ones are gone. If you want to make a gift from their registry feel more personal and you're on a budget, consider purchasing something like mixing bowls or bakeware, paired with a homemade recipe book featuring a few your favorite dishes. If you want to get an expensive gift, go in on it as a group with other guests. Group gifting allows you to join in with friends and get the couple a more substantial gift than if each of you purchased smaller ones on your own. 
How to Handle Traveling to Costly Destination Weddings
Since one in four couples wed in a state other than where they currently reside, it's no surprise that 37 percent of guests require travel and accomodations ($321 for travel; $322 for acommodations), as well as 68 percent of attendants ($342 for travel; $293 for accomodations). Guests should take advantage of wedding hotel blocks—the easiest way to score a great deal on wedding accommodations—and they should book early. Guests may also want to consider booking a house rental in lieu of a hotel. With a house rental, you're likely splitting the cost with more people, plus you can stock your kitchen on a dime by buying your own groceries. If you're one of the 44 percent of wedding guests and attendants who are traveling to a wedding by air, consider leveraging travel miles and rewards to book your flight. Alternatively, if you have flexible travel dates, make a vacation out of the trip by adding a few extra days and leave mid-week, when flights tend to be cheaper. 
If you do end up vacationing in the wedding destionation, that likely means someone is coming with you. The majority of wedding guests and attendants (90 percent) are invited to the wedding day with a plus-one option. And 78 percent of wedding guests and attendants brought a plus-one to the most recent wedding they attended. Of those invited with a plus-one, 24 percent report spending more on a wedding gift because they were invited with an additional guest. Of those not invited with a plus-one option, only 1 in 10 felt they should have been invited with a guest.
How to Spend Less on a Wedding Outfit
If you're in your 20s or 30s, chances are you're attending multiple, back-to-back weddings. That means the costs of attire, accessories and shoes can quickly add up. On average, 48 percent of wedding guests purchase a new outfit for weddings, with an average of an $81 price tag (77 percent of wedding attendants purchase new attire too and spend an average of $207 on it). If you're wearing a dress to a few different upcoming wedding celebrations, buy one dress and accessorize it differently with your jewelry, shoes and more. There are a ton of great options for renting wedding-ready attire too, from Rent the Runway and Vow to be Chic for ladies to The Black Tux and Xedo for men. Men may want to invest in two good suits, a darker navy or black suit along with a lighter suit in either gray or khaki, switching up their shirt and tie for different looks at different weddings.