6 Big Mistakes to Avoid When Planning Your Destination Wedding
From not accounting for wind to legal ceremony rules in another country, don't miss these important tips.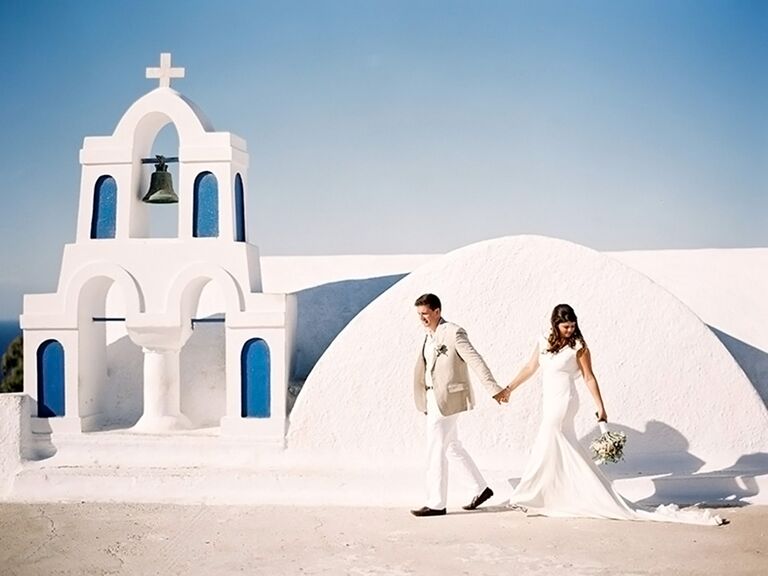 Rochelle Cheever
Planning a destination wedding can be an exciting adventure to experience another culture—while simultaneously presenting a unique set of challenges. Avoid these wedding pitfalls when planning from afar.
1. Not Getting Everything in Writing
Vendor contracts are there for a reason: to ensure you're getting what you paid for while protecting both sides. Each expectation you discuss should be outlined on paper to avoid any misunderstandings, language barrier miscommunications or any shortcomings if there are changes in staff.
2. Not Accounting for Wind and Sun
Weather plans aren't just for rain—excessive heat can cause a delay in your ceremony or make your guests incredibly uncomfortable, and wind can really ruin a great hairdo. "Be careful how you wear your hair on the wedding day," says destination wedding planner Ali Phillips of Engaging Events by Ali. "Beach and mountaintop weddings can be windy. Think about where the wind is coming from before you pick the ceremony spot—it's best to have the wind coming toward you so it blows your hair beautifully behind you. And for a quick fix with your linens, bring double-sided Velcro to hold them onto the tables, or order the linens in a bigger size and use rocks to hold them underneath the table." Aimee Monihan of Tropical Occasions adds, "If you're having a beach wedding, checking the tidal charts is so important. From setup to actual ceremony time and breakdown, you must have enough dry sandbar to get it all done."
3. Checking Your Wedding Dress on a Flight
Don't do it—we've all experienced a delayed bag or lost belongings when traveling, and you certainly don't want to risk that on your wedding day. Travel with all important documents, jewelry and attire with you as carry-on luggage, so the airline doesn't throw a wrench in your wedding day plans. Also, don't fly in on the day before the wedding. A little extra time ahead of the celebration will protect you from travel delays and make for a better overall travel experience.
4. Not Sending Your Wedding Invitations Soon Enough
Phillips advises to mail wedding invitations for a destination wedding four months before the wedding date, with the reply-by date of four weeks before the wedding. "Many international hotels require the final room block numbers at that mark," she says.
5. Planning a Legal Ceremony Without Doing Your Homework
Many countries have a "residency period" requirement in specific regions before you can officially wed. It's often just a day in length, but it can be up to a week or more. You may also have to file paperwork months in advance, appear with documents from home at a local government office, and, if you're traveling over a cultural holiday, they may or may not be open. Do your research well in advance, and if you just can't make it work, opt for a spiritual ceremony at the destination and make it official at home.
6. Assuming It'll Be Just Like Home
Service level, speed of work, local styles and even entrée items aren't always going to be just like you're used to back home. Be prepared to toss out some of those expectations and just roll with it when on "island time." You'll be a happier bride or groom if you do!
Harmony Walton is the founder of The Bridal Bar, host of Bridal Bar Radio airing on iHeartRadio and editor of the destination wedding blog Jet Fete by Bridal Bar. With a vast celebrity clientele and over a dozen years of experience, her brands have been recognized around the world and featured in media outlets such as The Associated Press, The New Yorker, The Knot, The New York Times, Entertainment Tonight, People Magazine, The Los Angeles Times and many more.