Why You Should Totally Book a Mountain Destination Wedding (+ Top Locales)
Breathtaking views and fresh air make mountain destination weddings picture-perfect.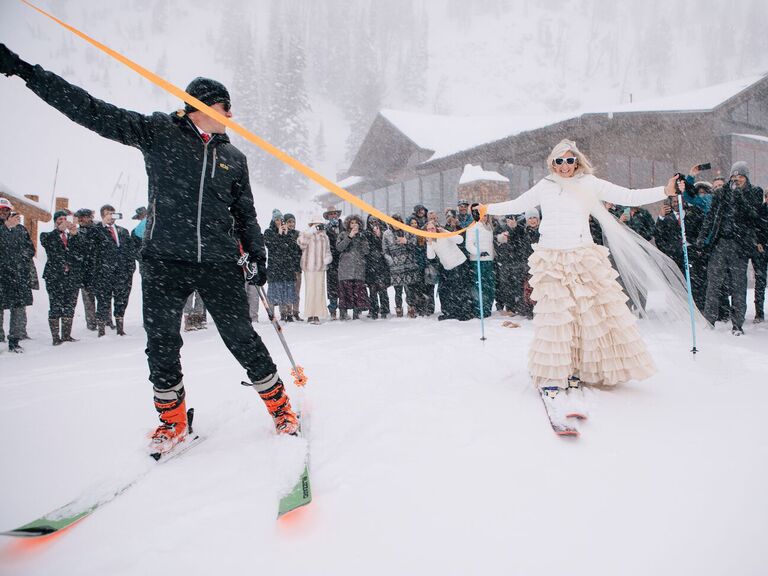 Carrie Patterson Photography,Location: Jackson Hole Mountain Resort
Mountain destination weddings take beautiful views to new heights—literally. Regardless of the wedding location and season, mountain soirees give couples and their guests a chance to truly take in natural beauty.
Fresh air coupled with sunshine or softly falling snow will not only make your day special, but allow you to cut down on decor costs, too.
If escaping to the mountains has been on your mind, your big day makes for the perfect excuse. Here's why you should spring for a mountain destination wedding (and 10 of the best locations that have stunning vistas perfect for tying the knot).
What Makes a Mountain Wedding Special?
By holding your wedding in the mountains, you're turning your special day into a great getaway for your guests. Mountain venues and towns can also feel secluded and intimate, even if your headcount is 300.
"The mountains are an amazing destination for a wedding because it truly feels like a vacation," says Payton Bernstine, owner and lead consultant for Promise Event Planners. "Mountain towns can sometimes feel like you've stepped back in time, and there is something about that small-town charm."
Tips for Getting Married in the Mountains
If you're holding a destination wedding, Bernstine suggests booking vendors local to the area who have experience working events at your venue. "[Local vendors] are familiar with the area and may have an easier time getting to your venue than a vendor who is flying in or driving in from the city to work with you," she says.
Bernstine also suggests playing to the location and weather. Let the beautiful mountain views speak for themselves by going light on decor. Then, put the money you saved into fun extras.
"Serve hot toddies at your cocktail hour," she says. "You can even have a spiked hot cocoa bar. As a favor, you can offer guests custom mugs with your wedding date [or] custom-embroidered blankets. This can keep guests warm from dinner to dancing and even for the chilly drive home."
The Best Mountain Wedding Destinations
Mountain wedding venues boast panoramic views, glamorous details like jeweled chandeliers and fun experiences like chairlifts and gondola rides. Some are perfect for elopements and intimate weddings, while others can host hundreds of guests. If you're looking to use majestic mountains as the backdrop for your special day, consider these 10 locales for your destination wedding.
1. Asheville, North Carolina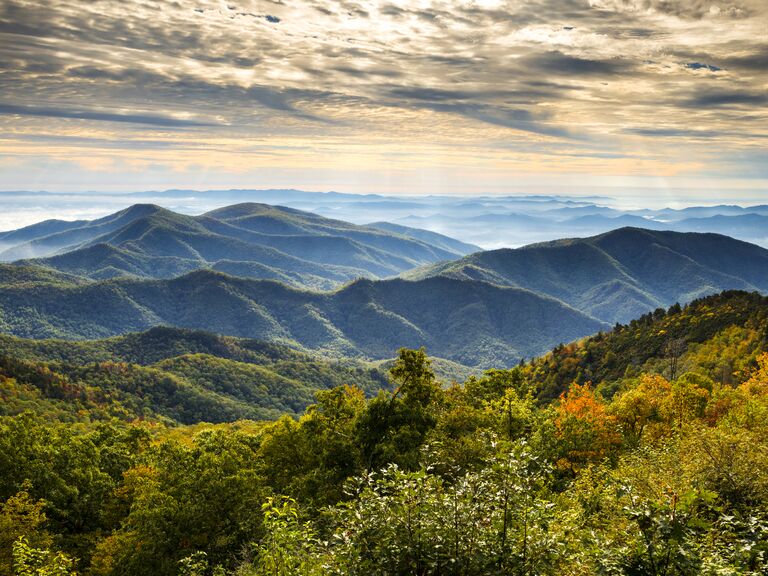 On your wedding day, you deserve to have it all. Asheville is ideal for engaged couples who can't decide between a city soiree and a mountain wedding. Its bustling downtown boasts unique local shops and eateries, but the Blue Ridge Mountains offer stunning views. If the weather cooperates, you can get married in an outdoor ceremony overlooking the mountain range. Natural beauty surrounds venues like Chestnut Ridge and The Farm, and the secluded Yesterday Spaces is a perfect wedding ceremony site for intimate elopements.
2. Aspen, Colorado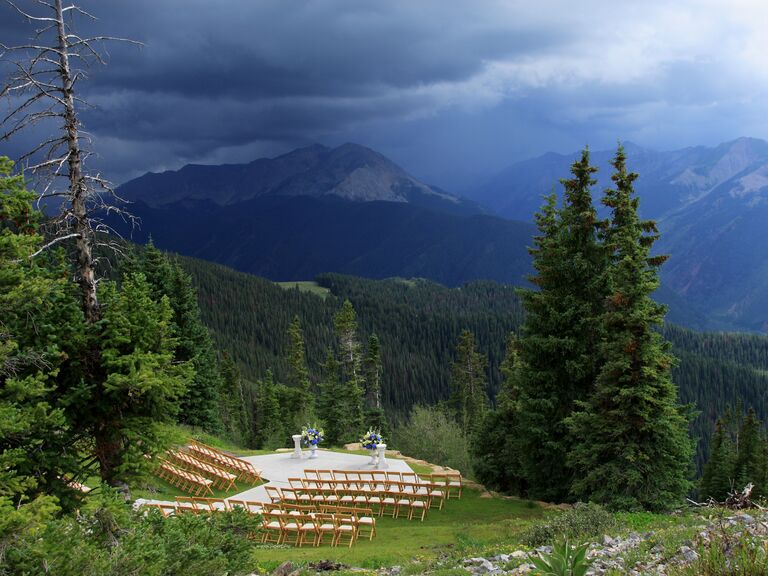 This high-end ski-resort town has long been a favorite holiday hideaway for celebs like Mariah Carey and Gigi Hadid. One look at the breathtaking Rocky Mountain vistas tells you why. It's simply a gorgeous spot for an indoor or outdoor wedding. Viceroy Snowmass and T Lazy 7 Ranch are two popular wedding venues with plenty of places to see the mountains. Although Aspen is often known for its ski season, don't count out autumn nuptials there. Each year, the leaves form a golden canopy over the town, providing a colorful backdrop for photos.
3. Jackson, Wyoming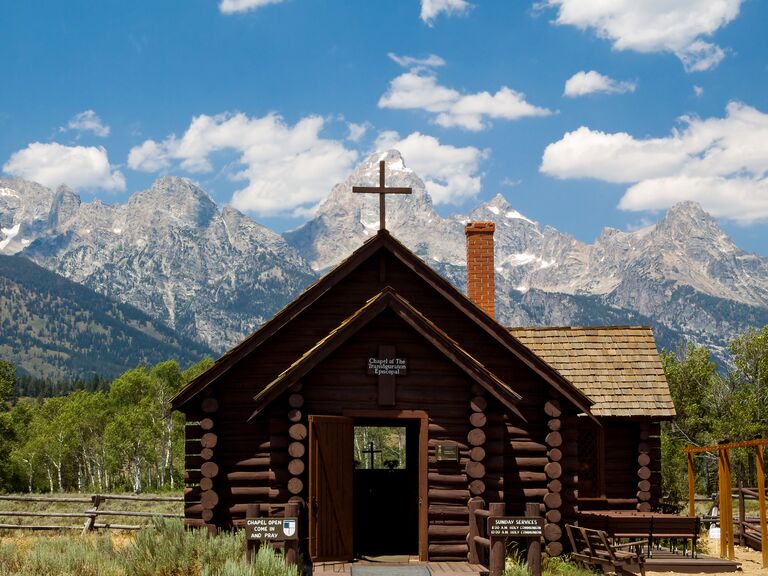 Grand Teton National Park is named for the highest peak in the Teton Range, and you'll find it in Jackson, Wyoming. To-be-weds can actually get married in the national park itself, but they'll need to apply for a permit at least 30 days in advance. (Read: You can't plan a last-minute elopement there.) Snow King Resort is less than 10 minutes from Grand Teton National Park and gives way to unobstructed glimpses of the mountains. It has perfect spaces for both large wedding parties and intimate soirees.
4. Rockville, Utah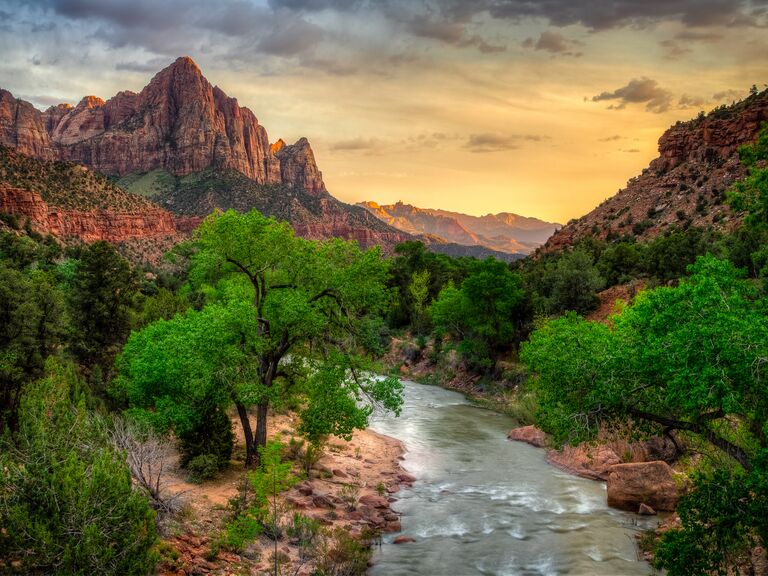 This town along the Virgin River is home to Zion National Park. The scenic red cliffs and the 8,726-foot Horse Ranch Mountain give couples unique possibilities for photos. During warmer months, wedding guests can use their extra time paddleboarding or kayaking on the river. Zion Red Rock has a trio of private estate-style venues with wedding packages for 50 to 175 guests, making it a beautiful spot for an elopement or mid-size party.
5. Whitefish, Montana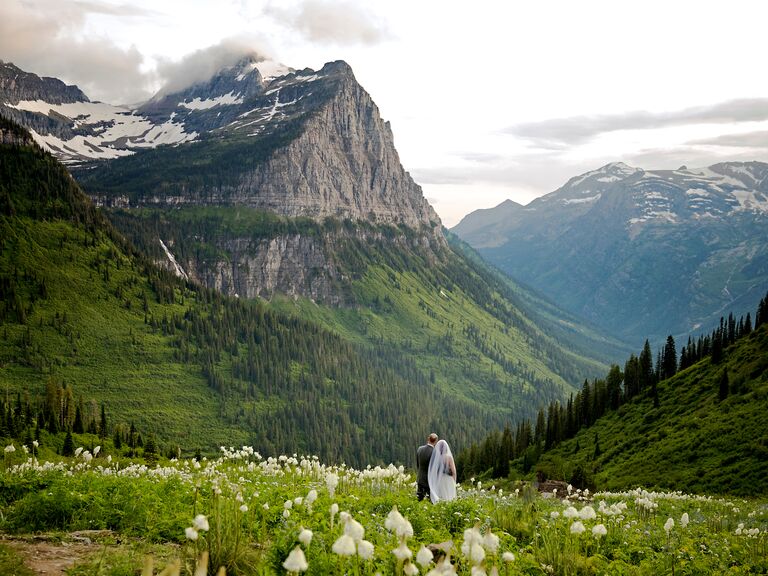 Colorado gets much of the credit for being Rocky Mountain country, but they're plenty visible in Whitefish, too. The spirited town with a deep appreciation for nature also sits at the edge of Glacier National Park. It gives couples ample spots to snap photos before and after the ceremony, and guests plenty of excuses to make your destination wedding a week-long vacation. Grouse Mountain Lodge has indoor and outdoor ceremony and reception spaces. And guests will never forget the experience of taking a chairlift or covered gondola over Glacier National Park to your mountaintop wedding at Whitefish Mountain Resort.
6. Gatlinburg, Tennessee
The Great Smoky Mountains draw people from all over the world to Gatlinburg, and it's a truly stunning location for nuptials. Venues range from private estates to upscale barns. The Venue at Greenbrier Estate offers panoramic views of the mountain ridge. Less than 20 minutes from Gatlinburg, The Magnolia's bistro lighting, exposed wooden beams and gorgeous chandelier set an elegant-yet-rustic scene for a mountain wedding. When not toasting to you, wedding guests can hike the Smoky Mountains or visit other attractions, like the Guinness World Record Museum.
7. The Catskills, New York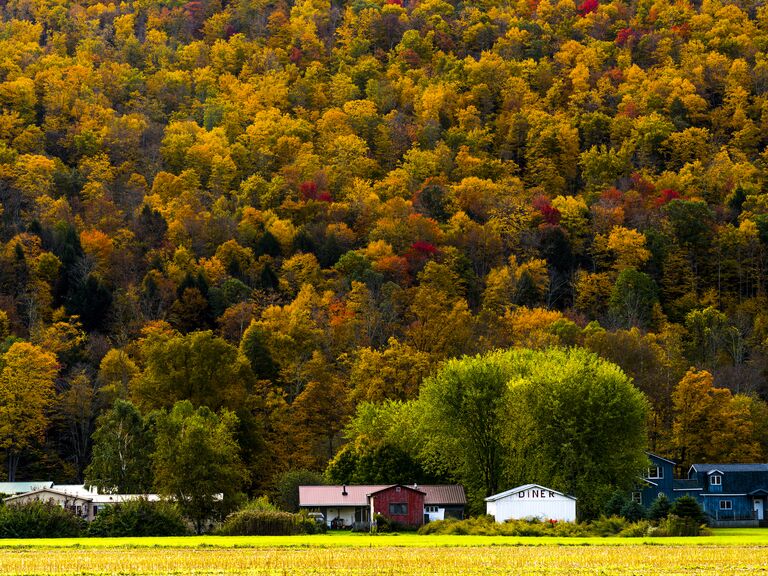 When you think of New York, your mind may automatically drift to visions of the hustle, bustle and concrete jungle of Manhattan. But the Empire State is also home to mountain ranges brimming with natural charm and understated elegance. The Catskills is one of them. The mountains are home to all four seasons, so couples can expect warm weather and gorgeous blooms in the spring and summer, foliage in the fall and cool weather in the winter (and maybe some picture-perfect snow, too). Venues include luxe barns like Full Moon Resort and the historic Blenheim Hill Farm, which dates back to the 1770s.
8. Chelan, Washington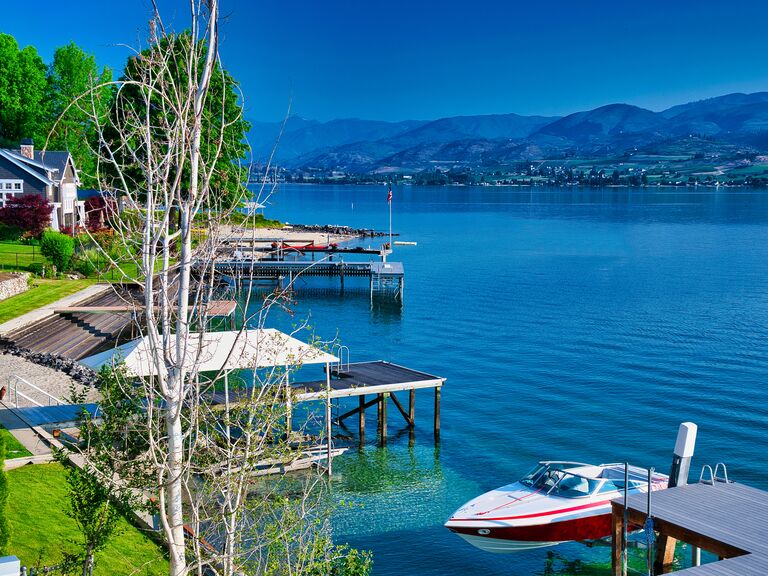 This county in Northwest Washington is an "I-do" destination for its jaw-dropping landscape that includes the sparkling Lake Chelan and North Cascades mountains. The snow-dusted trails can be seen even from a distance at wedding venues in the area. Campbell's Resort is a perfect pick for destination couples, as it has full-service wedding packages that include rehearsal dinners and morning-after brunches. Washington is also home to notable vineyards—wine-loving couples who want to escape to the mountains for their big day can get the best of both worlds with a vineyard affair at Tsillan Cellars.
9. Mariposa, California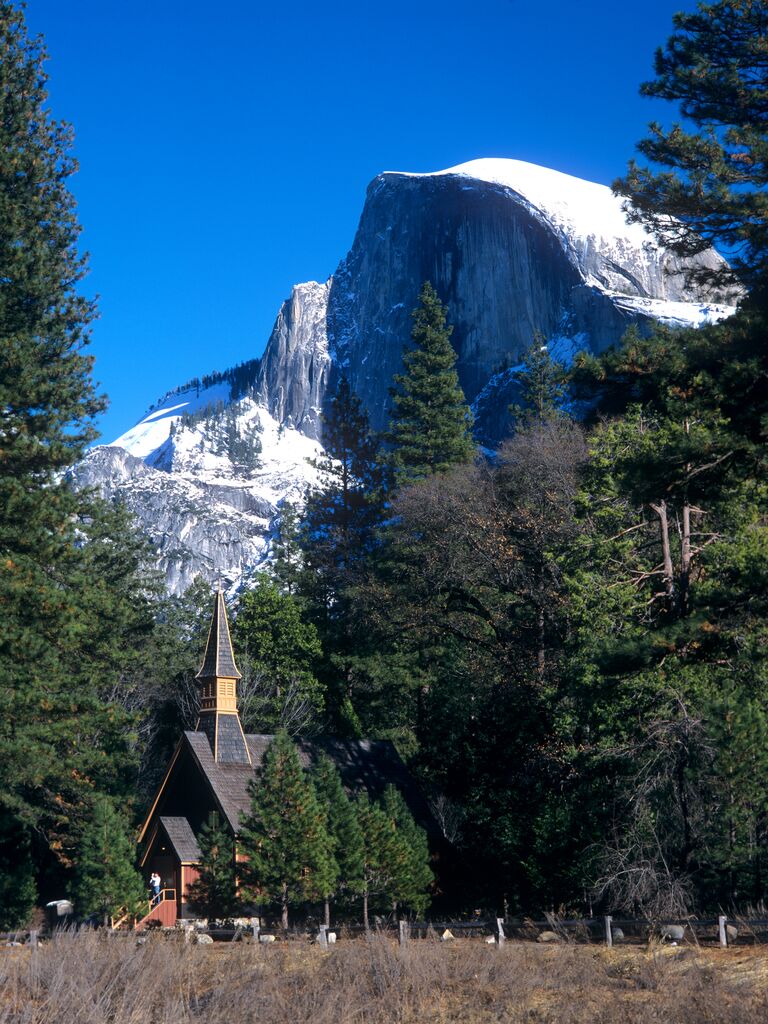 Situated at the foothills of the Sierra Nevada Mountains, Mariposa lays claim to much of Yosemite National Park. The park's granite cliffs, waterfalls, glaciers and mountains provide endless opportunities for exploring during a destination wedding weekend—and they offer great backdrops for photos on your special day. Couples can tie the knot at Yosemite National Park, but will want to apply for a permit at least three months in advance. Tenaya Lodge at Yosemite exudes natural beauty at every turn, from the hundreds of giant sequoia trees to the dramatic Bridalveil Fall.
10. Stowe, Vermont
This small town in New England draws snow bunnies and seasoned skiers each winter, but it's gorgeous every month of the year. Couples and wedding guests can take in the Green Mountains, including Mount Mansfield, the state's highest peak. The mountains dress up for the seasons—expect a lush, green backdrop in the spring and summer, pops of colorful foliage each fall and snow in the winter. Stoweflake Mountain Resort and Spa is a true retreat with room for indoor or outdoor ceremonies. The Lodge at Spruce Peak offers an array of special-event spaces, from a tree-lined ice rink to a private ceremony site overlooking Mount Mansfield.