Beauty Influencer NikkieTutorials Reveals Her Wedding Plans
Plus, the Youtube and Instagram star shares her must-read wedding beauty tips and the registry item she can't live without.
NikkieTutorials (whose real name is Nikkie de Jager) posted her first YouTube beauty tutorial in 2008, at the age of 14. Fourteen years later, she has 13.9 million subscribers, her own makeup line, Nimya, a fiancé named Dylan she lovingly refers to as her "person until the end of time" and is the cover star of The Knot Magazine Fall 2022.
But it hasn't all been lipstick and falsies. In January of 2020, Nikkie posted a video called "I'm Coming Out," where she revealed she was a trans woman after being blackmailed by someone who threatened to publicly expose her assigned sex at birth. In April of 2020, the COVID-19 pandemic derailed her wedding planning (along with millions of other couples worldwide). That August, Nikkie and Dylan were robbed at gunpoint in their home in the Netherlands. Despite the adversity she has faced, Nikkie's message—and presence—is overwhelmingly positive and inspiring. She's looking forward to "living the bridal fantasy" and, like every nearlywed, can't wait to make it official with the love of her life—in a stunning custom gown and flawless makeup, naturally. Here, Nikkie opens up to Senior Fashion and Beauty Editor Shelley Brown about how coming out affected her relationship, her wedding plans and her top beauty tips. (Psst, you can read the full issue online here.)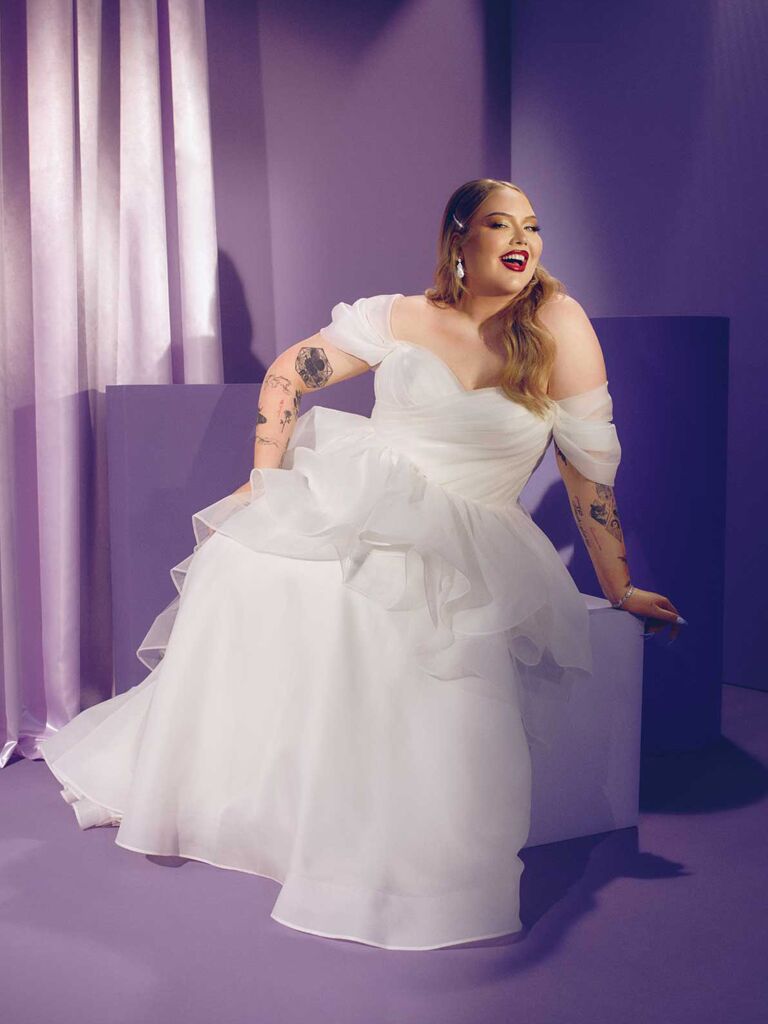 Q: When did you know you wanted to marry Dylan?
Dylan is such a great guy and a loving, caring person. I think we were in a relationship for, I don't know, six months, and everything felt right. I'd never felt that comfortable with a person before. After my previous relationship, I put away the idea of marriage, because it wasn't working out. I was like, 'Okay, well, I'm never getting married.' But then when I found Dylan, I was like, 'Wait, this could be the one. This could be the one where it actually happens, and where I could have my happy ending.'
Q: Will you share your proposal story?
Oh, yes. It's a fun one. So Dylan and I went on vacation to Puglia in the south of Italy and we got this gorgeous hotel. It was just stunning—what dreams are made of. Whenever I go on a trip, I always try to get one perfect photo for the 'gram, as the life of an influencer goes. And there was this one restaurant inside of a cave. I don't remember the name, but if you see a restaurant in a cave in Italy, it's that one. And Dylan said, 'Look at this place. It's beautiful.' I said, 'Wow, I guess that's my photo. That's where I have to take it.' The entire trip we had been talking about the photo I was going for. He was like, 'Stand at the top of the stairs and pose as if you're walking.' He's so invested—I love that about him.
I woke up that day and we had our game plan. I did my hair and makeup. I had this gorgeous orange-red dress on. And the entire day Dylan was in a great mood. And I remember that before we went to the restaurant, we went to get coffee and he did something with his phone that alarmed me, because he kept putting it away. And he's never really secretive about stuff like that, so I was like, 'What is this all of a sudden?' But I just let it go.
The closer we got to the dinner, the more anxious he became. As soon as we got to the dinner, he said, 'Now let's take that picture.' So I see the staircase that we've seen online. I'm like, 'That's where we're going to take the photo and I'm really going to kill this picture.' So he walks up, he takes my photos, and after a while, I feel like we got it. And, he never says stuff like this, he goes, 'Do you mind taking a picture of me?' And I'm like, 'Okay, Mr. Influencer!' So we switched places, and I took his photo and he didn't move for 10 shots. And I was like, 'Give me some variety, baby.' He had the same pose for every shot. And he says, 'Can you turn around and grab that for me? I left something up there.' When I turned back around, he was on one knee. And my favorite moment is that it started off with 'Dear Nikkie,' and then emotions took over and I couldn't understand a word. And it ended with, 'Do you want to be my wife?'
Find your kind of venue
From barns to ballrooms, discover reception venues that feel like you.
The first thing I said was, 'Are you sure? Really, with me?' And then after he insisted that, yes, he wanted me to be his wife, I said yes. I guess this restaurant sees a lot of engagements. So I'm on cloud nine, living my best life: 'Oh my God, I'm engaged, I'm engaged, I'm engaged.' Then the waiter comes over and I'm like, 'Look, I just got engaged.' And she literally says, with no emotion, 'That's great.' And then, because we were in a cave, there was no phone connection. We couldn't call or text anyone. So it was great to really celebrate that moment with each other, just the two of us. It's a moment I'll never forget.
Q: You came out in a pretty public way. How did it affect your relationship?
Oh my gosh. While my coming out was one of the scariest moments of my life, I had a couple of rocks surrounding me. And one of those people was Dylan. He was everything I hoped he would be for me in that period because he was super, super supportive. He was with me throughout every second. When I had to click publish on my coming-out video, it was a very scary moment, because you don't know what the future will bring. He took my hand and looked me in the eyes and said, 'You're going to publish this. We're going to be fine. You got this. Whatever happens happens, but know that we have each other and it'll be just fine.' When he said that I was like, 'This man is never leaving me, and I'm never leaving this man.' I thought, 'That's my person. He is mine until the end of time.'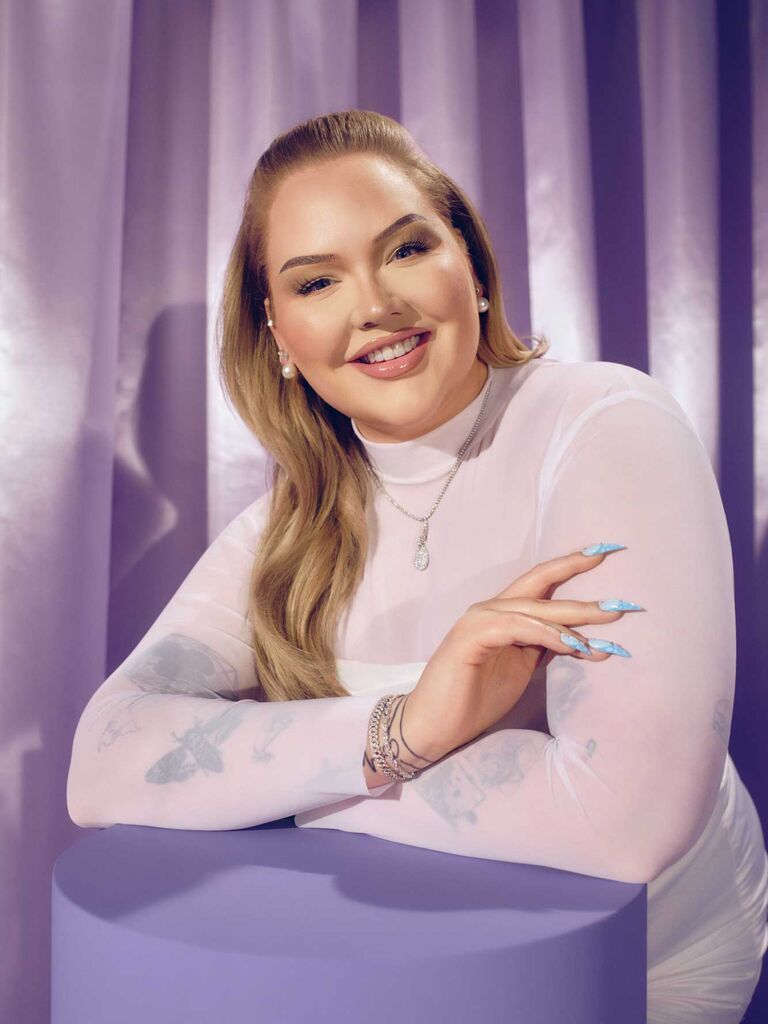 Q: Now that you're planning your wedding, what beauty trends are you loving?
This is my first and, hopefully last, wedding. I'm so excited to see how I make the bridal trends mine. As you can see [gestures to red lips] I love a bit of color. So there will be something colorful, but I'm also all about the glam. So think of rhinestones, little crystal gems scattered across the face. But I also want to be careful, because these wedding pictures will live until the end of time—and that makeup has got to be perfect. So, better to keep it classy. I know that's a lot coming from me, but better to keep it a bit more safe than to go too over-the-top.
Q: Will you do your own wedding makeup?
I've gotten this question a lot. And the answer is, of course, yes. Can you imagine? I do all my makeup all the time. I do it for big events. And can you imagine me waking up on my wedding day being like, 'I'll have someone else scoot in and just do it for me.' I could not have that trust. Nobody can touch these brows like I do. It's all going to be me.
Q: Do you have tips for to-be-weds looking to hire a professional makeup artist?
It is really important to get to know your pro. I think meeting up at least once prior to the wedding, even prior to your makeup trial, is super important. Go for coffee if they have time. Get to know them. Really dive into their work. Basically become besties with them for about a week. You want to make sure that the style you're looking for is something they can comfortably do with a time limit. Ask if they have done weddings before. Have they mastered the style of makeup that you want? And please, trust me, test out your makeup first. Plan a makeup trial so you can see what it looks like and if it's what you want.
Q: Are there any other important questions to ask your wedding glam team?
Are you comfortable doing this style? And how long do you need? Plan, plan, plan! The last thing you want on this magical day is to stress over time limits. Make sure that they are comfortable with the amount of time they're given and ask for examples of their previous work so you can really zoom in on the details. And above all, make sure they have a foundation that matches your skin tone.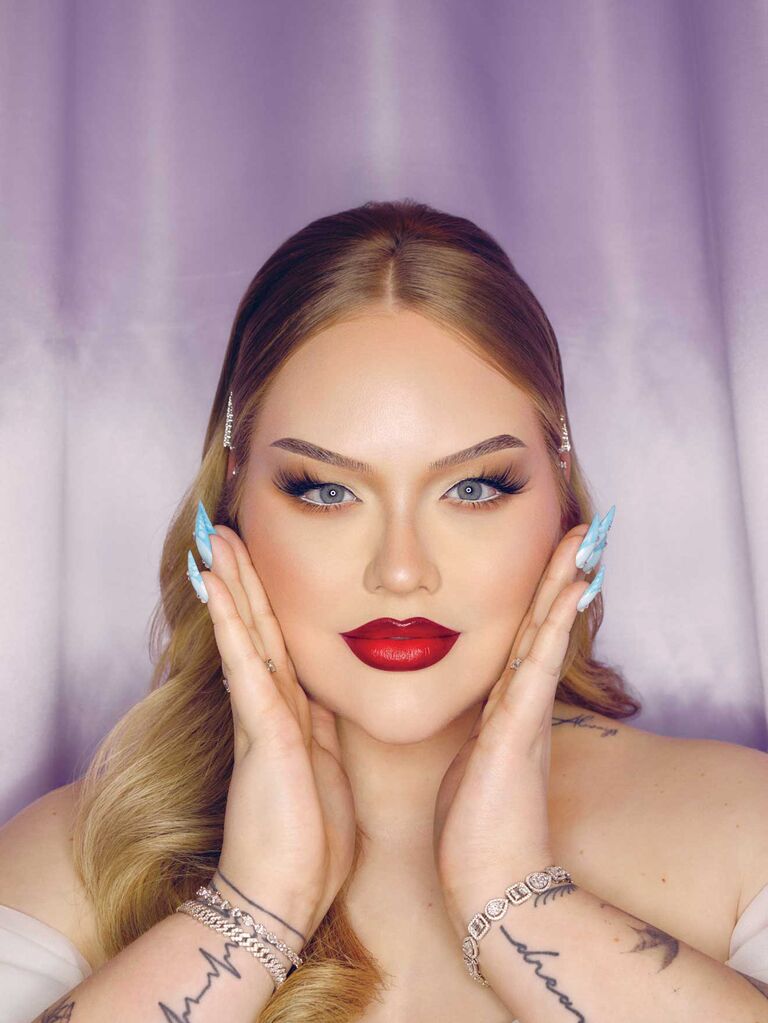 Q: Are you building a wedding registry?
I actually am working on a wedding registry. What's funny is the dress that I'm working on is pushing the budget a little bit, and by a little bit I mean a lot, so my invite is literally going to say, 'Please send scented candles and/or some money, because the budget got pushed by a lot.'
Q: What's the most outrageous item you've registered for?
Oh, I don't really have a crazy item I've registered for. If I get at least two scented candles, I'm a happy girl. I'm also a little bit scared because I feel like I'm going to get like 50 scented candles, but it's fine.
Q: Do you have a favorite scented candle brand?
God, scented candles by Diptyque. Please. Yes.
Q: Which part of wedding planning are you enjoying the most?
If I'm being a hundred percent honest, I'm going to taste some food this week and I cannot tell you how excited I am about that part. I'm a huge foodie—I love food. I have been dreaming of this day for so long. The day after the wedding we're doing a big breakfast, since it's my favorite part of the day. We're tasting all of the breakfast food this week. I'm so excited.
Q: What has been the biggest challenge?
Easily the biggest challenge has been the dress. So much depends on the dress. Creating a dress from scratch—because that's what we're doing—has not been easy. You have to find a designer who really connects with you, someone you trust. But also, in my case, someone who I want to give that special moment to, because this dress will be seen by the world. I want someone genuine and talented to make that dress for me, because it will be a huge moment for them as well. It has been very difficult. And then with designing the dress comes deciding on the shape, the material, the fabric. It's a nightmare.
Q: Have you chosen a dress designer?
My wedding is this year and we are still working on sketches, if that gives you any idea. What happened was—I'm giving you the real tea, all the tea—I had a designer and their budget was just...not even a scented candle could fix that. Like that budget was a no. So we switched designers. This new designer is incredible. And I'm so honored that they even want to do it for me, but still we are in a little bit of a time crunch, and we are starting over with sketches again.
Q: Is there anything else you can reveal about the dress?
Well, first of all, look at me. It's not going to be simple. It's going to be a lot of dress. It's going to be shiny. It's going to be glamorous. It's probably going to be a lot for a lot of people out there, but that's what's perfect for me.
Q: Why the decision to go with a custom dress?
Your girl is large and in charge. I'm 6'3". And basically I can't find the craziness, the madness that is in my head, in a store. I need someone to physically create that for me because I'm a little cuckoo up in here.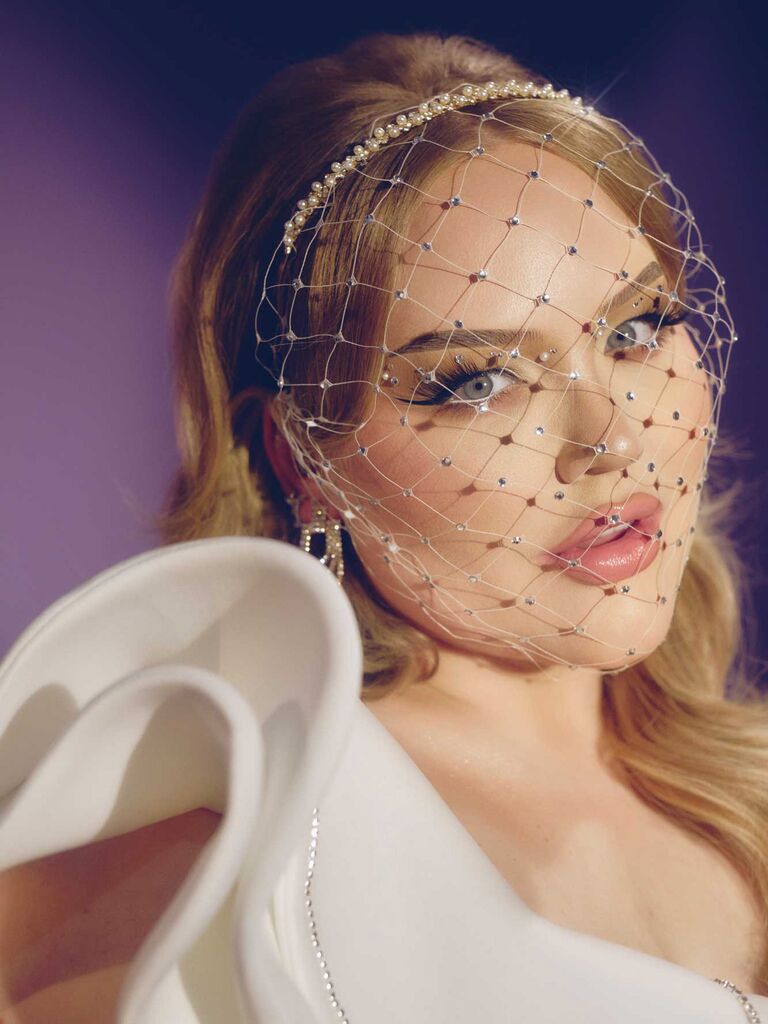 Q: Which part of your wedding day are you most excited about?
I'm looking forward to putting that ring on and kissing each other, knowing that we've sealed the deal. I think every bride says that. I'm also really looking forward to the food. Oh my God. Like I said, I'm a big foodie and this wedding is going to be surrounded by food. I think our theme is food. I might just pull up in a Lady Gaga meat dress. We love food so much, so of course, we have to give our guests the best of the best. I'm really excited for even our guests to see what we came up with.
Q: Are you serving a certain kind of cuisine?
We did taste the dinner food already. We were between two restaurants and one was this very high-end type of food, like Michelin-star food. Like 'ugh' food. But it was so niche. So we found this other restaurant that has hints of Michelin- star food but is more accessible. I can't wait, because I know my brother, who's not about fancy food at all, will love it, and I know that my mom, who is all about fancy food, will love it as well.
Q: Are you incorporating any details to honor your families or loved ones?
A few years ago, my little brother Mikai passed away, and his favorite color was red. We are paying tribute to him by incorporating the color red somewhere. I'm not going to tell where yet, but it's going to be there.
Q: Are you incorporating any Dutch wedding traditions?
In the Netherlands, you have typical Dutch snacks. We have frikandel, croquettes and kaassoufflé. If you're not Dutch, you have no clue what I'm talking about, but they're amazing fried snacks. You can serve the best food in the world, but people will go nuts for a FEBO food wall. Again, if you aren't Dutch that won't mean anything to you, but it's a food wall you can get snacks out of. We're going to have a FEBO food wall at the end of our wedding. It's brilliant.
Q: What's another wedding-themed word in Dutch?
The Dutch word for wedding is bruiloft. You're cordiallyinvited to Nikkie and Dylan's bruiloft. But actually, please don't show up. I don't have room for too many people.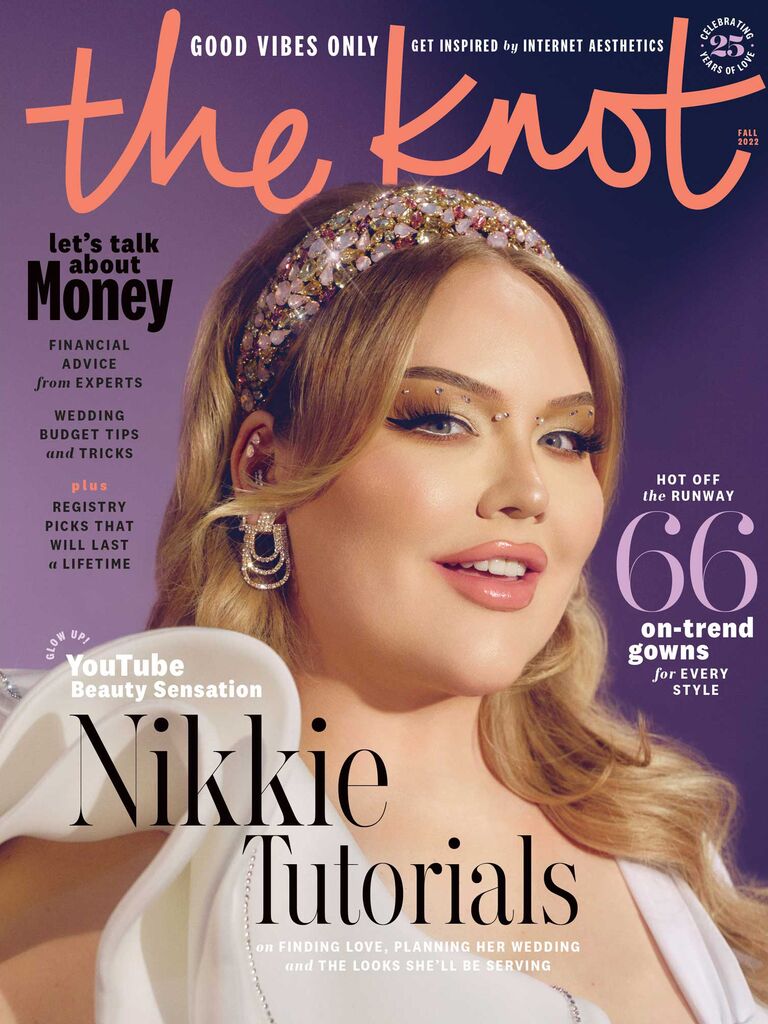 This issue, we're bringing the entire magazine straight to you at home, so you can get even more insight into wedding beauty and fashion tips, essential wedding and planning advice, inspiration from real couples and more. Read the full issue cover to cover online here: The Knot Magazine Fall 2022.