An NYC Bachelorette Party City Guide to Plan Your Weekend
In the city that never sleeps, the world is your bachelorette playground.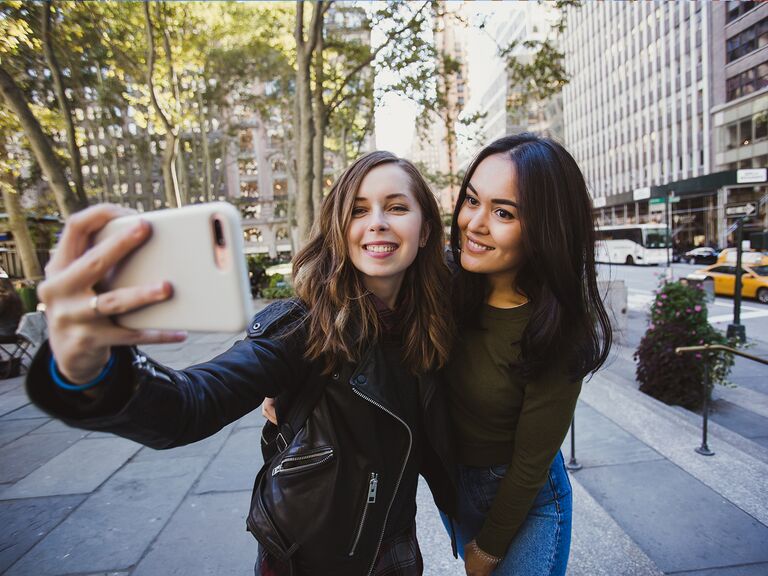 Yulia Mayorova/Shutterstock
We have included third party products to help you navigate and enjoy life's biggest moments. Purchases made through links on this page may earn us a commission.
It's almost a shame to only have one weekend for a bachelorette party in New York City. When it comes to choosing a bachelorette party destination, Manhattan has everything you could want—and more—to impress your bride and their friends. For the ultimate NYC bachelorette party, spend a weekend taking in everything there is to offer in the Big Apple, from trendy bachelorette dinner restaurants and speakeasy-style bars to drag shows and Broadway. Ready to get planning? Here's everything you need to know about planning a New York City bachelorette party—itinerary, accommodations, nightlife and more.
NYC Bachelorette Party Planning in this Article:
NYC Bachelorette Party Ideas
What isn't there to do in NYC? When it comes to a perfect bachelorette party itinerary, you can theme a New York bachelorette party 100 different ways, for the foodies, for the shoppers, for the theater and arts lovers, and so, so much more. Just don't forget to stock up on top notch gear from The Knot Shop to match your bach party theme.
For the Foodie
It's no question that New York City is one of the food capitals of the world, from the country's first pizza pie to new-age creations (remember the cronut, anyone?) you can find it all here. If you want to be sure to digest it all, consider a food lover's tour or Manhattan.
For the Theater Geek
What better place to catch a show than in the home of Broadway. Book tickets in advance to one of the greats on Broadway, buy last minute seats at the TKTS Booth in Times Square, or consider an equally thrilling off-Broadway production. Then there are the shows that aren't on the big stage, including cabarets, drag brunches, and comedy clubs.
For the TV & Movie Buffs
Of course, Manhattan is also home to some of the top filming locations for your favorite shows and movies. Consider a tour of the greatest hits, including Sex and the City, When Harry Met Sally and Seinfeld, or Gossip Girl.
For a Shopaholics and Art Lovers
Of course, it's well known that New York City has great taste across the board. Spend a day (or two) shopping its top-notch stores and boutiques with your best girls. And for all things beautiful, make sure to stop in at the city's world-class museums, including The Met, The Museum of Modern Art, and the Guggenheim.
NYC Bachelorette Activities & Itinerary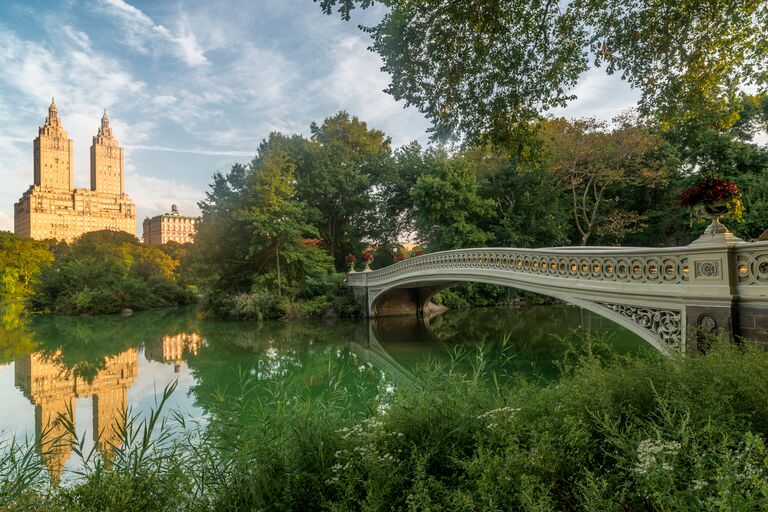 With the world at your feet, it may be hard to narrow down an NYC bachelorette party itinerary to just a few activities and a few days. But we've got you covered: Here's the ultimate three-day NYC bachelorette party itinerary:
Day 1
Morning: After checking into your hotel or Vrbo, start the day with a classic girl's spot in the city: Alice's Tea Cup. The two locations are very popular so make a reservation (or book a private event) in advance, if you can. Here you can have the ultimate girl's brunch of scones, crepes, French toast, and more—all paired with a great tea service.
Afternoon: Get ready for the weekend with a bit of early party pampering. At ChillHouse, you and your crew can get matching nail art—and a whole bunch of other day-spa treatments—with a cafe menu, wine, and beer to choose from. Keep the beauty party going with a visit to Lip Lab, where you can make your own shades of lipstick or gloss. Of course, now that you're dolled up and ready, consider booking a photographer through Flytographer to capture shots of you and your bride squad in some of NYC's most iconic spots, from Times Square to Central Park.
Evening: Start off with a wine tasting at City Winery, where you can also catch some live music on the right night. Then head off to dinner at Beauty and Essex, a lounge-like spot with great and inventive shared plates, and a night club on the second level. Keep the party going after dinner at The Magic Hour Rooftop & Lounge, a great spot with indoor/outdoor space and epic Manhattan Views.
Day 2
Morning: Start with a must-experience brunch at Anejo in Hell's Kitchen. This is an affordable boozy brunch with bottomless margaritas and tasty Mexican small plates to share.
Afternoon: The day's options are plentiful, so pick your poison based on your bride's personality: Foodies can head over to the Milk Bar, the famous dessert shop, to build their own custom cakes (we won't judge if you don't wind up saving it for later). Art-lovers can take a private gallery tour where you get just the highlights of the city's most amazing art collections. Or if you're looking for a little R&R, head to SoHO's Haven Spa for a day of pampering and relaxation (plus the great shopping nearby).

Evening: Tonight, dinner comes with a show. At Lips, you'll be treated to three courses, drinks, and an epic, renowned drag show (for a little extra, the bride can be pulled on stage). After the show, head to PHD Rooftop Loungeor another bar with views, or dance the night away at the House of Yes or the Electric Room.
Day 3
Morning: For your last brunch in the big city, head to Chef Marcus Samuelsson's restaurant, Red Rooster Harlem, for comfort food and their gospel brunch.
Afternoon: Another day, another plethora of options: For the rare outdoor adventure, keep charter a boat from Sailo and make your way around the city by water, with great views of Lady Liberty along the way. For thrill-seekers, consider a Trapeze School class. Or, catch a Broadway matinee (tickets are cheaper for these showtimes). You can also just take the day to unwind and wander your way through Central Park.
Evening: Start with dinner at Catch, a rooftop seafood spot where you can dine on ceviche, tartare, and sushi in a scenic (and made to be seen) setting. Then treat yourselves to another delicious dessert—this one with boozy pairings. At Butter & Scotch sweet offerings like chocolate cake and key lime pie are paired with inspiring cocktails—or go all in with a boozy milkshake. End the night with drinks at Paul's Cocktail Lounge in the Roxy Hotel.
NYC Bachelorette Scavenger Hunt
Looking to make your activities even more fun? Turn your weekend itinerary into a NYC scavenger hunt. Distribute a list of activities with points awarded for each completed task and ask participants to provide proof with pictures. Download an editable template to customize the list and include NYC-themed to-dos. Don't forget to give the winner a prize such as a classic New York City souvenir.
Places to Stay in NYC for a Bachelorette Party
New York is extremely easy to get around between walking, taxis, and the Subway, so it really makes no difference what part of the city you stay in. Choose the hotel or AirBnB that suits your group best.
Best NYC Hotels for Bachelorette Parties
Pro tip: The Knot has partnerd with HotelPlanner.com to help you secure the best group hotel rate and get free hotel advice from an expert travel planner.
NYC Bachelorette Party Vacation Rentals
There are also housing options for a New York City bachelorette party, so check out TripAdvisor, Vrbo , Airbnb and Hopper Homes. Pro tip: If you're looking to supplement your vacation rental stay with some hotel amenities such as a rooftop pool or fitness facility, you can secure a New York City hotel day pass on ResortPass.
NYC Bachelorette Party Nightlife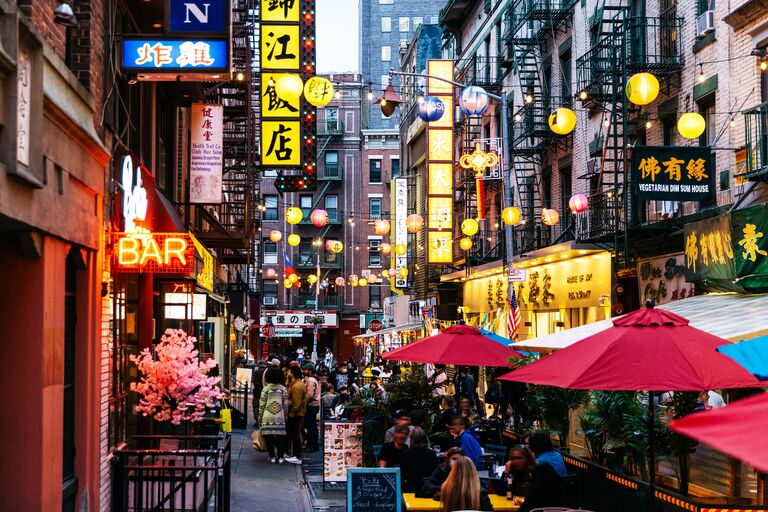 It probably goes without saying that New York is one of the top destinations for fine dining and premium cocktails, full of some of the best bartenders and chefs in the world. There's amazing food everywhere, whether it's a hotdog stand or three Michelin star restaurant for a NYC bachelorette dinner, and so many incredible cocktail bars. Here are some of our favorites to start with, but you really can't go wrong when you're in New York.
Best NYC Bachelorette Restaurants
Explore Chinatown: If you love Asian food, this is a lot of fun. You can pop in and out of small establishments, trying some pork buns, dumplings, noodle dishes, and it's all generally inexpensive and always delicious. Stop into Mei Lai Wah for pork buns and Super Taste has some of the best pulled noodles and steamed dumplings.
Via Carota: Via Carota is a great spot to enjoy some delicious Italian. Although, they throw in some authentic surprises, dabbling with ingredients like rabbit and octopus. They have a private wine room that can be reserved for up to 12 people, perfect for a group.
Pizza Tour: The New York slice is known around the world. There's a cult following for New York style pizza, and for good reason. It's hard to go wrong in New York when looking for a good pizza to try, but some of our favorites are Pizza Suprema, Scarr's Pizza, and Vinnie's Pizzeria.
Best NYC Bachelorette Party Bars
The Dead Rabbit: The Dead Rabbit has fun, vintage cocktails, perfect for sipping while you explore the two-story establishment. They also have some filling bites to nosh on while you're out drinking like scotch eggs and fresh oysters. Read Reviews
Please Don't Tell: If you haven't heard of Please Don't Tell, it's a speakeasy that ironically is quite well-known despite the name. From the outside, Crif Dogs is just a place to grab a quick hotdog in New York. Those in the know head back to the phone booth, call down to the bar and then from there they are led into the moody, dark ambience of Please Don't Tell to indulge in a round of two of delicious cocktails. Read Reviews
Dear Irving on Hudson Rooftop Bar: Dear Irving at the Aliz Hotel prides themselves on serving high quality spirits. They do have beer and wine for those looking to have a glass, but cocktails is where they really shine. Their bar Director and the team come up with creative options for guests to enjoy. Read Reviews
Expert NYC Travel Tips
If you're coming from the west coast to New York, there are many airlines to choose from and quite a few with nonstop flights that will bring you from LA to New York you can fly Spirit, JetBlue, American, and many others. If you're coming from other areas of New York, like Western New York or the Hudson Valley, the Amtrak train is a great option. You can buy an Amtrak ticket, which is usually quite reasonably priced, that will bring you into Penn Station. You can use Uber while in the city, but if the weather is nice, I highly recommend walking or trying your hand at the subway system. Even if you're unfamiliar with the subway system, you can use Google Maps to navigate the trains. It's a much cheaper option and it's faster.