Our Favorite Ombré Wedding Nail Ideas & How to Master Them
Coming soon to your insta feed.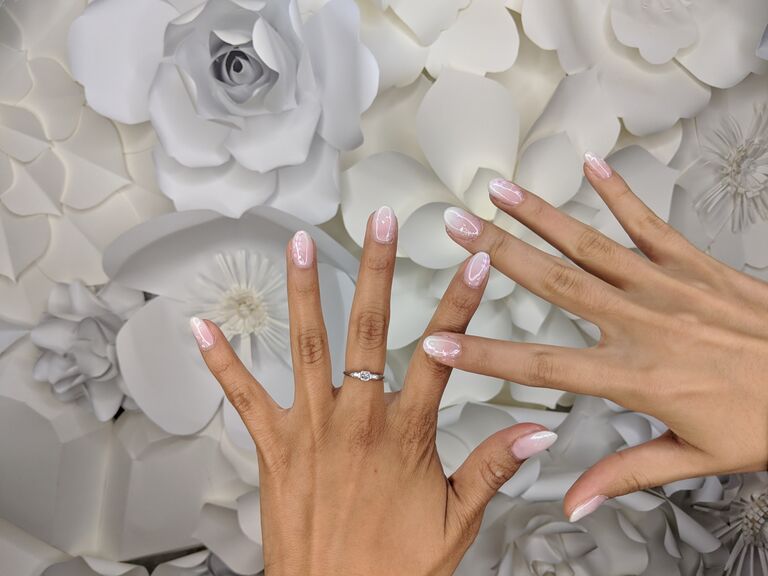 Jo.kos/Shutterstock.com
Some wedding glam trends just stick. Flower crowns, wedding headbands and "no-makeup makeup" looks, for example, have all stood the test of time despite their initial surge in popularity. Another trendy-yet-timeless beauty look we predict will stand the test of time? Ombré wedding nails. The unique nail trend involves a gentle fade of colors (typically a gradient of the same color or similar ones). We love ombré wedding nails because they offer endless amounts of options: You can rock neutral nails, colorful manis or sparkly polishes. You can also wear this design on natural nails, gel nails, acrylic nails, stiletto nails, short nails, long nails—whatever your heart desires. Plus, the trend allows you to use more than one color on your big day. (Read: less stress around selecting that one perfect wedding day nail color).
If you're dreaming of ombré wedding nails, we have all the information you need to know about this popular manicure trend. Plus, we rounded up some of our favorite ombré nail design ideas to help inspire your wedding day look.
What are ombré wedding nails?
"Ombré" is French for "shadow" or "shade," which is fitting considering the beauty trend. ombré involves color that's graduated in tones. Typically, it involves one hue that gradually fades from the darkest shade of the color to the lightest. Or, it can involve a smooth fade of similar colors (purple to pink, for example). Either approach results is a subtle, classy form of nail art.
Ombré nails are perfect for a personalized wedding moment because there are so many options. You can ask your nail technician for a slight color fade on each nail or to paint every nail a slightly different color. You can also try out a matte finish for an edgier take on the popular nail trend. Whatever you decide, make sure it feels authentic to you—it's your day, after all. Plus, there will be many pictures where your beautiful nails are on display, so you want to make sure you love them.
Find your kind of venue
From barns to ballrooms, discover reception venues that feel like you.
How to Create Ombré Wedding Nails
To create ombré wedding nails, you'll need to select a nail polish first. Select one color or two to three similar colors to use for your manicure. Psst: you can also use pre-made ombré press on nails to achieve this mani idea. It's also possible to DIY this stunning wedding nail design with a makeup sponge, but we recommend working with a pro to ensure a camera-ready, long-lasting mani. Gather pictures of the ombré nail art designs you're loving, and then head over to your salon or wedding beauty pro to bring your vision to life.
Our Favorite Ombré Wedding Nail Ideas
Ready to get inspired? Here are five trending ombré manicure ideas for you to save to your wedding vision board right now.
Glitter Ombré Wedding Nails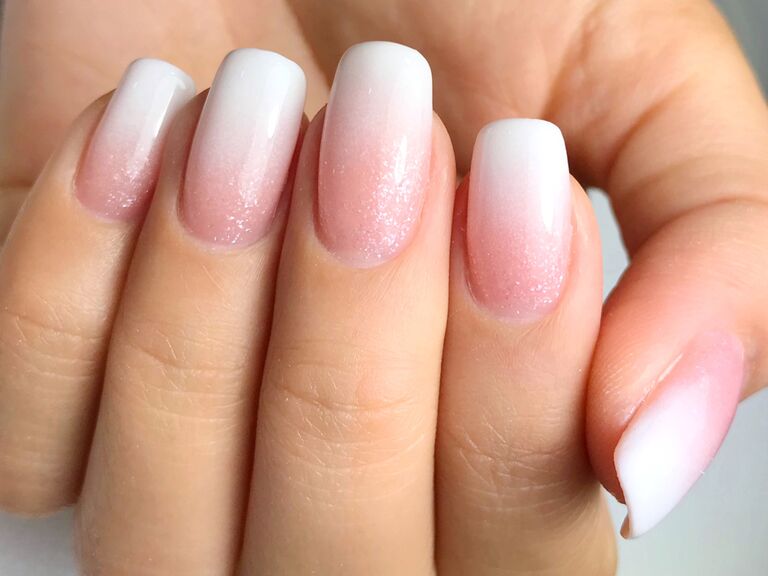 Add a touch of bling to your wedding day mani with glitter nails. Place glitter or rhinestones at the base of your nails and fade into sheer color—or flip it and fade your color into glitter-covered tips. You can also create a gradient effect by adding a little more glitter to each nail.
White Ombré Wedding Nails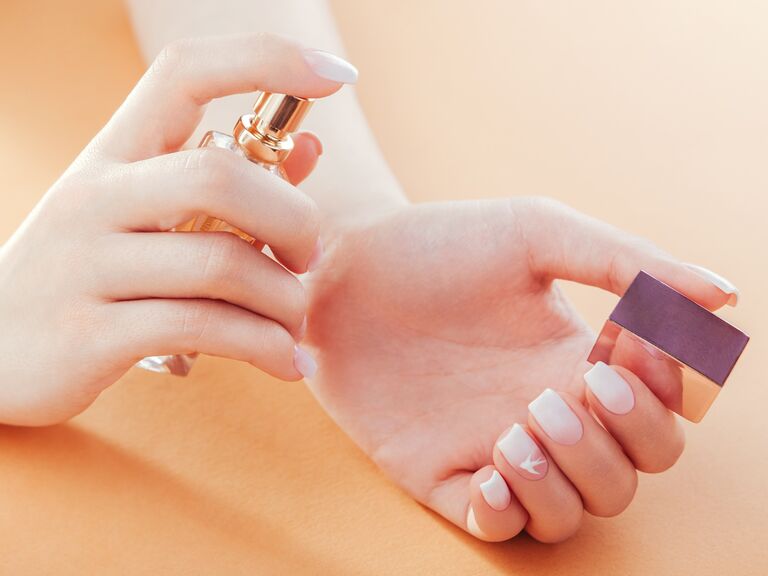 While white nails are a popular choice for to-be-weds everywhere, white ombré wedding nails offer a unique spin on the style. Rather than filling your nails with opaque polish, white ombré wedding nails fade from opaque to sheer. The end result is a unique, romantic take on a classic style.
Pink and White Ombré Wedding Nails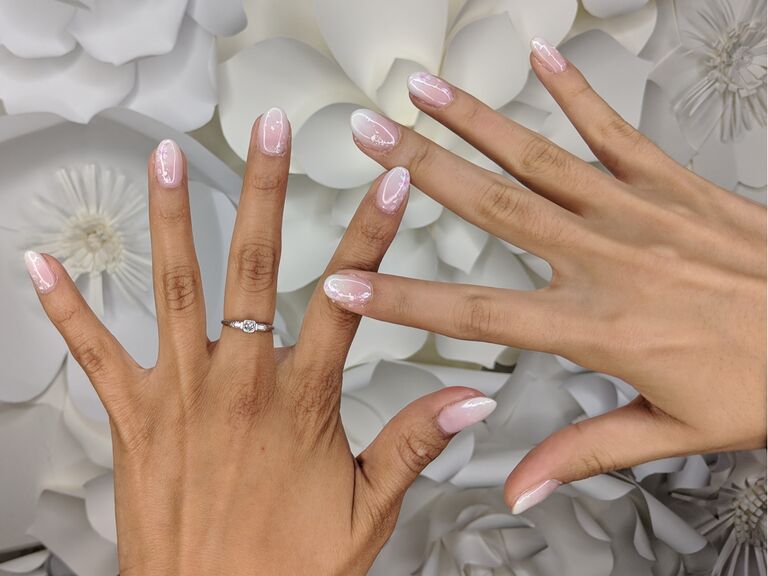 Put your own spin on pink nails. Pink and white ombré wedding nails offer a beautiful combination of popular neutral colors. For a subtle look, start with a pastel-toned pink faded into sheer white. To-be-weds who want a bolder look can use a more pigmented shade of pink faded into an opaque white color. Work with your nail technician or wedding glam squad to find the best combination of colors for you.
French Ombré Wedding Nails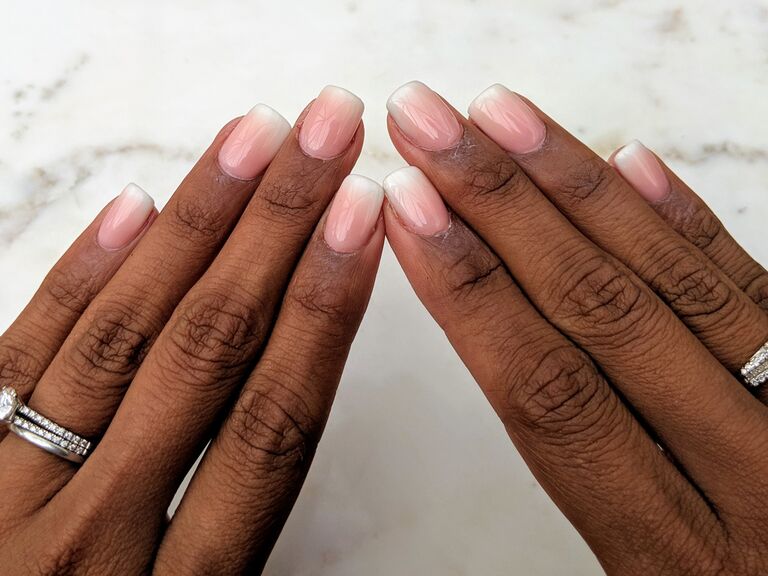 As with traditional French manicures, French ombré manicures use neutral shades of pink, white and nude. But instead of stark white tips, French ombré nails gradually fade from pink at the cuticle line to nude in the middle to white at the tip. It's a fresh, modern spin on a popular nude nail style (plus it'll look amazing on Insta!).
Colorful Ombré Wedding Nails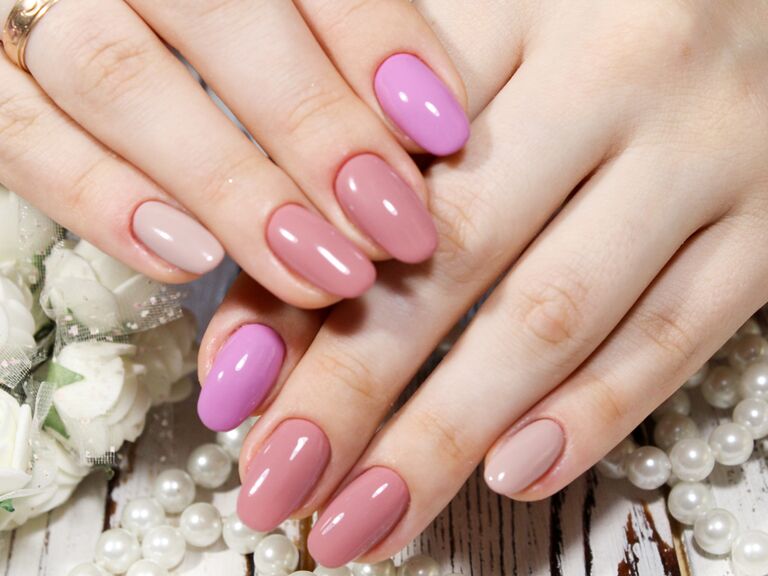 Have some fun with your wedding nail art by incorporating different colors. The key is to select colors that are next to each other on the rainbow. This allows you to create a soft, gradual fade from one hue to the next. For example, blue and purple will fade into each other seamlessly, as will pink and purple. Looking for something bolder? Consider fading orange into yellow or blue into green. You can place the gradient on each individual nail or paint each nail a different color for a fun twist on the trend.