These 15 Orlando Proposal Ideas Will Prepare You for the Most Magical Proposal
Pop the question at these "O-Town" hot spots.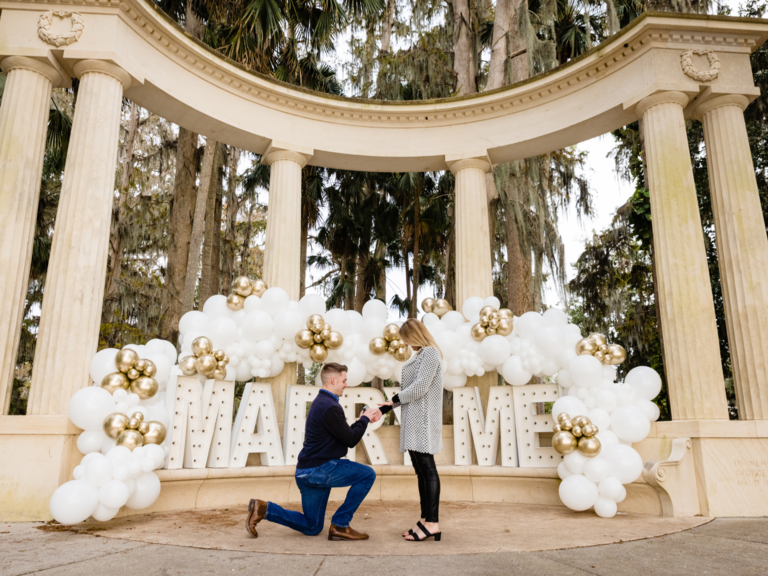 Photo: A. Harris Photo
With so many Orlando proposal ideas out there, you may be having some difficulty narrowing down your list to those that'll make your partner the happiest–that's where we come in.
We spoke with Orlando-based proposal photographers Albert Harris of A. Harris Photography and Kelly Canova of The Canovas Photography, who have a combined 25+ years of experience, about where to propose in Orlando in addition to factors and tips one should keep in mind when considering different proposal ideas in Orlando.
After you finalize where you'll have your marriage proposal in Orlando, you can explore The Knot Vendor Marketplace as it is a wonderful online tool that can be used to search for proposal photographers and proposal planners who you can hire to pull off your dream engagement.
In this story:
How to Decide Where to Propose in Orlando
Orlando is a vast city with offerings available that can suit nearly any proposal style. With that being said, it is important to know in advance what kind of atmosphere your partner would prefer when asked to start the next chapter of their life with you. "Get a feel from their friends and family about what kind of proposal they would like," says Harris. "If you don't have that available to you, go based on a theme like a favorite movie or love for a certain brand." If they've dropped hints about a dream location or kind of location for a future proposal, keep that in mind when doing your research.
The Best Time of the Year to Propose in Orlando
There are several different factors that go into deciding the best time of year for your Orlando proposal considering it is such a tourist-heavy city. These factors may include weather, crowds and theme park schedules. "The best time of the year for theme park and non-theme park proposals weather-wise where you're not sweating are weekdays October through April," explains Harris. "For theme park proposals, the best time to avoid the crowds where we can get that shot without people in the background is October, the beginning of November, January and February." However, regardless of the season, Harris notes that weekends tend to be the worst days for proposals as both locals and tourists are out and about and are more likely to be present in the background of your special moment and proposal photos.
Furthermore, keeping the time of day and lighting conditions in mind for when you'll pop the question is crucial. "Lighting is important therefore making early morning and sunset good times," says Canovas.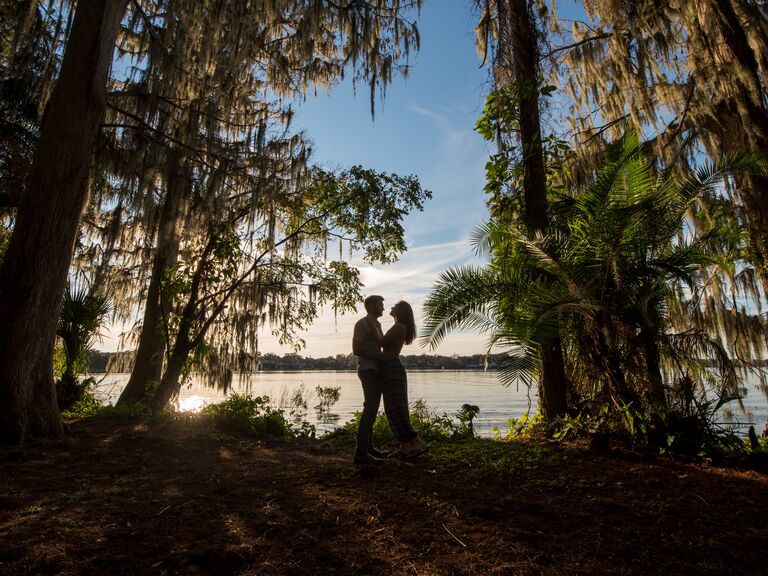 The Best Places To Propose In Orlando
Considering Orlando spans more than 119 square miles, there are hundreds of establishments you can visit for your proposal. However, the ones below are our favorites.
Cinderellas's Royal Table at Walt Disney World's Magic Kingdom
If it's your partner's dream to say "yes" inside Cinderella Castle, a meal at Cinderella's Royal Table can make that happen. If you want to take things a step further, you can add the proposal package to your reservation when booking–which you should do 60 days in advance as securing a table in the castle is one of the most coveted experiences on property.
Kraft Azalea Garden
Harris recommends proposing by the arches at Kraft Azalea Garden if you're looking for the best places to propose in Orlando with stunning architecture. In addition to its arches which will make for a picturesque backdrop when you get down on one knee, this 5.22-acre secret garden offers lakefront views and plenty of greenery.
Lake Eola Park
Canovas recommends Lake Eola Park nestled in the heart of Downtown Orlando as one of the best places to propose in Orlando. Whether you take your partner on a romantic stroll along the .9-mile sidewalk lining the park or rent a swan-shaped paddle boat, a proposal here can be an affordable yet memorable option that'll lead to a positive core memory for both of you.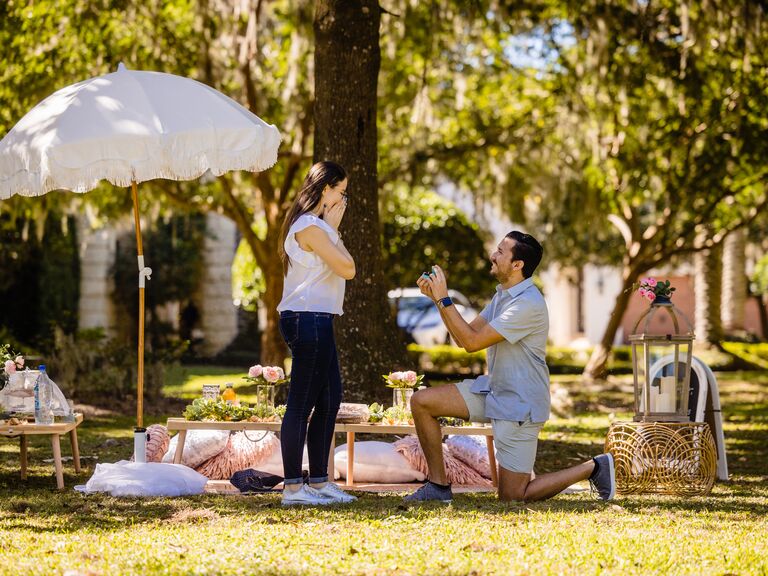 Romantic Places to Propose in Orlando
If your partner has expressed their desire for an overly romantic proposal, read on to learn more about these charming and romantic places in Orlando to propose.
AVA MediterrAegean
If you're proposing to a lover of all things Mediterranean food, they'll appreciate a restaurant proposal at AVA MediterrAegean. If Mediterranean food with just you and your partner sounds like a dream come true, you can inquire about a full restaurant buyout. Regardless, the delicious cuisine in addition to the restaurant's cozy atmosphere created from the sofas which line the space will melt your partner's heart.
Walt Disney World Fireworks Cruise
If a Disney World proposal is a must-have proposal checklist item for your partner, but you don't want to visit the theme parks to pop the question, a Walt Disney World specialty fireworks cruise may be just what you're looking for. When you embark on one of these cruises, you'll be able to view the fireworks from either the Seven Seas Lagoon or International Gateway with sound (thanks to the boat's synchronized audio). Plus, there will be drinks and snacks available for you to share during your cruise and you can request balloons and banners for decorating your boat when booking.
Walt Disney World Swan and Dolphin Hotel
Surprise your partner with a stay at the Walt Disney World Swan and Dolphin Hotel. If you'd prefer a more private proposal, we'd recommend requesting a room with a firework view and popping the question on your room's outdoor patio during Epcot's nighttime show–that's sure to be memorable.
La Luce at Signia by Hilton Orlando Bonnet Creek
Treat your partner to some elevated Italian cuisine at La Luce at Signia by Hilton Orlando Bonnet Creek. In addition to delicious menu items including ravioli and the butterscotch pudding which is our favorite, this restaurant is filled with lights shaped like pasta noodles and hand-drawn chalk pieces that'll make you both feel at home from the moment you enter.
Private Cabana at Waldorf Astoria Orlando
If you want to plan a personalized yet relaxed proposal, consider reserving a private cabana at the Waldorf Astoria Orlando. As part of your rental, you'll receive an HD TV, complimentary beverages, a fruit tray, poolside service, a sofa and two lounge chairs. Whether you opt for a half or full-day rental is up to you—either way, you'll have a relaxing day.
Hyatt Regency Grand Cypress
If a nighttime proposal is what you seek, Harris recommends the Hyatt Regency Grand Cypress as this hotel houses a lantern light tree unique to the property. Although this tree is beautiful in itself, you can consider enhancing your moment with the addition of a "marry me" sign or by sprinkling some rose petals on the ground–be sure to acquire permission from the property ahead of your stay.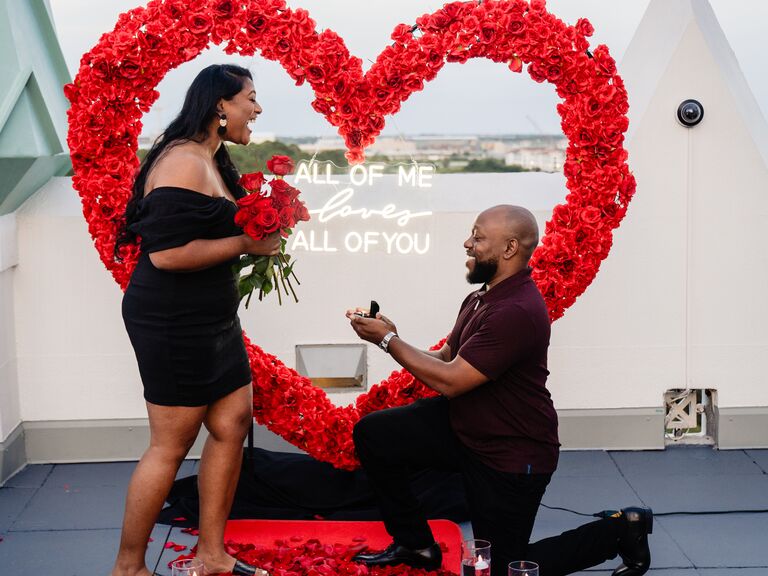 Beautiful Places for a Rooftop Proposal in Orlando
For a rooftop proposal in Orlando, here are some of our favorite restaurants and other venues that offer sweeping views (and sometimes fireworks views).
The Balcony Orlando
If you met in Downtown Orlando or made your relationship official there, your partner would likely appreciate a proposal in that part of the city. Luckily for you, Downtown Orlando is filled with plenty of beautiful places for a rooftop proposal including The Balcony Orlando. With more than 10,000 square feet of outdoor space, this venue located 11 floors above the city will provide you and your partner with a picturesque backdrop overlooking Lake Eola and the city skyline.
Capa at Four Seasons Resort Orlando
For a rooftop proposal in Orlando, Harris recommends making a reservation at the Four Seasons Resort Orlando rooftop lounge, Capa. With an extensive menu consisting of small plates, salads, tapas and more, neither you nor your partner will leave hungry. Plus, Capa Terrace offers views of Walt Disney World's fireworks shows which is great if you want to add an extra magical touch to your moment—just make sure to check Disney World's entertainment schedule prior to making your reservation. And, if you want to get your family and friends in on the celebration, the restaurant offers two private dining rooms that can be rented out.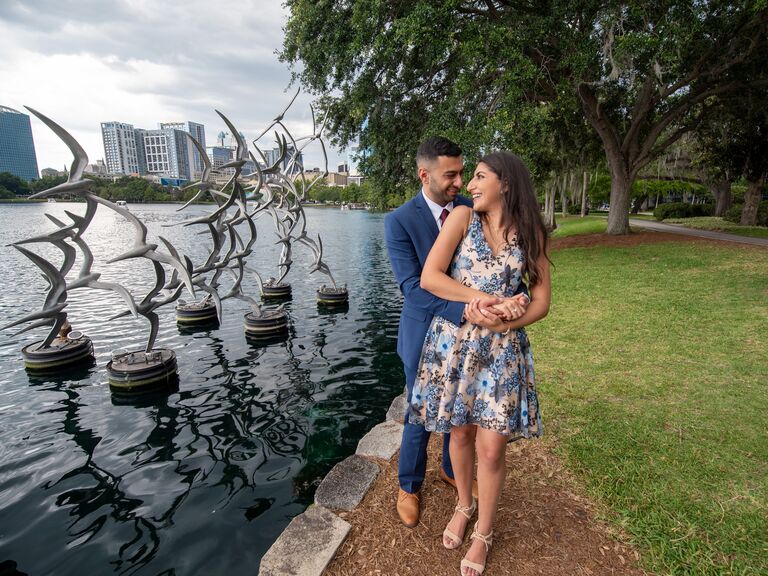 Creative Places to Propose in Orlando
Orlando makes it easy to get creative when it comes to your proposal. Whether a themed hotel or experience is what you think will create the best memory for you and your partner, these picks will put a smile on both of your faces.
Dr. Phillips Center for the Performing Arts
Receive a standing ovation from your partner when you propose at Dr. Phillips Center for the Performing Arts. Whether you take them to a Broadway show or a comedy show, there are several ways you can ask for their hand during your visit including by working with the team to arrange champagne and strawberries in a private box or a private escort to the Rooftop Terrace for some champagne and strawberries. If none of those ideas interest you, it's hard to go wrong with getting down on one knee on top of the grand staircase at the venue's entrance (just make sure you're not blocking traffic).
Holiday Inn Orlando - Disney Springs
The Holiday Inn Orlando - Disney Springs pool area is an underrated, yet picturesque spot to ask them to be yours forever. From the vibrantly-colored and beach-inspired art that lines the walls to the pool surrounded by palm trees, there is no shortage of scenery. Plus, after you pop the question, you can take a romantic 15-minute walk with your partner to Disney Springs where you can celebrate with a drink or by sharing a meal together at one of the district's more than 50 eateries.
Hard Rock Hotel at Universal Orlando
Music lovers will appreciate a rocking Universal Orlando proposal at the Hard Rock Hotel. Whether you pop the question privately from the comfort of your music-themed room surrounded by vinyl record decor or in the lobby's lounge Velvet Bar, they'll definitely feel like a VIP.
Discovery Cove
For a Discovery Cove proposal that they'll remember forever, you can call to reserve one of the two available proposal packages. The Premium Proposal Celebration Package includes a private cabana with flowers and a ring display in addition to a dolphin and a buoy which can help you ask the question. Plus, this package includes a photo package. The Proposal Celebration Package includes the help of a dolphin and buoy when asking the question in addition to a proposal table and 20% off a photo package. Regardless of which package you choose, it'll be memorable for both of you.