See Oscar de la Renta Wedding Dresses From Bridal Fashion Week
Here's the designer's latest collection revealed at Bridal Fashion Week.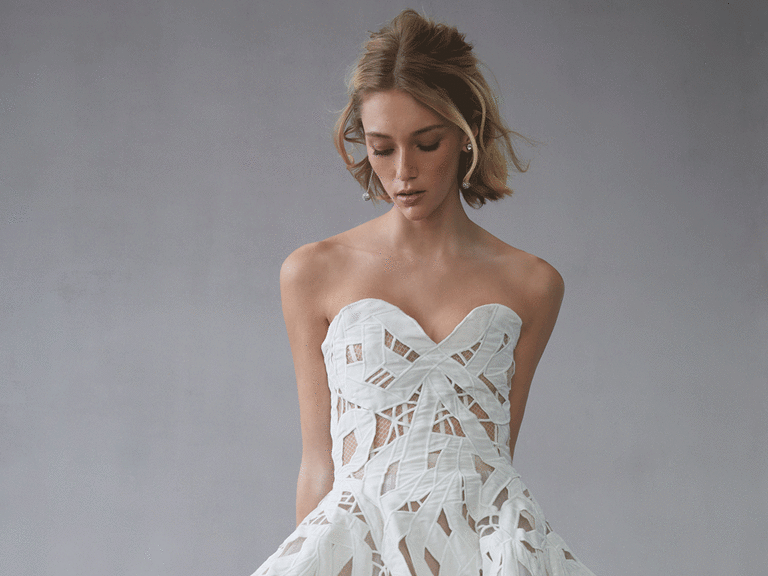 Oscar de la Renta was a Dominican-American fashion designer who became internationally known in the 1960s as one of the couturiers who dressed Jacqueline Kennedy. His work blends European luxury with American ease, and has helped define standards of elegant dressing among socialites, U.S. first ladies, and red-carpet celebrities during a career that spanned some 50 years. Oscar de la Renta wedding dresses are created for a woman who has a very strong sense of her femininity. Oscar de la Renta wedding gowns can be dramatic, whimsical or glamorous but are always fashion-forward and sophisticated.
See every dress from Oscar de la Renta's 2022 collection below.
Oscar de la Renta's Spring 2022 Wedding Dresses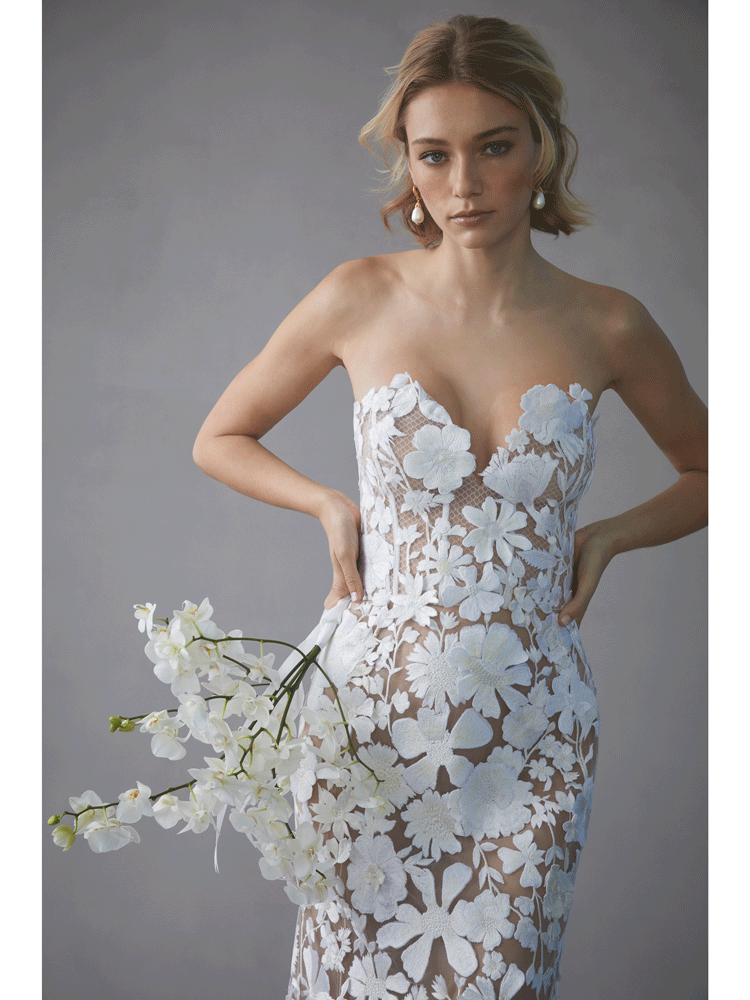 "Look 1" Dress; strapless lace mini dress with sweetheart neckline and large floral embroidery.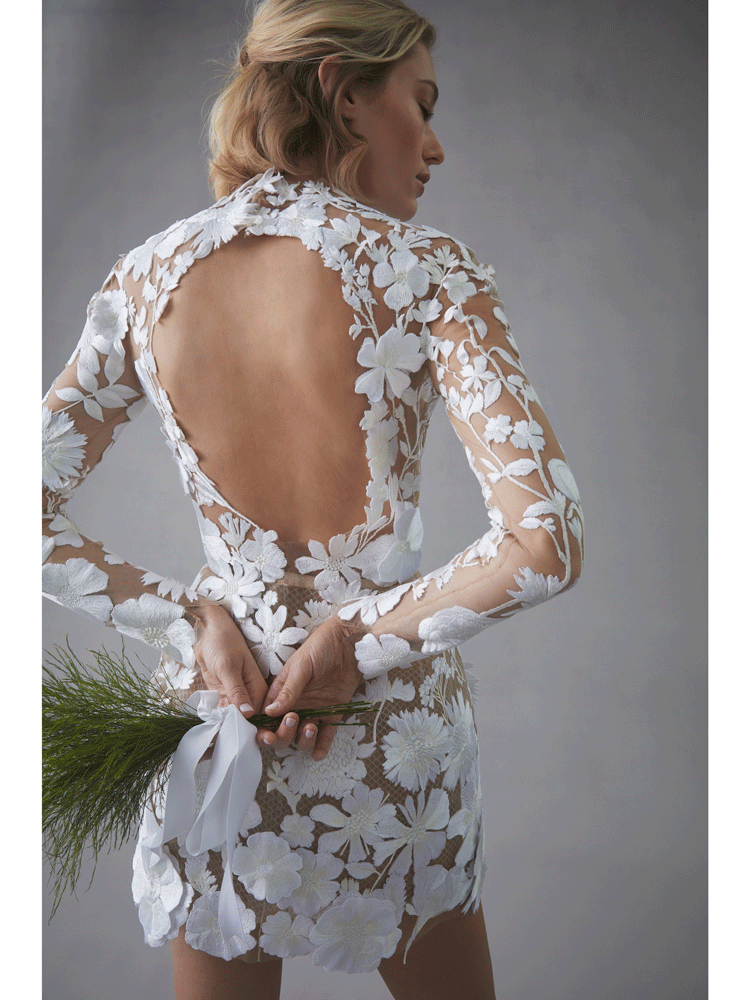 "Look 2" Dress; lace mini dress with long sleeves, open back and large floral embroidery.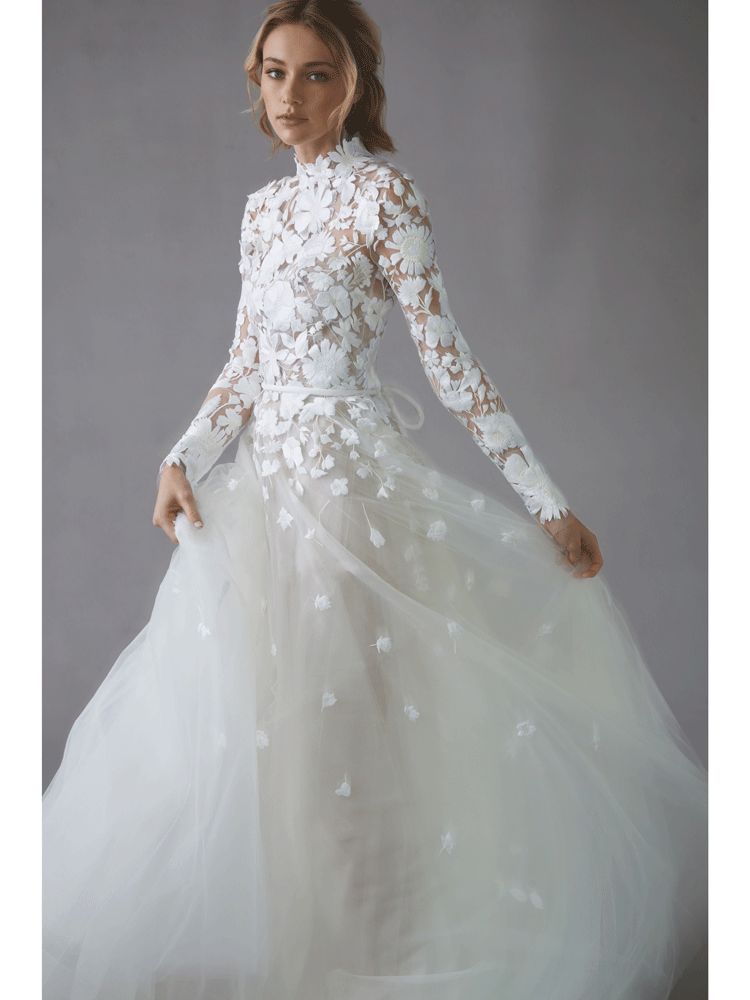 "Look 3" Gown; long sleeve lace wedding dress with high neck and A-line skirt.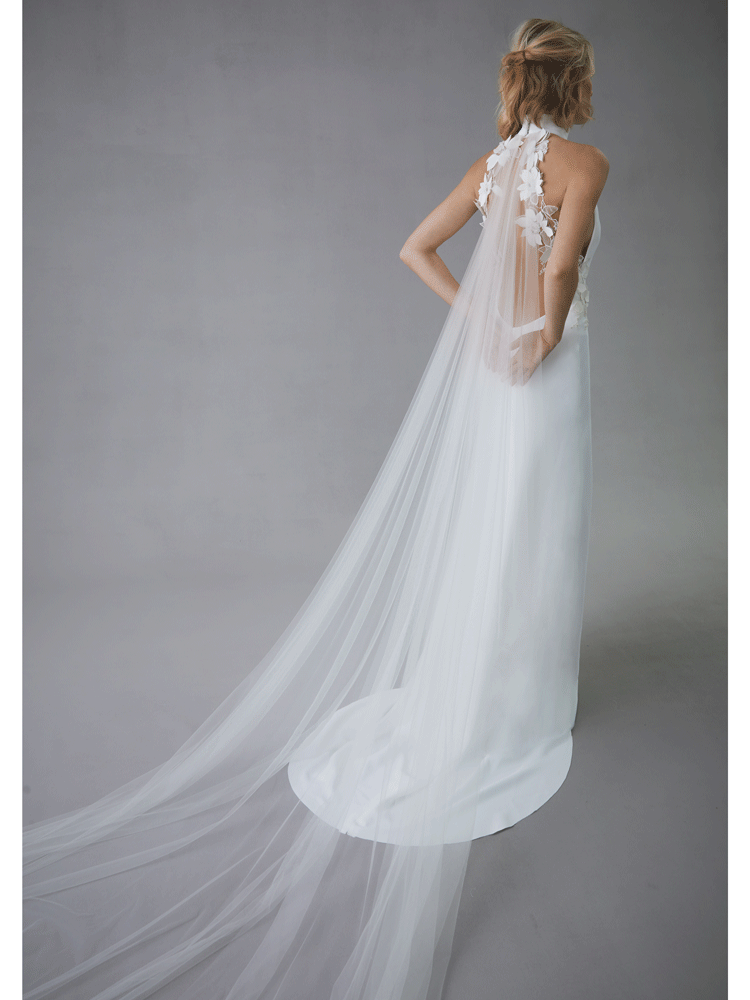 "Look 4" Gown; sleeveless crepe sheath wedding dress with floral lace trim back straps.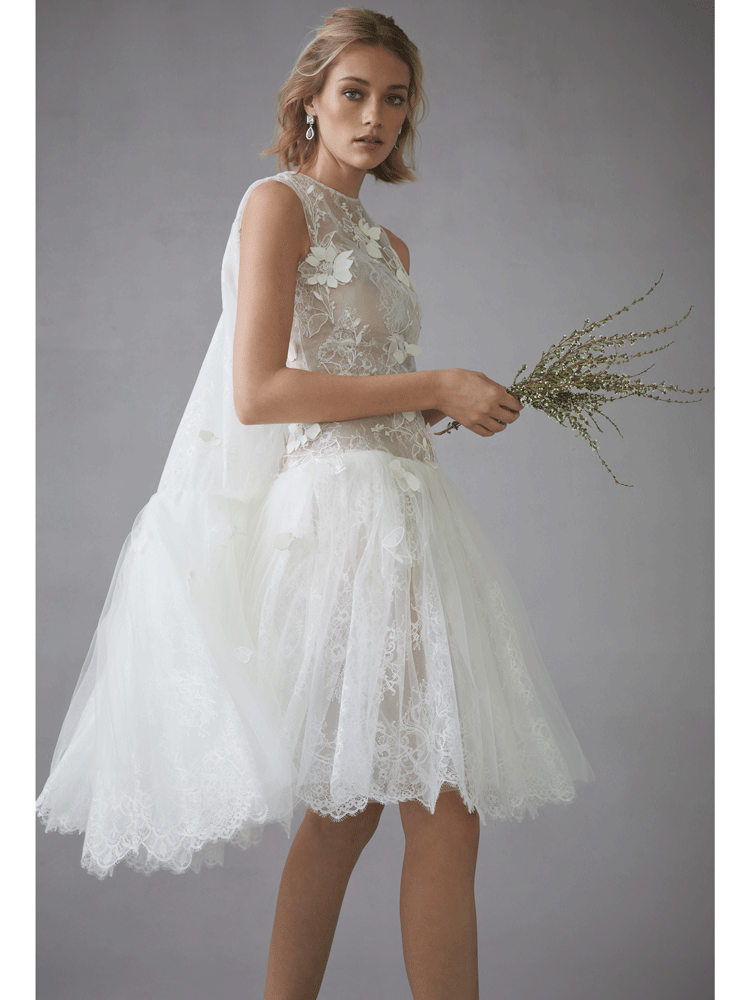 "Look 5" Dress; A-line lace mini dress with floral embroidery.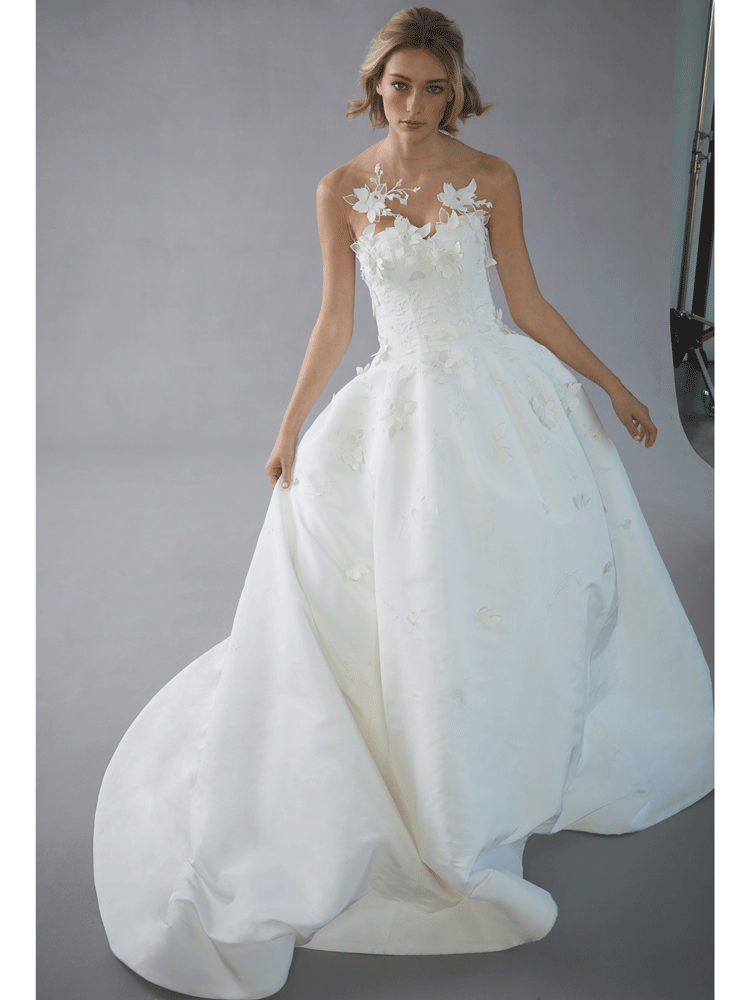 "Look 6" Gown; silk taffeta ball gown with illusion neckline and 3D floral embroidery.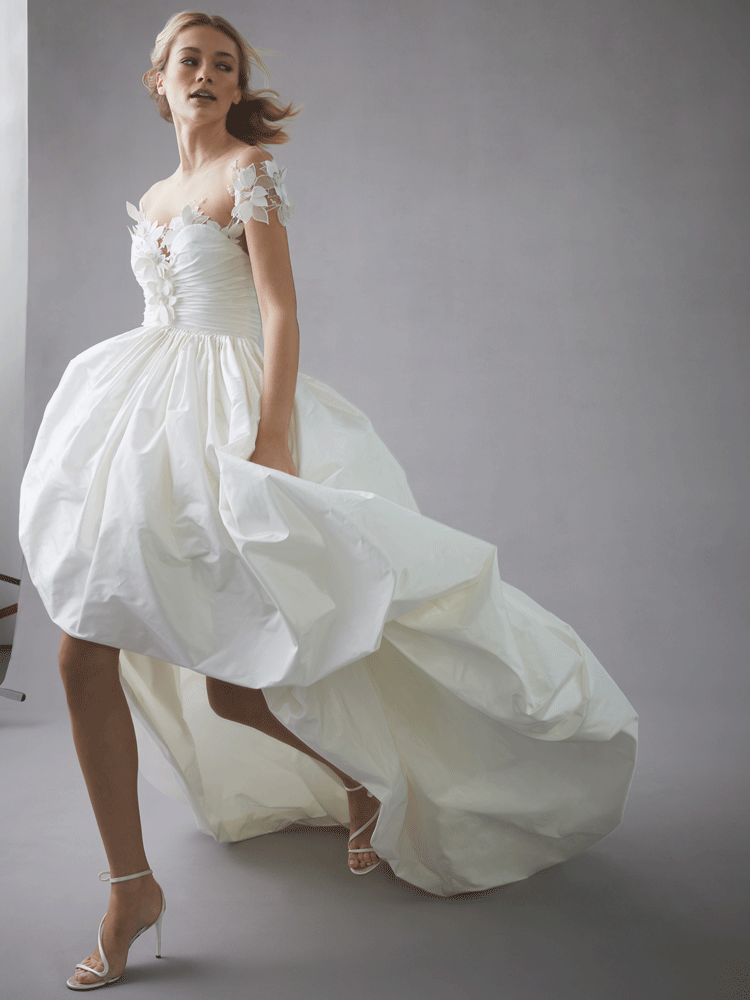 "Look 7" Gown; silk taffeta high low gown with ruched bodice and off-the-shoulder lace cap sleeves.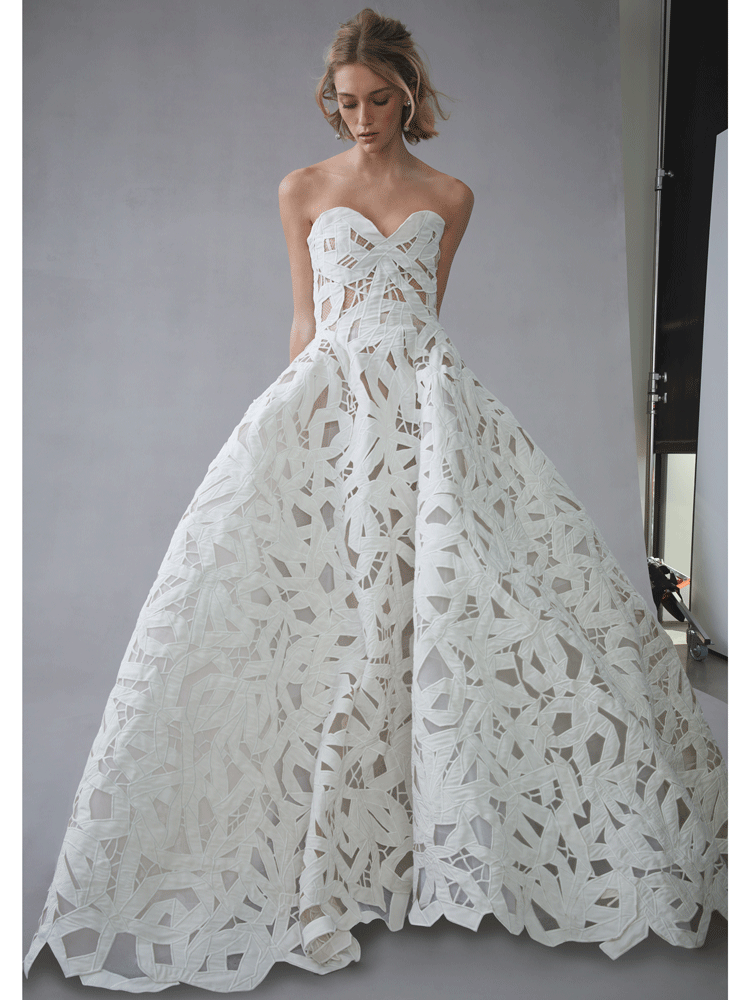 "Look 8" Gown; strapless lace ball gown with sweetheart neckline and mordern pattern.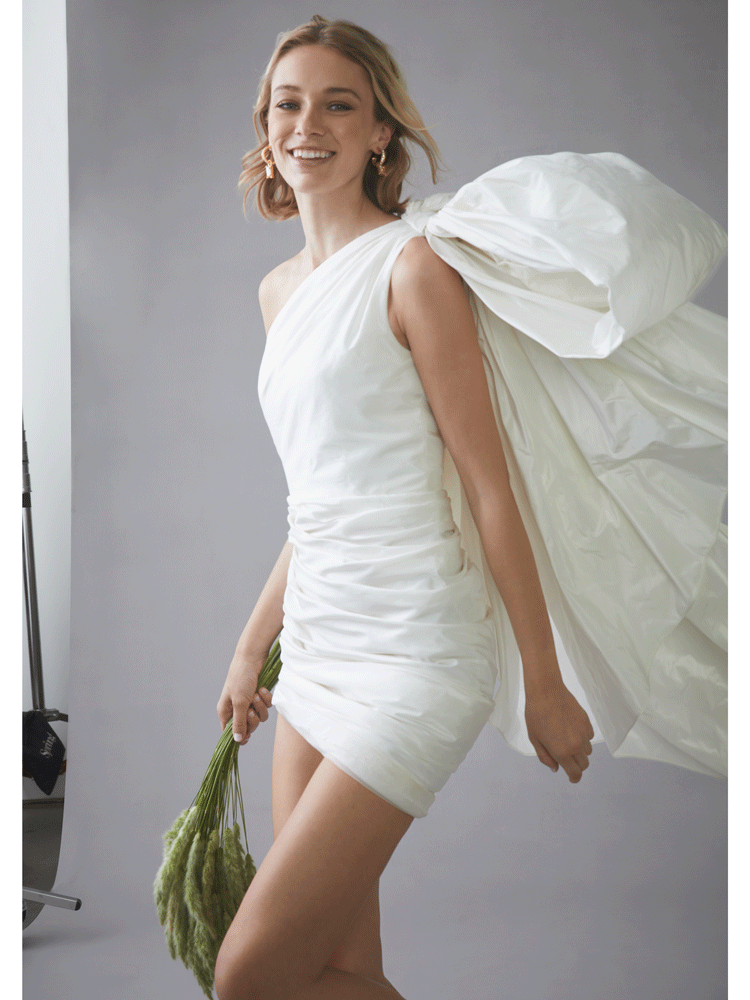 "Look 9" Dress; sleeveless silk taffeta mini dress with oversized bow.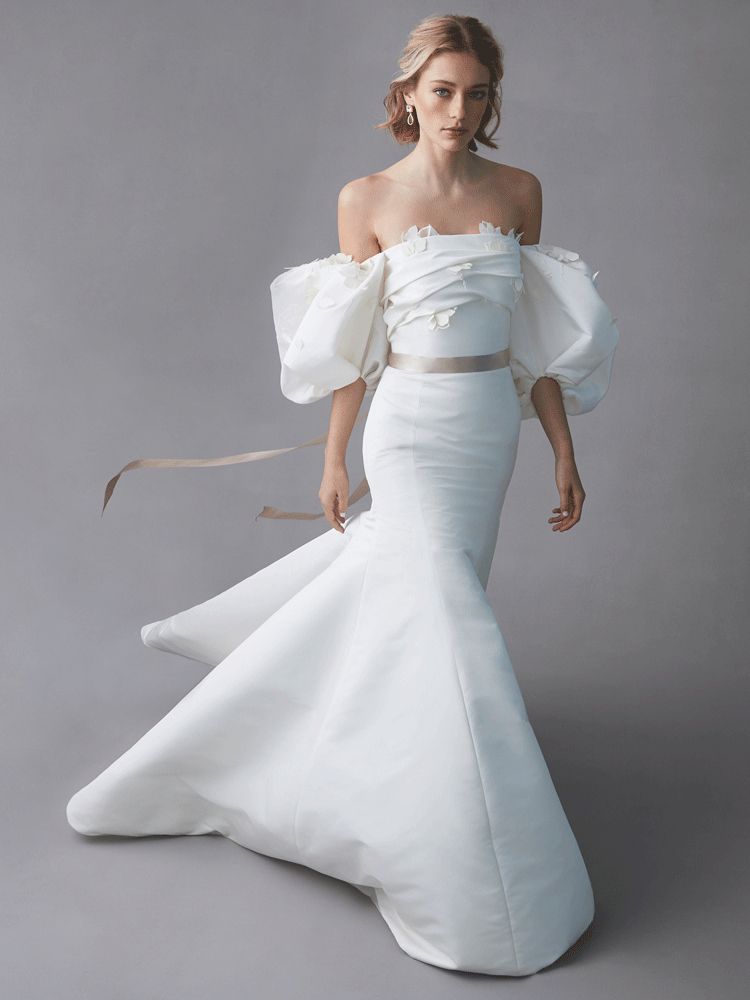 "Look 10" Gown; silk taffeta off-the-shoulder mermaid wedding dress and balloon sleeves.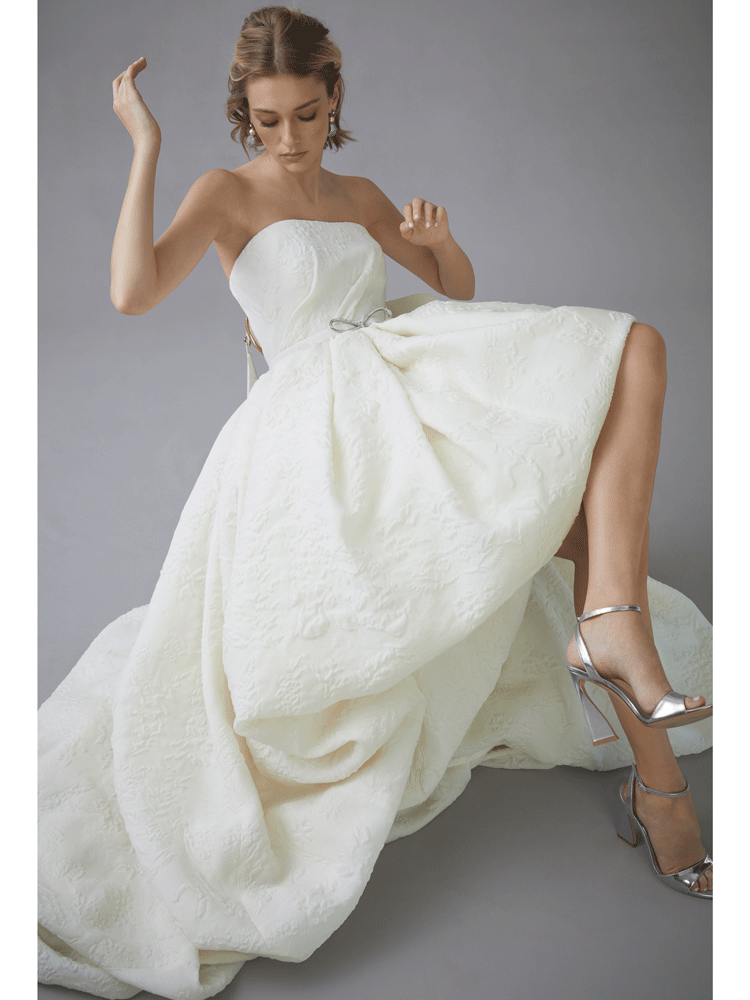 "Look 11" Gown; strapless silk taffeta high-low wedding dress with bubble hem.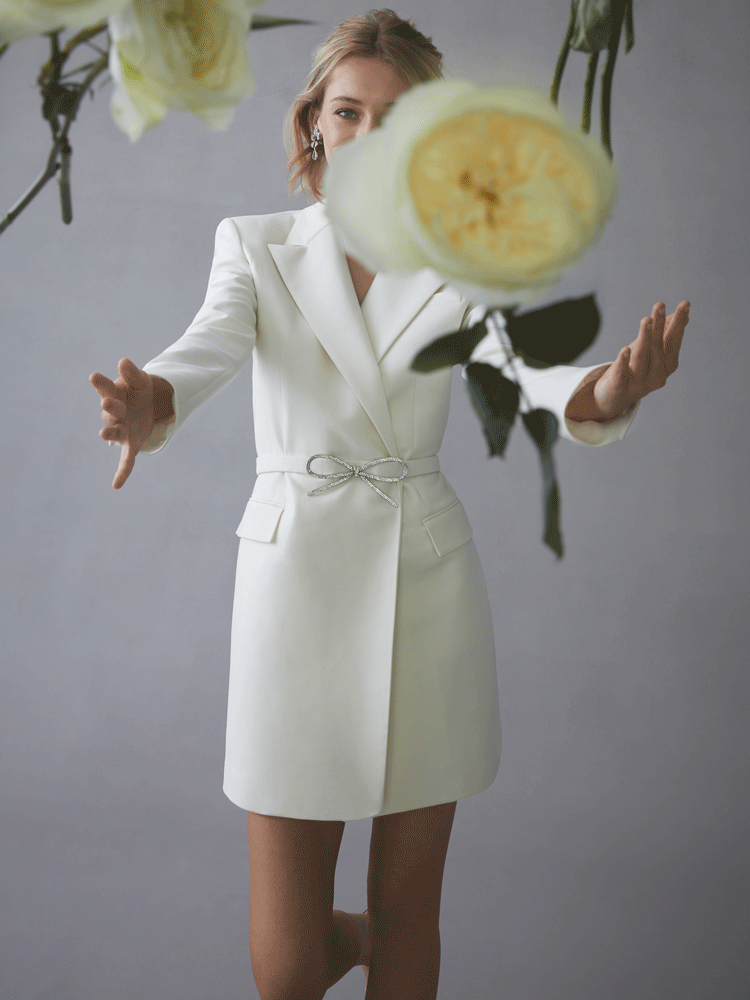 "Look 12" Dress; tailored blazer crepe mini dress with long sleeves.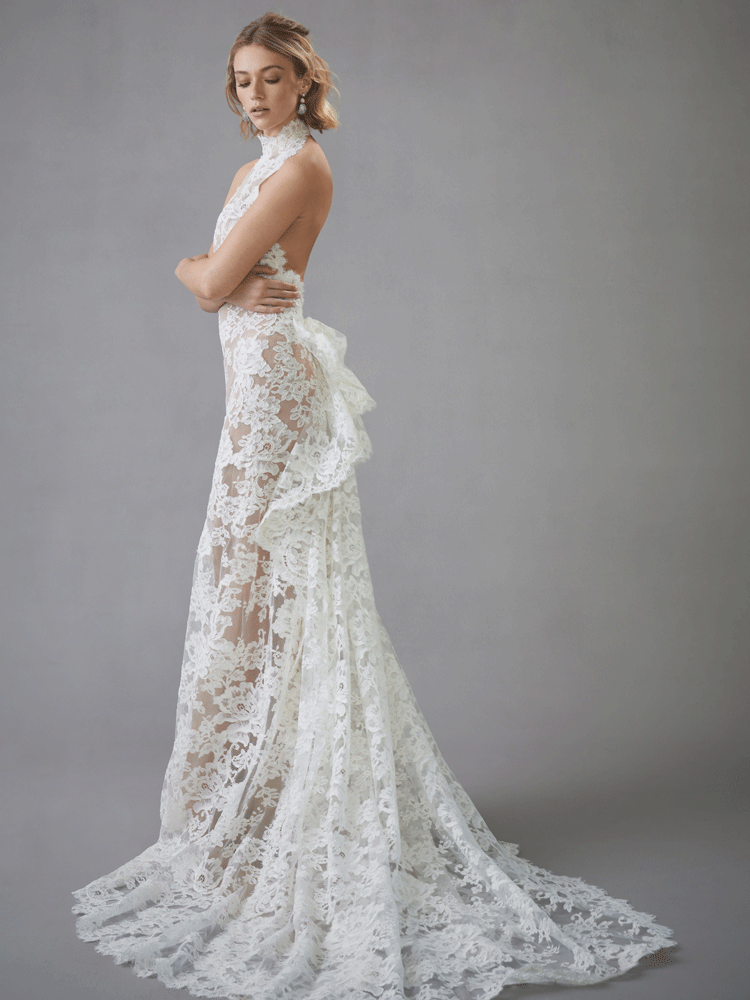 "Look 13" Gown; lace halter wedding dress with open back.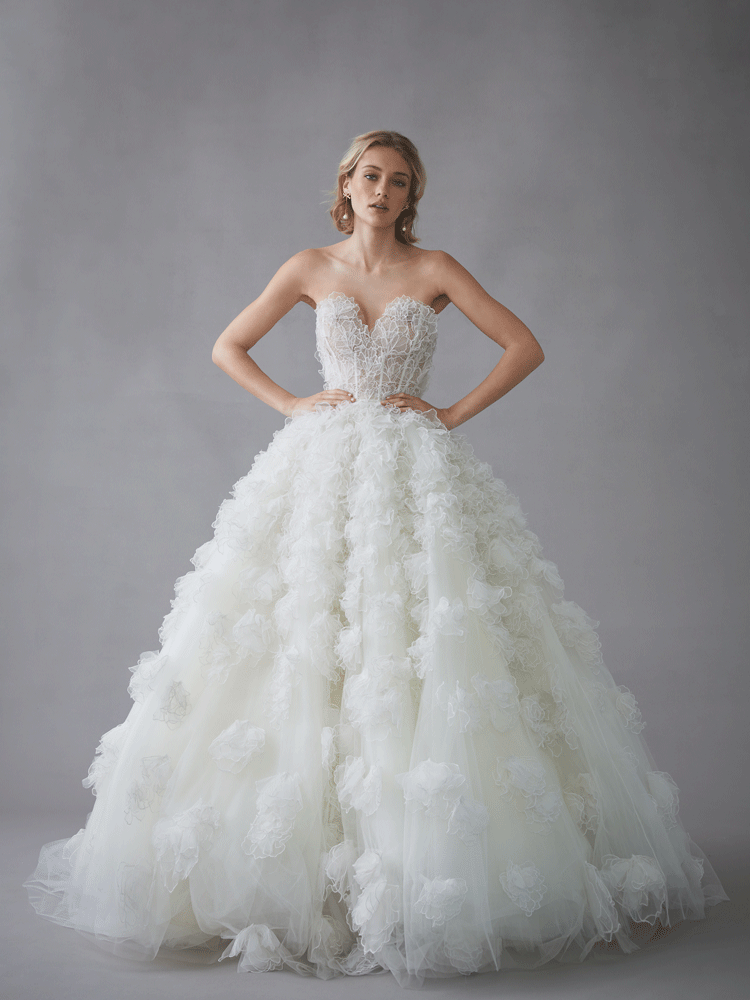 "Look 14" Gown; strapless ball gown with lace bodice and ruffled tulle skirt with 3D floral accents.
Oscar de la Renta's Signature Style
Oscar de la Renta is one of the world's pre-eminent fashion designers, who worked tirelessly to create stunning bridal gowns that would stand the test of time. His impeccable draping, amazing construction, masterful embroidery, use of the finest fabrics and attention to detail are just some of the many reasons why so many brides love the designer's creations.
A Brief History of Wedding Dress Designer Oscar de la Renta
Oscar de la Renta studied painting in Spain at the Academy of San Fernando in Madrid. He started his career sketching for leading Spanish fashion houses, which soon led to an apprenticeship with Spain's most renowned couturier, Cristóbal Balenciaga. In 1961 de la Renta settled in Paris, where he worked as the assistant to Lanvin-Castillo's head designer, Antonio del Castillo, before moving to New York City in 1963 to design the couture and ready-to-wear collections for Elizabeth Arden. In 1965 he established his own eponymous company in New York. In 2006, the Oscar de la Renta label diversified into bridal wear. Today, the team at Oscar de la Renta, under the creative direction of Laura Kim and Fernando Garcia, continues the iconic designer's legacy.
Oscar de la Renta Collection History
The Fall 2018 Oscar de la Renta wedding dress collection offers a range of shapes, from sheath dresses to ball gowns, and intricate, long-sleeved numbers to modern, two-piece separates. Unexpected details, like a splash of pink and floral scalloping make otherwise very classic dresses feel of the moment.
The Oscar de la Renta Fall 2019 wedding dress collection remains true to the designer's original vision. The collection features architectural designs, soft lace and floral appliqués.
The Spring 2020 Oscar de la Renta collection has something for everyone,whether you're looking for a flowing ball gown, a sleek jumpsuit or a flirty cocktail-length dress. One notable look features the designer's signature bow detail—a strapless lace A-line dress with crystal embellishments and large bow on the back.
Other Oscar de la Renta Labels
In 1977, Oscar de la Renta launched his fragrance, OSCAR, followed by an accessories line in 2001 and a homewares line in 2002. This business venture included 100 home furnishings for Century Furniture featuring dining tables, upholstered chairs, and couches.
In 2006, de la Renta designed Tortuga Bay, a boutique hotel at Puntacana Resort and Club that is part of the luxury hotel collection, The Leading Hotels of the World.
Famous Oscar de la Renta Brides
For her lavish Italian wedding to George Clooney in 2014, Amal Clooney wore the off-the-shoulder, ivory beaded-tulle 'Oscar' dress with an exaggerated veil, less than a month before the designer passed away. Now the iconic dress is on display at 'The Glamour and Romance of Oscar de la Renta' exhibition at the Museum of Fine Arts, Houston in Houston, Texas.
Actress Kate Bosworth wore two custom Oscar de la Renta dresses for her August wedding to director Michael Polish in 2013. For the ceremony, Bosworth wore an ivory radzimir-satin strapless ball gown with a sweeping eight-foot-long, 16-foot-wide train. The second look for the reception was a short-sleeved lace dress adorned with crystals and pearls.
News personality, author, and journalist, Jenna Bush, chose a textured column sheath Oscar de la Renta dress that was both elegant and romantic when she wed Henry Chase Hager in 2008.
Katherine Heigl married musician Josh Kelley at their winter wonderland wedding in Park City, Utah in 2008, wearing a ruffled Oscar de la Renta gown, paired with a retro, '50s-inspired short hat veil.
Fun Facts About Oscar de la Renta
Before his career began, Francesca Lodge, the wife of John Davis Lodge, the U.S. Ambassador to Spain, saw some of Oscar de la Renta's dress sketches and commissioned him to design a gown for her daughter. The dress appeared on the cover of Life magazine that fall.
From 1993 to 2002, de la Renta designed the haute couture collection for the house of Balmain, becoming the first Dominican to design for a French couture house.
Oscar de la Renta has created dresses for many red carpet events for actresses such as Amy Adams, Sarah Jessica Parker and Penélope Cruz. He has also dresses many former first ladies, including Jacqueline Kennedy Onassis, Nancy Reagan, Hillary Clinton and Michelle Obama.
In 2014, the George W. Bush Presidential Center hosted an exhibit entitled "Oscar de la Renta: Five Decades of Style" which shared the designer's creations for Mrs. Bush and America's First Ladies.
Oscar de la Renta Previous Wedding Dress Collections
Oscar de la Renta Spring 2021 Collection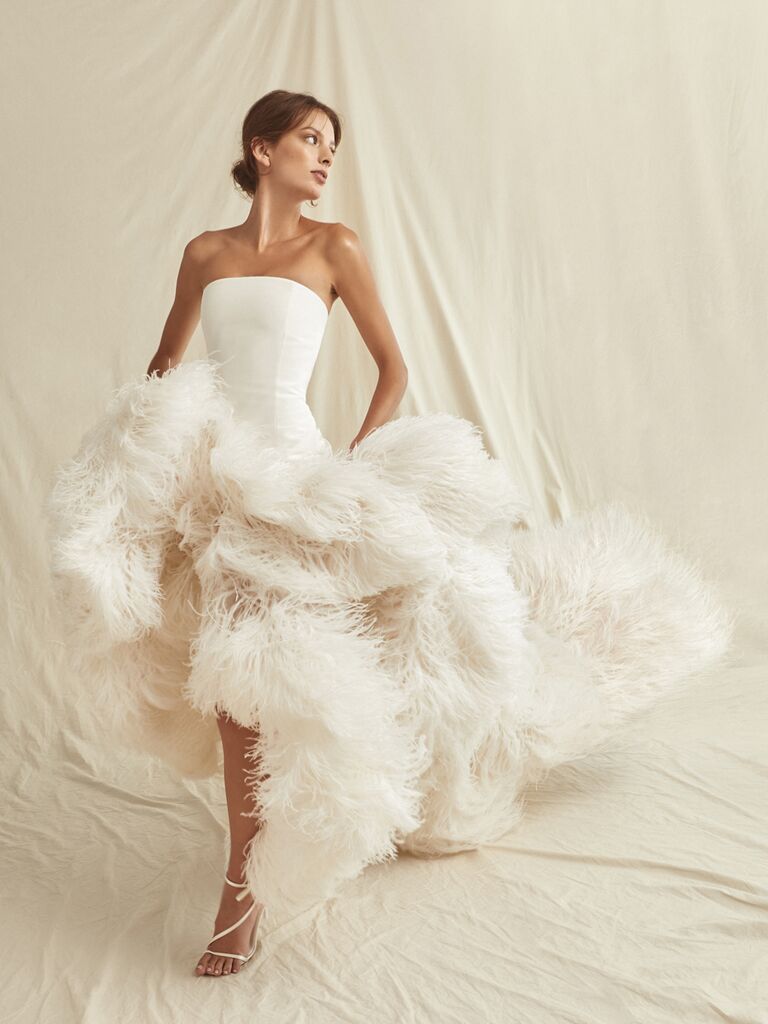 Strapless silk organza fit and flare gown with embroidered feather skirt.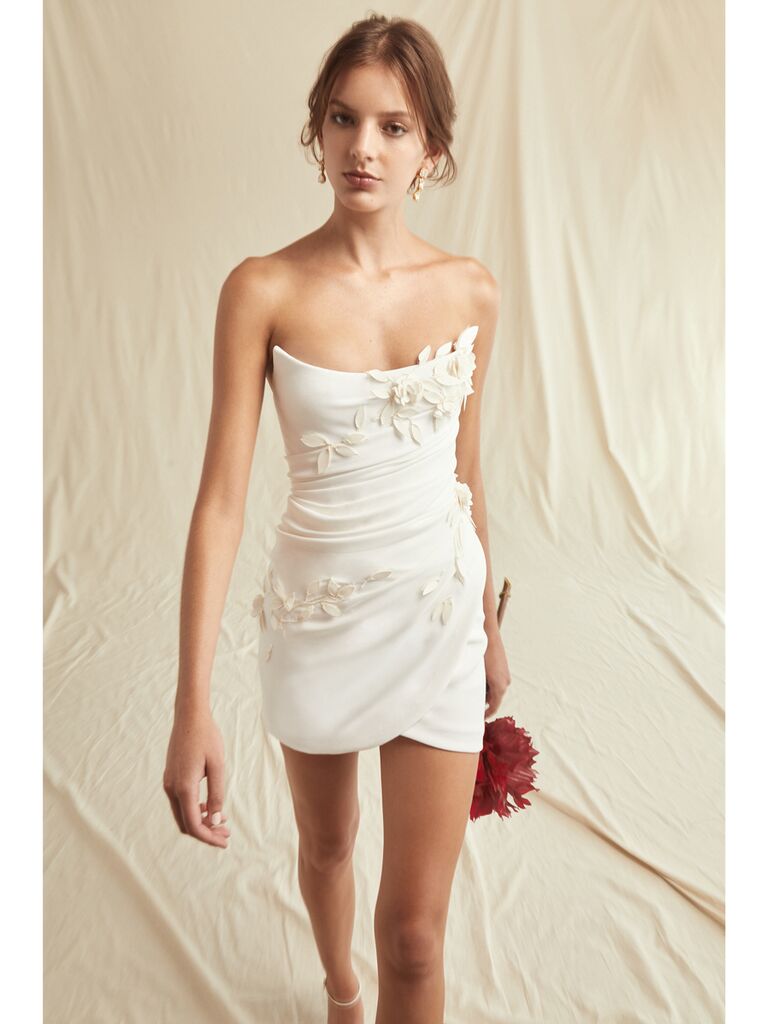 Strapless mini dress with scoop neckline, draped bodice, and cascading floral appliques.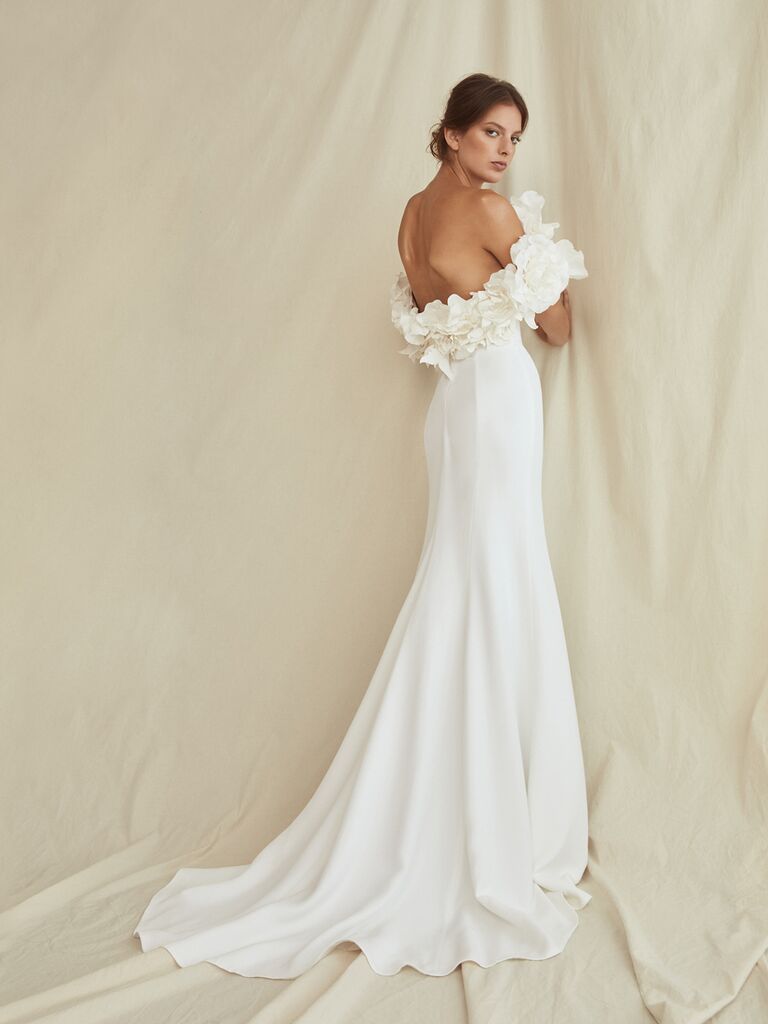 Fit and flare crepe gown with off-the-shoulder taffeta floral applique shawl.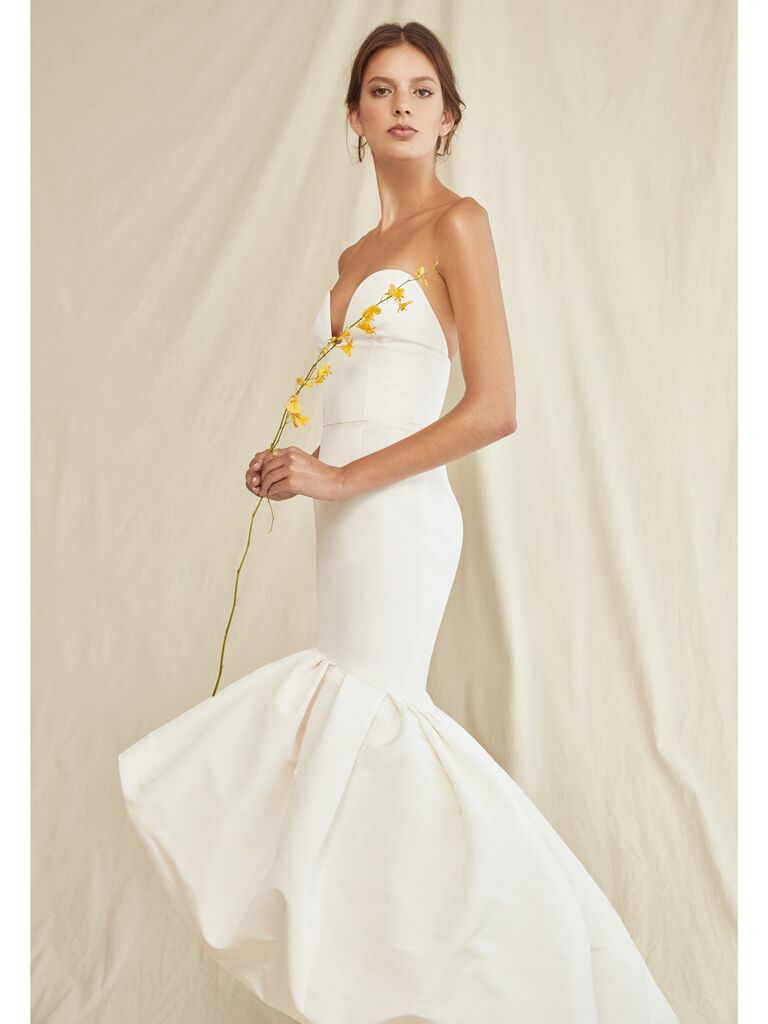 Sweetheart fitted silk frille gown with dramatic bubble hemline.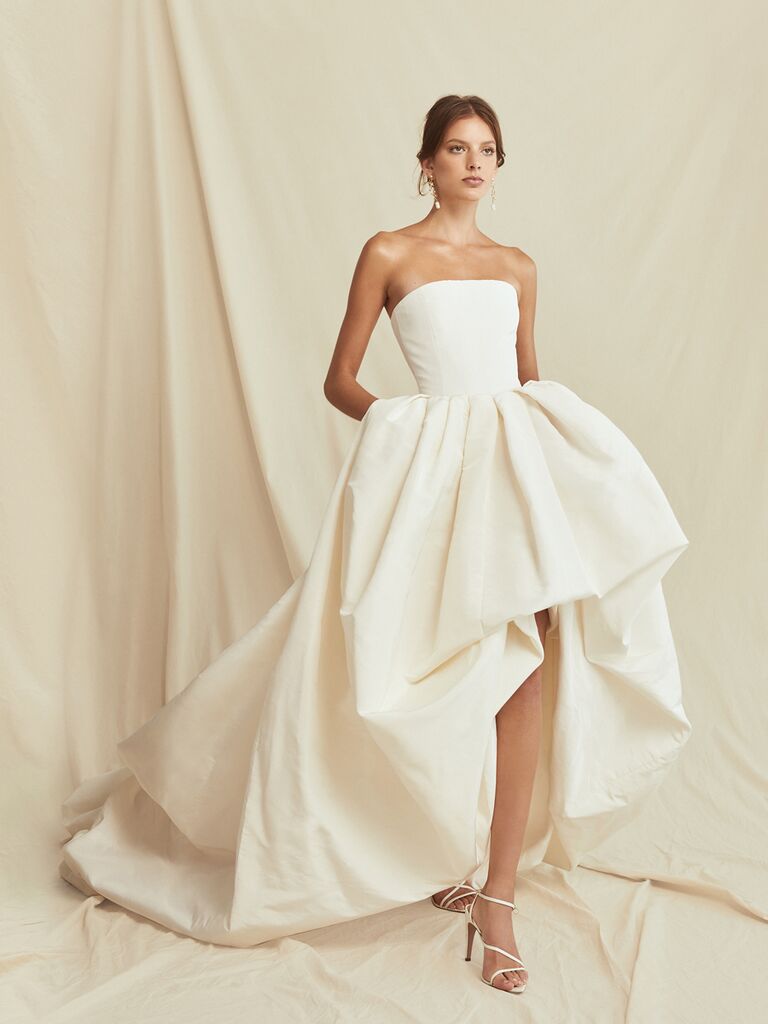 Strapless silk faille dress with high bubble hemline and billowing train.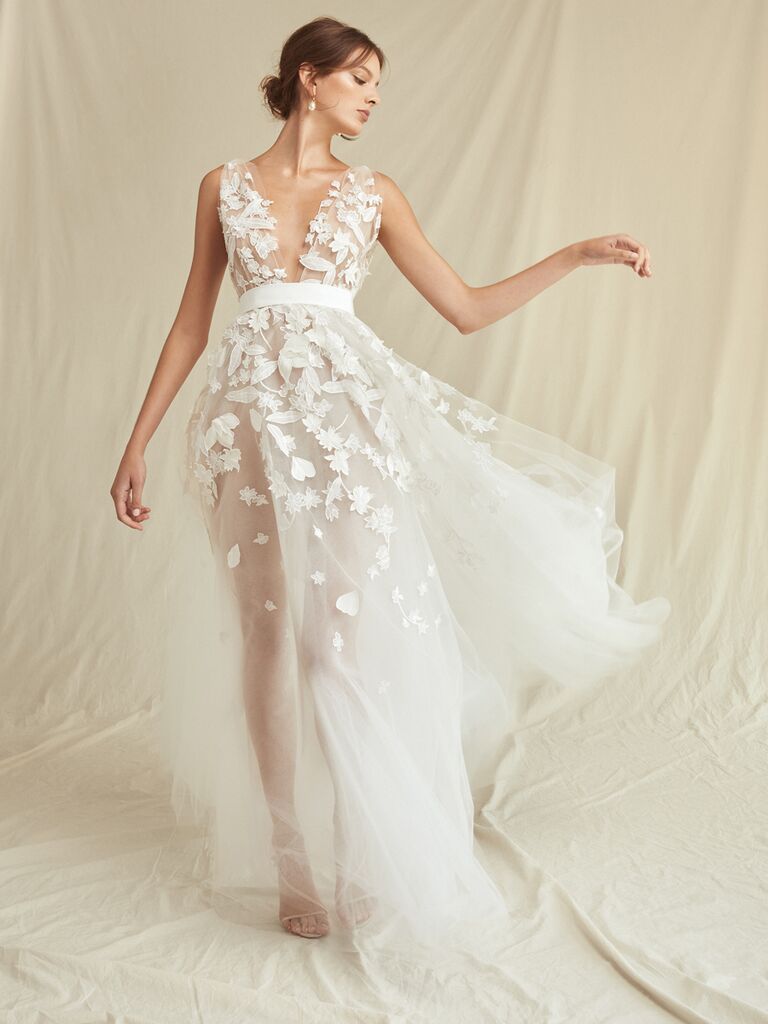 Sheer tulle gown with plunging V-neckline, ribbon waistline, and silk organza floral appliques.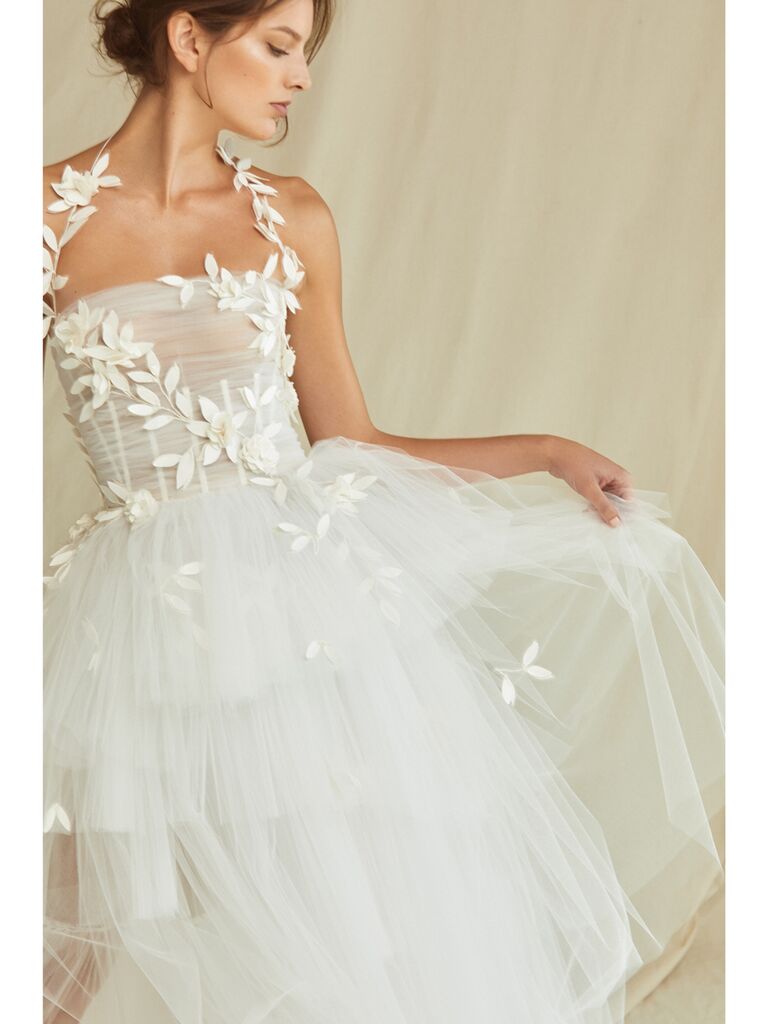 Tulle corset gown with vine embroidery.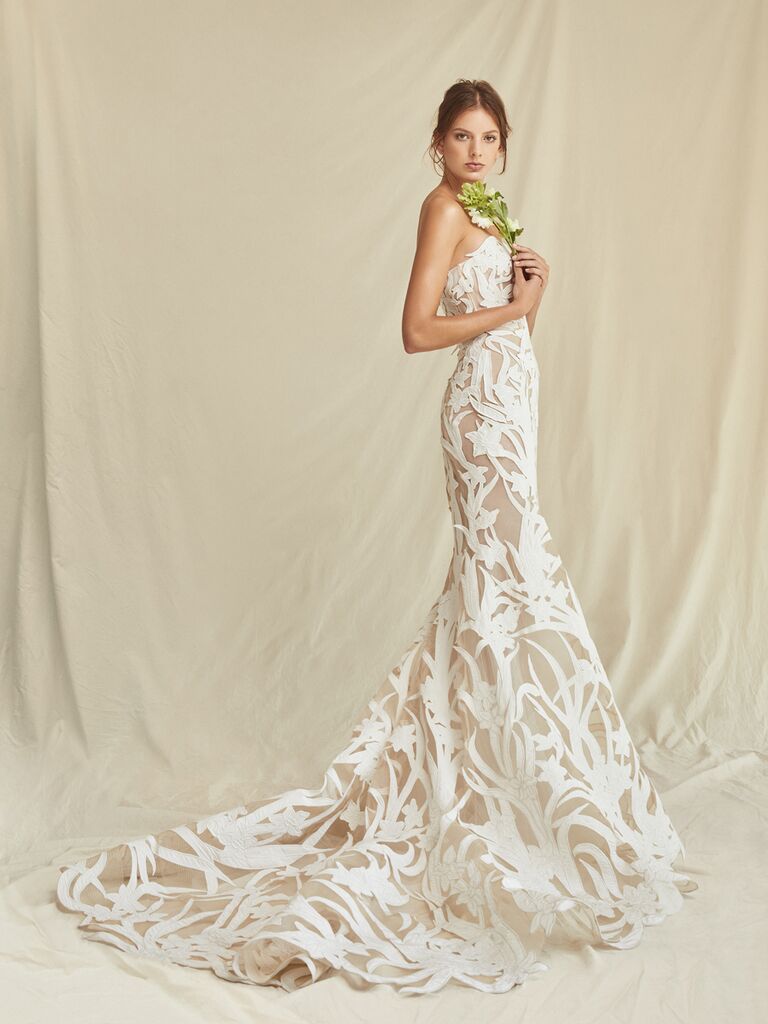 Strapless fit and flare gown with Art Nouveau vines and cut-out flowers.
To check out all the Bridal Fashion Week galleries, plus wedding dress advice and more, go to TheKnot.com/bridal-fashion-week.