Everything to Know About Wedding Insurance During COVID-19
Plus, we answer the top FAQs from real couples.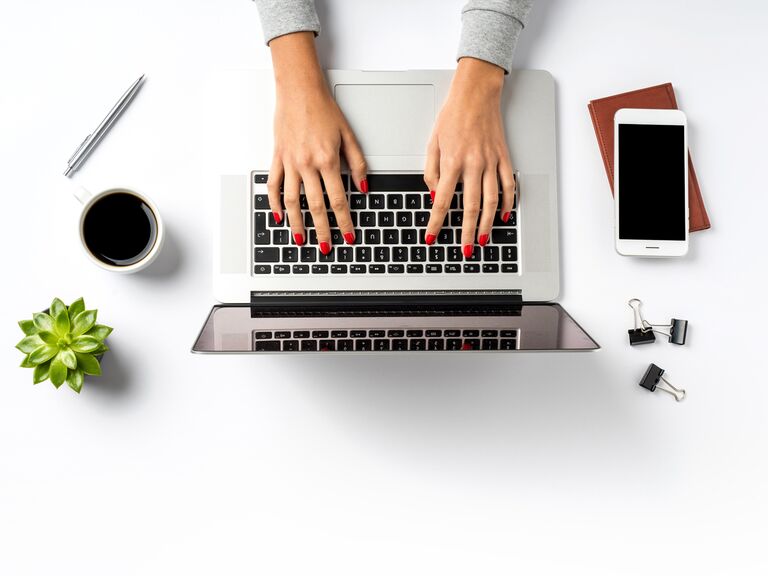 Leszek Czerwonka / Shutterstock.com
If you've had to postpone your wedding because of COVID-19, you probably have an ever-growing list of questions about how to move forward. In addition to figuring out how to reschedule your wedding date and navigate vendor agreements, plenty of couples are also faced with questions about wedding insurance amid coronavirus.
As with most topics, wedding insurance has to be evaluated on a case by case basis. Each company has their own procedures to handle COVID-19 ramifications, and couples' individual contracts will determine if their postponement or cancellation is covered by insurance. There are, however, some guidelines to help you understand your policy and how it can help you. Below, we've compiled the most common questions about wedding insurance and coronavirus. We explain everything from how to determine if your postponement is covered under your policy to whether you should invest in insurance if your wedding will be held in the coming months.
Does My Wedding Insurance Cover Postponements Because of Coronavirus?
It depends on the type of insurance you have and the date you bought it. There are two common types of wedding insurance couples typically purchase: general liability and cancellation coverage. General liability insurance covers the couple for accidents at the wedding, like injuries or property damage. This insurance will not cover postponements or cancellations due to coronavirus.
The second type of wedding insurance is cancellation coverage. "A cancellation policy would cover the couple for costs incurred in having to postpone or cancel their wedding in situations like a severe event (like if there was a hurricane, a blizzard or a power outage) that prevented the wedding from happening or forced them to reschedule," says Leah Weinberg, owner of Color Pop Events. "Generally, it also covers if the couple or a family member gets sick and cannot attend, therefore causing a postponement or cancellation."
If you purchased cancellation insurance before COVID-19 became a known factor for wedding postponements, you might be covered under your policy. The date that you purchased the cancellation insurance is crucial for determining if you can be reimbursed. Once a factor becomes known, you cannot purchase insurance to cover it. Since policies vary among companies and individual contracts, reach out to your wedding planner or insurance broker to find out what your agreement includes.
Can I Get Wedding Insurance Now In Case I Have to Postpone in the Future?
Generally, postponing your wedding because of a potential problem like future coronavirus concerns is not covered under any insurance policies. Plus, now that COVID-19 has been declared a pandemic and is a known cause for cancellations, you cannot purchase insurance retroactively to cover any issues caused by coronavirus.
When Did Coronavirus Become a Known Factor For Insurance Companies?
Specifics will vary among companies. To find out if your cancellation insurance policy was purchased before COVID-19 became a known factor for wedding postponements, direct all questions to your broker or company helpline.
Will State or Federal Guidelines for Gatherings Affect Whether My Postponed Wedding Is Covered Under Insurance?
In the wake of the coronavirus outbreak, the World Health Organization (WHO) and Center for Disease Control (CDC) continue to update their guidelines on public gatherings. As of March 15, both organizations requested citizens limit public gatherings to no more than 10 people. Specific gathering laws also vary by state. Because of the complexity of guidelines and mandates throughout the country, there are no concrete rules yet that address how gathering rules are handled—each contract will be evaluated on a case by case basis. It's best to consult your insurance broker to see how your policy references postponements due to federal and state rules.
What If My Vendors Cancel Because of Coronavirus?
Vendor cancellations should also be evaluated on a case by case basis. "There aren't a lot of overarching rules for what's happening right now," says Weinberg. "Open and honest communication is what's going to help everyone navigate this." If one of your vendors cancels because of coronavirus, consult your contract to help determine the best way to handle the situation. "Couples should remember their vendors have never experienced this before, so everyone is going through this together for the first time," she adds.
How Much Money Will I Get Back If My Postponement is Covered Under My Cancellation Insurance?
If you purchased cancellation insurance and your coronavirus postponement is covered under your policy, your reimbursement will depend on how much you spent. "Cancellation insurance is meant to reimburse you for money that you lose if you have to postpone or cancel," Weinberg explains. "The more you spend on your wedding with your vendors, the higher amount of coverage you'll need for cancellation insurance. Your cost will depend on what you're looking to cover."
Consult your broker to determine how much money you'll receive. Since insurance premiums vary, your reimbursement will depend on how much you spent when you purchased the package.
Should I Get Wedding Insurance If I'm Getting Married in 2021?
Now that couples have witnessed how unprecedented events can affect weddings, consider investing in cancellation insurance to protect yourself in case you have to postpone your event because of a natural disaster, a health crisis or a similar matter. "Given what we know now, completely unforeseen things can happen and there is a risk of any kind of severe weather event or illness that can affect weddings," advises Weinberg. "There is still a benefit in couples purchasing cancellation insurance once the coverage opens back up."
Keep in mind that any future insurance policies you purchase will not protect your wedding against any coronavirus-related cancellations.
How Soon Can I Purchase Cancellation Insurance?
Some insurance companies are unable to offer cancellation insurance right now because of the ongoing coronavirus crisis. Generally, the sooner you purchase cancellation insurance the more likely you'll be covered in case another unforeseen circumstance affects your wedding. "Given what's happening now, the best time to purchase insurance is as soon as you have a wedding date and a venue and a general idea of how much money you're going to be spending," Weinberg suggests.
If you have not yet gotten wedding insurance and you want to do so before your wedding, it's best to monitor companies and make the purchase once they're able to reopen policies.
I Don't Know What My Policy Covers. Where Should I Go With Questions?
Because wedding insurance amid coronavirus varies among couples and their respective policies, there aren't universal answers to all questions. "If couples have a wedding planner, all these conversations should start with them," Weinberg suggests. "It's helpful to keep the wedding planner in the loop with everything going on, and they will be able to give you some guidance and tell you where to go for the answers."
If you don't have a wedding planner, direct vendor-specific questions to your pros. Come prepared with ideas on how best to move forward, and be open about hearing what your vendors suggest too. "Have a conversation with the vendor to get a sense of what's going on and see if you can come up with a mutually agreeable solution," she adds. "If there are any specific questions about what is or is not covered in the insurance, reach out to the insurance broker or company to get an answer."
There are multiple resources to help couples navigate wedding insurance amid COVID-19. Online companies like Wedsure and Wedsafe specialize in wedding insurance, so couples can file a claim to learn more about existing policies or plans to purchase in the future. If you've purchased wedding insurance directly through a broker at a company, it's best to ask all questions through your direct line of contact.
Although there aren't many concrete answers regarding wedding insurance amid coronavirus yet, the best thing to do is have an open line of communication with your pros and your insurance company. "We're all in it together," Weinberg says. "We all need to communicate and try to resolve conflicts as amicably as possible and reach mutually agreeable solutions. We just have a lot of patience right now."