What the Groom's Family Is Traditionally Expected to Pay For
Not sure what the parents of the groom are supposed to cover? Take a look at what's traditionally expected, then split the budget however works best for everyone.
by Maggie Seaver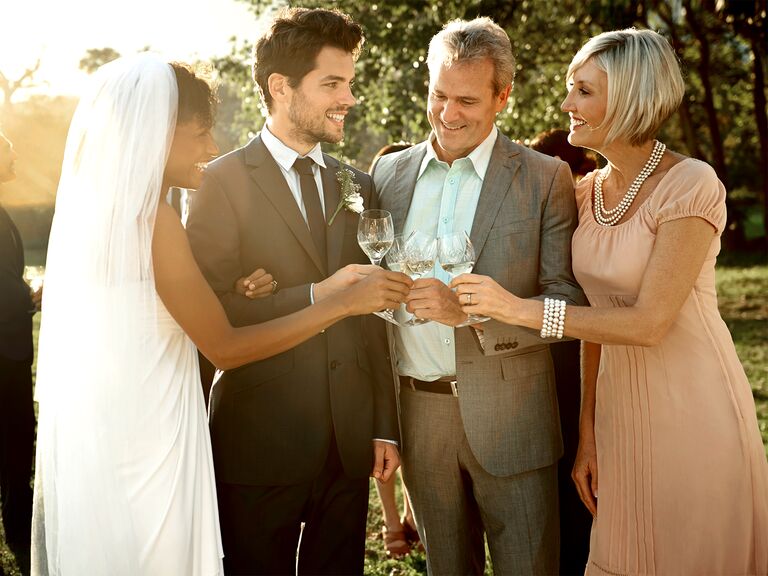 Since talking through how to divvy up your wedding budget fairly between you two and your families, you may have tossed around the traditional way of splitting costs where the bride's family pays for the majority of expenses, from the engagement party to the rental linens covering the reception tables. First of all, you'd be far from the only couple to do so. The Knot 2017 Real Weddings Study revealed that tradition still rings pretty true in this department: On average, the bride's parents contribute 45 percent to the overall wedding budget, whereas the groom's parents contribute 13 percent—but what exactly is the groom's side supposed to be responsible for?
Grooms' parents have typically been expected to chip in to cover a few expenses such as the marriage license, officiant fee, the bride's bouquet and reception music and entertainment. Here's a full breakdown of what the groom's family is traditionally expected to pay for.
Bride's engagement and wedding rings
Engagement party (optional)
Marriage license
Officiant fee
Groom's attire and accessories
Bride's bouquet
Boutonnieres
Corsages
Rehearsal dinner
Reception music (either a band, DJ or other entertainment)
Reception alcohol
Honeymoon
That said, today there's less pressure than ever for couples and their families to abide by wedding budget conventions still around from the past few decades. If the groom's parents are into photography, let them take the reins to find an amazing wedding photographer. If the bride's parents want to gift the couple a once-in-a-lifetime honeymoon, they totally should (like they'd have to twist anyone's arm.) Many times, both sets of parents will share the burden equally, and the couple will often pitch in too (last year, to-be-weds who split wedding costs with their parents contributed an average of 41 percent to the overall budget). In the end, the amount of money everyone contributes depends on your respective financial situations. Don't be afraid to sit down and have an honest conversation about who's willing and able to pay for what.