How to Deal With Cold Feet Before Your Wedding Day
Trust us—prewedding jitters are more common than you think.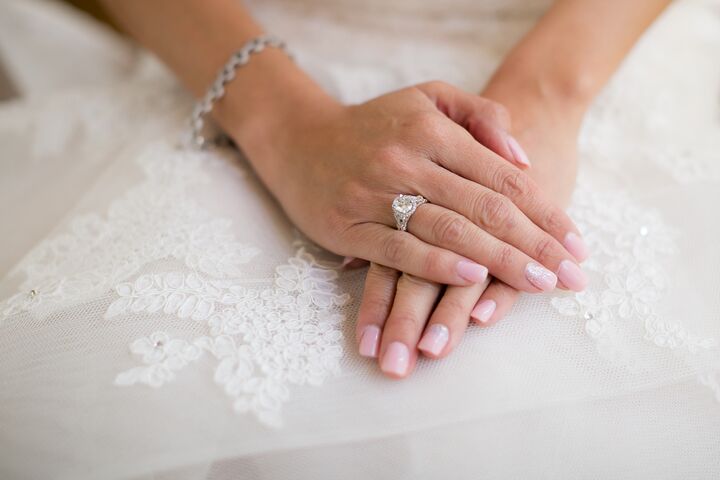 Lin & Jirsa Photography
Are you experiencing a chilling fear as you realize you're legally about to spend the rest of your life with your partner? Don't worry—it's called cold feet, and it happens. Most of the time, this freak-out period just means you have a case of prewedding jitters—and trust us, you're definitely not alone! There are lots of to-be-weds that get nervous before the wedding day, and cold feet can come up in a number of ways.
It could be your partner's annoyances getting to you, like a sink full of dishes you asked them to put away multiple times to no avail, or feeling panicky over 200 out-of-town guests flying in, or an argument you had with your parents over the venue and now you're having trouble sleeping or eating regular meals. While this isn't healthy, it can be normal. You're about to make a commitment for the rest of your life and you're staring that notion right in the eye.
"Cold feet is normal for most people," says Jane Greer, PhD, marriage and sex therapist and author of What About Me? Stop Selfishness From Ruining Your Relationship. "A marriage is so permanent, and it's not uncommon for people to second-guess themselves. Are they settling? Should they have waited? Is this really the right person?"
Simply put, cold feet is usually a reaction to stress. The engagement period isn't always smooth sailing when you're deep in the wedding planning trenches. Prewedding stress can make you more irritable, impatient and easily annoyed. If, out of the blue, your partner or family members start bugging you and those habits are driving you crazy, take a deep breath. Recognize you may be more sensitive than normal, and do your best to keep things in perspective, relax and be healthy. Your nerves will eventually return to a normal state. Meditating helps a lot. So does taking time for yourself with your favorite hobbies, pampering yourself and keeping open lines of communication with your partner.
But if you feel you or your partner has Mr. Big–style cold feet, the jitters may signify a more pressing problem and deserve immediate attention. Share your feelings with your spouse-to-be in a nonconfrontational way. No matter the issue, merging your lives is not always easy. Many couples turn to premarital counselors to talk out any differences or issues, or to just get a better understanding of their partner and relationship as a whole.
On a more serious note, there are relationship problems that are beyond the world of prewedding nerves and irritations. If you find yourself facing any of these issues, take steps immediately to confront the problem head-on, whether it's consulting with family or friends, and/or seeking professional help (either individually or together).
"If you're experiencing panic attacks, crying a lot, dreading the wedding, feeling nauseous, feeling trapped or like it's 'too late' to call off the wedding, or if you don't want to see your partner at all, these are signs you should postpone or cancel the wedding," Greer says. "You should get counseling or some other type of support to figure out why you're feeling so distressed. However, if it's simply about doubts that can be addressed, trust that these won't be strong enough to stop you from going ahead with the wedding day."