59 Ideas for the Ultimate Winter Wonderland Wedding
It's the most wonderful time of the year.
Planning your nuptials for the cold weather season presents unique opportunities: dreamy, snow-filled photoshoots, holiday-themed details and glittering, bold decor. To help get you inspired for your own day, we've hand-picked 59 winter wedding ideas you'll want to save immediately. From Christmas-inspired wedding decor and winter wedding flowers, to winter wedding food, attire and more, this list will have you craving a cup of hot cocoa and a cozy fireplace. If you're having a December wedding, planning to get hitched in January or dreaming of a romantic Valentine's Day ceremony, keep reading for ideas to bring your dream winter wedding to life.
In this article:
Winter Wedding Outfit Ideas
From holiday-inspired attire to accessories and seasonal outerwear, winter weddings provide plenty of opportunity to get creative with your look.
1. Plaid Getting Ready Outfits
Love the idea of matching your bridesmaids or wedding party while getting ready? Swap silk robes for plaid flannel shirts or matching pajamas that are as cute as they are comfy.
2. Velvet Burgundy Wedding Suit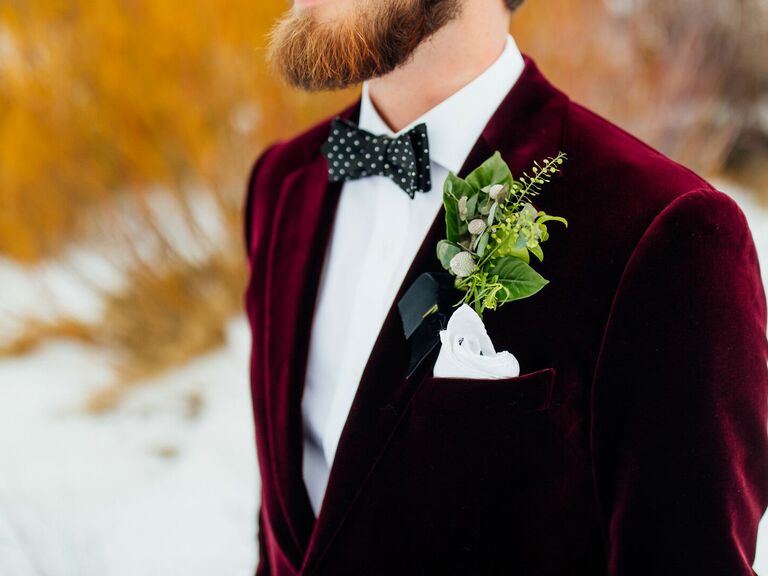 Stay on theme for a winter wedding by rocking a burgundy suit or tuxedo instead of the popular black or navy. This would work for any time of the season, whether you're getting married right before Christmas or planning a February wedding.
3. Tartan Wedding High Heels
If you want to show off your love for the holiday season, rock a pair of red tartan shoes.
4. Skiing Wedding Photo Op
Show off your winter wedding outfits by snagging an epic shot in the snow—skiis optional but definitely encouraged if you're getting married at a ski lodge.
5. Emerald Green Bridesmaid Dresses
Emerald is already a popular wedding color, but it looks especially stunning in the wintertime.
6. White Wedding Boots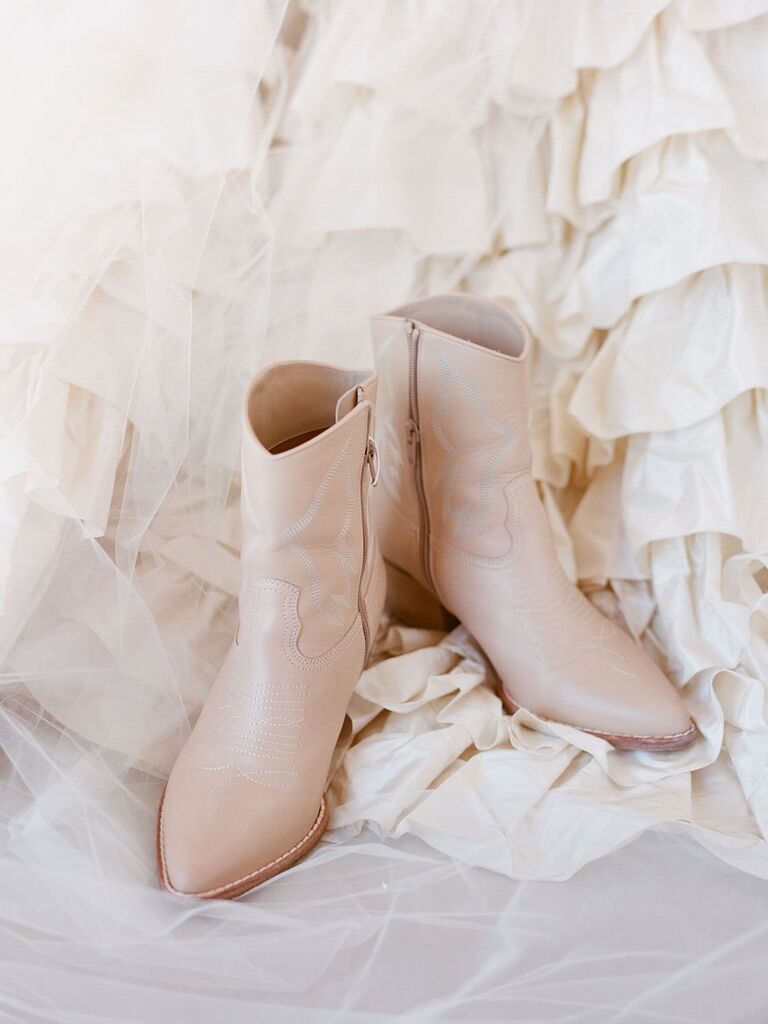 Keep your feet warm by swapping out wedding heels or open-toe shoes for a pair of white or ivory boots.
7. Emerald Green Wedding Tuxedo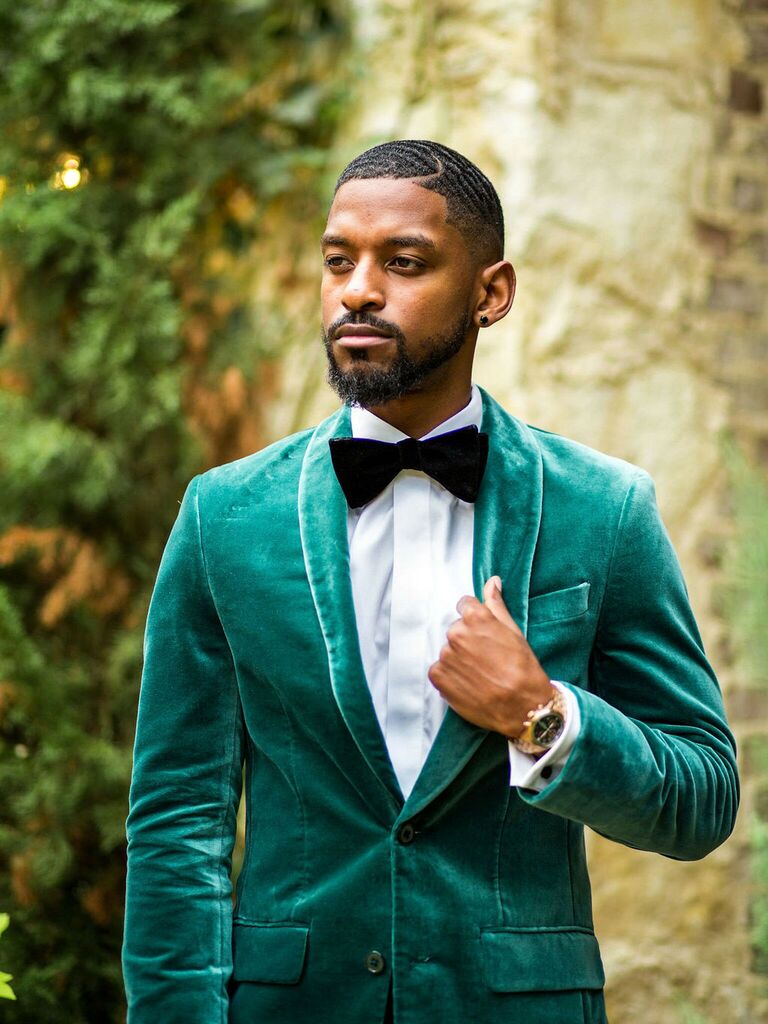 Rock an emerald suit (one of this year's biggest wedding trends) for the occasion. It'll look awesome next to your seasonal decor.
8. Winter Coats for Your Bridesmaids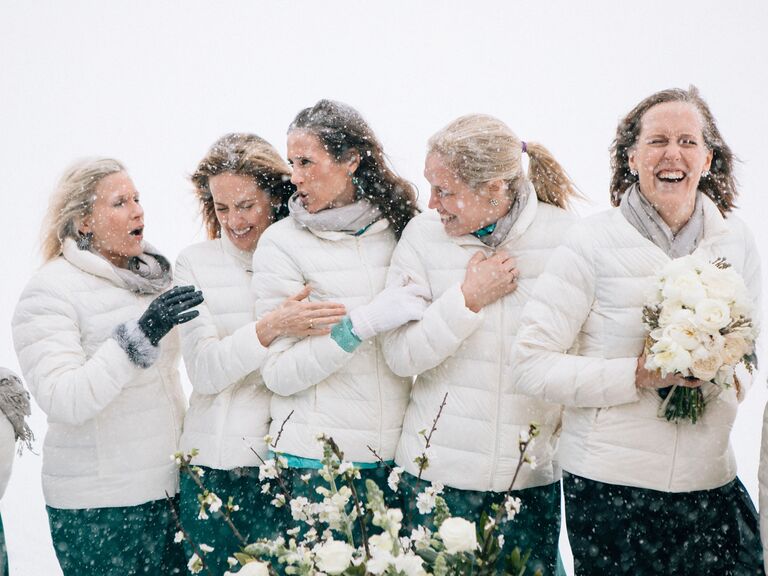 Skip matching outfits for your wedding party and ask them to get rock matching coats instead. They'll look adorable in pictures, and they'll keep your friends warm during the ceremony.
9. Navy Blue Velvet Wedding Tuxedo
Velvet attire is a go-to winter wedding idea because it's the perfect blend of warmth and style.
10. Black Wedding Dress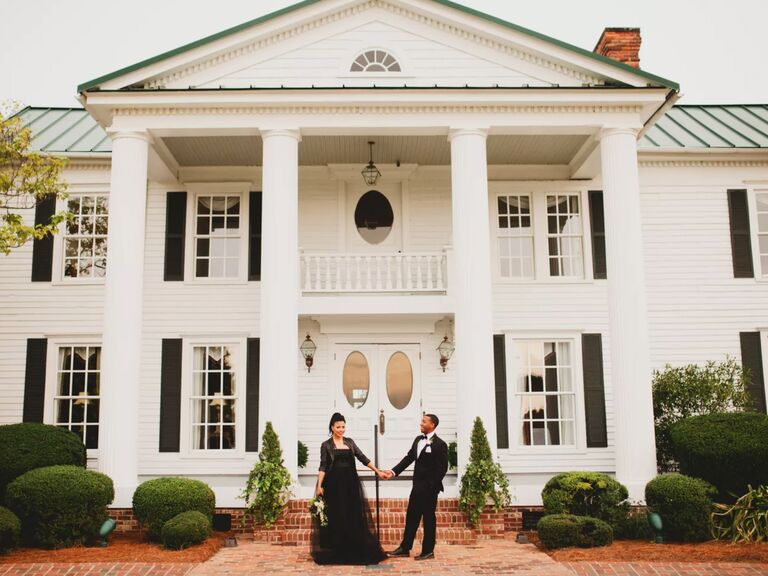 The colder weather presents the perfect opportunity to buck tradition. Rock a black wedding dress (and top it off with a sleek leather jacket to stay warm).
11. Ski Lift Exit Photo
If you're exchanging vows at a ski resort, get creative for your exit photo. Take a romantic picture while riding the ski lift after you say "I do."
Winter Wedding Flowers
Winter wedding flowers include some of the most popular blooms, like anemones, orchids and roses. Whether you're looking for winter centerpiece inspiration, winter bouquet inspiration or all of the above, we've got plenty of ideas.
12. Pine Needle Wedding Bouquet
Pay homage to the cold season by incorporating long branches of pine needles into your wedding bouquet. It's a creative, edgy way to celebrate your winter wedding.
13. Pine Cone Wedding Boutonniere
As one of the most recognizable symbols of winter, a mini pine cone is an adorable addition to your boutonniere (or keep it extra-simple with one solo pine cone).
14. Winterberry Wedding Hair Accessory
You can still rock a flower crown during the winter months. Work seasonal berries into the design for a quintessentially boho look.
Find your kind of venue
From barns to ballrooms, discover reception venues that feel like you.
15. Red Winter Wedding Bouquet
A bold, dramatic red bouquet is a unique way to show off your glam style and love for the holiday season.
16. Velvet Wedding Bouquet Ribbons
Tying your bouquet together with a velvet ribbon will instantly add a wintry vibe to your fresh flowers.
17. White Hypericum Berry Wedding Boutonniere
These simple winter berries will match any color scheme or aesthetic, making them a great choice on their own or with other seasonal flowers.
18. Red Floral Dog Collar
Adorn your pet with red florals for a festive, fun photo shoot.
19. Evergreen Wreath Decorations
Wreaths are a chic complement to your winter wedding flowers. Hang one on the door to your wedding venue, arrange a cluster of them on the wall behind your sweetheart table or fasten a wreath to your getaway car.
20. Winter Wedding Bouquet with Pinecones
Another creative winter wedding idea? Add small pinecones to your bouquet.
21. Wedding Ceremony Flower Arch
Your flowers don't have to be red and green to celebrate the season. Here's proof that a white and blush floral arch is just as dreamy, especially when you add candles.
22. White, Green and Red Winter Wedding Centerpiece
This centerpiece is a subtle take on classic red and green winter wedding ideas. Use just a few red flowers with greenery to achieve the understated look.
23. Winter Wedding Tablescape with Red Candles
Or you can lean into the holiday season with colorful candles and other themed tabletop accents. Adding red tapers to your tablescapes is festive without feeling too forced.
24. Red Ranunculus Wedding Boutonniere
Pin a single burgundy ranunculus to your suit or tuxedo lapel as an understated, seasonal touch.
Winter Wedding Decorations
Create a cozy, romantic setting for your nuptials with the help of these ceremony backdrops, stationery goods and other winter wedding decor ideas.
25. Metallic Winter Wedding Invitations
Add a touch of snow-inspired sparkle to your winter wedding stationery by incorporating metallic foil accents.
26. Gold and Emerald Green Winter Wedding Invitations
For a December or January wedding, gold and emerald stationery is a simple way to pay homage to the winter season.
27. Ski-Themed Wedding Welcome Bags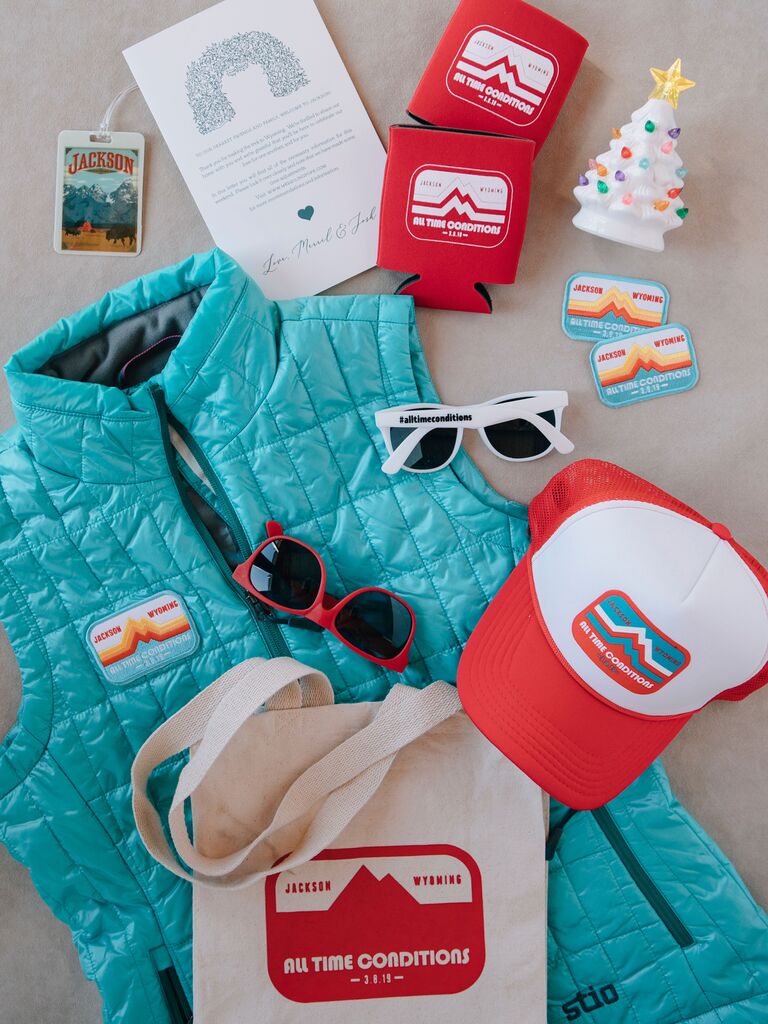 If you're hosting your nuptials at a ski lodge, gift your guests winter-themed welcome bags.
28. Candle-Lined Wedding Ceremony Aisle
Candles are one of the best ideas for winter wedding aisle decor. Their flickering glow brings a sense of coziness and romance to your ceremony space.
29. Winter Wedding Ceremony Arch
Turn your ceremony into a winter wonderland with a white and silver arch complete with snowflakes.
30. Greenery Wedding Ceremony Decor
Transform an indoor winter wedding venue by adding greenery to the ceiling, along the aisle and as a backdrop at the altar. Your guests will feel like they're walking through a Christmas tree farm or enchanted forest.
31. Wedding Ceremony Aisle Runner
If you're planning an outdoor winter wedding, a rug aisle runner will cozy up the space. It has the same effect for indoor venues too.
32. Wedding Altar Decor with Branches
Branches are a chic and unexpected way to decorate your ceremony, whether it's taking place indoors or outdoors. Use a combination of dried grasses and wintry branches, like birch branches or pussy willow in bronze vases.
33. Winter Wedding Ceremony Programs
These stunning ceremony programs were tied with burgundy silk ribbons to match the couple's custom wedding crest.
34. Disco Ball Wedding Decor
Tap into one of our favorite wedding decor trends by adding mini disco balls to your winter centerpieces.
35. Neon Wedding Sign Backdrop
A wooden planked wall is perfect for your rustic winter wedding backdrop, but adding a neon sign will complete it with a personalized, modern touch.
36. Red Velvet Wedding Backdrop
Set up a luxe red velvet backdrop at your reception. It'll add a touch of Old Hollywood glamour.
37. Space Heaters for the Wedding Reception
Even in a warm climate, temperatures can drop at night during the winter. Keep your guests comfortable with space heaters placed throughout the space.
38. Barn Wedding Venue
A barn venue's rustic feel will complement the winter weather beautifully. Plus, minimal decorations (like long garlands of greenery) will transform the space into a cozy cold weather hideaway.
39. Christmas Tree Wedding Decor
If your venue has Christmas trees in place as decor, stage a photoshoot in front of them—otherwise, ask about adding some of your own for the big day. It's a clever way to capture the holiday spirit in your wedding album.
40. Jingle Bell Wedding Escort Cards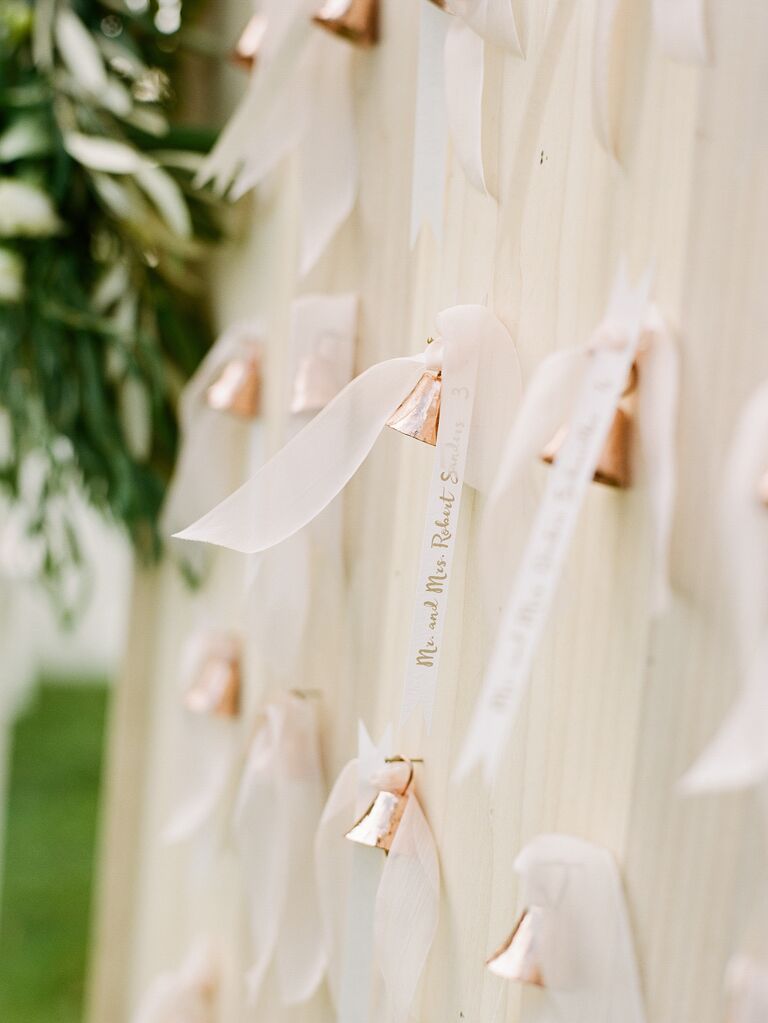 Not only are these jingle bell escort cards a cute way to add the holiday spirit to your winter wedding decor, but your guests will have fun ringing them throughout the reception when it's time for you and your brand-new spouse to share a kiss.
41. Silver and Charcoal Wedding Seating Chart
When paired with other cool tones like ice blue, a silver and charcoal color palette evokes a winter wonderland theme. This seating chart is a great example of how you can use candles and existing elements of your venue (like an exposed brick wall) to add warmth and contrast.
42. Celestial-Inspired Wedding Place Setting
Get inspired by starry winter skies and choose a celestial wedding theme for your nuptials. Moon-shaped details and a metallic color palette will help you pull off the ethereal vibe.
43. Winter Wedding Sweetheart Table
Add a satin runner, glowing candles and simple greenery at your wedding sweetheart table for a cozy, festive setup.
44. Greenery Wedding Table Runner
Your table setting doesn't have to be over-the-top to be on-theme for a winter wedding. Pair greens with red linens for a wintry, laid-back vibe.
45. Wedding Chairs with Fresh Eucalyptus
Greenery garlands look just as festive when added to the backs of chairs. Use them to adorn your sweetheart chairs or where your family will be seated at the VIP table.
46. Mitten Wedding Favors
If you're exchanging vows in cold temperatures, consider this creative winter wedding favor idea. Your guests can wear these cozy mittens on the day and after the fact.
47. Hot Chocolate Wedding Favors
Surprise your guests with hot chocolate kits as favors at each place setting. The next time they make cocoa at home, they'll remember your special day.
48. Confetti Drop on the Dance Floor
Make your snow wedding dreams a reality without braving the cold weather. Fill the room with white confetti for an epic reception picture during the final dance.
Winter Wedding Cakes & Food
Winter wedding cakes are only the beginning when it comes to dessert and other sweet treats. Check out these seasonally inspired drinks and desserts to add to your special day.
49. DIY Hot Chocolate Station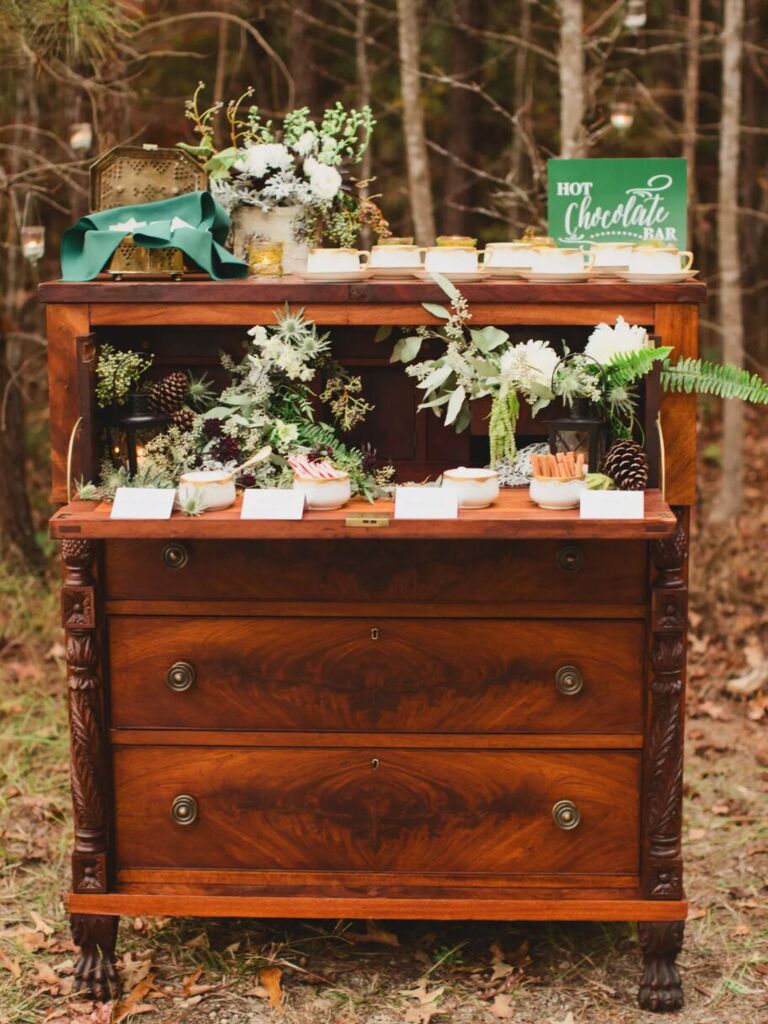 Create a seasonally-appropriate guest experience by setting up a hot chocolate station at your reception.
50. Red Signature Wedding Cocktails
Looking for winter wedding cocktail ideas? Serve up your favorite red drink to celebrate your cold weather nuptials.
51. White Wedding Cake with Greenery
A white wedding cake already looks like it's covered in snow. Top it off with juniper branches or other winter greenery for an easy, seasonal touch.
52. Spiked Eggnog Wedding Cocktail
Get your guests in the holiday spirit with a warm, cinnamon-infused cocktail before the reception.
53. Burgundy Wedding Cake with Drip Icing
Not all winter wedding cake ideas involve a plain white design. Consider this red watercolor cake with white drip icing inspired by frosty icicles.
54. Pine Cone Wedding Cake
Pine cones are a classic, winter-approved alternative if you don't want to decorate your wedding cake with flowers.
55. Doughnut and Milk Wedding Snacks
Your guests will have a hard time resisting this pairing of mini doughnuts and milk (spiked or not is your call). Serve them ready to go to make it easy for people to snag them during a dance floor break.
56. Thermos Mug Wedding Favors
Serve your guests hot drinks in handy thermos mugs they can take home as wedding favors.
57. Ski-Themed Wedding Cupcake Display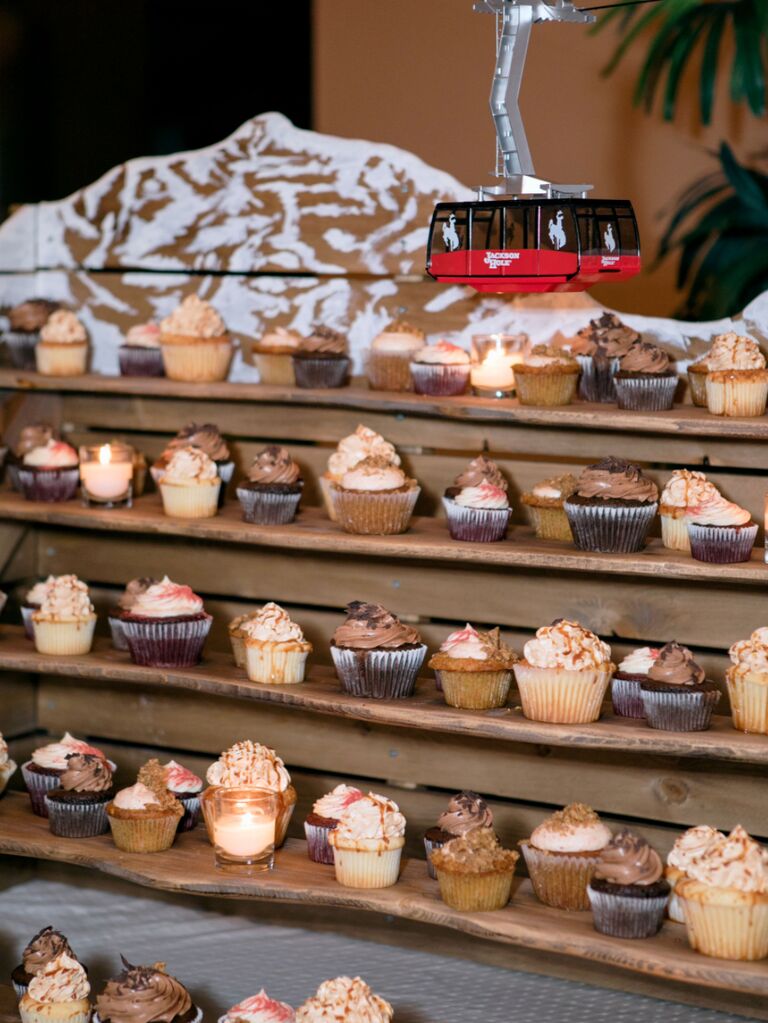 Show off your love of skiing with a ski lodge-inspired cupcake display.
58. Naked Wedding Cake with Berries and Powdered Sugar
We love this winter wedding idea for your dessert table. Top a naked cake with berries and powdered sugar—it looks just like snow.
59. Seven-Tier Wedding Cake with Red Flowers
Adorn a simple white cake with moody red florals for an edgy, boho winter wedding cake idea.