63 Ideas For the Ultimate Winter Wonderland Wedding
It's the most wonderful time of the year.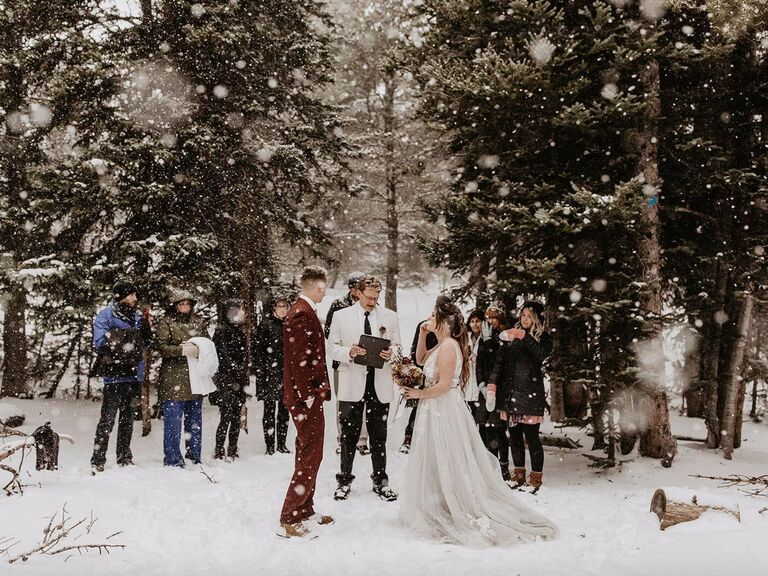 MATT + JESS
The weather outside may be frightful, but you can still host a wedding that's delightful. Planning your nuptials for the cold weather season presents unique opportunities: dreamy, snow-filled photoshoots, holiday-themed details and glittering, bold décor. To help get you inspired for your own day, we rounded up 63 winter wedding ideas you'll want to save immediately. We cover winter wedding outfit ideas, winter wedding cake ideas, winter wedding centerpiece ideas and more. Just scrolling through this list will have you craving a cup of hot cocoa, so fix yourself a piping hot mug and check out these ideas to bring your dream winter wonderland wedding to life.
White Floral Arch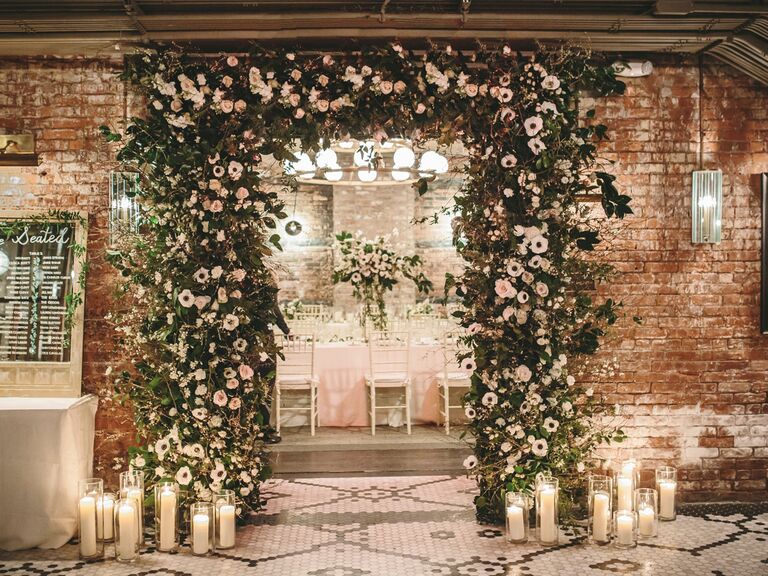 Your flowers don't have to be red to celebrate the season. A white floral arch will make your guests feel like they're walking in a winter wonderland indoors.
Snowy First Look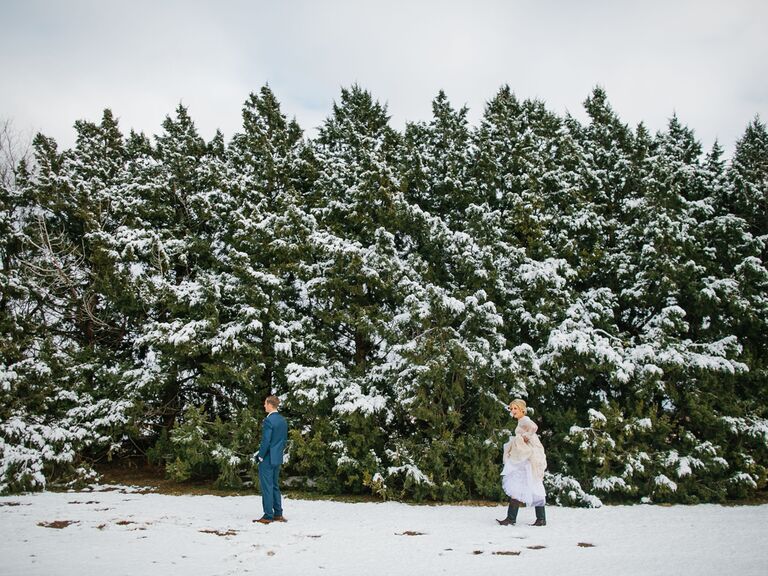 Share your first look outside in the snow for a dreamy picture that'll get all the likes on Instagram.
Barn Venue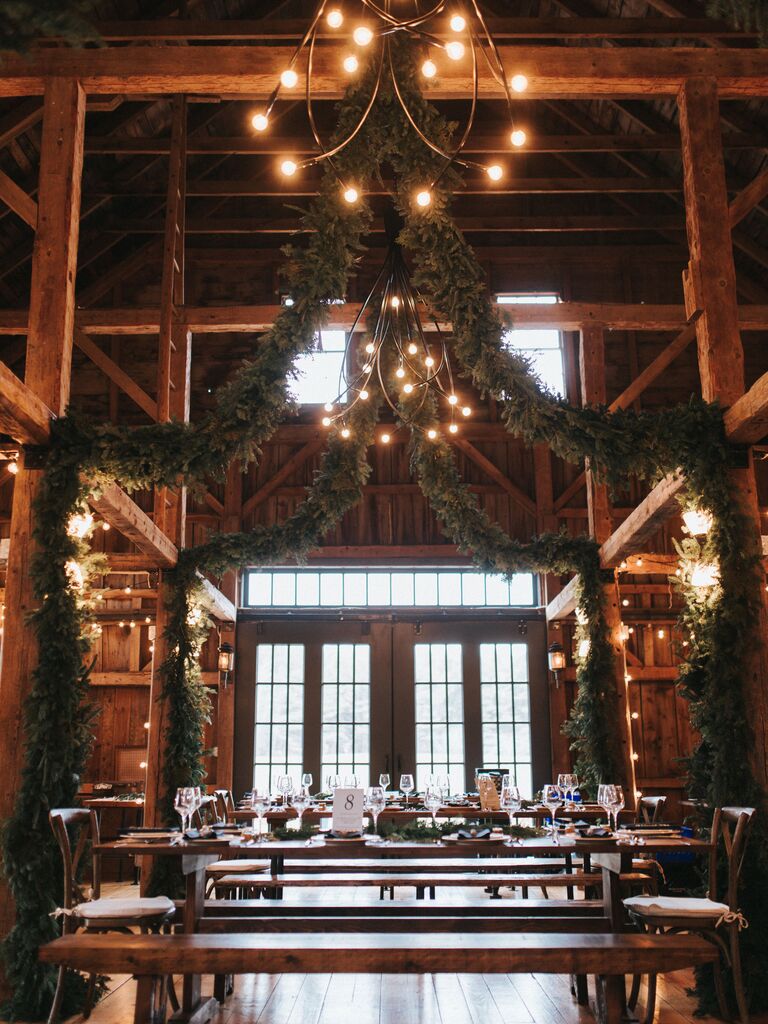 A barn venue's rustic feel will complement the winter weather beautifully. Plus, minimal decorations (like long garlands of greenery) will transform the space into a cozy cold weather hideaway.
Pine Needle Bouquet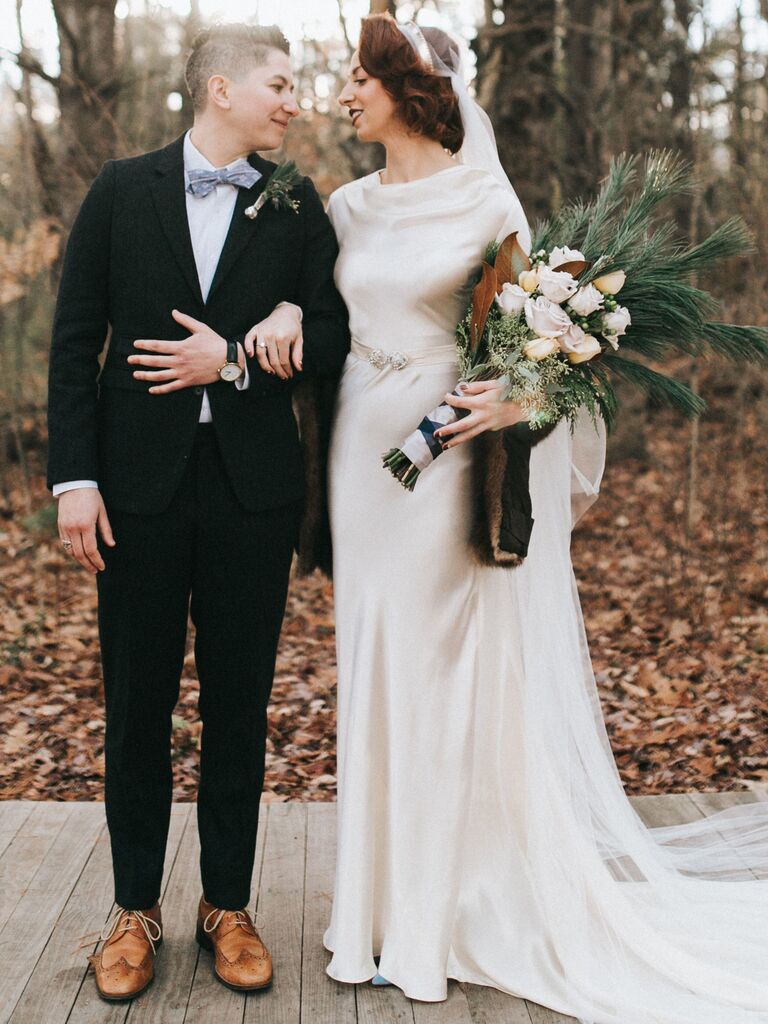 Pay homage to the cold season by incorporating long branches of pine needles into your wedding bouquet. It's a creative, edgy way to celebrate your winter wedding.
Red Candles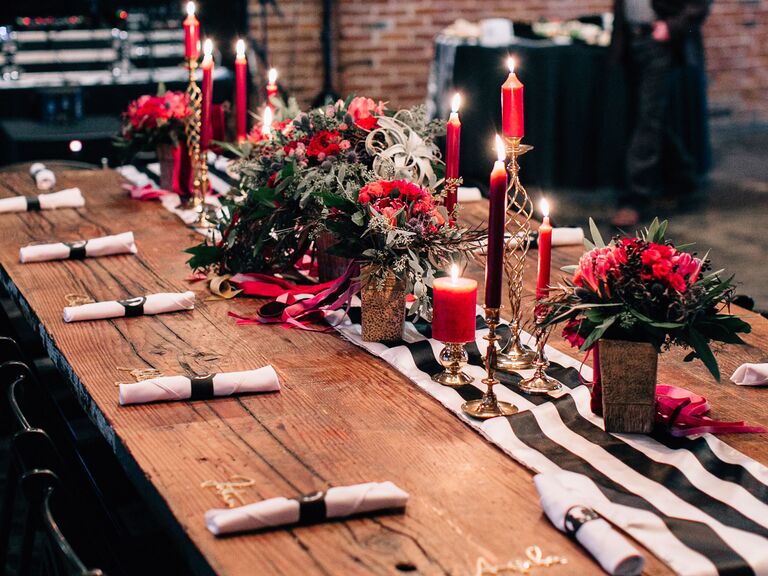 Lean into the holiday season in a subtle way. Red candles look festive without feeling too forced.
Emerald Suit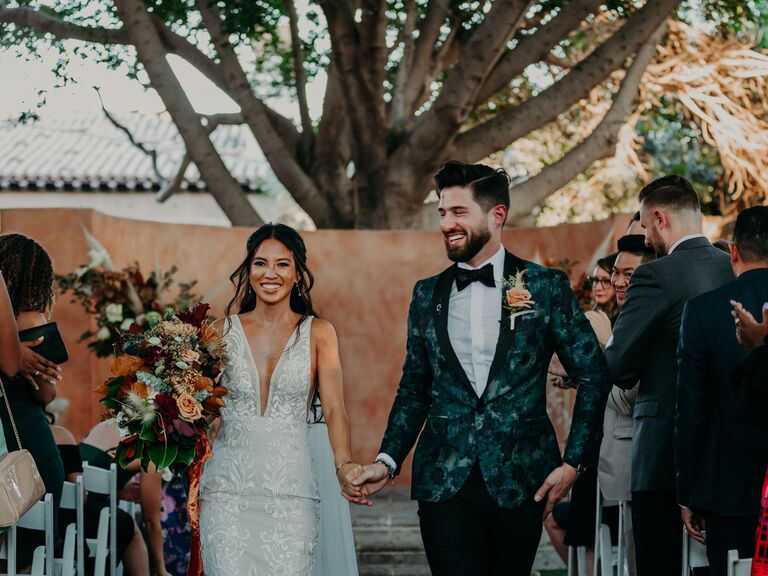 Rock an emerald suit (one of this year's biggest wedding trends) for the occasion. It'll look awesome next to your seasonal decor.
Space Heaters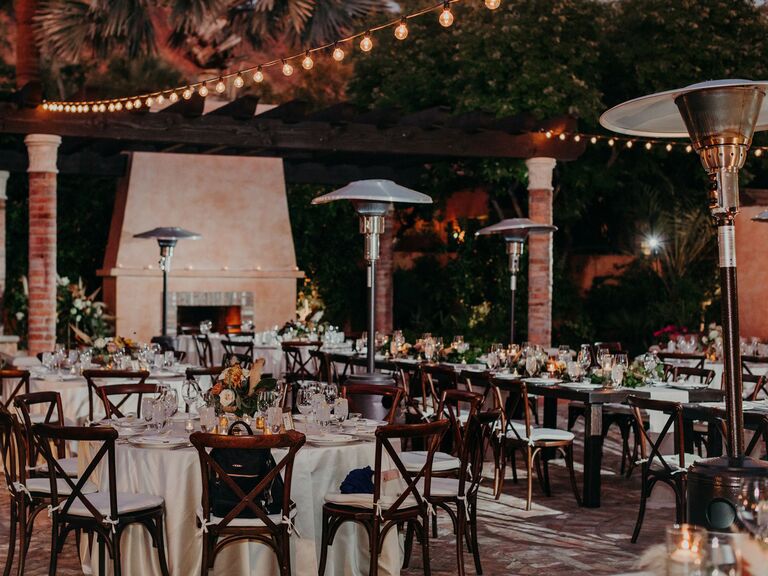 Even in a warm climate, temperatures can drop at night during the winter. Keep your guests comfortable with space heaters placed throughout the space.
Greenhouse Filled With Twinkling Lights and Candles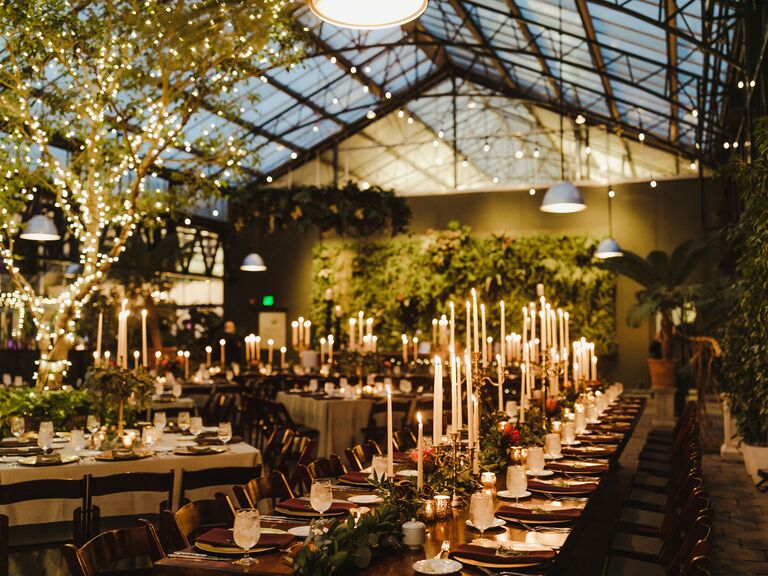 A greenhouse may seem like a warm-weather favorite, but with candles and twinkling lights, it'll transform into a winter wonderland.
Rug Aisle Runner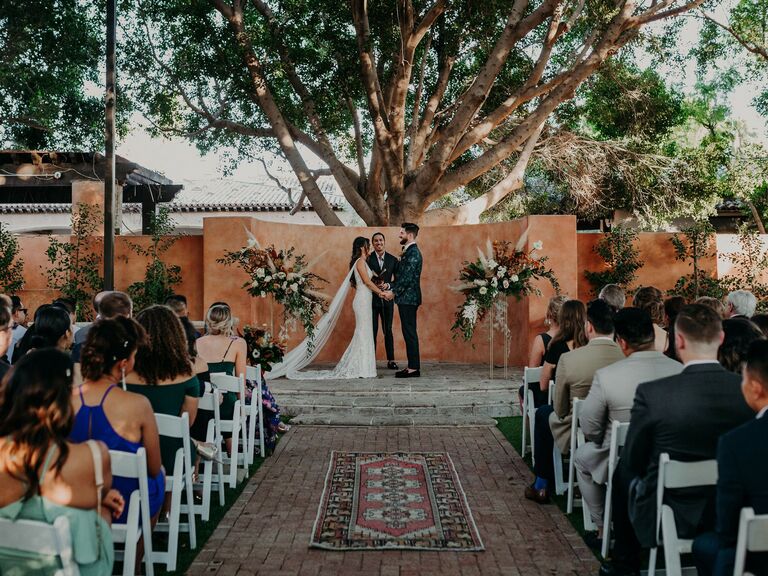 Winterize any large, bright space with a rug aisle runner. It'll instantly add a cozy vibe to your ceremony.
Celestial-Inspired Place Setting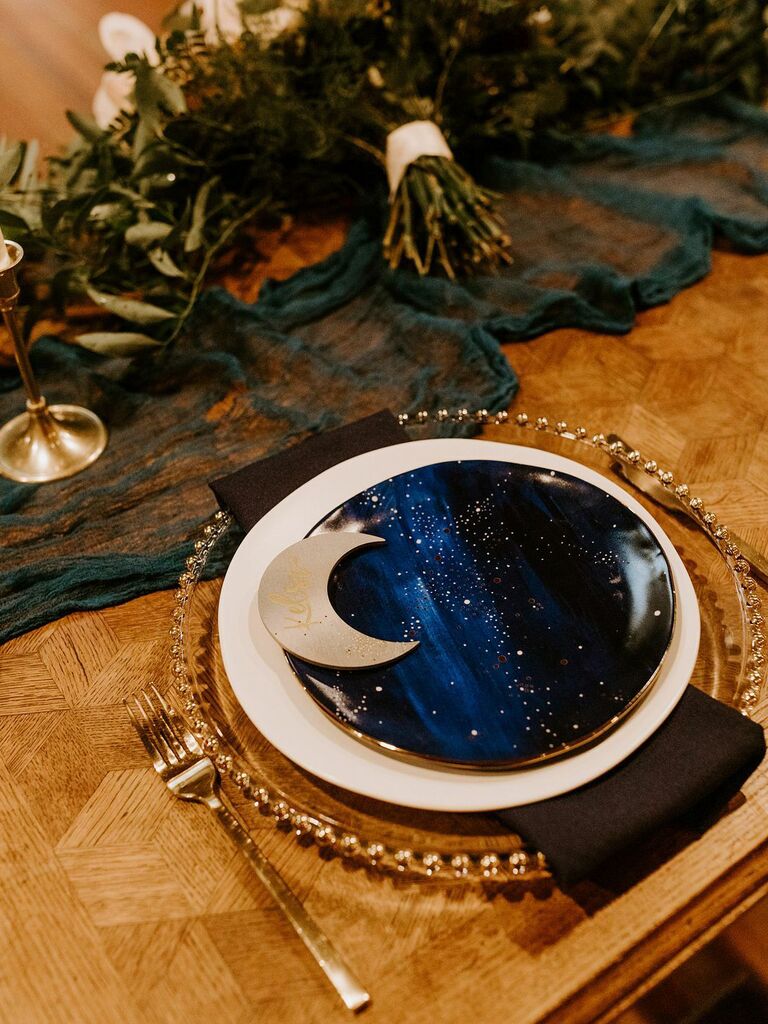 A celestial-inspired wedding theme is a creative way to pay tribute to the winter season.
Mitten Favors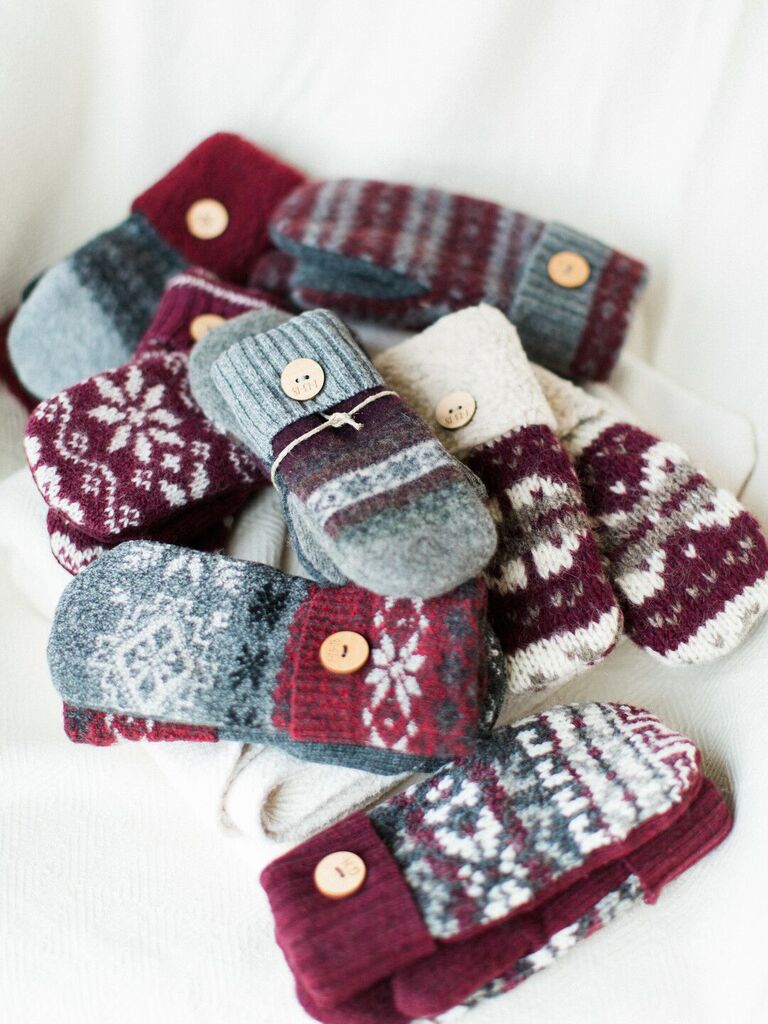 If you're exchanging vows in cold temperatures, consider this creative winter wedding favor idea. Your guests can wear these cozy mittens on the day and after the fact.
Red Cocktails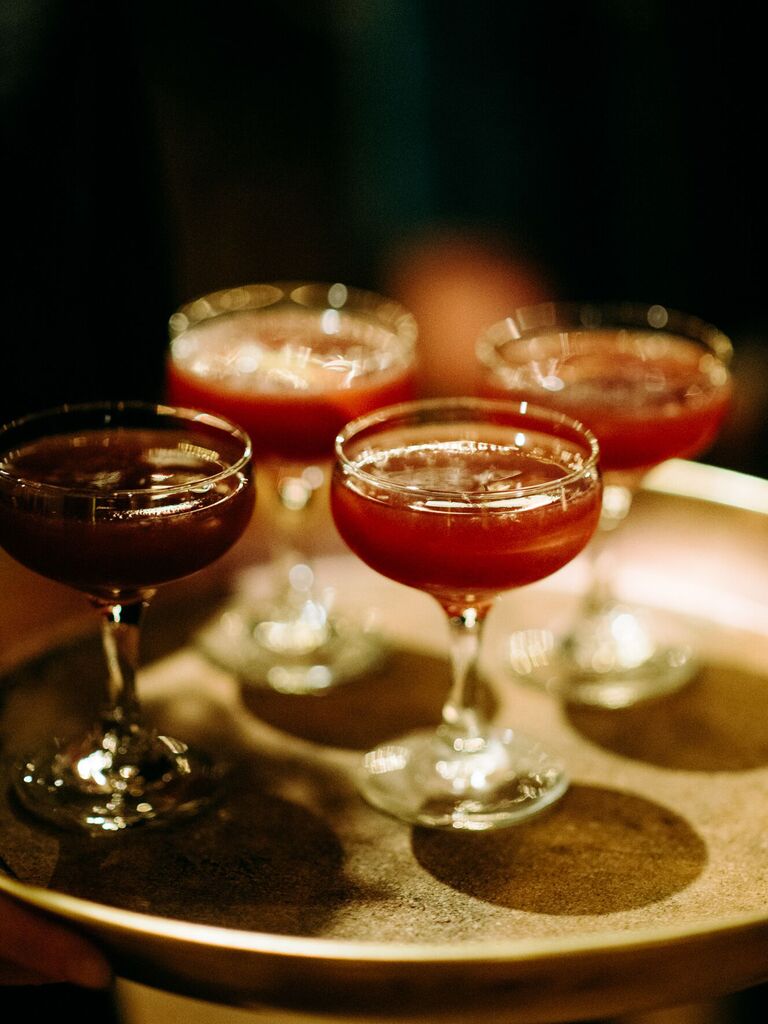 Looking for winter wedding cocktail ideas? Serve up your favorite red drink to celebrate your cold weather nuptials.
Neon Sign on Wooden Backdrop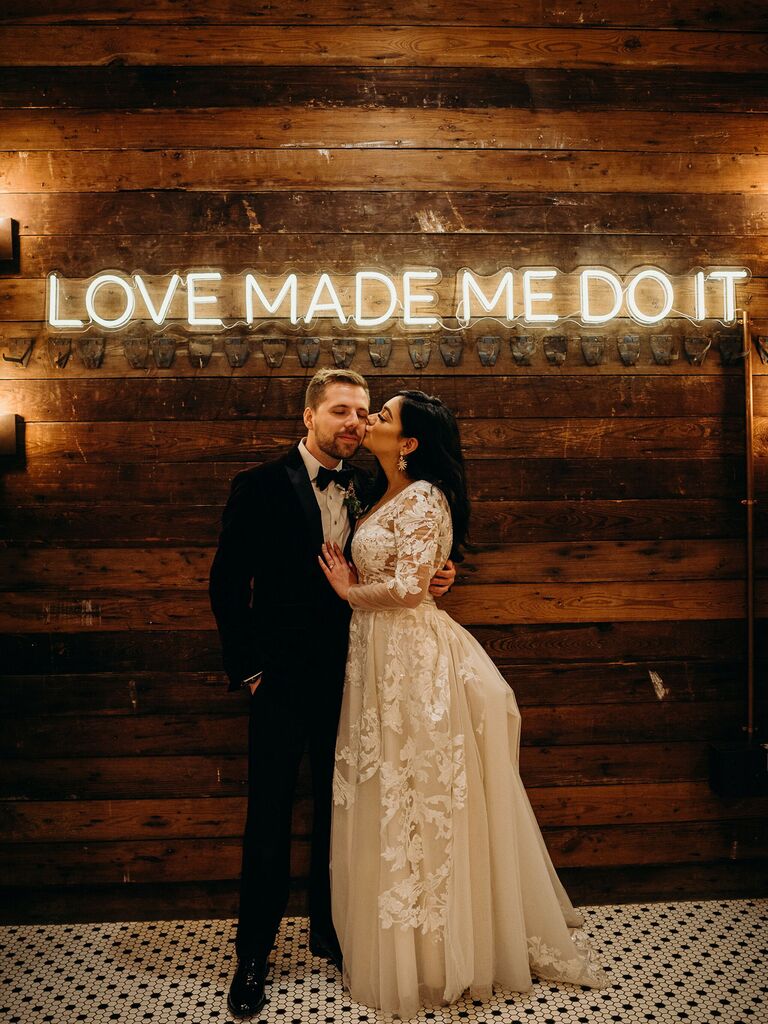 A rustic wooden backdrop feels warm and cozy, but adding a neon sign will make it feel more modern.
Emerald Wedding Party Outfits
Emerald is already a popular wedding color, but it looks especially stunning in the wintertime.
Warm Pastel Flowers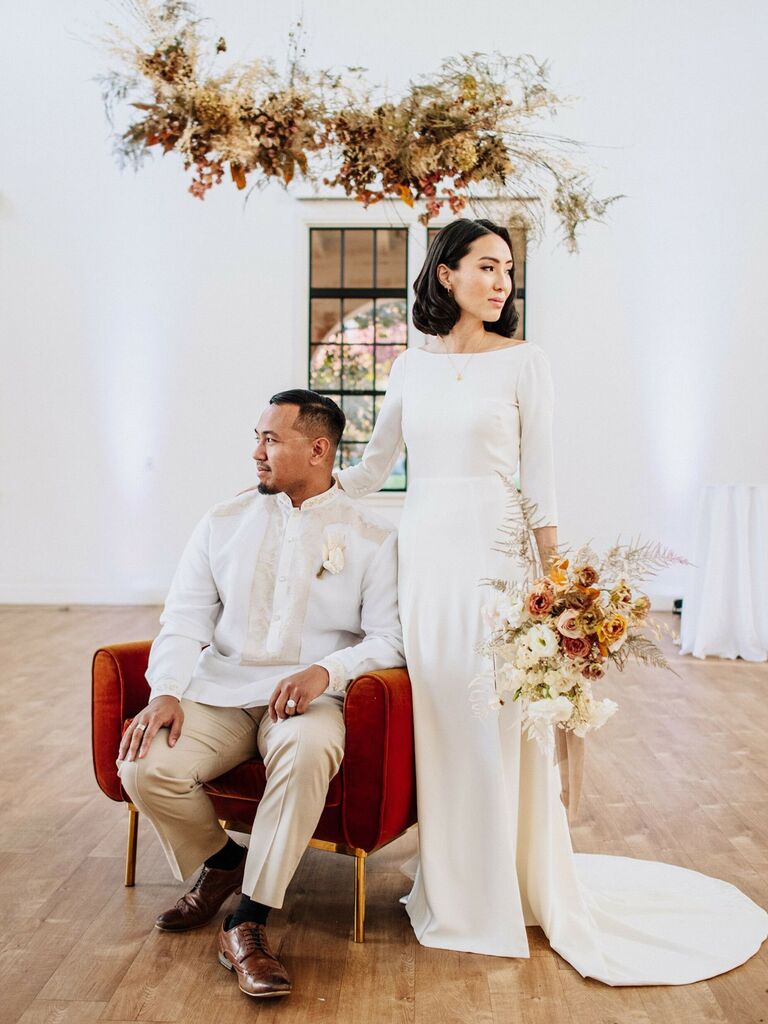 Using warm, muted pastel colors will add extra coziness to your winter wedding.
Velvet Accent in Bouquet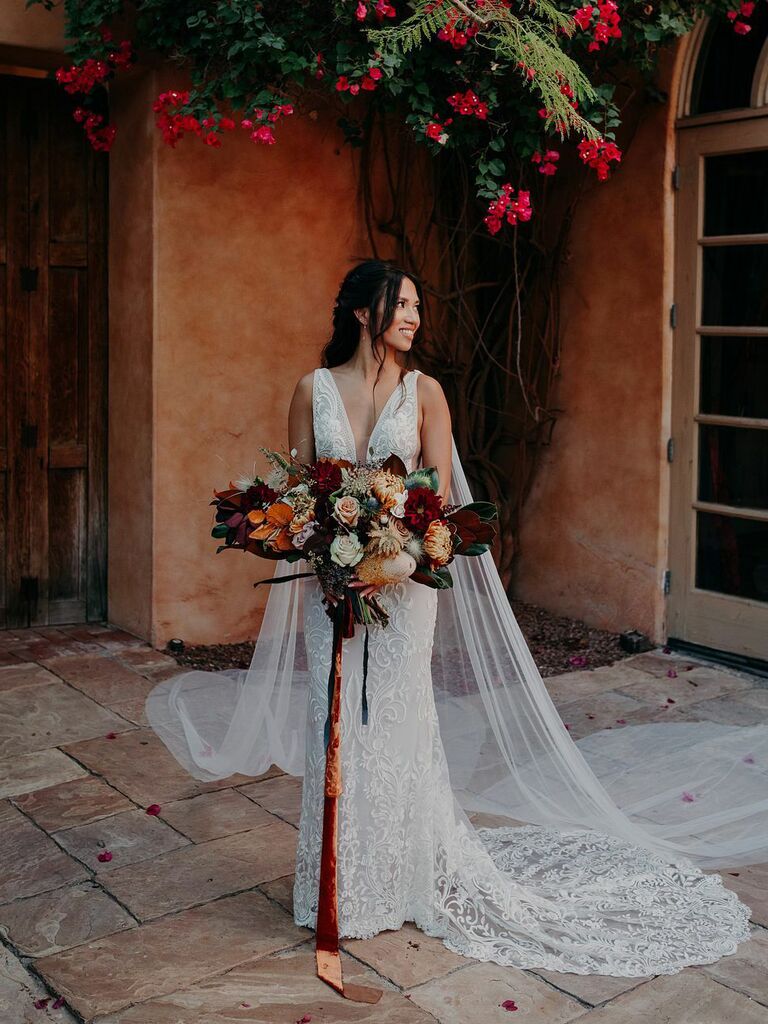 Tying your bouquet together with a velvet ribbon will instantly add a wintery vibe to your fresh flowers.
Velvet Suit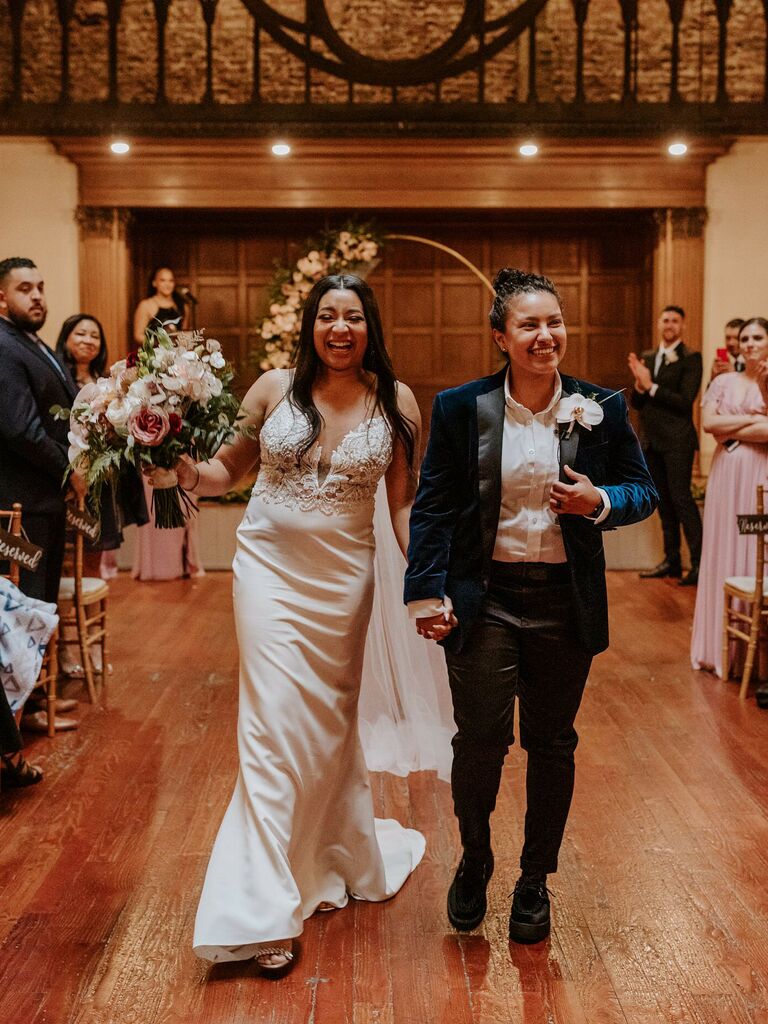 Velvet is a staple for winter wedding attire because it's the perfect blend of cozy and chic.
Silver and Blue Seating Chart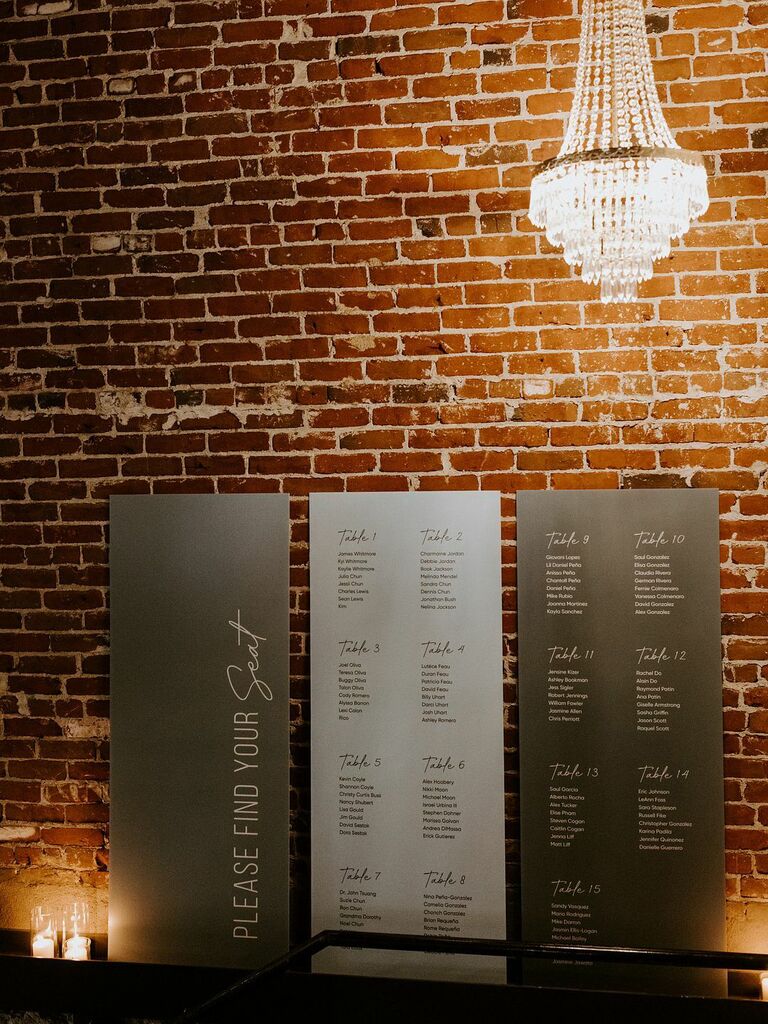 Add a winter wonderland vibe to your event space with a silver and blue seating chart.
Metallic Stationery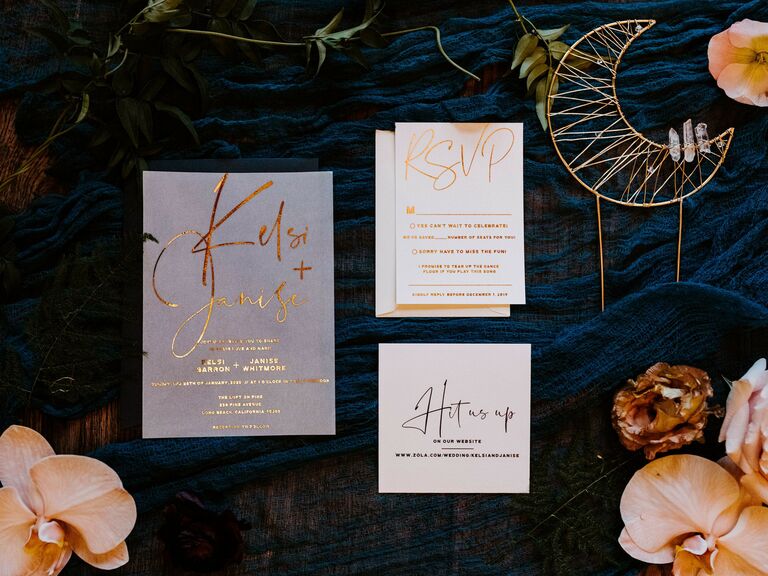 Add a touch of winter snow sparkle to your wedding stationery by incorporating metallic foil accents.
Burgundy Suit Jacket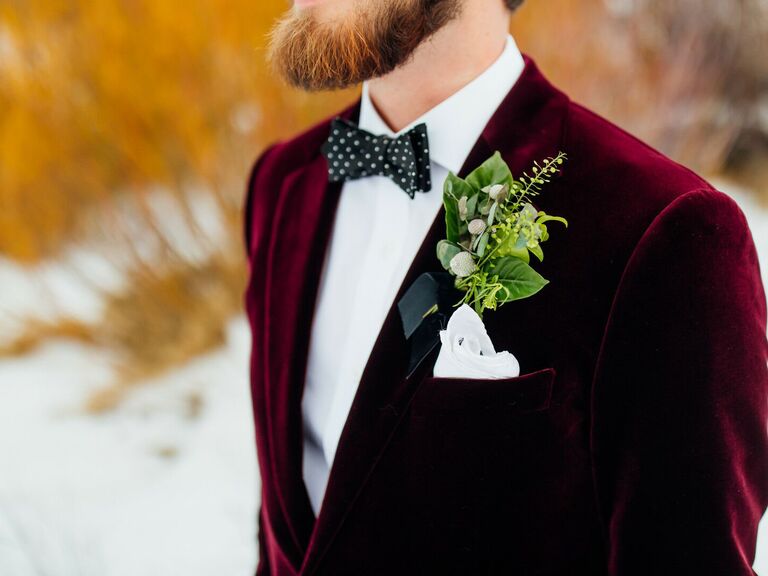 Looking for a festive winter wedding outfit option? Rock a burgundy suit jacket instead of the popular black or navy.
Ranch Venue
Say "I do" in a rustic ranch with a view of the winter snow. Your guests can admire the winter wonderland outside while staying comfortably warm.
White and Silver Arch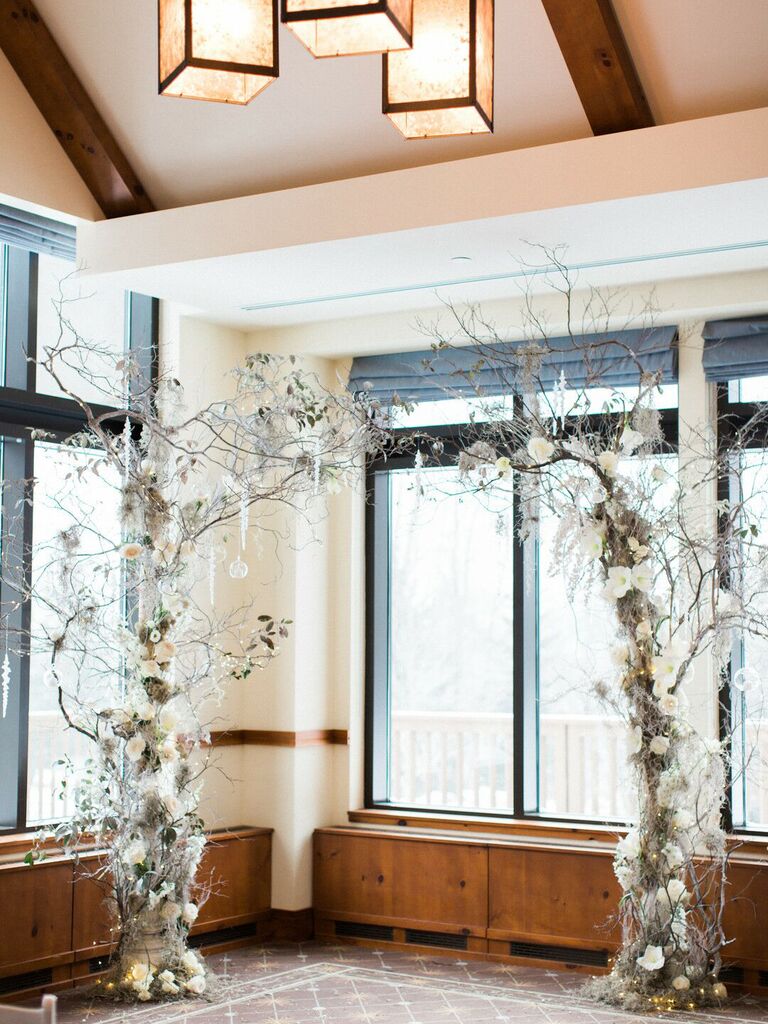 Turn your ceremony into a winter wonderland with a white and silver arch complete with snowflakes.
Red Velvet Shoes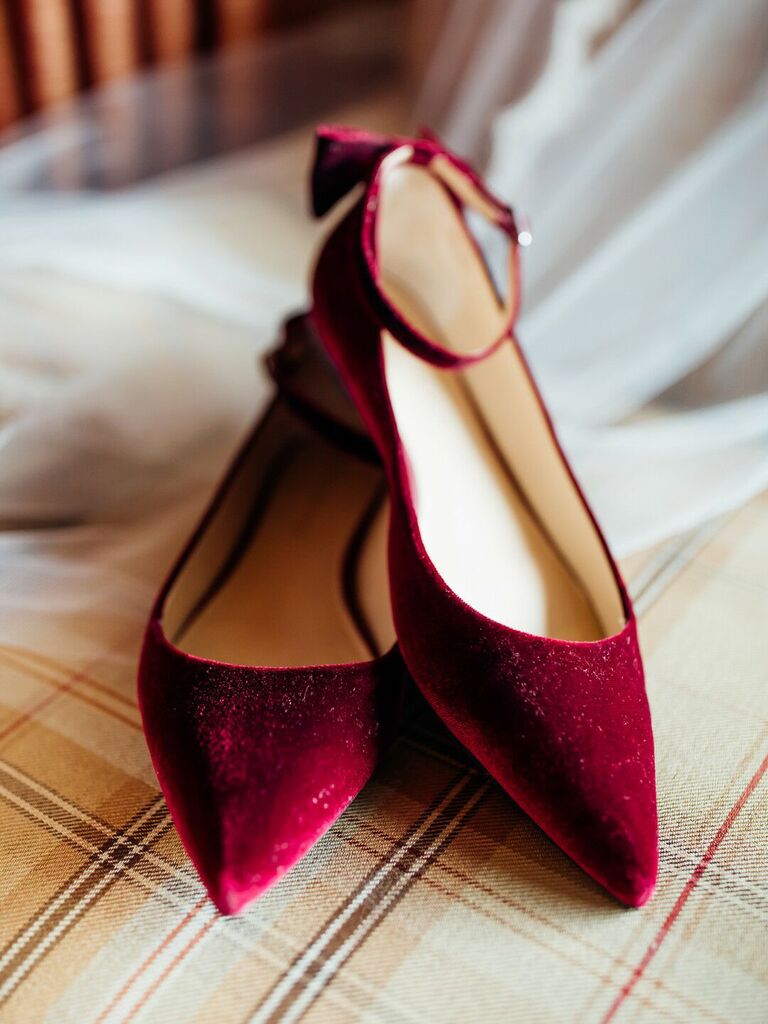 If you want to show off your love for the holiday season without going too overboard, rock a pair of red velvet shoes.
White Wedding Cake With Greens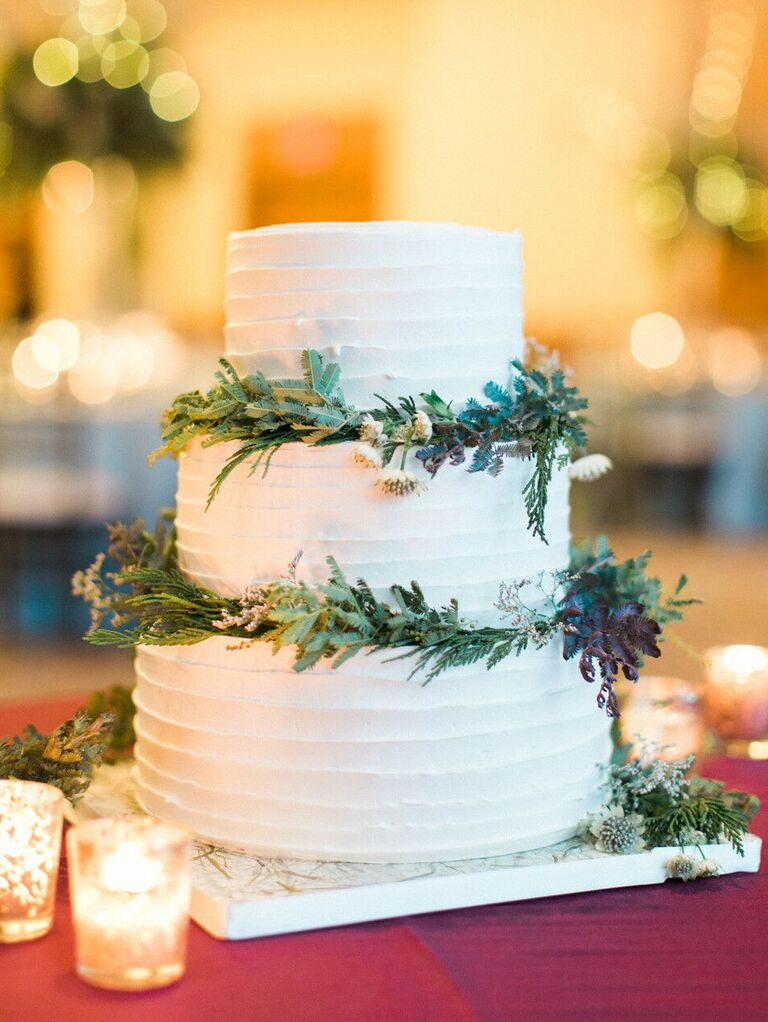 A white wedding cake already looks like it's covered in snow. Top it off with greenery for a festive touch.
White, Green and Red Centerpieces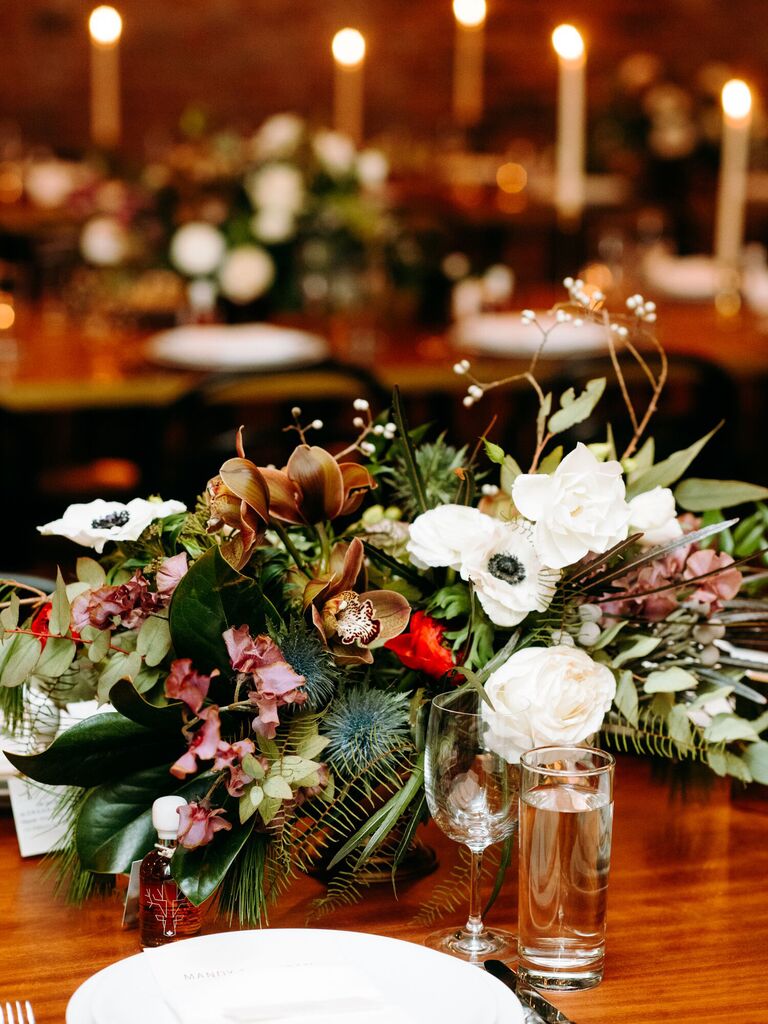 Searching for winter wedding centerpiece ideas? Look no further than this trusty comob, which looks festive and chic.
Matching Coats for Wedding Party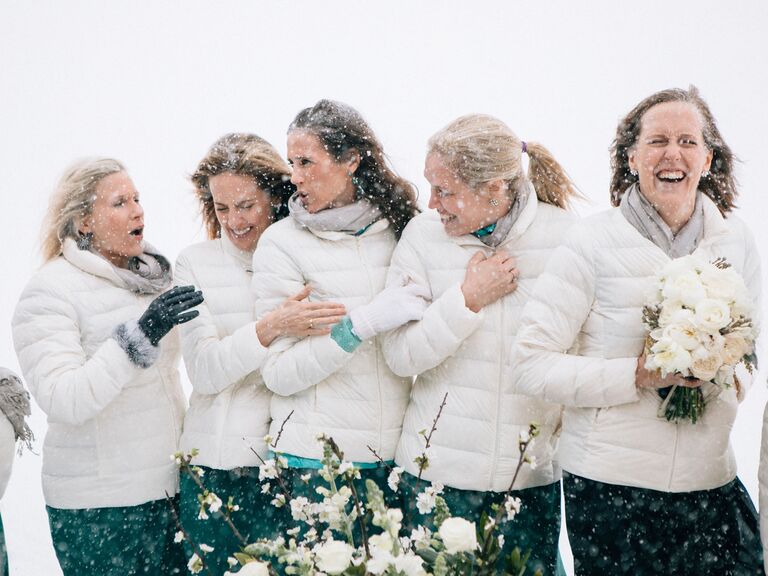 Skip matching outfits for your wedding party and ask them to get rock matching coats instead. They'll look adorable in pictures, and they'll keep your friends warm during the ceremony.
Ski-Themed Welcome Bags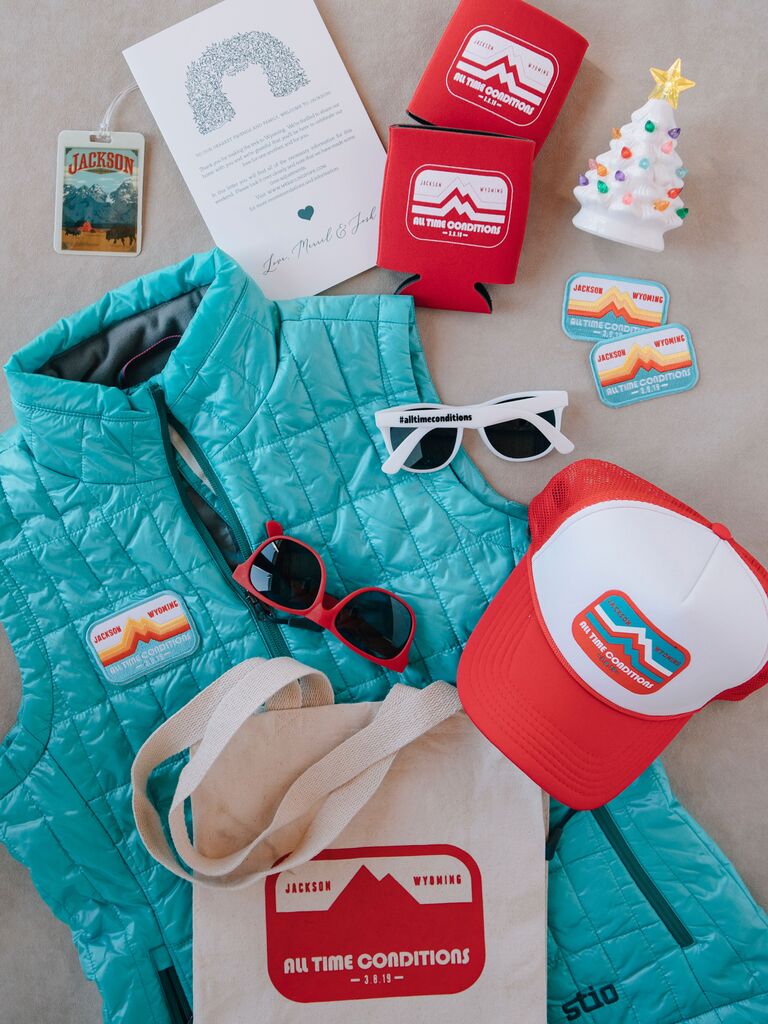 If you're hosting your nuptials at a ski lodge, gift your guests winter-themed welcome bags.
White Boots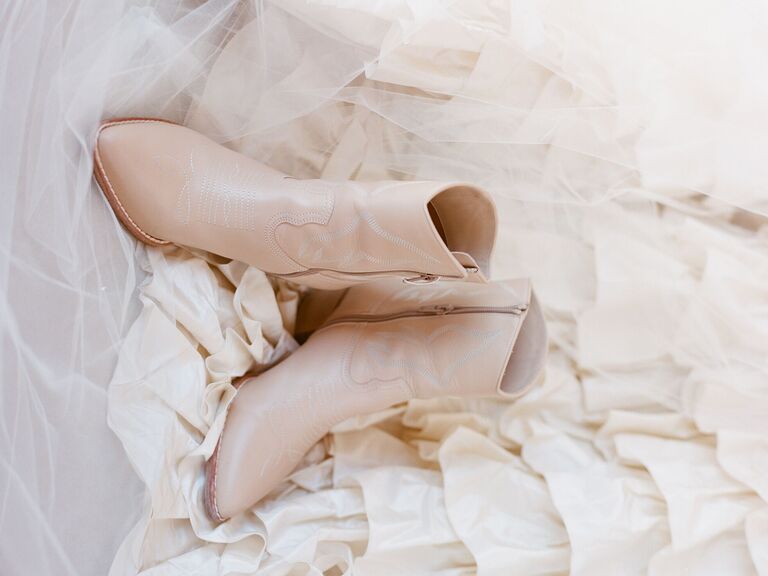 Keep your feet warm by swapping out heels or sandals for a pair of neutral-colored boots.
Red Ranunculus Boutonniere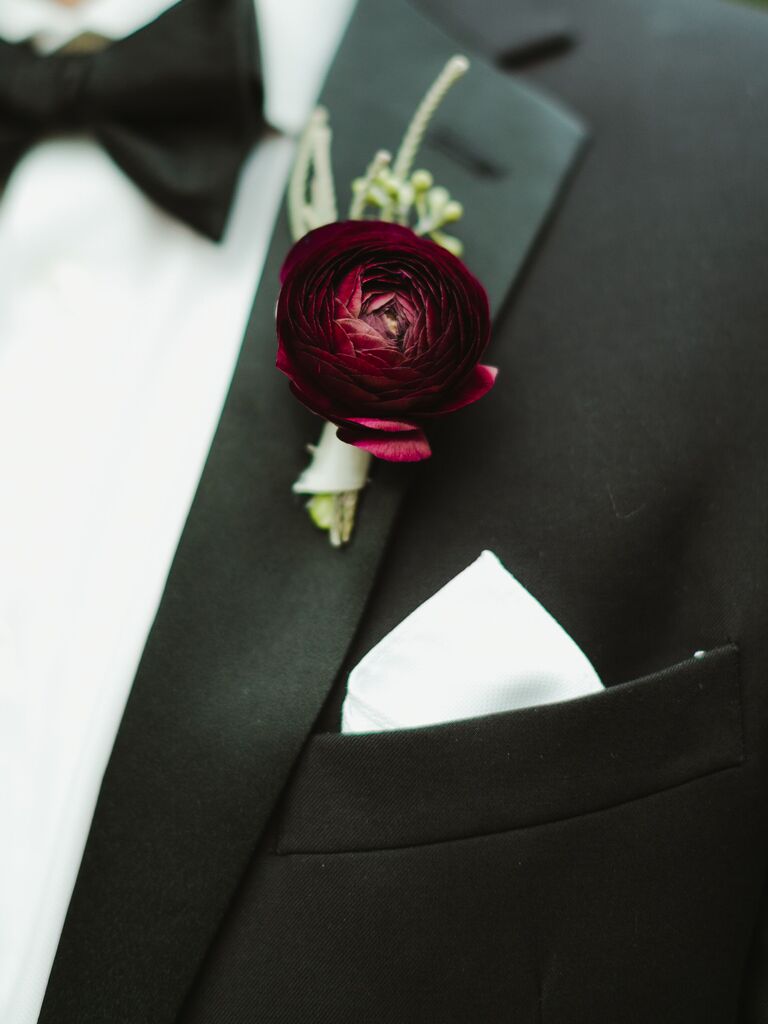 A small red ranunculus boutonniere is a small, festive touch.
Red Bouquet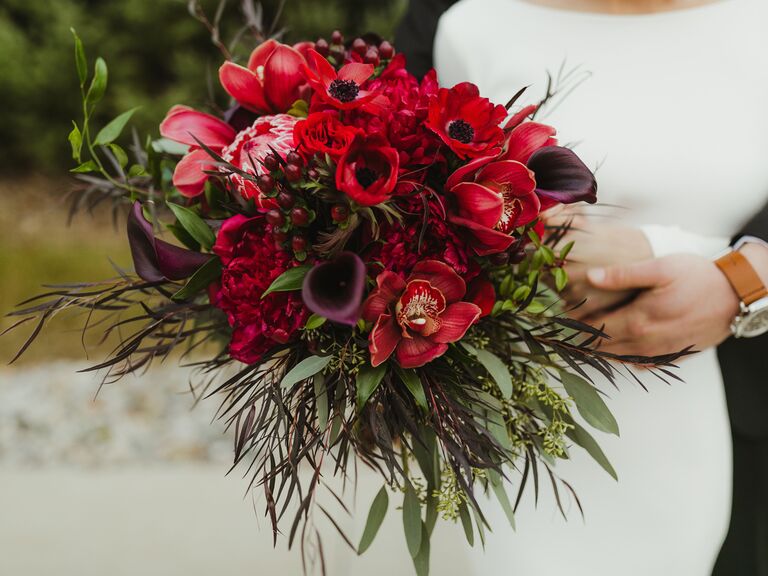 A bold, dramatic red bouquet is a unique way to show off your glam style and love for the holiday season.
Doughnut and Milk Dessert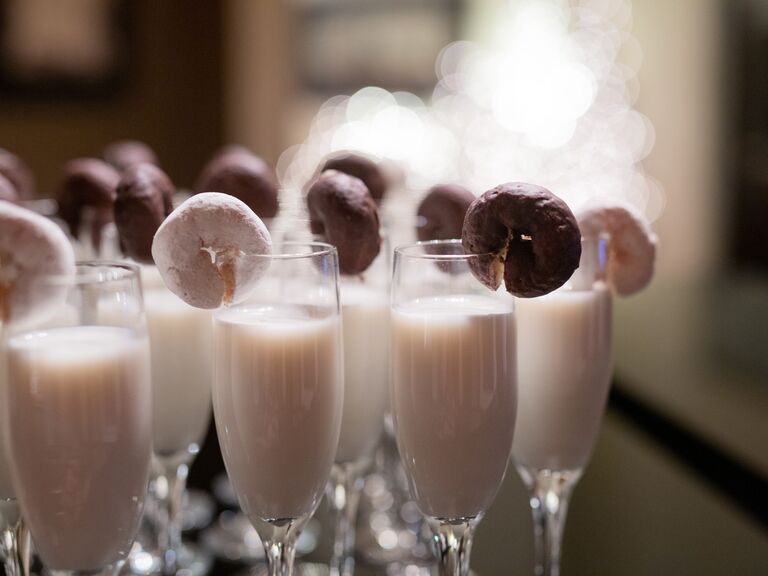 Celebrate your winter wedding by serving up a sweet staple: doughnuts and milk.
Ice Castle Venue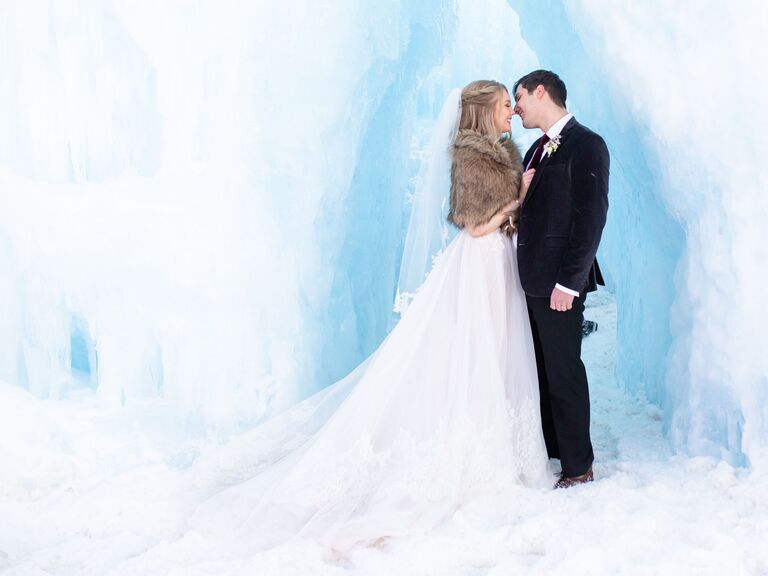 Exchange vows in an actual winter wonderland by booking your wedding at an ice castle.
Festive Florals for Your Furry Friend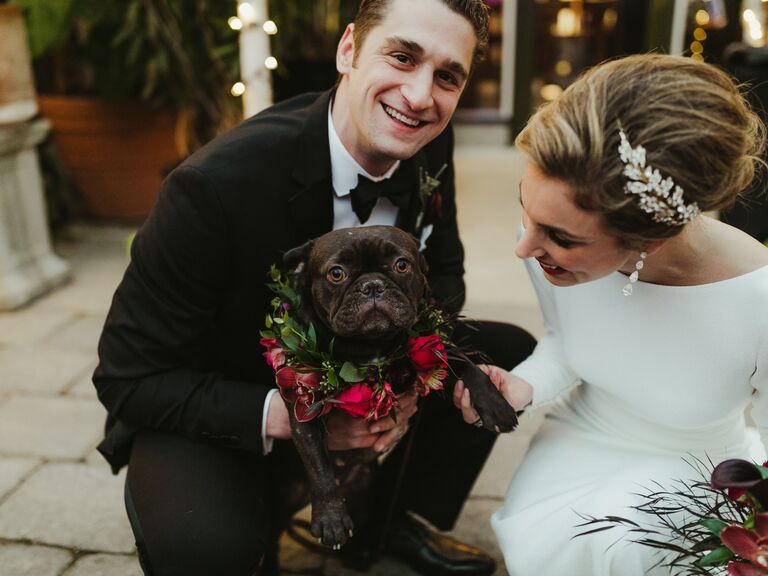 Adorn your pet with red florals for a festive, fun photo shoot.
Ski-Themed Cupcake Display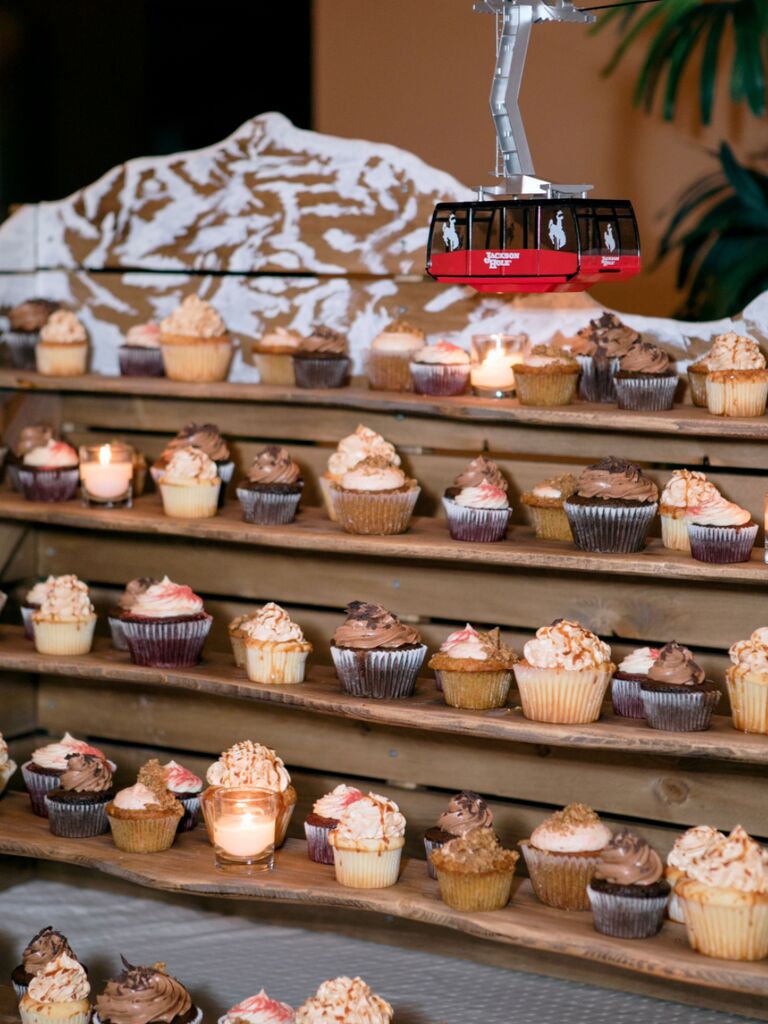 Show off your love of skiing with a ski lodge-inspired cupcake display.
All the Greens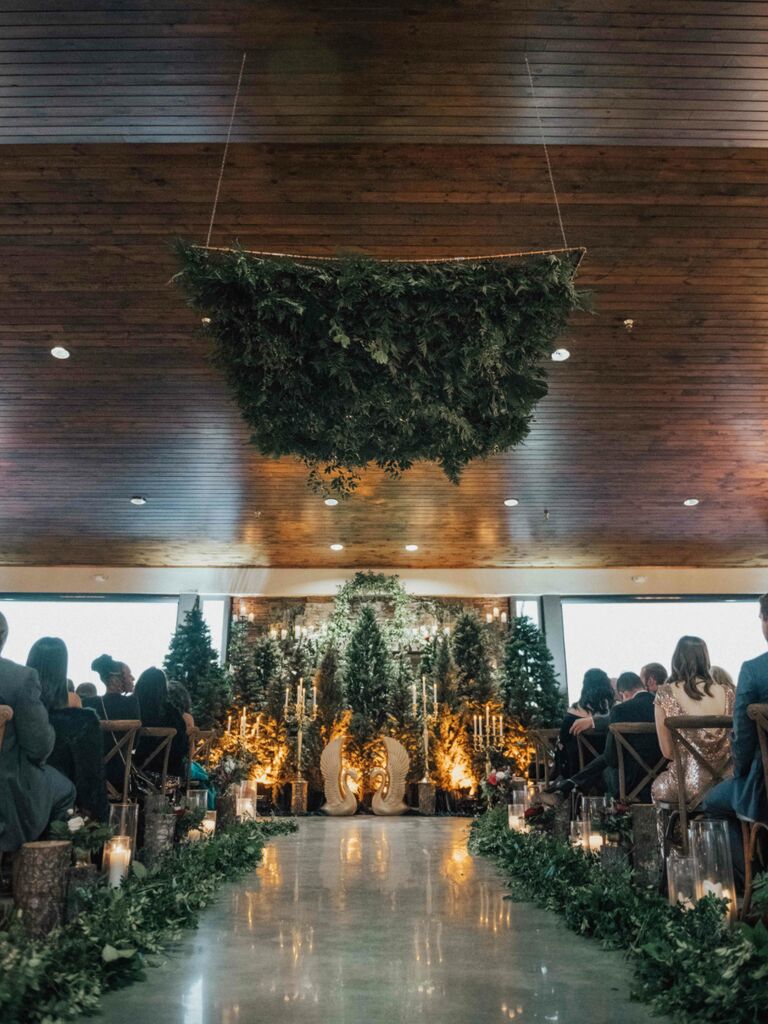 Add greens to every area of your venue to make your guests feel like they're walking through a Christmas tree farm.
Cozy Sweetheart Table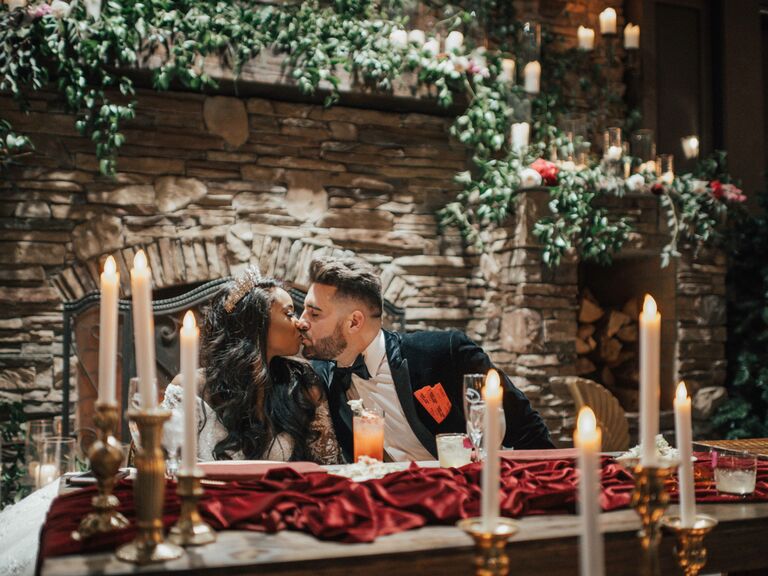 Add a satin runner, warm candles and simple greenery at your sweetheart table for a cozy, festive table setup.
White Bouquet With Pinecones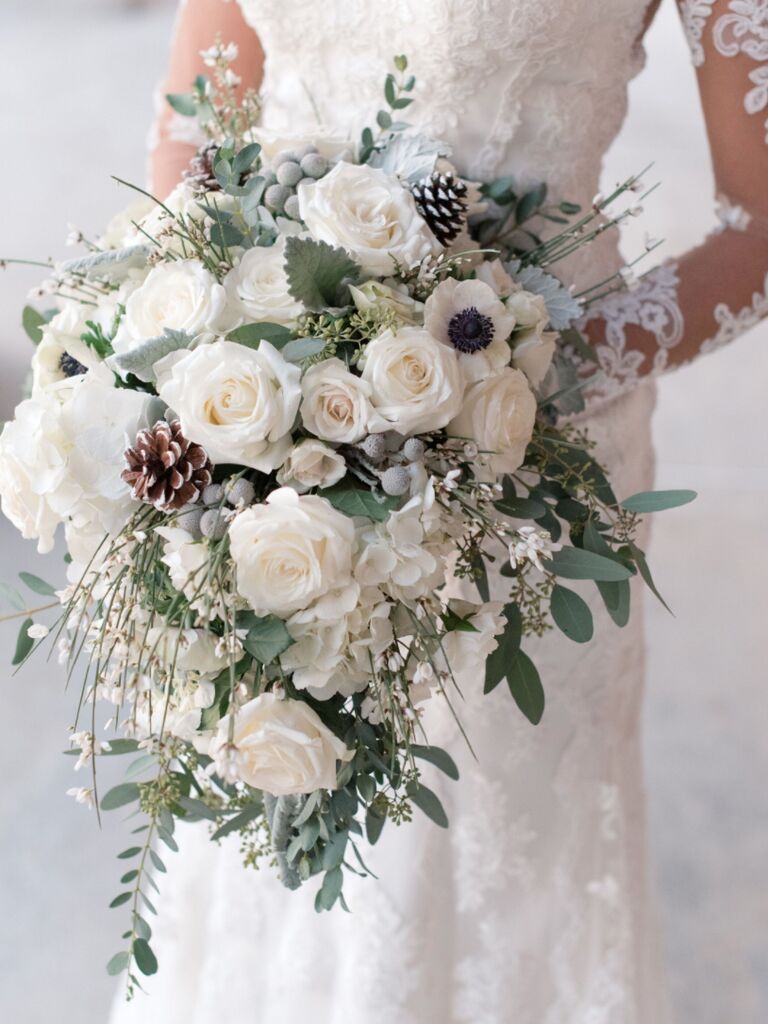 Another creative winter wedding flower idea? Add small pinecones to your bouquet.
Pine Cone Boutonniere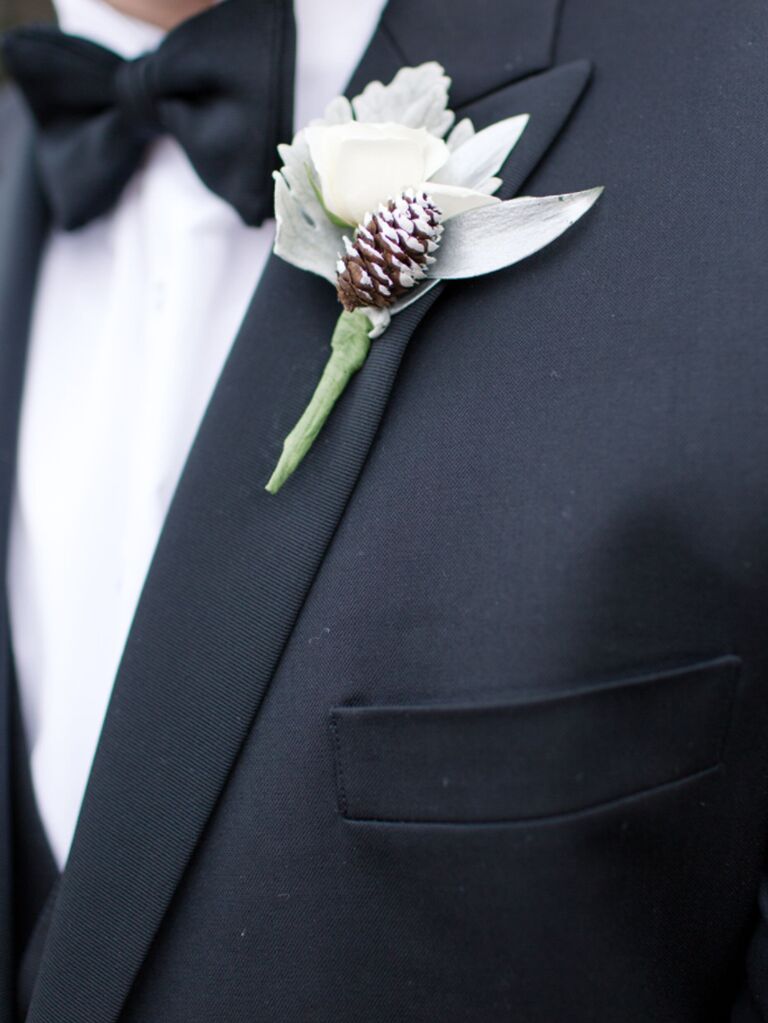 Or, add a mini pinecone to your boutonniere.
Sparkly Accessories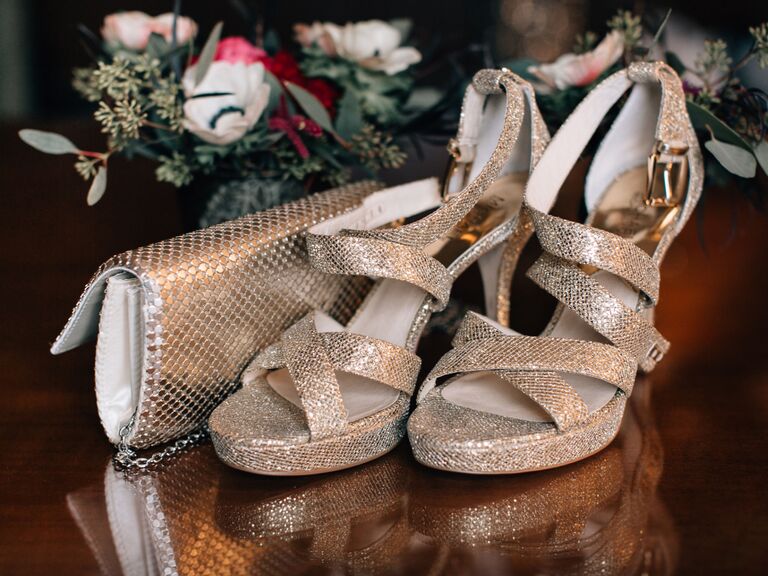 Channel the sparkle of the snow with glittering accessories, like shoes and a clutch.
Red and Green Bouquet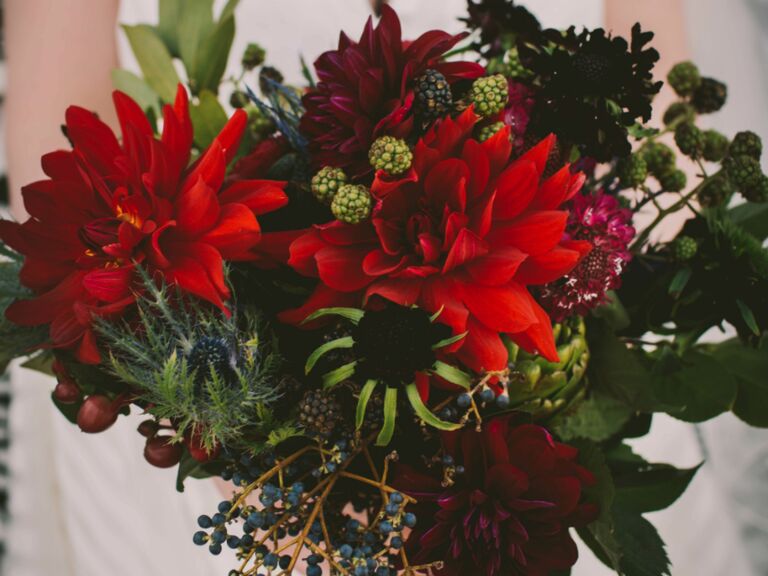 For an extra-festive floral moment, include red and green blooms with seasonal berries.
Gold and Emerald Stationery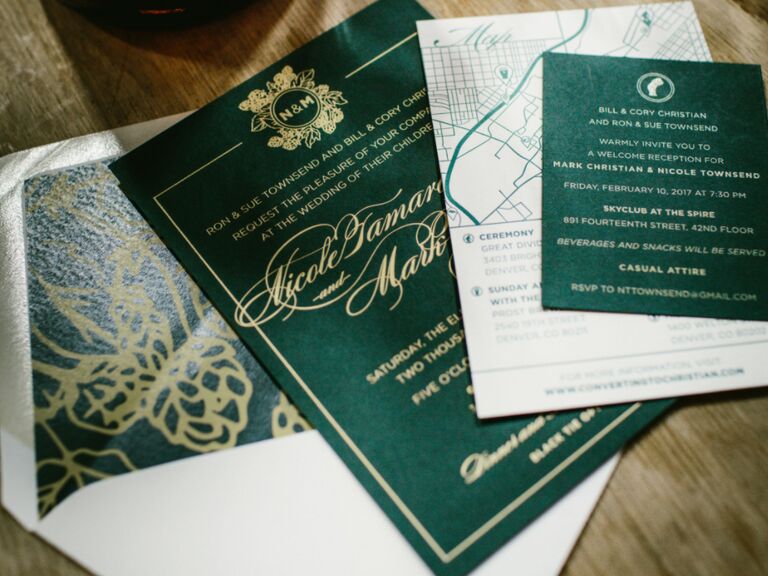 Gold and emerald stationery is a simple way to pay homage to the winter season.
Iridescent Table Setting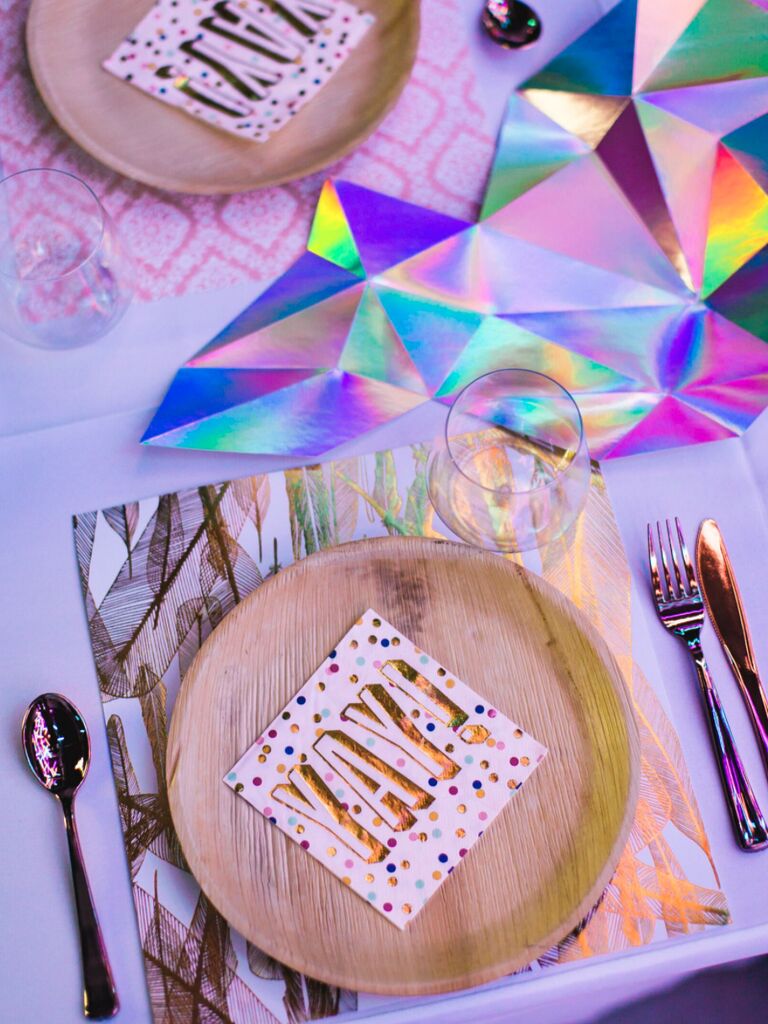 Iridescent colors capture the glamor of the winter ice. Set up a glacial-inspired set up, like this one.
Neon Lights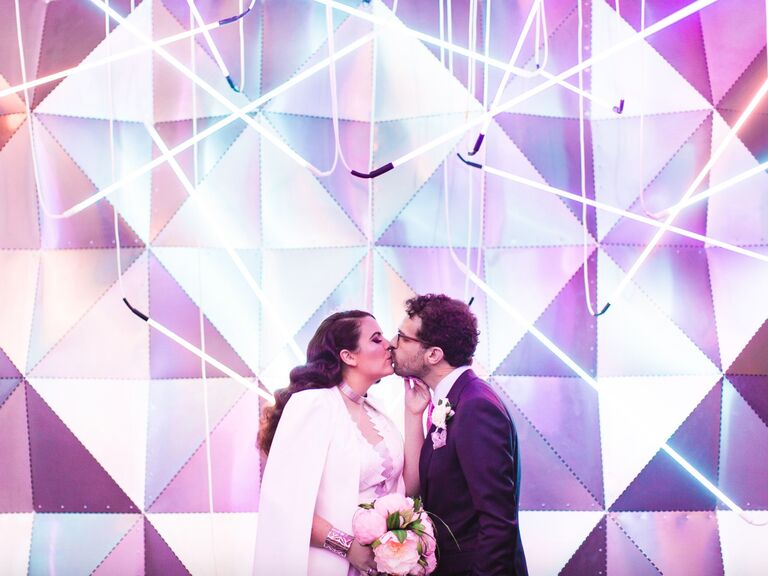 Neon lights emulate the famous Northern Lights. It's a creative and unique nod to the winter season.
Confetti on Dance Floor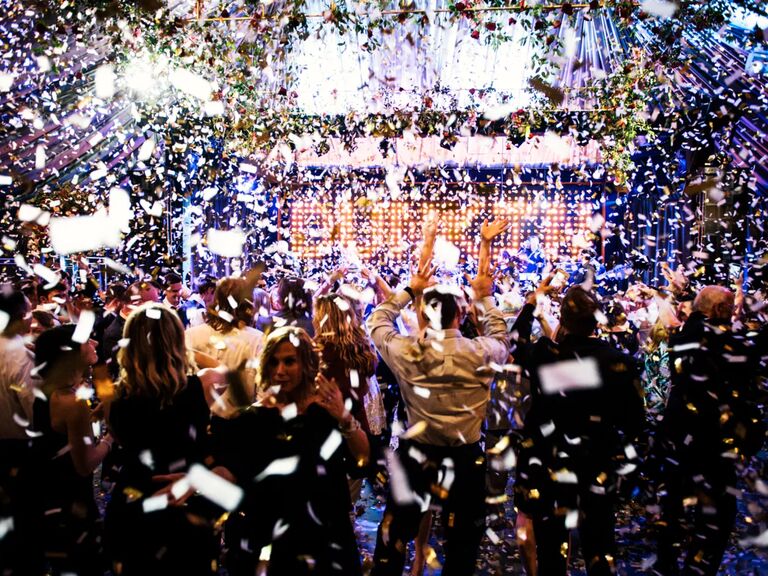 Get a snow-filled picture without braving the cold weather. Fill your dance floor with white confetti for an epic reception picture.
Cozy Tented Space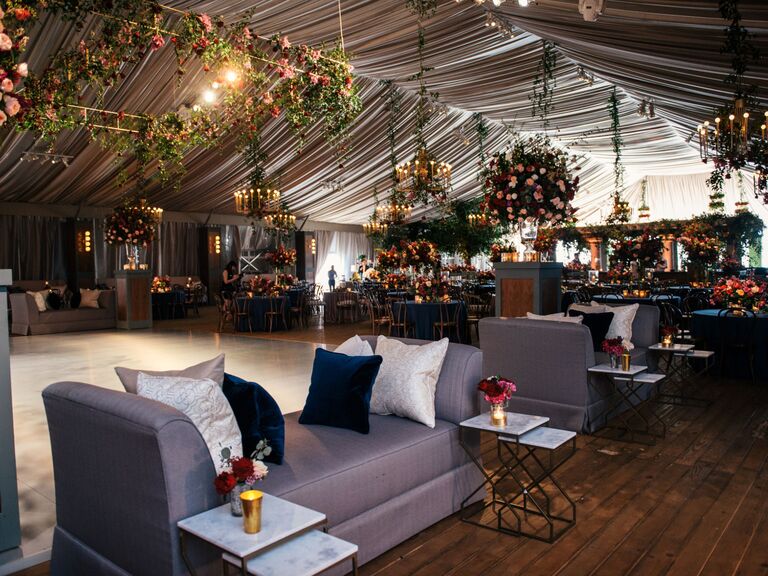 A tent can still feel warm and cozy in the winter. Incorporate plush fabrics, rich colors and twinkling lights.
Moody Red Cake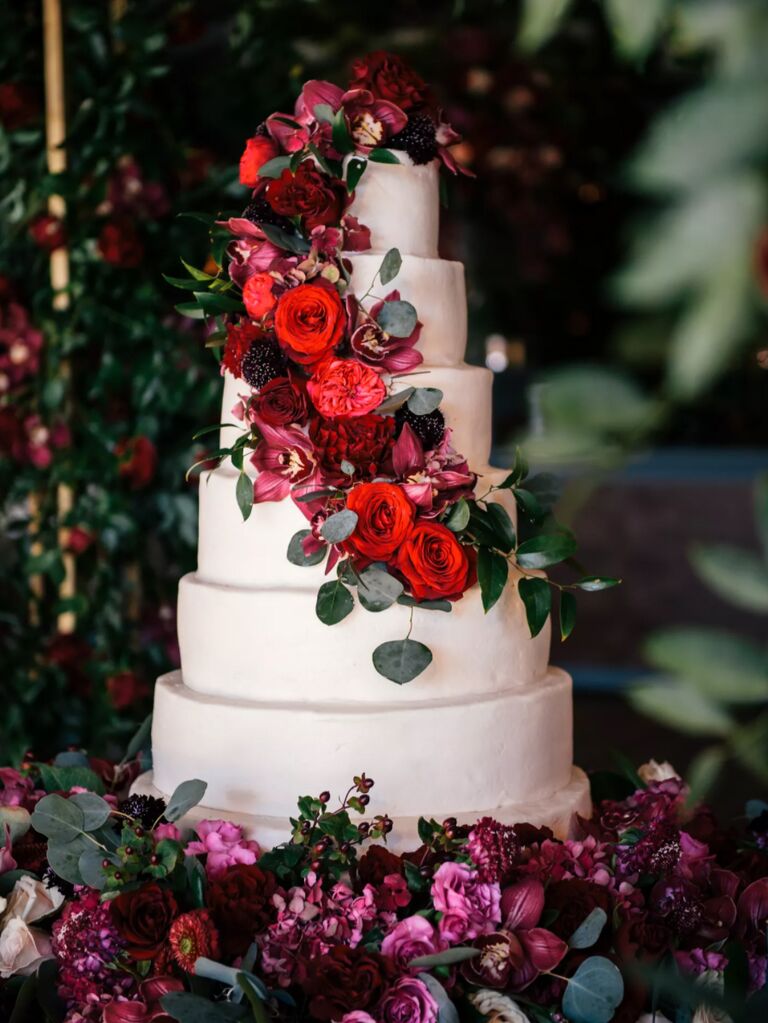 Adorn a simple white cake with moody red florals for an edgy, boho winter wedding cake idea.
Christmas Tree Decor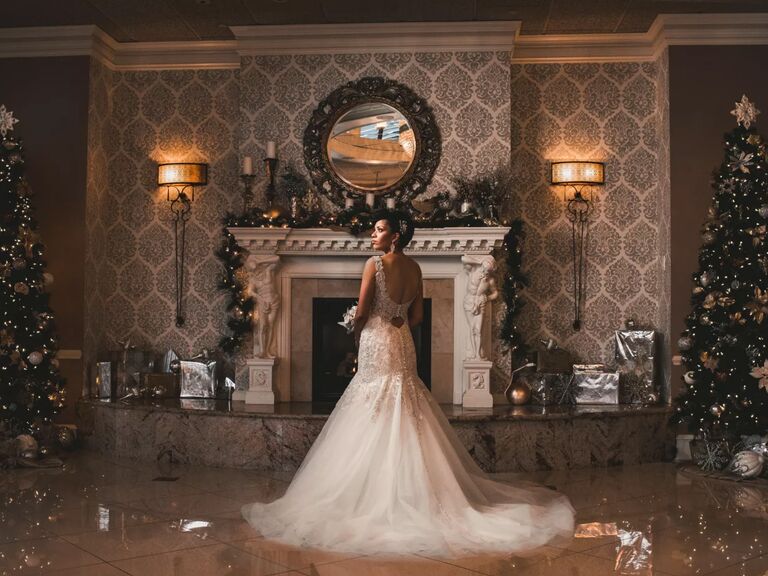 If your venue has Christmas trees as decor, stage a photoshoot in front of them. It's a clever way to capture the holiday spirit in your wedding album.
Skiing Picture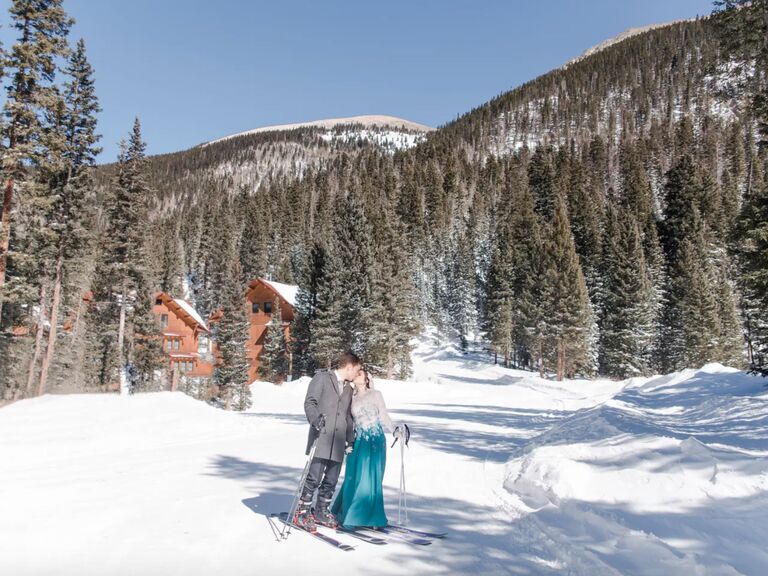 Snag an epic exit shot by skiing down a nearby hill with your photographer.
Winterberry Hair Accessory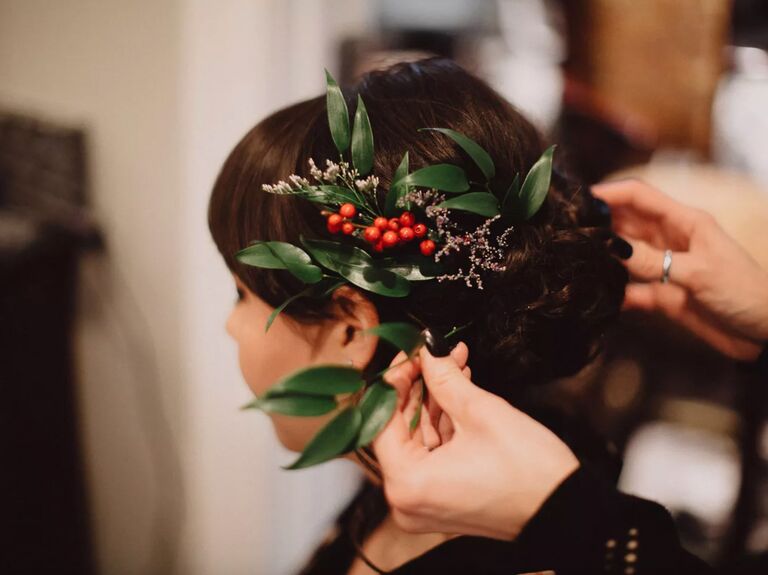 You can still rock a flower crown in the winter. Use seasonal berries for a boho-chic look.
Burgundy Watercolor Cake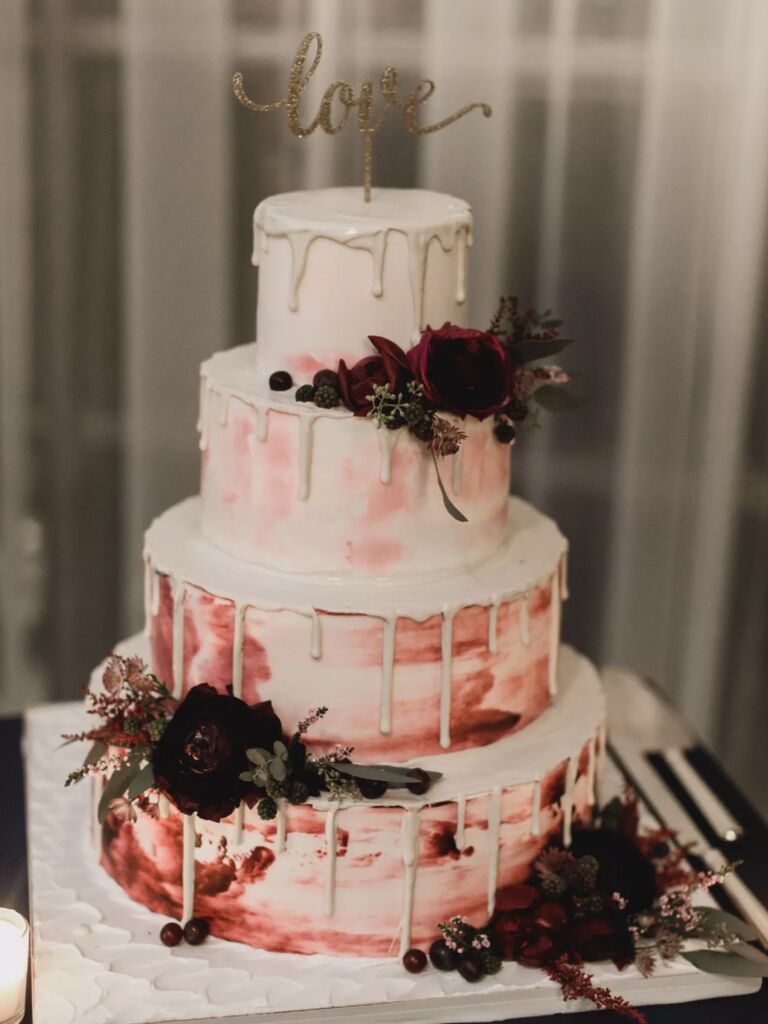 Not all winter wedding cake ideas involve a plain white design. Consider this festive watercolor design.
Matching Plaid Shirts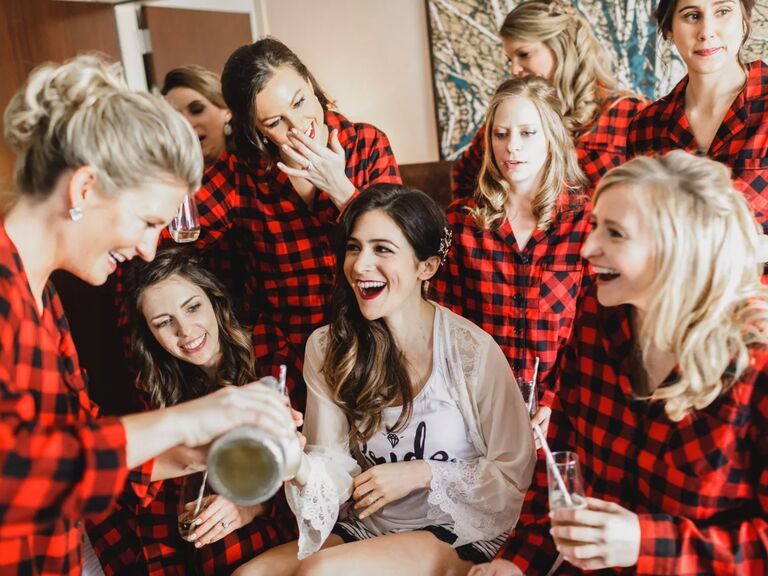 Swap matching silk robes for plaid flannel shirts for a festive getting-ready photo.
Candle-Lined Aisle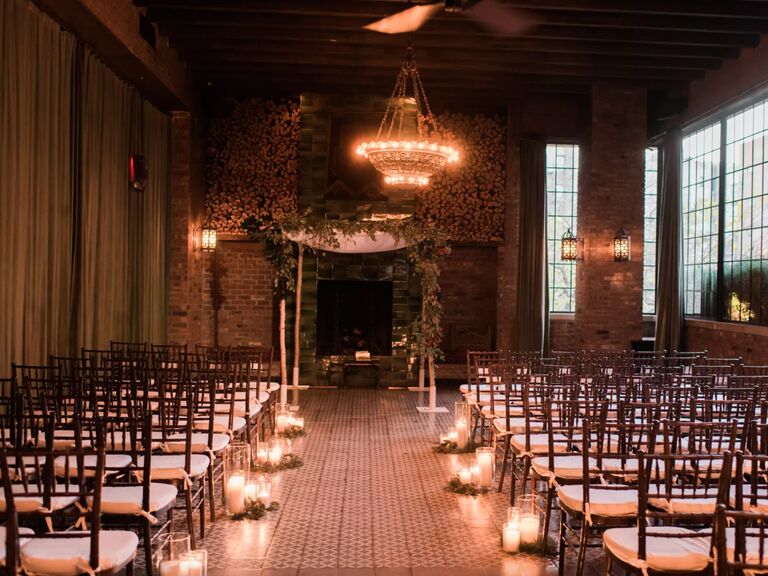 Create a cozy atmosphere by lining your aisle with the warm glow of candlelight.
Oversized Christmas Tree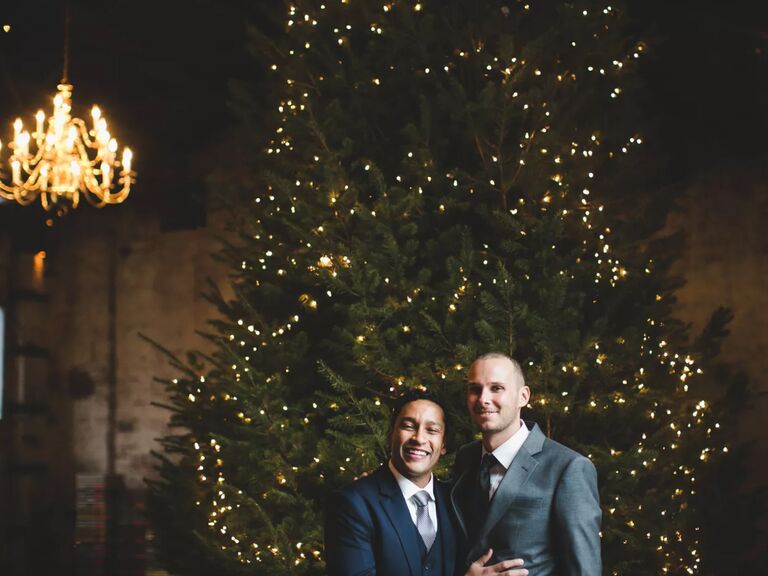 Include an oversized Christmas tree at your reception for an epic winter wedding photoshoot.
Cozy Cocktails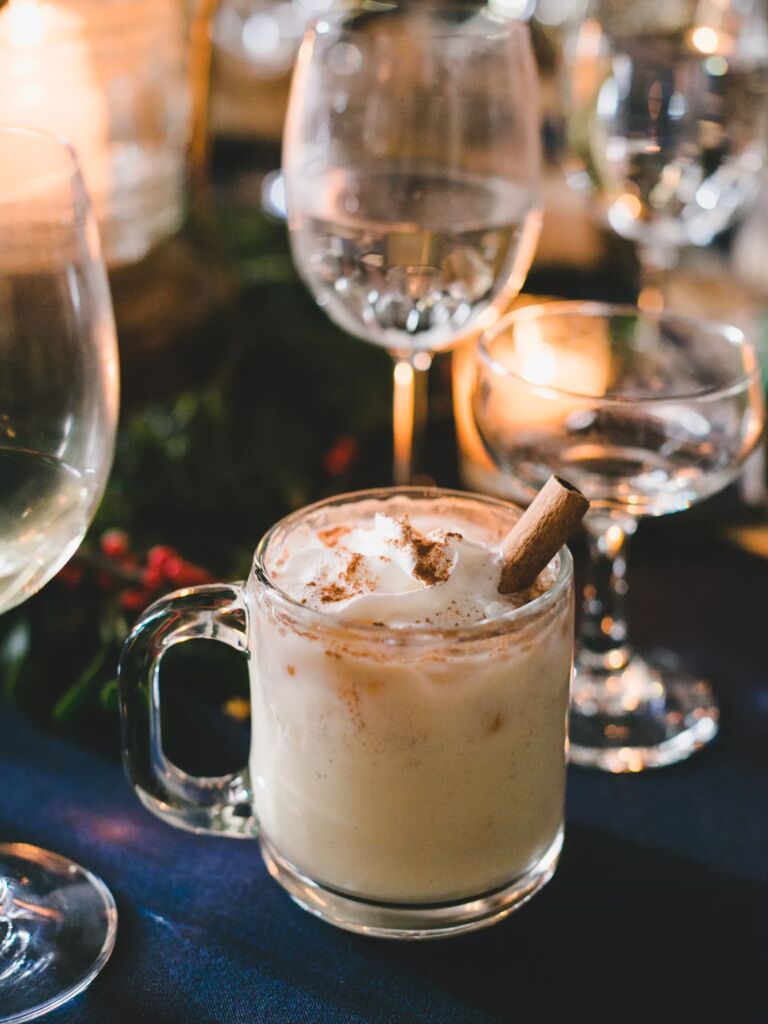 Get your guests in the holiday spirit with a warm, cinnamon-infused cocktail before the reception.
Red Velvet Backdrop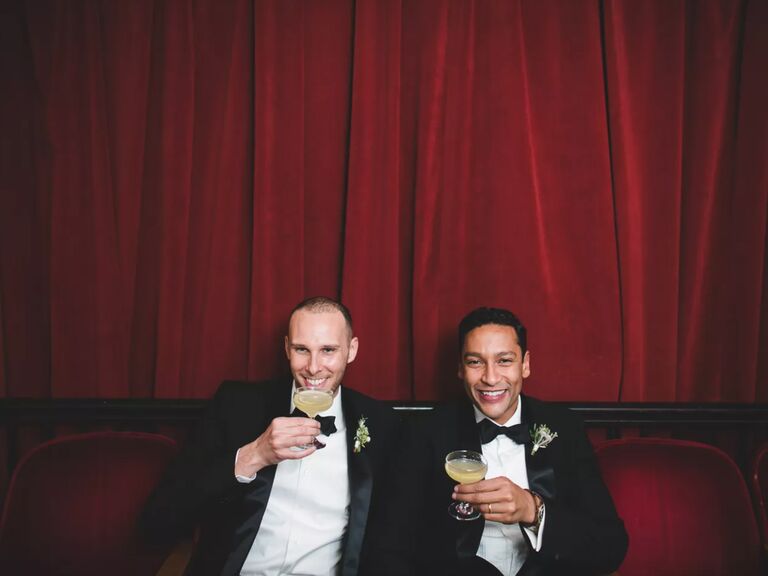 Set up a festive red velvet backdrop at your reception. It'll add a touch of old-Hollywood glamor.
Naked Cake With Berries and Powdered Sugar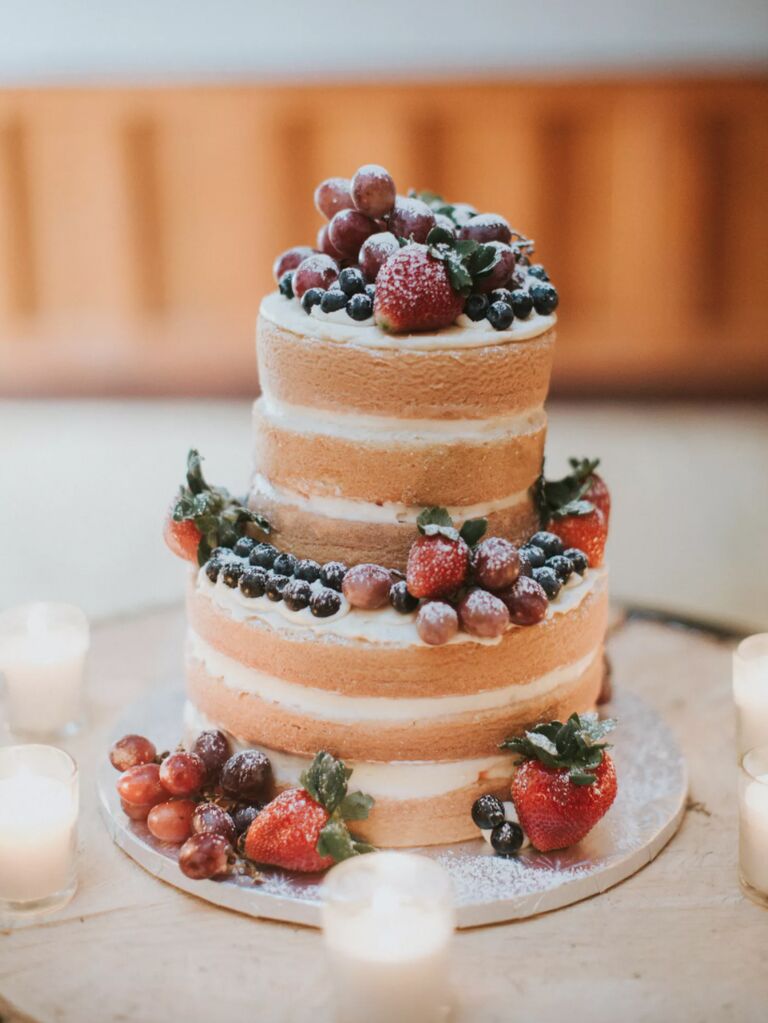 We love this winter wedding cake idea. Top a naked cake with berries and powdered sugar—it looks just like snow!
Simple, Rustic Table Setting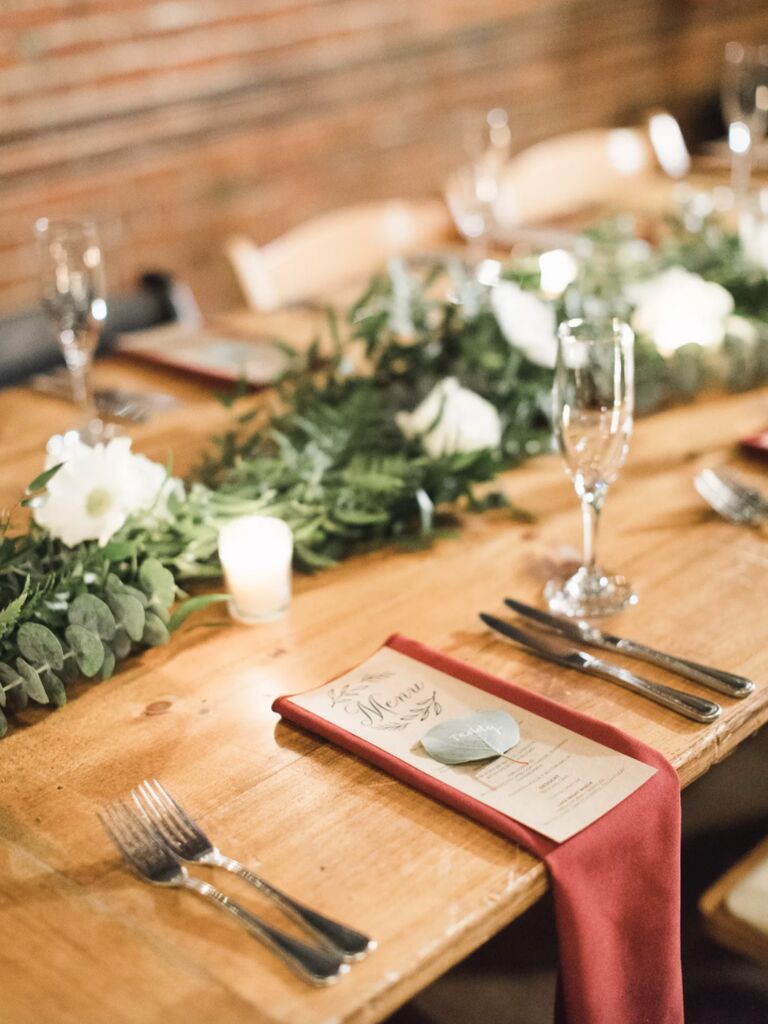 Your table setting doesn't have to be over-the-top to be festive. Pair greens with red linens for a wintery, laid-back vibe.
Hot Chocolate Station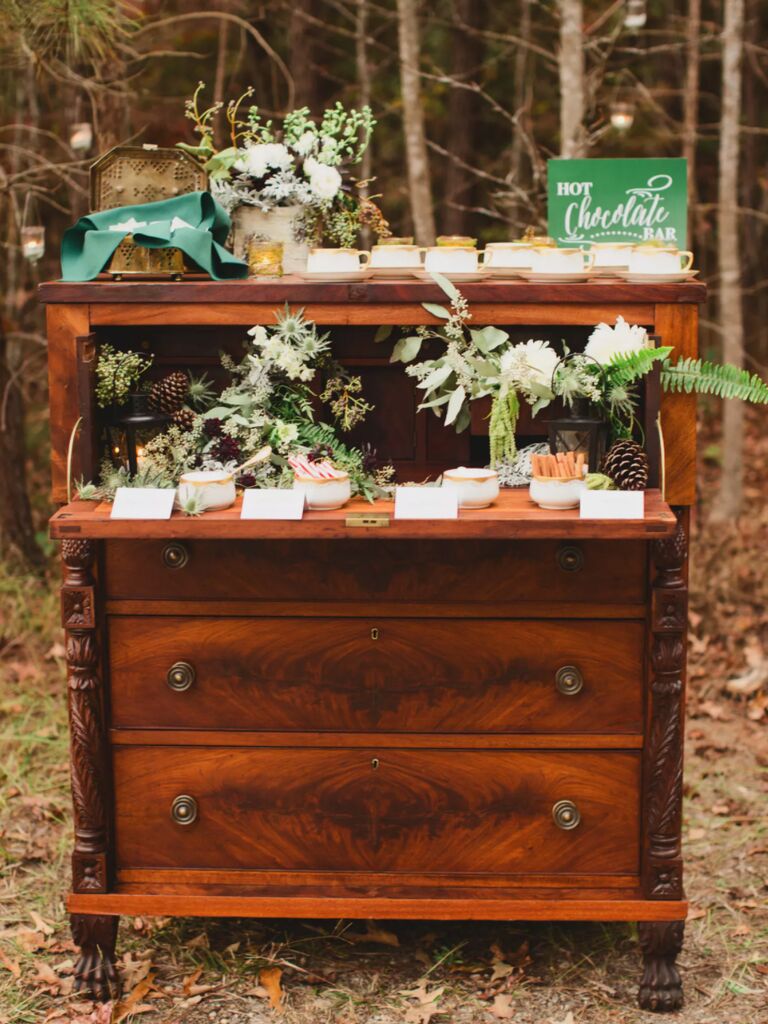 Great a seasonally-appropriate guest experience by setting up a hot chocolate station at your reception.
Black Wedding Dress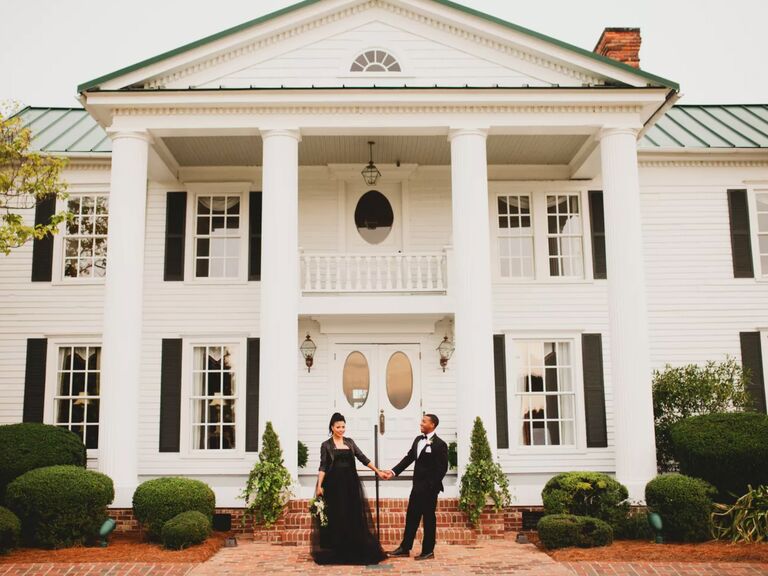 The colder weather presents the perfect opportunity to buck tradition. Rock a black wedding dress (and top it off with a chic leather jacket to stay warm).
Red Mug Favors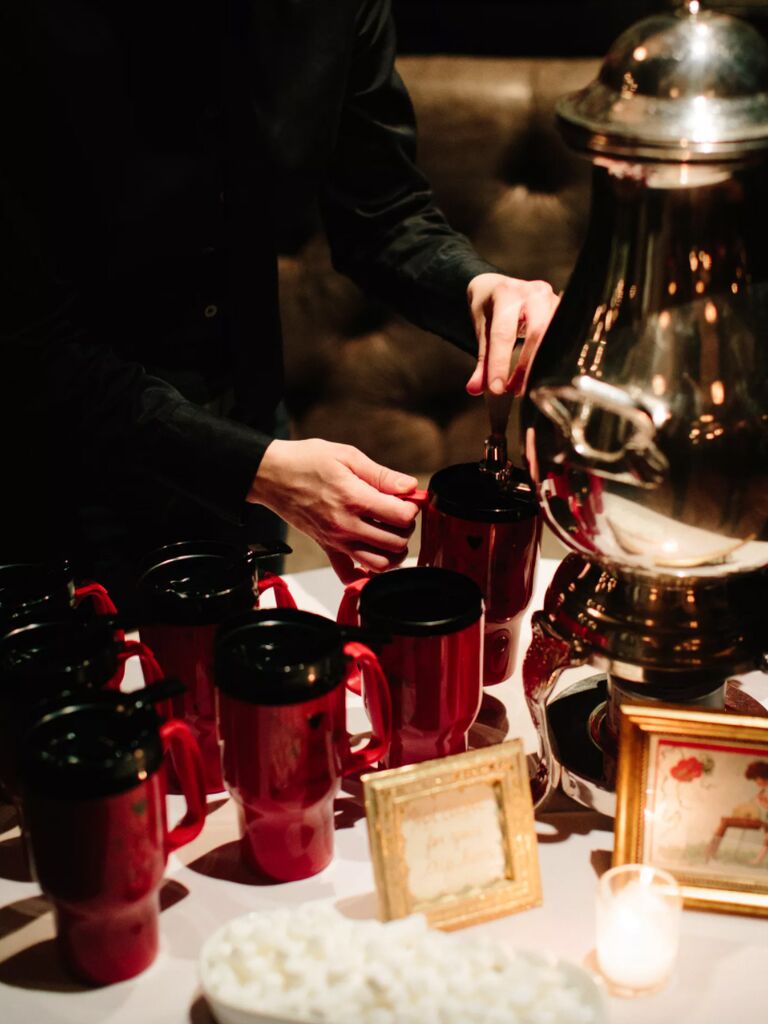 Serve your guests a hot drink in a festive mug they can keep as a favor.
Valentine's Day-Themed Cake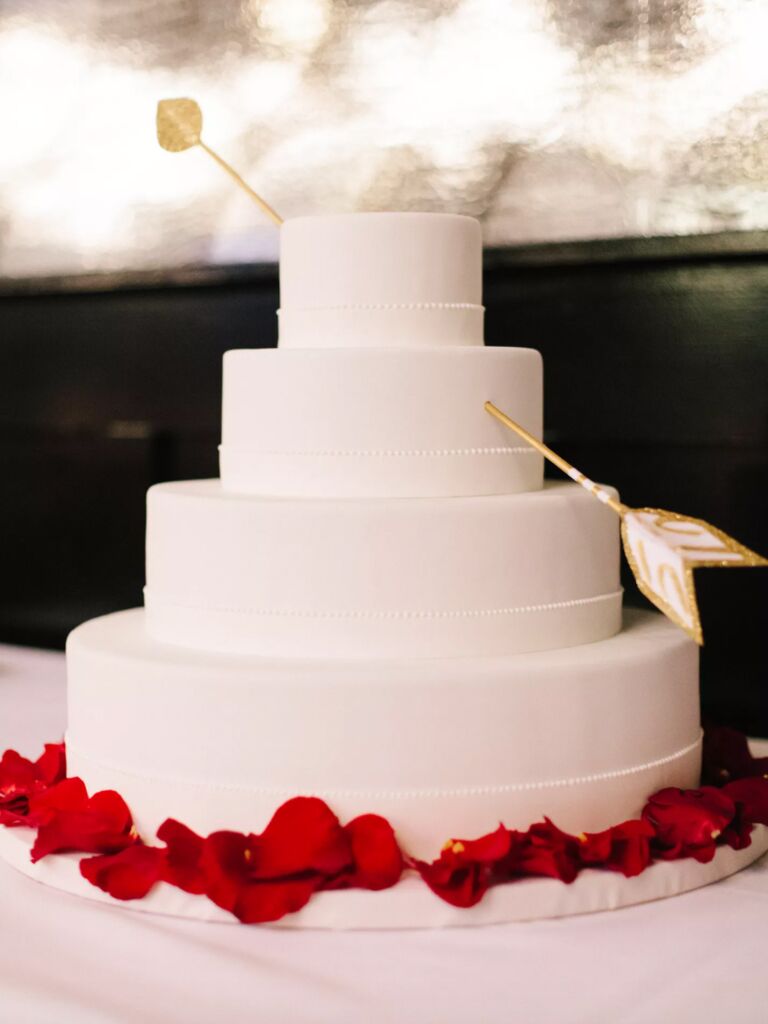 If you're hosting your nuptials on Valentine's Day, lean into the romantic holiday. Add a holiday-themed accent to your cake, like this golden arrow.
DIY Hot Cocoa Kit Favor
Give your guests an adorable hot chocolate kit as a favor. They can use it after the reception to warm up.
Ski Lift Exit Photo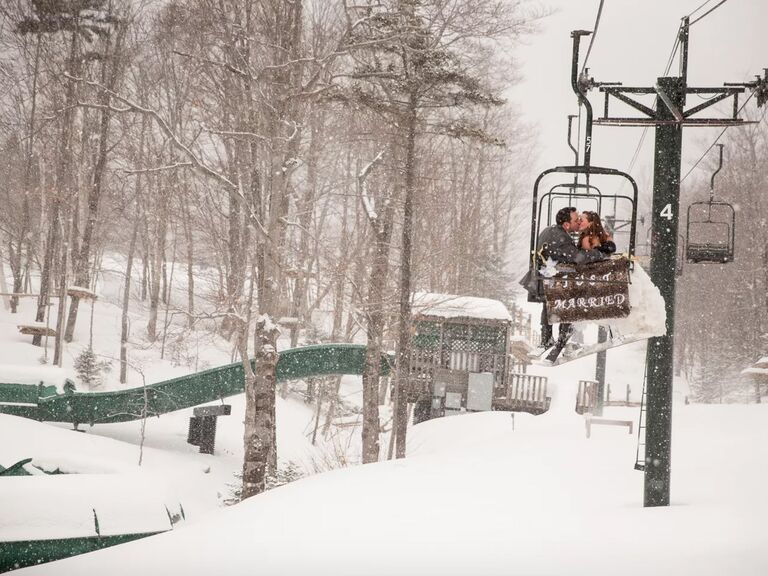 If you're exchanging vows at a ski resort, get creative for your exit photo. Take a romantic picture while riding the ski lift after you say "I do."