How to Handle 6 Common Wedding Crises Like a Boss
Before you panic, check out our solutions for the most frequent planning emergencies.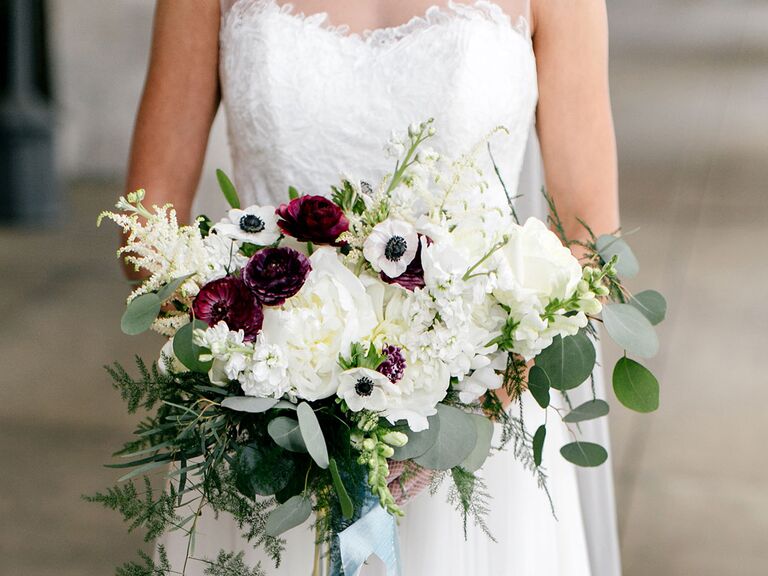 EMILY WREN PHOTOGRAPHY
If only the road from "yes" to "I do" was guaranteed to be smooth and stress-free—but this is life, so there's usually a bump or two along the way. Hopefully (and usually) these hiccups will be minor, but there's a chance you could find yourself dealing with an unexpected crisis. What happens if you need to find a new venue last minute, or your wedding party keeps giving you a hard time? We're trying to prepare you, not scare you—promise! Here's how to handle these common wedding crises, so when your "this-can't-be-happening" moment arrives, you'll be ready to tackle it head on with a good attitude.
1. You're Butting Heads With Your Wedding Party
First ask yourself whether it's you: Are you constantly sending demanding texts, forcing everyone to buy a dress they hate or choosing a super-pricey hotel? If you're being a bridezilla, remind yourself that your friendships are more important than one event and try to reduce the diva behavior. (Read this to make sure you're doing everything you can to keep your bridal party happy.) To smooth things over, apologize over a girls' brunch—mimosas and waffles will soothe most hurt feelings.
But if you're not the problem, your best bet is have a private meeting with the bridesmaid causing issues. Plan out what you want to say before having the talk. Try the "sandwich" strategy: Soften the negative feedback with positive statements leading in and out. Start by saying how much you appreciate her (it's why you asked her to be in your wedding party to begin with). Then you can go into how what she's doing or the way she's behaving—whether it's constantly complaining, never lending a hand or always running behind—is making your planning process difficult. Ask if she can modify her approach to help keep your journey to the altar both positive and productive—she'd want the same in return if your roles were reversed, right? End on a high note that reinforces your friendship, such as, "I'm so excited to share this day with you."
2. You're Going Way Past Your Wedding Budget
This happens all the time, so you're not alone. Fortunately, there are several ways to cut costs while still throwing an amazing event, no matter where you are in the wedding process. (Haven't set a budget yet? Let our calculator help.) If you have months before your wedding, reevaluate elements like your venue, menu and floral arrangements to find less expensive options. There's also still time to save by trimming your guest list.
If you've already signed your contracts, consider going without extras like welcome bags, favors or day-of stationery such as ceremony programs. That said, they are nice to have, so consider including more affordable versions or rolling your sleeves up to assemble or make them yourself.
3. You Have to Change Venues
Whether your venue is going out of business or underdoing some unexpected construction, having to change locations at the eleventh hour may seem like a disaster—but you can salvage the situation. First: Make sure you get a full refund, then check your contract to see if you can be reimbursed for the costs of relocating. If your original venue gives you any pushback, consider contacting a lawyer to see what your legal options are. (Read what this bride did when her venue double-booked—it wasn't ideal, but she survived, and had a beautiful wedding day.)
Of course, you're going to start calling around to other local venues, but don't feel like you're totally on your own. Hopefully, the site owners are good people who are willing and able to help you find an alternative. When you tell your other vendors about the change, you can also ask them if they know of any comparable options. But don't stop there: Browse options and read reviews of venues in your wedding location on The Knot Marketplace, and if you're comfortable, put a call-out on social media for recommendations from your friends. You never know, you might find something even better.
4. You Get Cold Feet
There's a reason we have a name for this phenomenon: It's actually pretty common. Don't panic just because you and your partner are arguing more, having less sex or spending less time together. Planning a wedding is stressful, and your relationship may change slightly during this period. To help de-stress and rekindle the romance, up your quality time together. Take breaks from planning to enjoy date nights, day trips and at-home down time. If you feel like you're experiencing some deeper issues, it's smart to look into couple's therapy, which can be an incredibly effective way to help your relationship grow and to learn tricks for moving past disputes and differences.
5. Your Guest List Is Too Big
Even if you and your partner decided how many guests you'd have early on in the planning process, it's common to have some guest list inflation. If you find your head count is getting out of hand, try giving yourself a few rules and really sticking to them. For example, consider leaving coworkers, plus-ones or children under 8 years old off the list. Be polite but firm with anyone putting pressure on you to let them bring a date or to invite them in the first place. When in doubt, use the actual numbers you're working with, saying something like, "I'm so sorry, but as much as we'd love to include absolutely everyone, our venue can only accommodate X number of people," or, "I apologize, but we can only afford this many guests." Read more tips for cutting your guest list here.
But if you've decided to try to fit everyone, you'll need to rework your event space. For example, one trick is to use 10-person tables instead of 8-person tables. You'll reduce the number of tables you need to rent and give you more space. You might also consider swapping a sit-down dinner for a cocktail reception with hors d'oeuvres and small plates. Without large dinner tables taking up valuable space, you can accommodate more people.
6. You Have a Last-Minute Beauty Disaster
With lack of sleep and prewedding stress (especially on top of daily personal and professional stress), it's not surprising many brides develop pimples. But those aren't the only blemishes you may have to deal with: Sunburns, cold sores, a bad dye job or haircut, even unexpected bumps and bruises, are all inconvenient (but fixable) beauty problems.
It's time to call in the experts. If it's a giant pimple and you can't make it to the dermotologist for a quick cortisone injection, your makeup artist should be able to cover it up. A hairstylist can help you fix a cut or color gone wrong. But to avoid having a problem in the first place, don't schedule any major beauty procedures that are more than last-minute touch-ups, less two weeks before your wedding.
Also, remember that between your stunning gown, veil and accessories and how special the occasion is, your guests won't be focusing on any tiny blemishes. Instead, they'll be thinking about how happy they are for you. If you're still freaking out, take a deep breath and remember what's most important about this day—starting a new life with the person you love.