This Is How Many Hours of Sleep Married Couples Usually Get
And do single people get the best night's sleep?
by Andrea Fowler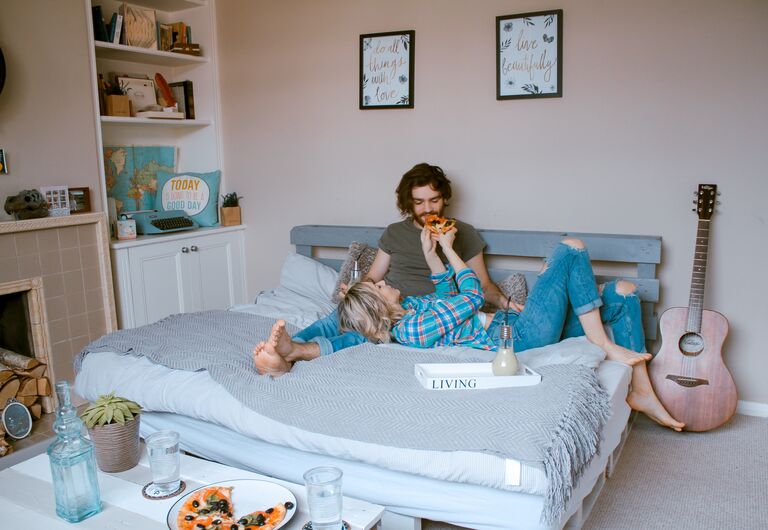 Fun fact: 52 percent of people sleep on their side, but those who are single are more likely to sleep on their stomach than any other position. In its recent sleep study, Next Day Blinds dove into the sleeping habits of Americans based on their relationship status. So if you've ever wondered whether or not your single pals get a better night's sleep than you, you're about to find out. The study breaks it down into four categories: single, casually dating, in a committed relationship and married.
Before heading to bed, nearly every group reported watching a show or movie as the last activity they do before falling asleep. However, married respondents were more likely to go straight to sleep rather than spend time talking with their partner. Those who are in committed relationships or casually dating were the most likely to talk with their partners at bedtime.
Most people surveyed (52 percent) sleep on their side regardless of relationship status, but there are a few close runner-ups:
Single: Typically sleeps on their side or stomach.
Casually dating: Typically sleep on their side or back.
In a committed relationship: Typically sleep on their side or a combination of positions.
Married: Typically sleep on their side or a combination of positions.
When it comes to average hours of sleep, both married and single individuals recorded sleeping seven to nine hours a night, while those who identified as casually dating and being in committed relationships recorded only four to six hours.
Of those zzz's, people in the casually dating category reported falling asleep the easiest and having the best quality sleep. They also don't need an alarm to get them out of bed. On the flip side, those in a committed relationship were the most likely to need up to three alarms to get up.
All in all, it looks like the sleeping winners are casual daters.