What You Don't Know About Robert Durst's Second Wedding to Debrah Lee Charatan Will Fascinate You
Every detail we know from the alleged murderer's wedding to his enigmatic wife.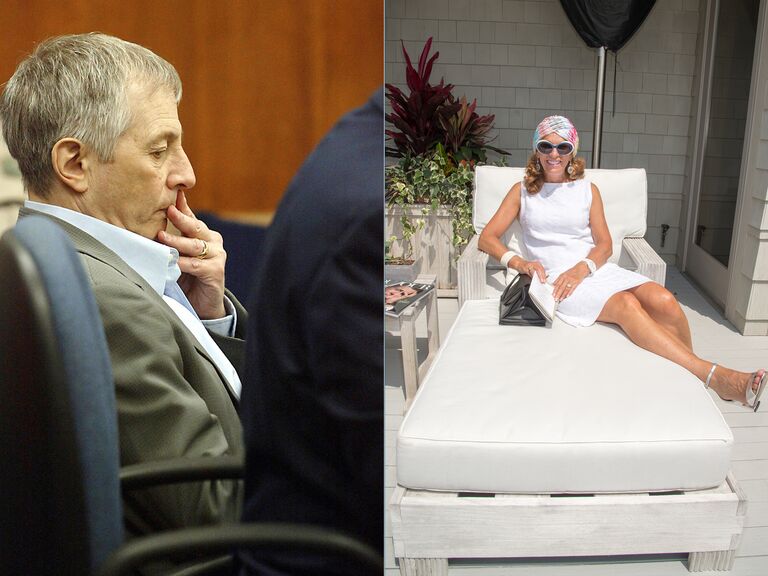 Getty
This is what happens when you're a wedding editor and you're obsessed with HBO's six-part true crime show, The Jinx: The Life and Deaths of Robert Durst.
By now, you've probably read headlines about millionaire real estate heir Robert Durst's failed marriage and the alleged killing of his first wife Kathleen "Kathie" Durst that rocked New York City in the '80s and '90s, not to mention the subsequent murders of his Los Angeles-based best friend, Susan Berman, and Galveston, Texas, neighbor Morris Black. But who we became the most curious about after Robert's March 14 arrest and consequent first-degree murder charge was his current wife, powerhouse NYC real estate broker Debrah Lee Charatan. Although there's plenty of reading material regarding the current state of their marriage and Charatan's handling Durst's fortune, we had to think -- what could their wedding have possibly been like?
Yes, it was a second wedding for both of them, but when you're marrying an alleged murderer, we're guessing you really have to keep things hush-hush and small. Here's what we know so far about Charatan and Durst's secretive December 11, 2000, nuptials:
He proposed with a $77,000 engagement ring.
According to The Jinx, when Durst suspected that the Westchester, New York, District Attorney's office was going to reopen the murder case of his missing wife Kathie in 2000, he bought a $77,000 engagement ring and "proposed" to Debrah. (A little context here: Our recent real weddings survey suggested that the average cost of a wedding in 2014 was a little over $31,000. That's over $40,000 less than this engagement ring!) When she accepted his proposal, he gave her power of attorney.
Her wedding band was from her previous marriage.
Since the wedding was so hurried, Debrah didn't even have a proper wedding band to exchange. She had to use her old band from her first marriage. Charatan married Bradley Berger in 1977, but abruptly divorced him in 1985. The two of them have a son, Bennat Charatan Berger, born in 1984. Charatan began dating Durst in 1988.
She called a rabbi from the phone book.
Though we suggest fully vetting your officiant, Charatan, 44-years-old at the time, and Durst, then 58-years-old, picked Rabbi Robert I. Summers from the phone book and that was that.
The ceremony lasted 15 minutes.
The ceremony was a quick one -- it only took 15 minutes for the bride and groom to say "I do."
The wedding took place in an office building conference room.
Talk about scenery. The ceremony took place in a private conference room on the 25th floor of an office located in Times Square at 1500 Broadway. (The building isn't owned by The Durst Organization, and current tenants include ABC Studios, Disney and NASDAQ.)
They kept the guest list small.
The only people at the ceremony were one witness, Rabbi Summers and the couple. Charatan's mother didn't even know she was getting married.
He wore a conservative suit.
Durst is known on the show as a... casual dresser, favoring short-sleeved button-ups, sneakers and cargo shorts. But on his wedding day, he did dress up in a business suit.
She didn't wear a wedding dress.
Though Charatan was known for wearing Chanel and Louis Vuitton to Durst's previous courtroom appearances, she wore a "conservative" suit on the day of the wedding.
There were no photos taken.
This shouldn't come as a shocker.
The mood was grim.
"Durst was rather taciturn," Rabbi Summers told the New York Daily News in 2001. "He was not buoyant and didn't smile."
Sources: The Secret Wedding of Durst and Gal Pal; Robert Durst's Fall From Real Estate Heir to Accused Murderer; For Heir Accused of Killing, A Loyal and Tough Ally; Everything We Know About Robert Durst's Second Wife, Debrah Lee Charatan; The Durst Tapes : Bitter Robert Planned To Knock Off His Brother; The 3 Most Interesting Revelations From The Jinx, Episode 5; Heir Divorced His Missing Wife 11 Years Ago; Charatan-Berger v. Berger