Name Changing Advice for LGBTQ+ Couples
Whether you stick with your own surnames, make them match or pick something entirely new, the choice is yours.
by Jennifer Tzeses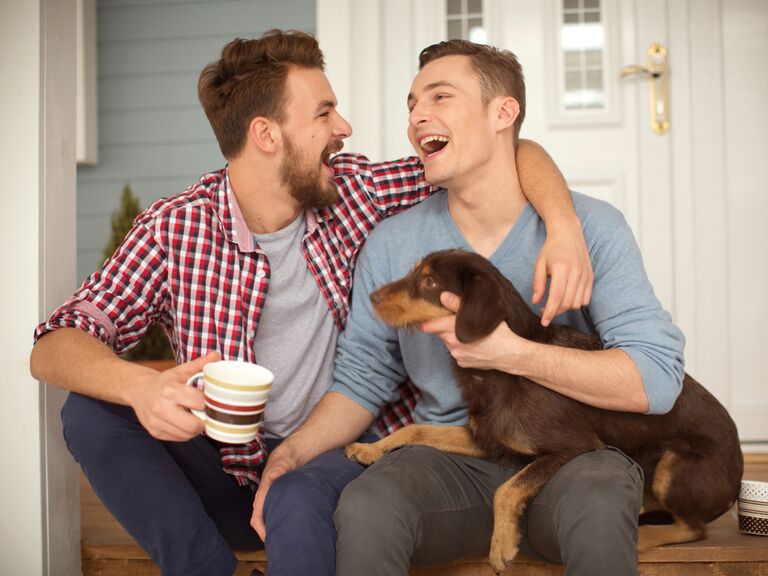 One of the many great things about marriage today is there really are no established rules—selecting a surname is completely up to you. "The lack of precedence for gay marriages means there are no 'tradition police' to say whose name to take," adds Mark O'Connell, a licensed clinical social worker and author of Modern Brides & Modern Grooms: A Guide to Planing Straight, Gay and Other Nontraditional Twenty-First Century Weddings. Here's how to navigate the naming process.
Decisions, Decisions
So—how do you figure out the best name for your family? Careful consideration is a must. This is a big commitment and shouldn't be a rash decision. Think about your entire family. One partner may have a negative association with his family name. Another may have built a career on his moniker. "The point is to find a clear balance between individual and family identifications," O'Connell says.
Sticking with the Originals
Keeping your own individual surnames is a popular practice among same-sex couples. Many go this route as a way to show gender-neutral equality within the marriage, O'Connell notes. It's also the easiest option, legally speaking. "Currently, the only case in which a spouse can take a partner's surname without complicated paperwork is when a woman takes her husband's last name," he says. "Every other case—including a husband assuming the surname of his wife—involves court approval, the DMV and tons of legal paperwork depending on where you live."
Matching Monikers
"Some couples prefer to have one last name for the sake of coherence and for recognition by the rest of the world," O'Connell says." It's also a good idea to have one common name if you have kids. This way, no matter where you are, you'll instantly be recognized as a family. Choosing which of your names to take can be as simple as going with the one you both like best.
Naming Anew
Here's the fun part: Since there are no guidelines, you can come up with an entirely different surname that both of you take. You might create something using the letters from your two names, pick a name that best represents your new family or, if you don't want to lose your original names, consider keeping both by putting a hyphen in between.