Your Ultimate Guide to Wedding Announcements, Plus Our 14 Top Picks
These cards are totally fridge-worthy!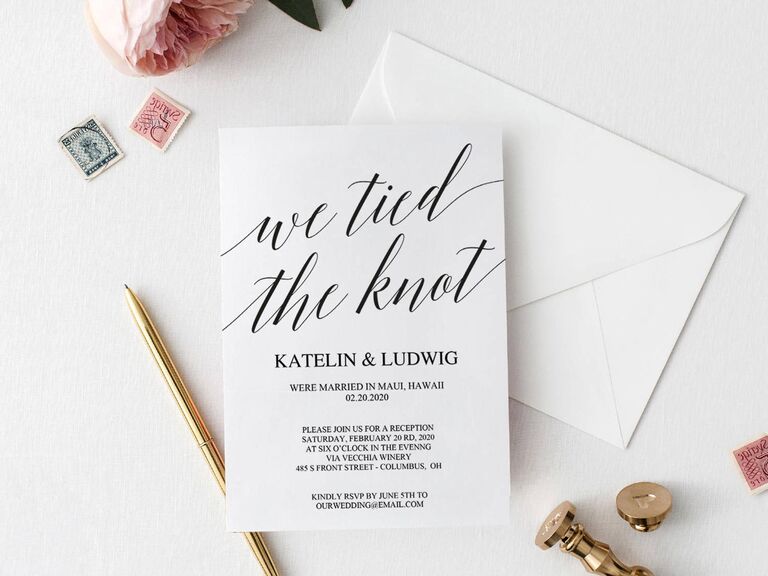 Sweet Paper Weddings
We have included third party products to help you navigate and enjoy life's biggest moments. Purchases made through links on this page may earn us a commission.
If budget constraints or other circumstances have caused your wedding guest list to be a bit slimmer than you anticipated, you may need to come up with other ways to include distant family and friends. One way to do that? Send wedding announcements to those who you're unable to include. Similar to running an announcement in the local paper, a wedding announcement card provides all the critical details about your big day so loved ones can choose to celebrate your union with a card or gift (don't forget to send out those thank-you cards, as well!). What's more, opting to send photo cards lets you share some of your favorite snaps with those who weren't able to be there.
Newspaper Wedding Announcements
Many couples still choose to include their wedding announcement in their local newspaper, or perhaps the newspaper in their respective hometowns. Though they're not quite as much of a to-do as they were in the days before social media, it's still a sweet tradition, and something that can go into your wedding photo album as well. Typically, you would submit a short write-up about your nuptials and include a favorite engagement photo. Not sure where to send yours? Here's a guide to some of the top newspapers in the country to get you started.
Wedding Announcement Cards
Wedding announcement cards are similar to wedding invitations and save the date cards, except you send them after the wedding instead of before. Most include basic information, like both of your names, where you were married and the date. It's up to you if you'd like to include any other details. It's a good idea to have them filled out and addressed before your big day so you can easily pop them in the mail when you return from your honeymoon (add that to your wedding planning checklist!). Of course, if you'll be sending out photo cards that include pictures from your wedding, that won't be possible. So, just do your best to get them in the mail within a month or so after you're wed.
If you're scoping out the perfect wedding announcements for you, Minted and Etsy both offer a wonderful selection of beautiful wedding cards. Or, you can check to see if there's an option to include an announcement as part of your invitation suite. That way, they'll match the look and feel of your wedding day. Keep reading to browse some of our favorites below.
Wedding Announcement Cards to Share Your News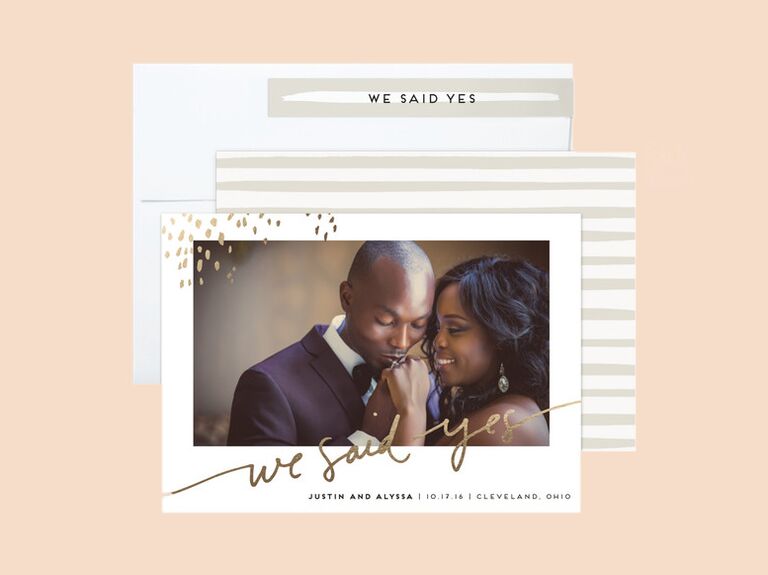 Your wedding announcement will sparkle and shine when you opt for this foil-pressed card. It's available in a number of trendy hues, like rose gold, silver or navy, and it's adorned with just a touch of gold foil that ensures the recipient will take notice.
Kelly Ventura gold foil Let Love Shine wedding announcements, $198 for 100, Minted.com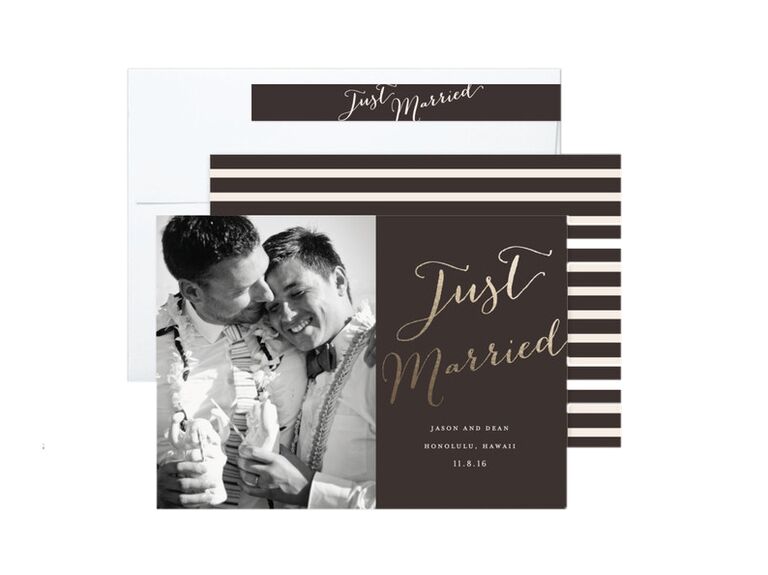 Photo cards are the perfect way to share your special day with loved ones who couldn't attend. On this photo wedding announcement, your favorite picture from your wedding day takes center stage. It's on display alongside the words, "Just Married" embossed in sparkly gold foil. Basic details are included on the bottom of this beautiful card.
Eric Clegg Just Married wedding announcement, $198 for 100, Minted.com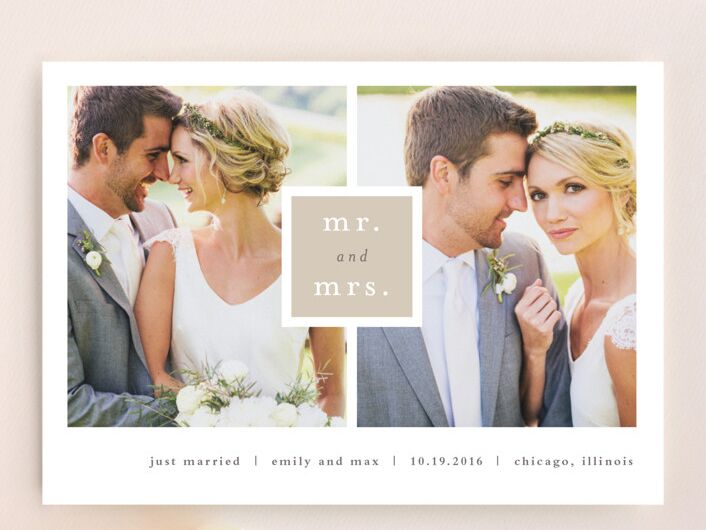 This modern photo wedding announcement from Minted allows you to share two of your favorite wedding snaps with your family and friends who weren't able to celebrate with you. Your photos are presented side by side with an adorable Mr and Mrs box in the middle. Available in khaki, charcoal or blush.
Stacey Meacham Frame Up wedding announcement, $163 for 100, Minted.com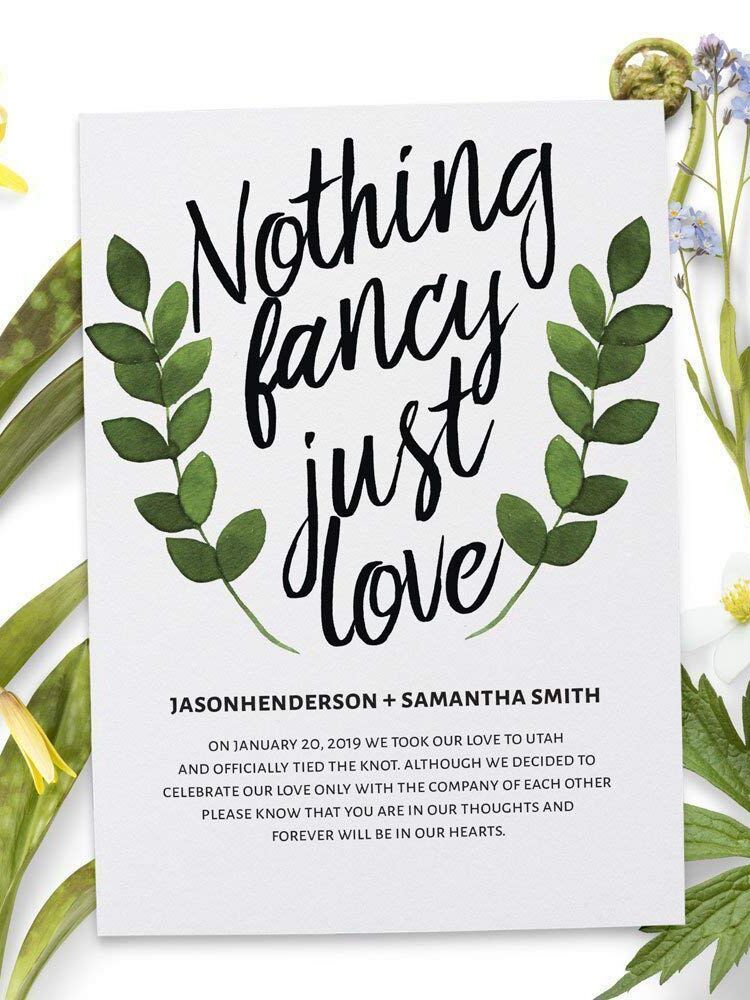 Pretty greenery adorns this wedding announcement that tells your recipients everything they need to know about your special day. It's fully customizable to say whatever you need to say, and it's a beautiful way to include those who weren't able to make it.
Love at Every Sight wedding announcement, $30 for 40, Amazon.com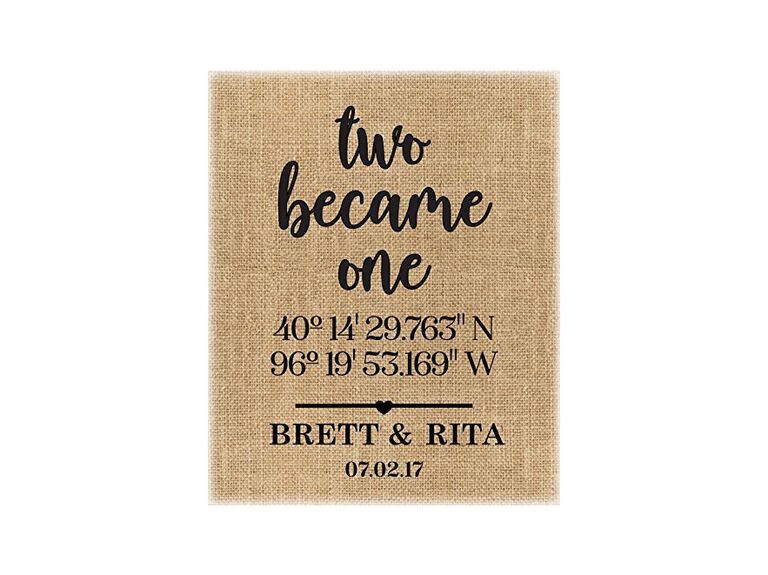 Just back from a destination wedding with a tiny guest list? Mail out these adorable wedding announcement signs to let extended family and friends in on the excitement. Here, latitude and longitude coordinates clue recipients in to your clandestine location.
Aureate Prints Lat/Long Coordinates wedding announcement, $18 each, Amazon.com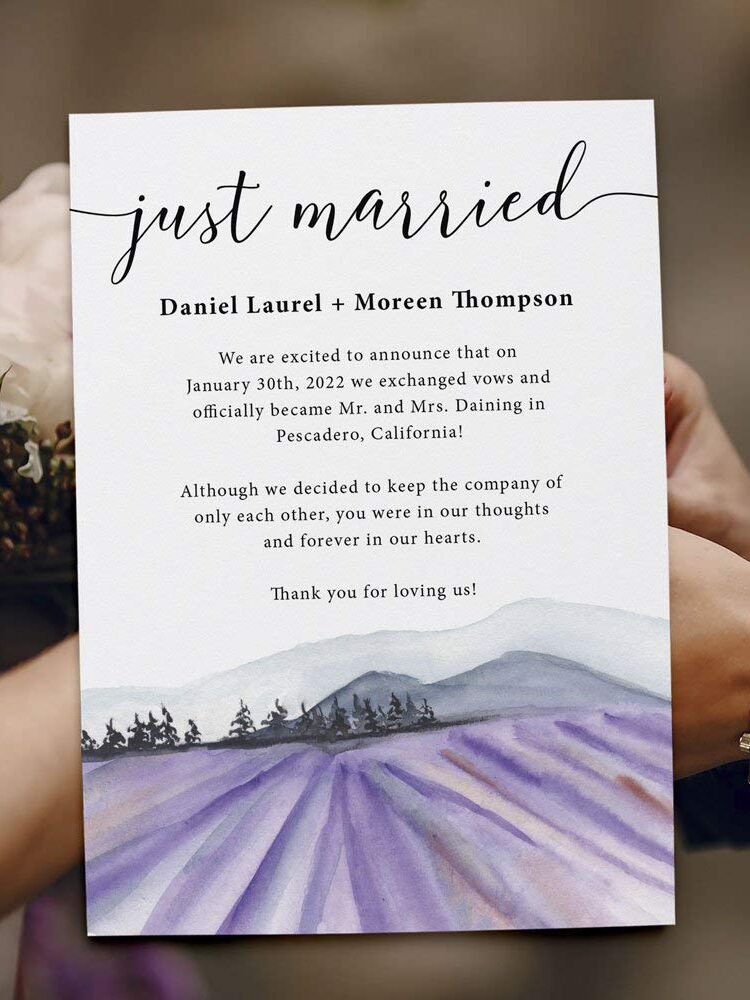 Channel the peaceful lavender fields of Provence when you opt for these beautiful watercolor wedding announcements. They're the perfect way to let extended family and friends know how much you missed them at your wedding.
Love at Every Sight lavender wedding announcement, $30 for 40, Amazon.com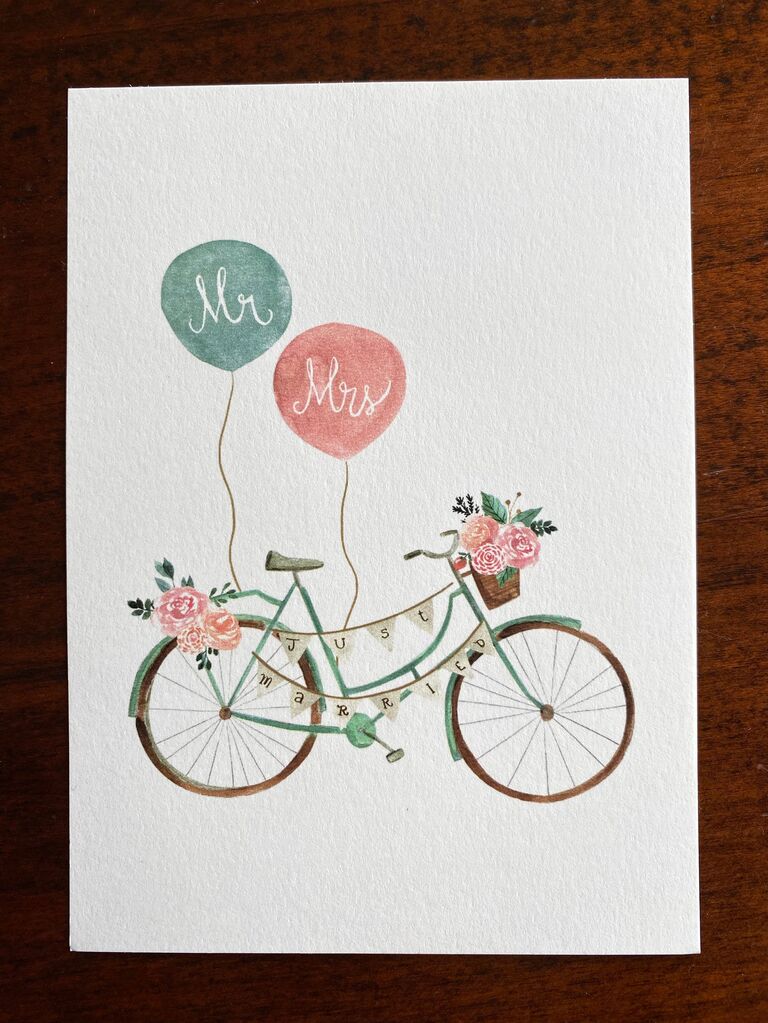 You'll love these adorably whimsical wedding announcements from Etsy shop EB Designs. Celebratory balloons float peacefully above a vintage-style bicycle to proclaim your Mr and Mrs status.
EAB Designs bicycle wedding announcement card, $3 each, Etsy.com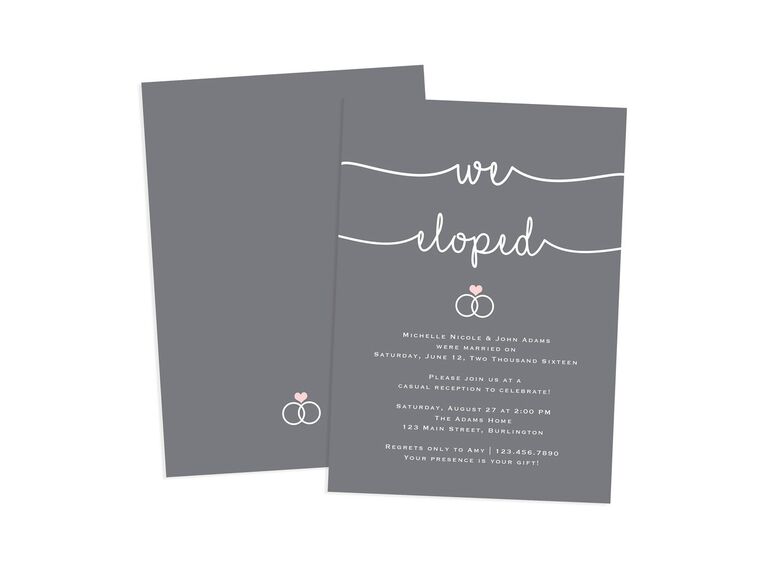 This custom wedding announcement may be minimalist in nature, but it sure packs a punch when it comes to sharing details of your special day. The grey, white and pink color palette is beautiful and refreshingly different.
Aceti Design Co We Have Eloped wedding announcement, from $15 for digital file, Etsy.com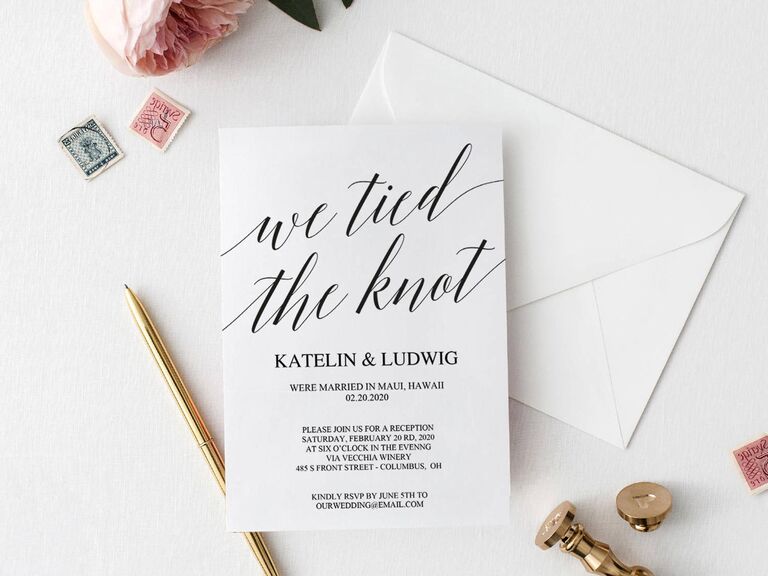 Perfect for either an elopement or a small wedding ceremony is this pretty printable from Etsy shop Sweet Paper Wedding. Bold, modern strokes proclaim your coupledom, while plenty of room is left for all the deets your family and friends are dying to know.
Sweet Paper Weddings printable We Tied the Knot cards, $20, Etsy.com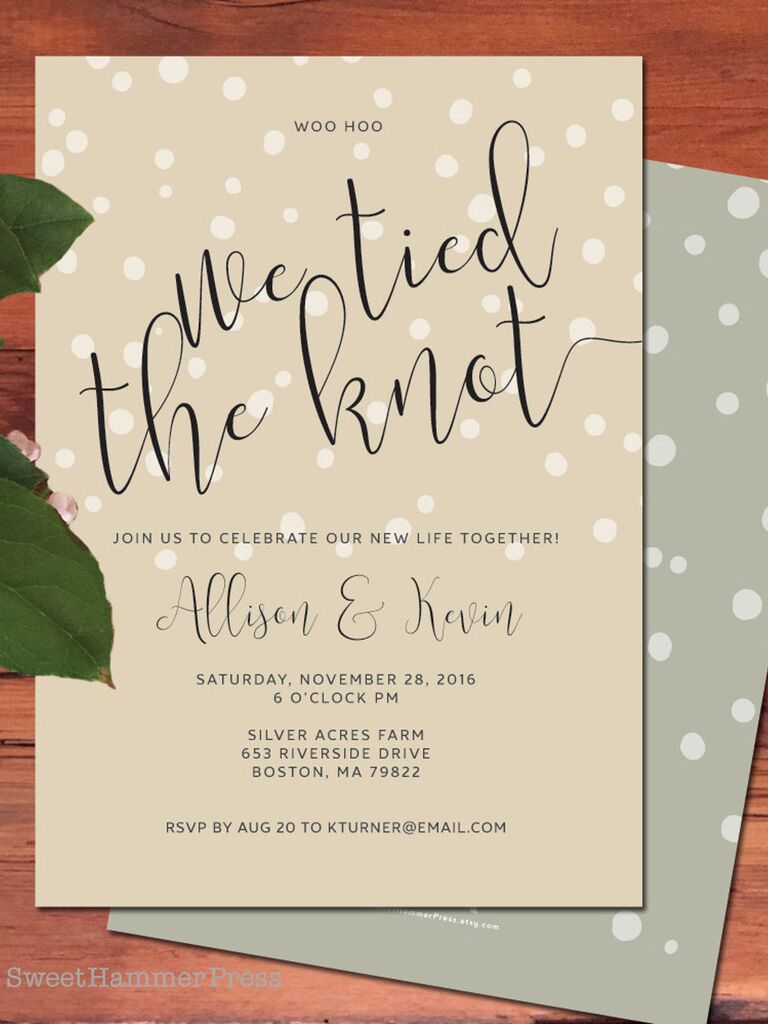 These wedding announcements give us champagne dreams with their bubbly-inspired polka dots. Fully customizable, these announcements allow you to choose from any color card stock that matches the color palette you used on your special day.
Sweet Hammer Press We Tied the Knot announcement, $62 for 25, Etsy.com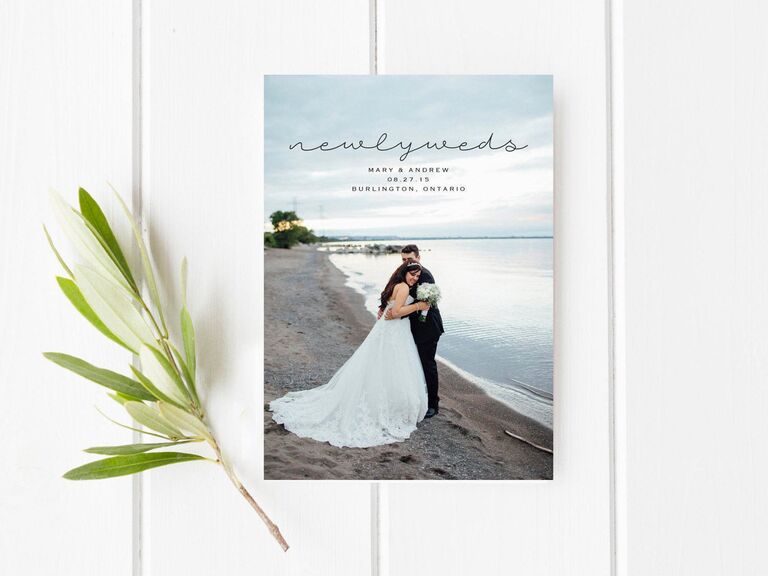 For an adorable wedding announcement option, we love this DIY printable card that displays the word "newlywed" across the top, and includes your favorite picture as well. It's a fully customizable printable, allowing you to give your recipients a glimpse into your big day.
Aceti Design Co printable wedding announcement, $15, Etsy.com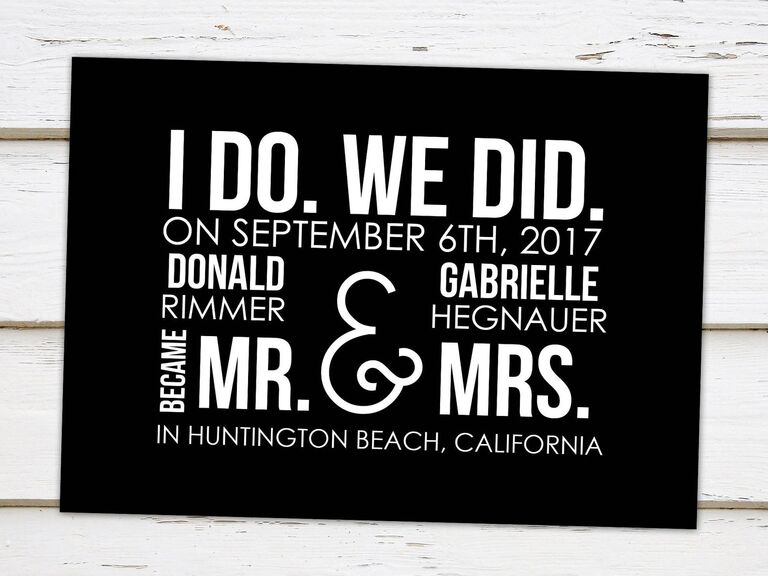 Looking for a wedding announcement that's sure to stand out? Look no further! This rectangular card boldly proclaims your newlywed status in black and white. Details like the date, location, and your names are artfully arranged.
Mellie Bellie Boutique printable wedding or elopement announcement, $12, Etsy.com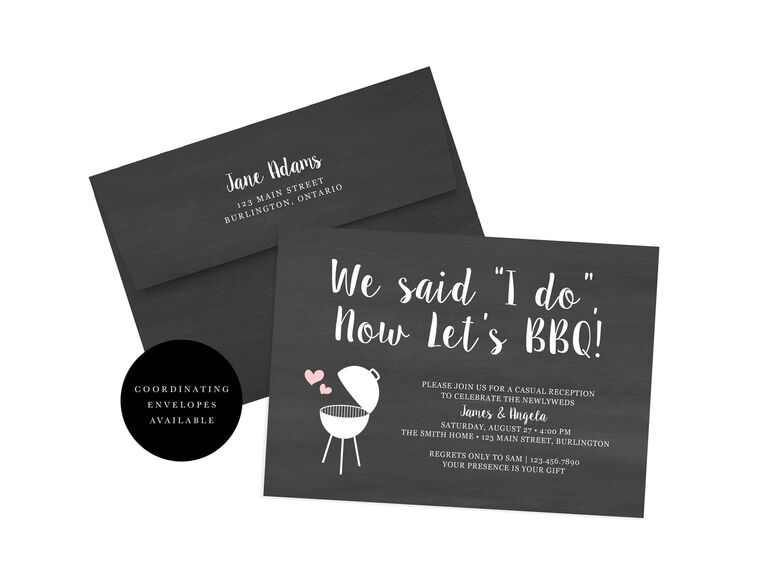 If you're planning on hosting a celebratory get-together sometime after your smaller ceremony, this wedding announcement is the one for you! "We said I Do, Now Let's BBQ" is written across the front so the recipient immediately feels included in your special occasion.
Aceti Design Co BBQ wedding announcement, $15, Etsy.com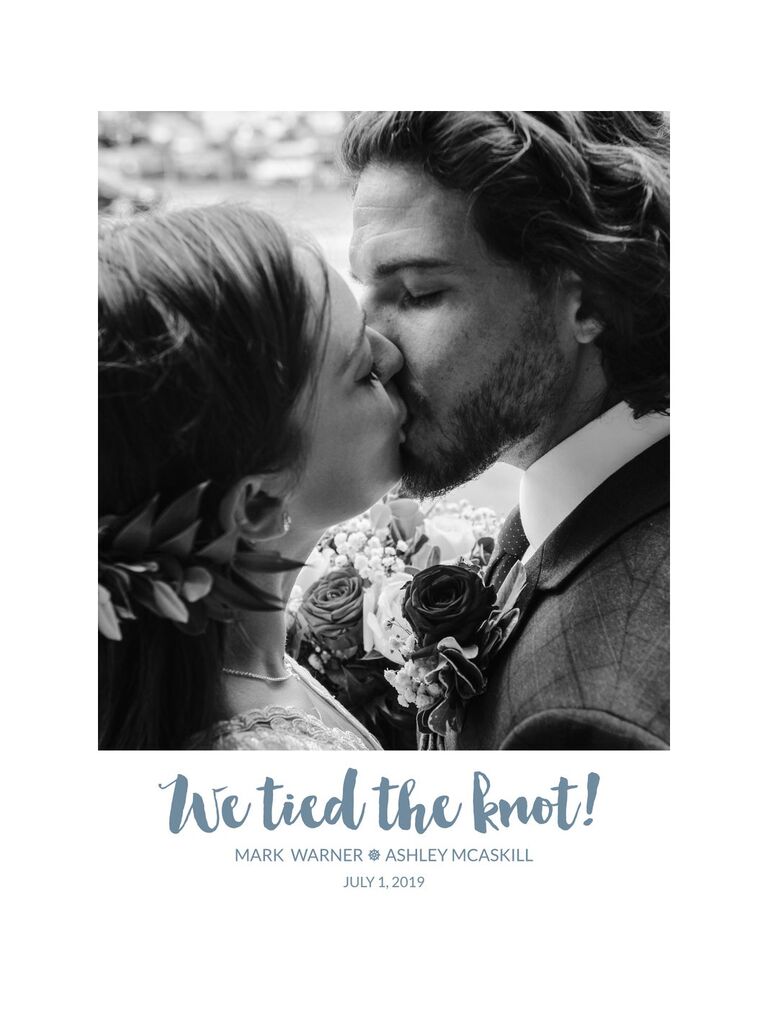 Let everyone know you've tied the knot when you opt for this sweet wedding announcement. Basic information includes yin our names and wedding date listed underneath your favorite snap from your nuptials.
East Bay Design Co wedding or elopement announcement, $12, Etsy.com