8 Satellite Bars to Get Your Drink On
These trendy bars will take cocktail presentation to a whole new level.
In case you missed it, we're calling out satellite bars as a big reception trend this year. What is a satellite bar, you ask? It's not just a cocktail bar—it's a signature sip station that doubles as a focal point and an opportunity to give your specialty cocktail its own moment in the wedding decor. Think of it as a grown-up candy bar. Get inspired by these eight different ways to personalize the trend!
1. Wood Whiskey Bar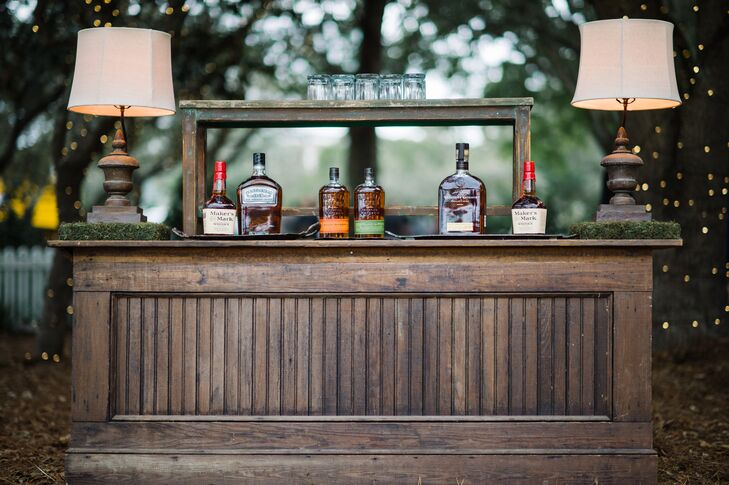 Have you ever seen a more appropriate whiskey bar? The dark stained wood and silver trays radiate a laid-back yet totally distinguished vibe. If you don't want flowers on the bar, tall end lamps or topiaries are great floral alternatives that still let you show off your own style—minus the blooms.
2. Liquid Candy Bar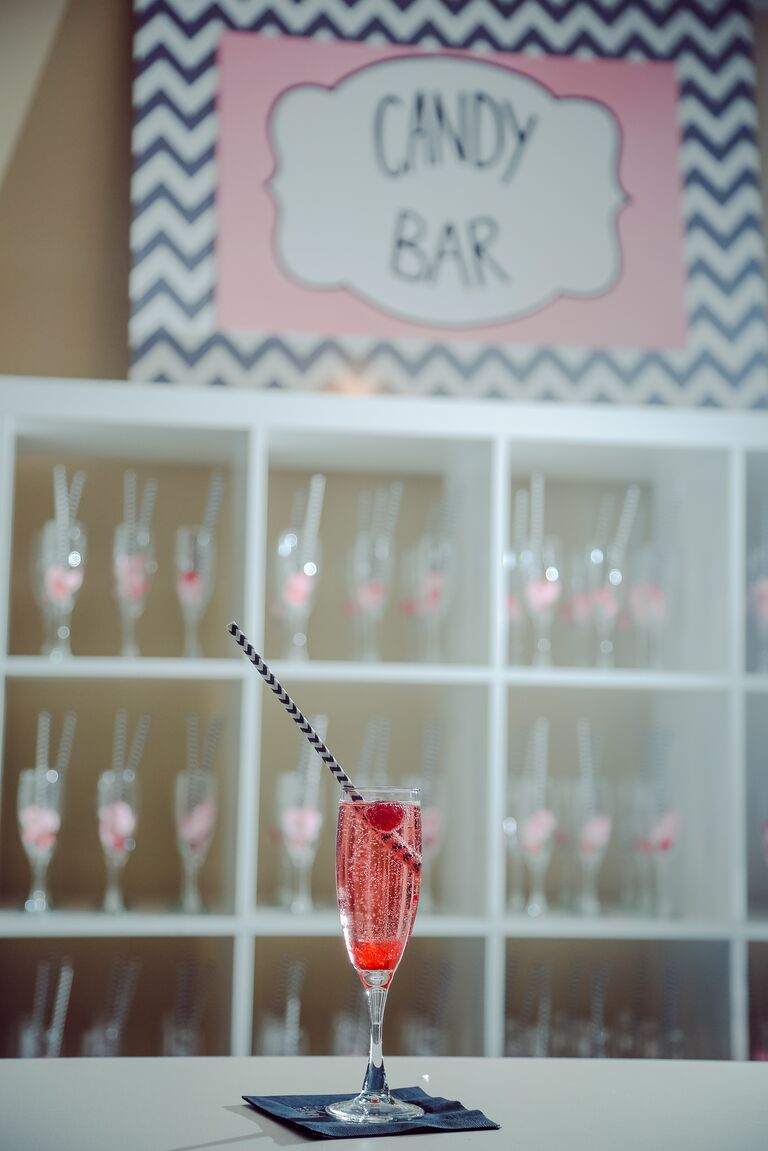 As a functional and fun decor element, let prepared glasses decorate the background of your satellite bar. Not only do the already-placed garnishes make service that much quicker, but in this case the cotton candy adds to the "candy bar" ambience. Other garnishes could range from sugar or salt-rimmed glasses to fruit wedges.
3. DIY Hot Chocolate Bar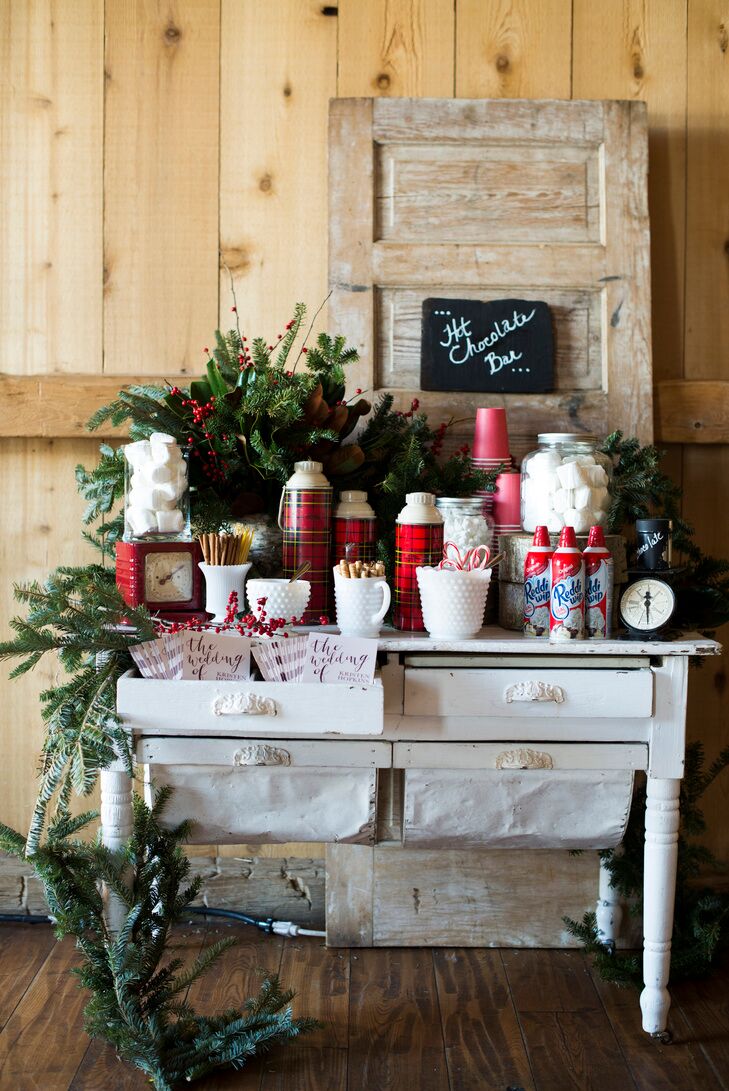 A DIY hot chocolate bar is perfect to warm up guests at a winter wedding. Stock a small table with candy cane or cinnamon stirrers, marshmallows and plenty of whipped cream, so guests can make the cocoa to their liking. If you want to turn up the volume, pour boozy add-ins (like Baileys or peppermint schnapps) into plaid patterned travel canisters—just make sure to have them properly labeled—and supply a basket of monogrammed paper cup sleeves.
4. Locally Brewed Beer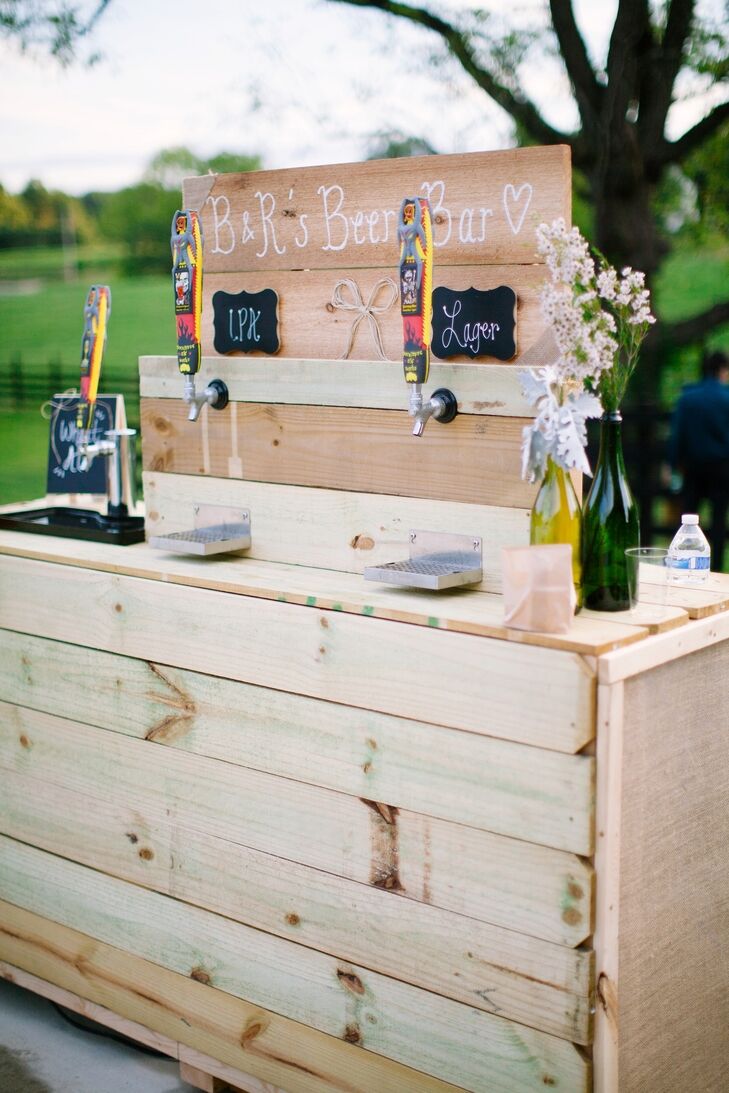 Serving beer is one thing—serving local brews out of a customized bar is a totally different experience. Guests can serve themselves (aka no attendant needed!) from the built-in taps and try different flavors. The simple wine bottle decor adds just the right touch of charm, without stealing the spotlight away from the beauty of the natural wood.
5. Big Batch Cocktails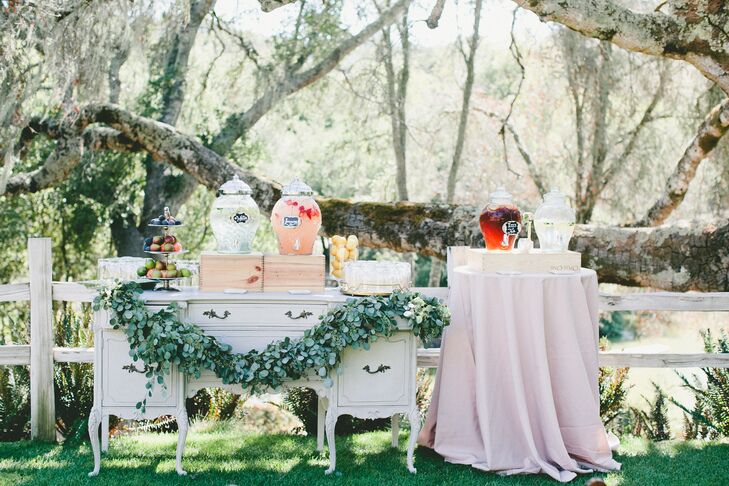 If you're looking for a low-maintenance bar alternative (or supplement), opt for large batch cocktails served out of drink dispensers. Add small signage to each beverage that nods to the decor and describes the ingredients of each drink. If you're outdoors or in the country in warmer months, freshly squeezed lemonade, spiked iced tea and infused water blends perfectly with the weather (and a pastel color scheme).
6. DIY Bellini Bar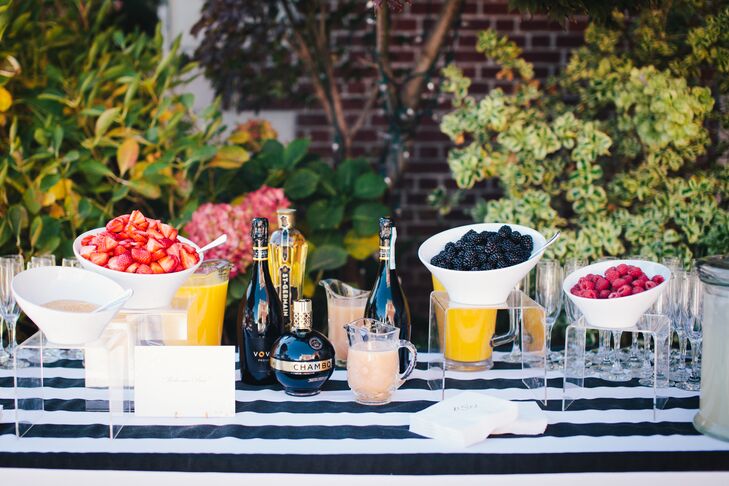 Phantom pedestals have a way of making any table look modern and fresh (and they're especially handy if you want to elevate the fruit bowls for an easier reach, without bulking up the table's design). Not only does the fruit add a fresh twist to the drinks, but they provide a natural pop of color when styled on top a contrasting color like this navy-blue-striped tablecloth.
7. Signature Champagne Cocktail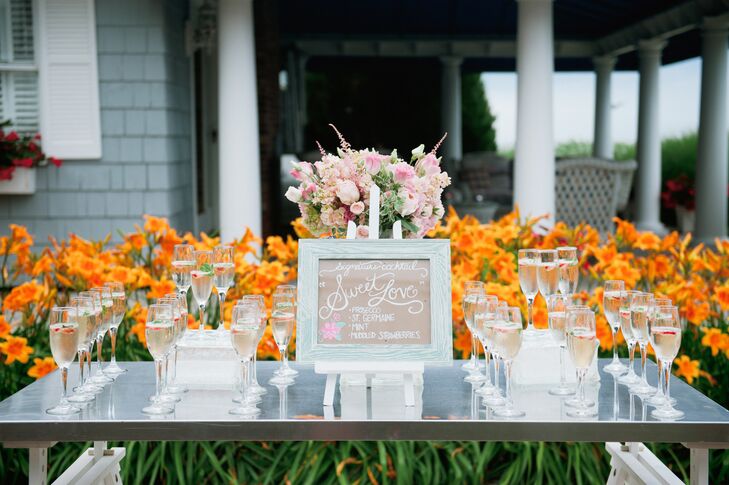 Even if your signature sip is in the same family as other spirits you may be serving (read: white wine and prosecco), give it its own special moment with a solo table presentation. If your outdoor reception space has a particularly stunning flower factor, use it to your advantage as a cocktail bar backdrop. The orange daylilies here make the prosecco signature cocktail bar look even sweeter.
8. Antique Spirits Station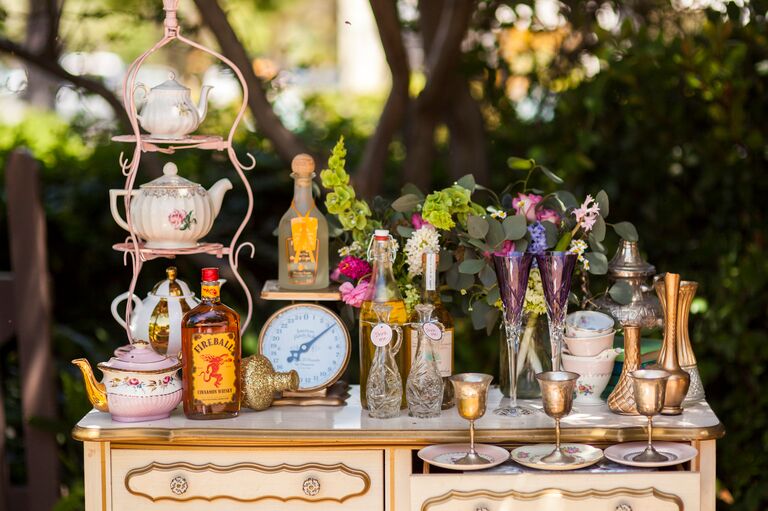 No room for a big bar installation? A thrifted antique desk will do the trick. Deck out the drawers with old-fashioned teacups, overflowing florals and back-up bottles—just in case. If you're lacking counter space, add a couple tiered dessert trays to provide additional room for light bites, garnishes or cocktail napkins.