How Couples Can Save Money During Inflation
Interest rates and fluctuating markets are prompting questions among couples. Experts weigh in on how to save during this time.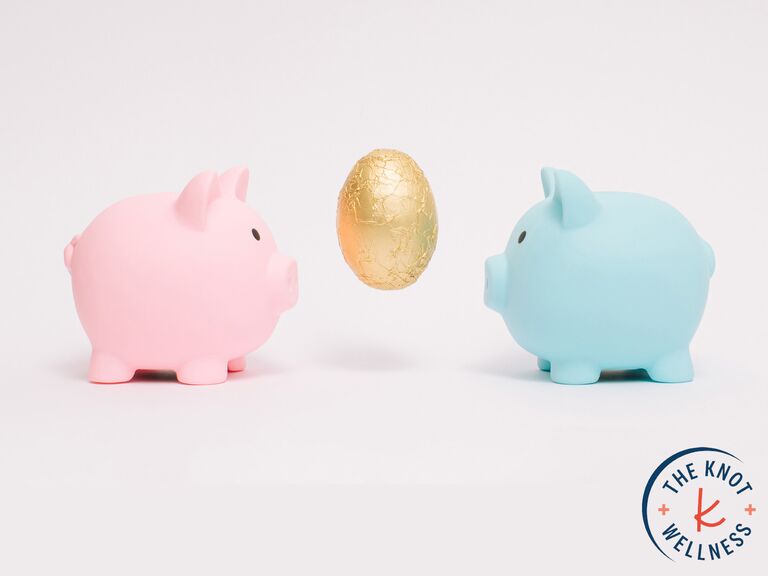 Getty Images
It's stressful out there. Couples are facing inflation and volatile markets as they're planning weddings and preparing for marriage. With the rising cost of goods and services, each dollar amount is stretched to cover less per household than what was originally planned. This presents challenges for to-be-weds during a time when they're expected to spend more money compared to their usual budget allotments. But saving is possible, experts say.
"For many couples, planning a wedding is the first time they're dealing with financial issues together," says Carrie Schwab-Pomerantz, President of the Charles Schwab Foundation. "Use this time as an opportunity to flex the communications muscles in your relationship. During periods of uncertainty, couples can benefit from having monthly or quarterly check-ins to assess their financial picture and make any adjustments together."
So how do couples face high-interest rates and the looming possibility of a recession? Read on for actionable tips from financial experts.
How Couples Can Navigate Inflation
A 2020 Charles Schwab Financial Literacy survey found that half of all Americans would experience financial hardship if they had to meet an emergency expense of $1,000 or less in the next 30 days. "It's possible to save during inflation," elaborates Schwab-Pomerantz. "But what's even more important is preparation for times of inflation with emergency savings… Being prepared with an emergency fund is the best way to protect you and your partner when you need it–helping you through times of volatility and uncertainty."
Gaze Upon Your Financial Picture
"Start by evaluating your investments," suggests Schwab-Pomerantz. "One of your strongest tools to fighting inflation is maintaining a diversified portfolio. Investment vehicles, like stocks, have historically outpaced inflation."
Couples should also address any remaining debt. "Focus on paying off debt with a variable interest rate—or moving to fixed rates. As inflation goes up, so do variable interest rates so look into refinancing any adjustable-rate loans," she notes. (A variable interest rate may apply to mortgages, for example, where the borrower would benefit from a lower rate than the fixed interest rate. However, it favors the lender when interest rates go up. This option typically isn't recommended for the risk-averse.)
Get Planning
You may already have a predetermined system for your monthly and annual costs: home maintenance fees, groceries, 401K contributions and more. With inflation, however, couples should tweak their budgets. "Build inflation into your financial plans," elaborates Schwab-Pomerantz. "Consider scenarios like high inflation or high-interest rates, and how that'll affect your plans; [especially,] your ability to reach short-term and long-term financial goals."
Whether you turn to someone professionally or you tackle finances yourselves, it's important for to-be-weds to have a game plan for their money. "It could be as simple as creating a budget with your partner that delineates 'necessities' from 'niceties,'" says Caroline Girgis, Vice President at Goldman Sachs Personal Financial Management. "As your life unfolds, [a financial] advisor is [also] at the ready to adjust your strategy, explain tradeoffs, and serve as a sounding board. This can be especially important for couples entering marriage who might both bring in differing points of view on financial planning and money management."
Build Up a Cash Reserve
It may seem challenging while wedding planning, but couples should build up a cash reserve during times of crisis. "This is one of the most fundamental aspects of financial planning and resilience," says Girgis, a ChFC (chartered financial consultant). "Cash savings can come in handy during an emergency and can provide liquidity that enables you to take advantage of a potential investment opportunity when it comes along. Savings should be thought of as an ongoing expense, not an afterthought. This remains true during times of inflation."
Contribute to Retirement Accounts
As the landscape evolves, you'll still want to account for your future–including retirement. "When it comes to saving for retirement during inflationary periods, first determine with your partner how much money you'll need to save to lead the life you want," Girgis advises. "Understanding where your life and money intersect is important. A general rule of thumb is you'll need 80% to 100% of your pre-retirement income for every year you're retired. A retirement calculator that factors in inflation is one helpful tool to make sure you're staying on track with your goals."
"You should also consider how you're saving for retirement," she elaborates. "There are annual contribution limits on traditional retirement plans, like 401(k)s and IRAs. For newlyweds choosing to combine their finances, this may mean you have additional funds to allocate to other investing strategies, like a brokerage account." Similar to budgeting, couples will want to suppress a 2-3% inflation gap into your retirement target.
Invest
While the days of meme stocks and instant gratification prompt rare success stories, investing for the long term is the best approach, experts say. "It's best for couples to keep calm and build an all-weather portfolio that keeps in mind their goals and risk tolerance, as well as a timeframe in which they expect to withdraw from their accounts for major life events," says Schwab-Pomerantz. "Investing is all about putting your money to work for you with the goal of growing it over time. A long-term approach to investing is key to protecting yourself and your family against market downturns and future inflation."
"Investments should match your timeframe and your goals as a couple," says Girgis. "You should have an understanding of each other's total compensation, benefits, and existing investment accounts to better understand what your total portfolio looks like. Consider the types of accounts you have, and how you're using them to achieve your long-term goals. You should also determine whether joint accounts make sense for you, or if separate accounts are preferred. No matter your status, we generally recommend staying the course amid volatility but also know that risk tolerance varies from person to person, and particularly between couples."
Keep Calm
Similar to her previous point, things may feel contentious right now. That's common. "Remember that economic downturns and volatility are cyclical; they're nothing new," says Girgis. "Keep a long-term view and remember that this is only a moment in time. Forego emotion-based decisions as you strive for long-term growth."
How to Address a Looming Recession as a Couple
While the rumblings of a looming recession continue to impact couples, there are a few ways to prepare in the event this happens. "We can't control recessions or know what the future will look like, but we can be smart about how we prepare," says Schwab-Pomerantz. "Couples should start by talking about their money, now. Do your best to stay focused on your goals and view periodic market losses as nothing more than distractions. If a recession does arrive, try to stay true to investing basics." Read Schwab-Pomerantz's five biggest tips below.
1. Keep your portfolio diversified to weather market volatility.
2. Don't invest any money you expect to need in the next five years.
3. Set three to six months of cash aside for emergencies, more if you can.
4. Avoid looking at the markets every day to prevent unnecessary stress.
5. Don't be afraid to ask for help. Turning to a trusted family member or friend can be a good place to start, but if you need additional guidance, ask your financial institution for help.
Finally, Have the 'Crisis' Discussion
You may feel anxious about broaching the topic, even, but it's important you address possibilities. "If you have concerns about a potential recession, it's important to have a candid conversation with your advisor about your concerns, such as the unfortunate event of job loss for either partner," says Girgis. "Job loss during a recession could also significantly impact dual household incomes. If layoffs or furloughs are a concern for you and your partner, your advisor may work with you to adjust your financial plan accordingly, such as reassessing your financial goals or asset allocations based on what's needed to stay on track."