A Seattle Honeymoon for Outdoor Enthusiasts and Coffee Lovers
Soak up nature and culture on your romantic getaway.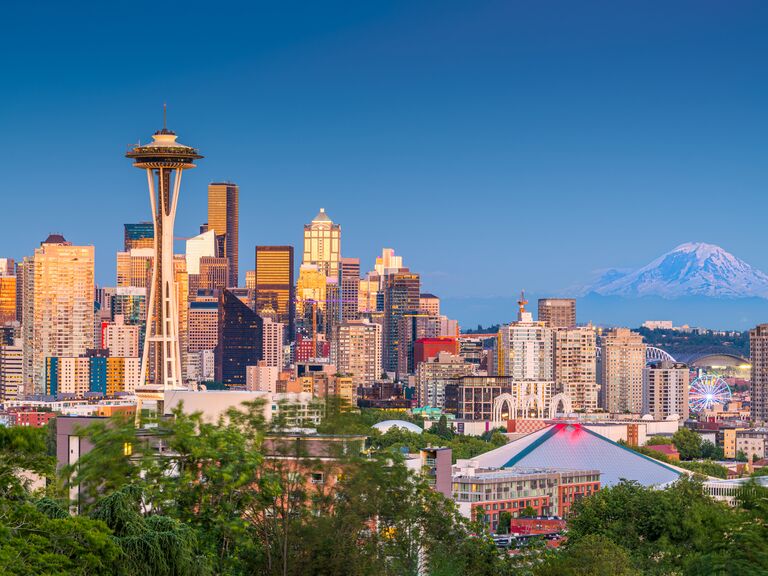 Sean Pavone / Shutterstock
With mountains, evergreen forests and the very beautiful Puget Sound, Washington State's largest city, Seattle, is rich in natural beauty. Couples seeking out a balance between outdoor adventures and artsy offerings should consider a Seattle honeymoon—especially if they'd rather travel domestically than venture abroad. Keep reading for a look at everything this Pacific Northwest gem has to offer.
Is Seattle Good for a Honeymoon?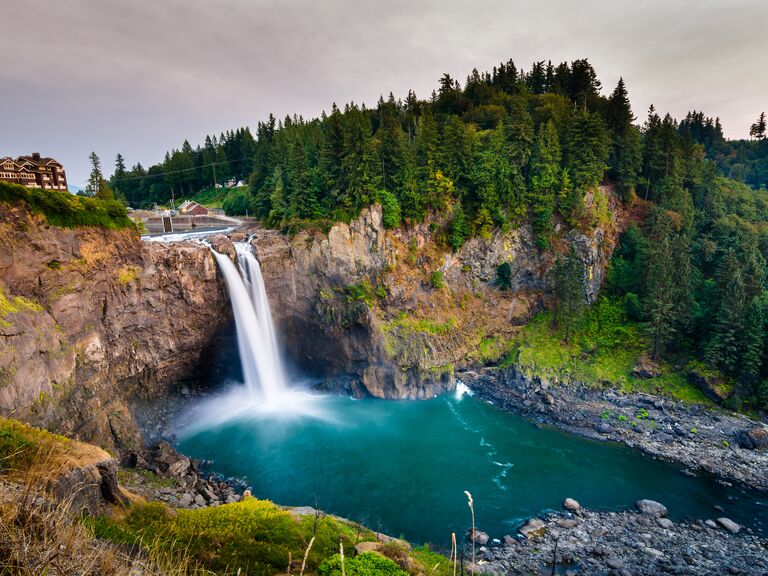 Other than picture-perfect scenery, the Emerald City offers endless activities to keep active honeymooners busy, from gallery-hopping to boating and boning up on coffee. Plus, Seattle is home to countless hotels at various price points.
Pros of a Seattle Honeymoon
Outdoorsy couples will appreciate the wealth of hiking trails (like Rattlesnake Ledge), plus biking, skiing and snowboarding opportunities. For jaw-dropping scenery, newlyweds can take in Mount Rainier (which is especially stunning in the winter) and Snoqualmie Falls, a 268-foot waterfall.
Fortunately, the city is also easy to access. According to Reco trip designer Maria Kemp, 32 airlines serve 91 nonstop domestic flights. For an ideal itinerary, honeymooners can visit Seattle, then head to the nearby San Juan Islands; Portland, Oregon; Cannon Beach, Oregon; or Victoria, British Columbia.
Cons of a Seattle Honeymoon
Let's just say Seattle isn't the place for couples who crave a sunny and beachy vibe. "The only possible downside to choosing Seattle is if you have your heart set on sun," Kemp says. Couples should also be aware that traffic can be an issue if they plan to drive around the city and metro area.
The Best Times of Year to Go on a Seattle Honeymoon for Good Weather
Couples should come between June and mid-October, Kemp says. "The weather is beautiful, there are plenty of outdoor festivals and the mountain landscapes are blooming."
Places to Visit in Seattle on a Honeymoon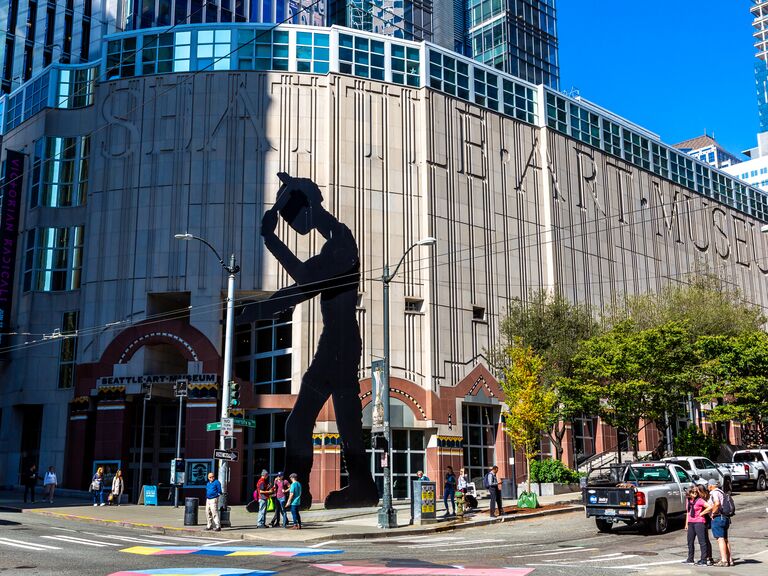 Belltown
Head to this neighborhood north of downtown for vibrant nightlife and the waterfront Olympic Sculpture Park, which is operated by the Seattle Art Museum.
Pioneer Square
Explore the city's oldest neighborhood to see Renaissance Revival architecture. Art lovers can also stroll through galleries and boutiques.
Space Needle
Built for the 1962 World's Fair, this iconic structure sits in the Lower Queen Anne neighborhood. Ascend to the observation deck for panoramic views of the city.
Find your kind of venue
From barns to ballrooms, discover reception venues that feel like you.
Chihuly Garden and Glass
Spend time at this museum right by the Space Needle to see works by famed glass artist Dale Chihuly. Don't miss the garden, where glass sculptures and plants intermingle to create an environment that's truly stunning.
Pike Place Market
Seattle's most visited landmark is a must-see, Kemp says. Pick up some edible souvenirs and check out nearby Post Alley, which is covered with colorful wads of chewing gum.
Bainbridge Island
Weave through 150 acres of gardens, ponds and meadows with your sweetheart. The island is accessible from Seattle by ferry.
Seattle Great Wheel
Located on Pier 57, this structure is one of the largest of its kind, Kemp says. Cuddle up and take in the views from the top.
Freemont
The freedom to be quirky is the unofficial motto of this neighborhood that's crammed with vintage shops and independent boutiques, Kemp says.
Things to Do During a Seattle Honeymoon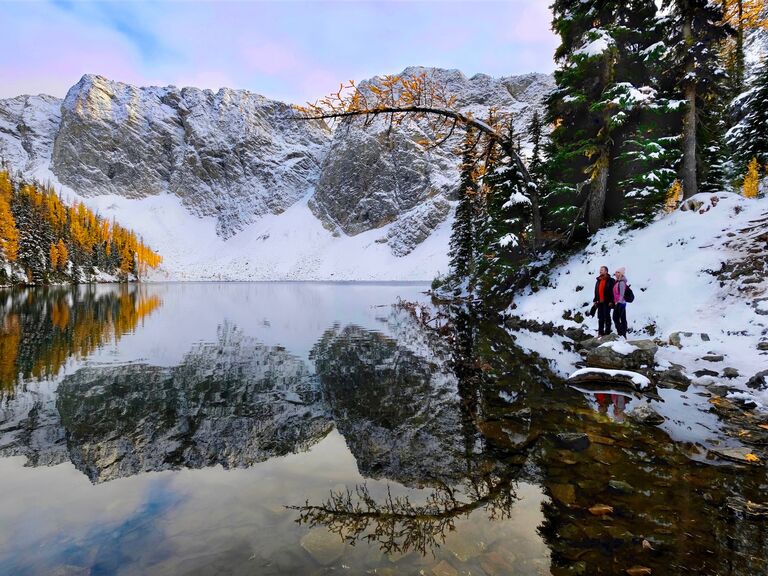 Take an Underground Tour
When the weather is menacing, duck underground to roam forgotten subterranean passages with expert guides, Kemp says.
Go on a Boat Ride
During the summer, boat on one of the city's lakes, such as Lake Union. Don't forget to bring a picnic lunch. Or, go kayaking or whale watching on Puget Sound and try to spot orcas.
Learn About Coffee
Seattle is known for its java. Check out the original Starbucks near Pike Place Market and discover how to create latte art and brew espresso at Seattle Barista Academy.
Visit Wineries
Sip vino at a few of the dozens of wineries located within Seattle. Or, take a day trip to visit the more than 100 nearby wineries and tasting rooms. Among them, Kemp recommends stopping by Chateau St. Michele, the city's oldest and most celebrated winery.
Explore Parks
Walk, bike and in-line skate with locals along the paved trail at Green Lake. Or, head to West Seattle and hike trails at Schmitz Park and Lincoln Park. If you're willing to drive a few hours from Seattle, you can visit three national parks in Washington State: Mount Rainier National Park, Olympic National Park and North Cascades National Park.
Best Hotels in Seattle for a Honeymoon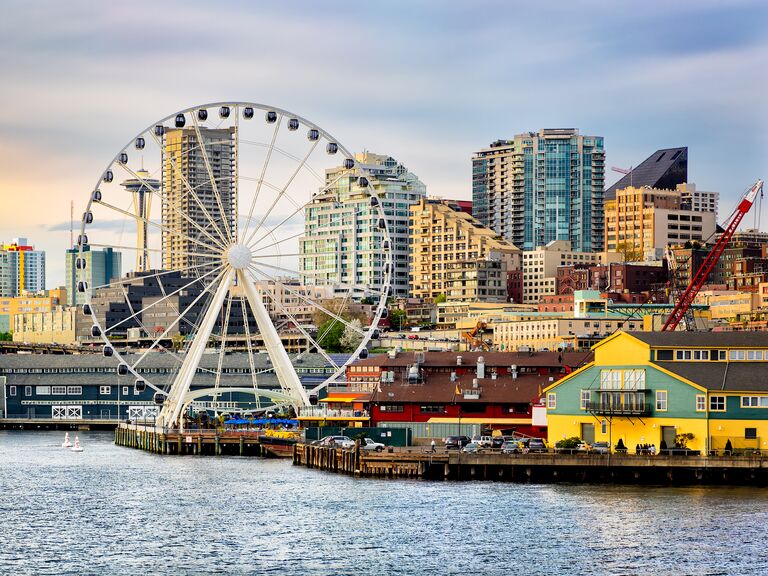 Located within walking distance of Pike Place Market and the waterfront, this luxury hotel offers deep soaking tubs and floor-to-ceiling windows. On the outdoor terrace, newlyweds will find a fire pit and the city's only outdoor infinity-edge pool with views of Elliott Bay and the Olympic Mountains.
This recently renovated spot boasts 120 hotel rooms (with deep soaking tubs), a spa, a fitness center, a wine cellar and a golf simulator. Just steps from the Seattle Waterfront and historic Pioneer Square, the location is convenient for sightseeing.
Built in 1924, this luxurious downtown hotel offers noteworthy architecture, a fitness center, an indoor pool and a spa.
The floor-to-ceiling windows of this 150-room hotel provide views of Puget Sound. Couples will appreciate the location (just minutes from Pike Place Market), plus the on-site rooftop lounge and coffee bar.
This overwater hotel on Pier 67 has hosted Led Zeppelin, Neil Young and The Beatles. To honor its musical heritage, the property lends guests rental guitars, sheet music and record players.
Located about 30 minutes from Seattle in Snoqualmie, Washington, this romantic hotel overlooks Snoqualmie Falls. All 86 guest rooms boast gas fireplaces and spa-like showers or oversized soaking tubs. 
What to Pack for a Seattle Honeymoon
This Pacific Northwest city is casual and outdoorsy, so bring rugged clothing, sneakers and hiking boots. Toss in a few more sophisticated items for dinners on the town, and don't forget an umbrella and raincoat for wetter weather.