90 Festive Christmas Instagram Captions for Couples
Meet me under the mistletoe.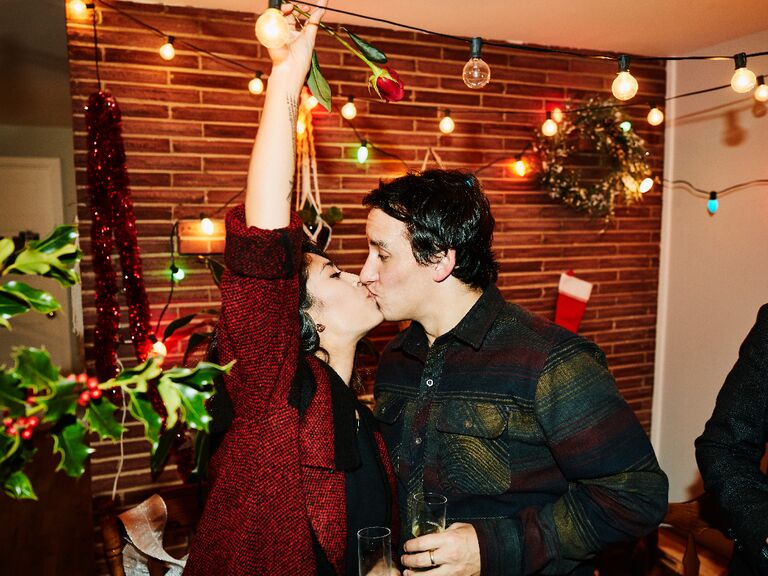 Thomas Barwick/Getty Images
It's the most wonderful time of the year—for Instagram pictures, that is. The holidays are a time to gather and be merry with your nearest and dearest, and it's no secret that Christmas festivities come with plenty of photo ops for social media. If you're looking for Christmas captions for couples, you're in the right place. Because, while taking the perfect photo is half the battle, it's just as important to have an equally cute caption to accompany your post on the 'gram.
As your go-to source for all things Instagram captions, we've got ideas for your engagement, your wedding day, a wedding you're attending as a guest, anniversaries, and even a bach party or a bridal shower. We've also got plenty of Christmas caption ideas for couples right here. So, whether you're looking for a cheeky pun, a sweet sentiment or a great quote from a classic Christmas movie or song, we've got everything you need. Thank us later once the likes start to roll in.
In this article:
Funny Christmas Captions for Couples
Christmas couple captions don't always have to be cheesy. If you'd rather fill your feed with puns and jokes, these fun Christmas captions are perfect for your virtual Christmas card. Take note of your faves and keep them in mind for future holidays too, because these creative captions will do the trick year after year.
In the words of Mariah Carey, all I want for Christmas is you.
It was love at frost sight.
Merry elfin' Christmas.
The tree isn't the only thing getting lit this year.
We've got chemis-tree.
No laws when you're drinking for Mr. Claus.
We're only morning people on December 25th.
But wait—there's myrrh.
That's a wrap on our first Christmas together.
But first, let us take an elfie.
Making [S.O.'s name] put me at the top of the tree because I'm a star.
The only person I'll watch Hallmark movies with.
What happens under the mistletoe stays under the mistletoe.
We've been 51% nice and 49% naughty.
Dear Santa, we can explain...
Love you almost as much as I love Christmas cookies.
Feast mode: On.
I only have ice for you.
We're just a couple of candy canes: sweet, and slightly twisted.
Making it rein.
All you want for Christmas.
VIP members of the naughty list.
'Twas the night before Christmas, and all through the house, everyone was taking pics for Insta.
Dating me is the gift this year.
Ho, ho, home for Christmas.
Don't get your Christmas socks in a tangle.
Santa listened.
I'm Santa's favorite.
You're on my list.
Cute Christmas Captions for Couples
Nothing says "I love you" quite like a romantic Instagram post. Christmas time is a great excuse to get sappy on the 'gram—it's kind of inevitable with all the love in the air, after all. Of all the best Christmas Instagram captions out there, these sweet ideas fill our hearts with so much cheer. Keep scrolling to see the cutest Instagram Christmas captions for couples.
It's beginning to look a lot like our first Christmas together.
Meet me under the mistletoe.
If kisses were snowflakes, I'd send you a blizzard.
I was definitely on Santa's good list this year.
Have your (s)elf a merry little Christmas.
'Tis the season for loving you.
Not all treasure is silver and gold.
Hallmark movie kinda love.
I already got the best present this year.
The best gifts aren't found under the Christmas tree.
We're pepper-meant to be.
The best present is wrapped in my arms.
There's snow place like home.
The only gift I want this year is your presence.
'Tis the season for matching PJs.
The first of the rest of my Christmases with you.
Having ourselves a merry little Christmas.
A December to remember.
All spruced up.
Merry always.
The holly to my jolly.
Love the giver more than the gift.
Sweater weather is better together.
On the first day of Christmas, my true love gave to me…
Blame it on the mistletoe.
Happy holidays from Santa's favorite elves.
To-do list: eat, drink, be merry, nap.
You + me under the Christmas tree.
Merry kissme.
All I wanted for Christmas.
Festive & fun.
Pass the cocoa.
Christmas Captions from Pop Culture
If you can't think of a good Christmas Instagram caption on your own, turn to pop culture. There are plenty of great Christmas quotes from timeless movies and songs that would be perfect for a social media selfie with your S.O. So, to help you narrow down the best, here are our favorite Christmas captions for couples from Christmas movies and music.
From Christmas Movies
"Merry Christmas, you filthy animal." — Home Alone 2
"It's Christmas Eve and we are going to go celebrate being young and being alive." — The Holiday
"If you look for it, I've got a sneaky feeling you'll find that love is actually all around." — Love Actually
"The best way to spread Christmas cheer is singing loud for all to hear." — Elf
"It's not what's under the tree that matters; it's who's gathered around it." — A Charlie Brown Christmas
"Nobody's walking out on this fun, old-fashioned family Christmas." — Christmas Vacation
"Christmas isn't just a day. It's a frame of mind." — Miracle on 34th Street
"For it is plain, as anyone can see. We're simply meant to be." — The Nightmare Before Christmas
"Christmas isn't just a day, it's a frame of mind." — Miracle on 34th Street
"Seeing is believing, but sometimes the most real things in the world are the things we can't see." — The Polar Express
"I want my house to be seen from space." — Deck The Halls
"I'm all toasty inside." — How The Grinch Stole Christmas
"I'm gonna deck your halls, bub." — Jingle All The Way
"We're your worst nightmare: Elves with attitude." — The Santa Clause
"Some people are worth melting for." — Frozen
From Christmas Music
"We're snuggled up together like two birds of a feather would be." — 'Sleigh Ride,' The Ronettes
"There's no place like home for the holidays." — '(There's No Place Like) Home for the Holidays,' Perry Como
"Everyday's a holiday when I'm near to you." — 'Merry Christmas, Darling,' The Carpenters
"Although it's been said many times, many ways, Merry Christmas to you." — 'The Christmas Song,' Nat King Cole
"Have yourself a merry little Christmas." — 'Have Yourself a Merry Little Christmas,' Judy Garland
"What a bright time, it's the right time to rock the night away." — 'Jingle Bell Rock,' Bobby Helms
"Oh, all these things and more, darlin', that's what Christmas means to me, my love." —'What Christmas Means to Me,' Stevie Wonder
"I feel like I'm gonna kiss you standing beneath that mistletoe." — 'Merry Christmas Baby,' Otis Redding
"Next year, I could be just as good if you check off my Christmas list." — 'Santa Baby,' Eartha Kitt
"There'll be much mistletoeing and hearts will be glowing when loved ones are near." —'It's the Most Wonderful Time of the Year,' Andy Williams
"A beautiful sight, we're happy tonight." —'Winter Wonderland,' Michael Bublé
"May your days be merry and bright, and may all your Christmases be white." —'White Christmas,' Bing Crosby
"It's beginning to look a lot like Christmas." —'It's Beginning to Look a Lot Like Christmas,' Dean Martin
"A very Merry Christmas and a happy new year." —'Happy Xmas (War is Over),' John Lennon & Yoko Ono
"Christmas lights keep shining on." —'Christmas Lights,' Coldplay