How to Celebrate the Holiday Season as Newlyweds
Your first Christmas together just got cozier.
by Catherine Jessee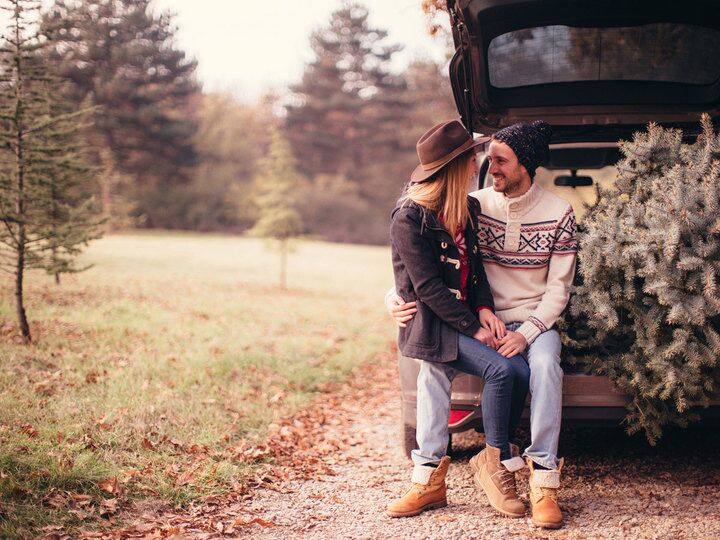 Break out the mistletoe! There's nothing sweeter than your first Christmas as newlyweds. With a new year—and the rest of your lives—ahead, the holiday season is the perfect time to share time-honored traditions and also start some of your own, such as cooking a special meal, adopting an angel tree or reading a book passage. Even if it's simply curling up with eggnog and your favorite Christmas movie, this is your chance to create your own holiday traditions.
1. Make an Ornament Together
Remember those extra wedding invitations you saved? They're too beautiful to let the dust settle. Put them back to use as commemorative Christmas ornaments by shredding or hole punching the paper to fill clear paper or plastic DIY ornament bulbs. Use a crafting lever punch to make beautiful shapes like stars, hearts and snowflakes.
2. Cook a Special Meal
Choose a scrumptious recipe you've always wanted to try to cook and prepare it together. Nothing steps up date night in like the spirit of Christmas, and there's no need to put Anthony Bourdain to shame—just have fun! We recommend extra candles, extra wine and extra dessert. If it doesn't turn out quite right, there's always next year.
3. Invite Guests
If it's your first Christmas together with just you two—and you're not traveling to visit family or the in-laws—invite family and friends to come to you. Throw a festive soiree the night you decorate your first tree as a married couple or have a Christmas movie marathon with hot chocolate and spiced cookies on Christmas Eve. It'll feel good to host your loved ones as a new family.
4. Start a Tradition
Nothing makes the holidays more magical and memorable than special traditions, and your first Christmas together is the perfect time to start one of your very own. Love all of those feel-good Christmas stories? Pick your favorite and read it together every Christmas Eve.
5. Watch Your Wedding Video
It can be tough to take your mind off everything on your holiday to-do list. Make a point to sit down together every year and watch your wedding video. Trust us—it's impossible to be a Scrooge when you're looking back on the day you vowed to love and support each other forever.