12 Sweet Ways to Celebrate Your First Christmas as a Married Couple
Be 'married' and bright with these seasonal ideas and traditions.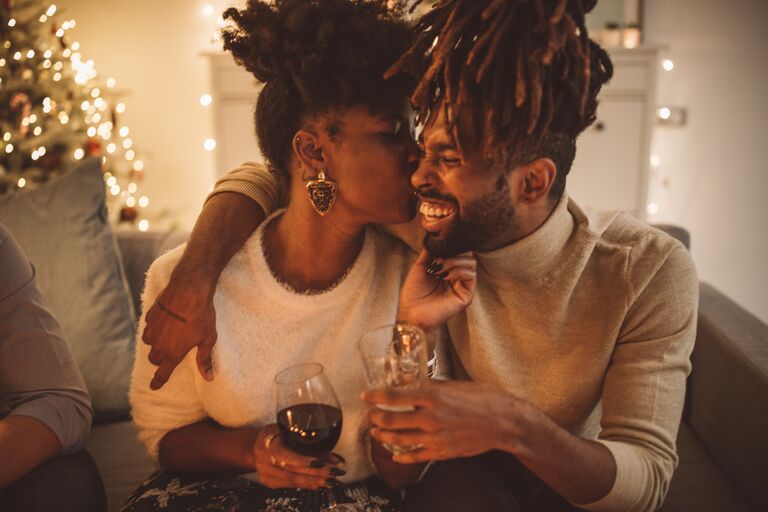 Photo: Getty Images | svetikd
The wedding jitters have passed and you're soaking in your first year of marriage. Now, with the festivities of the holiday season approaching, of course it's only natural to want to make your first Christmas married with your partner as memorable as possible. Fortunately, we've got some ideas.
Whether it's going to be just the two of you for the holidays, or you're looking to do something bigger for your first Christmas together, there is a special way for everyone to celebrate. So, be married, festive and bright with these twelve seasonal ideas and activities that'll make your vision for your first Christmas married come to life.
1. Visit a Christmas-themed market
Who doesn't love a Christmas-themed market? With a cup of hot cocoa or a spiced cider in one hand and your new spouse's hand in the other, use this time to shop for cute gifts to give your family—or just enjoy each other's company. This is a great idea for couples who want to get into the spirit of the season, gain some holiday decor inspiration or enjoy the colder weather together.
2. Plan a romantic meal
To truly make your newlywed Christmas bright, consider planning a romantic meal at home. This is great if you love to cook (or your spouse does) and provides the opportunity for you to make something special together. Light some ambient candles, enjoy a dinner you'd only eat at Christmastime and find the romance in the season.
3. Have a holiday movie night
Is your favorite Christmas film How The Grinch Stole Christmas? Maybe your spouse loves It's a Wonderful Life. No matter what your favorite festive film is, having a holiday-themed movie night is a sweet and simple way to celebrate your first Christmas as a married couple. Get snuggly, make some spiked or marshmallow-y hot cocoa and enjoy a night-in on the couch together.
4. Sit by the flickering fire
The holidays can be an expensive (and sometimes stressful) time of year—especially for couples with a packed schedule and multiple family events to attend. But if you're on a budget, or don't want to do anything too big, consider sitting by the fire together and playing a game. You can check out some of our favorites here! This easy yet festive idea can be one that makes the most romantic of memories that you'll look back on for years to come.
5. Volunteer at a shelter
Oftentimes—and especially during the holiday season—there are a lot of people in need. Give back to your community and bond with your spouse by volunteering at a shelter or charity during your first married Christmas. In addition to spending quality time with your partner, you'll be helping those in need. And isn't that what the holidays are all about?
6. Make Christmas cookies together
Throwing a Christmas cookie party together for your friends and family can be a fun, inexpensive and memorable way to celebrate the holidays as a newly married couple. Discover how your new in-laws traditionally make their go-to batch, get creative decorating and then share and enjoy the treats when they're all done. It's a wonderful way to show your interest in integrating family into your Christmas traditions.
7. Create a family holiday card
IMO, one of the best ways to celebrate your first Christmas married is by making your very own family Christmas card. Get dressed up, maybe include your pets if you have any and then have fun staging your own photoshoot and choosing your card design. It's an ideal way to signify your new life with your spouse, and you can find tons of gorgeous holiday card options here.
8. Plan your own traditions
Some families hang mistletoe in every doorway, while others always open one present on the night of Christmas Eve—but now that you've got your own spouse, you can use your first Christmas together to make traditions of your own. Maybe you always put the tree up together on November 25th, or you choose to make steak instead of ham for Christmas dinner. The traditions are now yours to decide!
9. Decorate your home together for the season
Use your first Christmas married to prioritize decorating and making your home feel as warm as the love you have for each other. Use a mix of family heirloom decorations if you have any, as well as new holiday decor pieces that you've chosen together. This will help reflect the melding of your families as well as the evolution of your own.
10. Go on a special trip
Make your newlywed Christmas extra noteworthy by taking a trip together to mark the occasion and the season. Even if you traditionally celebrate with extended family, it could be fun—and ultra-romantic—to mix things up this year in favor of a little one-on-one exploration and relaxation.
11. Host a dinner party
If you're used to playing host, your first Christmas together is a wonderful time to invite your favorite people over for a beautiful and merry dinner party. You and your spouse can cook a meal together, set the table and choose the perfect holiday music playlist. It's a bonding experience and a lovely way to make the people around you feel loved, too.
12. Organize a gift exchange
Be it a Secret Santa or White Elephant, a gift exchange party is an entertaining and social way to celebrate your first newlywed Christmas. Invite your closest friends and family members to be a part of it, and make it fun and silly, or serious and thoughtful. You and your partner might even want to make it a yearly tradition.