How to Stop Biting Your Nails for Good, Just in Time for Your Wedding
Everyone wants beautiful nails for their wedding, but if you're a chronic nail biter, you may be dreading the salon. Ditch the bad habit and get your nails back into shape with these tips from the pros.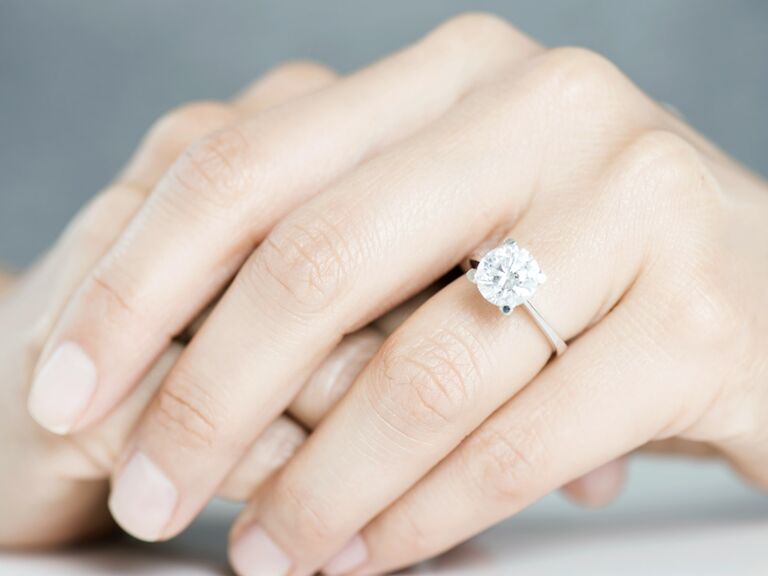 iStock
You know you shouldn't do it, yet you can't resist biting or picking at your nails after all these years. Now with your wedding coming up, you realize how big of problem this is. From that first ring selfie to holding the bouquet and your partner's hands, all attention will be on your hands—and short, jagged nails won't do. Luckily, with a bit of time (at least three months) and some much-needed TLC, you can nurse your nails back to health. We spoke with Jin Soon Choi, founder of JINsoon nail salons and polish, and Suzie Weiss-Fischmann, cofounder of OPI, about how to achieve the divine digits you always wanted.
1. What are some practical tips women can use to stop a nail biting habit?
Jin Soon: The least invasive method to stop a nail biting habit is to wear a noticeable color or a glitter on the tip of your nails as a reminder not to bite your nails. If this doesn't work, try applying a bitter-tasting herb on your nails. Some people get fake nails or gel manis, making it less convenient to nibble. I even wrapped nails with a colorful tape for one of my friends to get her to lose the nail-biting habit. I've seen several instances in which my clients stop biting their nails only when they have an external motivation to do so, as in the case of meeting a new romantic prospect.
Suzie Weiss-Fischmann: It's not an easy habit to break. My number one recommendation is to make manicures a part of your regular schedule—at minimum, you should go get your nails done twice per week when you're trying to stop nail biting. First, when you invest in your nails, you'll be less inclined to bite. Second, when your nails look perfect all the time, psychologically you'll be hesitant to mess them up. Finally, many people bite nails because of stress or other factors. Look at getting a manicure as a little "psychoa-nail-ysis" where you can transition from one bad habit to a new healthier one, while getting some personal interaction and very important "me" time. Book your first appointment straight away and schedule them in advance so you don't continually put it off or forget.
2. Are there any treatments you can buy that will help? Are there any DIY solutions?
JS: There are commercially available products that claim to stop nail biting, but I prefer more organic methods. I once worked with a model on a photo shoot who had great nails, so I complimented her on them. She said she used to bite her nails when she was a teenager so her mom put some cod liver oil on them and it worked (and it also moisturized her nails and cuticles). The most natural way is to use a scent you dislike, be it garlic, onion or fish oil.
SWF: Keeping your hands and cuticles moisturized is very important. When you bite your nails, your cuticles get very dry. When your cuticles don't look good, you'll want to pick at them, which inevitably leads to nail biting. To help strengthen your nails, I suggest using an OPI treatment product like Nail Envy that's geared toward your specific need, whether it's peeling, weak nails or ridges. Strong, healthy nails are harder to bite.
3. How can you get your nails back into shape after extensive biting? How can you get your nails to grow back?
JS: Sometimes it's best to get artificial nails until your nails grow out. I'm not a big fan of artificial nails, but it might be necessary for someone with practically no nails. Just remember to use nail strengthener after you take off your temporary artificial nails.

SWF: Nails grow all the time, so if you can stop biting, they will keep growing. Use a base coat with strengthening qualities and continue to get manicures regularly, dropping down to once per week after your nails are repaired.
4. What are some tips to prevent someone from going back to biting?
JS: Like many bad habits, it takes mental fortitude and a pleasant distraction to keep them at bay. Keep taking care of your nails by getting manicures weekly and applying cuticle oil and hand lotion often. The improvement in your nails can be the motivation you need to permanently break the habit.
SWF: To keep from going back to nail biting, don't stop with maintenance. By continually putting effort into making your nails look and feel beautiful, it's harder to slip and start biting again.