The Pandemic Could Be Making Your Hair Fall Out
Here's what you need to know.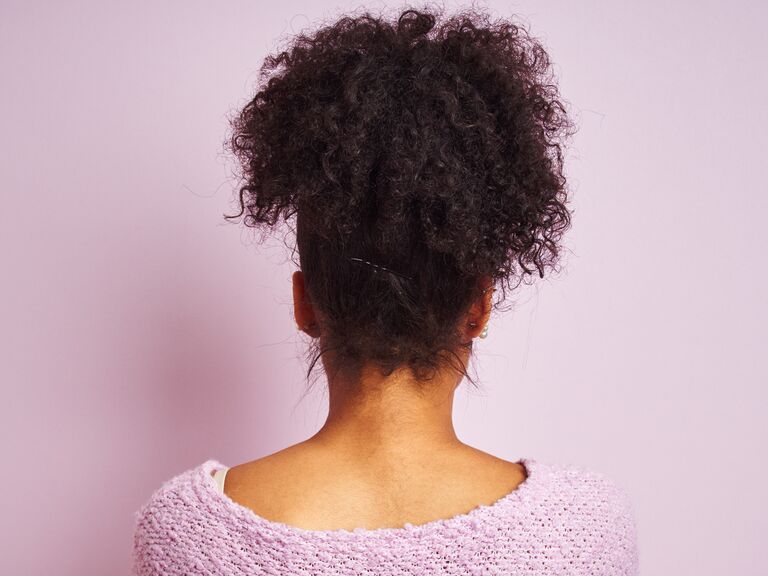 Krakenimages.com/Shutterstock.com
We have included third party products to help you navigate and enjoy life's biggest moments. Purchases made through links on this page may earn us a commission.
Picture this: you're washing your hair in the shower and a big clump comes out in your hand (like, bigger than usual). Sound familiar? If it does, you're not alone. High levels of stress can trigger hair loss, and between the coronavirus pandemic, postponed weddings, and the intense election, it's a stressful time.
While there are many signs of stress, the state of your hair is a key indicator. "I always joke that it's the hair, not the eyes, that are the window to the soul," says dermatologist Dhaval Bhanusali, MD. "Whether it's job issues or relationship problems, the hair can always show if something is off." If you're noticing extra shedding, it's likely a sign of distress from the pandemic.
If you're stressed, your body's automatic response is to conserve its resources for the most vital organs and functions. "In periods of fight or flight (which is what stress feels like to our bodies), our bodies don't send precious resources towards growing hair since hair isn't actually needed," explains dermatologist Papri Sarkar, MD.
However, there's no need to panic. "The good news is that the problem is reversible and only affects 10 to 15% of total hairs at any given time," says dermatologist Corey Hartman, MD. "So, while it may seem as though all of the hair is going to come out, it won't."
Still, it's valid to feel upset about the change in your mane. "Hair is a very emotional thing for all people," says dermatologist Caren Campbell, MD. We spoke to experts to find out exactly how to treat stress-related hair loss during these challenging times.
Can stress cause hair loss for to-be-weds?
The short answer is yes, stress can cause hair loss for everyone—especially to-be-weds. "Stress can trigger your hair follicles to shift from the growth phase into the resting phase (known as telogen phase), which results in a transient increase in hair shedding, known as telogen effluvium," explains dermatologist Onyeka Obioha, MD.
Stress triggers a release of the hormone cortisol, also known as the fight-or-flight hormone. Cortisol keeps your body functioning as efficiently as possible in times of distress and diverts energy from certain systems to ones that are higher priority. That's where hair loss comes into the equation.
"Higher stress levels and higher cortisol levels mean there's a lot of energy being deflected from the hair to manage other imbalances that the body is feeling," explains Elizabeth Cunnane Phillips, a consultant trichologist at Philip Kingsley. "Hair is a nonessential tissue, which means the body will never prioritize it. It's only prioritized when we make sure it has everything it needs." In deflecting energy away from the hair, cortisol shifts follicles into the "resting phase," which causes hair to fall out three months later. Campbell says the shedding can last anywhere from three to 12 months.
It's worth noting that stress isn't the only factor that impacts hair loss. Diet, hormones levels, the state of your immune system, genetics, and the environment (think: harsh weather, pollution in the air, and more) can all impact the health of your strands. However, Phillips notes that stress can affect several of these factors, and in turn affect your hair growth. "When we're stressed, frequently we're not eating as well or exercising as much as we normally do," she says. "Or, our ability to de-escalating our stress levels is compromised." That's why it's important to approach stress-related hair loss from a holistic standpoint so that your mane has everything it needs to grow back stronger and healthier than before.
How the Pandemic May Be Contributing to Stress-Related Hair Loss
"Any major shock to the system like rapid weight loss or weight gain, new medication, high fever, recent illness or vitamin deficiency can trigger the resting phase of the hair cycle and shedding by the root," explains Hartman. "Emotional stressors like loss of a loved one, loss of a job, relocations and breakups can also trigger telogen effluvium." So, of course the global pandemic—and everything that has accompanied it—can cause stress-related hair loss.
Couples who planned weddings for 2020 and early 2021 face an added layer of stress. Rescheduling a wedding involves juggling calls from vendors, handling questions from guests and grappling with the disappointment from postponing your nuptials. "Humans are lonely and shell-shocked, and it's becoming hard to believe that there's good news around the bend," Sarkar says. "That compounded with the everyday stressors that are always present in our lives (money, love, jobs, family, health) has brought stress levels to a maximum."
If you're grappling with this kind of stress (and associated hair loss), seek help from a professional ASAP. "Just remember, stress is normal—especially during a pandemic," Bhanusali says. "Your dermatologist is there to guide you to calmer waters, but be sure to see them sooner rather than later."
It's worth noting that a potential side-effect of contracting COVID-19 is hair loss. However, Hartman says this isn't specifically caused by coronaivrus. "The shedding is not directly related to COVID-19 infection, but rather a physiologic response to the illness," he explains. "Any viral infection, particularly those associated with a high fever, can directly cause an increase in hair shedding. So, the infection itself can lead to telogen effluvium, but so can the stress of living through this new normal that we've all adopted for the past eight months."
How To-Be-Weds Can Address Stress-Related Hair Loss
Good news: There are many different ways to treat stress-related hair loss. "[Options include] nutritional supplements, topical medications, oral medications and PRP," says dermatologist Marie Hayag, MD. However, she strongly encourages making sure there's no other medical cause of the hair loss before assuming stress is the culprit. If, however, you've identified stress as the reason for your shedding, read on for nine ways to deal with it.
See a Specialist
First thing's first. If you're experiencing hair loss, it's best to consult a specialist. They'll talk to you about everything (stress levels, diet, hormones and more) so they have a full picture of what's going on. That way, they can create a treatment plan to address your unique needs. "Hair loss is a distressing condition and is best evaluated by a board-certified dermatologist, as we're the experts in hair skin and nails," Campbell says.
Dermatologists in particular are able to provide you with laser therapy (which Hayag says stimulates blood flow to the follicles) as well as a treatment called platelet rich plasma (PRP). "PRP uses platelet-rich plasma full of growth factors that encourage hair growth and promote hair thickness," Hartman explains. "PRP is helpful for telogen effluvium because it speeds the cycling of hair from the telogen to anagen phase, decreasing the time of rest and shedding." Sarkar adds PRP doesn't work for everyone, but it's a viable solution for many suffering from stress-related hair loss.
Manage Stress
The best way to reverse this condition is to eliminate the stressor causing this hair loss. However, that's not always possible. Instead, experts encourage to-be-weds suffering from telogen effluvium to manage their stress. "I advise patients to take thirty minutes every day to focus on themselves and shut out the rest of the world," Hartman says. "This can be achieved through exercise, meditation, prayer, reading or any other activity that helps the patient to relax." Campbell recommends stress-busting techniques like meditation, journaling, hiking or being in nature to help soothe your systems. You can also utilize apps developed to help with mindfulness and meditation like Calm and Headspace.
Take Care of the Basics
Hair is a nonessential tissue, so your body will halt its growth to take care of any imbalances you have. Certain nutrients are critical for optimal hair growth, which is why Obioha encourages to-be-weds to eat a well-balanced diet rich in protein, B vitamins, iron and zinc. Make sure you're getting enough rest, staying hydrated, and finding time to stick to your exercise routine. All of these things can help soothe your stressed-out body and promote hair growth.
Additionally, the environment can impact your hair. Protect your tresses from harsh winter weather by wearing a hat and using a moisturizing mask. If you have any kind of condition like seborrheic dermatitis (aka dandruff), eczema or psoriasis, see a professional to get specialized treatments and get it under control.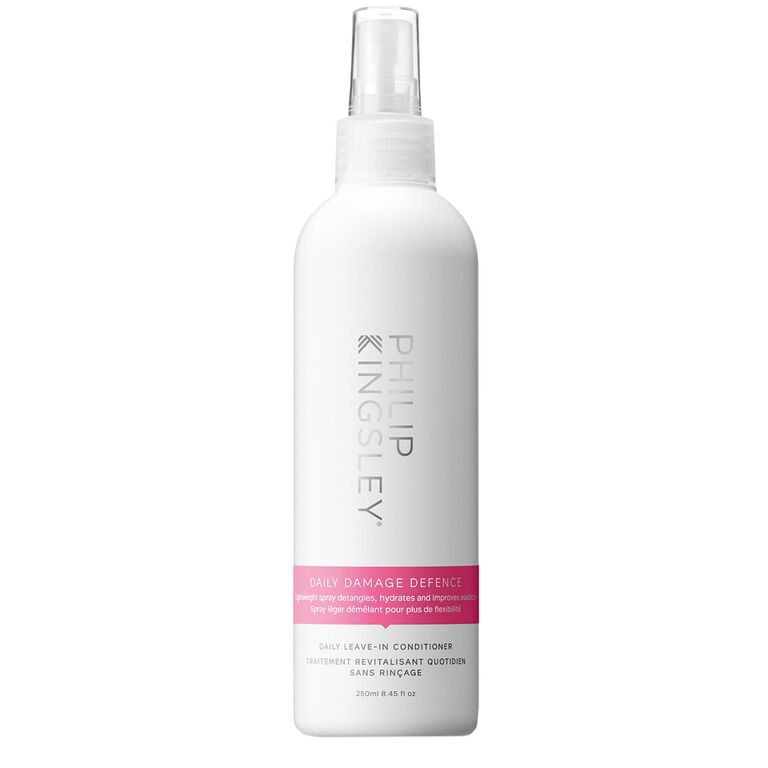 Protect your strands from UV rays and heat styling with this spray. It's a lightweight leave-in that detangles, hydrates and improves elasticity.
Philip Kingsley Daily Defense spray, $29, PhilipKingsley.com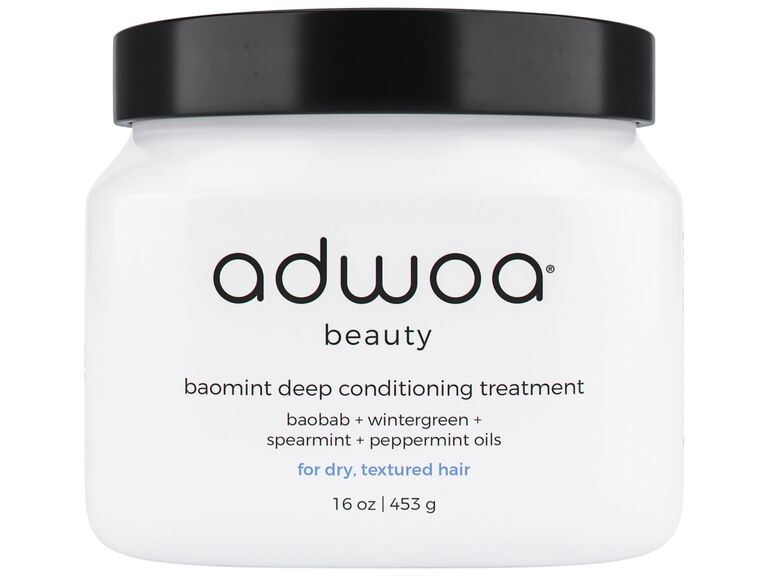 Replenish your mane with this top-rated deep-conditioning mask. It's made with shea butter, prickly pear oil and pumpkin seed oil to penetrate into the hair shaft and moisturize your locks.
Adwoa Beauty Baomint deep conditioning treatment, $36, Sephora.com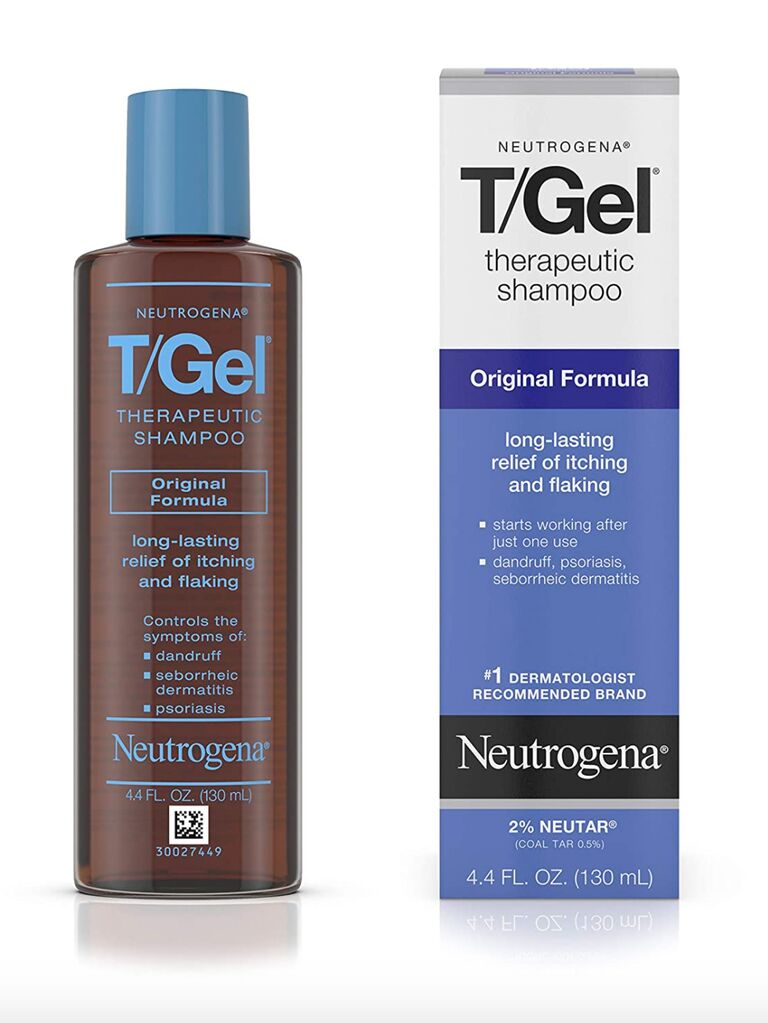 Cold weather can exacerbate dandruff, which can impede hair growth. Get it under control with this medicated shampoo.
Neutrogena T/Gel therapeutic shampoo, $8, Amazon
Consider Taking a Supplement
There are so many hair loss supplements available, it's difficult to know what's worth your money. First, Bhanusali says many supplements on the market don't have enough research to support their claims. "I generally recommend 5000 IU of vitamin D3 daily and a good multivitamin."
However, there are a few supplements that have had success. One expert-favorite is Nutrafol. The holistic supplement includes nutrients that are essential for hair growth as well as plant-powered adaptogens that regulate stress levels in the body. The supplement contains a myriad of other ingredients, such as marine collagen, saw palmetto (a DHT inhibitor) and antioxidants. All of these work together to shift your hair back into growth mode.
This supplement can be used even after your hair grows back, as it helps to regulate your stress response down the line and keeps your hair-loving nutrient levels up, according to Sophia Kogan, MD, chief medical advisor and co-founder of Nutrafol. "The thing is that stress doesn't just go away," she says. "You can get over the hump of an acute stressor, but that chronic stress is still going to be there. The key is to intervene and be sure that you're optimizing your hair health as much as possible during that regrowth."
And before you reach for a biotin supplement, think again. William Gaunitz, WTS, and certified trichologist of Advanced Trichology, says that it'll only help if you're deficient in vitamin B7. " It's widely known in the hair loss treatment community that biotin is the most over-recommended nutritional supplement worldwide because only two percent of the world's population has a biotin deficiency," he explains. "It's actually very rare that it helps."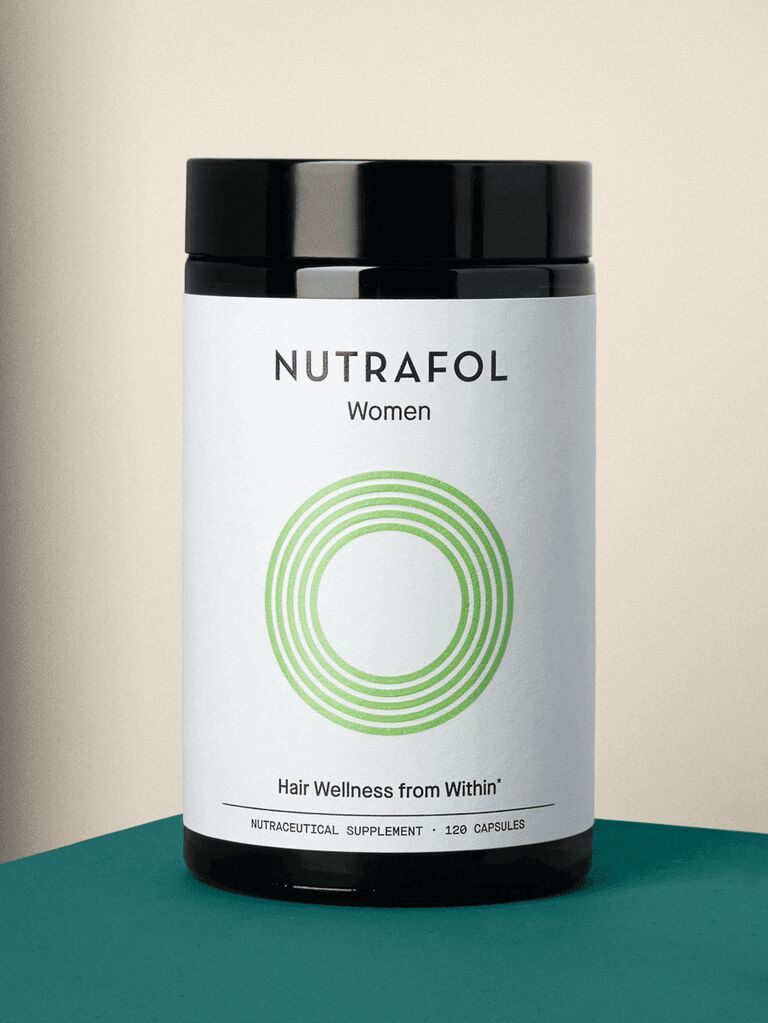 A dermatologist-favorite, this clinically-proven supplement can improve your hair in just a few months.
Nutrafol Nutrafol Women, $88, Nutrafol.com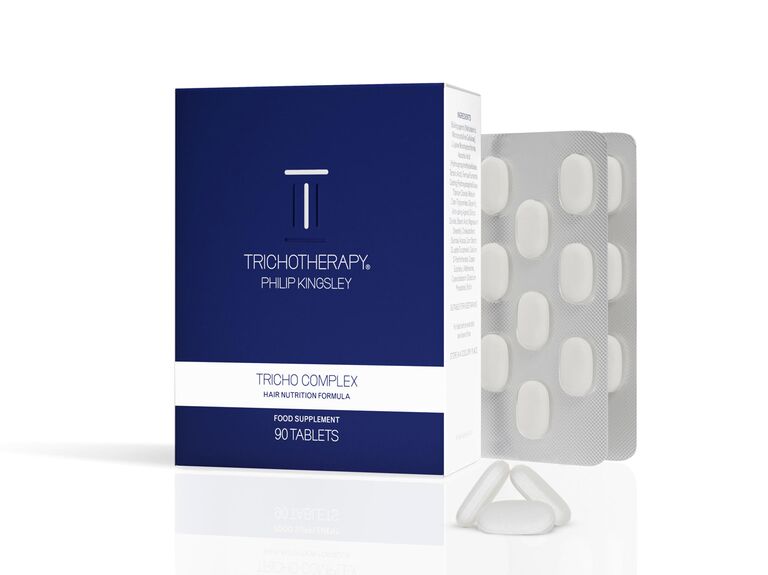 Phillip Kingaley's Tricho Complex contains a mix of basic nutrients and vitamins that encourage hair growth.
Philip Kingsley Tricho Complex, $68, Amazon.com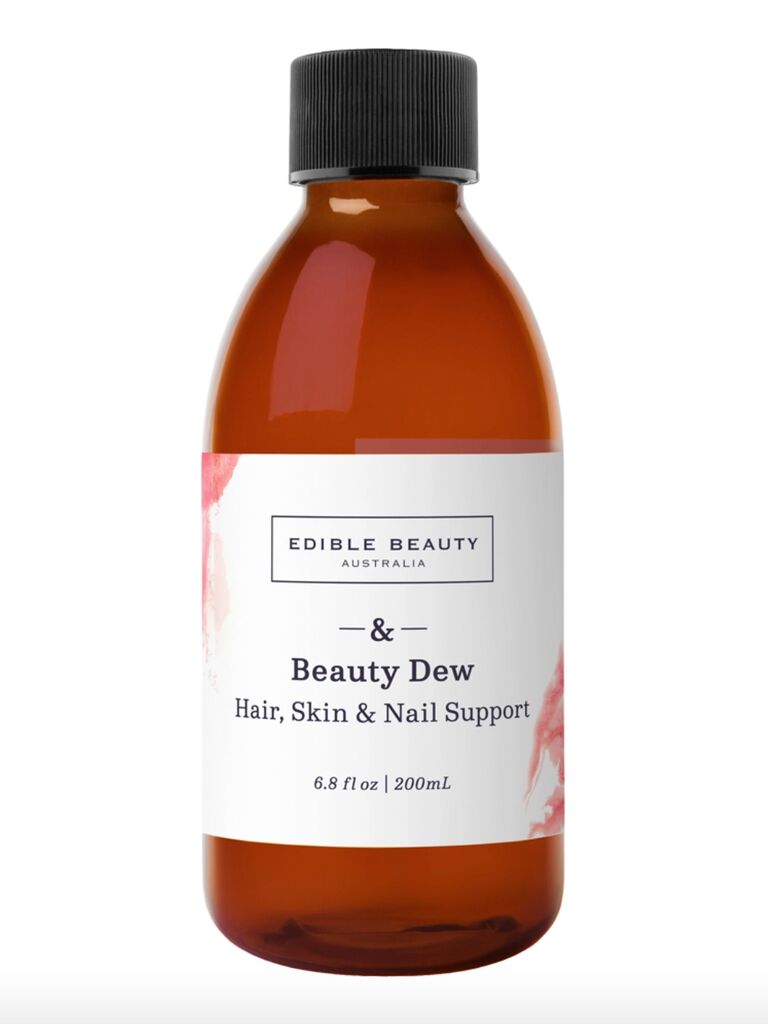 Packed with powerhouse ingredients, this elixir encourages collagen production to help your hair, skin and nails.
Edible Beauty Beauty Dew, $31, EdibleBeautyAustralia.com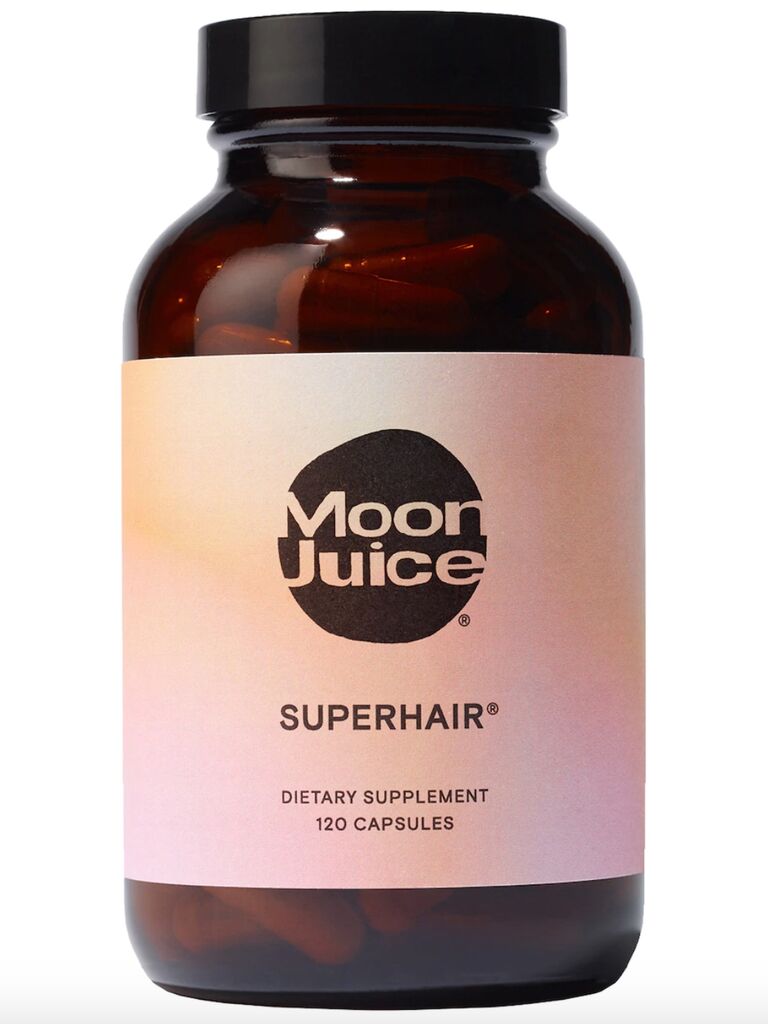 This buzzy brand's hair supplement contains hair-loving nutrients, stress-busting adaptogens and follicle-protecting botanicals.
Moon Juice SuperHair daily hair nutrition, $60, Sephora.com
Keep Your Scalp Clean
There's a common narrative stating you shouldn't wash your hair often. However, Phillips says a clean scalp is actually the best environment for hair growth. "We don't want sweat or sebum on there in the same way we wouldn't want it on our face," she says. If you're prone to an oily scalp, you like to work out, or you use a lot of hair products, gently cleansing your scalp will help remove any buildup (which can interfere with your hair growth process). The key is to find the right product for your tresses. We rounded up scalp-focused products that promote a clean, healthy environment for your hair to grow.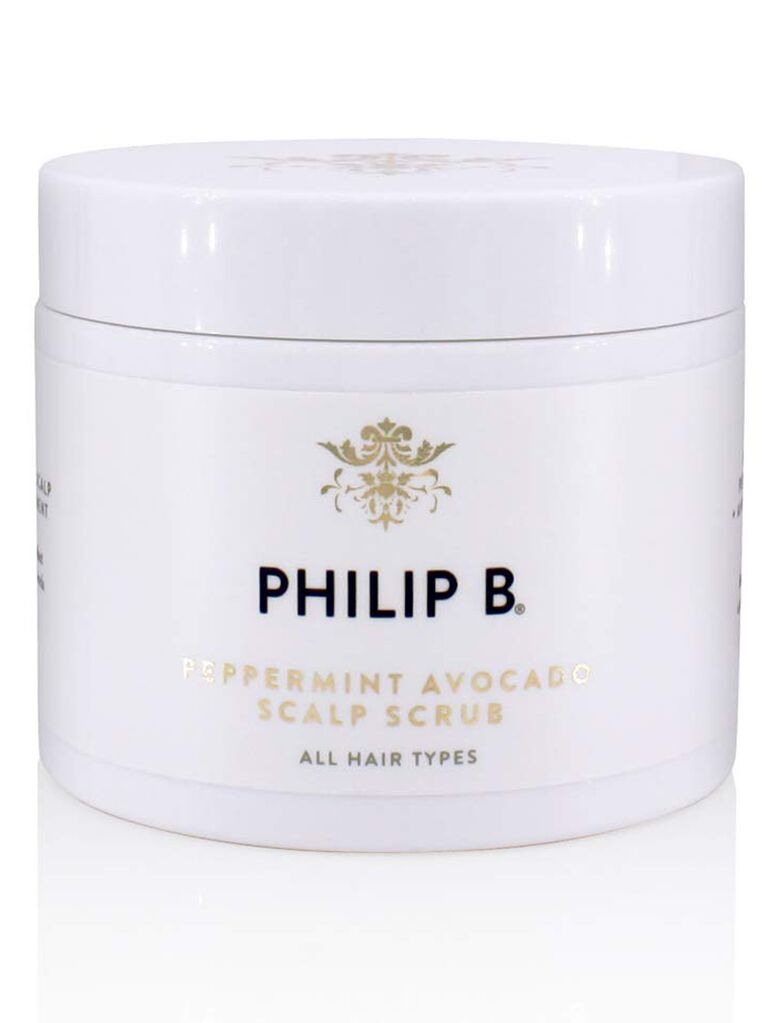 This scalp scrub gently removes dirt, oil, product and environmental build up while refreshing your head as well.
Philip B Peppermint Avocado scalp scrub, $58, Amazon.com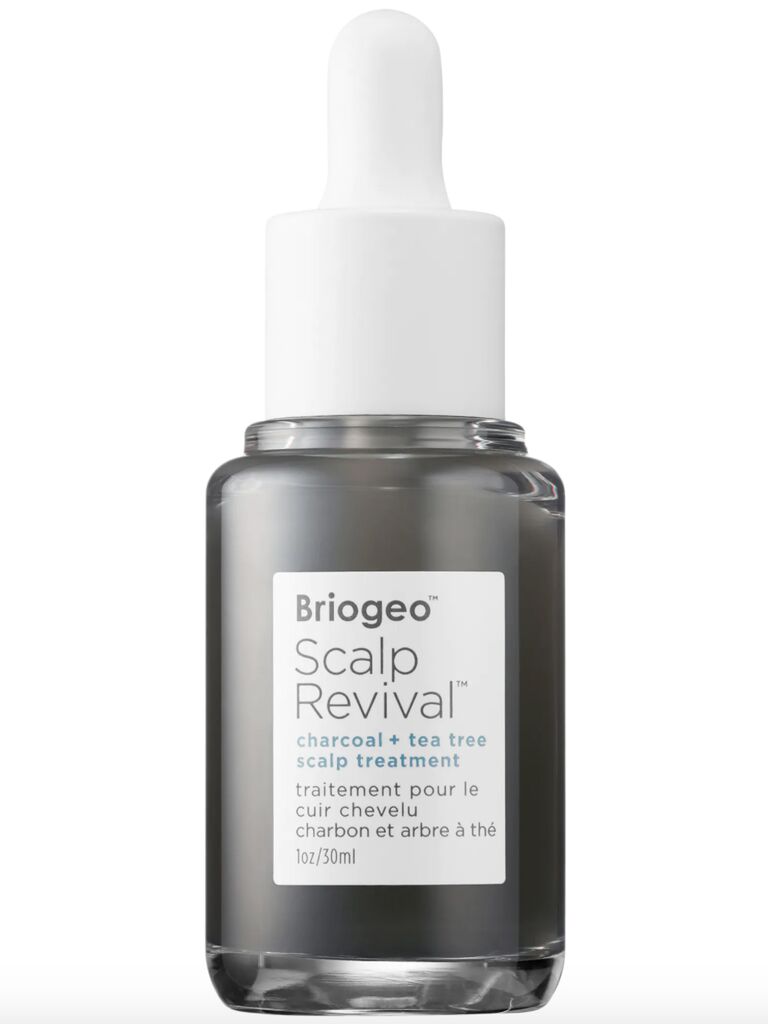 This charcoal treatment draws impurities from the scalp and hair follicle to remove buildup while the peppermint, spearmint and tea-tree oils reduce scalp inflammation.
Briogeo Charcoal + Tea Tree scalp treatment, $32, Sephora.com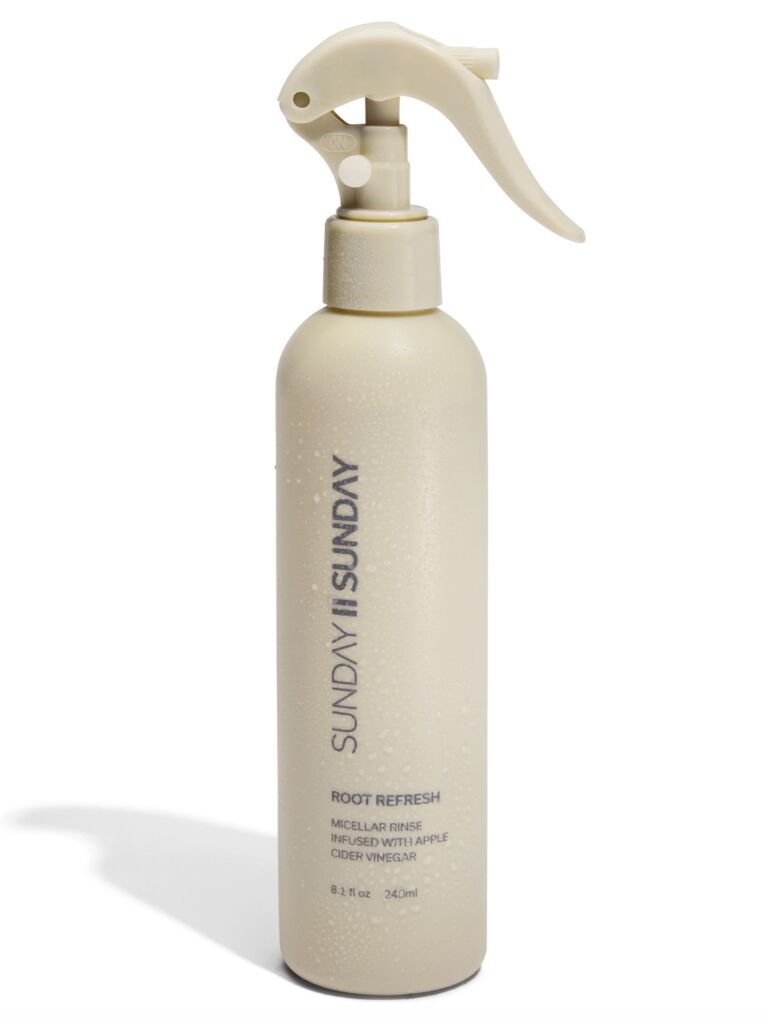 This lightweight cleansing mist combines micellar water and apple cider vinegar to gently remove product buildup, excess oils and unwanted odors from sweat. Plus, it's specifically formulated for curly or protective hairstyles.
SundayIISunday Root Refresh micellar rinse, $31, MySunday2Sunday.com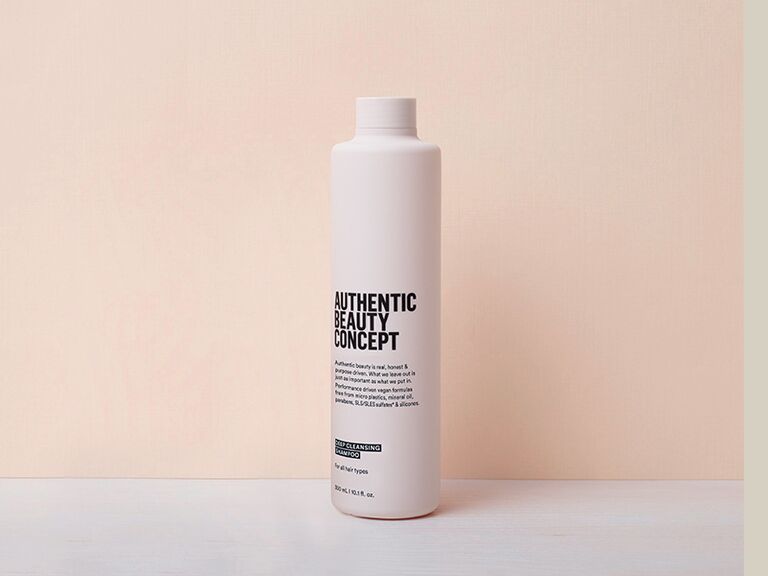 Clarifying shampoos can be harsh on the scalp and hair, but this one is just gentle enough and will still effectively clear out any buildup and excess oil.
Authentic Beauty Concept deep cleansing shampoo, $28, Ulta.com
Hydrate Your Hair
While your scalp plays a huge role in hair growth, the health of your mane matters too. Dry, brittle hair is more prone to breakage, so it's important to keep it moisturized. Use deep-conditioning treatments like masks, oils and leave-in products to keep your hair hydrated and happy.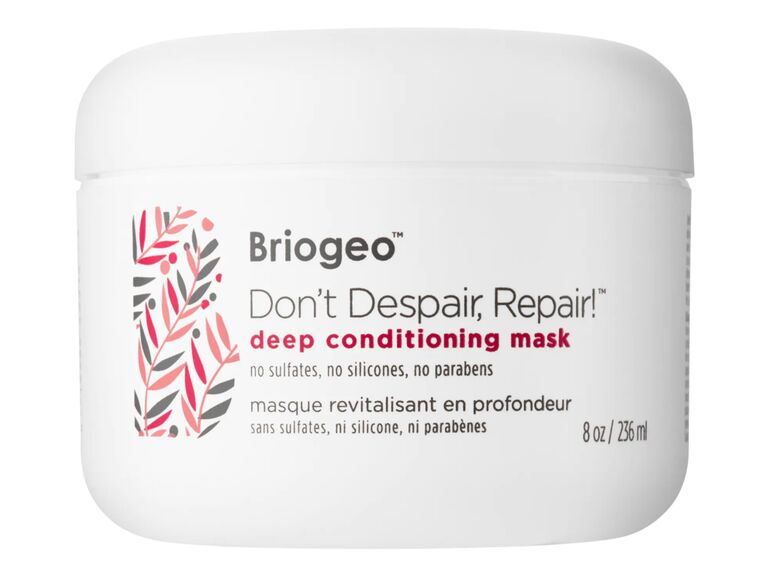 This award-winning conditioning mask has rosehip oil, algae extract and B vitamins to hydrate and strengthen your mane.
Briogeo Don't Despair Repair deep conditioning mask, $36, Sephora.com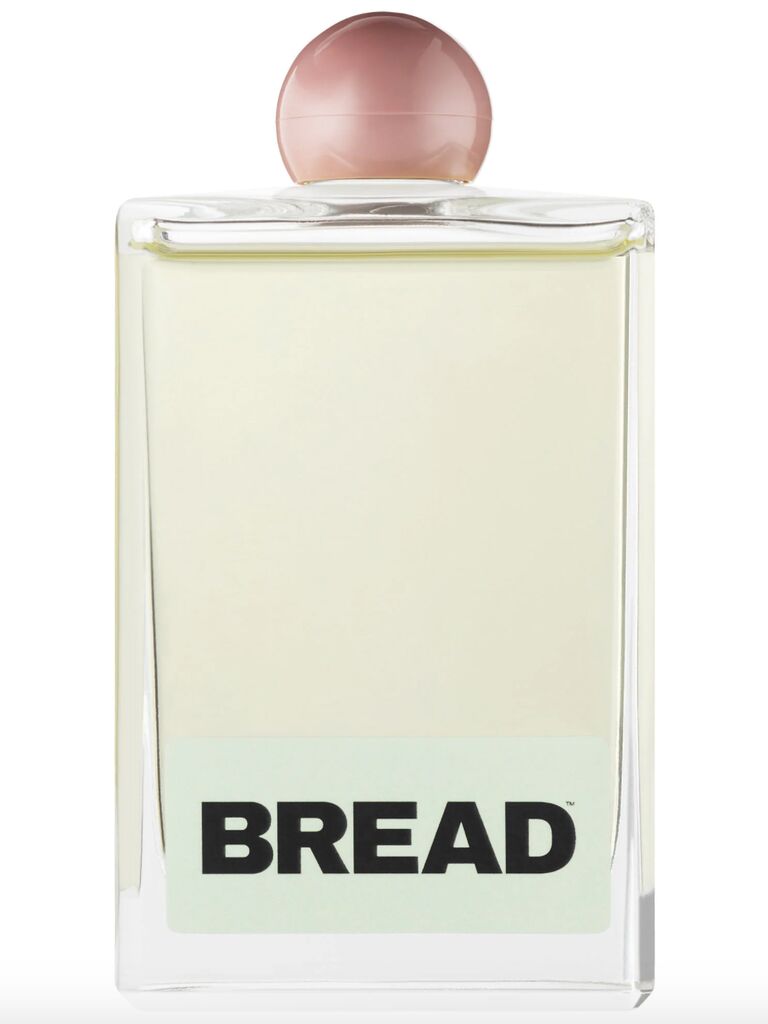 This cult-favorite hair oil softens and smooths your tresses while protecting your scalp from environmental aggressors with a dose of vitamin C.
Bread Hair Oil Everyday Gloss, $24, Sephora.com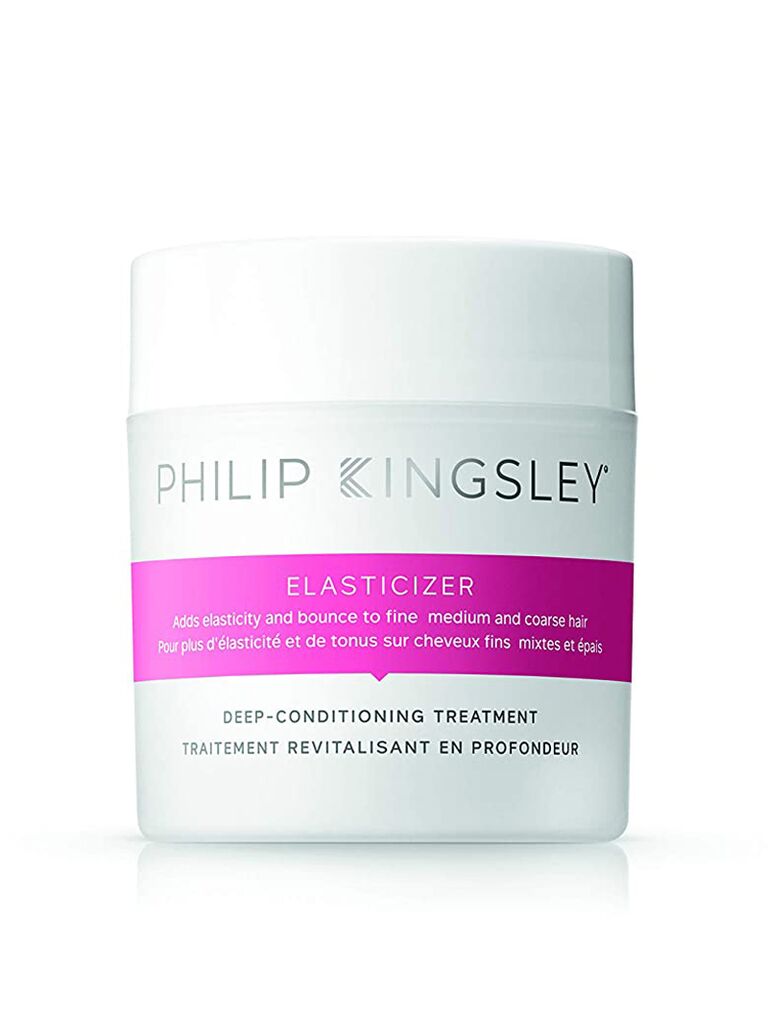 This celebrity-approved product was originally developed for Audrey Hepburn. It delivers elasticity, manageability, bounce and shine to all hair textures to prevent future breakage.
Philip Kingsley Elasticizer deep conditioning treatment, $49, Amazon.com
Apply Growth-Inducing Topicals
While the root of stress-related hair loss is internal, applying topicals to your scalp encourages growth. Experts agree that products with minoxidil (like Rogaine) can help with hair loss. Campbell says if you're struggling with a temporary case of stress-related hair loss, apply Rogaine for a year and then discontinue use. Word to the wise: You also shouldn't use it if you're pregnant or breastfeeding.
Bhanusali says he creates custom prescription treatments for his patients through HairStim. "It's a platform that allows us to use higher amounts of minoxidil, topical spironolactone , and other ingredients to help our patients," he explains. "You have to be evaluated by a dermatologist to get access to these compounds, and they have to ensure you are a good candidate."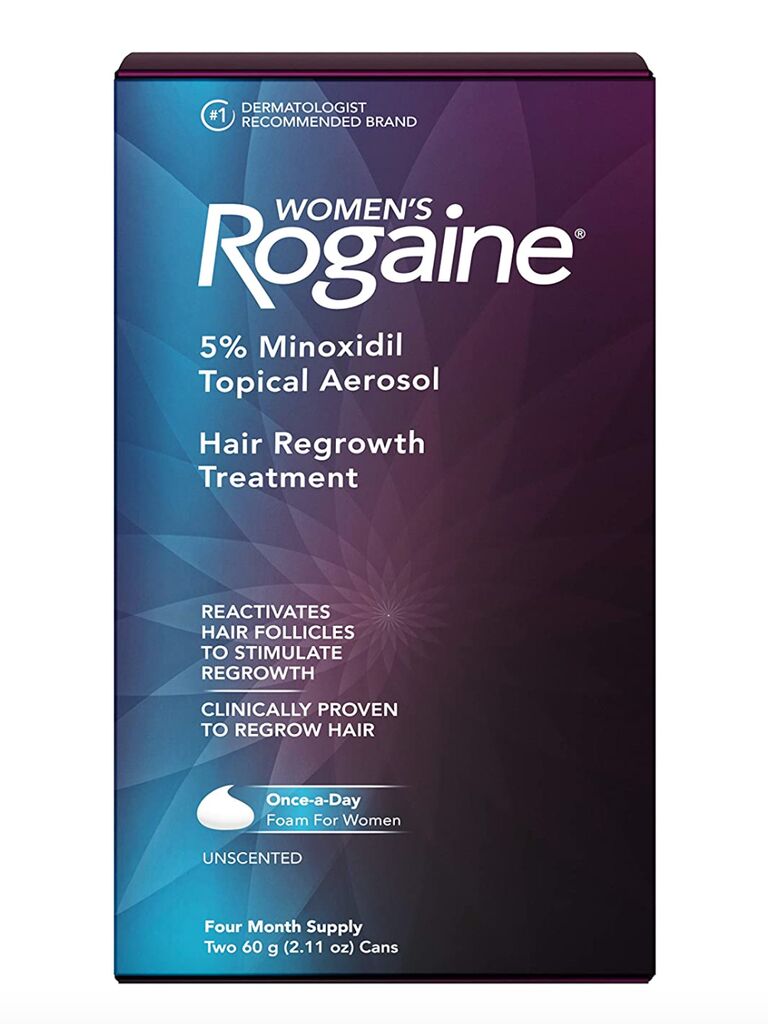 Rogaine is the clear favorite among dermatologists when it comes to topicals.
Rogaine Women's Rogaine 5%minoxidil unscented foam, $45, Amazon.com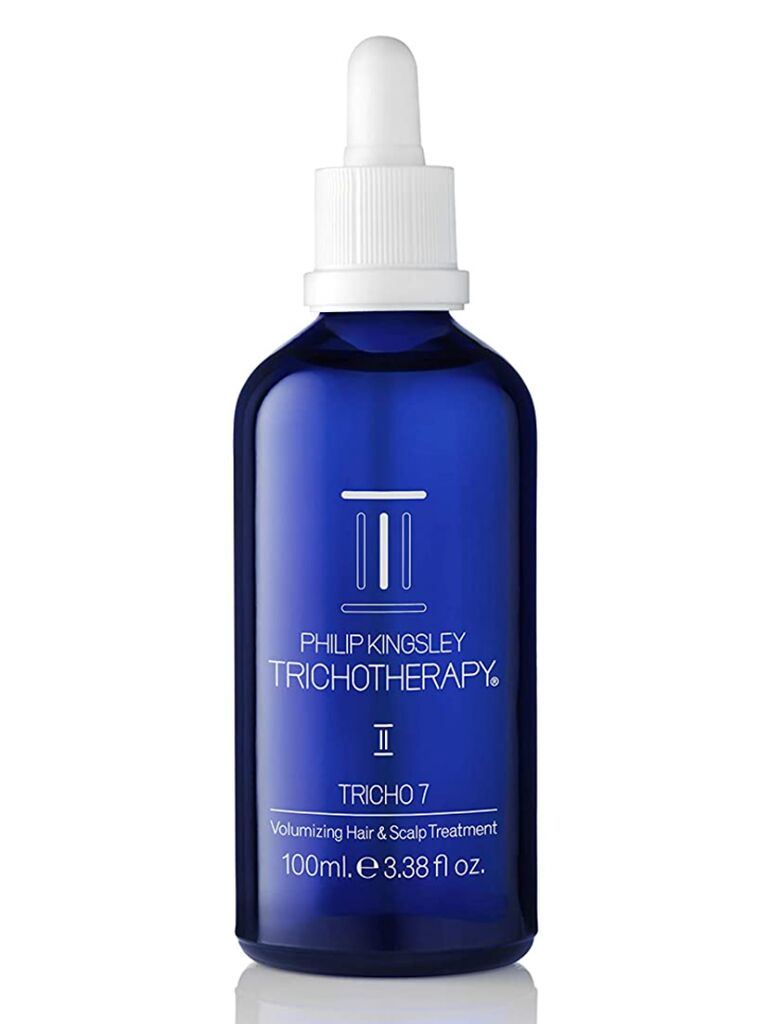 These drops repair and protect the scalp while nourishing hair from root to tip.
Philip Kingsley Trichio 7 volumising hair & scalp drops, $89, Amazon.com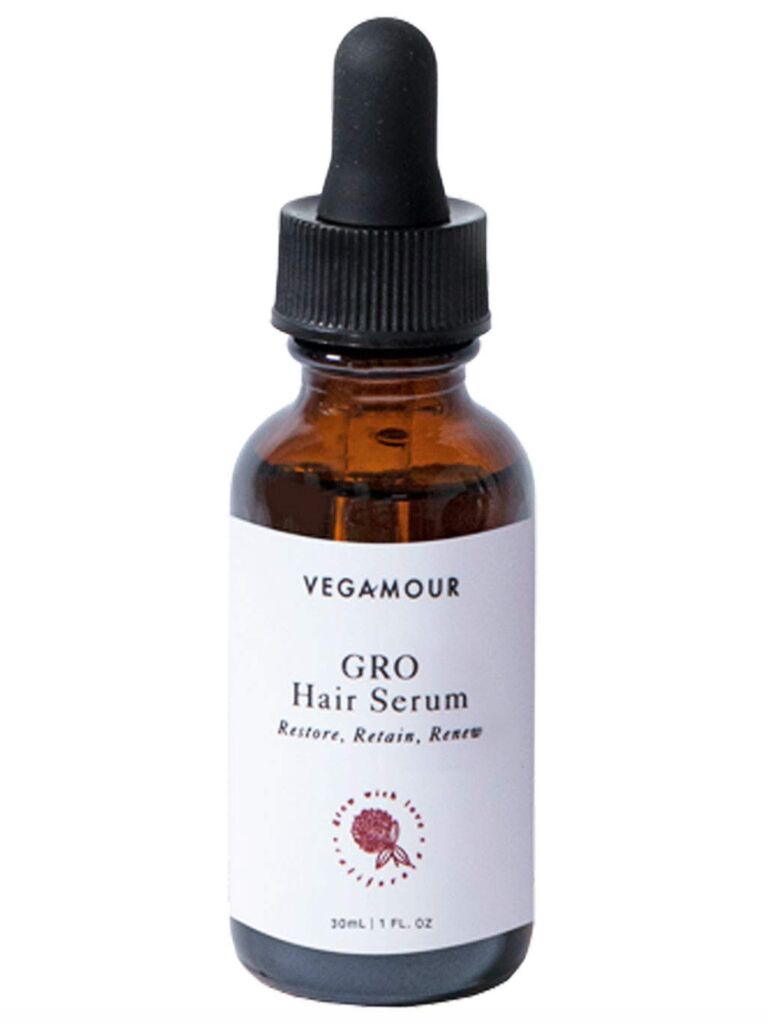 This plant-based serum encourages growth while also strengthening and protecting your roots.
Vegamour GRO hair serum, $48, Amazon.com
Be Mindful of Heat Styling
High levels of heat can damage your hair and cause breakage. To prevent any further damage to your tresses, be mindful of the tools you're using so that your hair can stay healthy. Check out some of our favorites below.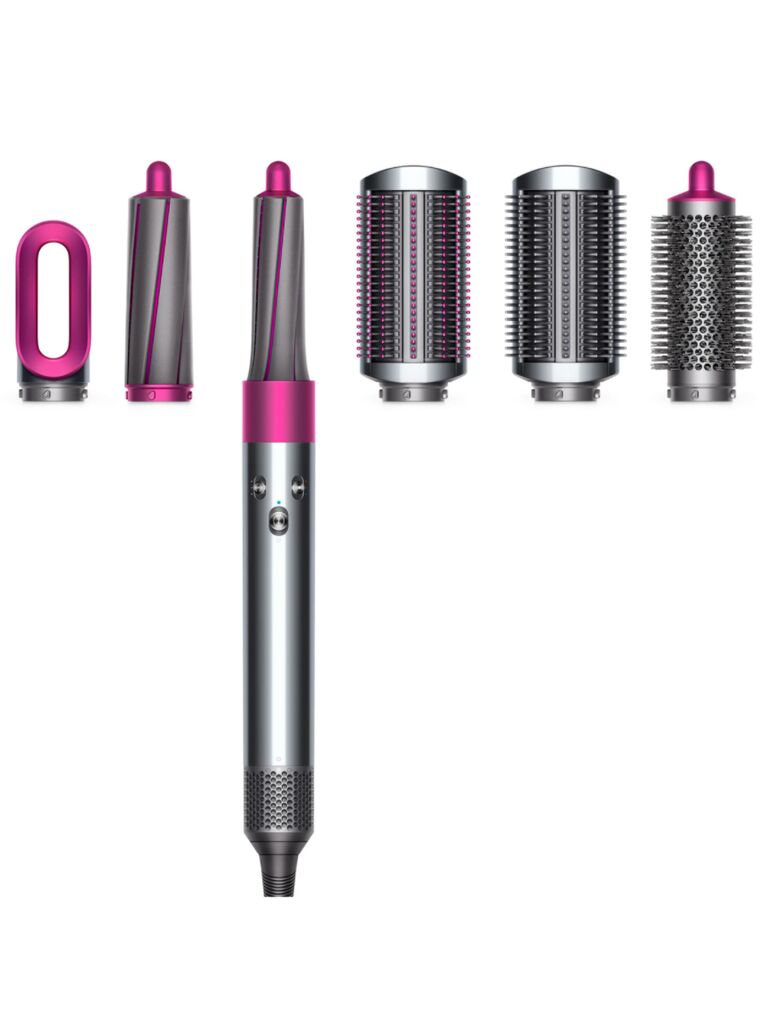 The Dyson airwrap uses air to wrap damp hair around the curling barrel and blow dried it in the shape. You're able to achieve perfect waves without as much damage.
Dyson Airwrap complete styler, $549, Nordstrom.com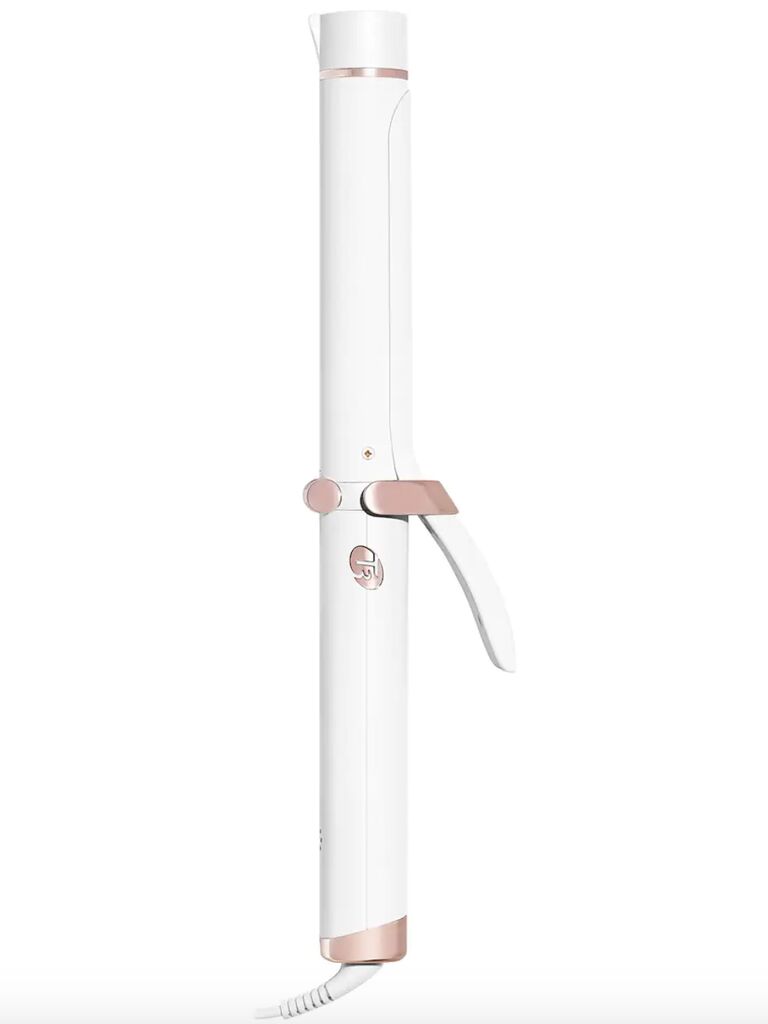 This curling iron delivers personalized heat settings with a smart-touch interface and nine different heat settings so you can minimize any damage.
T3 Curl ID 1.25 smart curling iron with interactive touch interface, $235, Sephora.com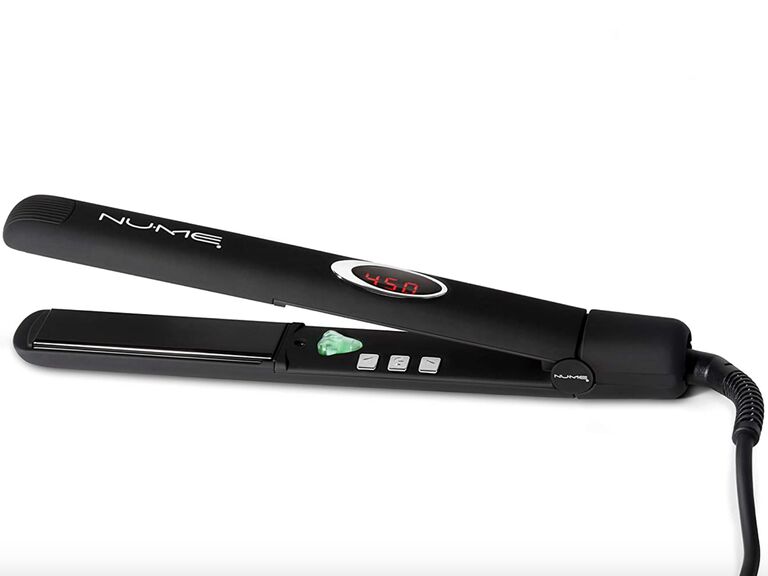 NuMe's best-selling straightener has technology to help reduce breakage and protect hair over time.
NuMe Megastar hair straightener, $179, Amazon.com
Experiment With Extensions
If you're planning a minimony or elopement and don't have the time to wait for hair growth, consider using extensions on your wedding day. You can easily clip (or tape) them in and style them to achieve your dream look. "Extensions are incredibly transformational and help elevate any look making you feel extra special on your wedding day," says Jordynn Wynn, co-founder of Insert Name Here. "To ease any stress, we recommend getting them in advance so you have time to play around with them and make any color adjustments with your stylist if needed." However, it's best not to wear them all the time, as the weight can damage your hair and lead to breakage.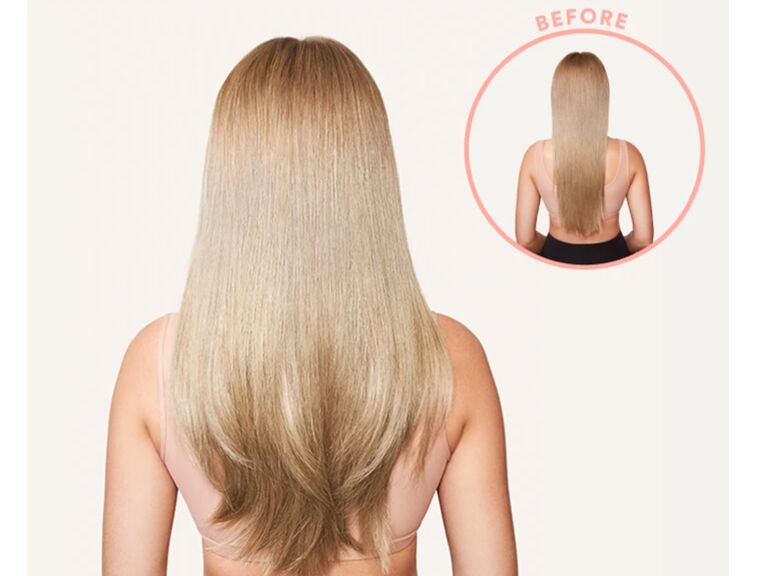 Add these U-clip extensions to your strands and style however you'd like. They'll add thickness and length instantly.
Insert Name Here U-Clip 16 inch, $69, InsertNameHere.com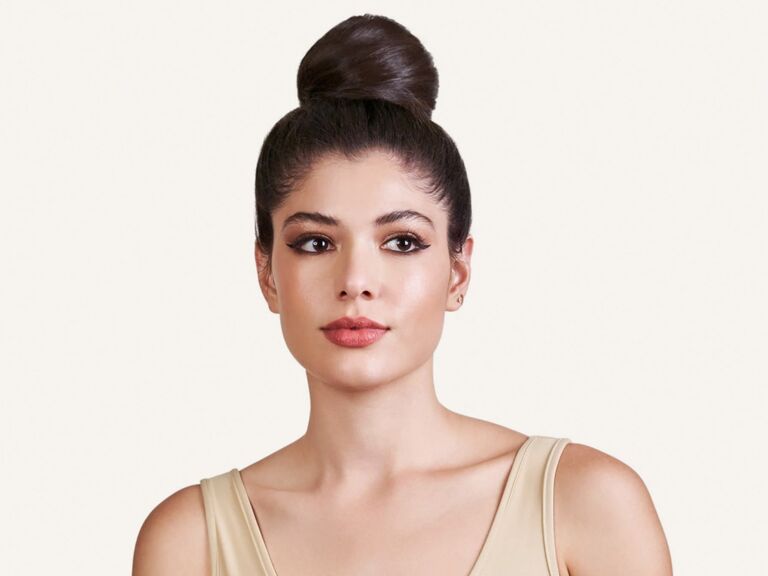 If you've been dreaming of a romantic updo, use this versatile bun. It'll blend in seamlessly with the rest of your 'do.
Insert Name Here Sammy, $38, InsertNameHere.com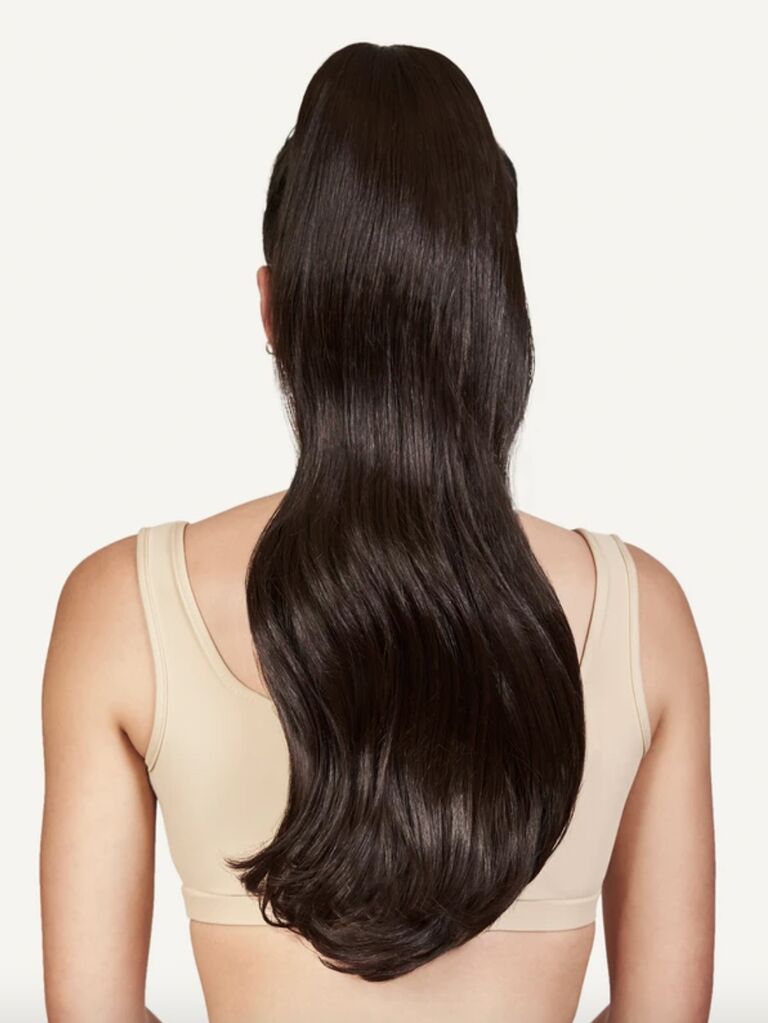 The ponytail is having a major moment in wedding fashion. We love this one because it comes with soft, natural-looking waves.
Insert Name Here Brit, $49, InsertNameHere.com