9 Insider Tips for How to Grow Out Your Hair
Expert advice from a celebrity hairstylist for wedding-ready locks.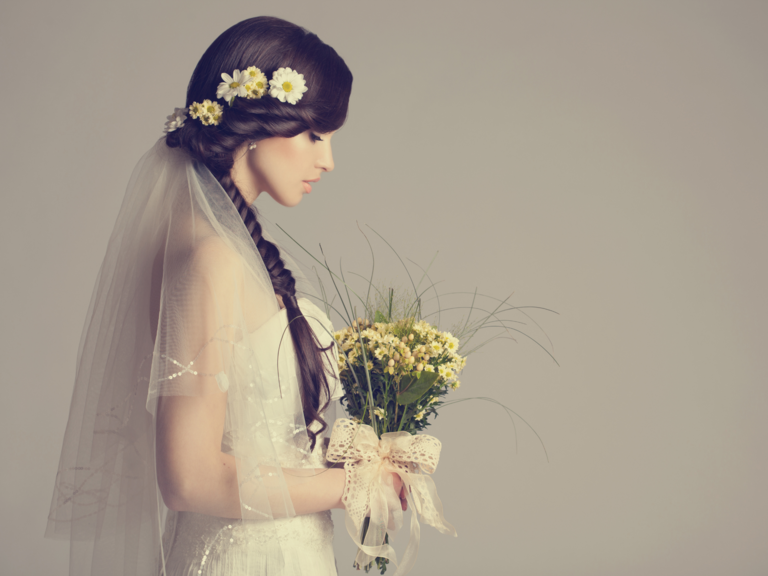 Photo: CoffeeAndMilk / Getty Images
A common question among brides-to-be—especially those with big-day beauty boards full of intricate braids, long loose waves or modern slicked straight styles—is how to grow out your hair. Unfortunately, there is no magic switch you can flip to grow long hair, but there are a handful of easy tricks—and an infinite array of hair growth products for women and men alike—that can help speed along the process. For help, we turned to the expert: hairstylist and salon owner Alex Brown, a Chicago-based pro who spent her early career alongside celeb stylist Jen Atkin and has tamed the tresses of A-listers like Chrissy Teigen, Olivia Culpo, Karlie Kloss and the Kardashians. Here, she breaks down the ideal timeline, offers insider tricks, and pegs her favorite products for hair growth. And, brides-to-be take note because all of these tips have a common denominator: Caring for your hair—and yes, also for your body and mind—is key, especially during wedding planning.
In this article:
How Long Does It Take to Grow Out Your Hair?
Fittingly, it takes about the same time to grow out your hair as it does to plan a wedding. "For long hair and versatility to do any style you want on the big day, I would recommend starting to grow hair out right after you get engaged!" advises Brown, who adds that hair typically grows about a half inch per month. With the average 12- to 18-month wedding-planning timeline, that's 6 or even 9 inches by our count! BTW, the longer the timeline the lower the stress—and the less stress, the less hair loss. We're all for drawing—and growing—it out.
How Can You Avoid the "Awkward Stage" of Hair Growth?
Depending on what length you're starting with, there is bound to be a bit of an "awkward" stage of growth (especially if you're growing out bangs!). But rather than trying fruitlessly to avoid the awkward stage, we say embrace it. Alex Brown offers some styling suggestions for that in-the-middle phase. "When you are working out, I recommend applying a hair mask before tying your hair back. This can create a nice sleek bun and will moisturize your hair at the same time," she says. "And, purchase cute hats or '90s hair accessories like scrunchies and claw clips!" Everything old is new again, after all.
9 Tips for Growing Out Your Hair
With advances in science and technology, hair growth treatments and products have come a long way. We asked Brown for her top tips for growing out hair, and her must-have products—-plus added some of our own—to come up with an easy-to-follow routine. Keep in mind, of course, that everyone's hair grows somewhat differently; while there's no one-size-fits-all solution, the below recommendations apply to (and are safe for!) all hair types.
1. Get Your Hair Trimmed
Though it may seem counterintuitive, keeping your hair trimmed while growing it out is key. "I suggest getting a trim and shaping every 10 to 12 weeks to maintain a clean, healthy look," Brown says. (The myth goes that cutting hair makes it grow; while that's not technically true, cutting hair does keep it healthy. And, healthy hair is crucial for growth.)
2. Apply a Hair Mask
At least once a week, work a hair mask into your routine. Hair masks are ultra-deep conditioning treatments that can strengthen, detangle, hydrat, and help prevent breakage; they're typically applied to wet hair and left in for 5 to 10 minutes (though each mask has its own specific instructions) "If your hair is already damaged from heat or color, I recommend applying K18 hair mask or Shu Uemura Ultimate Reset hair mask," Brown says.
3. Prevent Heat Damage
Even if you're not currently trying to grow your hair out, you want to avoid heat damage—which can cause breakage—whenever possible. Of course, this is easier said than done: Drying and styling is an everyday task for many of us. When you must blow-dry or use a heat styling tool, start by applying a heat protectant spray or cream. Brown recommends Maria Nila's Quick Dry Heat Spray or Cream Heat Spray; we also love Amika: Blockade.
4. Air Dry
Sometimes, your hair just needs a break. Take advantage of WFH days or relaxing weekends off to let your hair air dry after the shower; Brown recommends air drying or styling your natural texture as often as you possibly can. Allowing hair to dry naturally will also protect it from the excess heat of styling tools, as mentioned above.
5. Take a Supplement
OK, we admit: There's only so much you can do naturally. So, for those in need of a boost, try a hair growth supplement—they're not as scary as you think. Brown's top pick? Nutrafol. The brand has specific products for men and women; its men's line is a little more straightforward with just a supplement and a serum. Women can curate treatment based on age and hair-loss cause, such as hormones, metabolism, or even wedding planning stress! Wellbel is another option, heavily touted by influencer Danielle Bernstein of We Wore What (and truly, her results are impressive). This brand also offers slightly different versions for men and women. As always, consult your doctor before adding any supplements to your routine.
6. Apply a Hair Growth Serum
Especially if you are not keen on taking a supplement daily, products for hair growth, such as serums, are a great alternative. Brown's favorite for all hair types—and for both men and women—is OUAI Scalp Serum. The formula is inspired by skincare products to balance and hydrate the scalp, which in turn reduces shedding and creates fuller-looking hair (and, bonus, it boasts results in as little as 90 days—great for tighter wedding planning timelines!) For those with especially fine hair, check out Vegamour GRO Hair Serum.
7. Eat Healthy and Exercise
It seems to be the age-old answer to just about everything—this and drinking water—but there's scientific evidence to suggest that taking care of your body benefits everything else in turn. (Brown attests that when it comes to hair growth, this is certainly the case!) It can be easier said than done during wedding planning, when celebratory events for the entire year leading up to the wedding keep your schedule packed and your diet off-kilter; but aim at least for balance and moderation.
8. Incorporate Collagen
Collagen is having a trendy moment right now, but its hair-growth benefits are worth the hype. And there are bonus factors, too: The supplement is proven to help strengthen nails and improve skin, both of which will also be beneficial when it comes to wedding beauty prep. There are countless ways to take collagen, but the most basic is by mixing the flavorless powder into one glass of water a day (this will also get you drinking more water!). Vital Proteins is our go-to collagen brand; it also offers flavored powders to mix into smoothies (including Pumpkin Spice!), milky latte versions, collagen breakfast bars and more.
9. Be Consistent in Your Routine
As with so many things, consistency is key to seeing results in your hair growth. "Being very consistent and persistent with hair supplements and serums is very important," Brown says. "I think most people assume that if they purchase it and use it here and there over time it will work, but you really have to use it consistently as the directions say on the bottle." The same goes for diet, exercise, and protecting your hair from heat. Really, all of the above tips take time, consistency, dedication, and an extra dose of patience. It won't happen overnight—but come wedding day, you'll be fully locked in love.