Wedding Planning Burnout Is Real—Here's How to Deal
This too shall pass.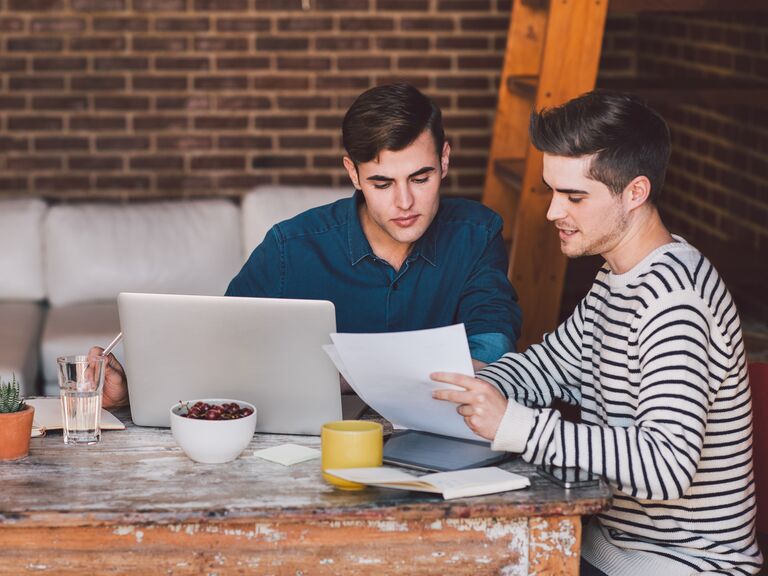 mavo/Shutterstock.com
If you've spent countless hours planning your dream wedding only to have it postponed due to the coronavirus pandemic, you may be feeling upset or even overwhelmed by the extended planning process. This sensation is called wedding planning burnout, and it's a common phenomenon. After all, weddings come with high expectations, says Landis Bejar, licensed mental health counselor and founder of AisleTalk. "This amount of expectation and anticipation can turn the time period into a 'pressure cooker' of sorts," she says, "which leads underlying stress points to get activated, as everyone in the process has different expectations for how this important milestone 'should' be marked and celebrated." So what happens when you spend months (or years for some) planning this day only to find out you have to push the date further? Wedding planning burnout is a possibility—here's what to do.
What Exactly is Wedding Planning Burnout?
"Wedding planning burnout is a state of emotional, mental and often physical exhaustion brought on by prolonged or repeated stress surrounding one's wedding," says Bejar. "The key difference between burnout and stress is that burnout is an extended period of stress that feels as though it cannot be ameliorated." If your stress feels never-ending and is accompanied by feelings of emptiness, apathy and hopelessness, Bejar says that's indicative of burnout.
If you're experiencing this phenomenon, you're certainly not alone. "We're seeing this more in our COVID-19 wedding rescheduling because something we thought would take a year is perhaps now doubling in the amount of time—and we don't exactly have a clear end point." This is especially true for couples who have not decided about when or if they want to reschedule.
What Are Its Causes & How Can You Identify It?
Wedding planning burnout is caused by stress. When we're stressed, three main body systems—nervous, endocrine and immune—are amplified, according to Dr. Eric First, fellow of the American Institute of Stress. "When the brain perceives a potential threat, real (like: I better quit looking at wedding dresses on my phone and [avoid traffic]) or imagined (such as: My wedding day is going to be a disaster), it activates the sympathetic branch of your nervous system." Then the endocrine system, which leads to release of hormones like cortisol and other chemicals that increase your heart rate, blood pressure and activates glucose stores for fuel, is up next.
All of these reactions are why you feel excited or feel your heart fluttering when you're stressed out. However, these activations also put the immune system on high alert. "Initially this is protective, but with sustained stress, the immune system produces excess chemicals that lead to inflammation and an actual lowering of immune defenses," First says. That's why you often feel like you're run down (or catching a cold) when you're stressed. It's not just the immune system that's affected, though. "All of this activity leads to an imbalance across these three systems, as they can become depleted of various chemicals and transmitters that balance things out," he adds.

So, your body is out of whack for a prolonged amount of time—how does that translate to your daily life? First says classic signs of being too stressed are inability to focus, irritability, having a short fuse and feeling worn down. Bejar adds that burnout can appear in many other forms such as poor sleep, feelings of isolation, constant anxiety, over-analysis of events as well as physical tension, pain and fatigue.

All of these symptoms spill into wedding planning too, Bejar says. You may be feeling a sense of dread about wedding planning as well as frequent feelings of cynicism, anger or irritability. You may also notice a negative change in your attitude about the day or planning from when you first started (dwindled excitement, for instance). Bejar notes that you might also notice an increase in conflict, as these symptoms can impact your relationships with friends, family or partner.
How to Prevent Wedding Planning Burnout
Here's the good news: wedding planning burnout is preventable. The key is mitigating stress whenever possible. We rounded up expert tips to help you prevent the phenomenon so you can make the most out of this time with your partner.
Make Simple Changes to Your Daily Routine
Keep your stress from developing into full-blown wedding burnout by incorporating behavioral techniques that have been clinically proven to decrease stress and anxiety. First says simple actions like petting something, laughing out loud and participating in breathing exercises can help. He adds that getting enough sleep (seven to nine hours), eating balanced meals (mostly plant-based), staying hydrated and exercising will all prevent feelings of stress and burnout too.
Set Up a Preventative Therapy Session
If you're feeling overwhelmed by just the thought of postponing your wedding (it's understandable—we're in a global crisis), Bejar recommends seeking out individual or couples therapy for a neutral sounding board to guide you. "You don't need to be hitting 'rock bottom' to need a little help with how you're experiencing this stress." In fact, taking action sooner will stop you from falling into the cycle of burnout.
Hit Pause on Planning
If you've postponed your wedding and extended your timeline to a certain degree, it's okay to hit pause. "If it was stressful for you to plan your wedding for the eight months to a year you already planned, then there is no need to keep doing it for another year—especially if it is overwhelming for you," says Jove Meyer, owner and creative director of Jove Meyer Events. "If all of your vendors are booked, then put a pause on it, and restart [when you're ready]."
Lean On Your Support System
Once you've taken a break, Bejar recommends seeking out support. Talk to your S.O. first. Pro tip: sharing your feelings and fears can actually bring you both closer. Be honest with them about what you need, and come up with creative solutions together.
Get your mind off of the wedding by spending quality time with your partner; enjoy your engagement. "Make sure to keep perspective that the wedding is about a transition and milestone for your two and your love," she says. "It's easy to get swept into the other pieces of the puzzle." Do things you enjoy together, like cooking, playing board games or watching movies. If your typical night together involved a bar, dance club or concert venue, use this time to experiment with new activities for togetherness.
In addition, turn to your support network and let them know what you're feeling. Ask vendors, friends and family for help (and delegate tasks whenever possible). Have your wedding party send out emails to guests or ask your family to make preliminary calls to vendors. Acting sooner will keep your anxiety from building to a tipping point, and if you're already there, follow the suggestions below.
How to Treat Wedding Planning Burnout
Turns out, preventive measures for wedding planning burnout are similar to treatment. If you're already feeling stuck in those negative thoughts and feelings, here are expert-approved ways to lift yourself out of burnout.
Do Something That Makes You Happy
To get yourself out of the emotional rut, Bejar says it's important to pause and do something that makes you feel productive, passionate or connected to something important. "Oftentimes, burnout comes from unending feelings of not getting anywhere, not feeling productive and not feeling accomplished," she says. "Take a break to do something that reminds you how awesome you are and gives you a sense of purpose and meaning."
If it's difficult for you to hit pause, then prioritize. "Do whatever is most important, and let the rest go—at least temporarily while you find yourself again." Bejar says. Start with something small and manageable to give yourself that first feeling of accomplishment before moving onto harder tasks.
Laugh Out Loud
Of course, delegating tasks to your support system can help. But First says laughing is one of the best things you can do if you're experiencing wedding planning burnout. "This is because chemicals like dopamine and oxytocin are released, which counteract stress," First explains. Go through old photos with your friends, watch a silly movie with your partner or crack jokes with your family members.
Practice Self Care
Laughing isn't the only thing you can do for yourself. Bejar strongly recommends other forms of self care too. Check in with yourself, starting with the basics: are you eating healthfully and regularly, drinking enough water, getting enough sleep, moving your body regularly (but not going overboard with exercise)? Ensure you're talking to friends, spending time with people who make you feel good, taking time away from social media and technology and spending quality time with your partner.

Bejar also suggests engaging in relaxation practices, like meditation, deep breathing and grounding techniques. Take it one step further with a nutritional supplement, First says. Look for products that contain natural ingredients that are proven to help with stress (he helped develop R3SET, a line that's scientifically formulated to support the three systems in your body during times of stress).
Allow Yourself to Feel Upset
Of course, this process isn't all face masks and bubble baths. Even while treating wedding planning burnout, you may still experience feelings of sadness or frustration."You have put so much love and work into your wedding and suddenly it was ripped out from under you—that's a lot to process," Meyer says. Allow yourself to feel upset, just don't make any important decisions when you're experiencing this negativity. "Your wedding will happen," he says. "You put in so much work, but it hasn't gone to waste. It's just being delayed."
Make Wedding Planning As Fun As Possible
Since the event is being postponed, use the extra time to make wedding planning as fun as possible. Make it feel like less of a job by getting creative, says Jung Lee, event architect and founder of Fête, who suggests dancing to your first dance song, writing personal wedding vows, perfecting your speciality cocktail, and cooking from your wedding menu. You can also use this time to create a meaningful and truly personalized wedding. "Deconstruct the wedding and make sure all the parts truly reflect who you are as a couple," she says.

Also use this time to get closer with your wedding party and future family: set up a zoom call with your wedding party or closest friends so they can all bond (virtual bachelorette party, anyone?). Take time to keep in touch with important family members so that everyone feels close and excited to see each other at the wedding.
Practice Gratitude
In between calls with vendors, family and friends, you may feel wedding planning burnout start to creep back in. One effective way to combat this is by practicing gratitude. Bejar recommends identifying one to three things you're grateful for every day, as it improves your mood and keeps things in perspective.
Talk It Out With a Professional
Still, practicing gratitude in the midst of a global pandemic is easier said than done. If you're struggling with wedding planning burnout and need extra support, seek professional guidance. It's not a sign of weakness to ask for help—especially during these are unprecedented times. Wedding planning burnout is real and difficult to navigate, but we're here to help. Your wedding is still going to happen, and remember: your love is at the forefront.