50 Wedding Braid Hairstyles to Inspire Your Look
Don't get it twisted: Bridal braids are trending in a big way.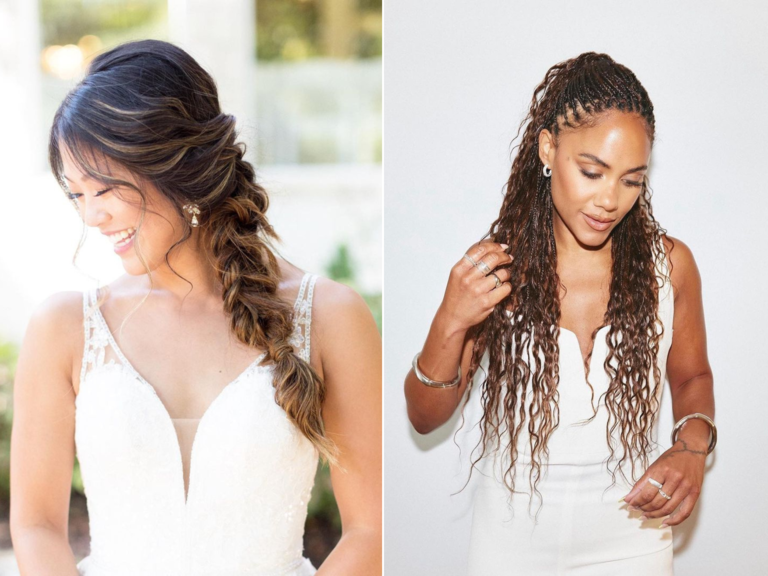 Photos, From Left to Right: Mission Stylehouse, Zuri Hair Studio
Wedding braid hairstyles are having a moment, and there's no shortage of styles: fishtail, French, Dutch, infinity, micro, halo, the list goes on. No matter the type of braid, though, one thing's for sure: In selecting a braided wedding hairstyle, you'd certainly be in good—re: fashionable—company. Ally Love donned a gorgeous braided ponytail for her wedding welcome party in Mexico (paired with a shimmering Nadine Merabi dress, no less); models Alessandra Ambrosio and Cara Delevingne recently rocked long classic braids on the red carpet; and singer Halle Bailey debuted stunning red microbraids as the titular star of this summer's The Little Mermaid. Finding a braided wedding hairstyle you love can truly set you apart on the big day—it's the cherry quite literally on top of your unique wedding look.
"Braids are being seen in a whole new light, not only for the protective factor and style versatility, but the idea of having a style created for one's special day," says New York City-based hairstylist India Williams, who's styled the likes of Peloton's Ally Love and Jess Sims in stunning braided looks. "From the type of hair to the length and size, a bride can truly create a one-of-one style for this day." We scoured the internet for 50 inspiration images that run the gamut of styles—there's something for everyone—that you can show your wedding day hairstylist, and made a list of things brides (and bridesmaids, and even grooms!) should consider when selecting a braid.
In this article:
50 Wedding Braid Hairstyles to Show Your Stylist
Braided ponytail, fishtail braid, boho braid with flowers, box braids wedding hairstyles: These are just a few of the infinite searches brides are making for bridal braided hair. Well, look no further; below are 50 tried-and-true styles to inspire your big-day look—just be sure to have everything you need (re: accessories, extensions, and embellishments!) on hand for your hair and makeup trial before the wedding day.
1. Half-Up Microbraids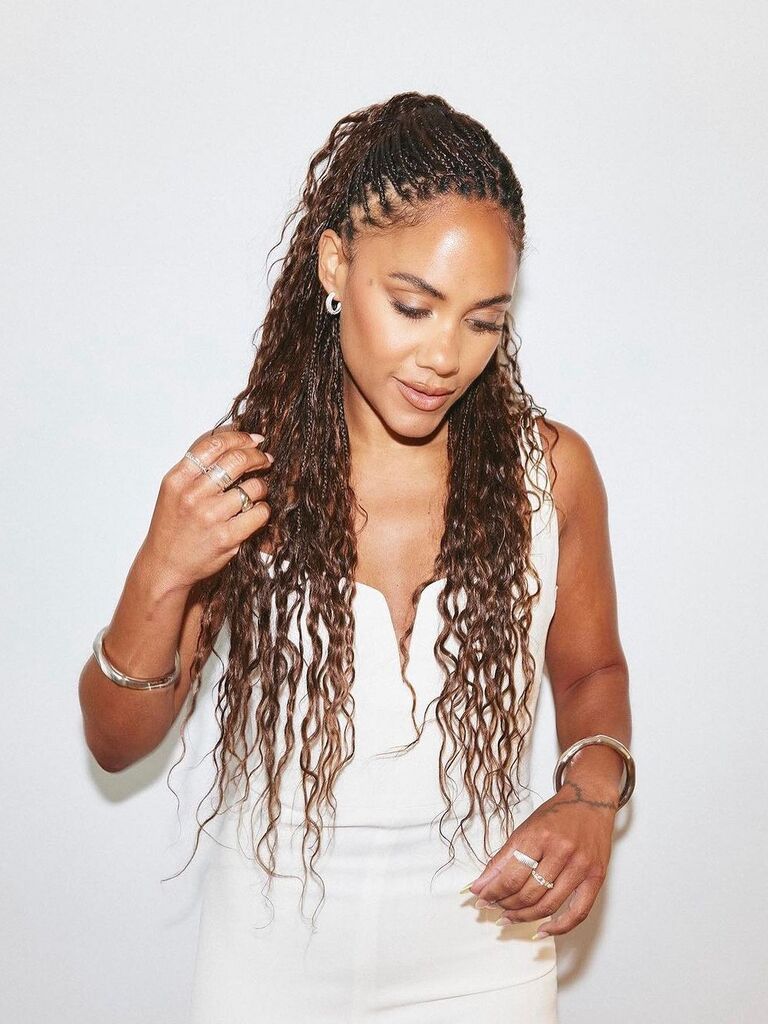 If you typically wear your hair in microbraids, there's no need to change it up for the big day—countless microbraids hairstyles for weddings offer fresh takes on the style. A half-up 'do pulls the hair away from your face, so you can show off your beauty look—and maybe a pair of stellar earrings, too.
2. Pull-Through Braided Ponytail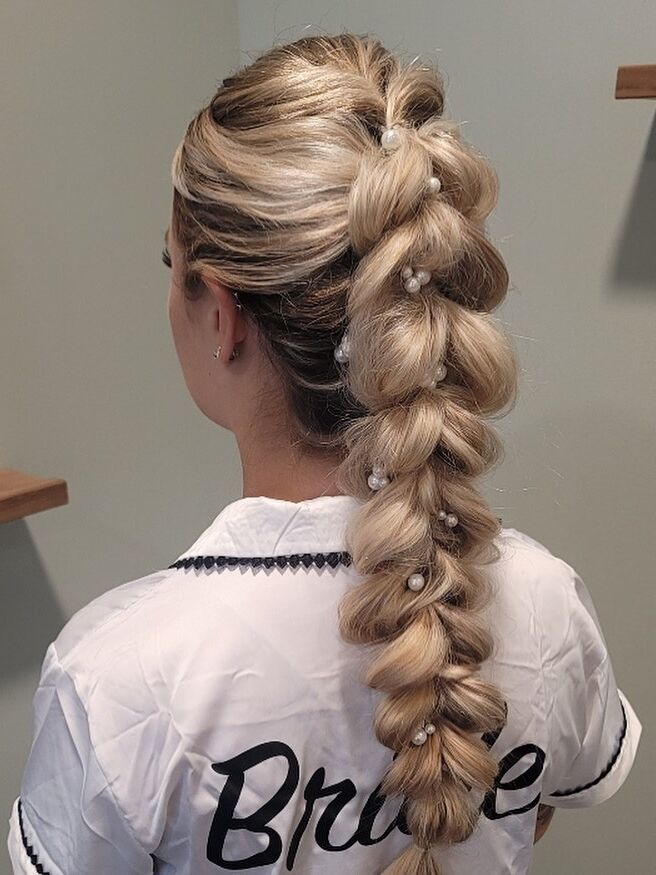 Braided ponytail wedding hairstyles are trending, and pull-through braids like this only sweeten the deal. Pearl hairpins add an extra bridal touch, and pair perfectly with embellished gowns.
3. Half-Up Braided Halo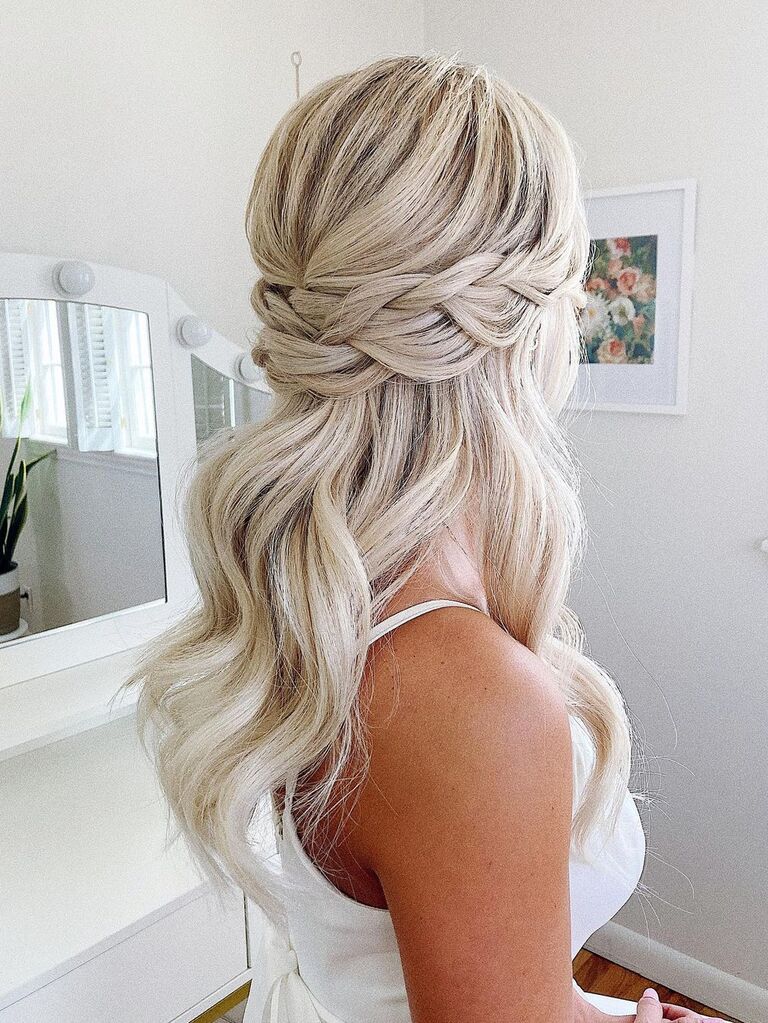 There are countless halo braided hairstyles—many versions knot all the hair into the style—but if you're torn between long loose waves and a braided wedding hairstyle, this half-up halo is the perfect compromise. Dual sections are pulled away from the face and come together just below the crown, and the ends of each are tucked into each other to create a never-ending braid as seemingly infinite as your love.
4. Braided Crown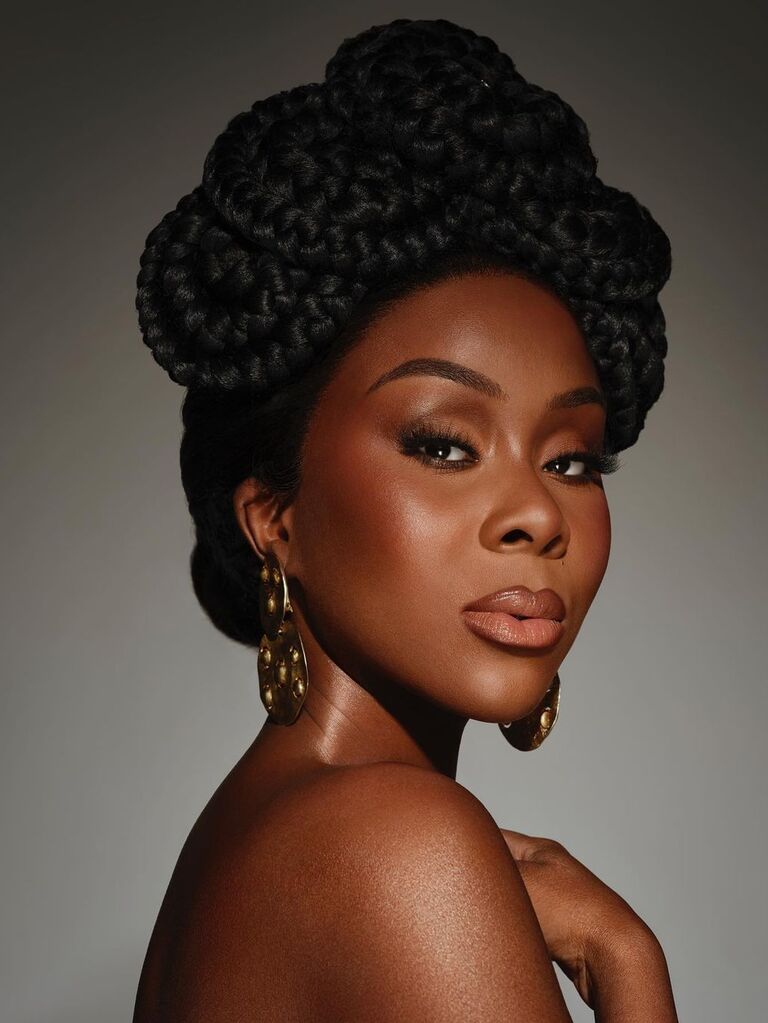 Here's a look fit for a queen—so naturally, it's our pick for fairytale-inspired weddings. Thick braids are twisted into an updo reminiscent of a crown; wear it as is, or double down by topping it with a tiara.
5. Milkmaid Braids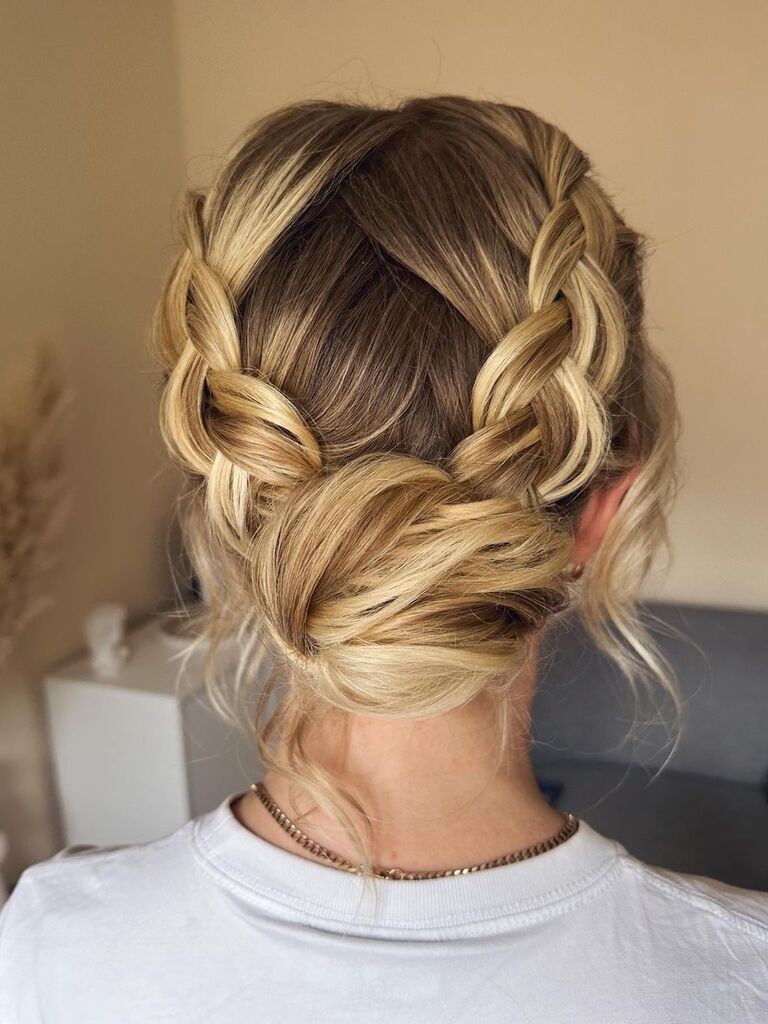 A fresh, boho take on classic milkmaid braids, this style features two loose braids that wrap around the head to connect in a messy chignon. We picture this style at a wedding in the forest—just add tittering woodland creatures for the ultimate fairy-tale wedding.
6. Side Parted Box Braids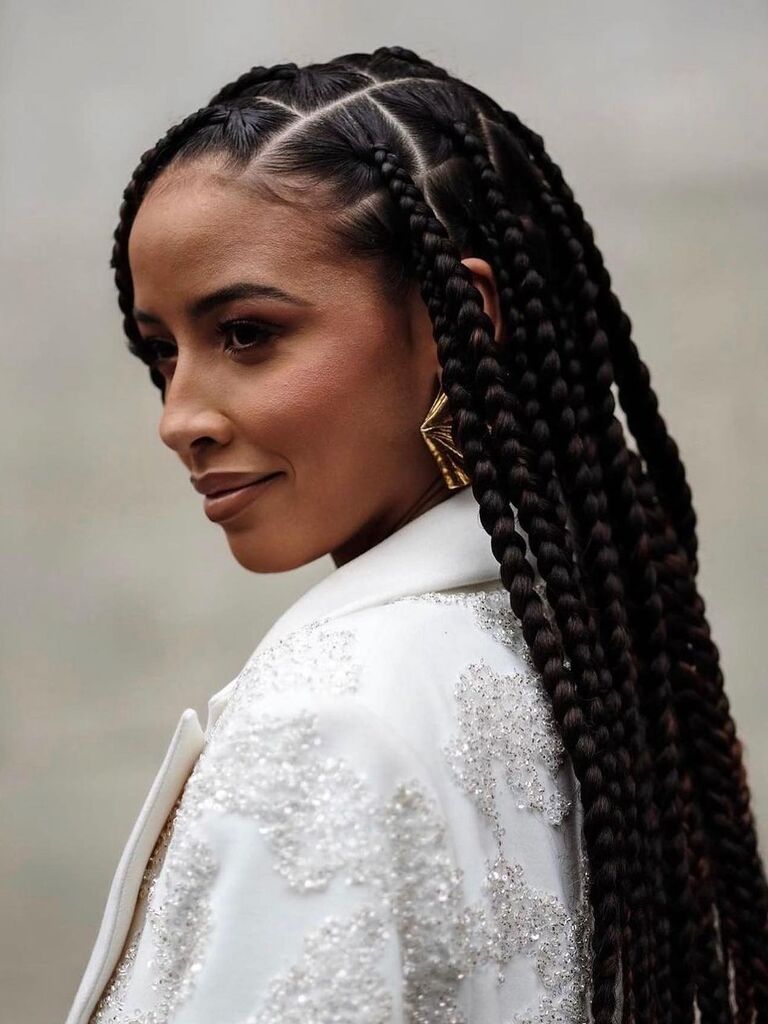 You may be culling the internet for wedding hairstyles for box braids, but how about just wearing them down? We love this long and loose style, parted off to the side, for both formal and laid-back affairs; pair your braids with dazzling diamond earrings for the former, or a flowy gown for a barefoot beach wedding.
7. Half Up Crossover Braids
It's the ultimate contradiction (in a good way!): a complex hairstyle that achieves an absolutely effortless beauty vibe. These twisted braids are just that, crossing over each other in a topsy-tail that flutters down into long loose waves. We love the look on a boho bride.
8. Braided Faux Hawk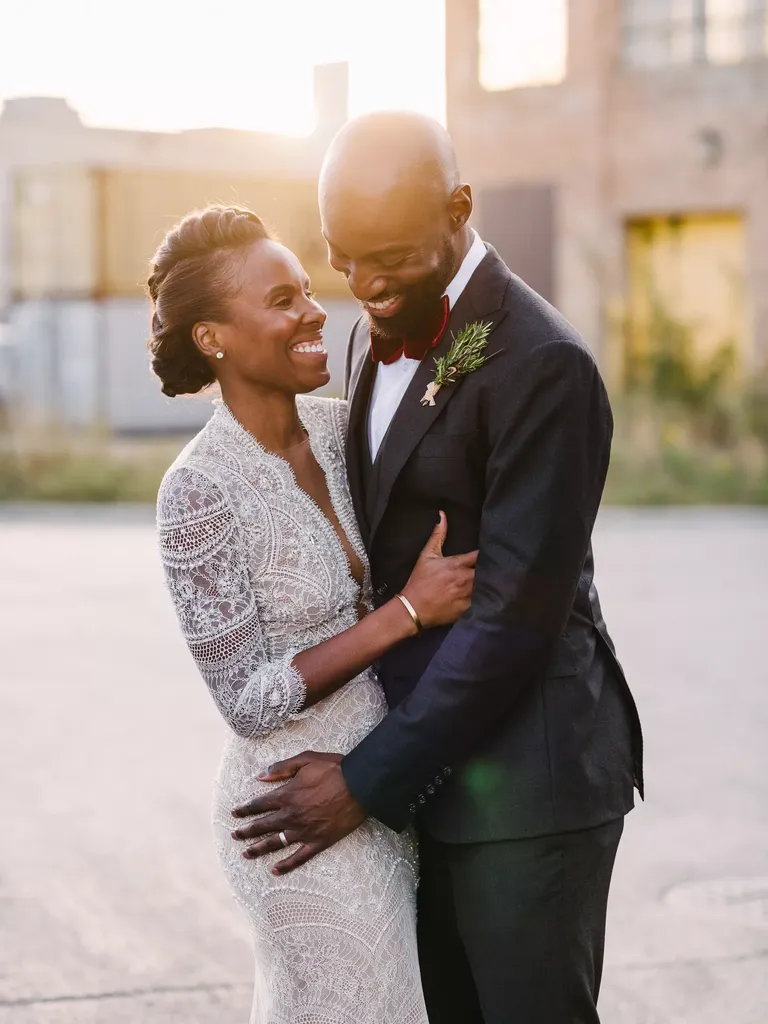 Bring a little edge to your bridal look with a braided faux hawk; keep the sides natural and slicked back into the updo, or have your hairstylist add additional braids on the side for an even more unique take. The braided updo hairstyle is great for showing off your glam.
9. Loose French Braid with Flowers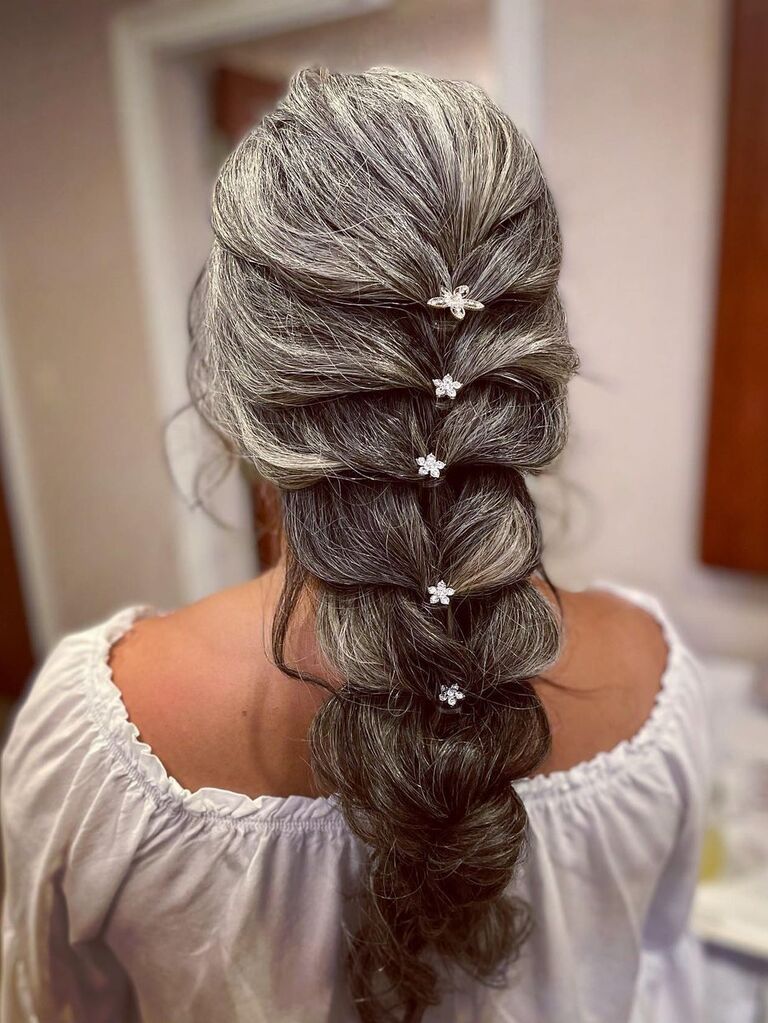 A search for braid hairstyles with flowers will offer images of updos overflowing with wildflowers, flower crowns and more, but we love this more minimalistic take. Each tier of the loose braid ties in more and more hair, and is marked with the teeniest bejeweled floral hairpin. Try it with pins descending in size to add visual interest—and skip the veil.
10. Messy Bun with Braid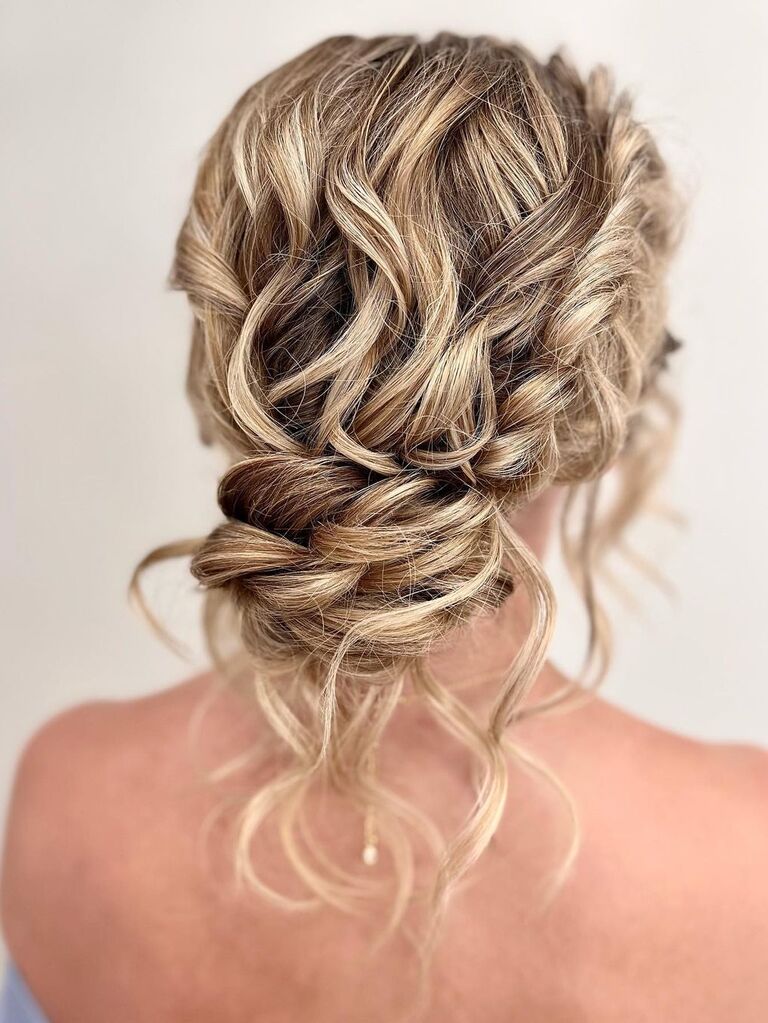 This look has it all: loose waves, an impressive reverse French braid on the side and a messy braided bun hairstyle at the nape of the neck. It's great for showing off an open-back gown; we also love it for a cohesive bridal party look for bridesmaids with all different lengths of hair.
11. Braided Bun with a Pop of Color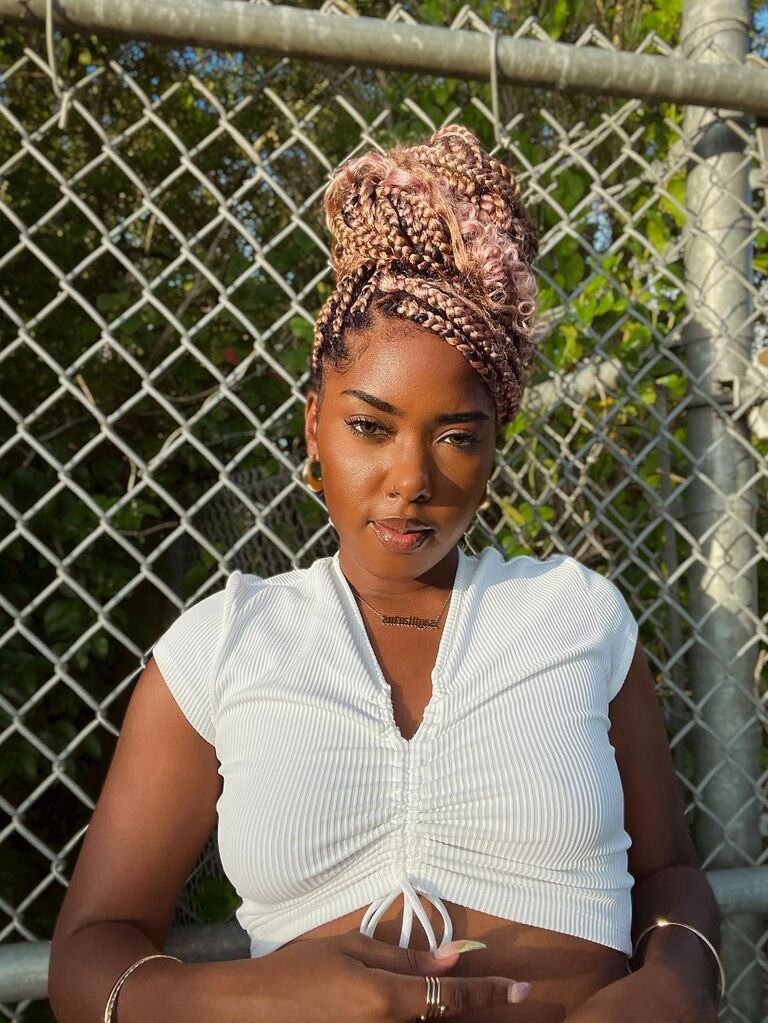 Pastel pink is on-trend in weddings lately, so why not incorporate it into your beauty look as well? Here, colored strands are incorporated into thick box braids, then styled in a fairy tale-inspired updo—with a twist. It's the perfect wedding-ready take on a cool everyday look.
12. Long Braids with Center Part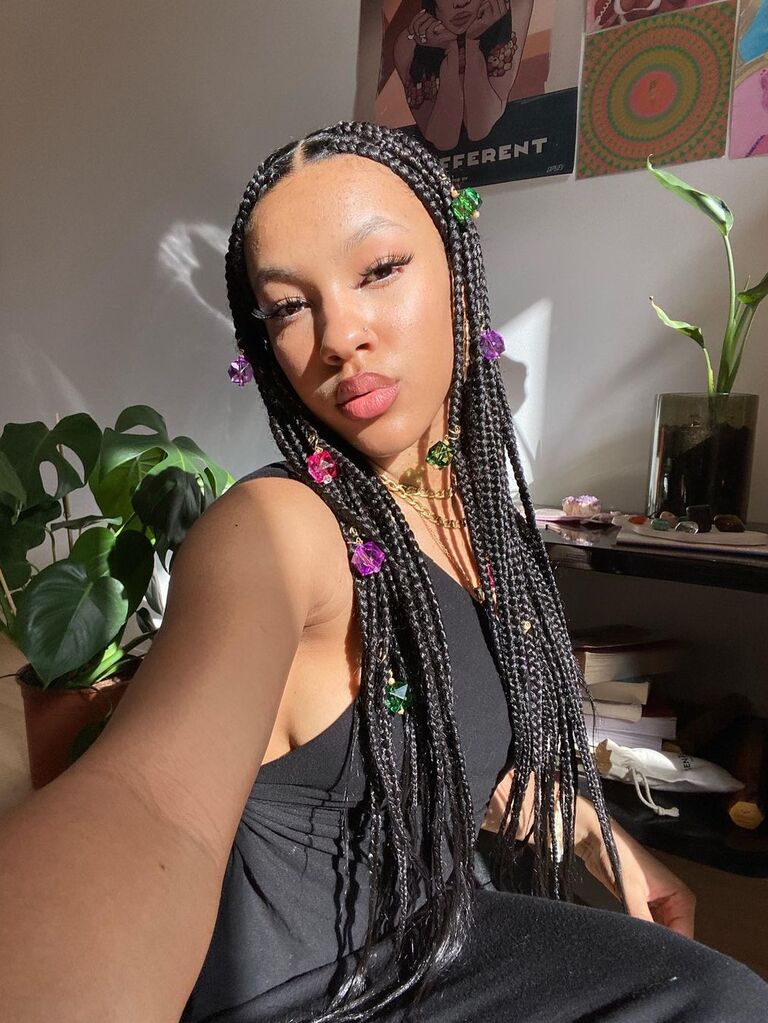 Everything '90s is back again, and hairstyles are no exception. We're loving a center part lately, and the look works especially well in wedding hairstyles of box braids. Accessorize with some colorful additions and go minimalistic with natural glam.
13. Messy Braid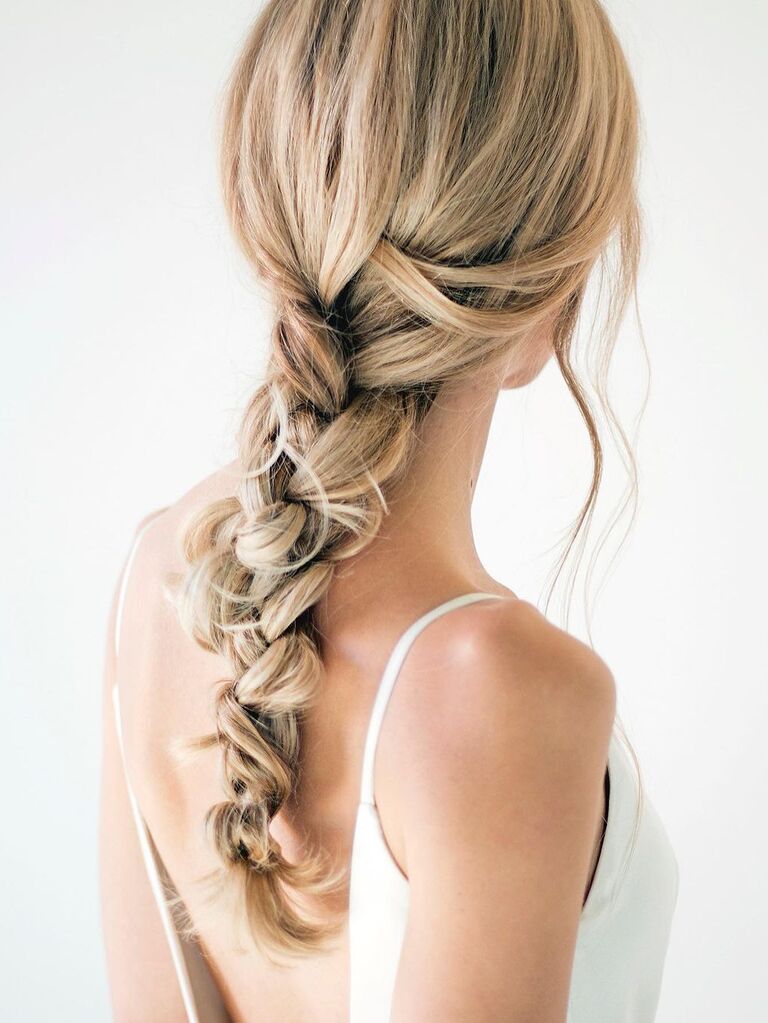 Calling all casual brides: This braided wedding hairstyle for long hair is equal parts boho and modern. There's no right or wrong way to twist, and your stylist can use hair ties to secretly secure each section, but the best part? Its imperfection works to your advantage: The messier it gets throughout a night of dancing, the more you can lean into the look.
14. Side-Swept Braid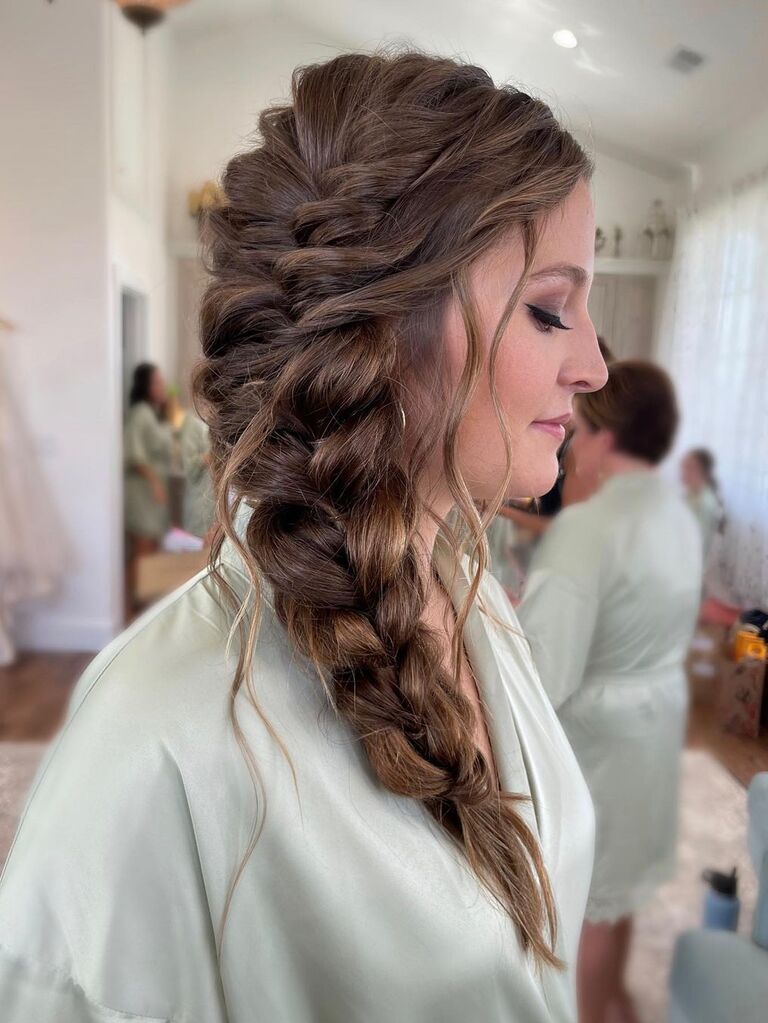 Side braid hairstyles for weddings are romantic and classic while adding a dose of drama to your beauty look. The look can be rendered in classic French, fishtail or another braided style; and the look pairs well with a fairytale ballgown or offsets an asymmetrical or one-shoulder neckline.
15. Braids for the Groom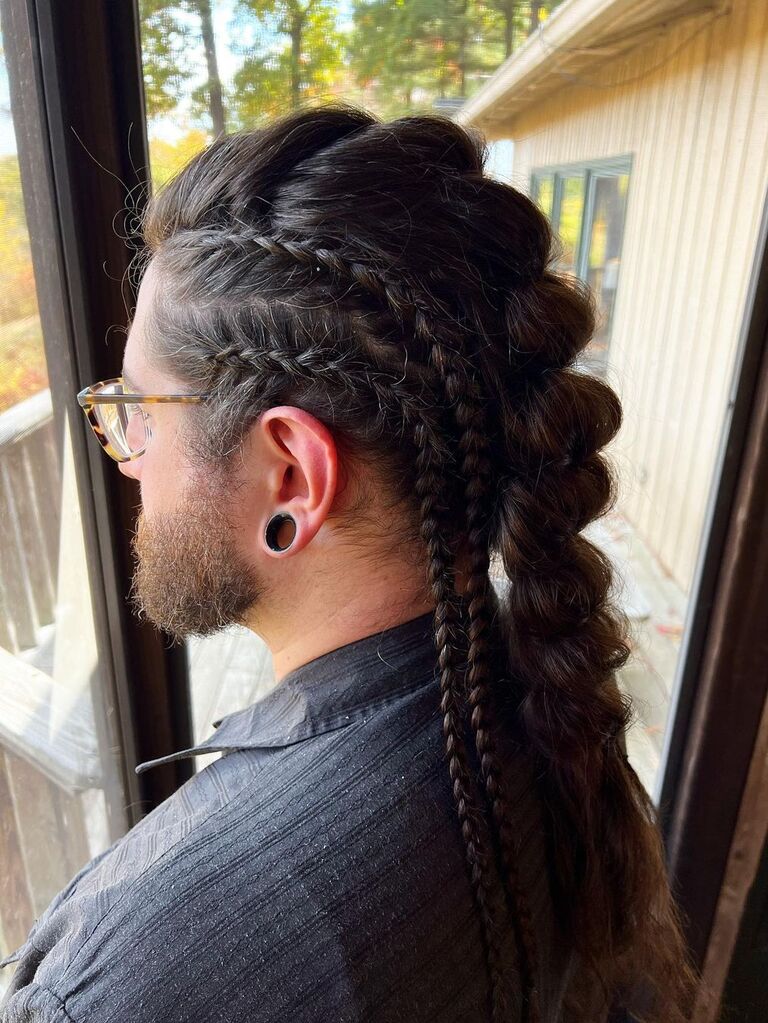 Wedding braids: They're not just for the ladies. For long-haired grooms lately, it's out with the man bun, in with the braids. This alternative braided wedding hairstyle for long hair features a center faux hawk-inspired bubble braid and miniature side braids as accents.
16. All The Way Around Braid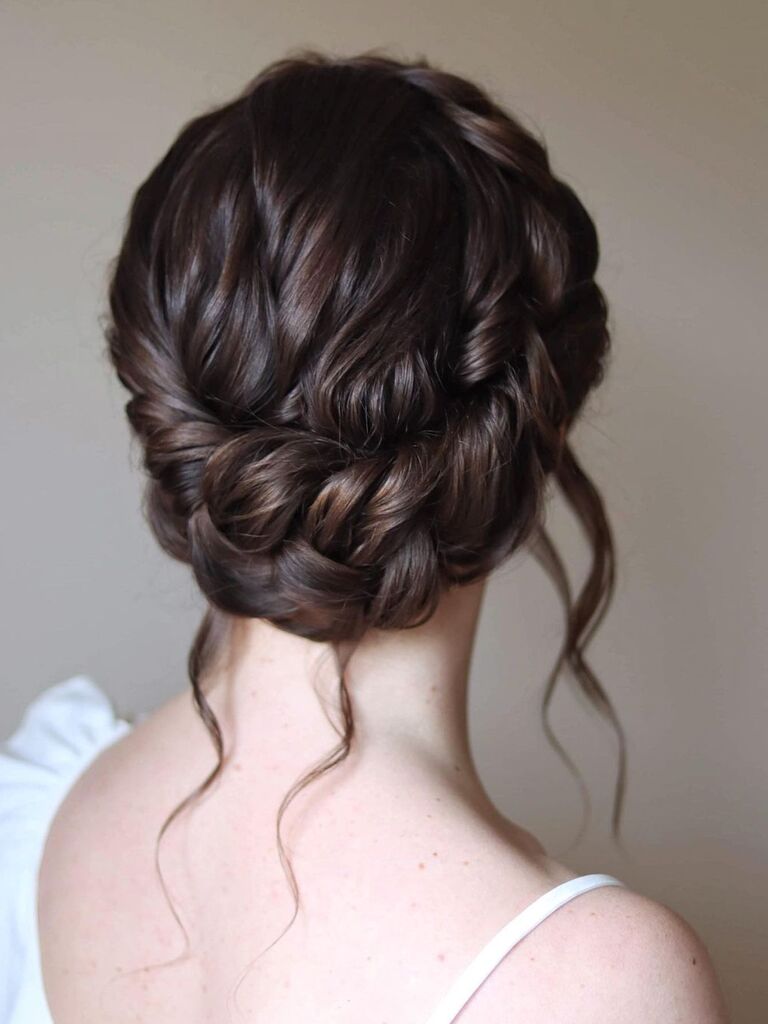 Long loose waves pop up in a lot of modern-day wedding looks, but for something ultra classic opt for a braided updo wedding hairstyle like this milkmaid-inspired one. With the hair fully pulled off the face and neck, styles like this serve to showcase the gown's neckline and back—so we love it with dresses that have a statement bow at the back or a one-shoulder silhouette.
17. Diagonal Bow Braid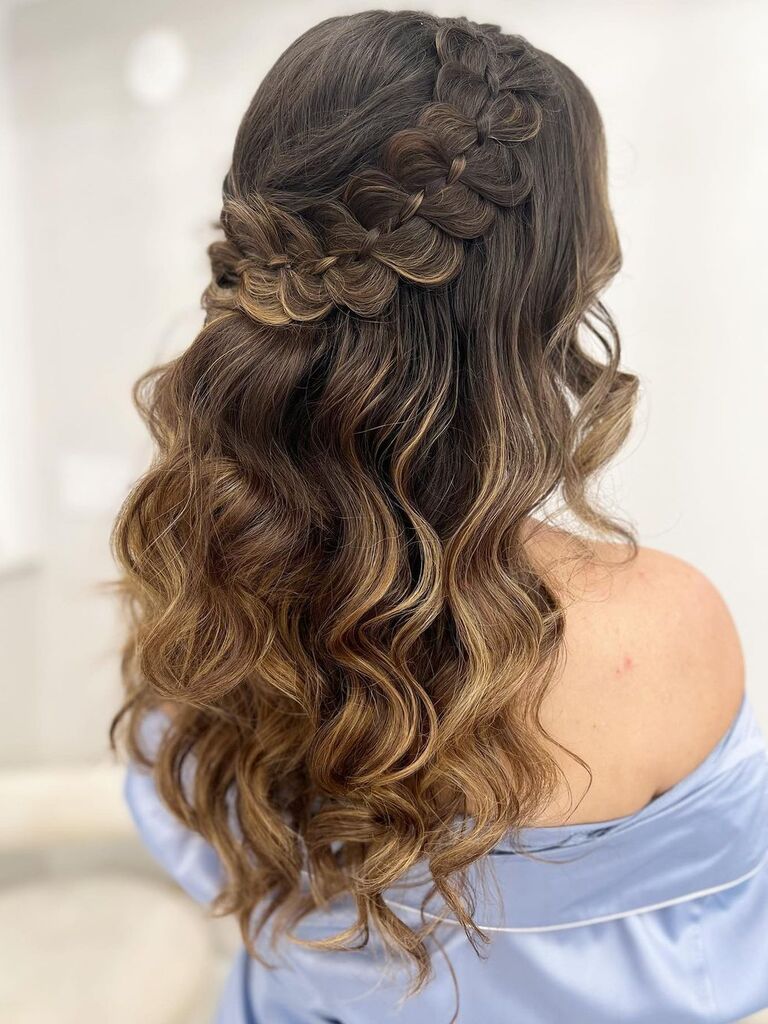 For a look that's oh-so-feminine, why not incorporate bows? We're not talking about actual bows: In this wedding braid hairstyle, the hair itself is knotted off at each level to look like a demure bow. It's perfect for the bride, wedding party or, our favorite, an adorable flower girl.
18. Wildflower-Embellished Braid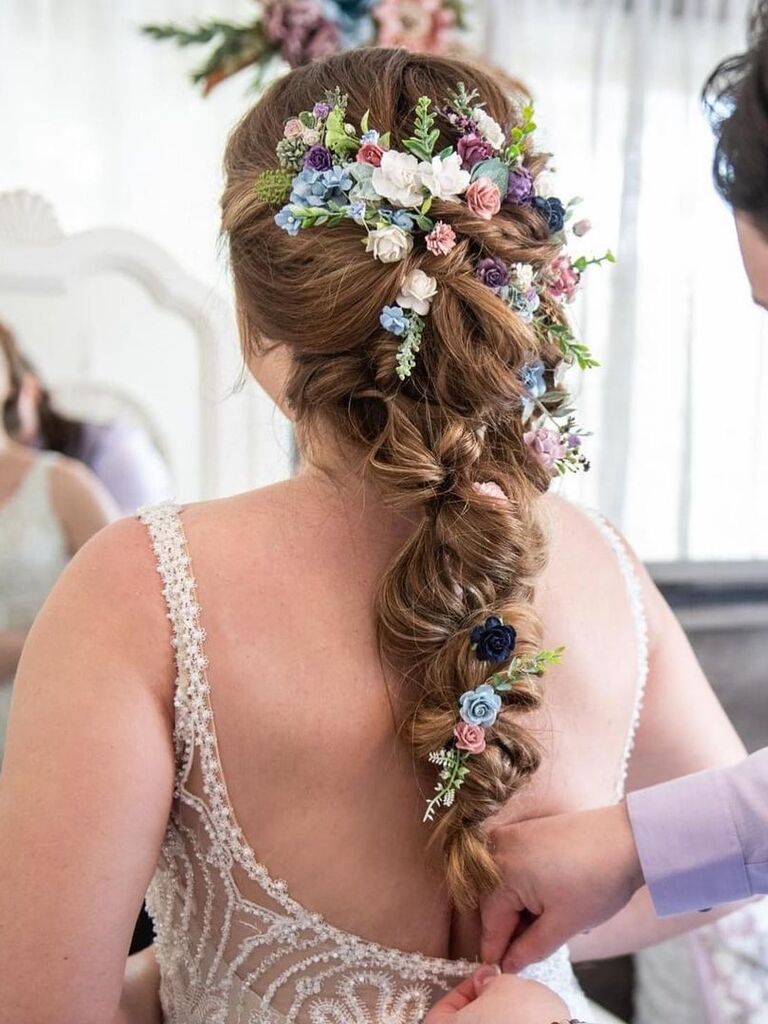 Calling all boho beauties. Comb the fields around your venue for a swath of wildflowers—the more colorful, the better—to infuse a complex fishtail, French or pull-through bridal braid with some whimsy. Not getting married outdoors? Have your florist provide extra blooms to weave into the braided wedding hairstyle.
19. Loose French Fishtail Braid
Combine two trends with this French braid that trails into a loose wedding fishtail braid—and for a sleek finish, have your hairstylist pull a few strands around the hair tie at the bottom. The look is uber romantic, lovely in a garden setting and paired with a ballgown or floral-embellished dress.
20. Cornrow Chignon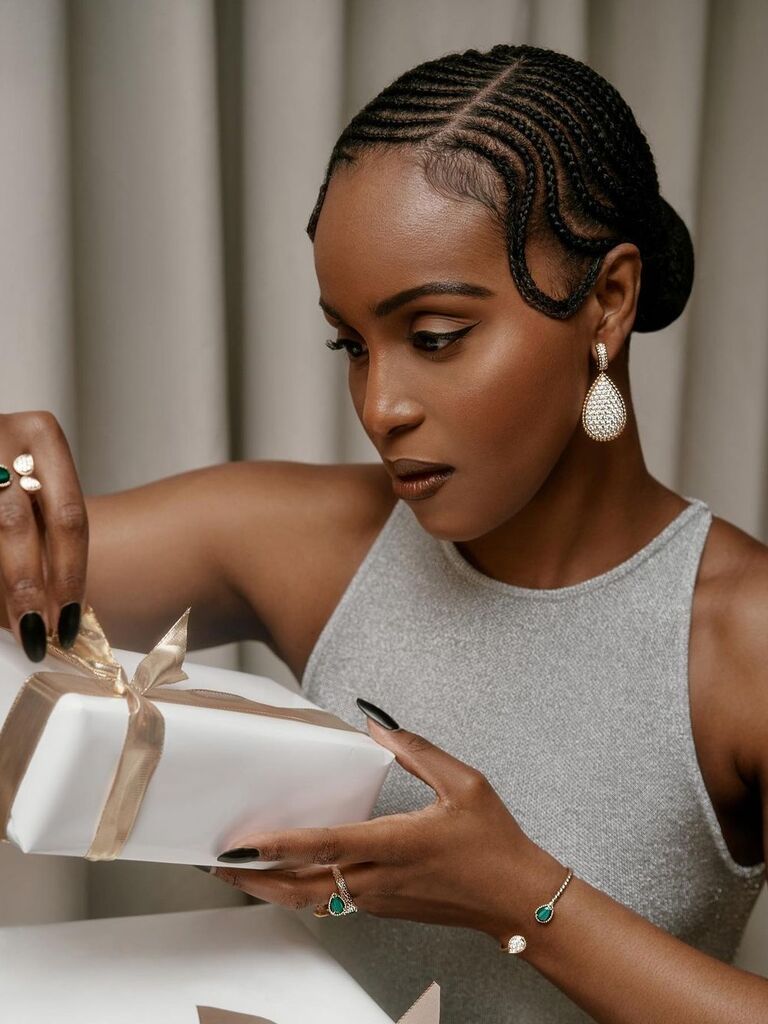 To achieve this sophisticated look, ask your stylist for cornrows braided in a finger wave style and into a low bun, suggests our expert India Williams. It's a unique and modern take on the low chignon, a wedding 'do that's stood the test of time.
21. Braided Bun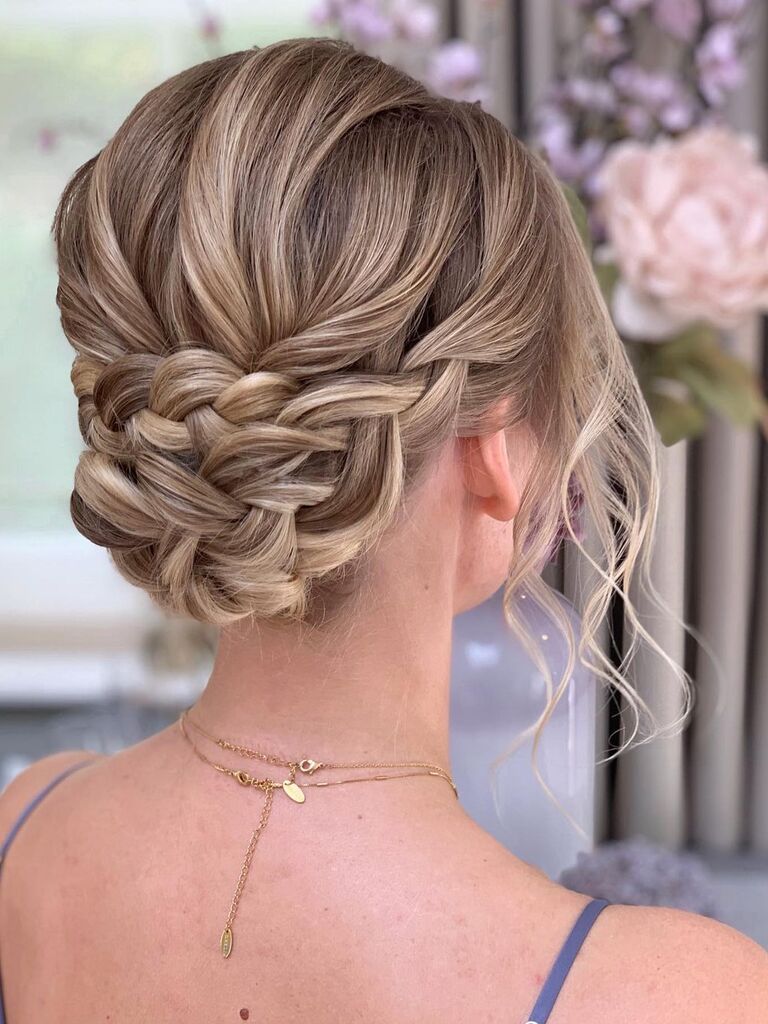 This braided bun hairstyle is an optical illusion unto itself, with the end of each braided strand tucked neatly into the bun so it's hard to tell where one braid ends and the next begins. Pull some strands out of the updo in the front to frame the face.
22. Cornrow Braids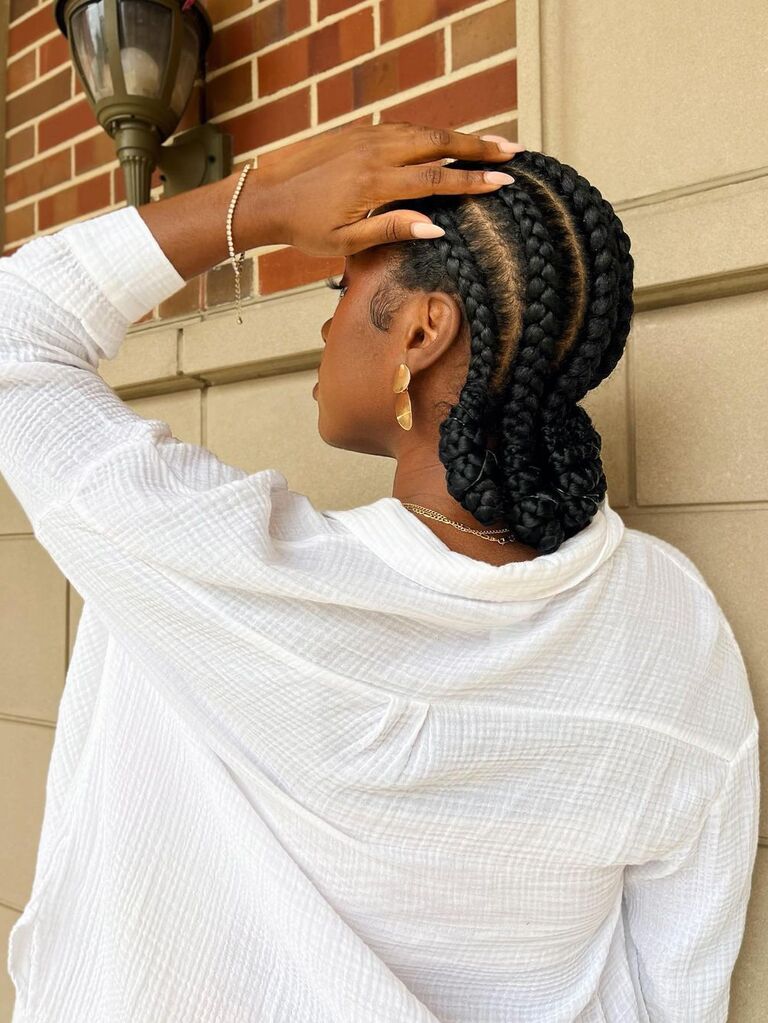 One of the chicest and most modern braided wedding hairstyles for Black hair, cornrow braids work well whether your natural tresses are long or short. In this look, the braids are gathered at the nape of the neck for a sophisticated finish, perfect for showcasing an open-back gown or statement neckline.
23. Reverse French Pigtails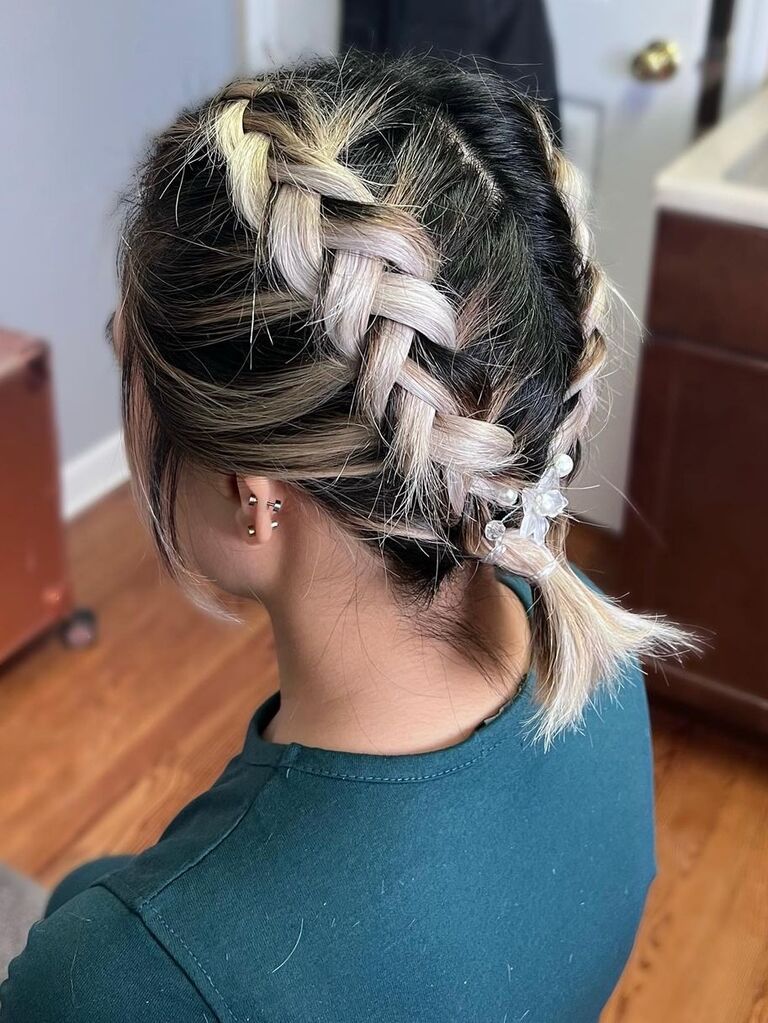 A reverse French braid—also known as a Dutch braid—is unique in that it really puts the braid on display, piling it up on top of the hair rather than tucking each braided section in. And this look doubles down on the cool style, with two reverse French pigtails that come together in a short pony. It's a great style for shoulder-length locks; we also love it for the flower girls!
24. Half-Up Fishtail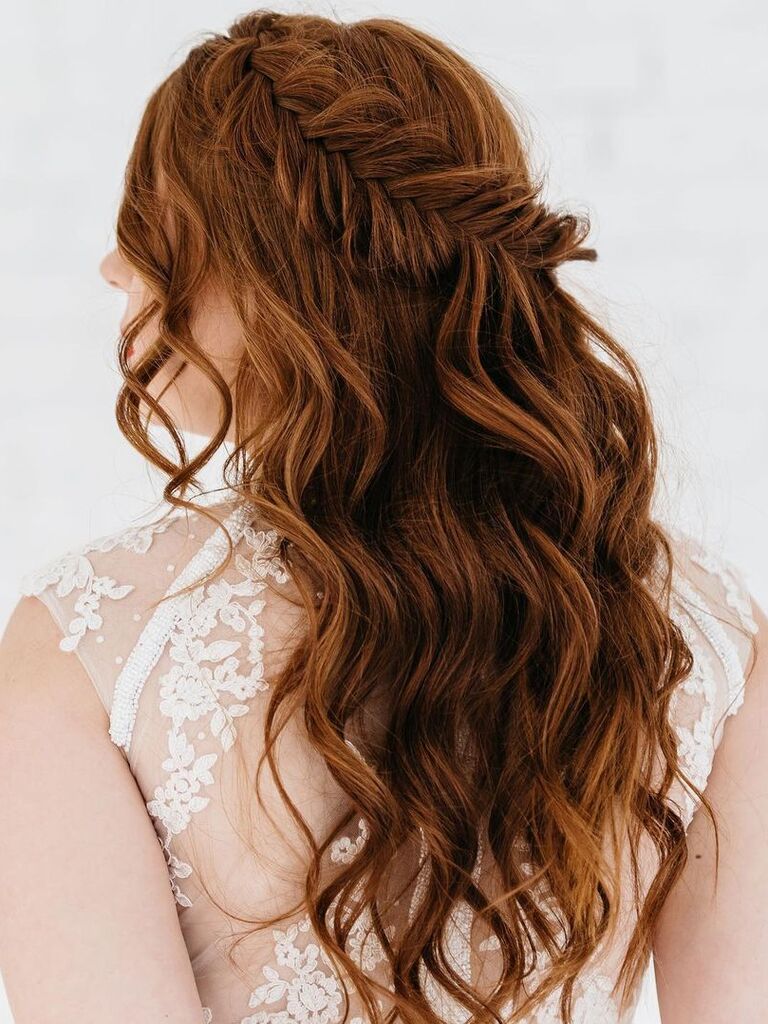 Boho bridal braided styles are all about that perfect tousle, and this style provides just that. A loose fishtail braid sweeps around the crown atop a sea of gorgeous waves. We love how some pieces are pulled out of the fishtail to seamlessly blend into the down hair.
25. Butterfly-Embellished Braid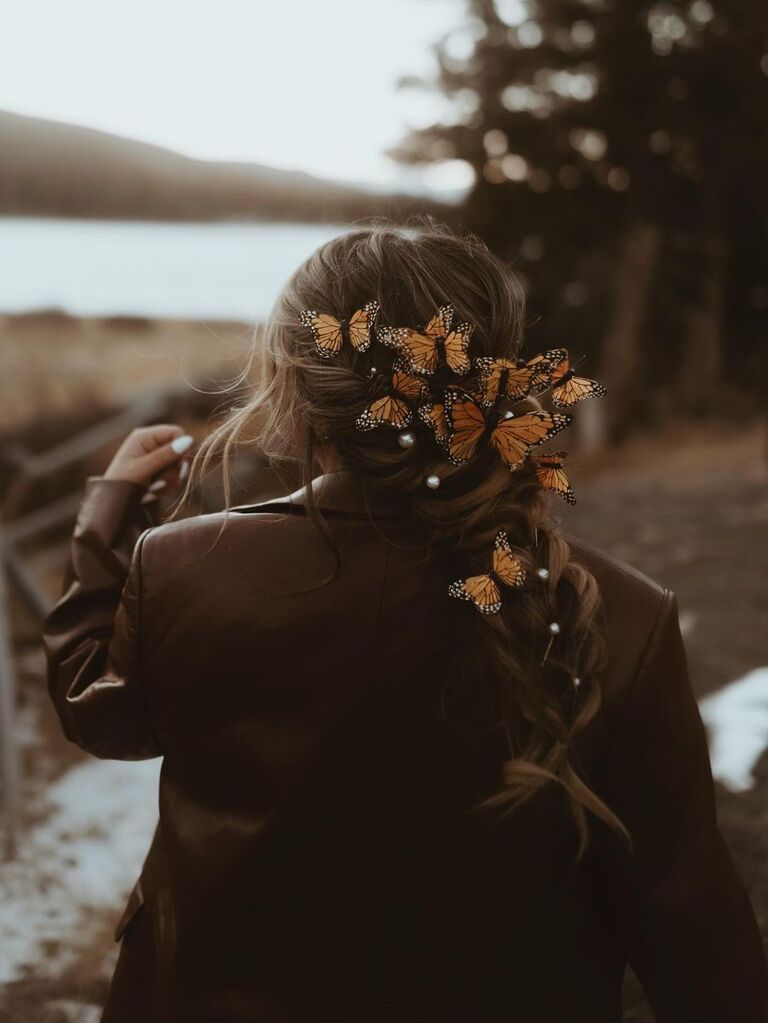 Float down the aisle with bridal braided hair featuring an extra special something—in this case, butterflies, a symbol of transformation and life cycles (perfect for your wedding day!). But, you could also incorporate embellishments that tie into your specific wedding theme—think bows, seashells or even jewels or gemstones.
26. Short Hair Wavy Halo Braid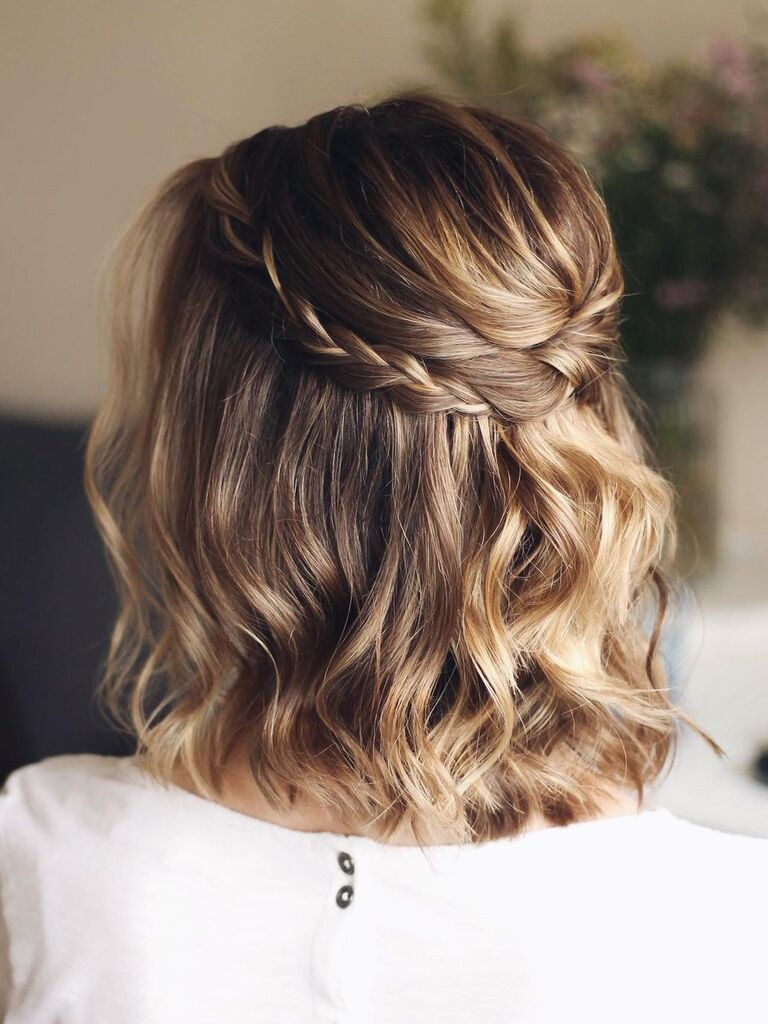 Lobs—or long bobs—are super in right now, but you might be wondering how to style one for your wedding day. Medium length braided wedding hairstyles we love are half-up halo braids like this one. Have your hairstylist finish the look with loose waves to truly turn heads.
27. Natural Hair Updo with Front Braids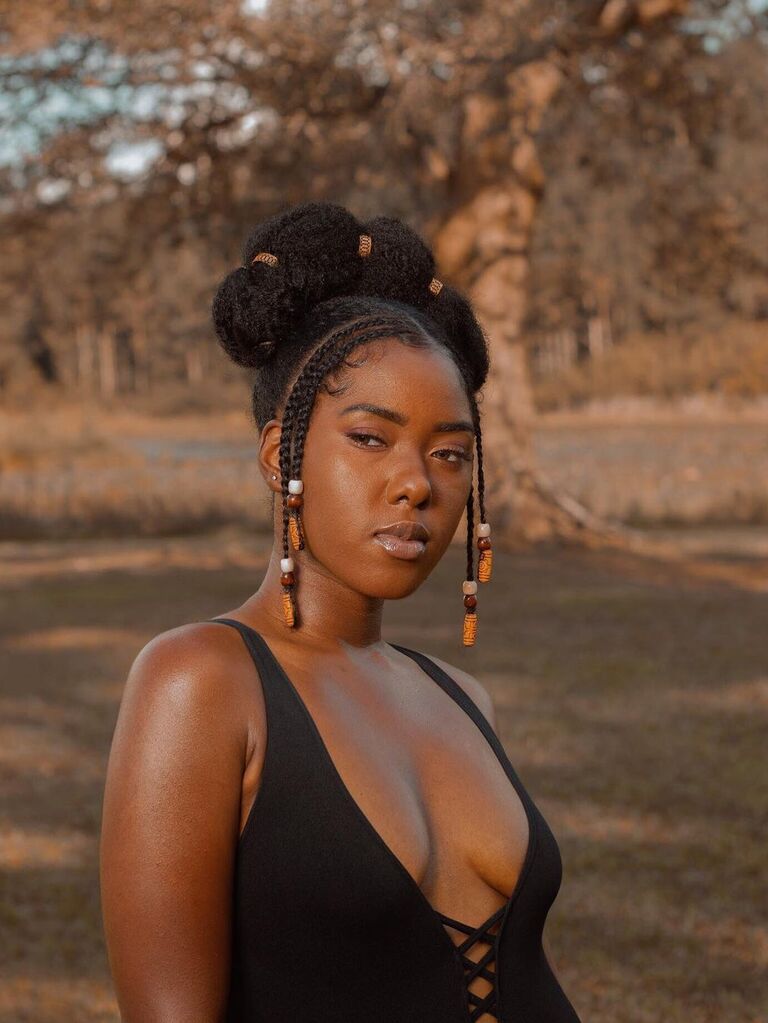 Show off your natural hair with a crown-inspired updo, and add visual interest with a few face-framing braids. Play up the look by adding beads and ornamentation that fit the vibe of your big day or play off your wedding gown.
28. Braided Ponytails With Jewels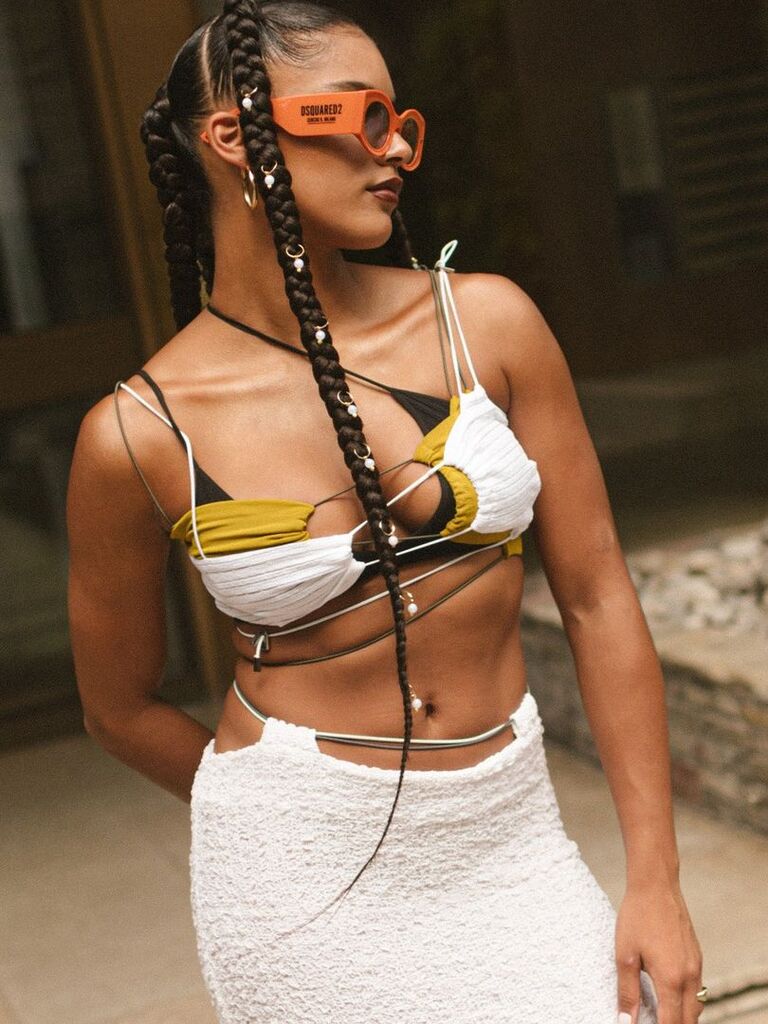 We love a little hair jewelry—why wear jewelry only against your skin?—and large braided ponytail hairstyles like these ones provide the perfect canvas. Work with your stylist to select the perfect hair hoops that complement your other accessories; look for pearls, colored gemstones or simple metallic.
29. Down-the-Back Braid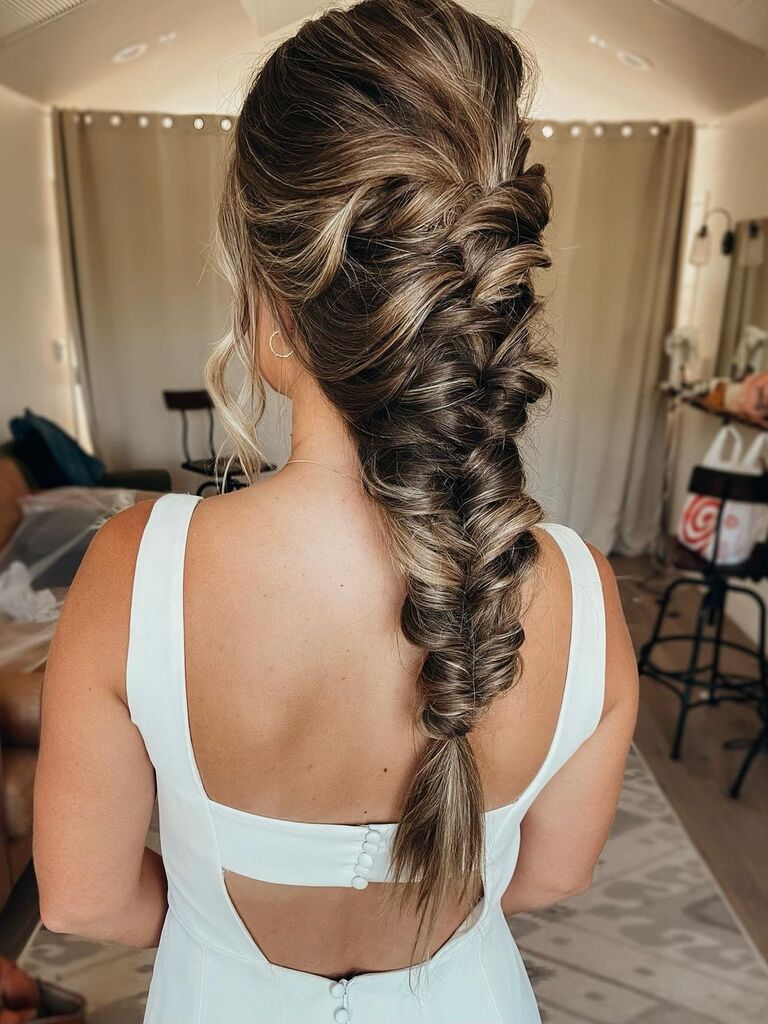 Side-swept styles and loose waves are having a moment, but there's something oh-so-classic about a center braid that lays beautifully down the back. The style can be created using classic, French or fishtail braiding techniques—or get even more complex with five- or six-strand braids.
30. Half Up Senegalese Twists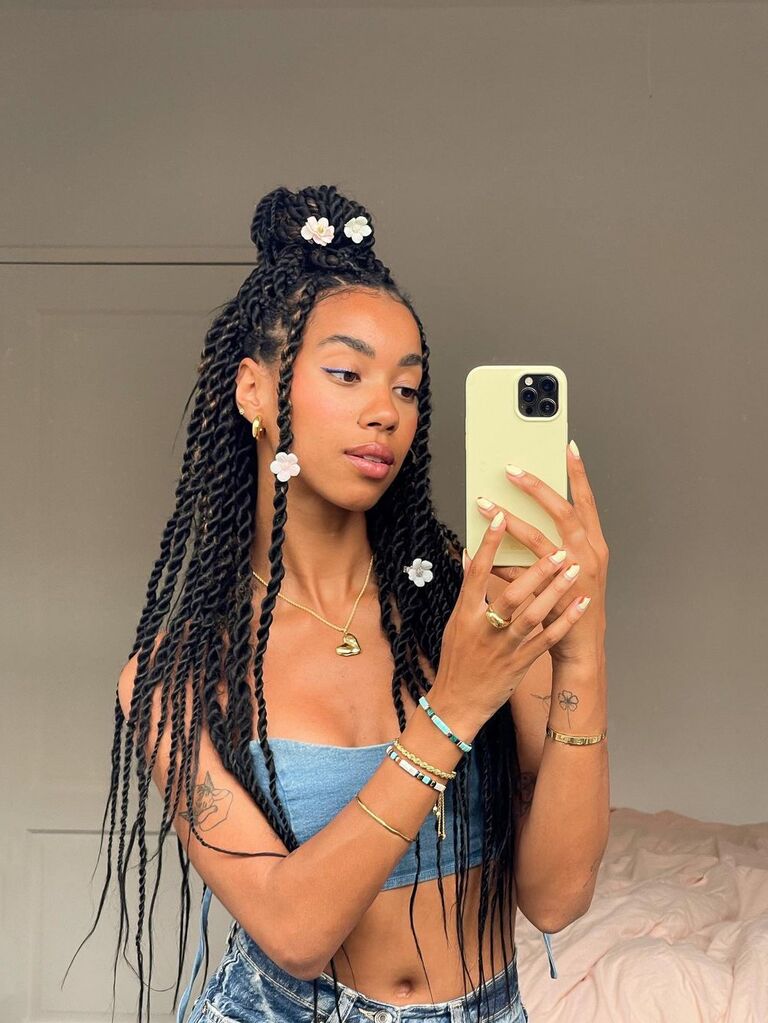 If you're rocking Senegalese twists—or decide to for your wedding day—and are looking for hairstyles for wedding with braids, the twists work well for one of our favorite hairstyles: a half up-half down look. Here, the style is adorned with flower clips, perfect for a garden wedding or to play off a gown that has three-dimensional embellished florals (like those by Mira Zwillinger and Eisen Stein!).
31. Braid with Hair Vine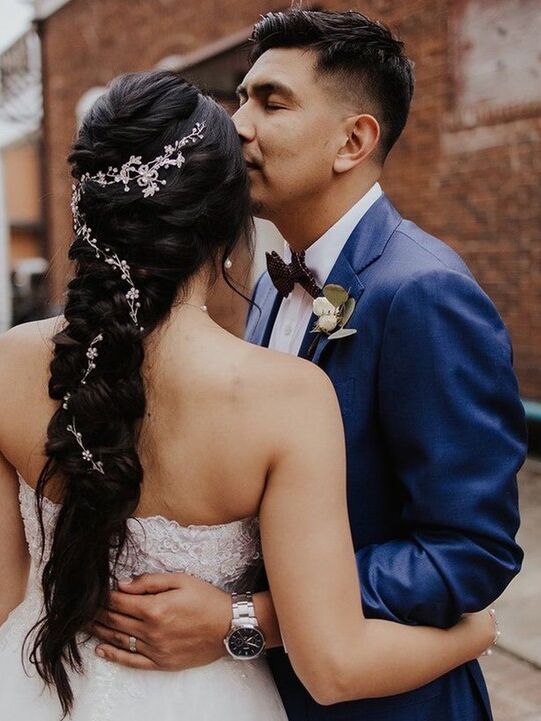 Once you've nailed down the type of braid you want, ask your stylist to incorporate a versatile hair vine: Many vines can be tied and worn as a halo, or stretched out to snake through a braid as seen here. It's a unique addition—and just one more way to add a little chic glam to your wedding day look.
32. Half-Up Pull-Through Braid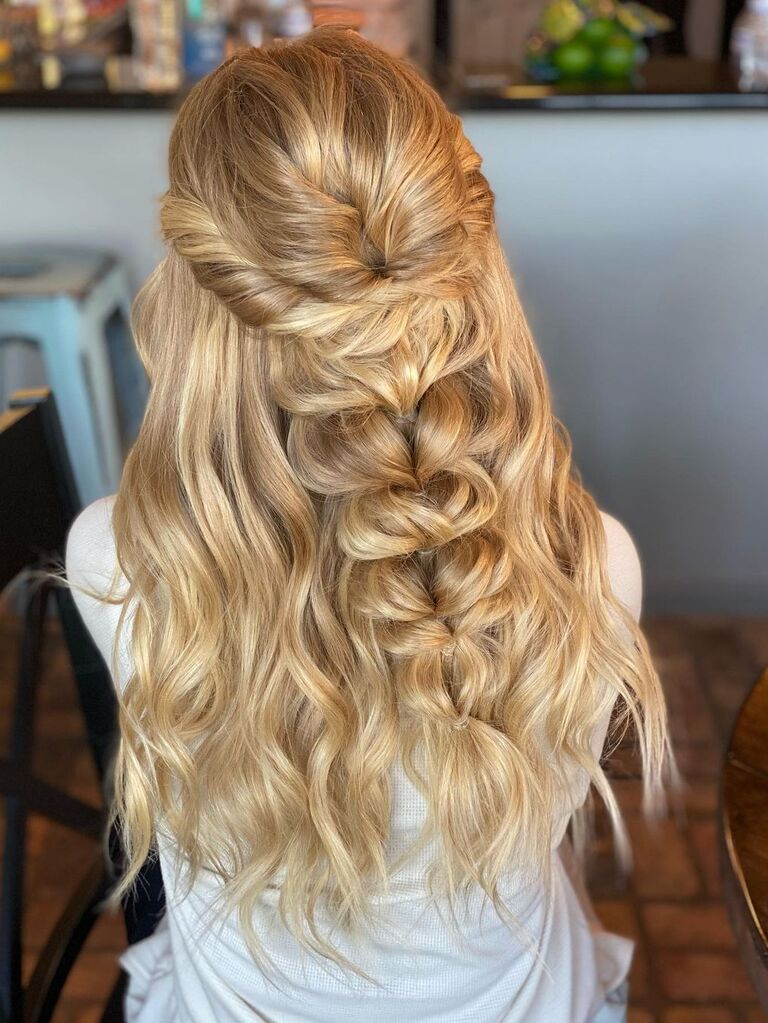 A casual, bohemian take on the trendy pull-through braid—which involves tying the hair into a series of pontytails and literally pulling them through each other to create a tiered look—this style is for brides and 'maids with long, voluminous hair. Have your stylist finish the look with natural loose waves on the down hair.
33. Braided Pigtails with Edges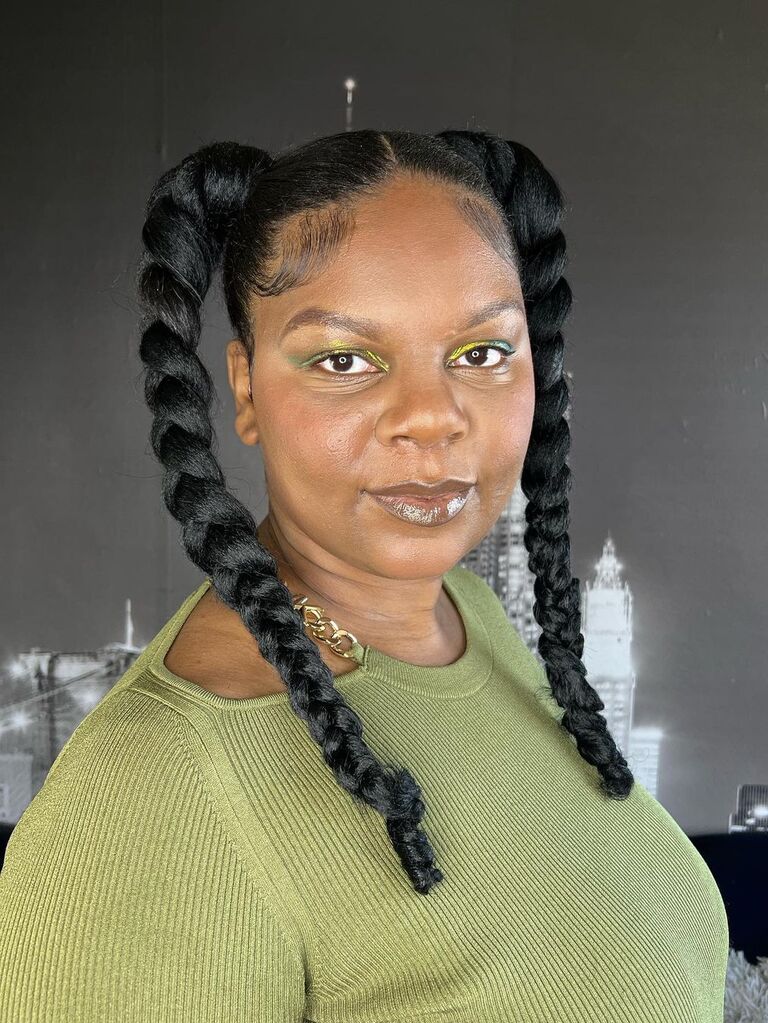 A center part is oh-so-on-trend, and works well with braids for wedding hairstyles. In this look, the pigtails are high on the head—it's fresh and modern, and fits well into an ultra-contemporary wedding venue. Psst, this is also a perfect look for playing with your edges.
34. Braided Braids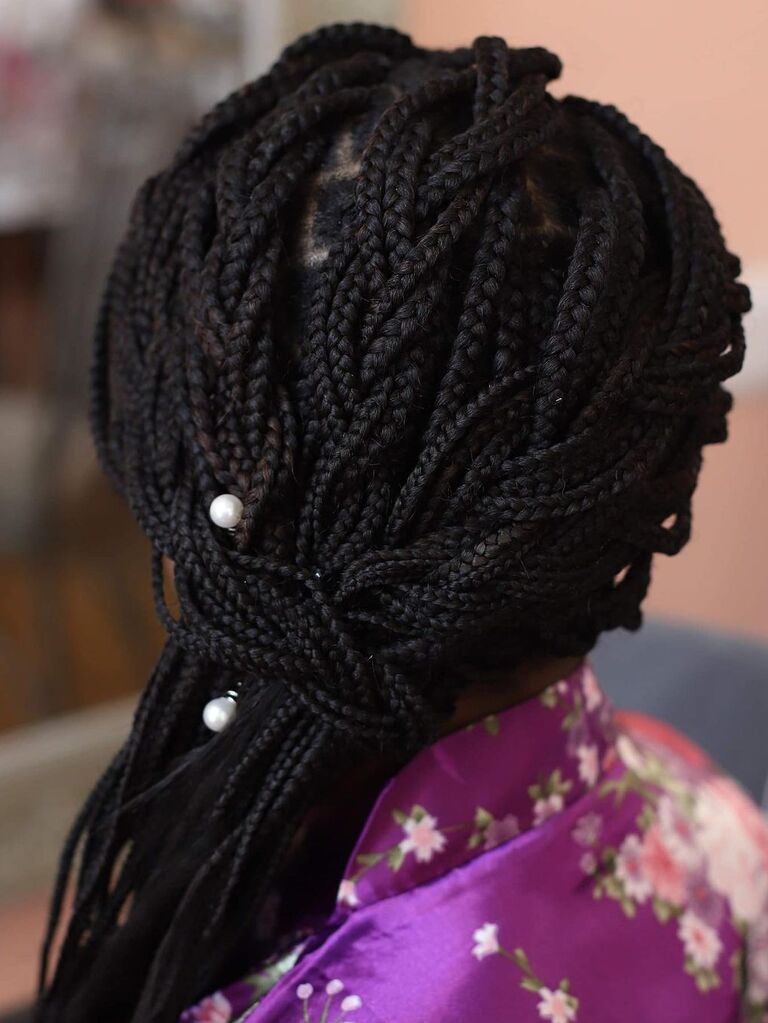 If you typically rock box, triangle or microbraids by day, double down with a braided braid hairstyle like this one for your wedding day. Here the braids are braided in sections then pulled together into a long pony—and, for a bridal boost, accented with pretty pearl pins.
35. Wide Complex Braid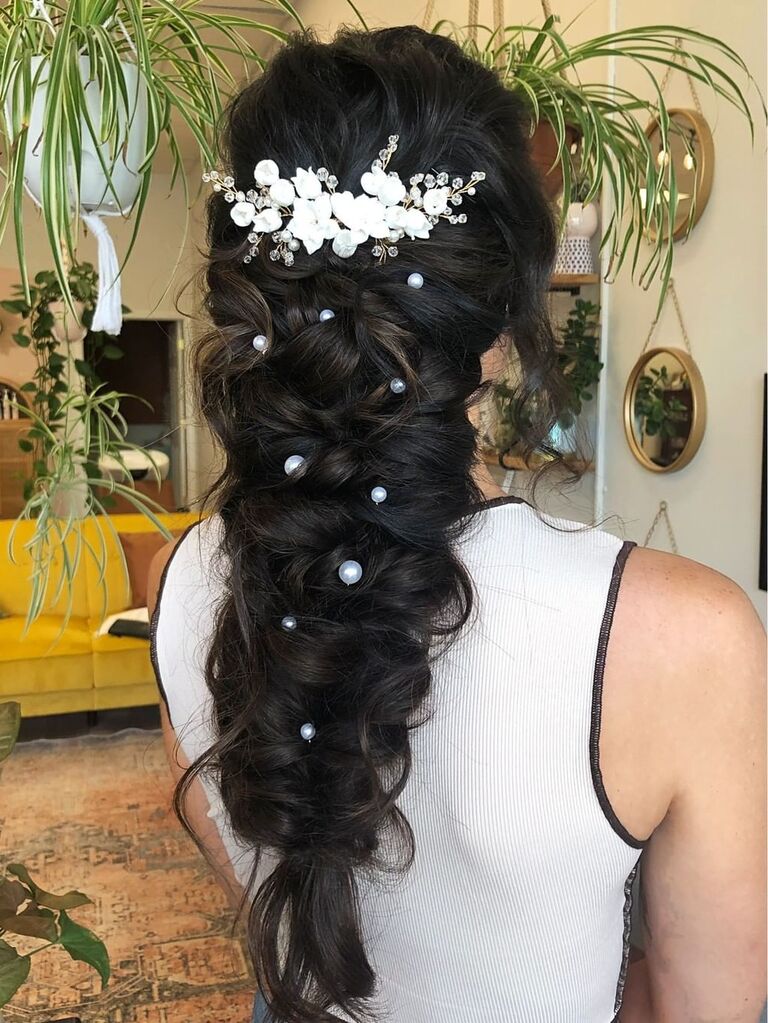 These days, bridal braid hairstyles are not just created from three equal sections. Voluminous looks like this wide braid style for wedding are intricately crafted with complex patterns and a whole lot of hair ties. But, the end result is gorgeous and romantic. Psst, if you have thin or fine hair, consider having your stylist add extensions to amp up the volume needed to achieve this style.
36. Microbraids Updo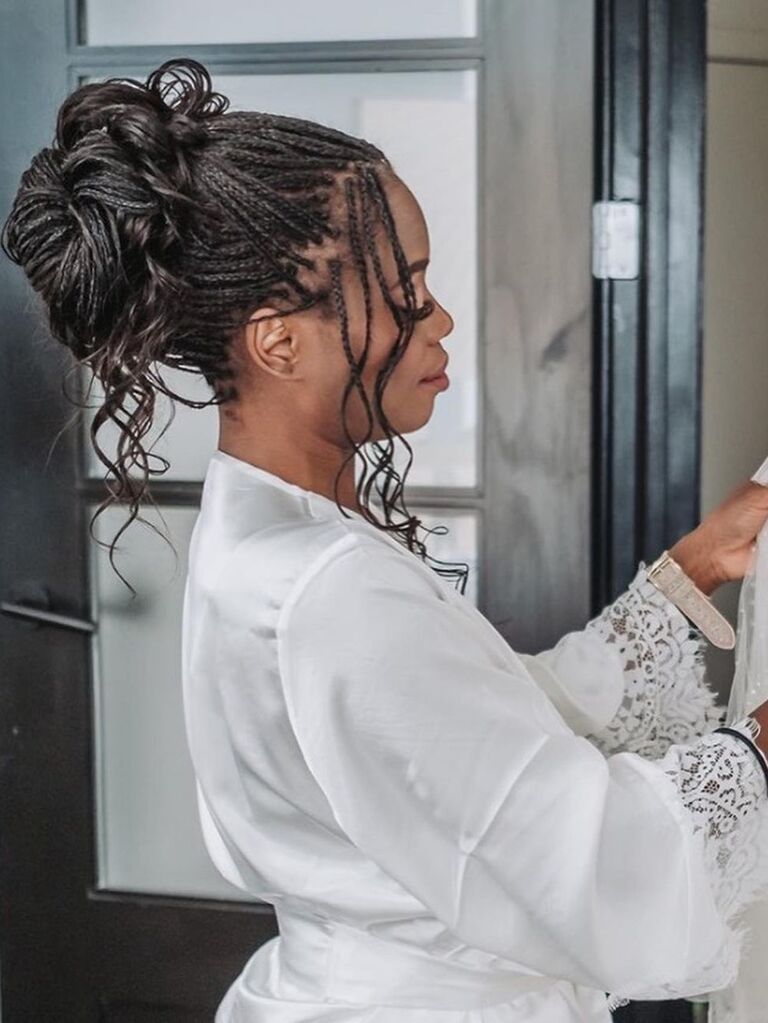 Gather microbraided hair into an intricately twisted high chignon for one of our favorite wedding braided updo hairstyles. This look can be super versatile: Keep the updo for the ceremony and then let your hair down to change things up for the reception.
37. Dual Dutch Braids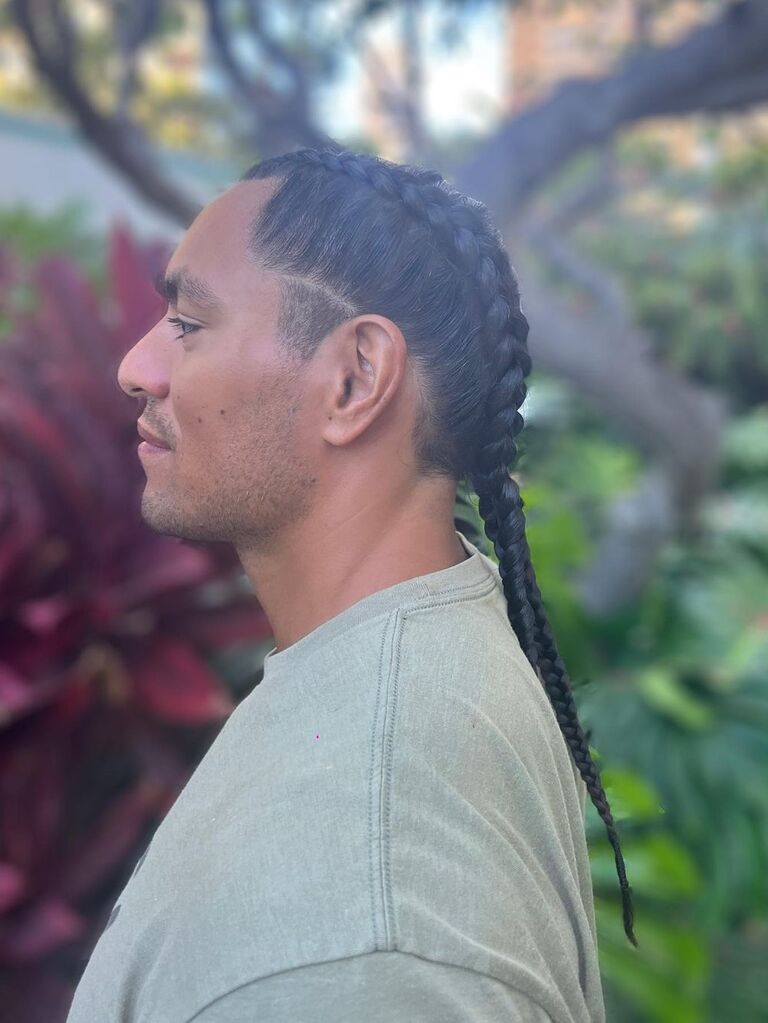 For grooms with long hair, consider a Dutch braided style (it's created similarly to a French braid, but in reverse, with strands crossing underneath instead of over top). Have your stylist touch up your sideburns and neck to keep the look extra fresh.
38. Long Pull-Through Pigtails
Why have just one bold braid, when you can have two? This pigtail style is feminine and fresh, with dual pull-through braids and a chic center part. Note that braids this voluminous often require extensions for length or volume, so make sure to get with your stylist early so she can secure ones that perfectly match your big-day color.
39. Mermaid Braid
Ever dreamed of a wedding under the sea? Or maybe you've jumped onto the all-things-Ariel trend this year. In that case, a thick mermaid braid is the style for you. This one combines multiple techniques, coming together in a wide wedding fishtail braid. We're envisioning iridescent seashell accessories or mother of pearl studs.
40. Halo Braid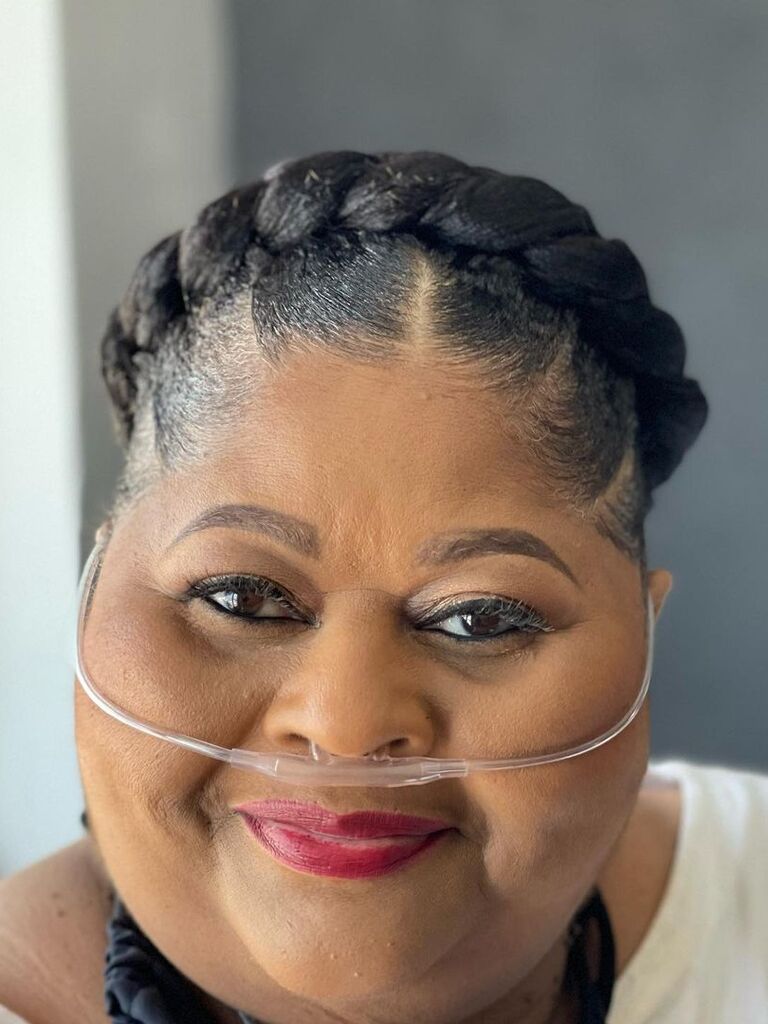 Created using the feed-in or knotless braiding technique, this halo braid is a perfect style for the mother of the bride on the big day. It's simple, chic and perfect to showcase a great pair of earrings (maybe a gift to your mom for all her help with wedding planning?).
41. Mermaid Braid with Topsy-Tail Twists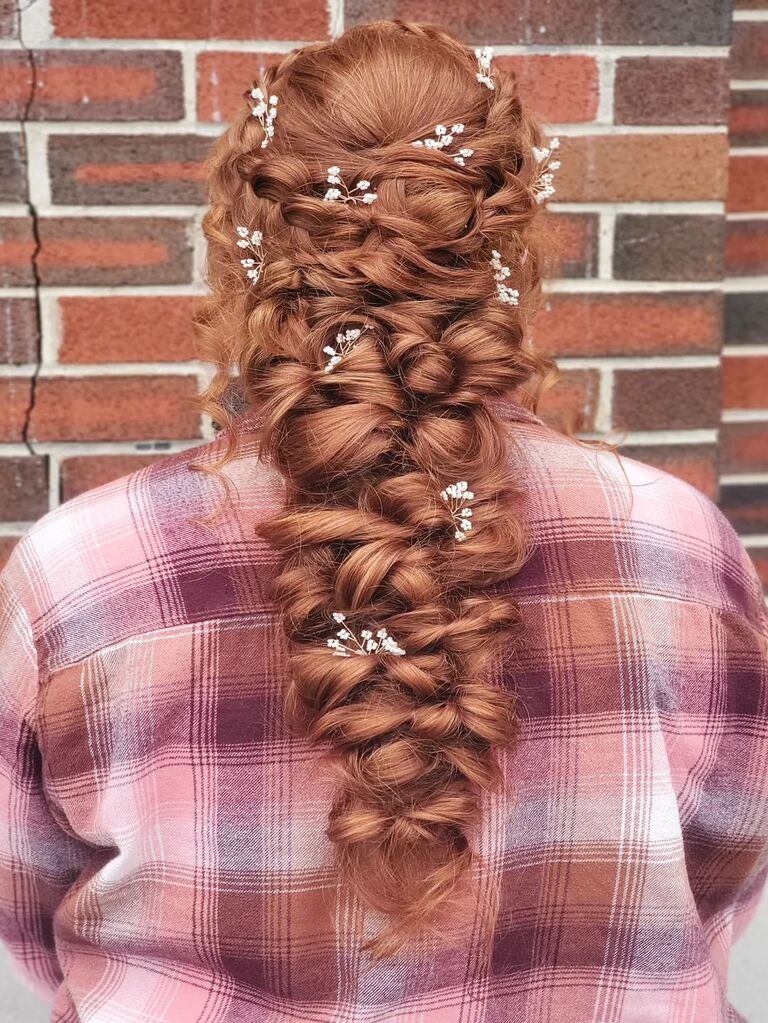 The creator of this redheaded look, stylist Jessica Manwiller, admits it's one of the hardest to describe. So if you love it as much as we do, here's some verbiage to share with your wedding day hairstylist: "Included are two Dutch braids that are gathered by a series of small topsy-tail twists," Manwiller says. "The twists are staggered to create a fuller appearance, and each twist is pulled apart to create the illusion of fullness and thickness."
42. Braided Chignon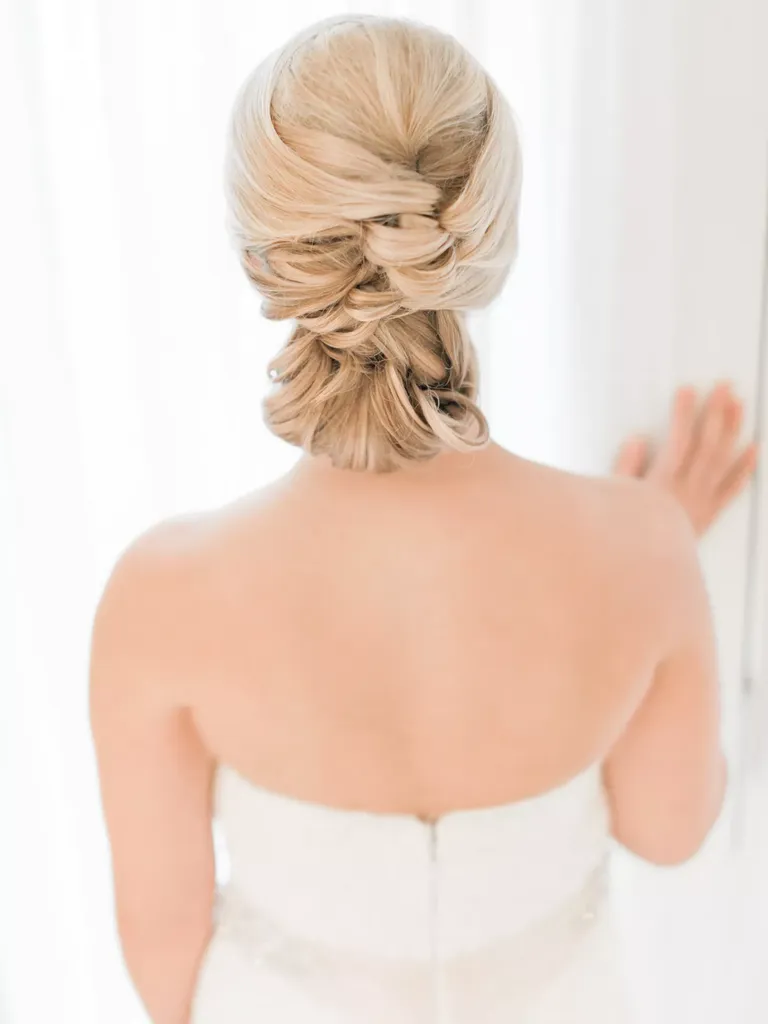 A low chignon is one of the most classic and romantic bridal hairstyles, and a braided bun hairstyle brings it into the modern day. Pair the 'do with a strapless gown with a long train—and a diamond necklace—for a look that's oh-so-timeless.
43. Floral French Braid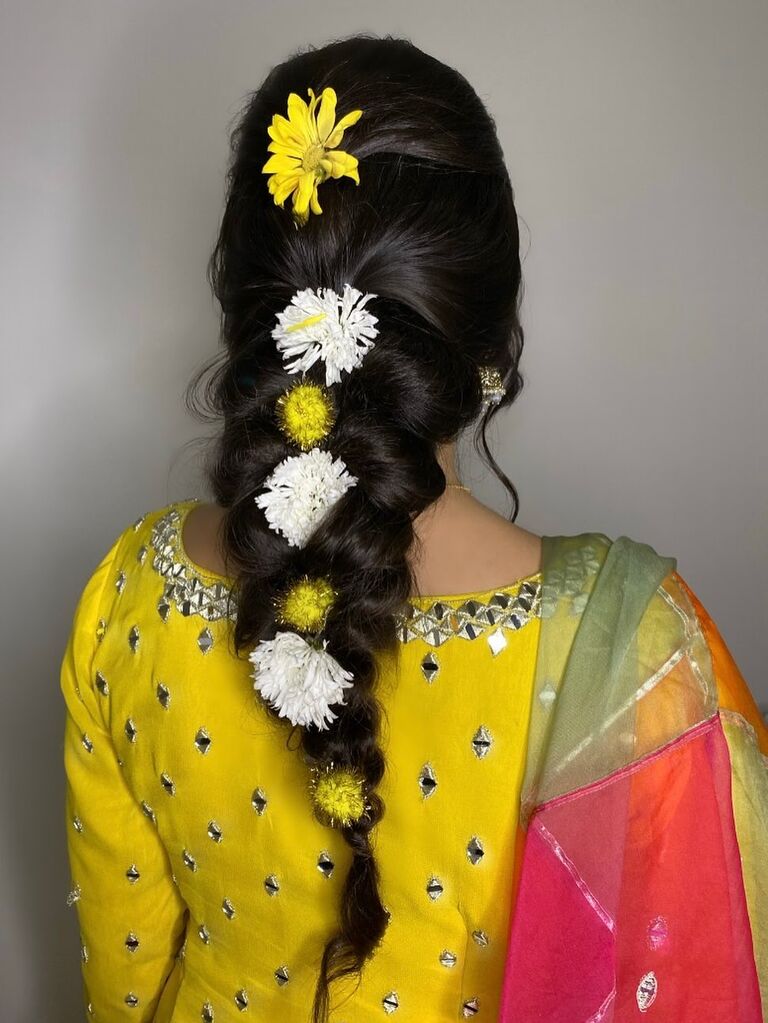 A wide French braid is a stunning wedding braided style for long hair, and a touch of vibrant florals takes it up a notch. Have your florist provide extra blooms to be woven into the braid or attached on top—we love the linear arrangement of this design, drawing the eye down to the beautiful back of the dress.
44. Ombre Crochet Braids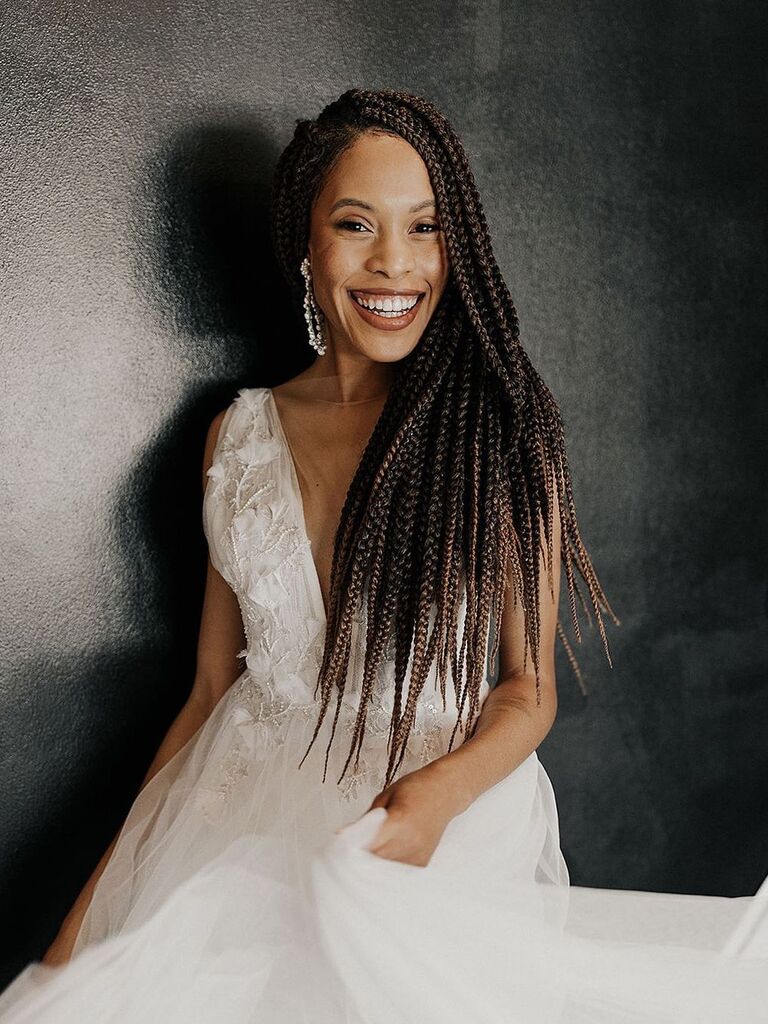 Here, large crochet braids are styled with a side part—but the real trendy element comes through the color. Opt for an ombre in the long braids for something fresh, modern and wedding-day chic.
45. Combination Braid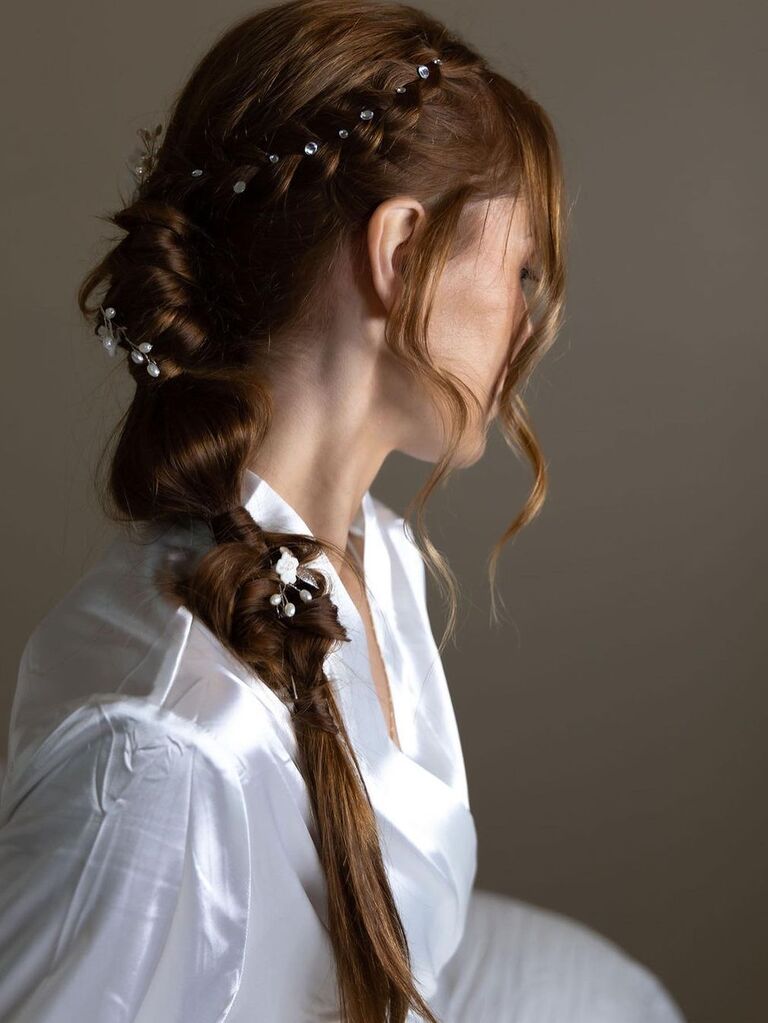 Why stop at just one chic braided wedding style? A look like this one incorporates a few different types of braids, including a demure miniature braid down the side—adorned with gemstones, no less—and a cool puffed ponytail. Loose tendrils keep it relaxed.
46. Extra Wide Fishtail Braid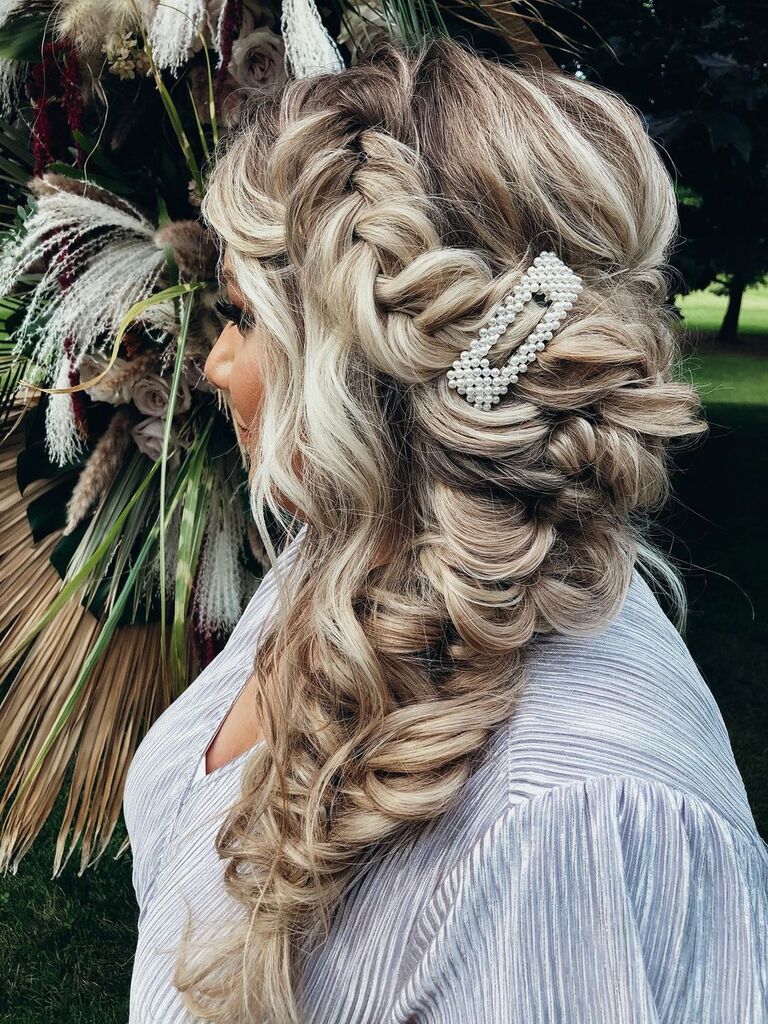 For brides with a lot of hair—be it natural or amped up with extensions—a complex and extra-wide braid wedding hairstyle is the way to go. This one has a classic braid, pulled extra loose, around the crown, and a loose fishtail finish. Add in a barrette that plays off your gown or accessories to tie the look together.
47. Shaved Braid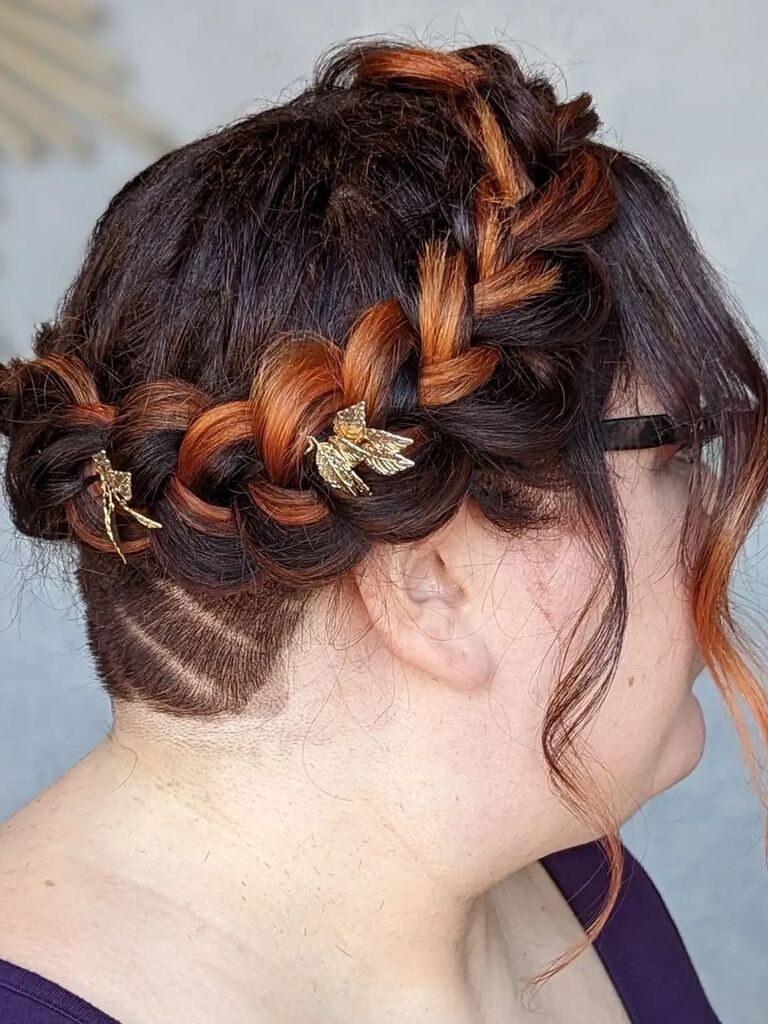 We love a bride or bridesmaid who can rock a partially shaved hairstyle. This milkmaid braid shows off the shaved stripes underneath while offering a sophisticated look that's still wedding-appropriate. And, bonus, a thick classic braid like this one is great for showcasing highlights and balayage.
48. Multi-Strand Braid with Twisted Tendrils
A classic braid is created by crossing three separate strands or sections over each other; the more strands you add, the more complex the style gets. This look features intricate crossovers and coils, but the most unique aspect is the way strands are let loose here and there, creating a cascade of tendrils that give it a laid-back air.
49. Woven Pull-Through Updo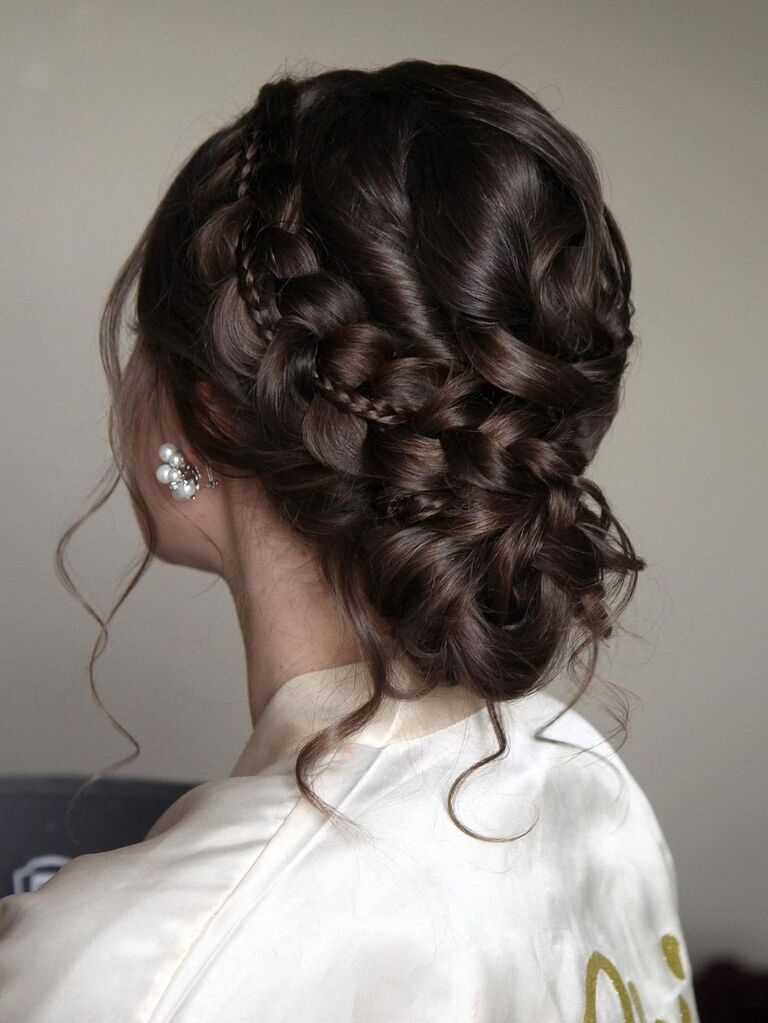 There's really no limit to how creative you can get with braided wedding hairstyles. This low updo features a pull-through braid on the side, intricately woven with a miniature braid. A few loose tendrils in front and hanging from the braided bun give it a chic finish.
50. Side Braid with Flowers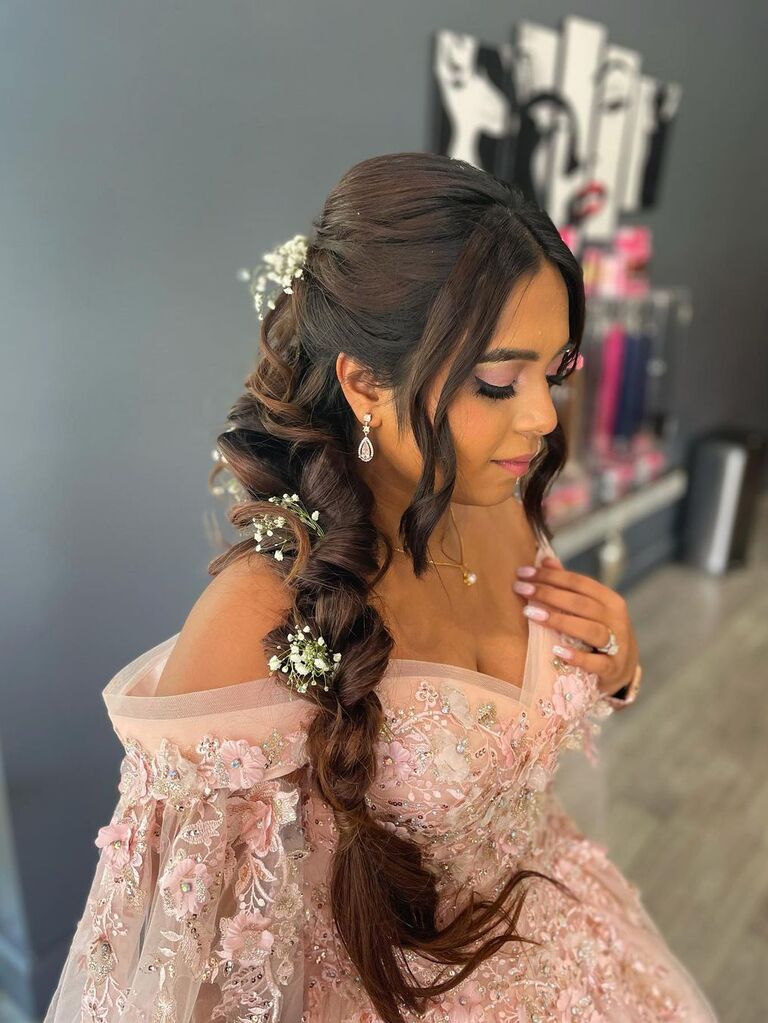 Side braid hairstyles for weddings are a timeless choice. We love the way this intricate style is popped with posies of baby's breath (a super on-trend floral, by the way).
Tips for Choosing the Best Braided Wedding Hairstyle for You
"When choosing a braided hairstyle for your wedding, the main factors that come into play are versatility—maybe there could be a dress and hair switch for the reception—comfortability and durability," says hair expert India Williams. Bridal braided hair and wedding hairstyles for braids are no doubt on-trend, but there are definitely a few factors you should consider when selecting your exact style.
The Stylist
Braided wedding hairstyles are some of the most complex to achieve, so it's important to select someone who has lots of experience with the look you are going for. Do your research, explore the stylist's social channels, come armed with inspo images—and schedule a hair trial in advance to test things out and build the relationship. "Having trust in your hairstylist is such a balancing act that lends itself to really elevate one's look when done correctly," Williams says.
Hair Texture and Length
Different types of braids work best with different hair textures and lengths, naturally. Don't rule out extensions. You may think of extensions primarily for length, but consider the amount of hair needed for complex braids like a fishtail or infinity braid—and that means volume, too. Work with your hairstylist before the big day to ensure you have all the extra hair you'll need on hand, and that it matches the color you'll be rocking on the wedding day.
Prep Time
Due to their complexity, braided wedding styles take longer to achieve than a lot of other styles, so make sure you work that into your day-of timeline. If you'll need extensions, consider having them added in the day before, or getting your microbraids perfected in the leadup to the wedding and then simply styled day-of.
Weather
Braids work well to keep hair contained in weather with a lot of humidity (looking at you, destination brides!) and, especially for Black hair, are considered a protective style in general.
Comfort
As Williams suggests, comfort is key on your wedding day. "Who can be fully in the moment when they're in pain?" she says. "On your wedding day, your hair should be one of the additions that make you feel your best. And when you look good, you feel good!"