38 Braided Wedding Hairstyles You Need to Add to Your Pinterest Board ASAP
Put a twist on your day-of 'do.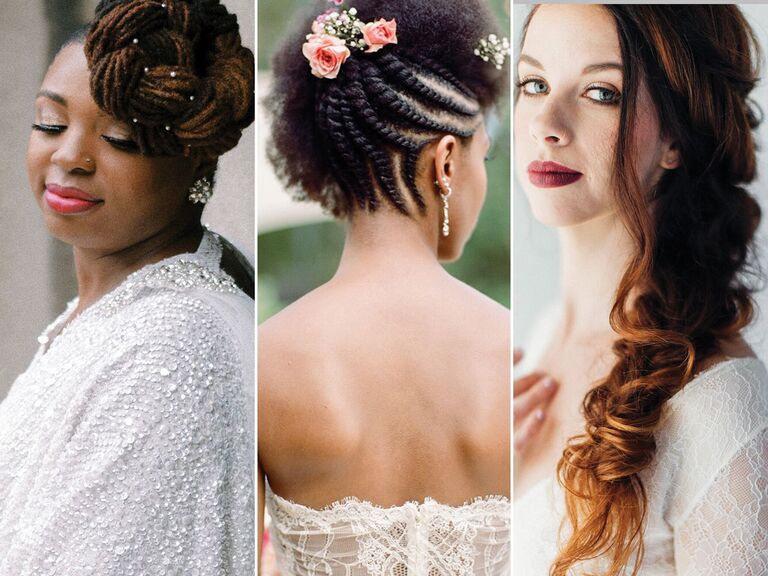 Everyone wants to feel confident on their wedding day, and an elevated beauty look can help you achieve that feeling. Maybe it's a dramatic eye look, a romantic perfume or a hairstyle you've never had the time to master—like braids, for example. That's why we rounded up 38 braided wedding hairstyles you'll want to save to your wedding vision board ASAP. And with the help of a professional hair stylist, you can achieve a jaw-dropping, elaborate braided 'do for your big day. Read more about the different types of braiding techniques and scroll through our favorite braided wedding hairstyles, below.
Types of Wedding Braids
Come to your wedding hair trial prepared. Learn the names of some of the most popular types of braids (and what they are) here.
Box Braids
Box braids are a protective hairstyle that includes three-stranded plaits. They differ from cornrows because they aren't braided flat against the scalp. Instead, the hair is sectioned off into squares (hence the name "box") and braided down to the bottom. "To achieve box braids, you have to wrap synthetic extension hair around the base of your natural hair, creating a knot the scalp and then braid the rest of the hair," explains Kiyah Wright, Gold Series and Royal Oils celebrity hairstylist.
Cornrows
Cornrows are a highly-protective and low-maintenance hairstyle for natural or relaxed hair. Typically, they're three-stranded twists that lie flat against the scalp and go towards the back of the head. They can take on various shapes depending on your personal preferences.
Dutch Braids
Dutch braids are similar to French braids, but there's one key difference. For both plaits, you start with three strands and continue adding more hair into the braid as you go on. With Dutch braids, however, you cross the sections underneath each other to create an inside-out appearance. "Begin with a standard braid for your foundation, and then cross your right strand under the middle strand," Wright explains. "Then, cross the left strand under the new middle strand."
French Braids
A classic French braid is a classic style that looks neat and clean. "A French Braid is a three-strand plait that involves braiding the sections of hair together, starting from the crown of your head to the nape of your neck," Wright says. "Start by interweaving three relatively thin strands, typically starting near the crown, then adding more hair into the braid from either side to the end." To get that seamless effect, cross the sections over each other as you braid.
Fishtail Braids
One of the most popular wedding braid hairstyles on Pinterest is the fishtail braid. That's because this unique-looking plait gives off an effortlessly cool vibe. It creates a texture similar to a scaly fishtail, which is where the name comes from. To achieve this twist, section your hair into two and sweep one piece of hair across to the opposite section, alternating sides.
Waterfall Braids
This Instagram-famous braid is a softer, more subtle wedding braid hairstyle. "For a waterfall braid, you have to create a horizontal or diagonal plait throughout loose hair with strands flowing throughout the braided hairstyle so it looks like streams in a real waterfall," Wright says.
Our Favorite Wedding Braid Hairstyles
Ready to get inspired? See the 38 wedding braid hairstyles we're obsessing over, below.
Braided Updo
Braid the center portion of your hair back, slowly incorporating the sides to create a fun, edgy updo.
Braided Top Knot
Twist your ponytail into a braid and then spin it into a chic top knot. Place it off-center for a retro-glam vibe.
Bridgerton-Inspired Updo
Dear Reader, it's no secret Bridgerton has caused a spike in searches for wedding hair pieces. Twirl a braided ponytail up into a low bun and don a sparkly hair accessory (a comb or tiara, for example) to shine like the diamond of the season.
Cornrows With Hair Piece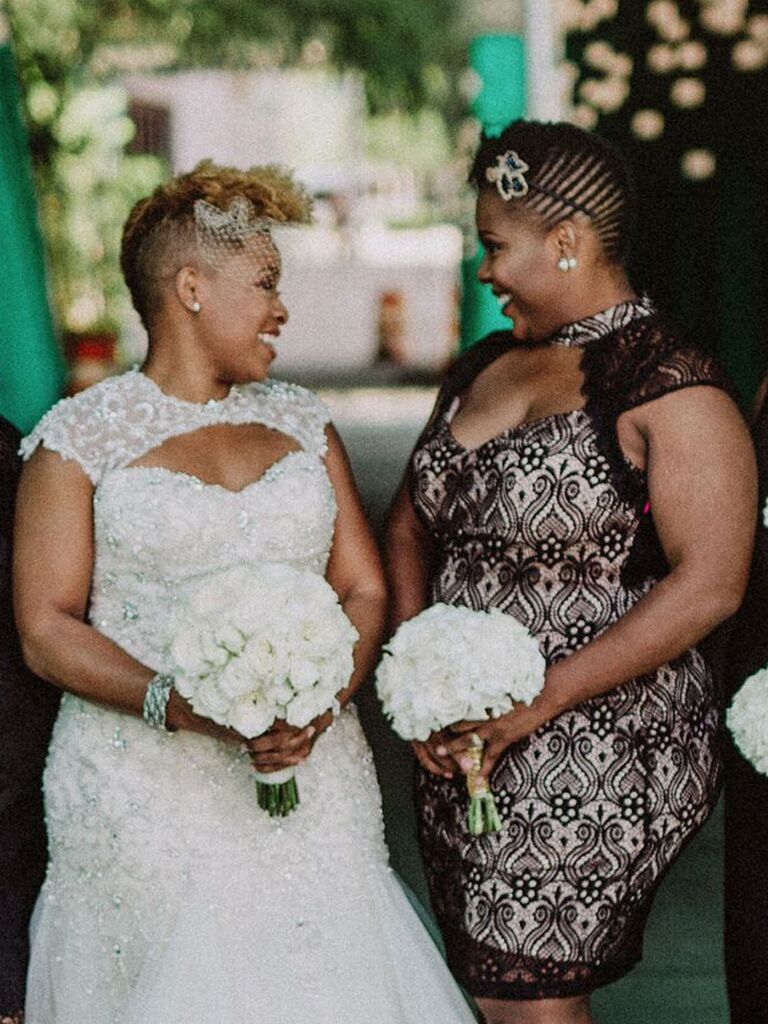 Add some sparkle to your cornrows with a fun headpiece, like a beaded headband.
Braids With Twist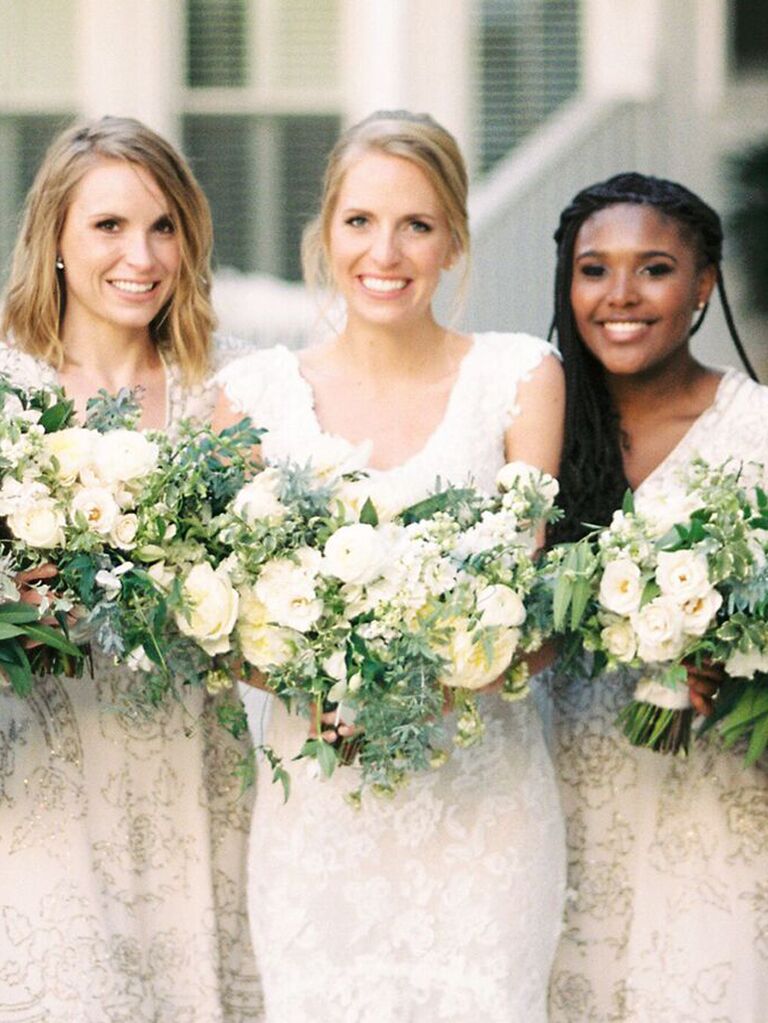 Add extra volume to your box braids by gently twisting one side back.
Chic Center Part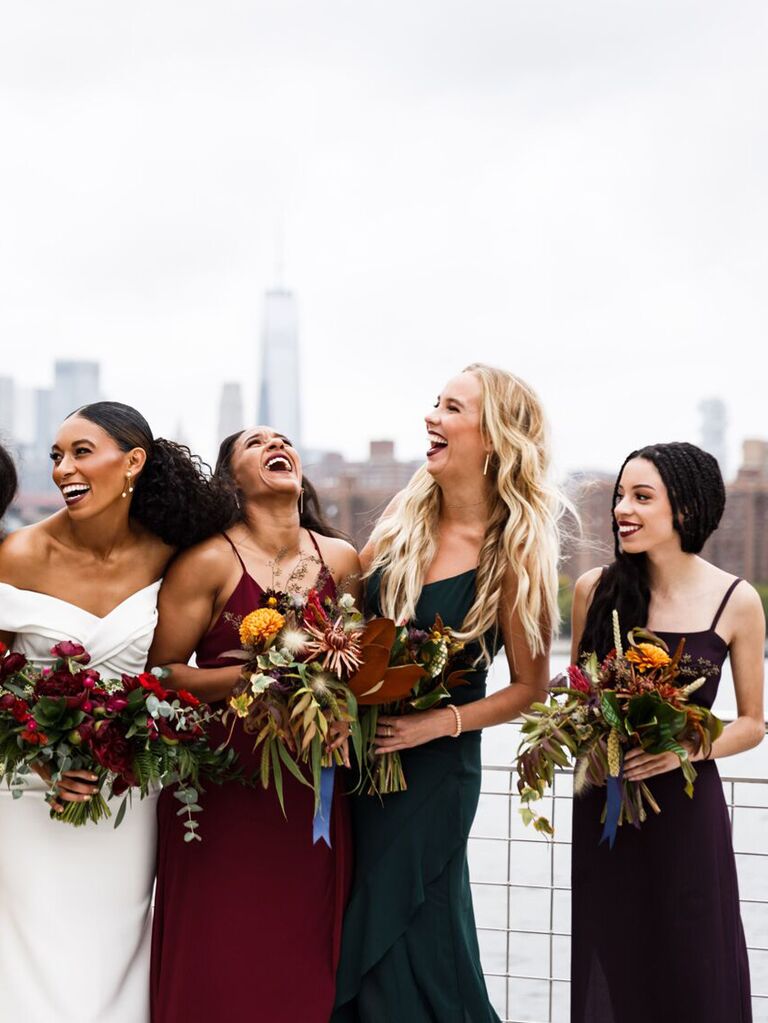 Let your braids shine by rocking an on-trend center part.
Half-Up Hairstyle With French Braid
Add a little extra something to a classic half-up half-down wedding hairstyle. Incorporate a chunky french braid for a stylish way to keep your hair out of your face.
Reverse Braided Updo
You can still wear a braided wedding hairstyle with short hair. Twist your tresses into braids from the bottom-up to create a unique updo.
French Braid With Accessories
Take a simple wedding braid hairstyle to the next level by incorporating flowers and hair jewelry.
Flower Vine Accent
Here's a creative braided wedding hairstyle for long hair. Braid back one side and then match it with a pretty flower vine on the other side.
Classic French Braid
Dreaming of a classic side braid wedding hair 'do? Pull inspiration from this gorgeous, oversized French braid.
Wispy Fishtail Braid
Ask your hairstylist for a tight, polished fishtail braid and leave a few pieces out front for a romantic, wispy look.
Textured Updo
We love this unique wedding braid updo because it's equal parts pretty and practical. (Read: it'll look stunning in wedding photos and stay out of your way while you get down on the dance floor.)
Braided Halo With Flowers
Create a half-up halo effect with a French braid and add in flowers for a boho touch.
Braided Back With Flowers
Looking for a fresh take on a flower crown? Braid back both sides of your hair and pin them in the back. Then, add in colorful flowers.
Tightly Braided Half-Up Hairstyle
Take the front pieces of your hair and braid them back tightly for a modern half-up look that shows off your short tresses.
Loose Fishtail Braid
A loose fishtail is the ultimate cool-girl wedding braid hairstyle. Have your stylist twist your long tresses (or extensions) and then gently pull on the edges to create a perfectly messy updo.
Low Bun with French Braid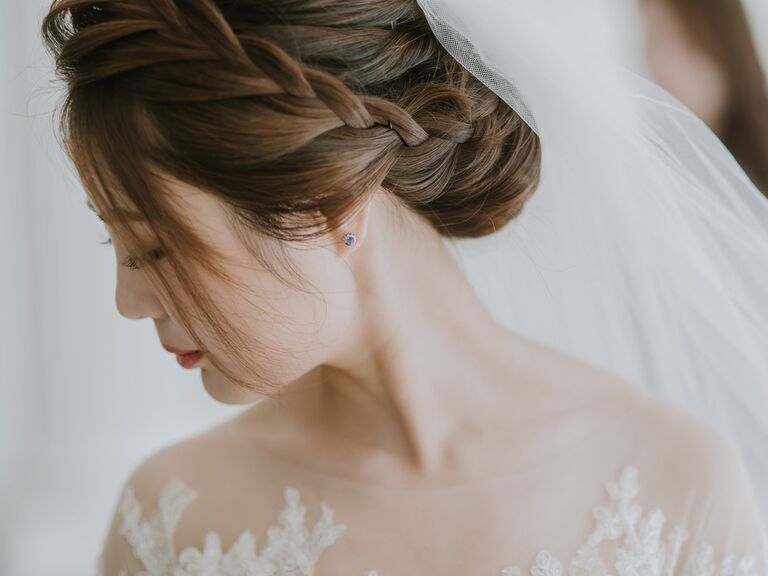 Here's a braided wedding hairstyle for long hair that we love. French braid the side of your hair and twist it into a low bun.
Simple Crown Braid
Searching for a wedding braid hairstyle for bridesmaids? A braid crown is a pretty way to keep your hair out of your face.
Braided Updo With Flower Crown
Calling all boho to-be-weds: This braided wedding hairstyle is for you. Pin your plaits into a low updo and accent it with a crown made of greenery and flowers.
Braided Barrette
For a unique wedding 'do, ask your stylist to create a half-up style with a braided barrette.
Loose Dutch Braid
We love braids because they look great even if they're a little messy. Case in point: this gorgeously undone Dutch braid.
Romantic Dutch Braid Crown
For a wispy, boho vibe, create a half-up hairstyle with a Dutch braid crown—but leave pieces out in the front.
Bridesmaid Fishtail Braid
You can't go wrong with a fishtail braid as a bridesmaid. It's a chic and simple look that will keep your hair up and out of the way.
Braided Half-Up 'Do
Create a braided half-up style and pin flowers into your plait for a laid-back hairstyle that will look gorgeous in pictures.
Textured Half-Up Hairstyle
Add two small braids into your half-up hairstyle for an edgy spin on a classic style.
Half-Up With Braids and Flowers
A half-up hairstyle with braids and flowers in the back is perfect for the laid-back, boho bride.
Tightly-Braided Half-Up Hairstyle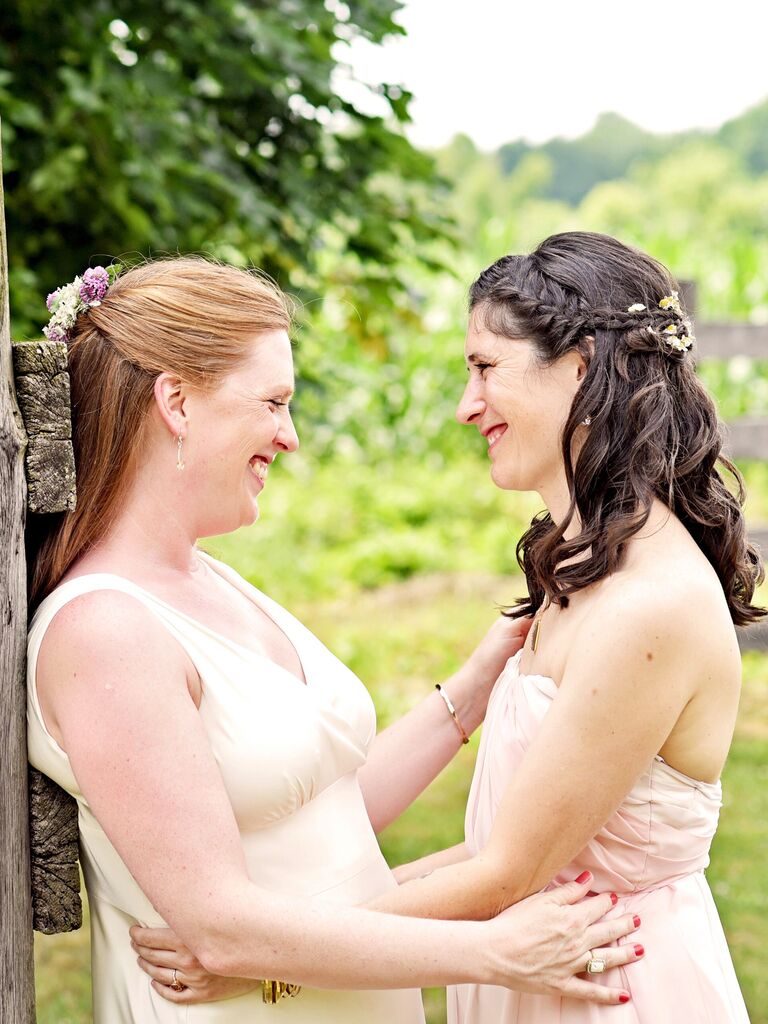 For a simple and sweet style, wear a half-up hairstyle with a French braid that goes all the way down to the top of your ear. It's a surefire way to keep your hair out of your face the whole day.
Sparkly Fishtail Braid
If your style is somewhere in between glamorous and bohemian, you'll love this wedding braid hairstyle. Create a low, loose French braid and add in small, sparkly hair pins.
Side Fishtail Braid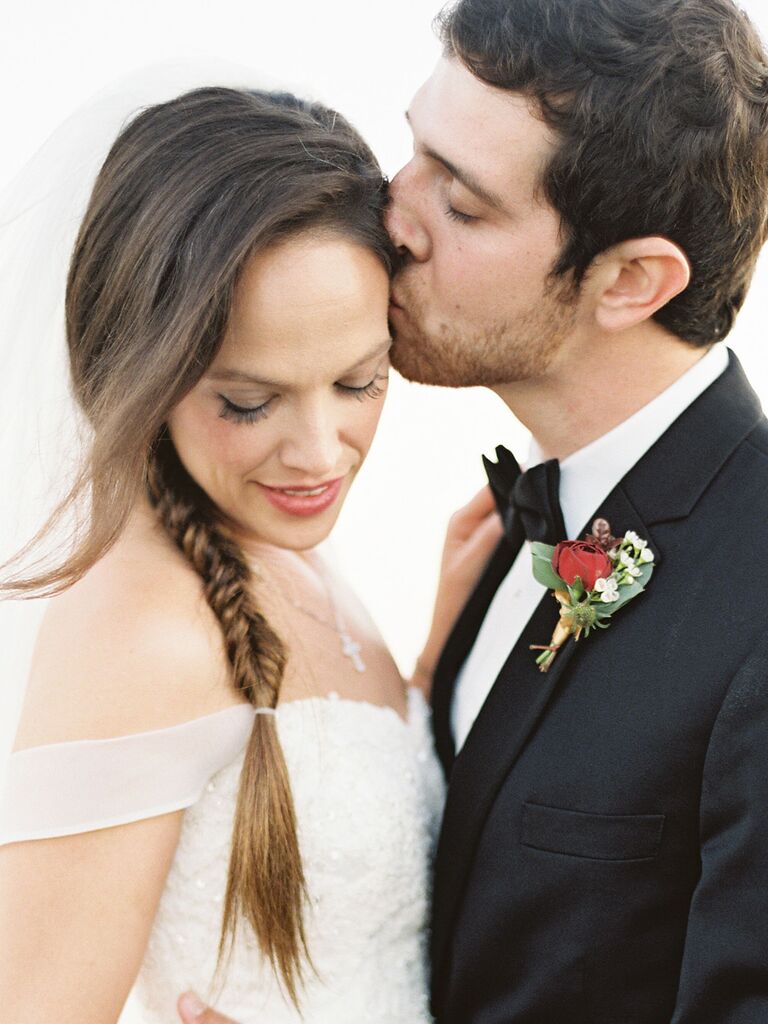 Here's a simple side-swept wedding braid hairstyle. Gather your hair into a low side ponytail and create a fishtail braid. Pull out pieces in the front for added drama.
Dramatic Side Braid
You can never go wrong with a side braid for your wedding. Use your long hair (or buy extensions) to create an oversized Dutch braid. Add in whatever flowers you'd like for an extra-special touch.
Boho Braided Bun
A loose Dutch braid crown paired with a low-messy bun creates the ultimate boho wedding hair 'do.
Low Bun With Small Braid
Tightly braid the front of your hair back into a low bun for a simple wedding braid hairstyle that will look stunning.
Pulled Back on One Side
Softly braid one side of your hair back and add in flowers and a veil for a dreamy, romantic vibe.
French Braid Crown
Here's a unique wedding down style we love. Create a French braid crown and leave the rest of your hair down.
Textured Updo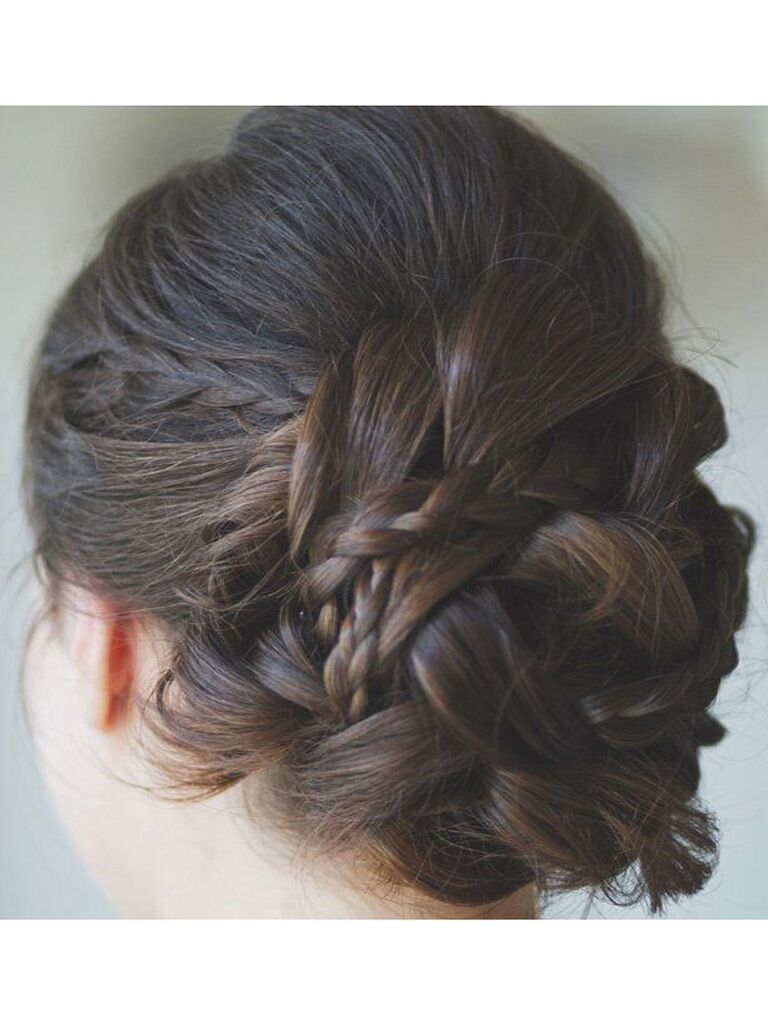 Incorporate different-sized braids into an updo for an unexpected twist on a classic style.
Braided Back
Looking for an edgy wedding braid hairstyle? Twist both sides of your hair back (we recommend using a Dutch braid here) and pin in the back.
Braided Low Bun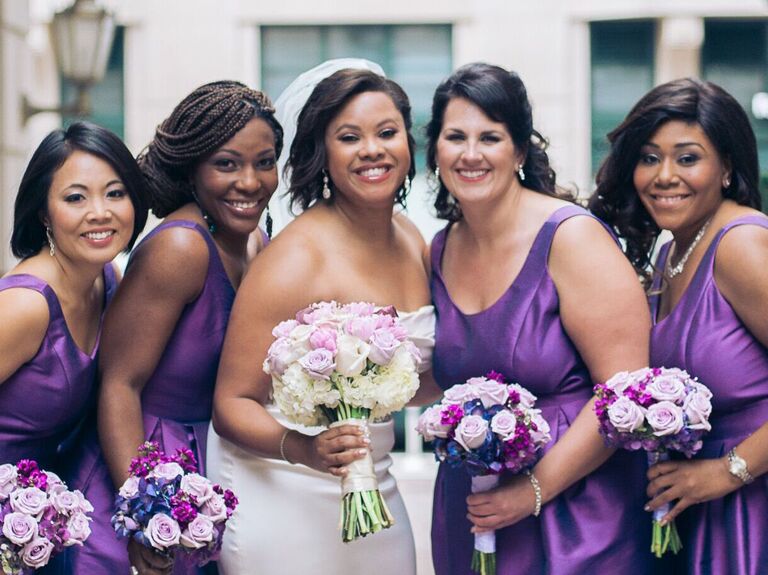 Gather your braids into a sweeping low bun for a fun spin on an elegant style.