Your Complete Guide To Navigating Student Loans And Marriage
You will be tied to your spouse—but not their student loan debt.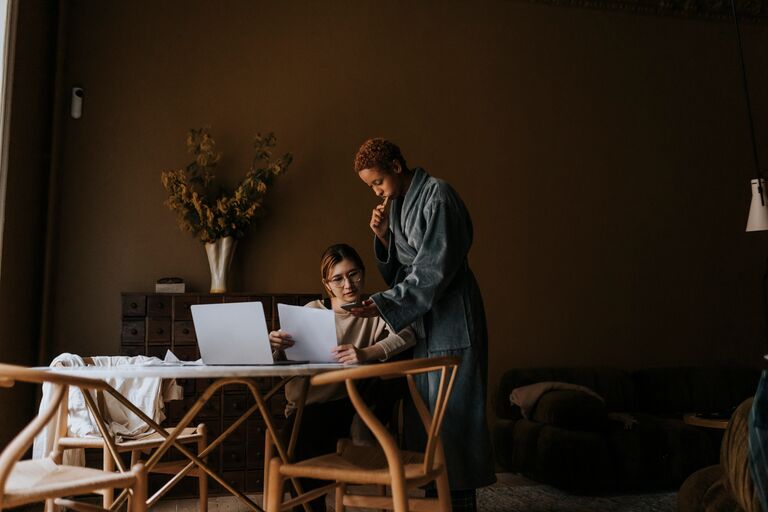 Photo: Getty Images | Maskot
There are so many things that go so well together: Peanut butter and jelly, Champagne and wedding cake, all of our favorite celebrity couples, you and your partner (duh). However, two things that we often don't want to think about together is this unfortunate combo: Student loans and marriage.
It's not uncommon to be curious about how student loans and marriage interact and relate. In fact, according to a survey from National Debt Relief, it was found that three in five Americans have at least thought about delaying marriage because they do not want to take on their partner's student debt burden. But without the financial facts, it's hard to make the best decision for you and your future spouse.
So what really happens when you marry someone with student loan debt? Does marriage affect student loans? And what happens to those repayment plans when you combine incomes? Michael Hammelburger, finance expert and CEO of The Bottom Line Group, is here to answer all your looming student loan debt and marriage questions below.
In this article:
What Happens To Student Loans When You Get Married?
According to Hammelburger, essentially nothing happens to your student loans after tying the knot: Your student loans remain yours—and your partner's remain there's. Debt is not automatically combined, increased or diminished, nor transferred to a partner's name.
"When you marry, your student loans usually remain your sole responsibility," he explains. "Marriage does not automatically combine your student loan debt with that of your spouse."
Is Your Spouse Responsible For Your Student Loans Once You're Married?
If you've been following in the footsteps of those who have considered delaying marriage solely because of student loan worries, you can breathe a sigh of relief. Your student loans will not automatically or legally become your partner's burden (or vice versa) when you say "I do."
"Unless they co-signed the loan or live in a community property state, where debts incurred during marriage may be considered joint," Hammelburger shares, "Your spouse is not automatically responsible for your student loans after marriage."
So, as long as 1) you haven't co-signed your student loans and 2) haven't taken on student loans after getting married and while living in a community property state, then you'll effectively have no responsibility for one another's debt.
Will Your Spouse's Income Affect Your Student Loan Repayment?
There are various types of student loan repayment plans. For this student loan debt and marriage question, it truly depends on what type of payment plan you're on to pay back your debt over time.

According to Hammelburger, if you're on an income-driven repayment plan (a plan that is based on your income level to give you a payment you can afford each month), then it is possible that your spouse's income may affect it. Whether your partner makes more or less than you, your combined household income will be taken into account if you choose to go this route, which may have an impact on the monthly payment amount.
However, there are so many options for repayment out there that do not take your spouse's income into account, too. Check out your student loan provider options to see what could be best for you if your payment plan increases too significantly on the income-driven repayment plan.
Does Marriage Affect Student Loan Eligibility?
Maybe you're looking to go back to school after time off, want to get another degree or are just starting out on your higher-education journey. When it comes to student loans and marriage, does having a spouse affect your eligibility to qualify for student loans?
The answer is simple: No. Regardless of your marital status, federal student loan eligibility is only determined by factors like your income, dependency status, and academic progress. However, you will have to report joint income if you've already tried the knot and this may impact certain loan eligibilities.
What Should You Do If You're Marrying Someone With Student Loan Debt?
If you're considering marrying someone with student debt, it's always important to have open and honest conversations about it. The best thing you can do to set your marriage up for success is to be as communicative as possible, early on, about your finances. Even if it's hard.
After all, it's estimated that 40% of marriages that end in divorce are because of financial problems. For every ten marriages that lead to divorce, it's likely that four of them end because of money. This is why it's essential to communicate and to be open and honest about finances from the start. If you can start strong in your financial literacy and communication with your partner, you're much less likely to have problems arise from money issues.
"Always consider discussing financial goals, budgeting and each other's financial situations if you're marrying someone who has student loan debt," Hammelburger suggests. "While marriage does not mean combining debts, open communication is essential for effective financial management."