Tuck the Tux Away: Casual Groom Styles Are In!
Put that tux back in the closet! With couples taking a more laid-back approach to their weddings, lavish duds are taking a backseat to more casual looks (think: faded Levi's, brightly colored corduroys and suspenders). We love this idea for a casual backyard affair, a rustic country celebration or a cool urban soiree at an historic industrial space. The key to pulling off this look? Keeping it polished. That means sneakers are definitely out — go for a nice pair of oxfords or brogues instead — and shirt tails should be smartly tucked in. Add a tie, vest or blazer to pull it all together (we promise they'll win you some extra style points!). Don't forget — balancing out your outfit is crucial. The last thing you want is to look sloppy, this is a pretty monumental moment after all. If you plan on rocking denim, make sure you dress it up with more put-together details.
Love the idea? Check out some of our favorite casual grooms and groomsmen below!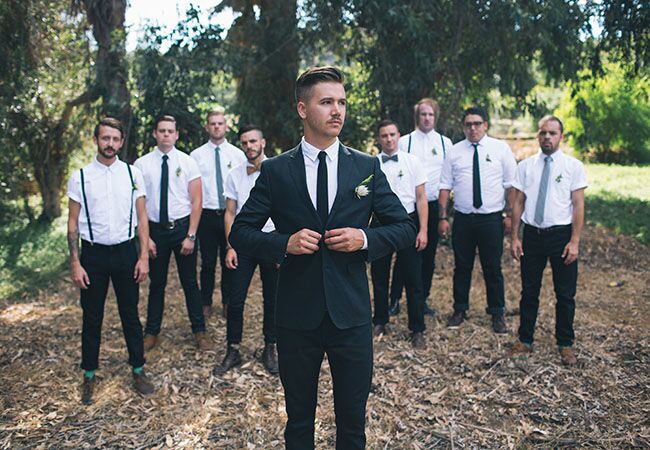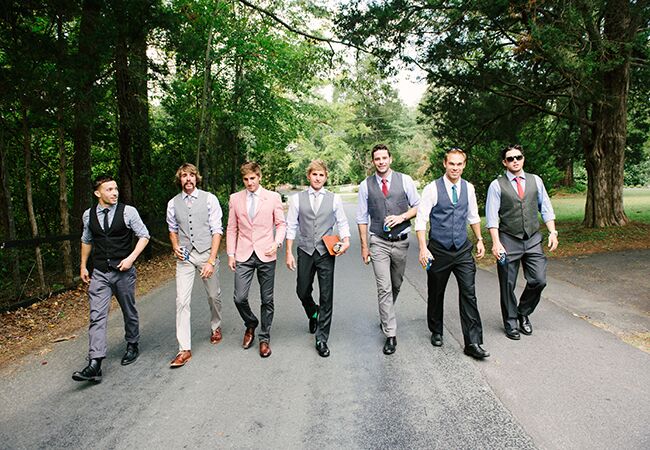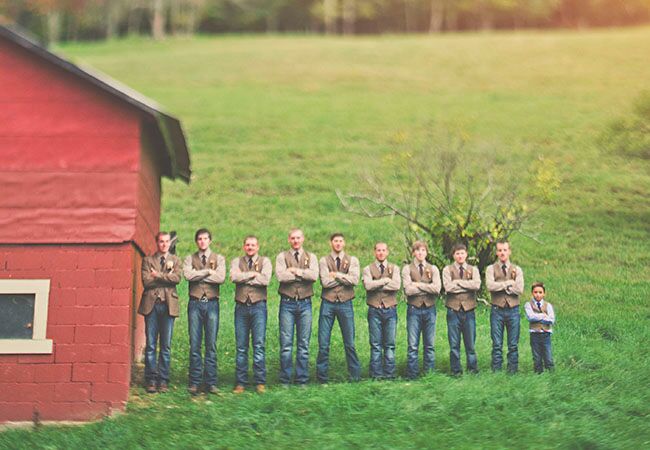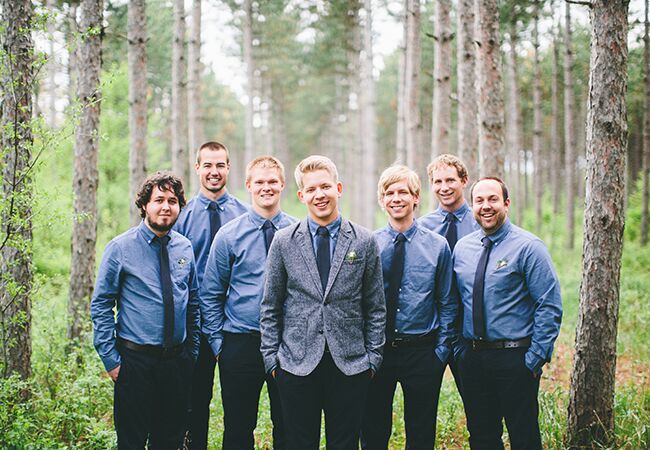 1. Cool black denim and crisp white shirts
Photo: Gregory Woodman Photography, From the album: A Casual Outdoor Wedding at Villa San Pasqual in Escondido, California
2. Classic trousers, vests and dress shirts with a mismatched twist
Photo: Jen Fariello Photography, From the album: A Fiesta-Style Wedding in Scottsville, Virginia
3. Denim, bow ties and suspenders
Photo: Q Weddings, From the album: A Bohemian Chic Wedding in Austin, TX
4. & 5. Classic denim and tweed vests
Photo: Connection Photography, From the album: An At-Home Wedding in Adolph, West Virginia
6. Colorful corduroys and tweed jackets
Photo: Redfield Photography, From the album: A Whimsical Woodsy Wedding at Camp Mack in Newmanstown, Pennsylvania
7. Simple gray trousers and white button-down shirts
Photo: Christianne Taylor Weddings, From the album: An At-Home Wedding in Hempstead, Texas
8. Chambray shirts and black trousers
Photo: Matt Lien Photography, From the album: An At-Home Wedding in Big Lake, Minnesota
9. Checked mint shirts and gray trousers
Photo: Lauren Fair Photography, From the album: A Rustic Barn Wedding at Rodale Institute in Kutztown, Pennsylvania
Want more? Right here!
> Style Stalker! Steal This Groom's Laid-Back Preppy Style
> Stylish Shoes for Every Type of Groom — Shop Them Here!