Casual Groomsman Attire 101: Everything You Need to Know
Shop our casual groomsmen favorites and get inspired by casual groomsmen outfits from real weddings to match your chill wedding vibes.
We have included third party products to help you navigate and enjoy life's biggest moments. Purchases made through links on this page may earn us a commission.
Casual groomsman attire can be a tricky thing to tackle. As a groomsman, your job description does not include being the best-dressed person in the room—that responsibility falls to the groom (and we're sure he'll crush it). At a wedding with a stricter dress code the suits the groomsmen will wear is often determined by the groom (or even the couple). However, as a groomsman you may have a bit more freedom in putting together your outfit for a wedding with a more relaxed, casual dress code.
For a casual wedding the groom will, rather than coordinate head-to-toe matching outfits, simply request that there be some unity of color and form throughout groomsmen attire. Colors that match the bridal party, coordinated accessories, and even the intentional absence of ties can make the wedding party look like they belong together without dictating every outfit. While your priority should be to dress like a member of the wedding party, a casual groomsman look is still a great opportunity to show off your personal style.
In this article:
Where to Buy Casual Groomsman Attire
The Tie Bar
The Tie Bar is the perfect one-stop shop for groomsmen looking to accessorize a casual wedding look. For years now they've made it simple: whatever kind of tie you need, be it paisley print, knit, wool, or a simple solid color, they've got it. They also stock other crucial suiting accessories like pocket squares, socks, and yes, tie bars. Their website is easy to navigate, they ship worldwide, and their prices are tough to beat, making the Tie Bar the ideal shopping destination for groomsmen looking to stay within a budget. For grooms looking to help their groomsmen coordinate, they also offer bundle deals that can include any combination of a shirt, tie, tie bar, socks, and pocket square, making it easy to link your wedding party to what they need for the big day.
J. Crew
J. Crew has everything you need to put together a killer casual groomsman outfit. If you're looking to go with a dressed-down suit, their Kenmare cut is tough to beat. For those in favor of something a little more bohemian, J. Crew has an excellent selection of chambray shirts, sharp trousers, and breezy linen button-downs. Don't sleep on their accessories–some of the coolest ties, pocket squares, and socks you'll find are available at J. Crew, with their paisley print pocket squares and groovy geometric ties aligning perfectly with some of our favorite wedding trends in 2023.
Dandy Del Mar
For groomsmen looking to channel a bit of The White Lotus in their casual wedding day look, Dandy Del Mar is an excellent choice. The brand has blown up over the last couple of years thanks to their retro leisurewear and beach-ready pieces. You may want to save their super-short swim trunks for the bachelor party but their knit polos and matching shirt/shorts sets could fit right in at a casual wedding. Layer a knit polo under a jacket with well-tailored trousers and you'll make the groom proud. Their bandanas and silk scarves also make great, non-traditional accessories–who needs a pocket square when you're fitted out like Mick Jagger?
Percival
Percival has firmly established their place as one of the most exciting brands in menswear today, being worn by everyone from Chris Evans to Michael B. Jordan on red carpets and press junkets. While knit polos are their biggest export, their catalog runs deep. For a lowkey suiting moment you'll look great in their linen suits, which are available in a wide variety of colors and will look great in just about any (weather-permitting) setting. They've got great dress shirts, some excellent trousers in of-the-moment fits, and hey, those knit polos are totally appropriate for a casual groomsman look.
Banana Republic
As of last year, Banana Republic is no longer your typical mall-friendly menswear destination. A deep dive into their archives has given way to a new (but still old-school) Banana Republic full of incredible suiting, shirting, and accessories. Their suiting, which is available in a wide array of fabrics from flannel-blend to linen (making it easy to shop there regardless of the season), is among the best you're likely to find for the price point. Their looks can be dressed down for a casual wedding and then dressed up a week later for a post-work happy hour. Groomsmen looking to dress for a western-influenced wedding will love their denim formalwear, and there's plenty of linen for the warmer months. You can buy a full look or mix and match—either way you'll show up to the wedding looking as sharp as you ever have.
Casual Groomsman Outfit Ideas
Casual groomsman attire can mean anything the wedding party wants. It's not just going tie-less when you're standing next to your friends by the altar. It can mean experimenting with fabrics, patterns, and unconventional wedding day fits. Here are some of our favorites from The Knot's archives. They're perfect points of reference for inspiration–or maybe a guide to what's already been done for the groomsmen looking to try something brand new.
Casual Chambray and Khakis
Chambray and khakis are a match made in heaven for a casual groomsman look. It's not too formal but not too informal, it's versatile, and it gives the groom a great opportunity to differentiate their look from that of their groomsmen (as they should–it's their time to stand out, after all).
Mismatch the Right Way
Because a casual dress code has a vibe that's so open to interpretation, one of the cool bits of freedom groomsmen can lean into is not wearing outfits that totally match. The wedding party here, for example, used browns and maroons as a base to draw six totally different outfits together.
Denim Invasion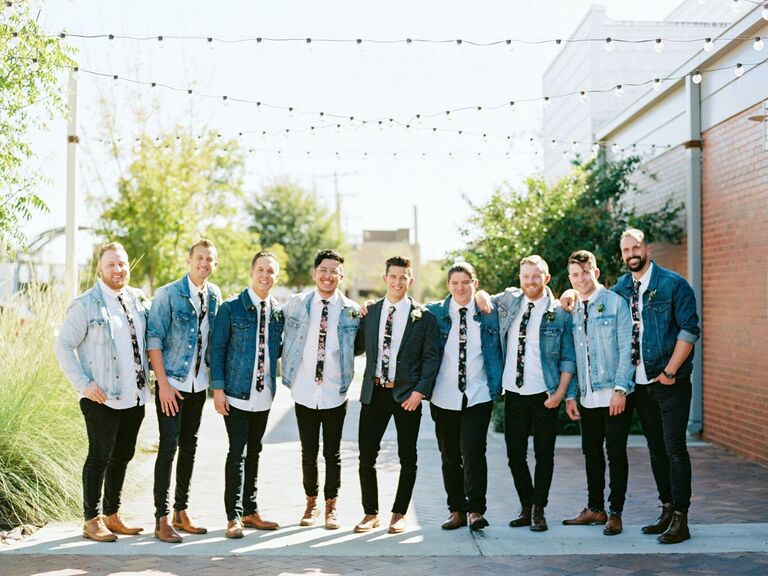 These friends fully embraced the casual groomsmen look, pairing matching button-downs and ties with some well-worn denim jackets, skinny jeans, and boots. It's uniform and gives the groom a chance to shine in his suit but still a unique take on a casual wedding party outfit.
Nautical Navy
These groomsmen wore the same Ralph Lauren linen-blend suit but with navy sport coats. The jackets come with the added bonus of being the sort of piece you can easily get a lot of wear out of in the future.
Shop Casual Wedding Attire for Groomsmen
If you need some direct groomsmen attire pointers, we've got you covered. Whether you're looking to suit up in a more casual fabric like tweed or linen, mix and match suiting separates, or really defy the norm with something like denim jackets, there are all kinds of great pieces out there that can make for a memorable casual groomsman outfit.
Percival Tailored Linen Blazer
Percival's linen suits are like a wedding day cliffs notes. You can buy one in any color and make it work for a more dressed-down casual groomsmen look or dress it up for a slightly more buttoned-up vibe. They're perfect for the summer, for beach weddings, for outdoor weddings, for weddings in general, really.
The Tie Bar Knitted Dots Tie
Knit ties make a casual outfit, and a great one at that. This isn't really a tie you could show up to a black-tie affair wearing (even if it is technically a black tie) and is the sort of piece that instantly ties together (sorry, not sorry) a dressy-casual groomsman outfit.
J. Crew Bowery Chambray Shirt
J. Crew's standard cotton Bowery dress shirt is one of the best affordable dress shirts on the market. Their chambray edition lives up to the standard set by the original. This is a super versatile piece for a casual groomsmen party that'll go great with suits or without them.
Myrqvist Stenhammar Suede Loafer
Loafers are a great choice for casual groomsman attire. They're dressy but a step down from proper lace-ups and definitely shouldn't be worn to formal affairs. Casual dress codes, though? They're perfect, especially in the summer when you can get away with going sockless. These suede loafers from Swedish brand Myrqvist are exactly what your casual groomsman outfit needs, with the suede adding character and texture to the look.
Levi's Trucker Jacket
Denim jackets don't exactly scream "wedding attire" to most, but that shouldn't stop your groomsmen from giving them a shot. Whether you're leaning into a western vibe or simply looking for a more relaxed jacket for a casual button-down and khakis outfit, a classic Levi's trucker jacket in a dark indigo rinse can make for a memorable wedding ensemble. It also comes with the added bonus of being a piece you can get a lot of wear out of after the wedding.
Kamakura Tokyo Classic in Gingham
White dress shirts have their place in casual and formal wedding parties alike. Once you put on a dress shirt in a different color or pattern though, you're firmly in casual territory. The folks at Kamakura specialize in dress shirts of all sorts, from traditional to oxford and everything in between. Any variation of their Tokyo classic is a great addition to your groomsman wardrobe but this navy gingham pattern, when paired with a button-down collar (inherently less formal than a traditional spread collar), is the sort of piece you can build a look around for all your groomsmen.
Suitsupply Light Brown Suspenders
We've noticed a pretty popular trend in casual groomsman attire lately: suspenders, and specifically suspenders worn with outfits that don't include a jacket (so as to better show off the cool suspenders!). Suspenders like these light brown ones from Suitsupply worn without a jacket are perfect for casual groomsman fits. They're not as informal as a tee shirt but are still to the left of traditional wedding menswear. Better yet, getting suspenders in a non-black neutral like these gives you some versatility in how to style them–light brown and chambray, for the record, is a tough look to beat.
Magee 1866 Tailored Fit Waistcoat
Speaking of pieces that are going to help casual groomsmen going the jacket-less route look great, vests and waistcoats can serve the same purpose as suspenders. When worn over a dress shirt or button-down without a jacket they instantly provide an air of class without coming off as stuffy. They're available in a wide array of fabrics and colors (linen vests are great for spring and summer weddings) but this navy number from Magee 1866 is perfect year-round. It comes in a beautiful neutral navy that will never go out of style and the brown accents on the buttons are the sort of detailing that takes an outfit from good to great.