Plan a Luxurious and Relaxing Thailand Honeymoon
Adventure awaits in Southeast Asia.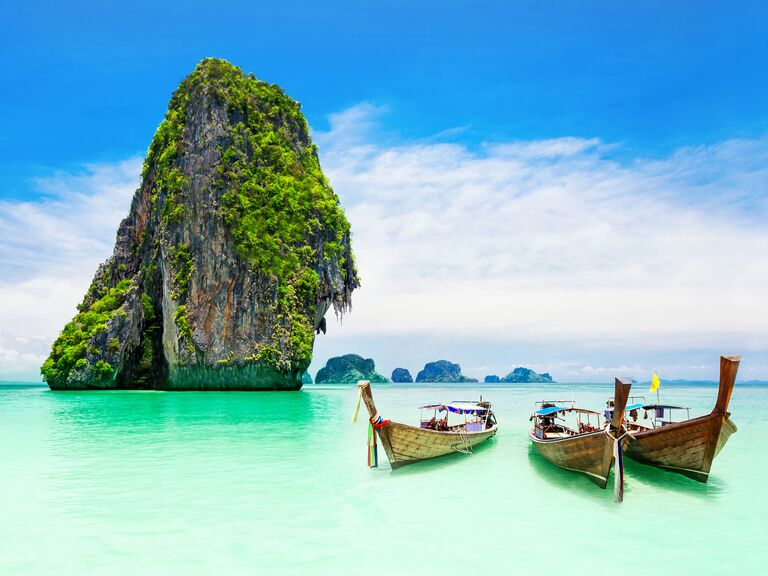 Saiko3p/Getty Images
We have included third party products to help you navigate and enjoy life's biggest moments. Purchases made through links on this page may earn us a commission.
Creating seating charts, finalizing flower choices, checking the weather the week before your reception—let's face it, planning a wedding is stressful. When it comes time for the honeymoon, you may want to make a great escape to a destination so awe-evoking and relaxing that you'll be simply present for what matters most: your new marriage.
A Thailand honeymoon is a romantic getaway for couples who truly want to embrace something different. "Newlyweds are going to want to go to Thailand if they want an exotic experience," Lauren Doyle, the president of The Travel Mechanic. (Doyle, in fact, chose to honeymoon in Thailand.)
Couples have plenty of memorable options, like Thai cooking classes (along with consuming all the pad see ew in the world), snorkeling in clear water, and getting a massage fit for a king inside the Grand Palace. The beautiful beaches look untainted and the properties are luxurious-yet-affordable upon arrival. Though the locale is a long flight from the US, couples who can grin and bear it will love a Thailand honeymoon.
Is Thailand Good for a Honeymoon?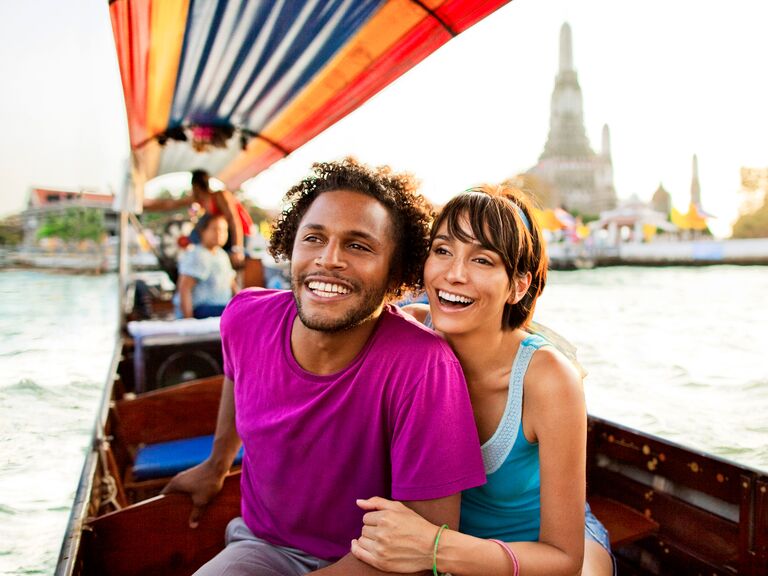 Pros of a Thailand Honeymoon
Couples who can't decide on what type of honeymoon experience they want can get the best of many worlds in this country in Southeast Asia. A Thailand honeymoon offers a range of experiences, from marine life and wildlife sightings to endless relaxation with daily Thai massage. Plus, they'll have the option to visit multiple small islands in a short period of time.
"Ninety-nine percent of the time people are going to want to do city, mountain terrain and then island," Doyle says. Bangkok, for example, provides a city experience, and Northern Thailand is full of incredible mountainous terrain. The beaches are just as serene as ones you'll find on iPhone backgrounds. Plus, many will want to explore the turquoise waters of the Gulf of Thailand (also known as the Gulf of Siam) and the Andaman Sea. There are limestone cliffs in Krabi and beyond. Honeymooners can also go island hopping and enjoy water sports like kayaking, scuba diving and snorkeling. And the legendary nightlife allows the dance party to continue for weeks after your wedding.
Cons of a Thailand Honeymoon
The trip to Thailand from the US is about 20 hours by plane, and there aren't many direct flights. Couples looking for less time in the air and more time on the ground likely won't consider Thailand the perfect honeymoon spot. Thailand is a large country and requires a good deal of travel on the go.
Less seasoned travelers may be more relaxed on sandy beaches closer to home. "If you've never left the country, I don't recommend going to Thailand for your first international trip," Doyle says. "I always like to have honeymooners have a fun, stress-free time."
Best Times of Year to Go on a Thailand Honeymoon for Good Weather
Thailand has a long rainy season from May to November. "The rainiest stretches are August, September and October," she says. The weather is likely why December is one of the most popular months to visit this country, which is great for couples who want an extended holiday getaway.
Things to Do During a Thailand Honeymoon
Experience Life in Bangkok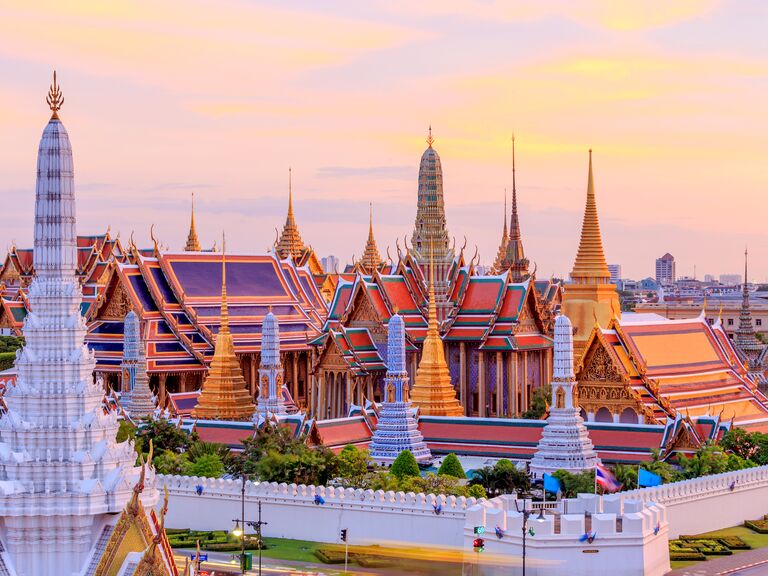 Most honeymooners often fly into Bangkok and spend a couple of days exploring the hustle and bustle of the city. A tour of the Grand Palace is a must as this brilliant, 2.3 million-square-foot complex has several quarters, including the Temple of the Emerald Buddha (also known as Wat Phra Si Rattana Satsadaram). It is considered the most sacred Buddhist temple in the nation, if not Southeast Asia. The Grand Palace has served as the official residence for the Kings of Siam/Thailand since 1783, and it offers royal experiences like Thai massages right in its temple.
The Reclining Buddha is another favorite spot for tourists. Many will enjoy a boat ride through the pristine waters of the Chai Phraya River offers a chance to relax and see the views of this bustling city. Bangkok also serves as a good home base for those hoping to shop at a floating market. "You can sign up to get picked up at a hotel and go to a floating market about an hour away," Doyle says. "When you're there, you'll get in a boat and go around and peruse booths by boat."
Make Like Royalty and Escape to Hua Hin
Hua Hin is located about three hours from Bangkok, and it's become a favorite getaway for the Thai royal family over the last 100 years. King Prajadhipok built the summer palace Klai Kang Won in the 1920s, and King Bhumibol Adulyadej called it home from 2004-06. The beach resort hotspot is an ideal place to give watersports like kitesurfing a try, and the seafood shacks are serving up fish so fresh you'll remember it long after you arrive home.
Explore Pattaya
Situated less than 100 miles from Bangkok, Pattaya is known for its gorgeous views, lively nightlife scene and numerous opportunities for adventure. Skydiving and bungee jumping is part of the fun here, as is indulging in fresh seafood. There's a cosmopolitan vibe to Pattaya's foodie scene. If you're craving French or Italian cuisine, you'll find it in this city.
Discover Kanchanaburi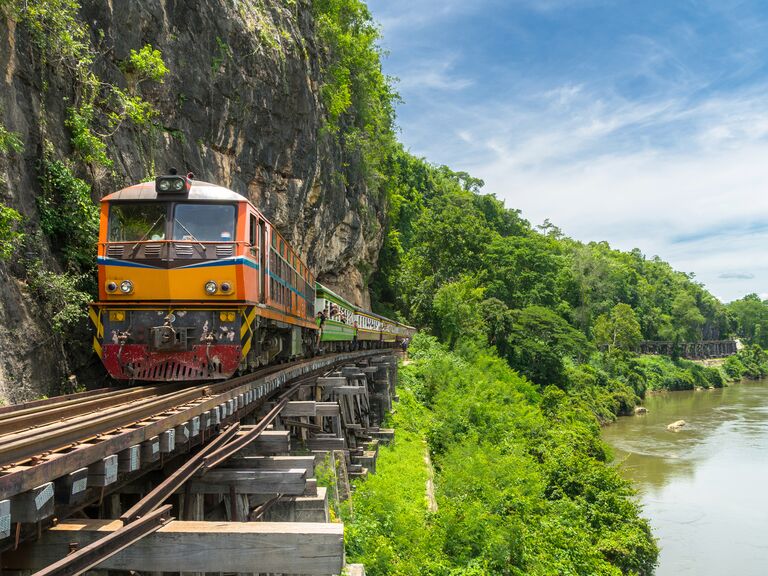 Kanchanaburi is located two hours from Bangkok, making it a good day trip from the city. There's plenty of history and nature to be discovered here. Death Railway Bridge, built by prisoners during World War II, is walkable and is a reminder of the tragic toll of war, as many died during the project. The Thailand Burma Railway Centre & Kanchanaburi War Cemetery serve a similar purpose.
For nature lovers, Erawan National Park is a must-hike. It's full of wildlife, like elephants and cobras, and cascading seven-tier waterfalls. Srinagarindra National Park also has waterfalls but generally draws fewer crowds.
Take in Chiang Mai, a Smaller but Mighty City
Chiang Mai is a city surrounded by a moat and mountains, including Thailand's highest peak, Doi Inthanon.
Located 435 miles north of Bangkok, the destination comes well recommended by seasoned travelers. "It's an adorable little city and very walkable," Doyle says.
Doyle recommends couples take a cooking class, even turning to an agent to find a host family who will give an authentic lesson in Thai cooking. The class may be worth more than any trinket you take home. "You're going to be cooking each other for decades," she says. "Learning a new cuisine together on your honeymoon is super romantic."
A trip to a night market is another popular experience. "The city lights up at the market," Doyle says. "They have street food. It's such a cool vibe."
Learn About Thai Culture in Chiang Rai
Another walkable area of Northern Thailand, Chiang Rai, is known for its rich culture and farmland, in large part created by the hill tribes. Hill tribes are farmers who migrated to and settled in Northern Thailand centuries ago. The largest one is the Karen Hill Tribe. The hill tribe has an elephant sanctuary, where guests can feed and help bathe elephants.
Have a Gorgeous Phuket Experience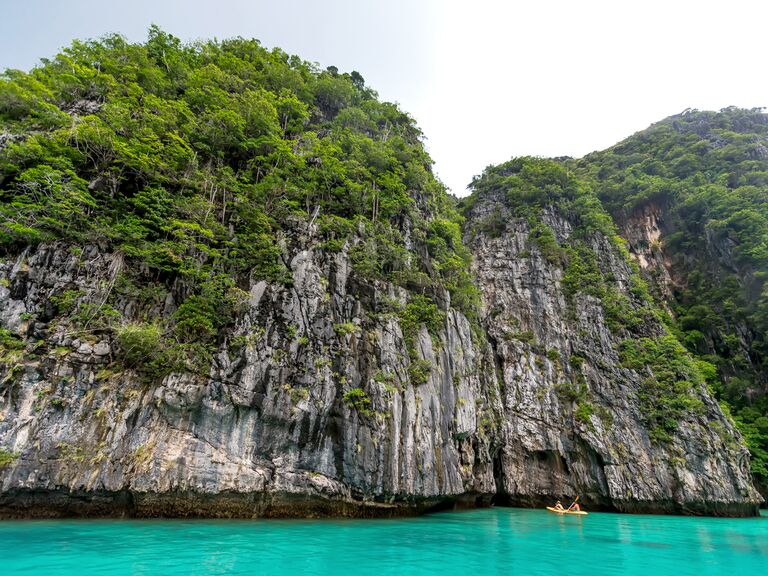 Thailand's largest and most notable island, Phuket, is located on the Andaman Sea and offers multiple places to enjoy sweeping views of pristine water with toes in the sand. It's full of beachfront resorts and luxe spas, making it perfect for couples looking for a relaxing honeymoon experience. Kata Beach is one of the most popular on the island. Couples can also canoe or kayak through sea caves and experience next-level nightlife.
Visit Koh Samui
Koh Samui is a popular place among tourists, so couples looking for a more under-the-radar experience may want to seek other turquoise waters. But those eager for a more lively scene will want to pay a visit to Thailand's second-largest island. It's a paradise-perfect honeymoon destination, full of palm tree-lined beautiful beaches, coconut groves and a lush rainforest.
It's also a 30-minute speedboat ride from Koh Pha Ngan, an island best known for its Full Moon parties each month. The raucous celebrations draw tens of thousands of people to what is perhaps the world's most legendary beach parties.
Koh Tao makes for a memorable day trip. Reachable via a high-speed catamaran, you'll find beautiful coral reefs and abundant marine life, including whale sharks and rays.
Bask in Krabi's Beauty
Krabi is often seen as a less-touristy spot than Phuket and Koh Samui. And it tends to be easier to get to and even quieter than Koh Lanta. But it's also full of action and places to relax. Railay Beach is a favorite place to do the latter. Accessible only by boat, you won't see any vehicles on this beach, and gorgeous limestone cliffs surround it. For the adventurous, Krabi is a hub for watersports, like kayaking. Doyle says there are beautiful coral reefs below sea level, making it an ideal spot to go snorkeling and scuba diving.
Relax in Khao Lak
Khao Lak is known for being a more laidback spot than Phuket. The nightlife isn't as boisterous, and you have the opportunity to feel like you're on a deserted island. Trees, sand and surf surround Khao Lak Beach. Couples can mosey over to the massage huts for some added TLC. Island hopping to Similan or Surin Islands for scuba and snorkeling is also on the table.
See Koh Phi Phi Don on the Phi Phi Islands
The Phi Phi Islands, accessible via longtail boat or speedboat from Phuket or Krabi, is a cluster of six islands. Koh Phi Phi Don is the largest. The white-sand beaches, like Long Beach, seem to stretch on for days. There are no vehicles to be found here, making it feel like a welcome respite from civilization.
Sail Through James Bond Island
Located in Phang Nga Bay, James Bond Island provided a stunning natural setting for producers of The Man With a Golden Gun. Today, it's a popular spot for kayaking. The numerous limestone cliffs serve as an Instagram-friendly backdrop for couples to take a selfie or five.
Best Hotels and Resorts in Thailand for a Honeymoon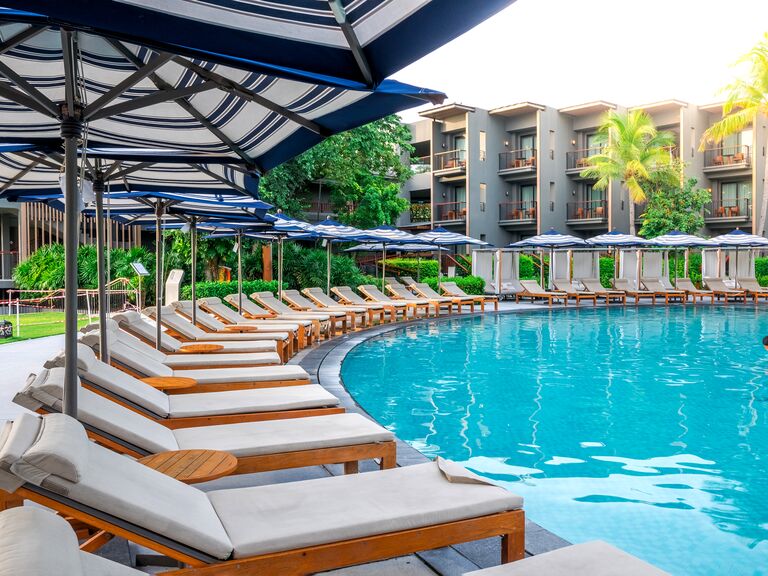 Anantara Phuket Suites & Villas
Anantara Phuket Suites & Villas is a honeymoon option complete with welcoming staffers, personal trainers and incredible views. "It's a five-star place, but it's not a stuffy vibe," Doyle says of the luxury resort, which is situated amid lush tropical gardens. It also has suites and villas with private pools and private balconies for taking in sunsets with your new spouse.
Santhiya Phuket Natai Resort & Spa
Santhiya Phuket Natai Resort & Spa is a beach resort with an exclusive feel. Guests can enjoy panoramic views of the Andaman Sea, receive Thai massages and eat a romantic, candlelit dinner right on the beach. Santhiya also has three other locations: Koh Phangan, Koh Yao Yai and Koh Chang.
Four Seasons Tented Camp Golden Triangle
Nestled in the Chiang Rai jungle, Four Seasons Tented Camp Golden Triangle is an upscale resort that allows guests to sleep surrounded by greenery without sacrificing modern amenities (like Internet access, a minibar, leather couches and a spa). Experiences offered through the resort include elephant trekking and fishing with the locals.
Vana Belle Resort
Vana Belle Resort, located in Koh Samui, exudes beauty at every turn. A pristine, white-sand beach with clear waters and a tropical forest surround the luxury resort. Guests can relax in an infinity pool on the edge of Chaweng Noi Beach, allowing for an unmatched look at the Gulf of Thailand. The bright and airy rooms with large windows make for a beautiful yet comfortable space to drift to dreamland.
Royal Wing Suites and Spas
Royal Wing Suites & Spa is situated near the Gulf of Thailand in Pattaya. It's within walking distance from a lively nightlife scene. After a night on the town with your loved one, wind down in the room's rainforest shower before sinking into a bed.
Hua Hin Marriott Resort & Spa
Hua Hin Marriott Resort & Spa sits on Hua Hin Beach and gives guests gorgeous views of the Gulf of Thailand from updated balconies. There is an adults-only pool if you'd prefer no to have to share space with little ones and a beautiful loop pool that wraps around a sprawling, pristine green area. The rooms are contemporary and comfortable.
Bangkok Marriott Marquis Queen's Park
Bangkok Mariott Marquis Queen's Park sets the stage for a luxurious stay from the moment guests step into the lobby, where posh leather couches and jeweled chandeliers welcome them to the vibrant city. A rooftop bar offers expansive city views. Couples can also use an onsite spa and fitness center, and the service is known for being amiable.
Rayavadee Resort
Krabi's Rayavadee Resort is a secluded spot nestled among tropical foliage. Guests can take in pristine waters with gentle waves, limestone cliffs and coconut groves while staying in the resort's spacious villas and pavilion. Each is stylishly decorated. Onsite restaurant Krua Phranang is a romantic spot for a Thai dinner by the sea with your loved one.
The Chiang Mai OLD TOWN Hotel
This Northern Thailand hotel has refined rooms with comfortable beds. It's a hop, skip and jump from the 14th-century Buddhist temple, Wat Phra Singh and the hill tribe village Karen.
What to Pack for a Thailand Honeymoon
Since Thailand's landscape is vastly different, your romantic getaway and accompanying carry-on or suitcase should reflect the diversity of experiences ahead. Your luggage should include hiking clothes, including a good pair of hiking shoes, for when you're trekking through Northern Thailand. You'll also want cute beach attire for when you're visiting all the large and small islands the country has to offer. "After all, it is your honeymoon," Doyle says.
Dressy clothes for fancier dinners in Bangkok are a must, but you'll want comfier clothes for when you're exploring the city by day, including shoes. "Traffic in Bangkok is insane," Doyle says. "It's way worse than LA. You're going to do a lot of walking."
A lightweight, foldable raincoat is also essential, regardless of whether it's rainy season. Since it's a tropical destination, rain is expected—as is sun.