The Complete San Diego Guide for Couples: Where to Stay & Things to Do
From spa days and plush stays, read our date ideas in San Diego.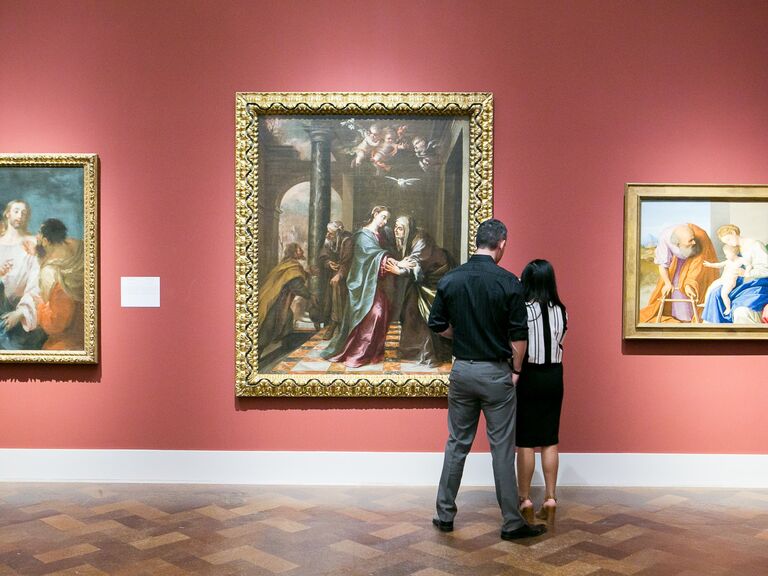 Photo: The San Diego Museum of Art
Sometimes, San Diego can get lost in the discussion of great California cities to visit, but that's a mistake we know you're too smart to make. The Pacific city's palm-tree-lined beaches are pristine, each having its own distinct neighborhood vibe. The beauty in these parts? It's natural, with hiking trails and cliffside vistas to write home about. The number of outdoor date ideas alone will keep you busy for days, whether you're planning a trip to San Diego or have settled there.
Though the weather is warm, there are also plenty of options for indoor couples activities in San Diego. A vibrant cultural scene makes the city home to museums and delectable eats, and thanks to the combination of incredible ambiance and locally-sourced ingredients, a dinner date can often be a delight for foodies, design enthusiasts, nature lovers, and wine connoisseurs alike. Then there are ways to escape it all at spas and hotels, ideal for both long, luxurious vacations and quick, last-minute staycations, too. Whether you're in town for a mini-moon or a resident in a date-idea rut, consider this your guide to fun things to do in San Diego for couples.
Things to Do in San Diego for Couples
You don't have to look far to find romantic things to do in San Diego. From couples' massages to cooking and dance classes, there are plenty of fun couple's activities for every interest. Give one—or several—of these San Diego date ideas a whirl.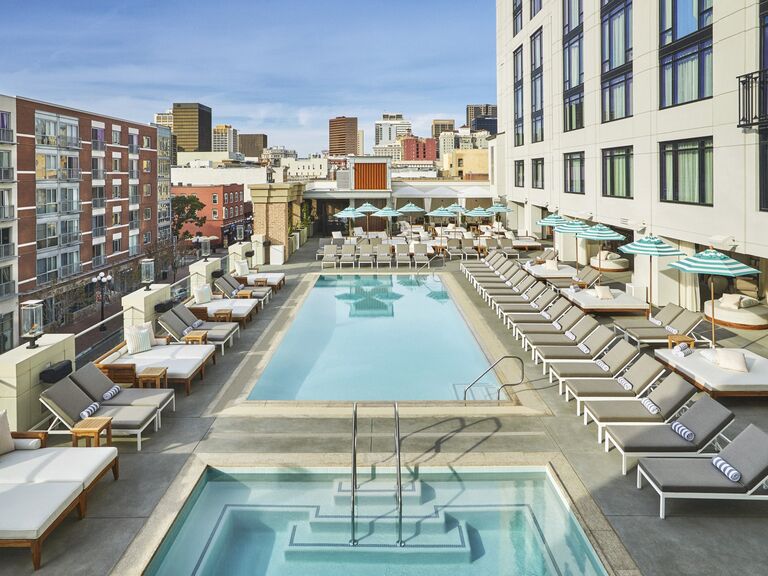 Couples who consider Law & Order to be hallowed territory will love this excursion to San Diego's Gaslamp Quarter Historic True Crime Tour. The one-hour guided adventure will take you around the historic Gaslamp Quarter and detail some of the area's most notorious crimes—many of them unsolved. You'll also tour a hotel, but squeeze hands —this one's rumored to be haunted. Private tours are also an option for couples seeking a more intimate experience (or if you'd rather shriek in private).
614 Fifth Ave., San Diego CA 92101
Though the concept is retro, Santee Drive-In Theater screens contemporary movies on par with a "regular" cinema—even though this one is so much more fun. Park in one of the 1,060 spots and enjoy one of today's biggest films underneath the stars. The theater is open seven days per week, 365 days per year, with pizza and popcorn available at the snack bar.
10990 N. Woodside Ave., Santee CA 92071
Situated in the vibrant Barrio Logan community in central San Diego, Chicano Park is a sprawling 32,000-square-foot National Historic Landmark. It hosts many community events throughout the year, also serving as a fantastic spot for a simple hand-in-hand stroll. Colorful murals depict the area's history, which you can explore with in-depth exhibits at the Chicano Park Museum, which opened its doors in 2022. The San Diego-Coronado Bridge provides a spot for quick shade on a hot day, and ¡SALUD TACOS! is a short walk and serves (great) Mexican street food so you can refuel.
Whether your legs are weary from sightseeing or you simply want to reconnect with your partner, a couple's massage in San Diego is equal parts luxury and therapy. Firefly Wellness Day Spa has a special room for two where you can indulge in 60 or 90 minutes of blissful massages. (Extra treatments, like hot stones and cupping sessions, can be added for maximum "ahhh" moments.) Couples expecting a little one are in luck — prenatal adjustments are available without any extra charge.
4024 Ibis St., Suite A, San Diego CA 92103
Make some moves at Dance the Night Away, one of the best adult dance classes in San Diego. Instructor Liza Marians provides private and group settings, so couples can choose between an intimate or more social session. Plus, the dance studio offers an array of toe-tapping styles, including ballroom, country, and swing. To-be-weds or pairs hosting vow renewals can later surprise guests with an entire routine—or maybe just an Instagram reel, if that's more your thing.
3927 Utah St., San Diego, CA 92104
Cooking together is a time-honored romantic pastime. Make the dinner at home a farm-to-fork affair by grabbing produce at one of San Diego's green markets that are certified by the county agricultural commissioner. (That's a fancy way of saying the product is being sold by the grower, and harvested locally in California.) Throughout the week, the city hosts numerous markets where shoppers can grab fresh fruits, vegetables, and even produce and poultry from local farms. You can also find handmade household items like candles, perfect for adding a little romance (and perhaps some aromatherapy) to your table.
This resort city on a San Diego Bay peninsula feels like a world away, but it's only a 15-minute jaunt from downtown. (Not bad, considering how the soft, light sand and glistening sea will make you feel like you've jetted off to a far-flung paradise.) The expansive and historic Hotel del Coronado, a Victorian beauty, serves as a picturesque backdrop for the sustainable seafood restaurant Serẽa, which serves up fresh catches and views for days. Pup parents will adore the leash-free Coronado Dog Beach toward the town's western end. In short, it's one of the most romantic places in all of San Diego.
San Diego Zoo's 100 acres in Balboa Park are home to more than 650 species, which means that even when locals visit, they learn something new every time. The renowned zoo also serves as a scientific research center, and offers experiences for all types of animal lovers. See exotic cats jump and climb up close—as you hold one another close–or enjoy maximum cuteness with penguins, pandas, and baby zebras. You can even spare no expense with a private, customizable VIP experience that brings you into the heart of the zoo's remarkable offerings.
2920 Zoo Dr., San Diego, CA 92101
With more than 65 miles of trails and 8000 acres, Mission Trails Regional Park offers endless opportunities for an afternoon stroll. One of the largest urban parks in the United States, it has options for every level of hiker (or casual walker), making it one of the easiest things for couples of all abilities to do in San Diego. For newbies, Cowles Mountain is the most popular spot to hike in San Diego; other favorites include the East Fortuna Staging Area, Kumeyaay Lake and Campground, Old Mission Dam Historic Site, and Kwaay Paay Peak, which features an 875-foot elevation and majestic views of the Pacific Ocean.
San Diego Zoo is the most frequented spot in Balboa Park, but don't overlook the gardens. There are several spots for couples to escape the concrete jungle (or extend their trip after visiting the jungle-like zoo), including hideaways for flower lovers and succulents. Start at the Palm Canyon, which feels like a deserted island thanks to its tropical tree canopy. Then there's Zoro, which was once a nudist colony (!) but is now a butterfly garden with plenty of nectar to support our fluttering friends. Before you go, steal a kiss on the steps of the majestic Balboa Building and Lily Pond – one of the most snapped spots in the city.
Another not-to-be-missed activity for couples in Balboa Park, the San Diego Museum of Art is full of works with a Spanish twist—a nod to the city's rich culture. With a strong emphasis on 19th century fine art, the museum also features Italian, South Asian, and turn-of-last-century American works, meaning there's something for every type of art lover. And the visit doesn't end once you leave the building—couples can also log onto the museum's website for expert tutorials on meditation drawing and calligraphy. Perfect for a lazy date night in!
1450 El Prado, San Diego, CA 92102
Celebrate love—no matter who you're with—at San Diego's annual Pride Festival. The festival, which takes place each June in Balboa Park, showcases the best in LGBTQ+ entertainment, boasts interactive exhibits and cultural presentations, and shares community resources. It's a colorful experience for members of the community and welcomes their families and allies, too. In mid-July, the city also hosts a lively Pride parade with floats, dancers, and revelers uniting for a glitter-fueled walk down Balboa Drive.
If the pristine beach and high-end eats in Coronado weren't enough to lure you, perhaps the country's largest tented flower show will. Budding romances and long-term pairs alike will enjoy perusing gorgeously creative botanical displays—but the show doesn't end with tents. The whole community gets involved, trimming and beautifying their home fronts, gardens, and schools for a chance to impress the judges — and visitors like you — as everyone gets a chance for their neighborhood spirit to blossom.
Date nights out are fun, but there's something so special and intimate about a home-cooked meal for two. Learn how to bring the restaurant into your kitchen by signing up for a cooking class at Eatsies, a labor of love by chef Teri Newlee, who guides three-hour cuisine courses in her own home. Eatsies has something for every taste, from soup workshops and holiday recipe boot camps to lighter Mediterranean fare—perfect for al fresco dinners while watching the San Diego sunset.
Whether you're a daily reader of your horoscope or simply on the hunt for a unique date night in San Diego, Palomar Observatory is worth considering. Situated in the Palomar Mountain Range, the spot offers a bird's-eye view of San Diego—appropriate, since Palomar translates to "home of the doves" in Spanish. The observatory operates on every clear night, at least when there isn't too much snow covering the mountain, and allows visitors to peer through its famous 200-inch telescope. Spot constellations, wait for shooting stars, and maybe even catch a glimpse of what Mercury really looks like when it goes retrograde. (Spoiler: It looks like a dot. That's it.)
35899 Canfield Road, Palomar Mountain, CA 92060
San Diego is home to stunning marine wildlife like sea lions, turtles, and seals, and thanks to its prized sea caves, you can safely catch a glimpse of them in their natural habitat. For a true marine adventure, take a double kayak tour that epitomizes the laid-back vibes of the Pacific Coast city. You'll paddle together through Emerald Cave, peer down into a massive kelp forest, and perhaps even spot a (harmless) leopard shark, which comes out to play in the summertime.
2261 Avenida De La Playa, La Jolla, CA 92037
The Most Romantic Restaurants in San Diego for Couples
Dinner dates are classic, though in today's FOMO-style world can feel a bit stale. Ignore Instagram and TikTok trends when you're in this city. Date night restaurants in San Diego serve delectable eats and heaping helpings of romance. These three are worth adding to your rotation or itinerary, depending on whether you're a local or out-of-towner planning a trip to San Diego.
This charming restaurant has served some of the city's best authentic Italian cuisine for nearly three decades — a testament to its staying power in an oft-fickle urban dining hub. Chef Cesarina Mezzni, a Michelin Bib Gourmand recipient and Chopped Next Generation star, takes inspiration from her Italian mother, elevating traditional homemade dishes into fine dining events. There are opportunities to create your own pasta plates (the staff makes it all in-house) and even a vegan menu, because the outdoor terrace may evoke Sicilian beach vibes, but it's still California after all.
4161 Voltaire St., San Diego, CA 92107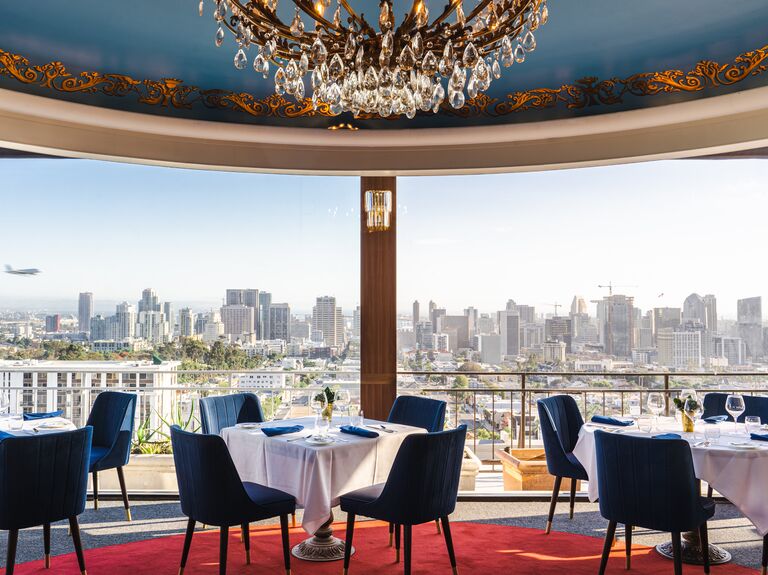 Sweeping skyline vistas, glimmers of the sea, and a breathtaking antique chandelier make Mister A's a wow-worthy spot to spend a date night— or even lunch—in San Diego. The newly-renovated digs include an expansive bar, while the French-inspired surf 'n turf menu includes baguettes, black pearl caviar, and black truffle and Maine lobster. Bon Appetit, dudes!
2550 Fifth Ave. 12th floor, San Diego, CA 92103
When dining at The Marine Room, ask for a table by the large floor-to-ceiling windows; during high tide, the waves literally crash against them. Besides the seafaring scenery, the ambiance indoors is light and airy with crisp, light-hued walls and a hardwood floor that gets pops of color from blue area rugs. The restaurant may be at sea level, but the French fare is elevated (but approachable). Think steaks, lobsters, and salmon to devour or share, along with local wines from nearby Sonoma.
2000 Spindrift Dr., La Jolla, CA 92037
The Best Hotels in San Diego for Couples
Whether you're in the city for a vacation or a staycation, the accommodations in San Diego are top-notch. Some even have San Diego hotel packages for couples that help you relax and rekindle your romance with added perks just for pairs. Rest easy at these couples-friendly hotels in San Diego.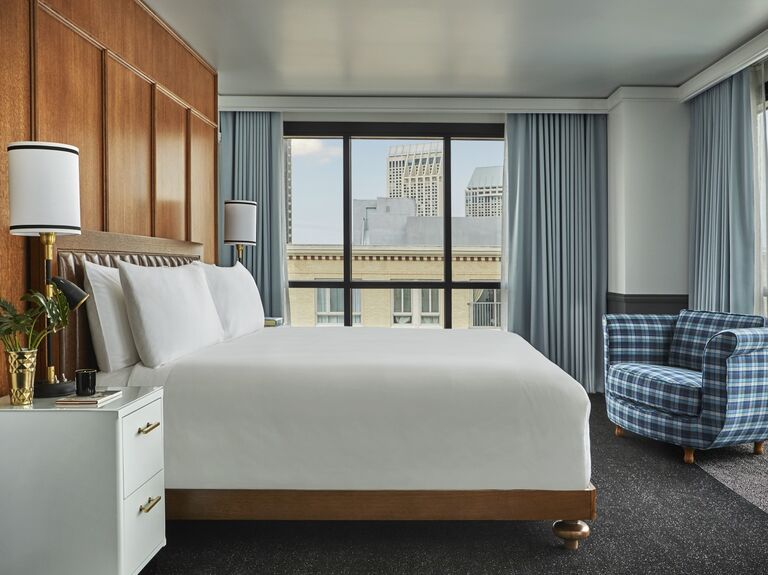 At this waterfront hotel in the heart of downtown, pairs can access fun activities in San Diego for couples like beach bike rides, sailing sessions, and more. The on-site spa, appropriately named The Hideaway, offers a couple's massage in a secluded special room with a gift bag, pool access, and even a tray of chocolate-covered strawberries. The hotel is just 2.9 miles from the zoo, and offers complimentary breakfast.
333 W Harbor Dr., San Diego, CA 92101
This five-star resort is nestled in the Los Penasquitos Canyon and has a long list of amenities including four heated pools, two tennis courts, an on-site spa, an equestrian center, a golf course, and a nightclub. The Mediterranean-inspired rooms include expansive villas that offer more space. Experiences can include guided hikes or lifts to nearby destinations for easy exploring; a "romance package" comes with a bottle of champagne and a $50 resort credit.
Another five-star option, Pendry San Diego boasts an on-site spa with indulgent offerings like massages and facials a la carte, plus a romantic couple's retreat, which includes a rose foot bath, candlelit couple's massage (90 to 120 minutes), and a gift bag. Afterward, retreat to a spacious room with views of downtown and the bay, or explore the neighborhood's historic district on foot.
550 J St., San Diego, CA 92101
This Spanish-style resort is tucked away in San Diego's northern hills, but still offers proximity to the zoo and Bernado winery. It boasts a spa, golf course, and pool with open-air cabanas, so there's no need to leave if sightseeing isn't on the itinerary. Pairs in need of a short-but-relaxing respite should opt for the Breakfast Inn Bed package, which includes a one-night stay, breakfast for two at the on-site restaurant Veranda (or delivered to your hotel suite), and free parking.
17550 Bernardo Oaks Dr, San Diego, CA 92128
This city-chic boutique hotel has glass-paneled windows that give way to gorgeous views of the Pacific Ocean, along with a rooftop patio equipped with firepits to turn up the heat. Speaking of heat, Tower 23 offers a rather infamous "Sex on the Beach" package, but you'll have to book it to learn what its "box of surprises" contains. (We know there's champagne and chocolate-dipped strawberries, but after that, you're on your own!) Request a room with a private balcony, ideal for sipping bubbly together as you watch the sunset.
723 Felspar St., San Diego, CA 92109