40 Unique Wedding Rings for Men
Choose a wedding ring as unique as you are.
by The Knot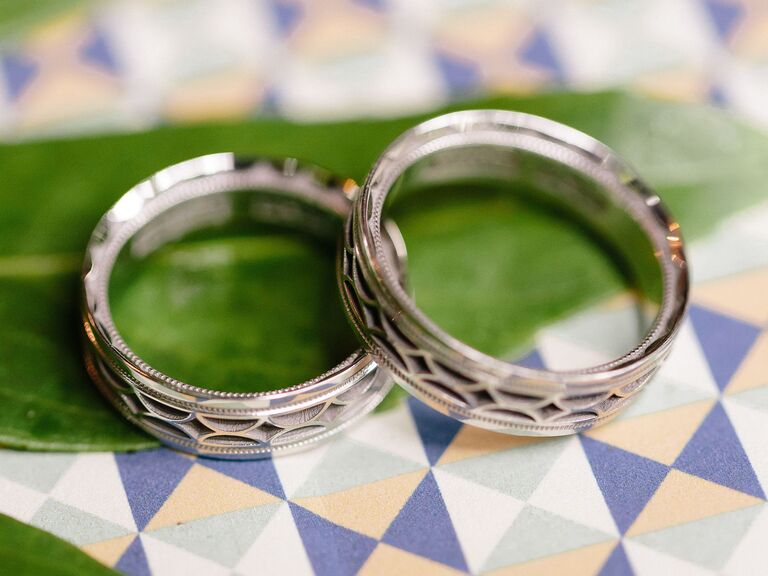 Men's wedding rings don't always get the same attention as women's rings—but they absolutely should. It's important to choose a wedding ring as unique as you are—one that also looks great and fits your lifestyle. Your wedding band is a symbolic piece of jewelry (maybe even the only piece you'll wear) meant to last forever and represent your commitment to each other, so pick a band that catches your eye and really means something to you.
Common Metals for Men's Wedding Rings
Gold, platinum, titanium, zirconium, palladium, wood, tungsten carbide and cobalt-chrome are all popular wedding band materials. Tungsten carbide, for example, has an extremely high melting point and scratch-resistant surface, but it's not technically a metal (it's a ceramic). Platinum, a classic choice for guys' rings, is more dense—and therefore, more durable—than gold, but it's also more expensive. Wood wedding rings are beautiful, organic and tend to be more affordable than metal rings, but they're not as tough and might not be your best bet if you live a super-active lifestyle.
How to Choose a Unique Wedding Band
There are few wedding ring details to consider when choosing the perfect band. First, the material—what do you want your wedding ring to be made of? Another factor to think about is width. It's a small detail (and one you may never have considered), but even the simplest wedding band can look completely different in another width. As for style, get inspired by your taste in clothes, profession and personal hobbies. Do you like the idea of rocking a few small diamonds, a sleek black band or an unexpected vine motif? Look through these unique men's wedding rings to find something that speaks to you.
Black Wedding Bands
If you're looking for a badass men's wedding ring, then set your sights on a black band. Certainly not something you see every day, black bands are definitely statement pieces. They are sleek and dramatic, without being too flashy. You can find simple black bands, but also ones with engravings and designs that give them even more edge.