The Best Bridal Accessories Trends to Elevate Your 2024 Look
Gloves, capes, chokers and more will give your wedding style an instant upgrade.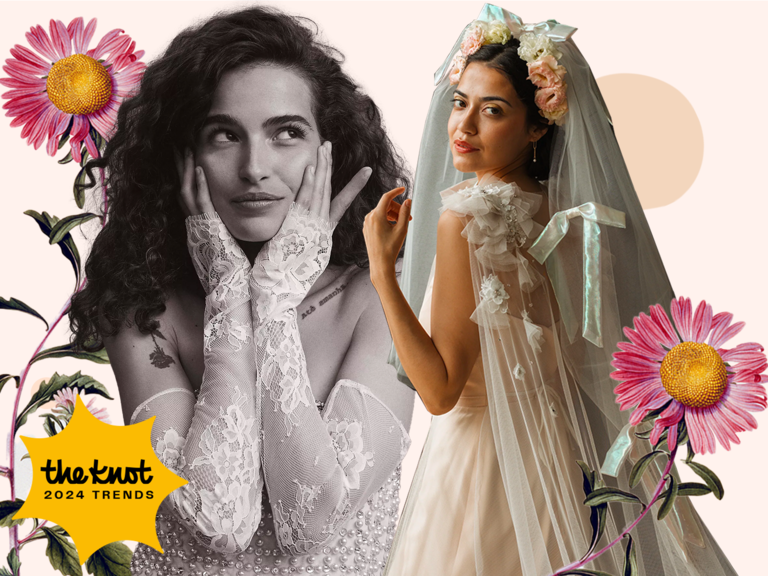 Photos courtesy of Anthropologie, Madison Chamberlain | Getty, Design by Tiana Crispino
We have included third party products to help you navigate and enjoy life's biggest moments. Purchases made through links on this page may earn us a commission.
Congratulations, you just found the wedding dress of your dreams. Oh, you thought you the work was done? Hardly. Fortunately, it's never been a more exciting time to shop for bridal accessories and The Knot is here to make your search a breeze. Recently, we scouted the runways at New York Bridal Fashion Week to find out what trends are on deck for 2024, and we're breaking them all down here.
From headbands to bows and even bridal capes, there's no shortage of stylish extras that can take your wedding day look to the next level. The best part? There are no rules when it comes to accessorizing so this is your moment to have fun with the process to create a look that is uniquely yours. Want to add a dramatic pair of bejeweled earrings? Add to cart. Eyeing a pair of vintage gloves? Go for it. This is your chance to show off your personal style. Keep reading to discover the latest and greatest in the world of wedding dress accessories.
Top Trending Bridal Accessories for 2024
Each year at New York Fashion Week, designers from all over the world gather to showcase wedding dress trends for the upcoming year. But the inspiration doesn't stop there as there are also plenty of bridal accessories on display. For brides planning to say 'I do" in the upcoming year, these styles come at just the right time, with many available to shop right now. Here, we've rounded up the top eight accessories trends that dominated the runways, plus shoppable picks for each at a variety of price points whether you're looking to save, spend, or splurge. Prepare to be spoiled for choice.
The Top Bridal Accessories Trends for 2024:
1. Lace Gloves
Wedding dresses and opera gloves go hand in, er, hand. Since the release of Bridgerton in 2020, brides have been swooning over the Regency-era accessory, and the trend is showing no signs of slowing down. This year at New York Bridal Fashion Week, we saw our fair share of gloves on the runway, particularly lace styles. For brides sporting a streamlined silhouette to their nuptials, a touch of lace can be an elegant way to accessorize and there are plenty of shoppable looks you can get your hands on right now (pun intended).
Shop The Trend: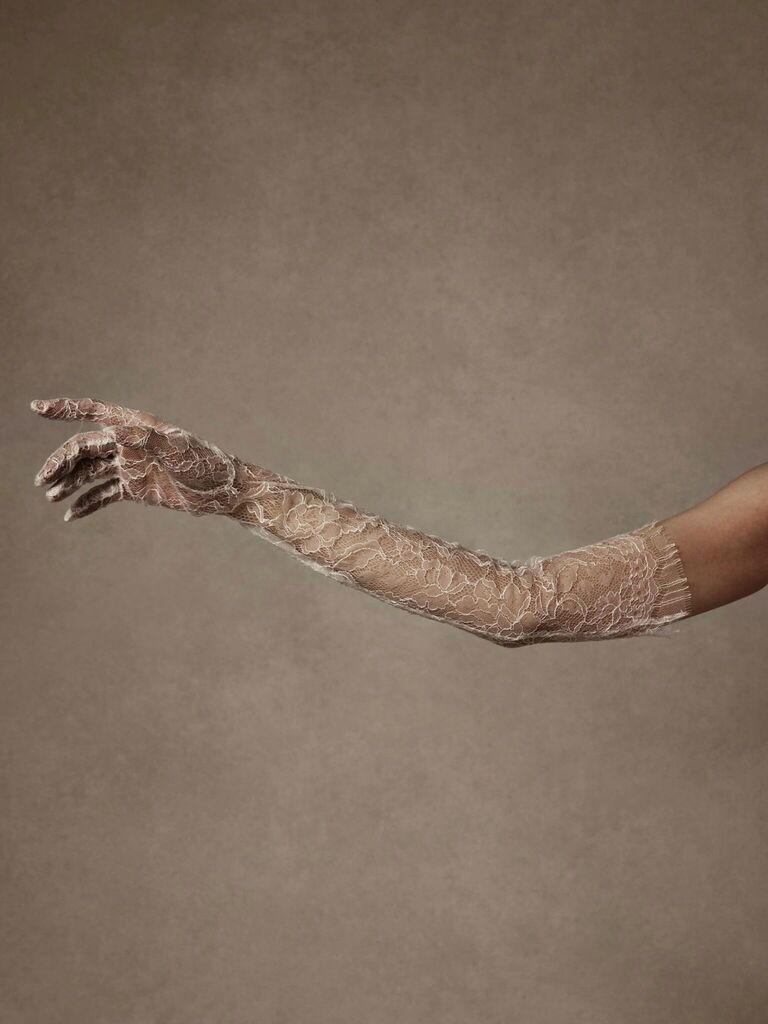 Splurge: Danielle Frankel Chantilly Lace Gloves | These opera-length gloves prove that a little bit of lace goes a long way when it comes to your wedding day look.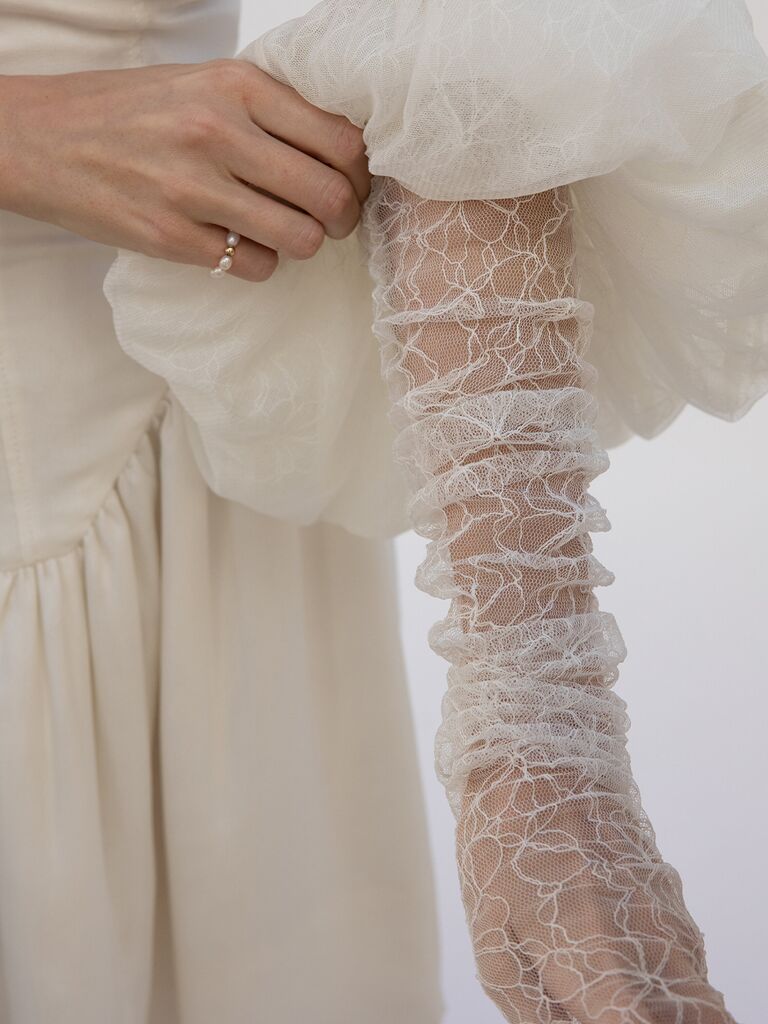 Spend: Cinq Paige Gloves | Inspired by the '80s, these puff-sleeved lace evening gloves will add the perfect vintage touch to your ensemble.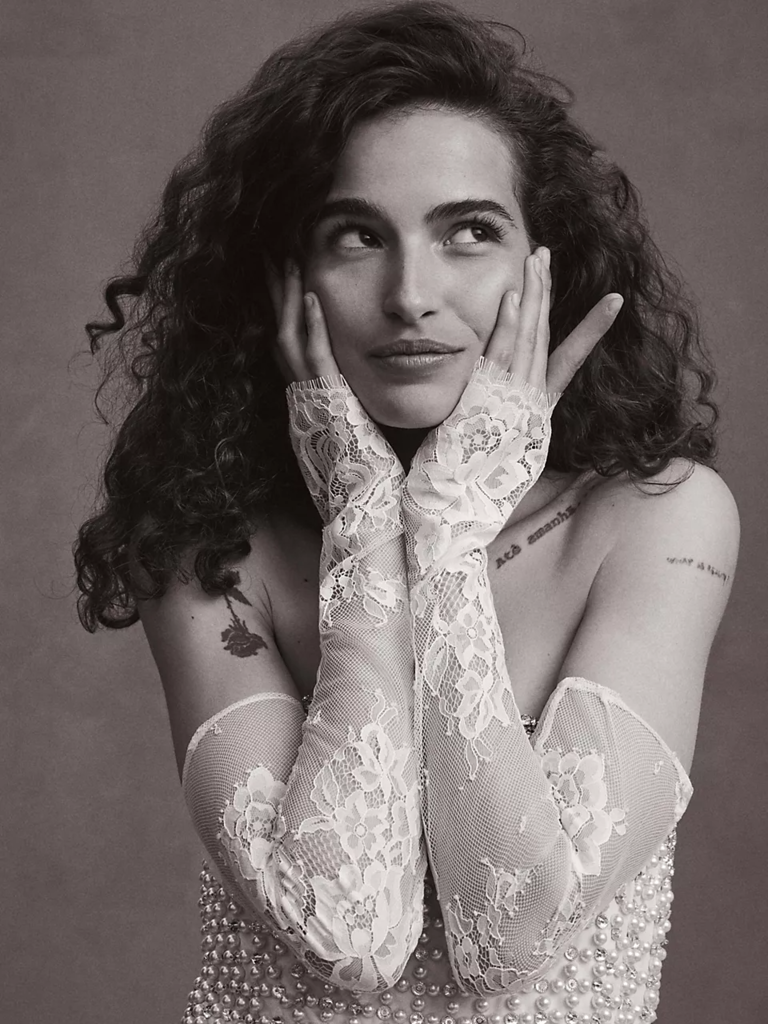 Save: Society James Aubrey Lace Gloves | These lace gloves are as practical as they are stylish thanks to their convenient fingerless design (the better to show off that ring).
2. Bridal Capes
This season, as models strutted down the runway, many were followed by dramatic trailing capes. From luminous pearl accents to sophisticated designs, wedding capes are certainly getting the spotlight this year and it's no mystery why. For brides skipping the veil, a cape can be an elegant alternative. They create an ethereal effect as you walk down the aisle, and better yet, they won't mess up your hair. Pair with a simple wedding dress or sleek bridal pantsuit—or go all out with an extravagant ball gown. Either way, you're guaranteed to make a bold fashion statement.
Shop The Trend: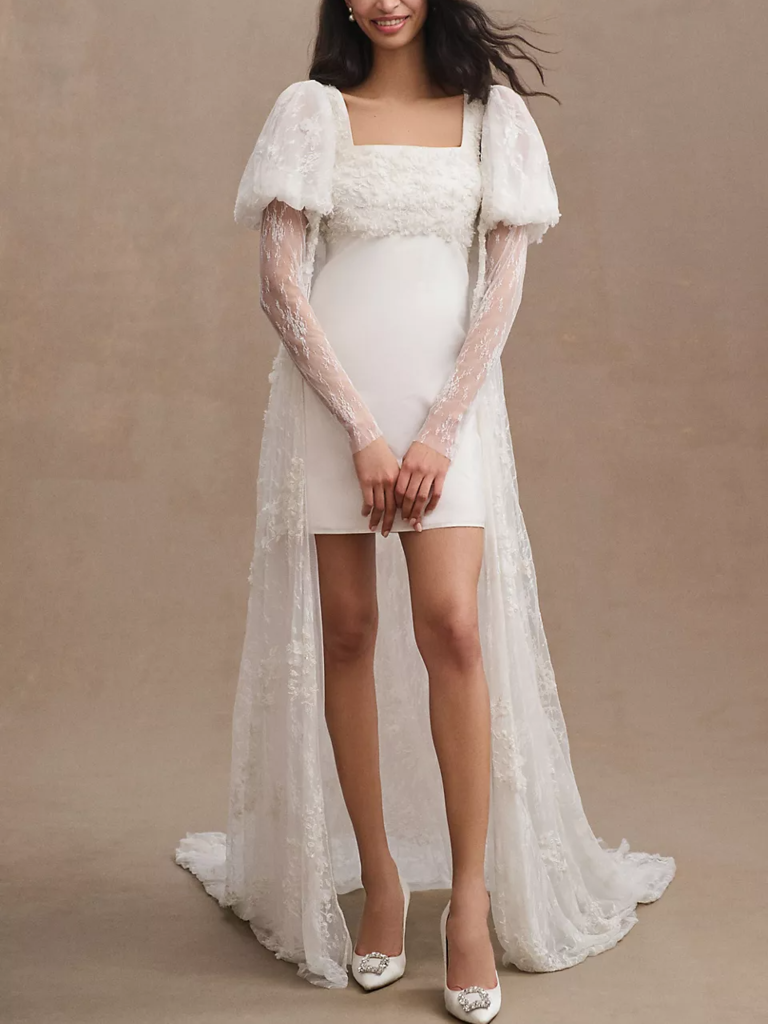 Splurge: BHLDN Meadow Bridal Cape | With puff sleeves and a chapel-length train, this lace cape is sure to bring the wow factor to your wedding day.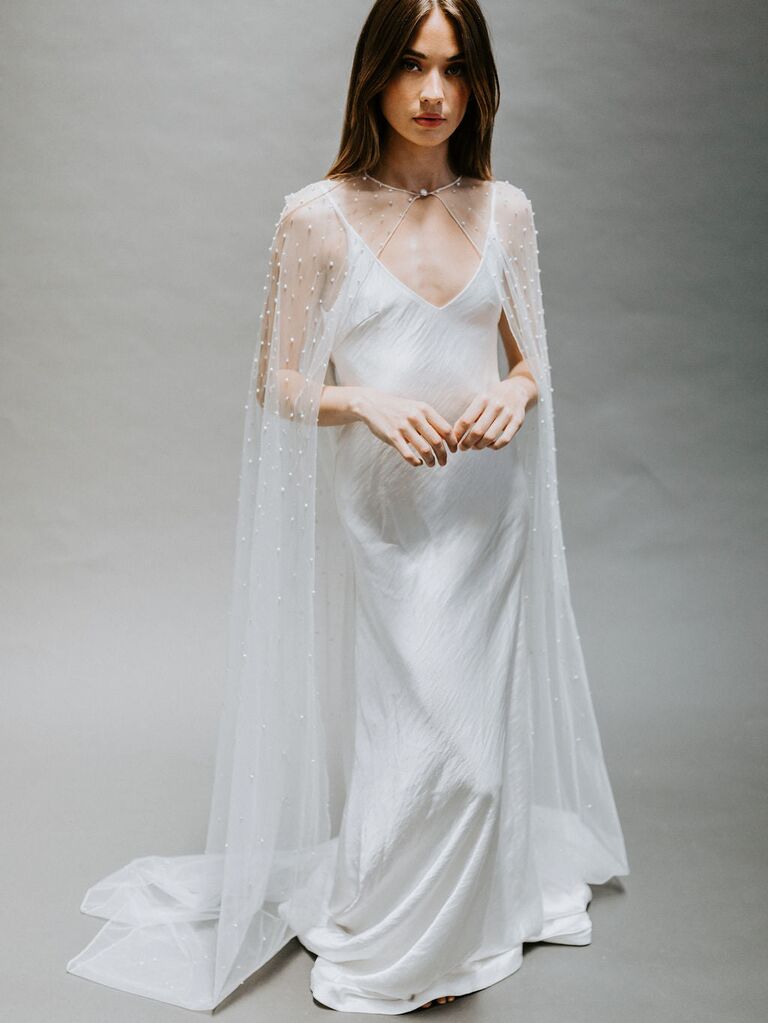 Spend: Untamed Petals Pismo Cape | Maximalist brides: This chapel-length cape, with pearls scattered throughout, is calling your name.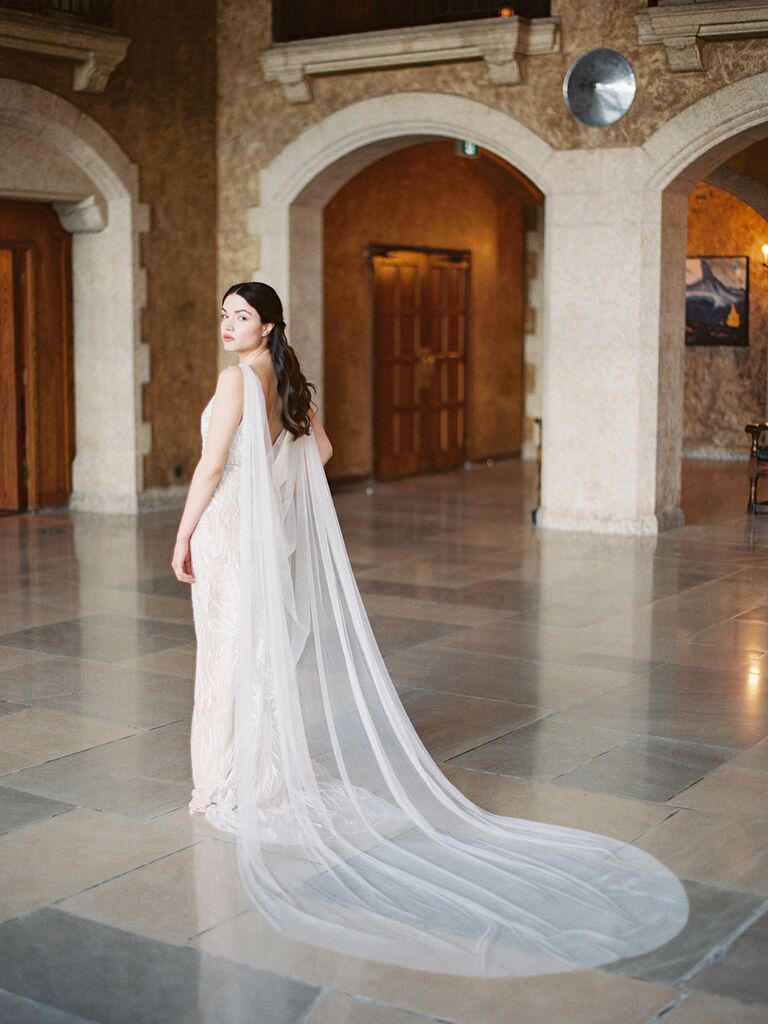 Save: Noon On The Moon Florence French Silk Tulle Bridal Cape | No veil? No problem. This cathedral-length cape will offer the same dramatic effect as you walk down the aisle.
3. Rosettes
Good news: Florals aren't limited to just your bouquet and centerpieces anymore. Wedding dresses featuring floral appliqués have held the spotlight for several seasons, but now we're seeing flowers make their way into accessories. One of the latest trends that's coming up roses in 2024? Rosette sashes and chokers. Inspired by the '90s, these neck accents add an eye-catching touch to any bridal ensemble. We love the unique ways in which brides have been styling them for both their bachelorette parties and their big day.
Shop The Trend: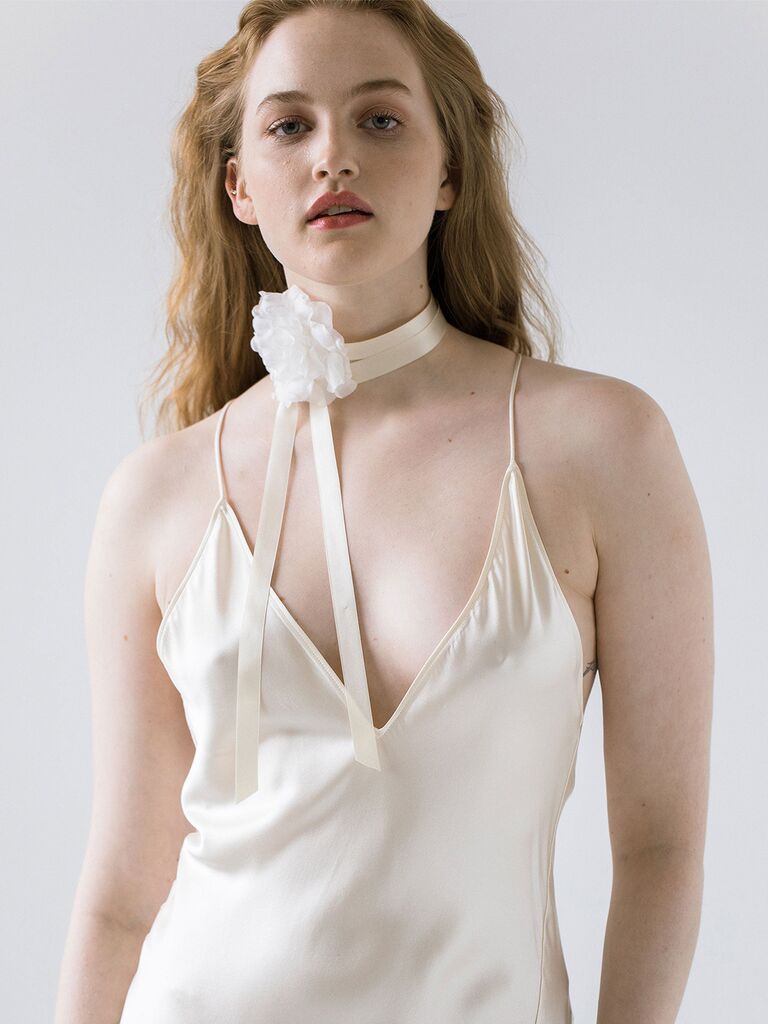 Splurge: Jennifer Behr Anelise Ribbon Tie | With a lifelike floral motif and silk ribbon tie, it's no mystery why our love for this accessory is blooming.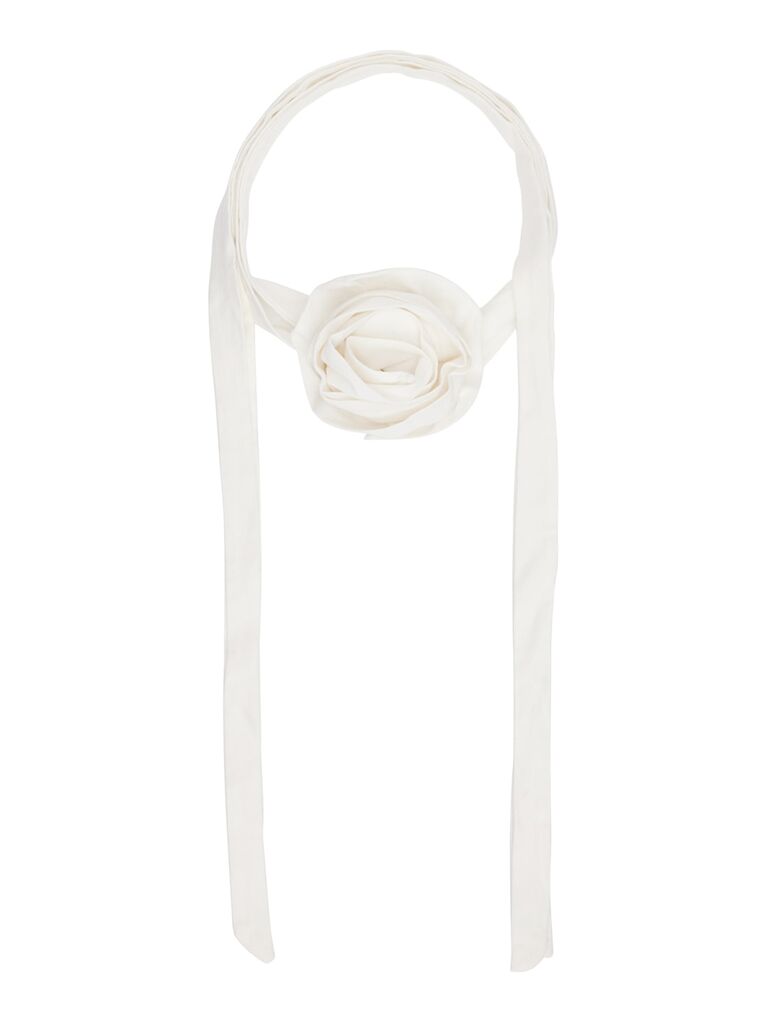 Spend: Gimaguas White Rose Necklace | Made from a soft cotton jersey, this pick is as comfortable as it is cute.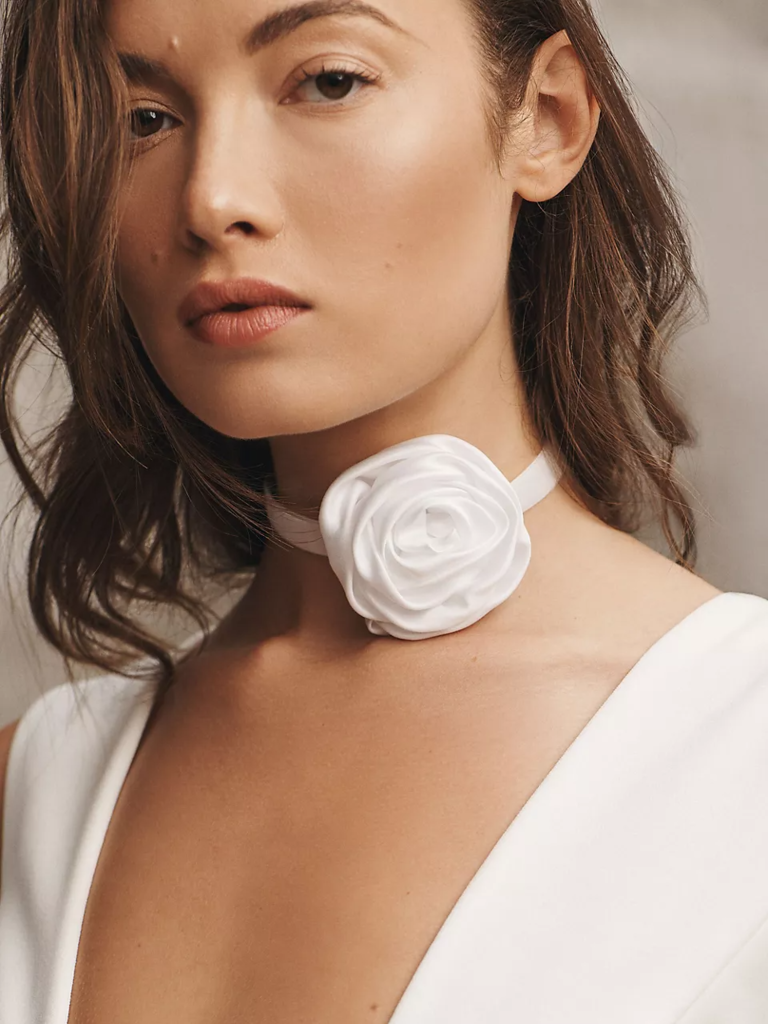 Save: Petit Moments Juliet Rosette Choker | This mini rosette choker offers major '90s vibes and we're totally here for it.
4. Embroidered Veils
Having trouble expressing your feelings? Let a customized embroidered veil do the talking. Hailey Bieber started a major trend during her 2018 nuptials when she sported a dramatic cathedral-length veil embroidered with the words "'Til Death Do Us Part." Now, with so many brands offering embroidered veils, it's easy to capture that same iconic style for your own ceremony. Of course, you'll likely want to make the look your own, which is why we handpicked these three customizable options.
Shop The Trend: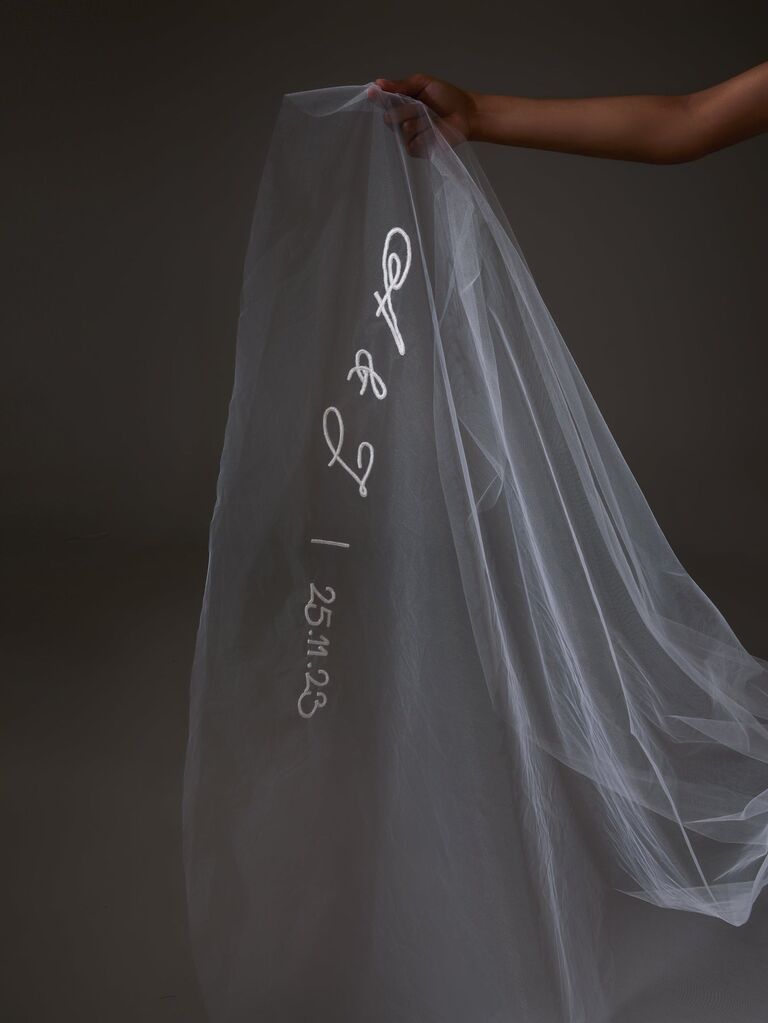 Splurge: Chosen by KYHA Custom Veil with Cursive Lettering | The perfect keepsake from your big day? This chapel veil with custom embroidery of your wedding date.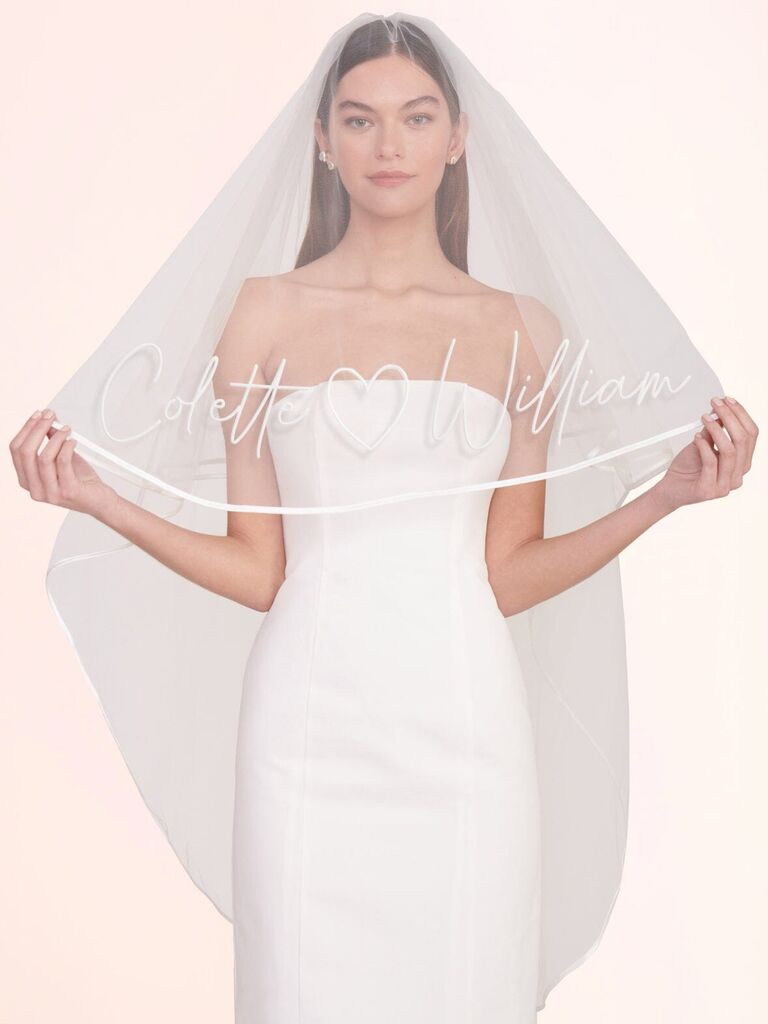 Spend: Staud Custom Embroidered Veil | Seriously, does it get any cuter than this custom embroidered fingertip veil?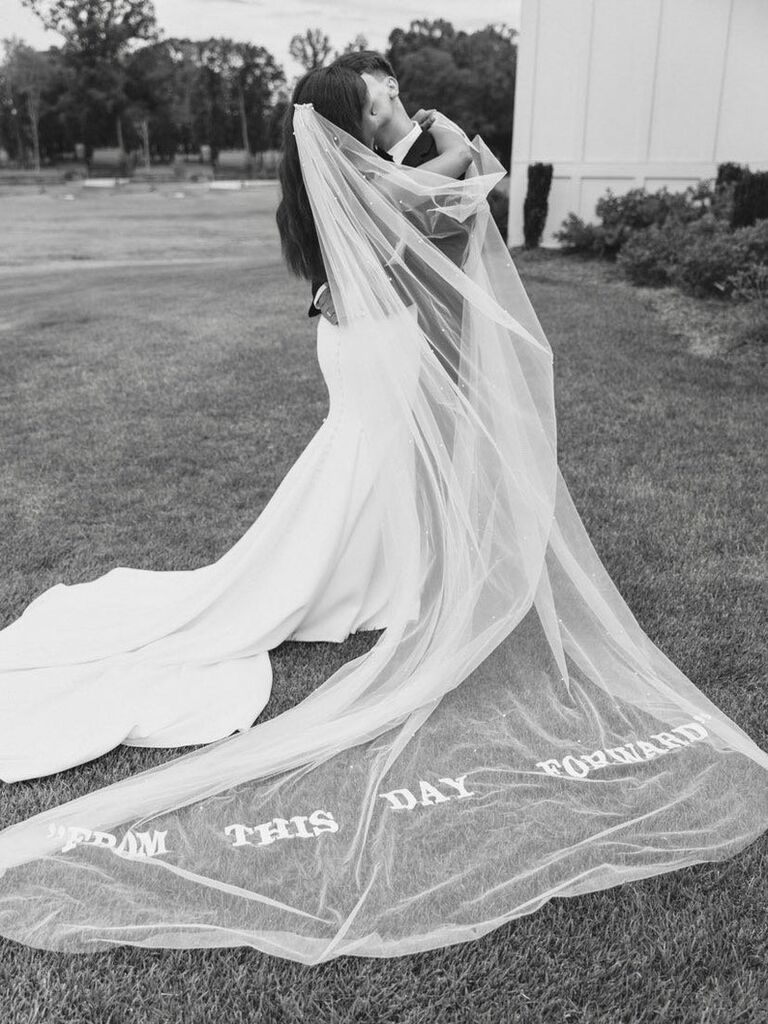 Save: Wedding Veil by Galinka Bespoke Veil | Make a statement as you walk down the aisle with this bespoke veil featuring bold embroidered lettering.
5. Bow Accents
Bow details were also all over New York Bridal Fashion Week, from wedding dresses with detachable bows, flirty hair bows, and bow-embellished veils. Of course, it's easy to see why everyone is so *wrapped up* in this trend. A bow accessory is guaranteed to add a romantic touch to any of your bridal outfits, from the engagement party to the rehearsal dinner and beyond. Lucky for you, we found the prettiest trending options of 2024.
Shop The Trend: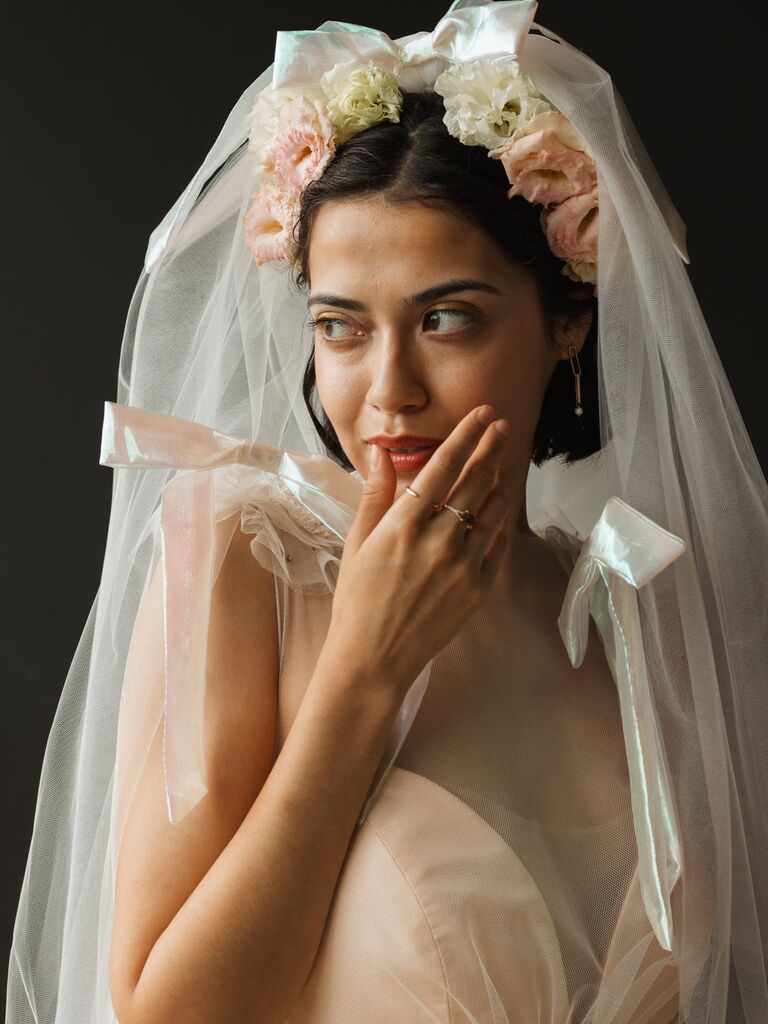 Splurge: Madison Chamberlain Bow Veil | Scattered metallic bows make this a pick that's anything but ordinary.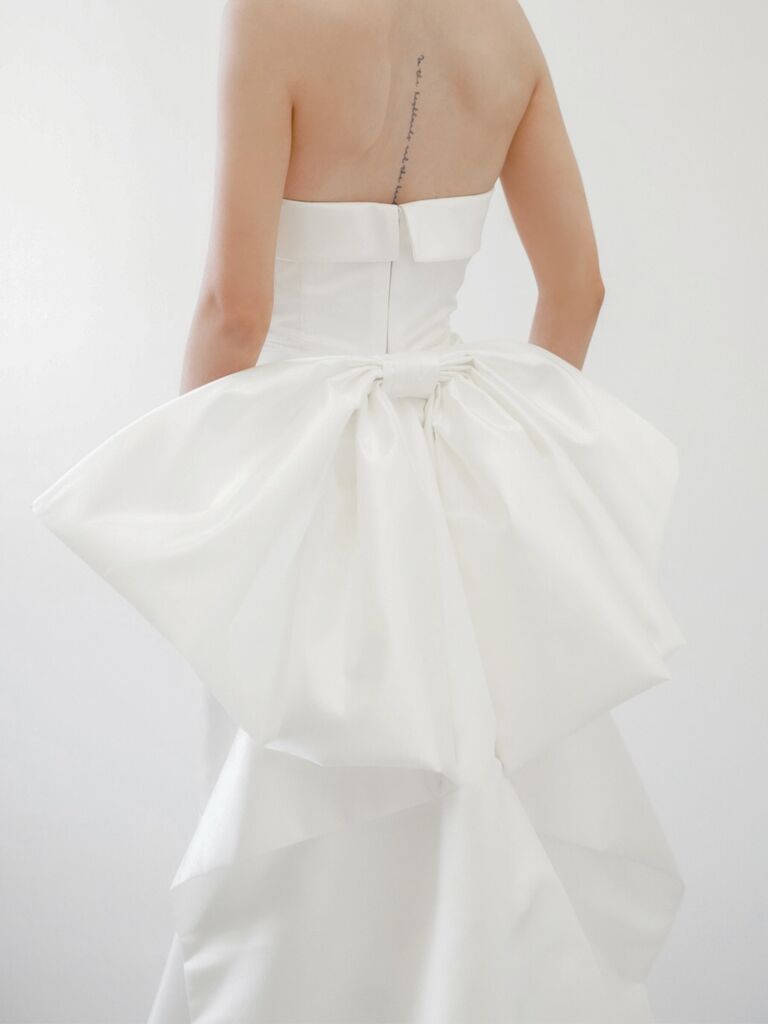 Spend: Wtoo Dee Bow | For the bride who believes bigger is always better, this is the wedding accessory of your dreams.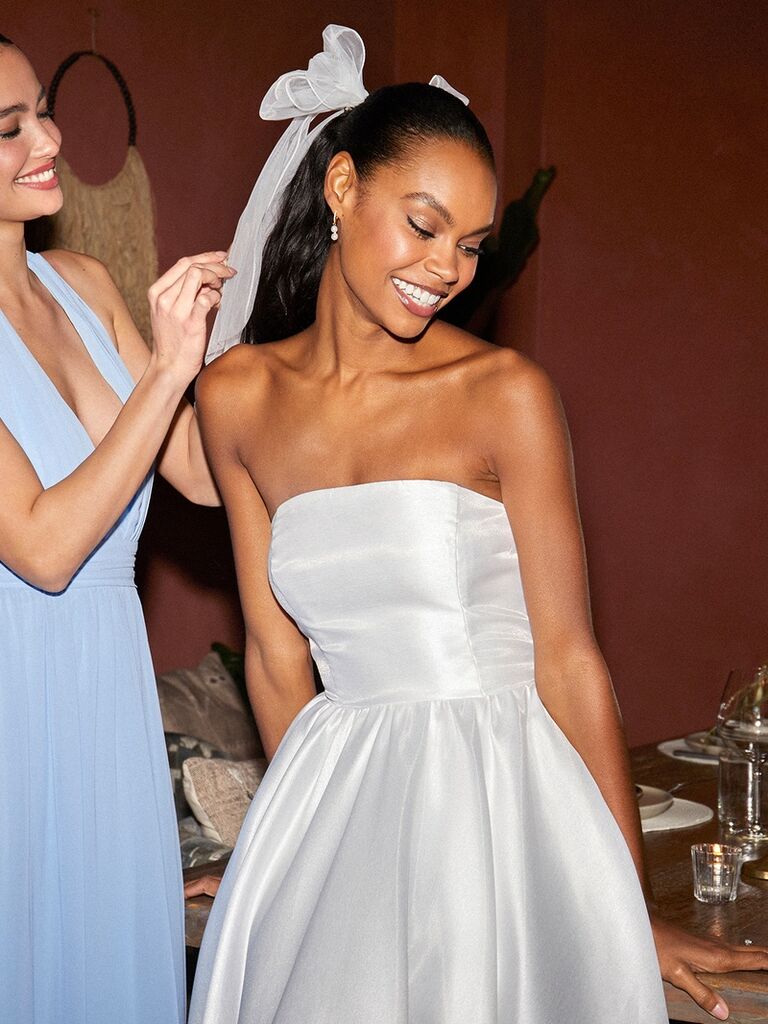 Save: Lulus My Dearly Beloved White Organza Oversized Bow Hair Clip | There's nothing quite as classic as a hair bow, and we think you'll have this one on repeat long after you say 'I do".
6. Neck Scarves
A bare neck is never a bad idea, especially for the minimalist bride, but for brides who want a little something extra, this trend is the way to go. Inspired by old Hollywood, bridal scarves let you have your very own red carpet-moment as you walk down the aisle. Just like a cape or veil, they trail behind you creating an ethereal effect. The best part? They can easily be removed to switch up your style between the ceremony and reception.
Shop The Trend: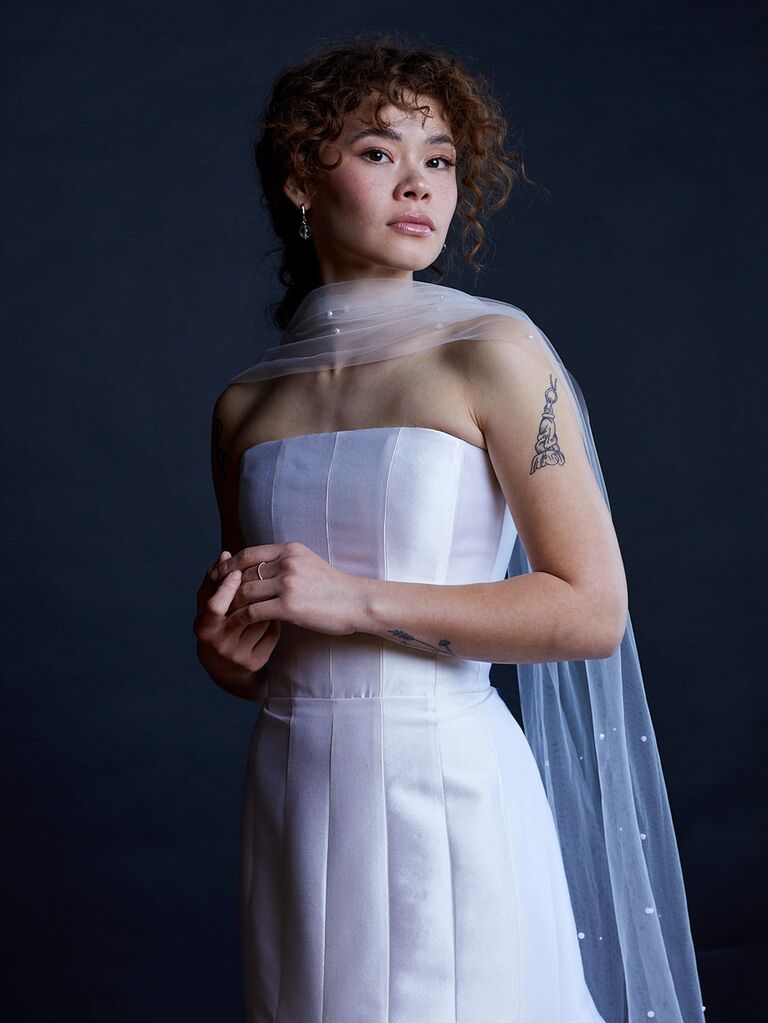 Splurge: Hushed Commotion Ambrosi Beaded Tulle Scarf | This tulle scarf features scattered pearls throughout (two 2024 bridal accessory trends in one).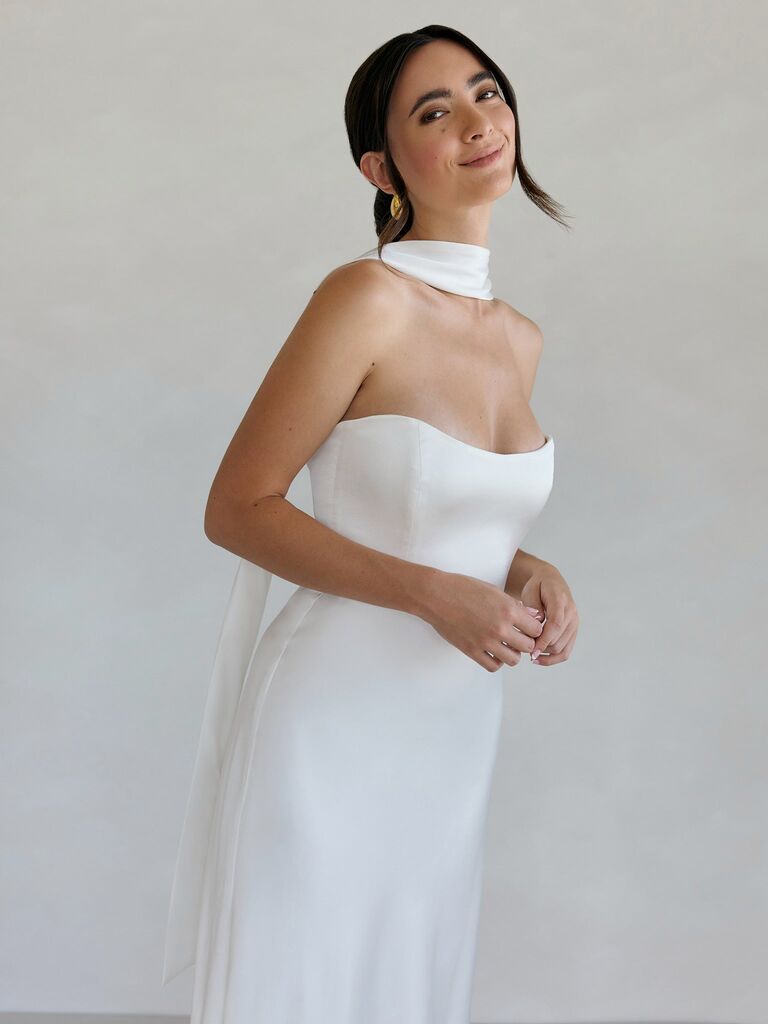 Spend: Park & Fifth Lola Bridal Scarf | Sleek and simple, this satin scarf is any minimalist bride's dream.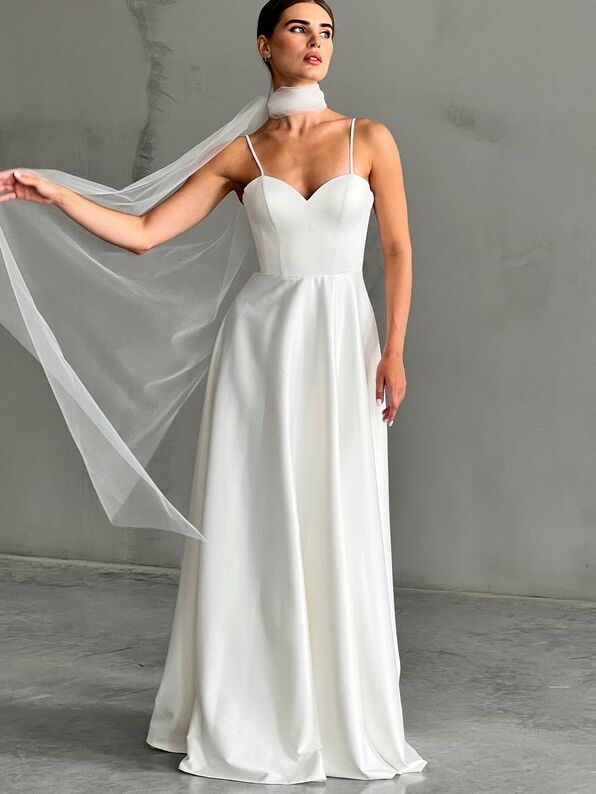 Save: Perfect Wedding Veil Tulle Scarf | This airy tulle scarf is sure to create a whimsical effect as you walk down the aisle.
7. Pearl Headbands
When it comes to accessories, the world is your oyster. Literally. Pearl accessories are the latest craze in the bridal world and beyond (see: pearlcore) and in our books, there's no better way to sport them than on a headband. Whether you're looking for something dainty or bold, there are plenty of options to top off your look. Whoever said diamonds are a girl's best friend clearly never took a look at these iridescent accessories.
Shop the trend: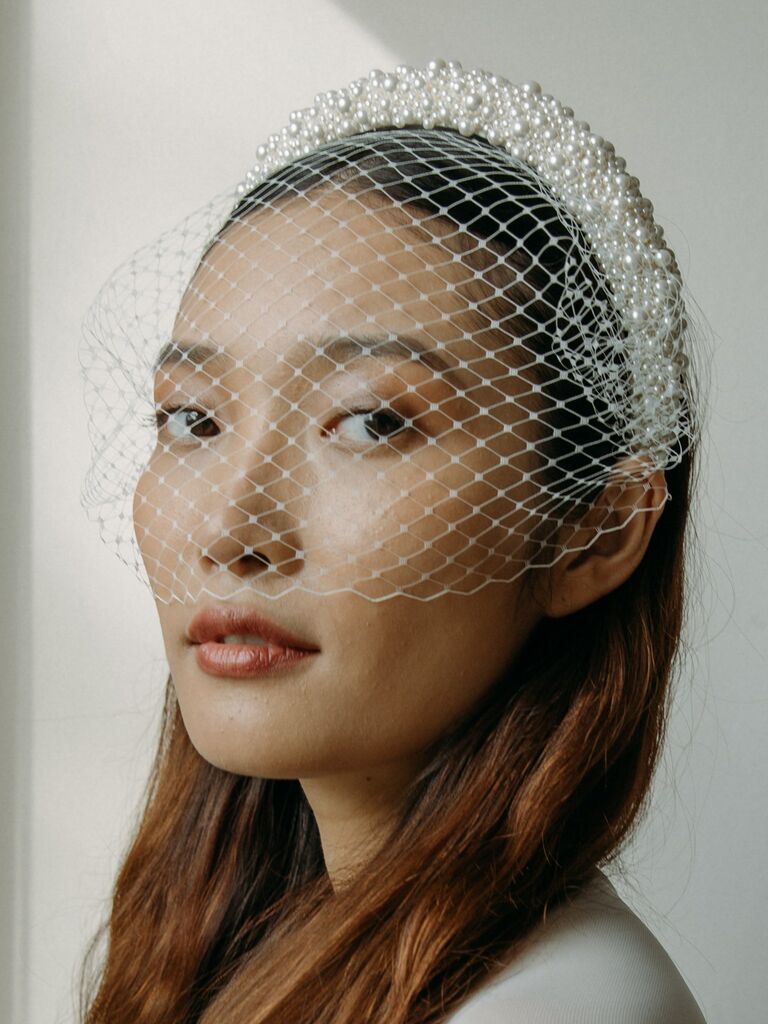 Splurge: Jennifer Behr Bailey Voilette Headband | For the bride who can't decide on just one hair accessory: this headband-veil combo offers the best of both worlds.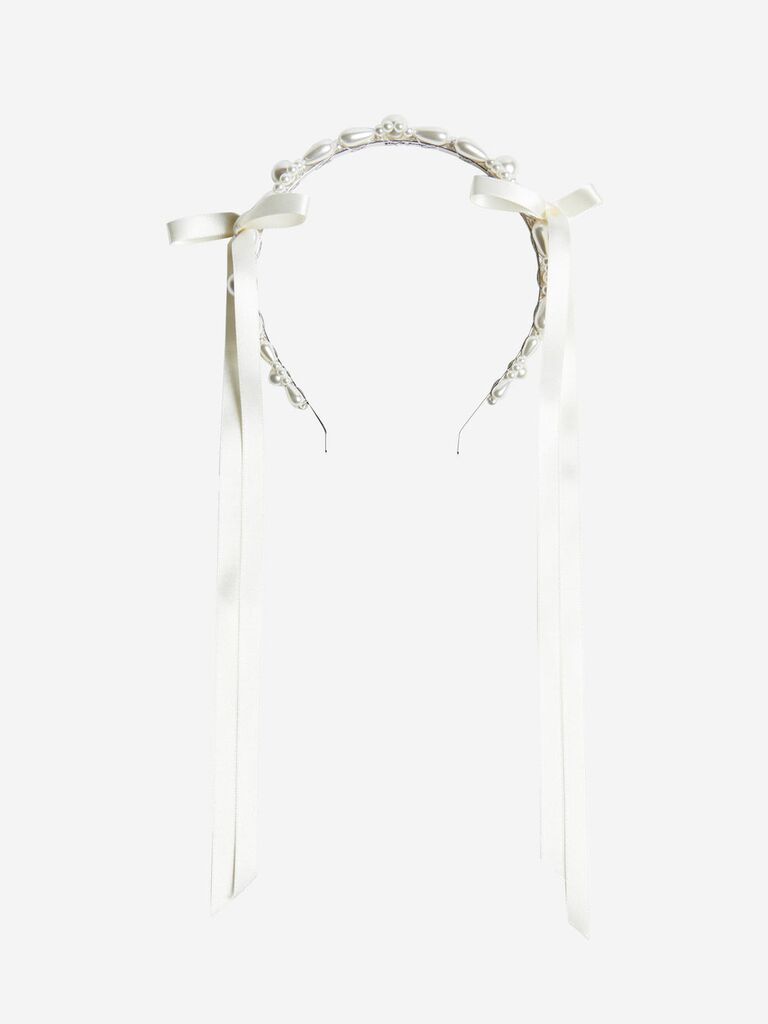 Spend: Simone Rocha Bow Ribbon Daisy Chain Hairband | Featuring both bows and pearls, this headband is an ultra-trendy option for 2024 brides.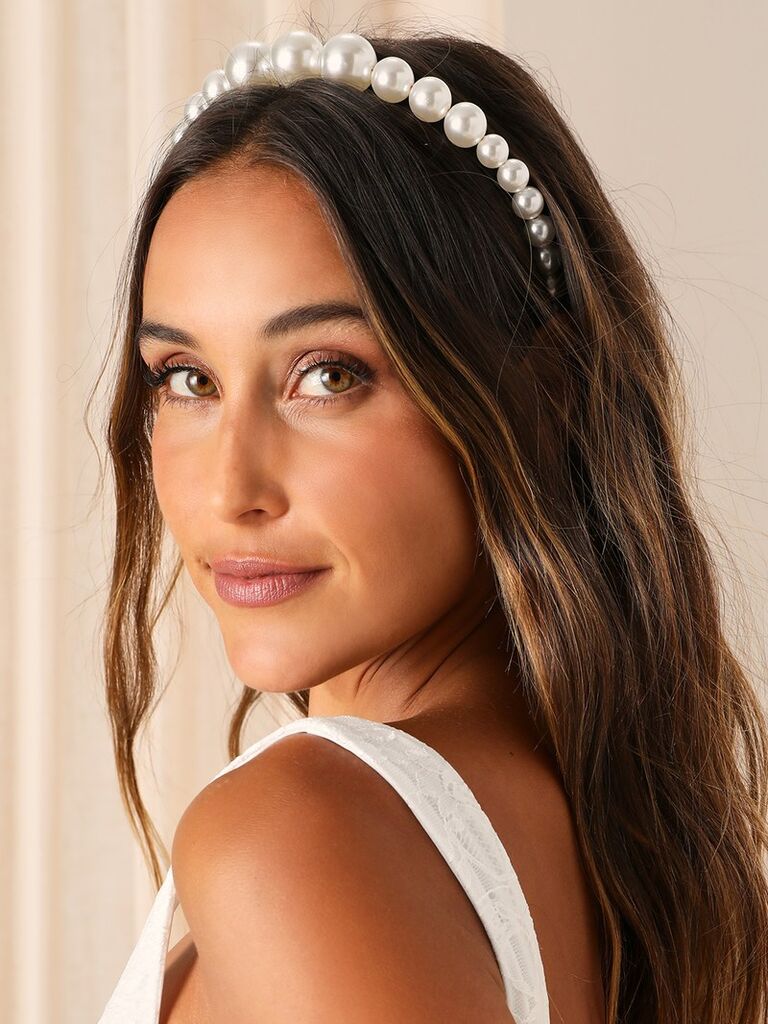 Save: Lulus Posh Beginnings White Pearl Headband | This crown of pearls will have you feeling regal throughout your wedding day and beyond.
8. Colorful Veils
Want to make a fashion statement at your wedding? Take notes from New York Bridal Fashion Week and opt for a pop of color. Pastel wedding dresses made a big splash on this year's runways leading many modern brides to embrace these non-traditional looks for their own nuptials. For those not looking to stray too far from tradition, a colorful veil could do just the trick. From baby blues to bright pink hues, there are plenty of eye-catching options with which to customize your bridal ensemble.
Shop The Trend: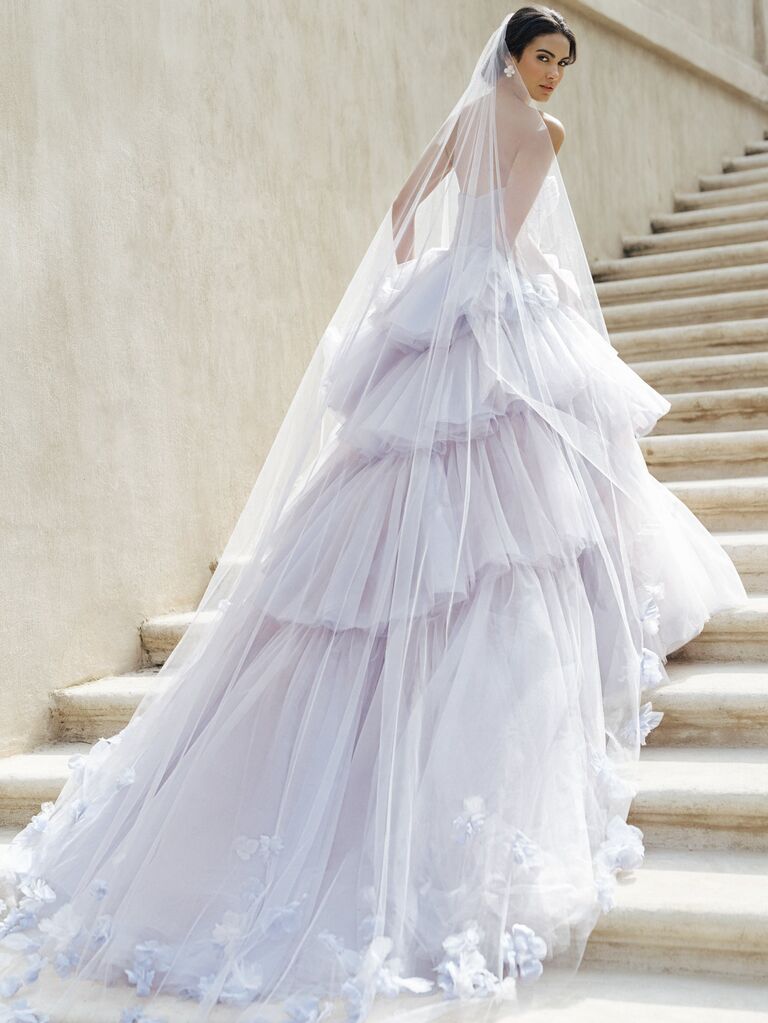 Splurge: Anne Barge Inman Veil | Calling all Taylor Swift fans: This soft purple veil will have you in a lavender haze.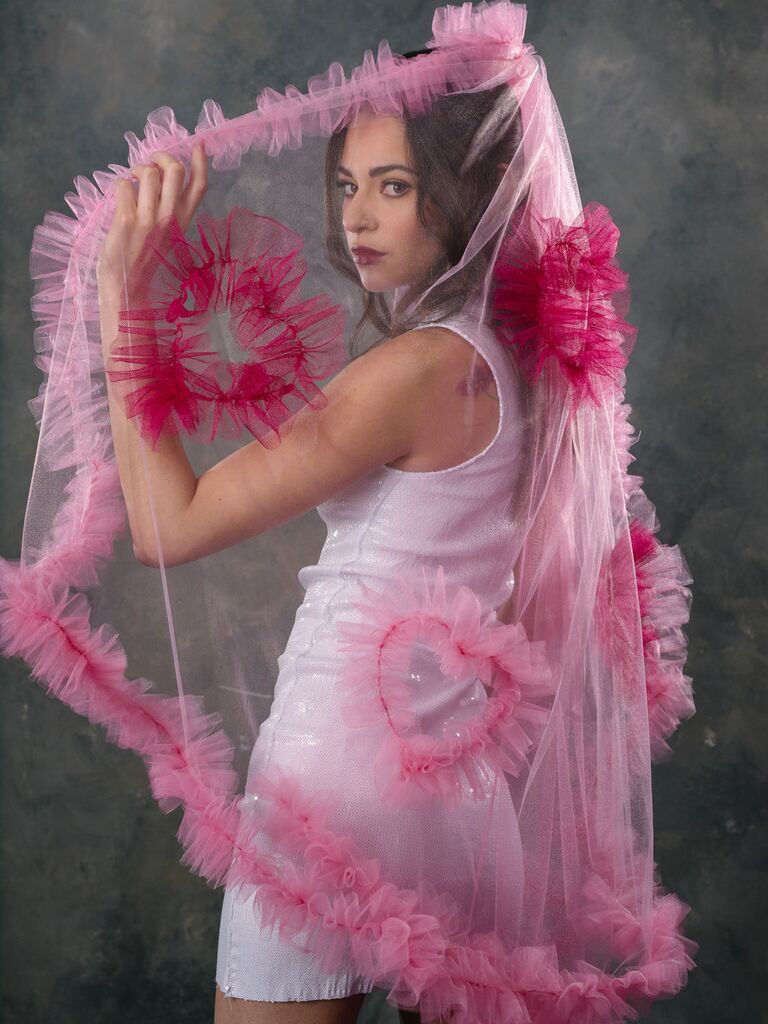 Spend: Madison Chamberlain Madonna Heart Ruffle Veil | From the bachelorette party to the big day, this kitschy ruffled veil is sure to earn you plenty of compliments.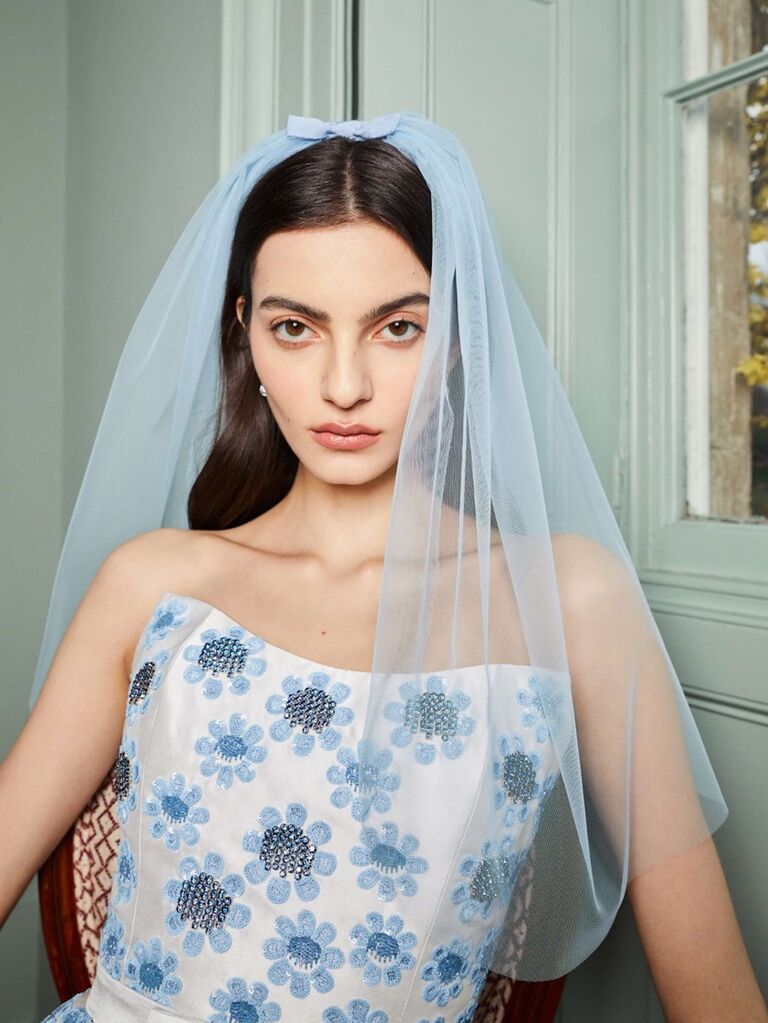 Save: Markarian Calla Blue Blusher Veil | How about a little something blue to top off your bridal ensemble?