38 Bridal Hair Accessories For Every Wedding Aesthetic
From headbands to bows, there's a bridal headpiece that fits every style and budget.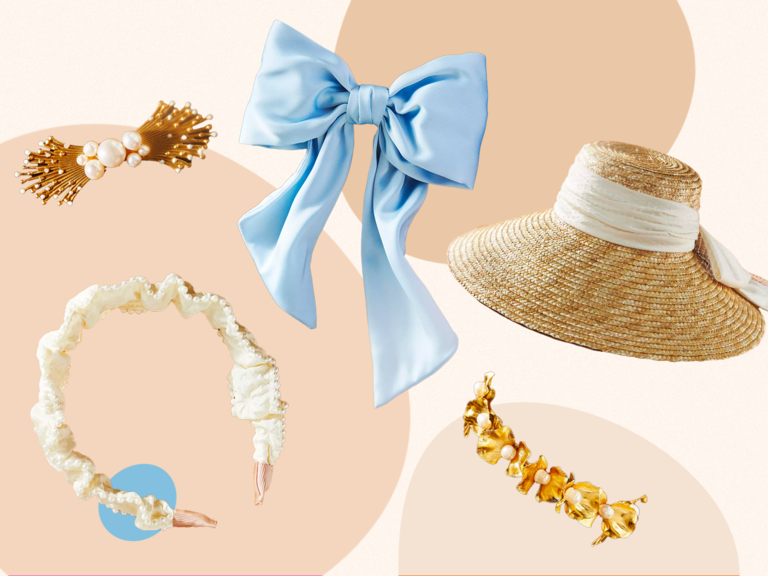 Anthropologie | Design by Tiana Crispino
We have included third party products to help you navigate and enjoy life's biggest moments. Purchases made through links on this page may earn us a commission.
Whether it's an embellished hair clip to elevate a sleek bun or a pearl headband to add a bit of sophistication to your curls, bridal hair accessories are always a good idea. Not only can they be easily worn again long after saying "I do," but they can also be kept as family heirlooms to pass down from generation to generation.
If you've been searching for the perfect hairpiece to complement your wedding hairstyle, we've got you covered. We're talking about the most popular hair accessories you can wear on your big day—and we didn't forget to include a list of our shoppable favorites that you can add to your cart now. So if you envision yourself in a whimsical hair vine, a pair of minimalist barrettes or a regal tiara, you can draw inspiration from the accessories below. Pro tip: Once you've found your dream hairpiece, bring it to your hair trial to show your professional stylist, so you can see the entire look come together before the big day.
In this article:
Where to Buy Bridal Hair Accessories
Not sure of where to buy bridal hair accessories? We've rounded up some of the best retailers (in no particular order) to shop for wedding headpieces, so you can find something beautiful that fits your style and budget.
Maria Elena Headpieces: If you're looking for an heirloom-quality hair accessory, Maria Elena Headpieces is for you. Their luxury line of crowns and headpieces are handcrafted by artisan jewelers using quality crystals, semi-precious stones and pearls. Their pieces are even well-loved by celebrities like Paris Hilton, Heather Rae Young and Sloane Stephens.
Anthropologie: Anthropologie is a treasure trove of whimsical wedding hair accessories from designers like BHLDN, Lelet NY and Twigs & Honey. Scroll through their bejeweled clips, dainty hair pins and boho-inspired halos, and you're sure to find a few gems for all of your wedding events.
Untamed Petals: California-based accessory brand, Untamed Petals, has made a name for itself thanks to its flirty accessories. Shop fashion-forward styles like darling tulle bows for a modern courthouse elopement, or channel your inner mermaid with some of their pearl hair clips.
Jennifer Behr: Jennifer Behr's pieces are the definition of modern romance. You'll find tried and true hair accessories from soft satin bows to opulent headbands. While you're browsing for the perfect headpiece, be sure to take a peek at their luxurious jewelry collection to complete your look.
Lulus: Whether you're shopping for bridal claw clips for your beachside bach party or sparkly rhinestone pins for your bridal brunch, you'll find adorable, affordable options at Lulus. They carry budget-friendly headbands, hair pins and other eye-catching styles for all of your wedding events. Oh, and they have an entire dedicated wedding shop with trendy veils, dresses and jewelry too.
Types of Wedding Headpieces
No matter how you describe your style (modern, boho, classic, or whimsical) there's a hair accessory that will complement your aesthetic. Below, we cover some of the most popular types of bridal headpieces, for all of your upcoming wedding festivities.
Bridal Headbands
What it is: Trendy yet timeless, headbands are a quick and easy way to elevate your day-of 'do. Not to mention, they're available in a variety of different styles, embellishments and finishes.
How to wear it: Add your bridal headband as a finishing touch to voluminous curls or a sleek-and-straight pony. The style possibilities are truly endless.
Crowns and Tiaras
What it is: Channel your inner royal with a regal bridal crown or tiara. It's a hairpiece with a history dating back centuries and wearing one today will still command all the attention in the room.
How to wear it: Make a statement by adding an embellished tiara to an elegant updo, or pair your loose waves with an earthy crystal crown for a boho-glam vibe.
Hair Clips
What it is: From whimsical floral clips to rhinestone-adorned barrettes, adding a little sparkle to your hair will instantly transform any hairstyle. Simply snap in place and you're ready to go.
How to wear it: Whether you plan on wearing your tresses up or down, using a clip to pin back your bangs can easily sweep your hair out of your face or hold together your half-up 'do together all night long.
Hair Combs
What it is: Designed to hold your hair firmly in place, an embellished hair comb will have you dazzling all the way down the aisle. It's your day to sparkle after all!
How to wear it: Slide a hair comb into your locks to add some drama to Hollywood-inspired curls, a flirty top knot or any bridal hairstyle that requires a little extra glamor.
Bows and Ribbons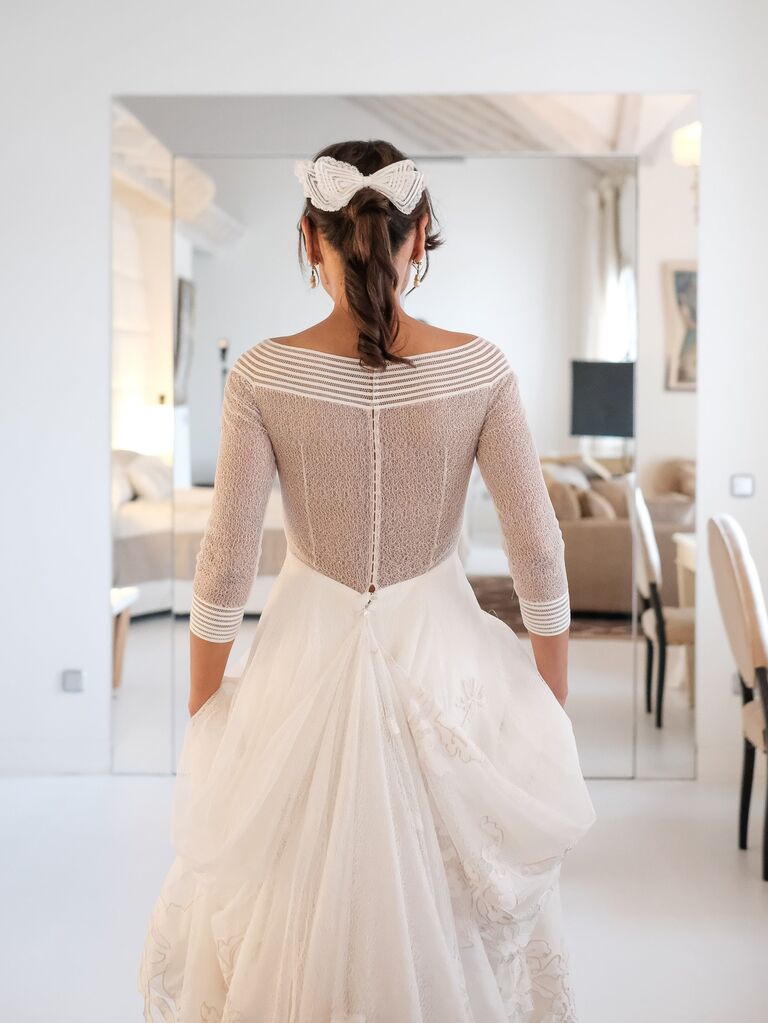 What it is: Wrap up your wedding look with a gorgeous hair bow. These flirty accessories are made to be tied directly into your hair or may have a clip attached for an easy, no-fuss application.
How to wear it: Bridal bows will add a sweet "je ne sais quoi" to any wedding hairstyle. Add it as a finishing touch to a softly twisted half-up, half-down or keep it preppy andclip it into a high ponytail.
Hair Pins
What it is: Hair pins, aka bobby pins, are the perfect accessory to accent your locks. They easily slide into place with their flexible double-pronged design that closes over the hair to keep it secure all day (and night) long.
How to wear it: There are countless ways to style your bridal hair pins. Add one or two to a chic chignon or embellish a beachy fishtail braid with a matching set to add just the right amount of visual interest to your tresses.
Best Bridal Hairpieces by Style
Hosting a woodland ceremony? Choose a halo with organic elements. Getting married in an art gallery? Find a comb that has structured and geometrical elements. Get inspired based on your wedding style, below.
1. Best for Classic Brides: Maria Elena Headpieces Harmony Hair Comb
If you're a -to-be-wed who loves the classics, this comb from Maria Elena is for you. It's embellished with the most stunning shimmering crystals that feel both refined and stylish. Really, what's not to love about it?
2. Best for Trendy Brides: Swarovski Hair Clip
Adding sparkles to your day-of-do just exudes "it girl" energy (maybe because all of the cool girls bedazzled their hair in the early 2000s). When applied to a sleek bun or tucked-back bangs, these Rhodium plated hair clips create a chic wedding look that is just beyond.
3. Best for Boho Brides: Twigs & Honey Pearlescent Sweet Pea Hair Pin Set
If earthy elements are more your taste, check out this simple set made with freshwater pearls. These handmade hair pins with gold-plated accents can be worn throughout your hair for a subtle, boho-chic effect.
4. Best for Elegant Brides: Untamed Petals Chloe Hair Comb
Serious question: Is there anything more elegant than a floral hair comb? This one from Untamed Petals has just the right amount of eye-catching shimmer without being too over the top.
5. Best for Whimsical Brides: Twigs & Honey Baby's Breath Pearl and Opal Bridal Crown
If you want an accessory that is both ethereal and easy to style, check out this whimsical hair crown adorned with freshwater pearls and sparkling crystals. Wear it with soft curls or tied up in a messy low bun; either way, it will keep you looking put-together and stylish.
6. Best for Glam Brides: Maria Elena Headpieces Regal Crown
Go glam or go home, right? The regal bridal crown from Maria Elena comes adorned with ultra-precise diamond crystals in ivory, clear, gold and black. We can only imagine how striking this would look with loose curls and an off-the-shoulder ball gown.
7. Best for Vintage Brides: Jennifer Behr Bailey Voilette Headband
This Jennifer Behr headband will add Old World flair to any hairstyle with its birdcage veil and pearls. The beauty of this hairpiece is that it can be worn with any hair length, texture or style. Talk about vintage versatility.
8. Best for Minimalist Brides: Lulus So Polished Gold Rhinestone Hair Pin Set
Hair accessories don't need to be bold to be wedding-worthy. Just look at these simple rhinestone hair pins from Lulus that cost only $14. After all, something has to keep your hair out of your face when leaning in for that first kiss.
9. Best for Celestial Brides: Untamed Petals Tempest Bobbi Pons
We love the pearl-encrusted star design on these gold hair pins; they're easy to style and will instantly elevate any celestial bridal look. Try wearing multiple pins at once to make them appear like shooting stars.
10. Best for Sophisticated Brides: Lulus Final Touch White Satin Oversized Bow Hair Clip
This sweet bow is only $19, though it looks much more expensive thanks to its elegant design. It can be worn a multitude of ways, but we fancy it placed on the back of a half-up, half-down hairstyle.
Best Bridal Hair Clips and Combs
If you're looking for a hair clip for your tresses, look no further. We've handpicked some of the prettiest styles so you don't have to.
11. David's Bridal Gilded Petals Floral Hair Clip
All that's gilded is gold with this floral hair clip from David's Bridal. And with so many eye-catching ways to style it, you'll be able to wear it on anniversary dates for years to come.
12. Untamed Petals Darla Bow
If you love a bow moment just as much as we do, opt for this one from Untamed Petals. What could be more fitting for a spring wedding shower than a sweet tulle bow with hand-sewn fabric floral details?
13. Ariel Taub Accessories Kimberly Hair Clip
For a simple accessory that will beautifully transform your hair, you'll love these pearl clips from Ariel Taub. The pearl design is totally on trend, making it a perfect addition no matter what look you decide on.
14. Maria Elena Headpieces Prosper Bridal Comb
If you're looking to splurge on a hair comb, we have the ultimate find for you. This oversized rose gold floral design from Maria Elena is sure to draw all the attention to you in the best way possible.
15. Untamed Petals Harrington Comb
Embrace those beachy vibes with this pearl-encrusted hair comb from Untamed Petals. Keep it cool for your summer nuptials in the sun and style it with a humidity-friendly half-up, half-down look.
16. Lulus Dainty Moments Gold Beaded and Rhinestone Hair Comb
For under $25, you can't go wrong with this rhinestone comb from Lulus. It's an all-around great value and is perfect for a summer wedding with its colorful rhinestones in an array of blue, gold, and pink colors.
17. Lelet NY Crystal Spine Comb
If you want a bold wedding hair accessory that is truly unique, check out this crystal spine comb from Lelet NY. Style yours with a modern high pony or weave it into a fishtail braid for a glam mermaid moment.
Best Bridal Headbands
Looking for an oh-so-chic headband? We've pulled together plenty of lovely options, from modern and sophisticated to bold and glamorous, to get you started.
18. BHLDN Kinder Headband
Calling all minimalists: this BHLDN headband was made for you. This soft-padded stunner can be dressed up for an evening rehearsal dinner but can also work equally well with a casual white dress for a daytime wedding shower.
19. Jennifer Behr Meadow Headband
Attending a bridal brunch or an afternoon tea shower? That's the perfect time to curl your locks and put on this bejeweled Jennifer Behr headband. Fun fact: this whimsical headpiece was inspired by nature's beauty.
20. Untamed Petals Ayla Headband
Give pretty in pink a whole new meaning with this embroidered blush headband from Untamed Petals. You can style it with nearly any of your prewedding events, from wedding showers to welcome parties.
21. Lulus Glim and Glam Silver Rhinestone Headband
Affordable, sparkly, and comfortable, this Lulus headband has it all. We're obsessed with the varying sizes of clear and iridescent rhinestones that give it a free-spirited vibe.
22. Maria Elena Headpieces Aurora Headband
We've found the most romantic gold headband from Maria Elena for your wedding day—and it's adorned with sparkling crystals. Add a simple pair of earrings or a dainty necklace to complement the look.
23. Lulus Vine Art Gold and Pearl Clip-On Headband
This dreamy Lulus headband is a beautiful option for brides on a budget. What really caught our attention, though, were the two bobby pins attached to the ends that help secure the headband to your hair. Meaning it will stay on your head when you go to bust a move on the dance floor.
24. Jennifer Behr Bailey Pearl Headband
We just couldn't do a headband round-up without including this iconic pearl number from Jennifer Behr. This hairpiece boasts all-over luminous pearls and a thick padded interior for comfort. Plus, it sits high on the head, so it's sure to look incredible in all of your wedding photos.
Best Bridal Tiaras and Crowns
Ready to have your princess moment? We've curated our favorite bridal tiaras and crowns for your special day that will make you feel like royalty.
25. Maria Elena Headpieces Sophia Crown
For a high-fashion take on the traditional crown, consider this eye-catching beauty available in silver, antique gold and rose gold. Yes, it's an investment piece, but it's sure to last you forever.
26. Untamed Petals Rosamonde Tiara
How pretty is this crystal tiara? It has a multi-functional design that can be worn pointed up like a tiara, down like a traditional headband or even pinned into the back like a comb. Go ahead, take your pick.
27. Brides and Hairpins Swarovski Crystal Laurel Leaf Tiara
This Swarovski crystal tiara from David's Bridal looks like it came straight out of a fairytale. Pair it with relaxed waves or a side-swept braid for a sprightly woodland princess vibe.
28. Twigs & Honey Starlight Crystal High Tiara
This hairpiece offers a celestial twist on a classic bridal tiara. You'll be seeing stars (in a good way) with the floating halo effect of this Twigs & Honey crystal crown. Psst: Check out the matching earrings for a truly stellar look.
29. David's Bridal Regal Crown
There is no doubt about it: This is the quintessential princess crown. Brilliant marquise crystals come together in a regal design that will make you feel like royalty on your big day (as you should!).
30. Lulus Modern Majesty Silver Pearl Rhinestone Mini Tiara
Good things come in small packages, like this elegant mini tiara from Lulus. Mixing an array of cubic zirconia crystals and multi-sized faux pearls, this stylish silver number has the best of both worlds.
31. Maria Elena Headpieces Juliette Pearl Crown
A simple way to instantly elevate a bridal crown? With pearl accents, of course. They're a polished choice for the modern bride, as they always look regal and refined.
Best Bridal Hairpins and Pin Sets
The best thing about choosing a set of pins for your wedding style? How easy it is to style them. Here, we've rounded up some of our favorite picks for your tresses.
32. Serefina Robine Hair Pin Set
This pin set is for the vintage bride, no question. These delicate crystal pins can be scattered throughout a ballerina bun or your natural curls for a touch of sparkle.
33. Lulus Elegant Aesthetic Gold Pearl Beaded Floral Hair Pin Set
Like the name states, these darling hair pins were made for an elegant celebration. This set is designed with beautiful gold florals and pearls to help your wedding day style shimmer and shine.
34. Lulus Make Some Poise Gold Pearl Hair Pin Set
Whether it's the big day or the farewell breakfast, these simple gold hair pins with pearl details will always elevate your locks. Plus, you can easily add them to your hair for all of your future date nights as newlyweds.
35. Untamed Petals Wifey Pearl Pins
Love is in the hair (literally!). Let everyone know how you feel with this adorable hair pin from Untamed Petal that says it all. Wear it for your most fun and flirty events, like your wedding shower or bach party.
36. Serefina Astria Hairpin Set
Give yourself the stars and the moon by investing in these heavenly hair pins. They come in a set of five, so you can wear them all at once or pick just one for a luminous touch.
37. Untamed Petals Parker Hair Pins
These hair pins shake things up with their unique floral shape complete with pearl accents—it's a perfectly flirty touch for a modern bride. We're obsessed.
38. Jennifer Behr Perla Bobby Pin Set
Love the idea of incorporating pearl hair accessories but still want to keep it minimal? Opt for this lovely little set of pins that can be sprinkled throughout your beautiful tresses.