Must-Know Tips for a Dreamy Valentine's Day Proposal
Make a commitment on the most romantic day of the year.
A Valentine's Day proposal takes the ultimate holiday of love and elevates it to a day you'll remember forever. If you want to make the moment stand out, pop the question in a way that is special to the two of you as a couple. This could include a romantic restaurant proposal at your favorite spot or leading your love to an illuminated "Will you marry me?" sign. It's also important to plan what you want to say before you get down on one knee. No matter how you choose to propose, work with an experienced proposal planner to help you cross off every item on your proposal checklist. When you're ready to plan your big day, find an experienced planner and other amazing wedding pros on The Knot Vendor Marketplace. We spoke to proposal and wedding planner Kathryne Carter, owner of Grace and Virtue Events near Washington, D.C. since 2018, for all the expert tips you need to know for your Valentine's proposal.
In this story:
Is it a Good Idea to Propose on Valentine's Day?
Valentine's Day is one of the most popular proposal dates during engagement season. Carter said that while it's sometimes expected that a couple will get engaged on the holiday, it's still a romantic day to celebrate the love between two people. "However, if you feel like it is too expected to propose on Valentine's Day, consider the week of or the week after Valentine's Day for an additional special celebration near the Valentine's Day date," she said.
14 Romantic Valentine's Day Proposal Ideas
From simple to detailed, these marriage proposal ideas are sure to get you a "yes" on Valentine's Day. Carter recommends working with your local proposal planner for custom moments that require more logistics.
1. Romantic Photo Shoot
Arrange a photo shoot with your partner that includes a Valentine's Day proposal. Take them where you first met, the location of your first date or other special location. As you pose for photos, surprise your partner by getting down on one knee. Celebrate afterward with a private dinner at your photo shoot location.
2. Private Dance Lesson
Schedule a private dance session for the two of you with a proposal after the last twirl of the lesson. "Make sure to give your instructor a heads up," Carter said. Ask your instructor to dim the lights while you share a slow dance after you propose. Also consider hiring a photographer to hide out of sight and snap photos of your magical moment.
3. Rooftop Proposal
Marvel at views of a city skyline or the night sky as you pop the question. Take your partner to a restaurant, your apartment building or other venue with a rooftop space. Light candles and dine al fresco before your proposal. This Valentine's proposal idea is best for couples living in warmer climates.
4. Dinner Proposal at Home
Get cozy in the kitchen and cook dinner together at home. "It can be pizza, tacos, whatever you like, just make it together," Carter said. Light some candles, set out a bouquet of flowers and cue a romantic playlist as you enjoy your meal together. When the moment is right, get down on one knee for a cute Valentine's proposal.
5. Valentine's Day Trip Proposal
Set up a day trip with two to three stops that ends with a surprise proposal. Carter suggests traveling via a private car if it's just the two of you, or renting a bus or limo if you're with family and friends. Or have loved ones join you at location two or three for an extra surprise. Work with the venue and your proposal planner to create a romantic setting at your last stop.
6. Paint Night Proposal
This Valentine's Day proposal idea lets you flex your creative muscles. Sign up for a paint night event and let your teacher know you're planning to propose at the end of the class. Hide the engagement ring in your smock and have fun creating works of art with your partner. At the end of the night, you'll have artwork to take home that reminds you of the day you proposed.
7. Visit a Local Museum
This Valentine's Day proposal idea is perfect if your partner loves art or history. Purchase tickets to visit a nearby museum for the day followed by dinner. Research the museum or consult with your proposal planner to scout out a romantic painting or spot with a beautiful backdrop. Casually lead your partner to that location and surprise them with an engagement ring.
8. Head Out On a Winter Hike
Snow-covered trees add a touch of romance to any outdoor trail. If you're an adventurous couple, bundle up in your winter gear and visit one of your favorite hiking spots. Choose a trail that leads to a stunning view or a frozen waterfall where you can get down on one knee. The other benefit to this Valentine's proposal idea is there are fewer people hiking this time of year, giving you more privacy.
9. Host a Valentine's Day Party
Throw a Valentine's Day bash with your closest loved ones present. Work with your proposal planner to rent an event space and host a party as a cover for your proposal. Decide if you want others to know what's coming, or to experience the surprise alongside your partner. Pop the question at the end of the night, during a slow dance, or during a toast to the evening.
10. Breakfast in Bed
Waiting until the end of the day to propose can be nerve-racking. Start of your Valentine's with a proposal, then celebrate your newly engaged status the rest of the day. While your partner is still in bed, make their favorite breakfast along with coffee or tea. Place the ring box on the breakfast tray before waking them up for the day. Get down on one knee when they open the box and see their engagement ring.
11. Vineyard Valentine's Day Proposal
Along with stellar wine selections, vineyards often boast gorgeous views. Take advantage of this beautiful backdrop for your Valentine's Day proposal. Pack a picnic to enjoy with your wine or arrange a private stroll through the vines. Choose a secluded spot where you can express how much you love your partner and ask them that very important question.
12. Movie Night Proposal
Get cozy at home with blankets, your partner's favorite snacks and a romance movie. During a romantic speech, get down on one knee and recite the same lines to your partner. Then add your own heartfelt words as you ask them to marry you.
13. Valentine's Day Photo Booth
On your way to dinner or other Valentine's plans, conveniently walk past a photo booth and suggest taking pictures to remember the day. As the photo both starts to snap each photo, pull out the engagement ring and ask your partner if they'll marry you. Make sure to do this semi quickly so the camera captures the moment your partner says, "yes."
14. Valentine's Day Dessert Proposal
Finish dinner with a romantic dessert. Whether you're out at a restaurant or at home, bring out your partner's favorite sweet treat complete with a sign or large candy heart that reads, "Will you marry me?" Talk to the restaurant ahead of time, order dessert from a local baker or make it yourself if you're skilled in the kitchen.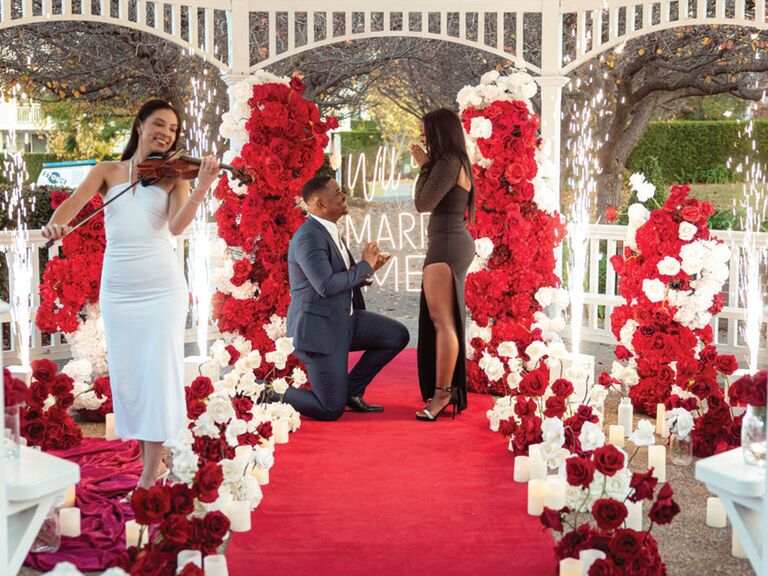 Expert Tips for Planning A Valentine's Day Proposal
From planning early to mapping out your budget, consider these expert tips before you start planning your Valentine's Day proposal.
Start Planning Early
Valentine's Day is a popular time of year, so it's important not to wait until the last minute. "Especially if you are looking to make reservations in a public restaurant or an experience that sells tickets or has limited space," Carter said. Decide where you want to propose and make reservations as early as possible.
Discuss Any Expectations
Without giving away the surprise, have a discussion about the expectations for the proposal. Carter suggested knowing if it should be a private or public moment and if friends and family are expected to be there. "If it is a large group, rely on a professional planner to support you with the logistics and planning," she said.
Think Outside the Box
Consider different experiences that are outside of the norm or unexpected for a Valentine's Day proposal. "Think about you both as a couple and what you might do so that you can customize a moment that is just for the two of you," Carter said. Unexpected experiences also increase the chance of surprising your partner with a marriage proposal on Valentine's Day.
Create a Budget
Red roses, chocolates, restaurant reservations and more add up quickly, especially around Valentine's Day. "Think about the spending range you want to stay in," Carter said. Come up with a realistic spending plan and work with your proposal planner to stay within your budget.