The 60 Cutest Valentine's Day Gifts of 2023
Shop sweet V-Day presents they'll seriously appreciate.
We have included third party products to help you navigate and enjoy life's biggest moments. Purchases made through links on this page may earn us a commission.
Valentine's Day only comes around once a year, and it's the perfect opportunity to let your partner know just how much they mean to you. Picking out a cute Valentine's gift is one simple way to show your S.O. how you feel (and rekindle some of the romance that gets a little lost in everyday life). Of course, presents aren't everything. Simply taking time to be together, whether it's in person or over the phone, is already a great way of strengthening your relationship. But if you're feeling generous, a gift is a welcome surprise that'll certainly show your appreciation.
Ready to surprise your other half with a great Valentine's Day gift? Call us Cupid, because we're here to match you with the perfect present for your future or current spouse. Whether you're looking for something fun, romantic or just downright practical, we've got all the best ideas in our Valentine's Day gift guide that'll brighten up their February 14. From classics like chocolate to more unique options (think: an enchanted rose à la Beauty and the Beast), one of these sweet picks is sure to impress.
Cute Valentine's Day Gifts for Your Other Half
If you're finding it hard to come up with good Valentine's Day ideas, don't worry. We happen to know exactly where to find the cutest Valentine's gifts on the web, from engraved pieces of jewelry to cool gadgets and delicious treats (cupcake jars, anyone?). These thoughtful presents work for anyone, whether you're dating, engaged or married.
1. Electronic Love Note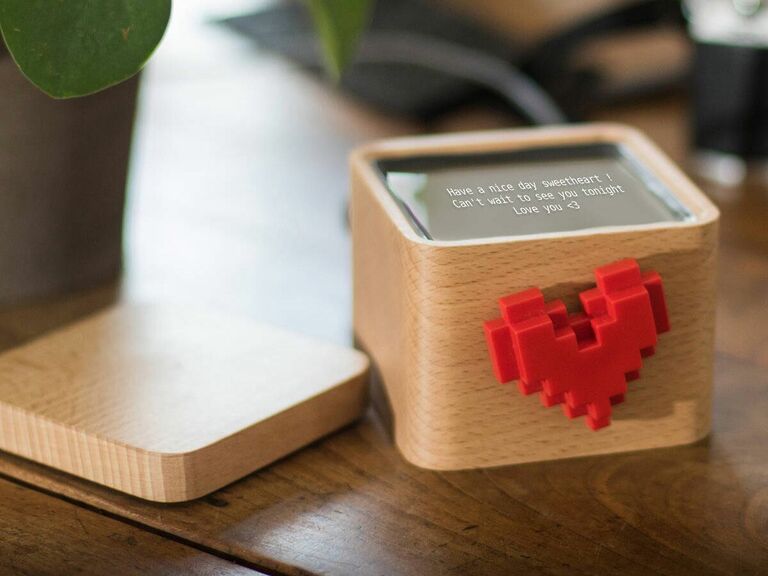 What if we told you there's a better way to send love notes? This adorable box will let you send messages to your S.O. straight from an app on your phone. The heart spins whenever a new message arrives, making this a cute Valentine's day gift for any modern romantic. It's an especially thoughtful present if you or your partner travels for work—you'll never feel too far away from each other with this clever device.
2. Enchanted Rose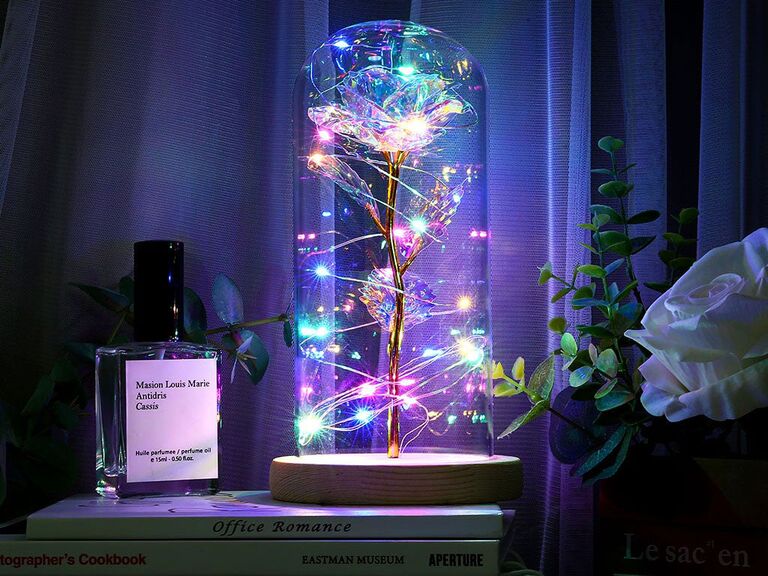 Consider your love story something of a fairy tale? Impress your significant other with this mesmerizing galaxy-themed rose. The glass dome contains a single iridescent rose lit up by 20 LED fairy lights. A carved wooden base completes the display-worthy ornament. Any Disney-loving spouse will swoon over such a unique and thoughtful present. Oh, and we've got something for you too: Take an extra 10% off with code THEKNOT.
3. Intimate Adventure Book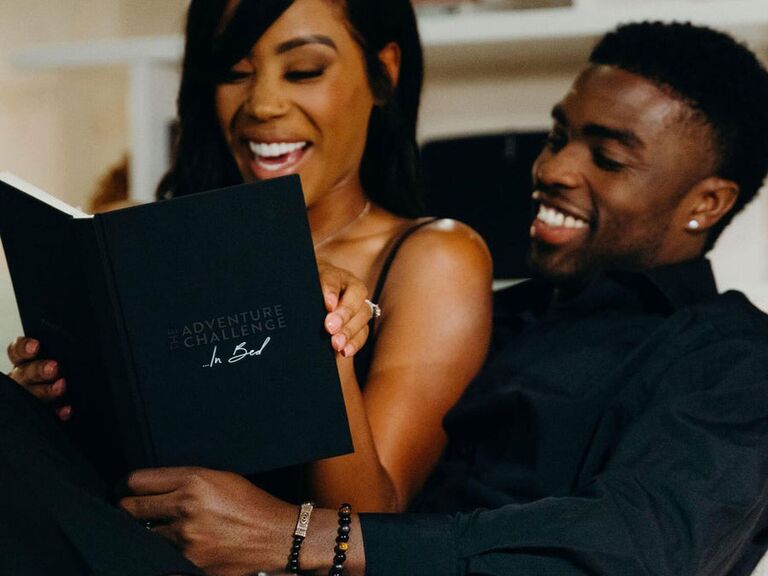 You might already be familiar with The Adventure Challenge: Couple's Edition (and if not, you should definitely check it out), but this is The Adventure Challenge… In Bed. Rather than general date ideas, this extra-spicy edition of the popular series is designed to promote intimacy and connection through various bedroom ideas. Just look at all of those five-star reviews! (Psst, our readers can get 10% off sitewide with code THEKNOT10.)
4. Registered Star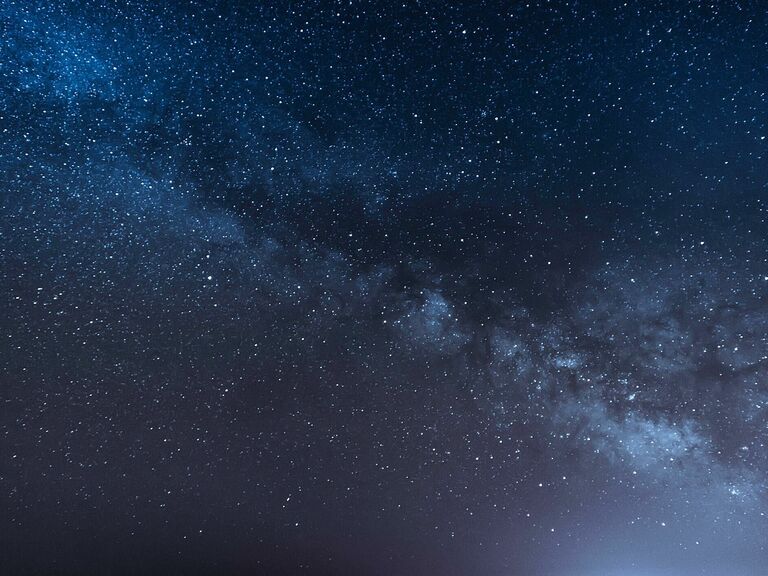 For the person who's totally into space and has enough "stuff" already, check out this cute Valentine's Day gift: a star. Pick one to register for, name it and track it. Star Registration only offers stars you can actually see, so you won't have to invest in a crazy-expensive telescope to show off your gift. For an ultra-cute Valentine's idea, pack a night picnic and tell your partner to "look up."
5. Personal Fire Pit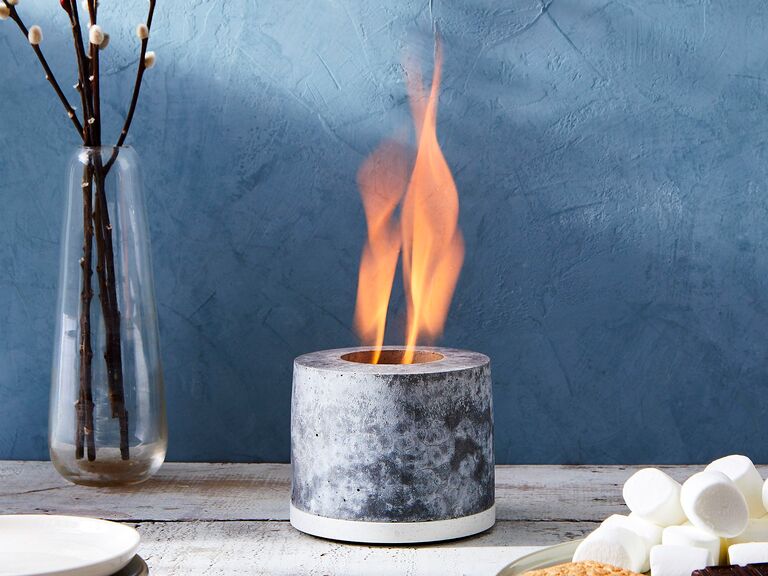 This adorable mini fire pit will bring nights in together to a whole new level. No matter the weather outside, you can bring the warm and cozy atmosphere of a campfire under the stars to your actually warm and cozy sitting room. The fire pit offers up to 50 minutes of burn time with just 5 ounces of isopropyl alcohol (which is clean burning, by the way). We see lots of toasted marshmallows in your future when you surprise them with this cool Valentine's gift.
6. Zodiac Earrings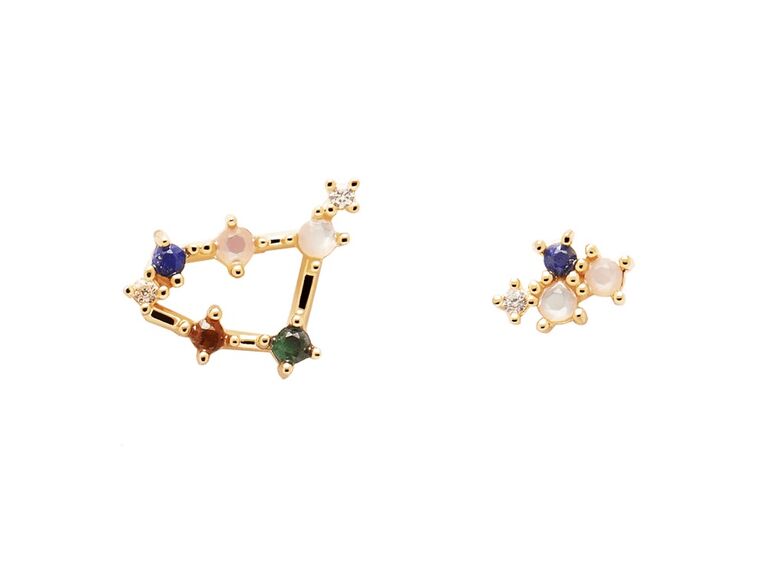 There's no shortage of meaningful jewelry to surprise your S.O. with. This cute Valentine's Day idea is inspired by their zodiac sign, making it feel extra personal. Each pretty set of studs is thoughtfully designed to trace their sign's constellation in the form of symbolic gemstones like lapis lazuli and mother-of-pearl. Complete with 18-karat gold-plated sterling silver, these high-quality earrings are an absolute steal coming in under $100.
7. Date Bucket List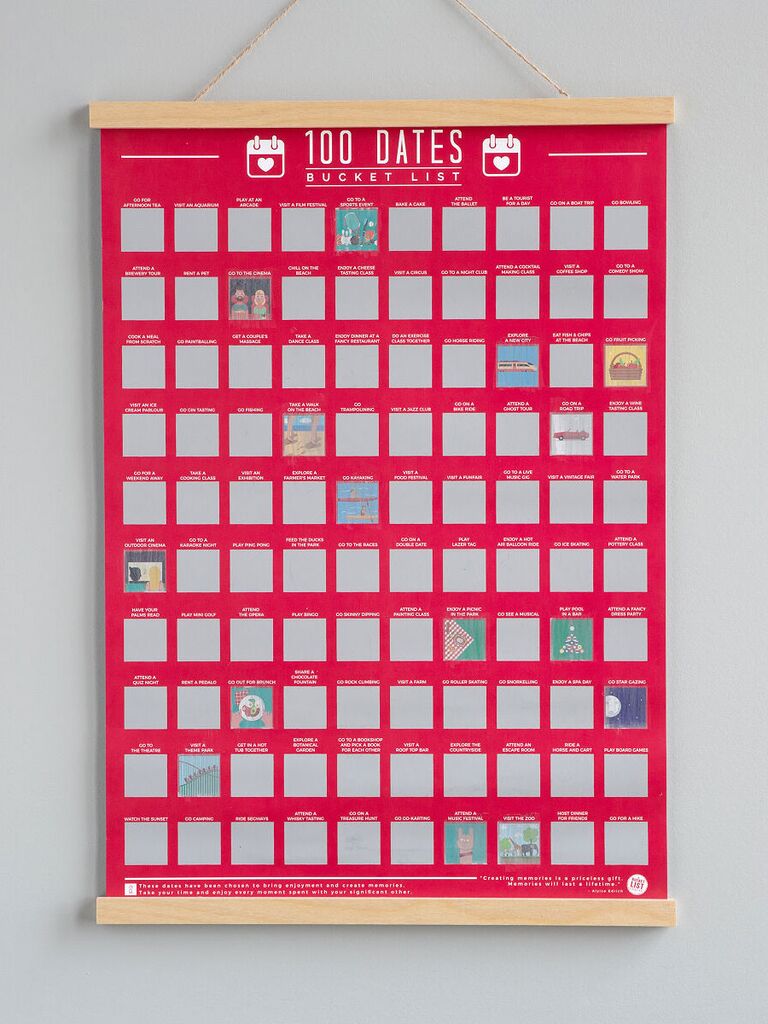 Never know what to do on date night? We've got you. (Or rather, this poster filled with 100 brand-new date ideas has got you.) This genius scratch-off chart is a good Valentine's gift that'll give you plenty of fun activities to look forward to with your favorite person. Your only problem will be deciding what to do first!
8. Personalized Watch Case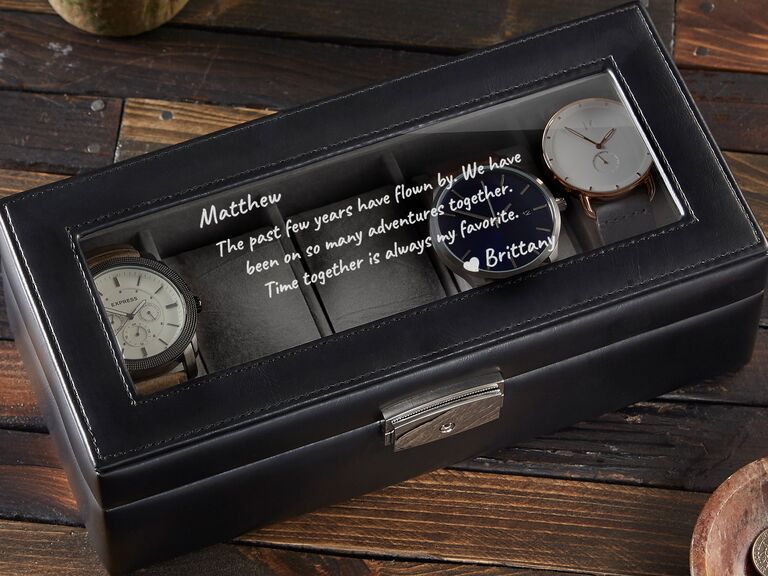 If "cute" typically translates to "sentimental" for your spouse, consider anything and everything that can be personalized with a heartfelt message. Keepsake gifts like this faux leather watch case are also a winner because it's something they can hold onto for years to come. The glass can be engraved with a message up to three lines long and both of your names. Inside, a felt-lined interior keeps up to five precious timepieces in mint condition.
9. Matching Underwear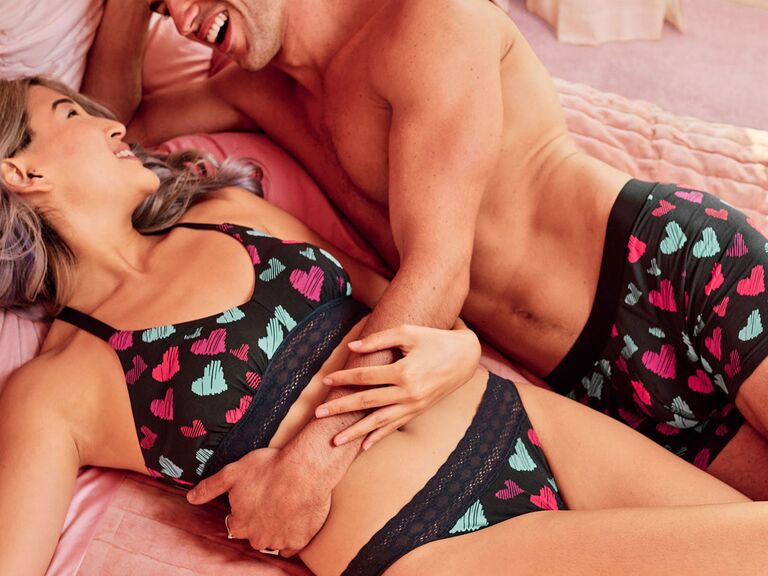 Want something that'll really surprise your other half? Pick up some matching underwear so you can secretly twin with each other under your clothes. MeUndies has a variety of colors, playful prints, underwear cuts and sizes to choose from. There's bound to be something that both you and your partner will get a kick out of.
10. Adorable Love Tokens
If your other half appreciates heartfelt presents, they'll think this is a really cool Valentine's Day gift. Outside, the box is personalized with your names and initials (which are joined by a heart in the color of your choice). Inside, there are 12 wooden hearts printed with your chosen reasons for loving them. Pick your favorites from a choice of 56 options, including "You are my best friend" and "You always make me laugh."
11. Heart Necklace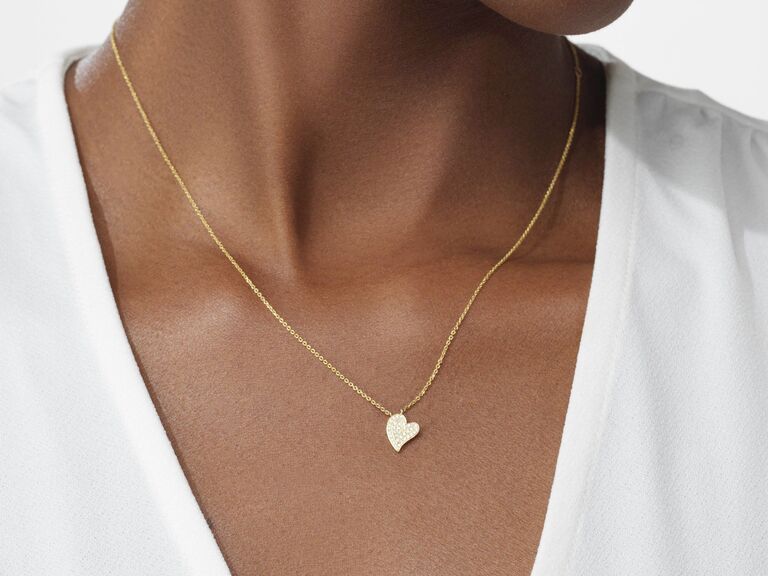 What would a list of cute Valentine's Day gifts be without heart-shaped jewelry? This dainty pendant is anything but tacky. In fact, it's dotted with dazzling white diamonds, making it a truly precious piece of fine jewelry. The asymmetrical shape of the heart gives it a unique, modern touch and the dainty size helps to keep things understated. A 10-karat yellow gold chain is the icing on the cake.
12. Sentimental Book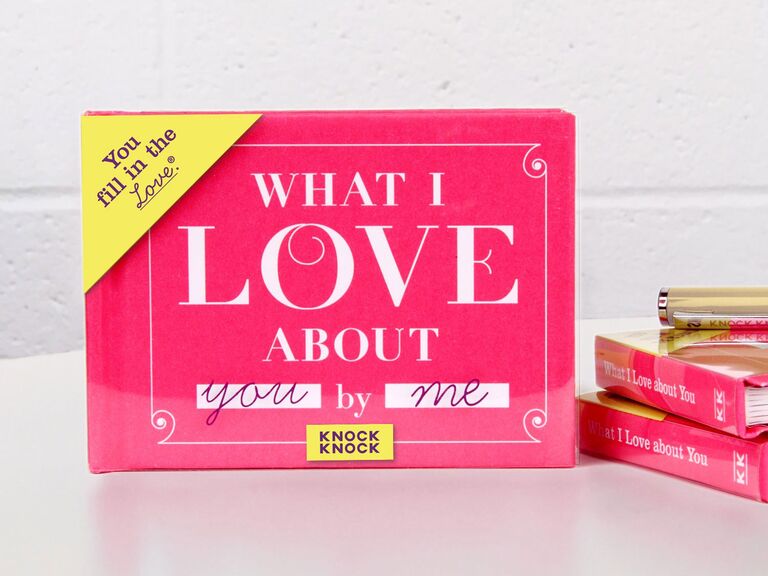 If your partner prefers small, sentimental Valentine's gifts to expensive luxury items, Knock Knock's fill-in-the-blanks books are a shoe-in for their approval. Fill out the pages of this adorable book with thoughtful answers highlighting what you love most about your other half. It's a cute Valentine's Day gift that may just make them tear up.
13. Jerky Heart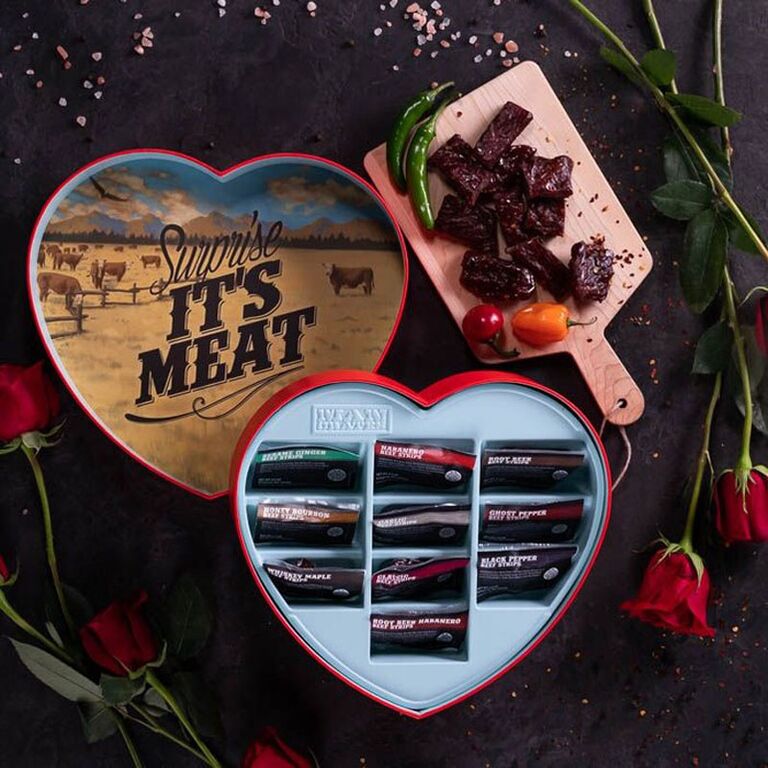 Just because they don't have a sweet tooth doesn't mean you can't take the classic gifting route! This savory twist on a box of chocolates is a fun Valentine's gift to surprise the meat lover in your life. Instead of decadent chocolate truffles, it's filled with beef jerky bits in 10 tasty flavors. Your sweetheart can chow down on favorites like honey bourbon beef jerky, ghost pepper jerky and so much more.
14. Traditional Game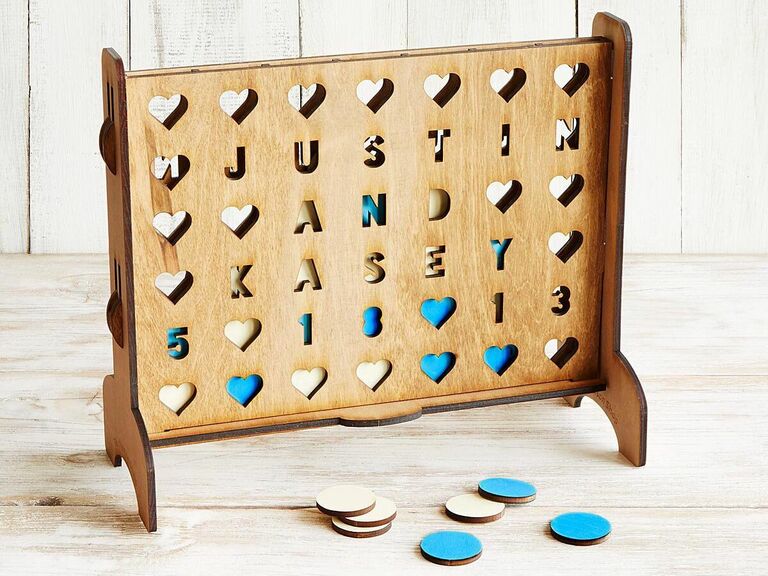 Classic games never get old, especially when they're beautifully carved from maple wood. This heirloom-quality four across game is personalized with both of your names surrounded by heart-shaped slots. It works just like regular four across, except it doubles as a romantic piece of decor. For a cute at-home Valentine's Day idea, challenge your partner to a game night.
15. Soothing Lavender Pillow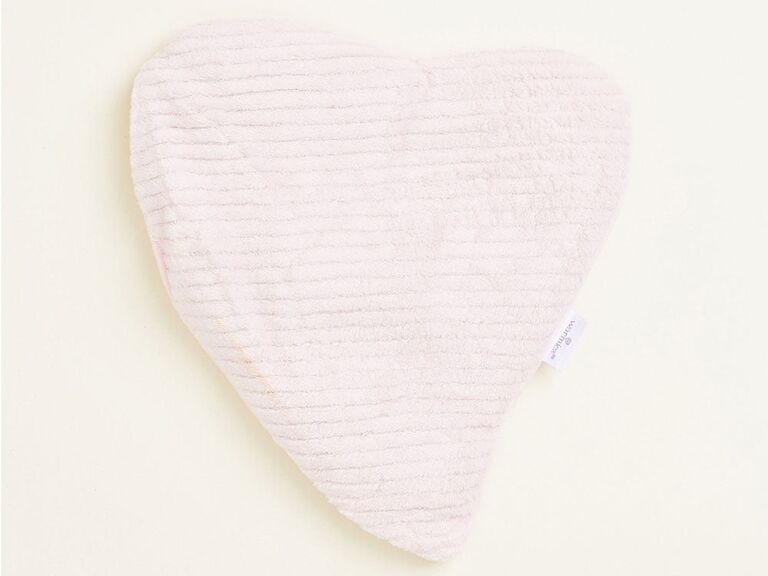 How's this for a cute Valentine's Day idea? It's a heart-shaped pillow that can be warmed in the microwave or cooled in the freezer. This soft, lavender-scented pillow is designed to help soothe aches and pains, relieve stress and bring comfort. And who could resist that adorable blush pink hue?
16. Bourbon Maple Syrup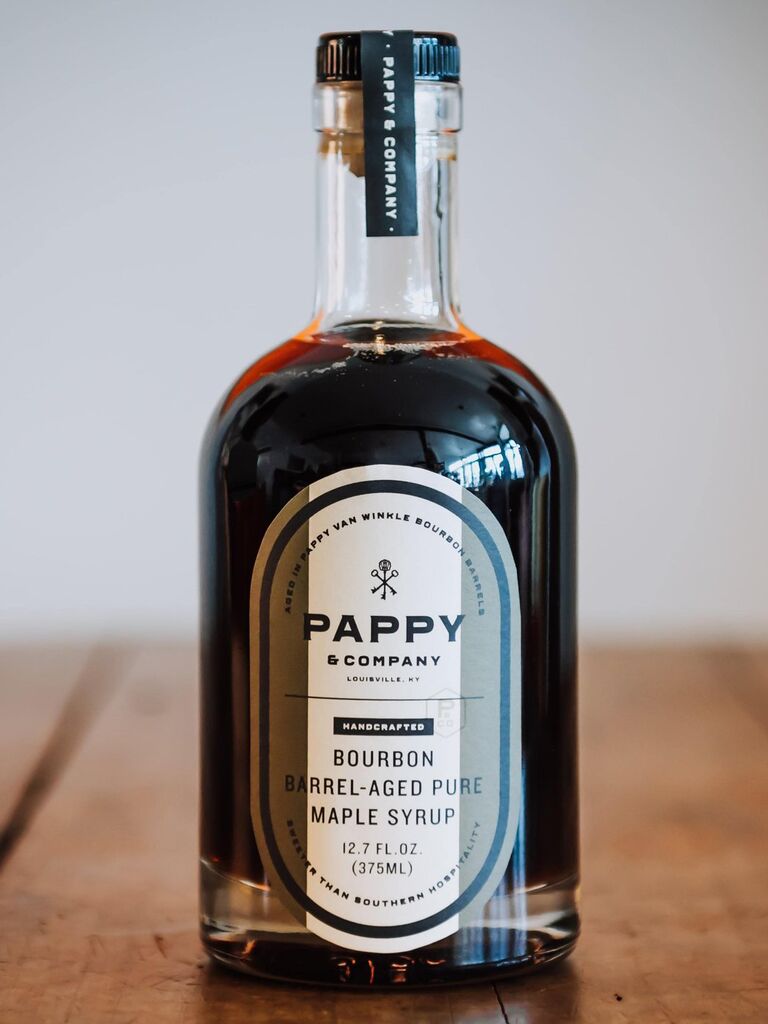 Here's another cool and creative Valentine's Day gift they definitely won't be expecting. This bourbon-infused maple syrup is a classy addition to morning waffles. Whether your partner knows all there is to know about whiskey, is a big fan of maple syrup, or all of the above, this unusual idea is sure to be a hit. Make it an extra-memorable present by bringing it to them alongside breakfast in bed.
17. Heart-Shaped Succulents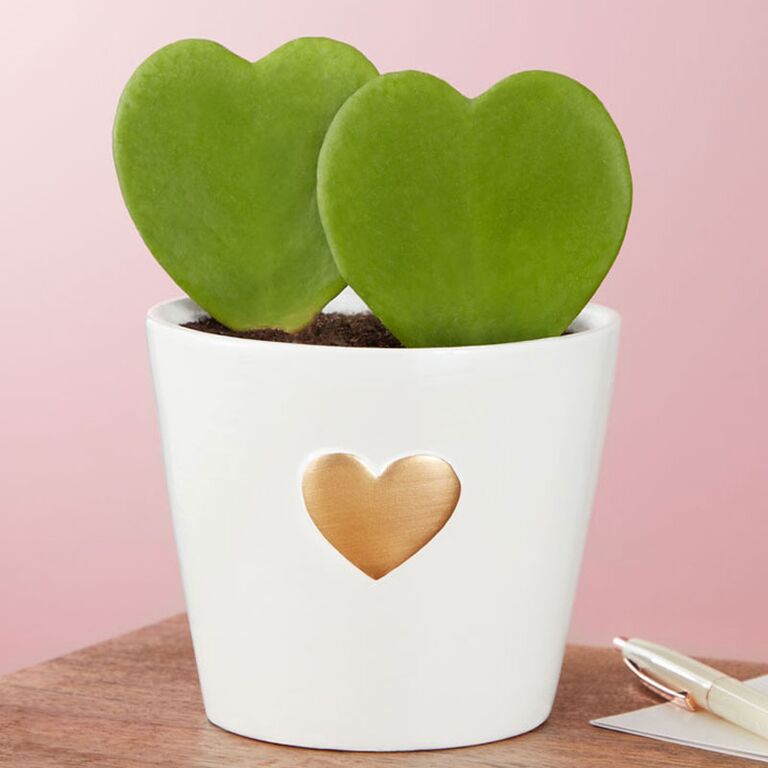 Any proud plant mom or dad would gladly accept this sweet gift. Hoya succulents are popular on Valentine's Day thanks to their unusual heart-shaped quality. This set of two Hoya plants is a lovely tribute to your own hearts, which clearly belong together too. Want to go all out? Upgrade your gift delivery with a heart-shaped box of chocolates.
18. Unforgettable Experience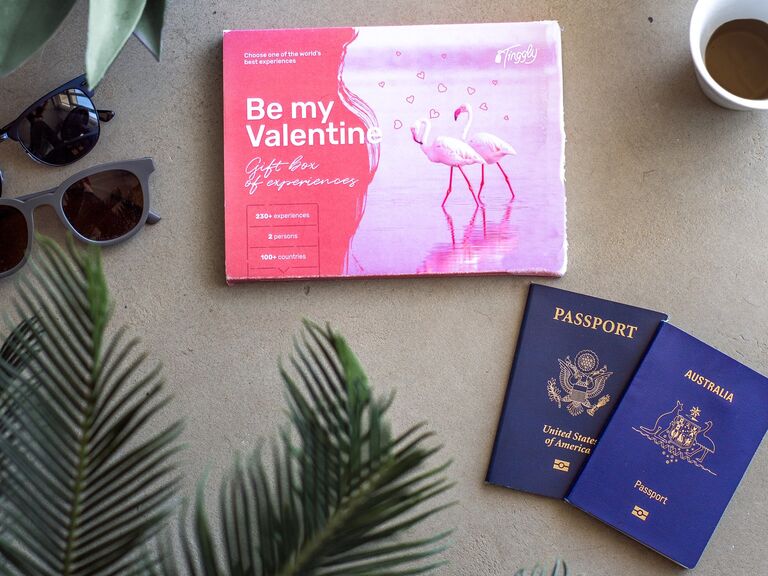 Shopping for the person who has everything? Tinggly's experiential presents make for excellent Valentine's Day gifts for couples and spouses alike. The site's Be My Valentine collection gives the recipient a choice of over 1,000 amazing experiences, including options you can enjoy as a pair. Send your sweetheart a beautiful gift box, or if you're on a tight deadline, have your gift delivered via email. There's something for everyone, from gastro tours to sunset cruises.
19. Etched Bottle of Wine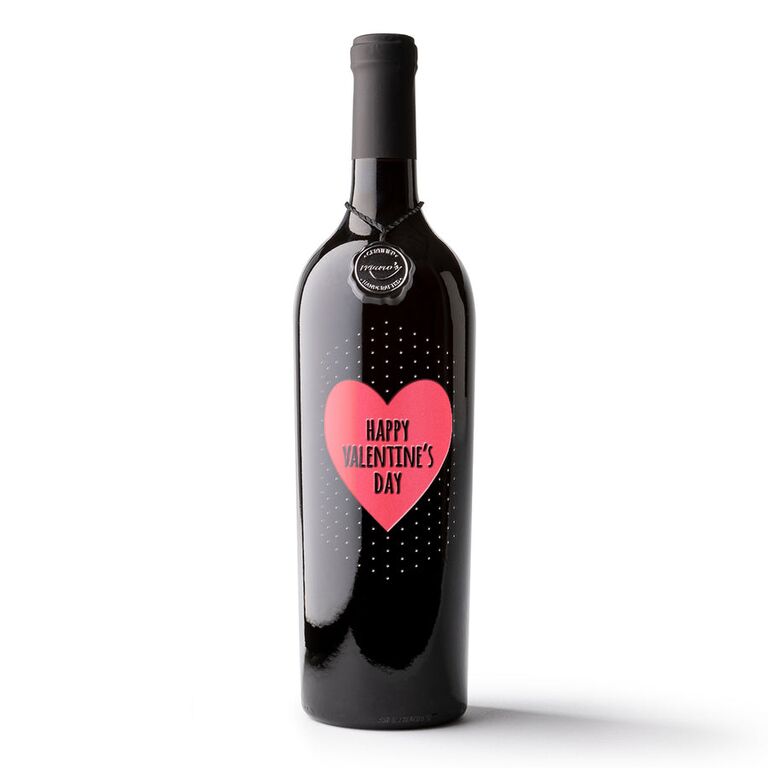 Like we said before, Valentine's Day only rolls around once a year. So, make sure you celebrate accordingly with a toast to your relationship. Wine as a gift might not sound cute to start with, but hear us out. This unique bottle from Mano's Wine is etched with an adorable red heart and the words: "Happy Valentine's Day." After you've polished off the full-bodied California cabernet sauvignon, it'll serve as a lovely keepsake of February 14, 2023.
20. Illustrated Love Story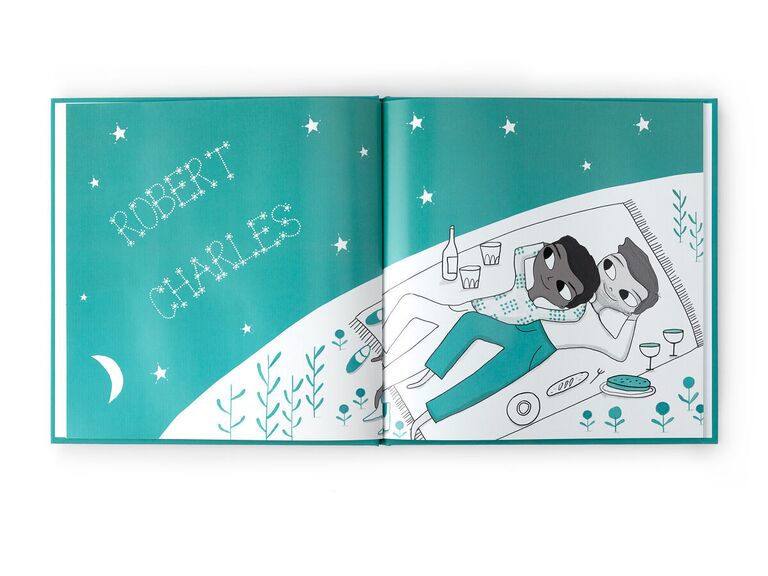 The greatest story ever told? Your love story, of course! This year, give your partner a sweet, illustrated tribute to your relationship. The characters in this pre-set storybook are customized to your likeness so that each page feels personal and relatable. How's that for a thoughtful and cute Valentine's Day gift idea?
21. Cozy Cashmere Headband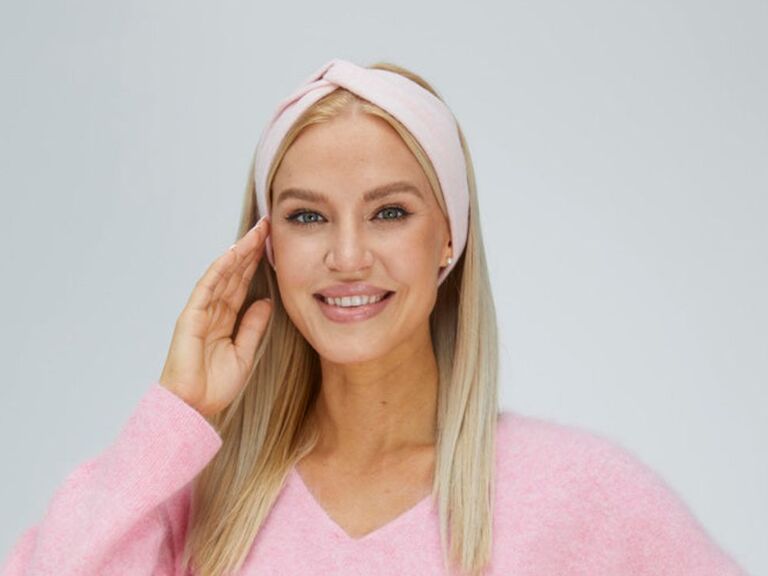 There's still a chill in the air on February 14, meaning a cozy cashmere headband is a cute and practical Valentine's present. We don't think anyone would be unhappy to add this pure cashmere accessory to their closet. The delicate pink hue makes it an even more fitting gift for Valentine's Day.
22. "Love Potion" Mixology Class
If you're not familiar, Uncommon Goods has a whole slew of fun virtual experiences you can easily gift to your loved ones. This Love Potion cocktail-making class is right on theme for February 14, whether you're buying a Valentine's Day gift for your partner, a friend or yourself. We suggest booking a slot sooner rather than later, as the classes will probably fill up fast. (Though if you do miss out, you can still buy the cocktail kit on its own.)
23. Birthstone Trinket Dish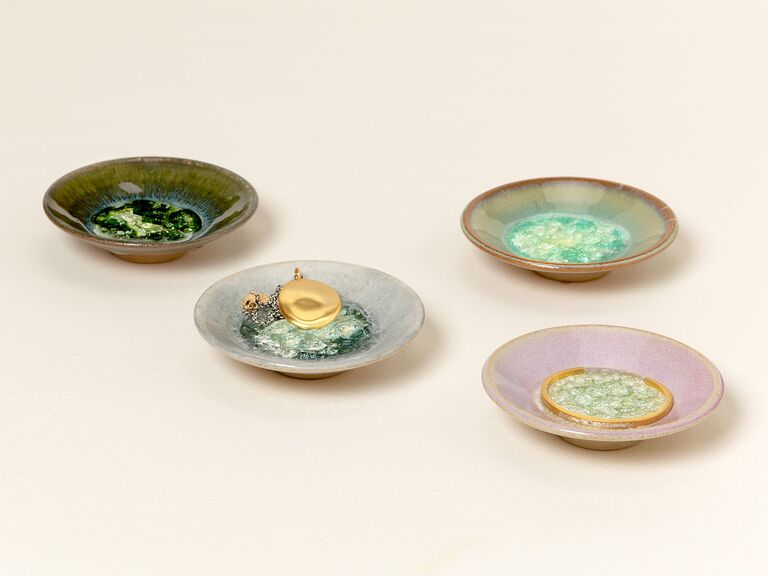 Jewelry can definitely be a nice Valentine's Day gift, but if your S.O. already has all the sparkly accessories they need, they'll likely appreciate a handy trinket dish even more. This pretty ring dish is glazed with the color of their birthstone. At the center, a cracked glass design resembles crushed gemstones or crystalline geode slices.
24. Hot Spice Collection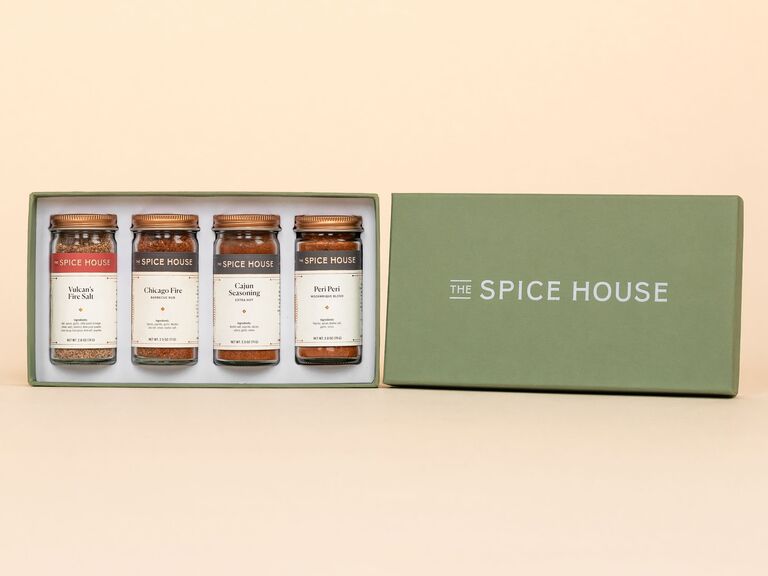 If you came in search of a unique Valentine's gift, we've got an out-of-the-box idea just for you. Take "hot and spicy" in the literal sense and surprise your S.O. with this delicious selection from The Spice House. Aptly named the Hot & Spicy Collection, it's a surefire way to heat things up on V-Day. The set includes Vulcan's Fire Salt, Peri Peri Mozambique Blend, Extra Hot Cajun Seasoning, and Chicago Fire Barbecue Rub. Bonus points if you plan an entire home-cooked meal around the spicy selection.
25. Birth Flower Necklace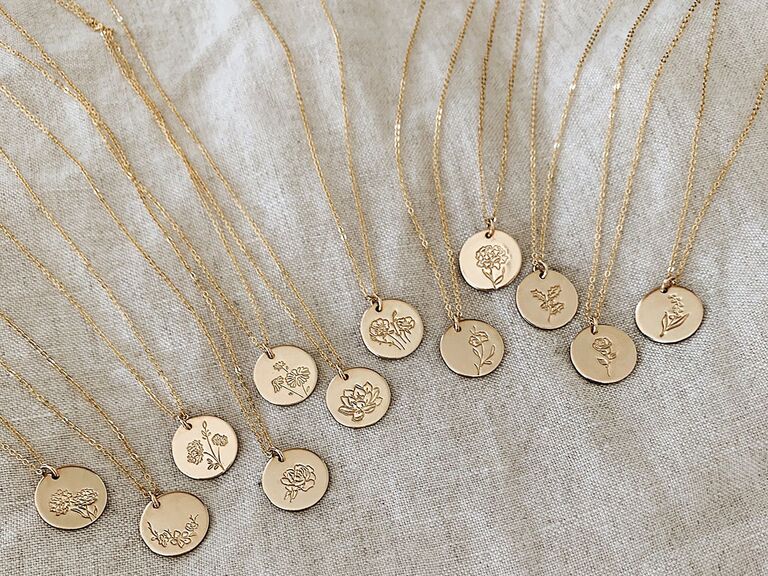 It's not just about flaunting your zodiac sign anymore—birth flower jewelry is becoming just as popular. Each month of the year is associated with a unique bloom, from carnations for January to holly for December. Made by Mary has a selection of pretty and affordable pendants engraved with each special birth flower.
26. Collage Art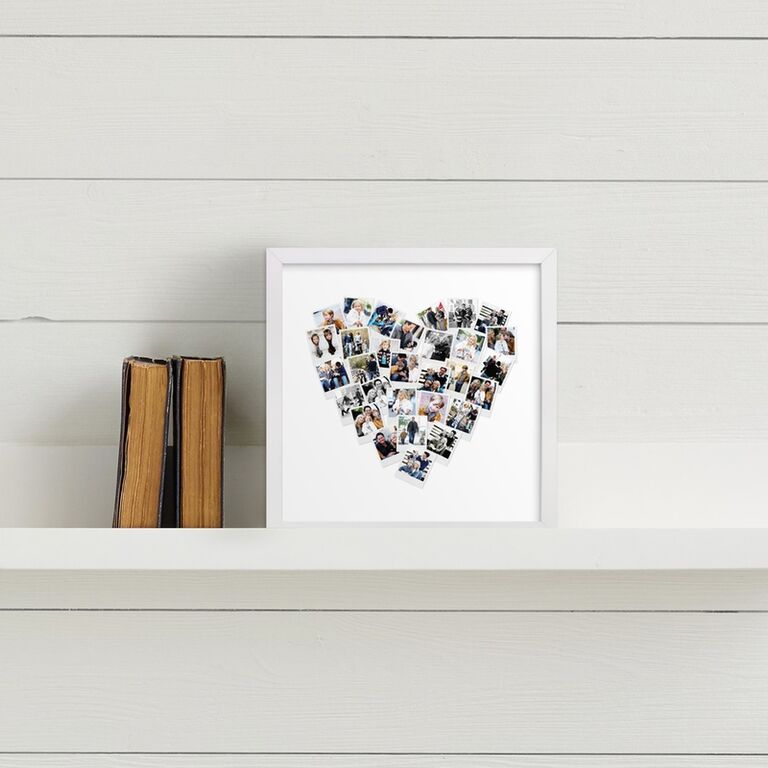 Got a sentimental spouse on your hands? Fill this heart with 30 of your favorite shared memories for a picture-perfect present. You can even have your art pre-framed for a cute Valentine's gift that's ready to display. It's an especially fitting gift if you recently moved into a new home or have been talking about redecorating.
27. New Pajamas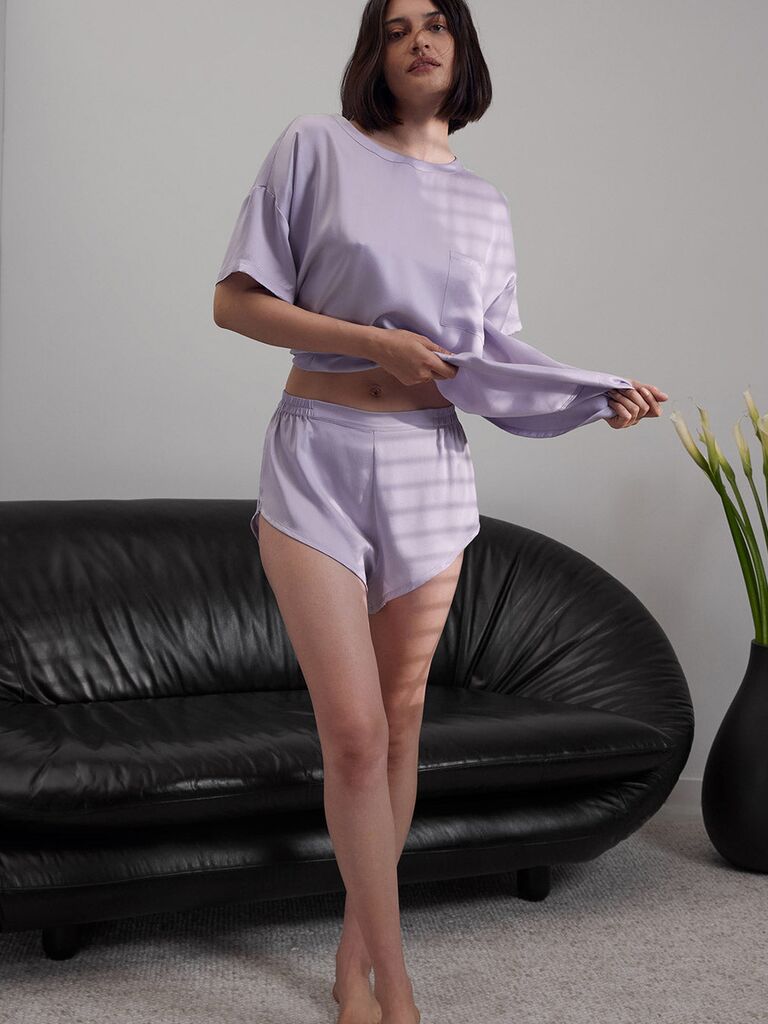 If she's always stealing your baggy tees, this is the Valentine's Day gift for her. Lunya's heavenly washable silk pajamas are just as comfortable and a lot more luxurious. There are currently seven stylish colors to choose from, including a limited edition delicate lavender hue that screams "Valentine's Day." New customers can take a sweet $20 off orders of $100 or more with our code FOR-TK20.
28. Sweet Greeting Card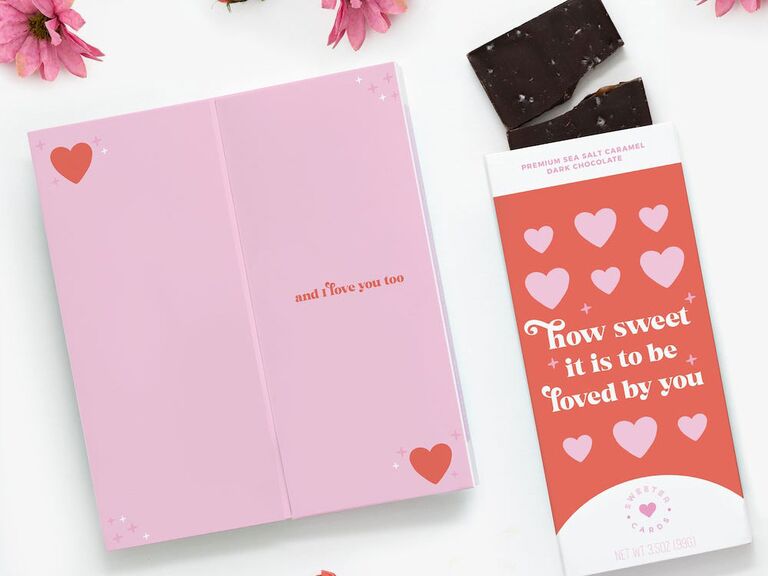 We've all been there: You agreed with your partner not to go over the top with gifts this year, but you really want to give them more than a card. Well, check out this creative Valentine's Day gift that doubles as a card and—wait for it—a bar of delicious sea salt caramel dark chocolate. Inside, there's space to add your own handwritten note. Use our code WedSC for 10% off the site.
29. Funny Candle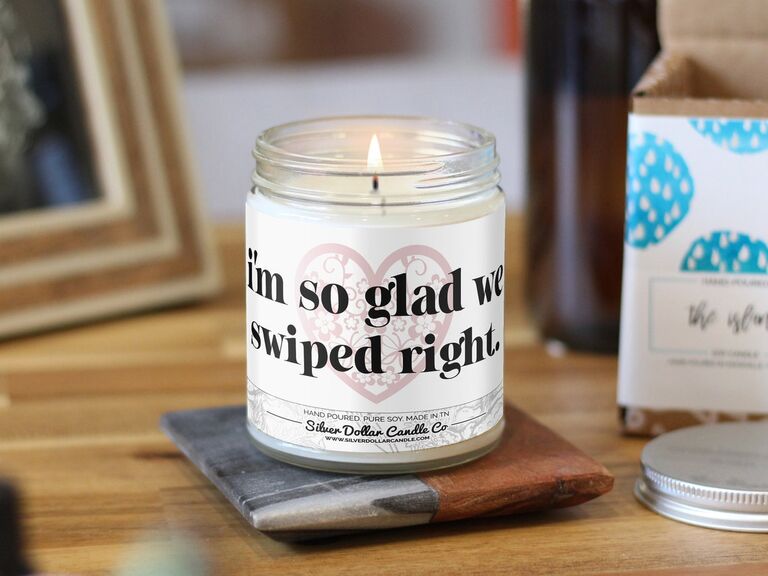 If you met your other half on a dating app, pay tribute to your 21st-century beginnings with this funny candle. The label is printed with the hilariously sweet message: "I'm so glad we swiped right." Light-hearted and affordable, it's one of the best Valentine's gifts for newly established couples celebrating their first February 14 together.
30. Candy Delivery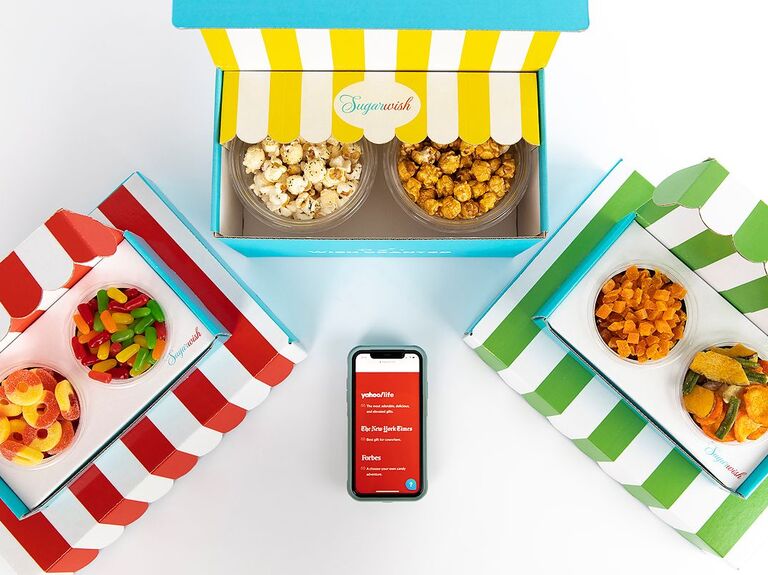 If you and your partner are separated by distance, send a candy-gram. Sugarwish will let you email, text or even Snapchat them a gift code. The lucky recipient can then choose their favorite sweets to be mailed directly to their doorstep. Now that's what we call a cute Valentine's idea.
31. Lingerie Subscription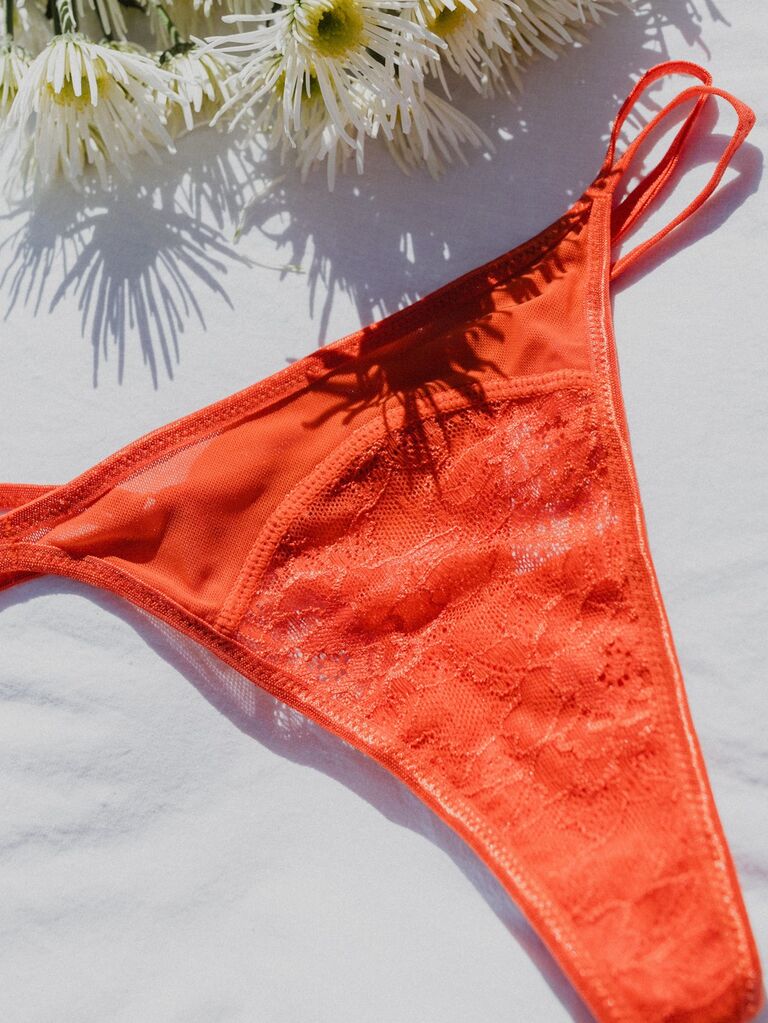 Whether you're both looking to heat things up in the bedroom or you just want to treat your other half to some comfy new underwear, Underclub's designer lingerie subscriptions are an awesome Valentine's Day gift idea. You can even pick out a few add-ons they'll receive with their first delivery. Your S.O. will get the good news via email, along with a style questionnaire (meaning you don't have to worry about picking the perfect pair—phew!). Consider your partner's cute Valentine's Day lingerie in the bag.
32. Virtual Cooking Classes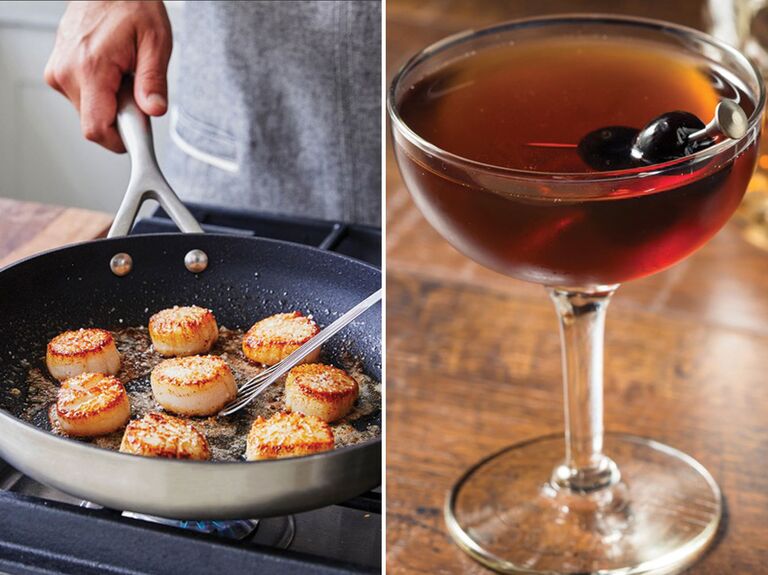 Looking for cute Valentine's gift ideas that double as a unique experience? Give the aspiring home chef a chance to practice their skills with an online cooking lesson. Since Sur la Table's virtual classes are charged per household, you can make it into a fun date night by promising to join them. At the end, you'll be rewarded with a delicious dinner, dessert or cocktail—it's a win-win for both of you.
33. Sleek Wine Chiller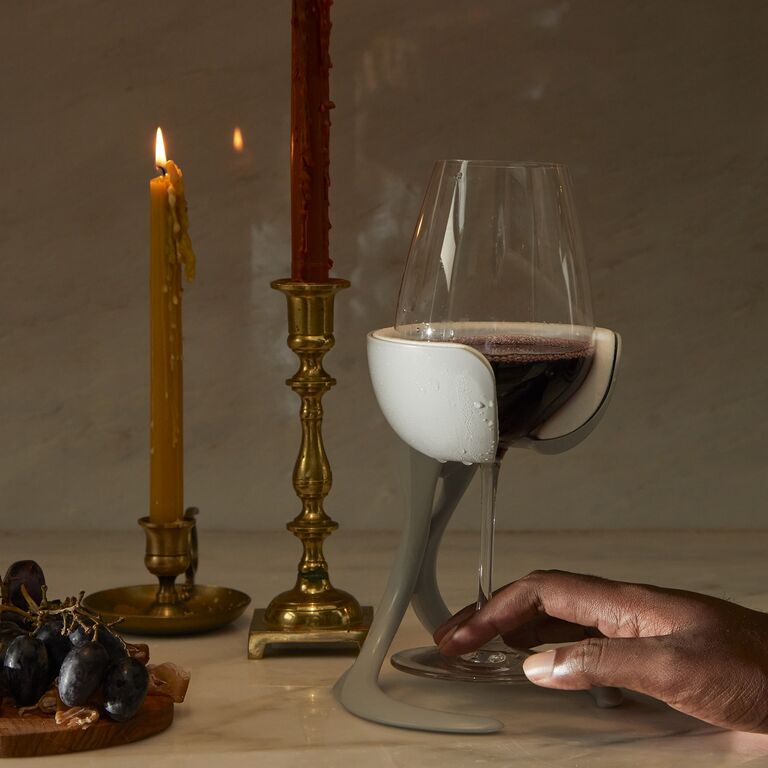 Wine chillers just got a serious makeover. This clever gadget allows your spouse to take charge of the temperature of their wine (without the need for an oversized ice bucket or stainless steel tumbler). They can sip their favorite vino exactly the way it was meant to be enjoyed—from a wine glass. Simply set the glass in VoChill's refreezable chill cradle and fill with chilled white wine or room-temp red.
34. Therapeutic Massage Gun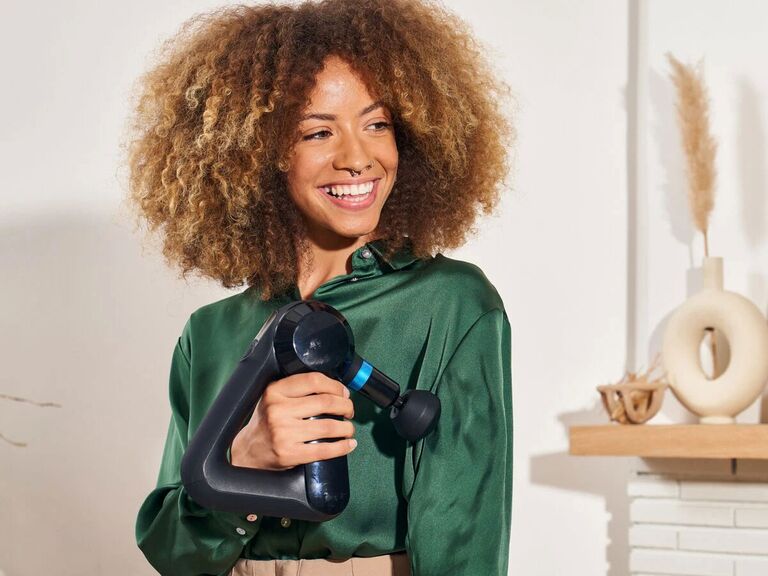 Depending on your partner's love language, a "cute" gift might be something on the practical side that shows them how in tune you are with their needs. Whether they're tired and sore from a long day at the office, a hardcore gym session or running around after the kids, they've earned a seriously good massage. Go one better by splurging on this unique Valentine's Day gift that provides percussive therapy from the comfort and convenience of home.
35. Wireless Charging Tray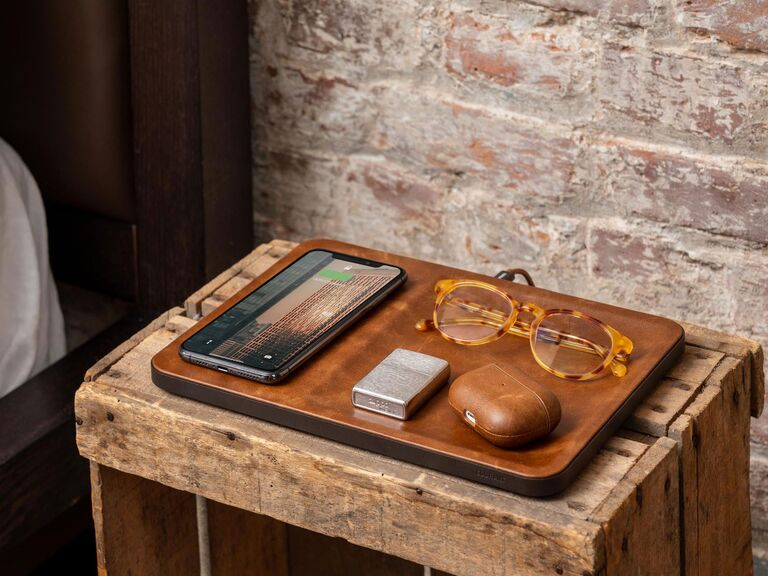 Here's even more proof that cute Valentine's Day presents can be practical too. This valet tray wirelessly charges Qi-enabled phones (including most Apple, Samsung and Google devices) while also providing a place to store keys, accessories or other odds and ends. It'll look super chic on their nightstand or console table and comes in five stylish Italian leather finishes. Add your S.O.'s monogram in shiny foil letters for an extra $10. They'll really appreciate the personal touch.
36. Travel-Tracking Mug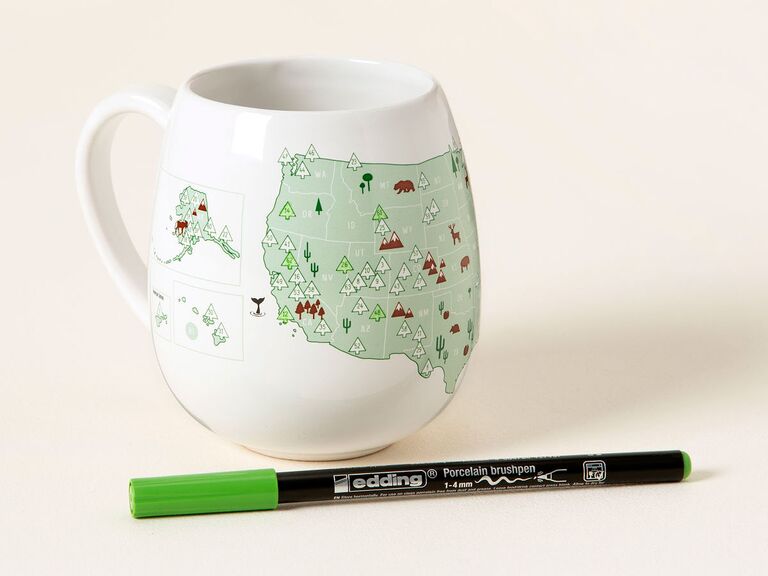 If your spouse loves exploring the great outdoors, this is easily one of the best Valentine's Day gifts for her or him. It's a perfectly functional coffee mug featuring a map of every US National Park, from Acadia to Zion. As they check a visit to each wonderful wildlife spot off their list, they can color in the corresponding tree on the map. Simply bake the mug in the oven after coloring so the colored trees don't fade.
37. Cute Candles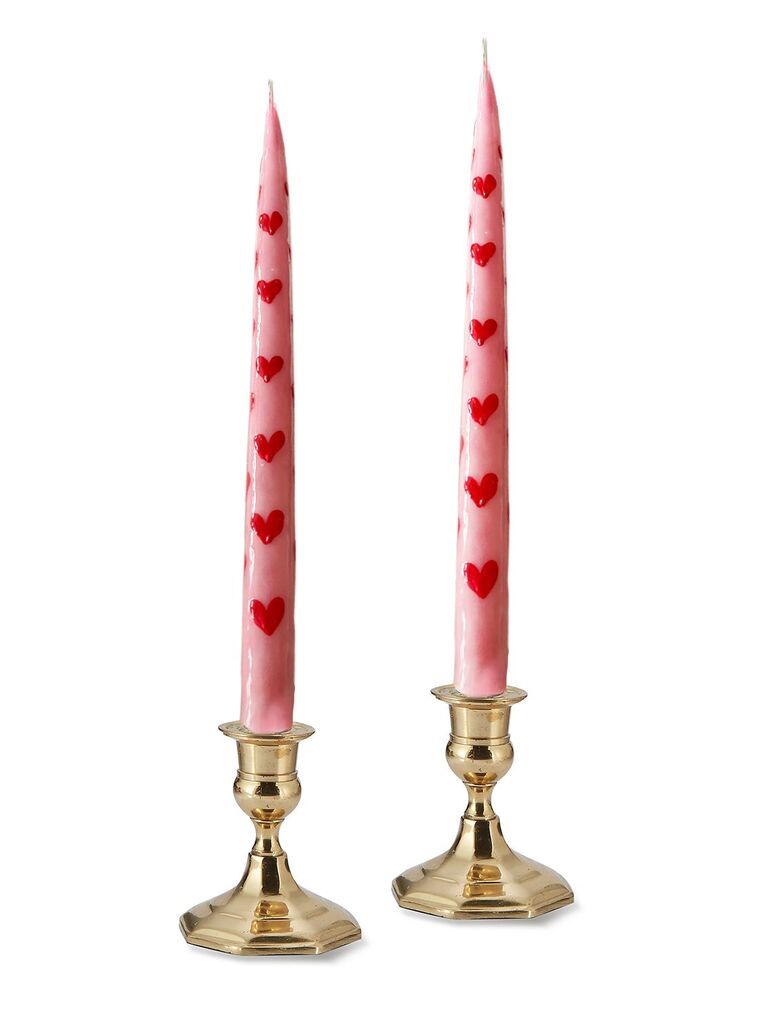 We still have plenty of great Valentine's Day gifts to share with you that are seriously cute, meaningful and unique. Exhibit A: These hand-painted taper candles embellished with adorable red hearts on a pretty pink background. They'll instantly elevate a Valentine's dinner at home.
38. CBD Gummies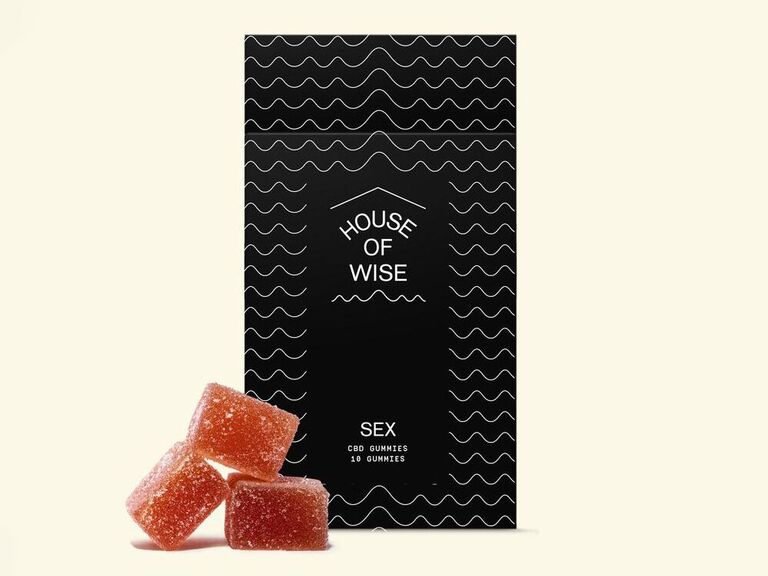 Swap out the traditional Valentine's box of chocolates for a pack of these desire-promoting gummies from House of Wise. This innovative woman-owned business helps other women to take control of their sleep, stress levels and sex lives with edible CBD products. Designed to increase energy, concentration and sexual desire, they're the perfect gift to get you or your other half in the mood.
39. Sexy Underwear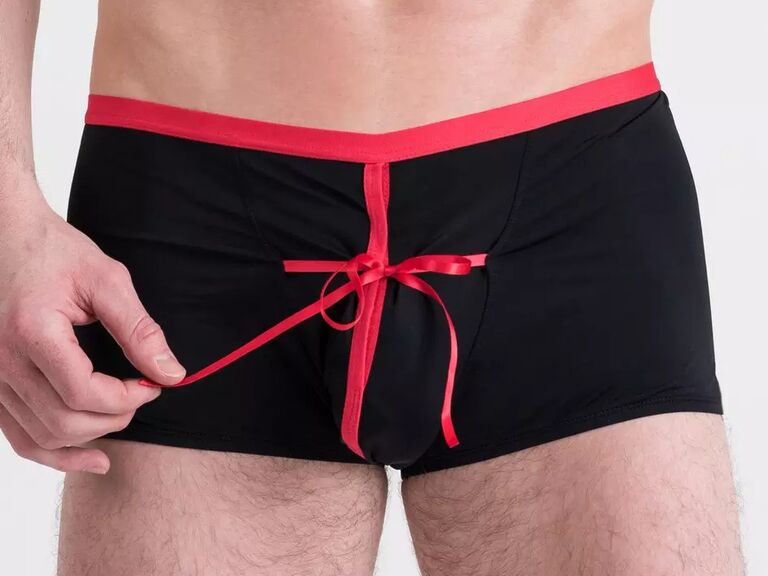 Searching for a cute gift that's a little on the cheeky side? Look no further than this playful men's Valentine's Day underwear. A romantic red ribbon lets you unwrap your other half like a present. We think you'll both agree it's a great Valentine's Day gift.
40. A Year of Dates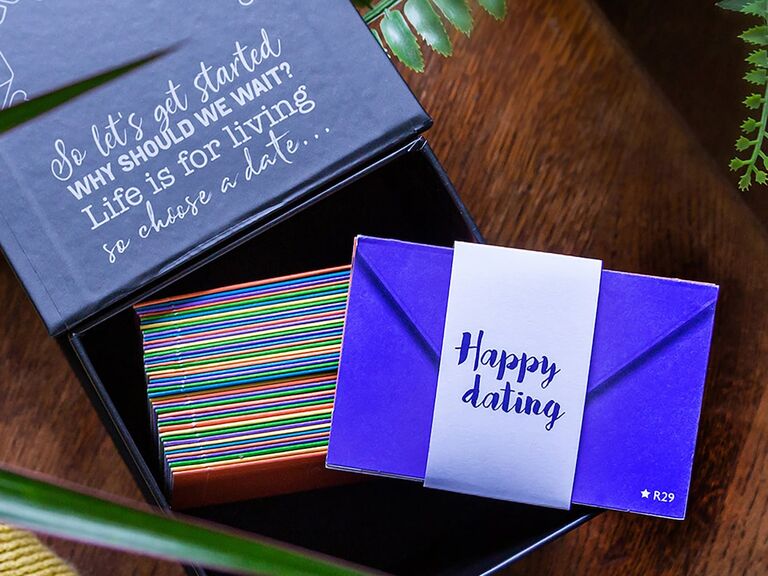 Sometimes the most simple Valentine's gifts are the best of all. Giving your partner a year's worth of dates will help switch up your usual routine and let your other half know you love spending time together. The box includes 51 thoughtful and romantic date ideas, plus one deliberately blank envelope giving you a week off. There are also five blank cards for writing down your own favorite activities.
41. Symbolic Bracelet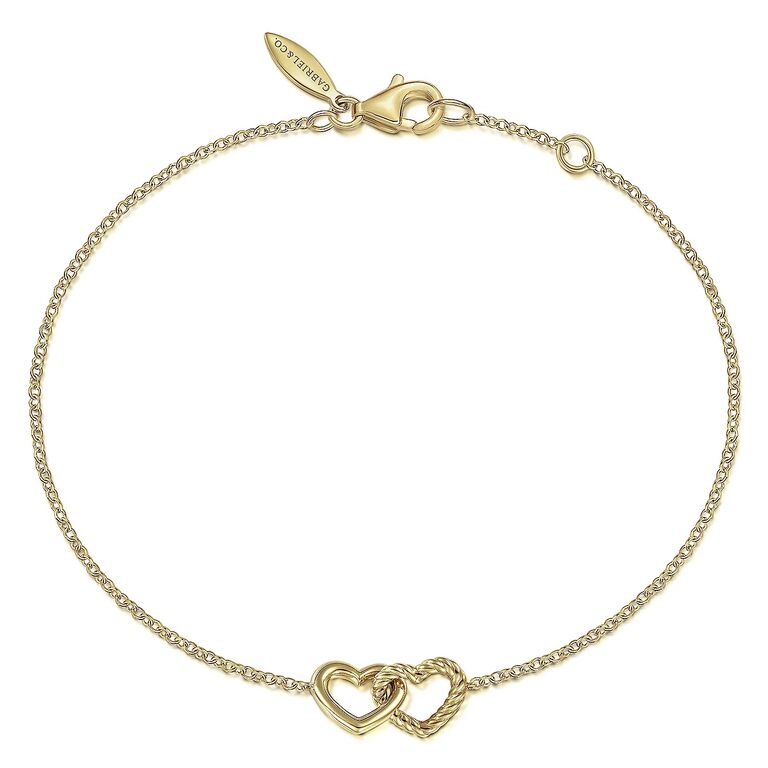 Need some more inspiration in the jewelry department? Don't worry, we know all the best places to find cute, stylish accessories that are right on theme for February 14. This chic 14-karat gold chain joins together with two entwined hearts. It's a thoughtful nod to your soulmate status wrapped up in a pretty, understated bracelet. Anyone with a sentimental personality will adore this beautifully simple Valentine's Day gift.
42. Silk Sleep Mask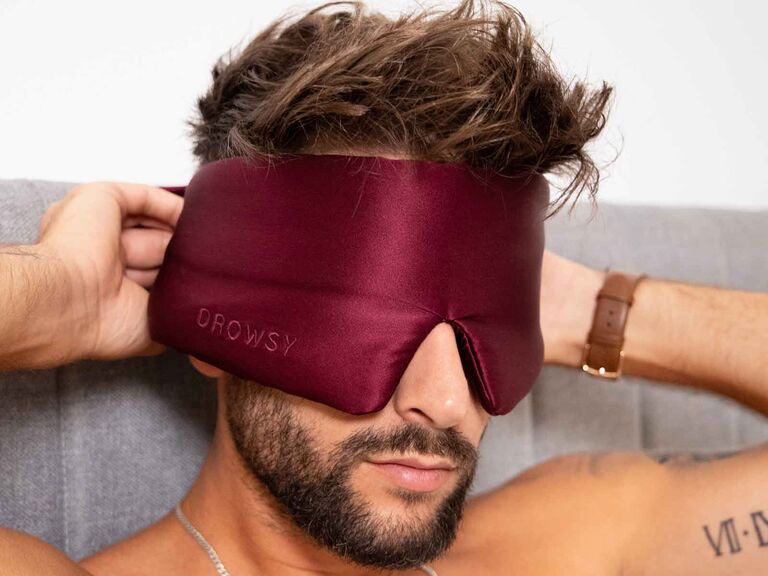 For the spouse who loves their beauty sleep, there's no better gift than a restful night under the covers. Drowsy's luxe sleep masks help to deliver just that. They're designed to completely block out light, and the pure mulberry silk is gentle on skin and hair. The adjustable head strap and comfy padding add the finishing touches for a truly luxurious experience. Since there are options for women and men, it'll make a cute Valentine's Day gift for her or him.
43. Flower Delivery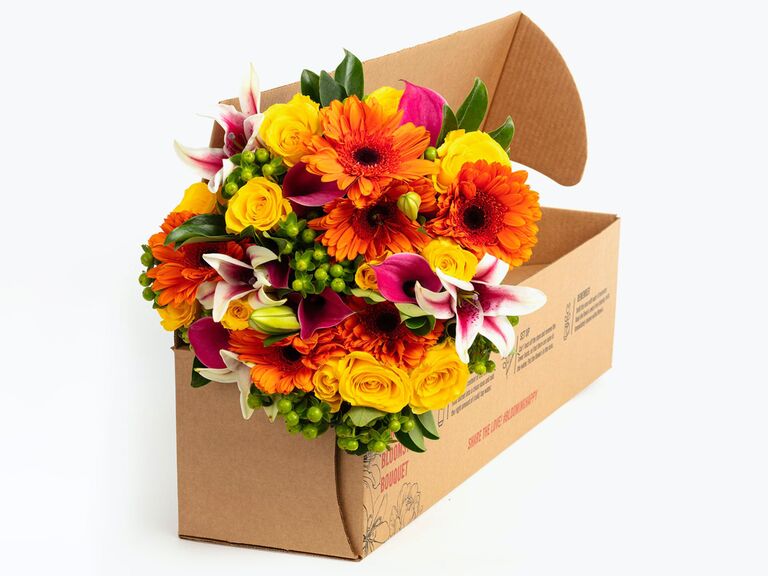 Still wondering what to get them for Valentine's Day? You can always go the traditional route: fresh blooms. Nowadays, you can even order flowers online to be delivered the next day. We're big fans of BloomsyBox's monthly subscription service. Sign your S.O. up for a recurring bouquet delivery for a gift that keeps on giving.
44. Pink Bath Bombs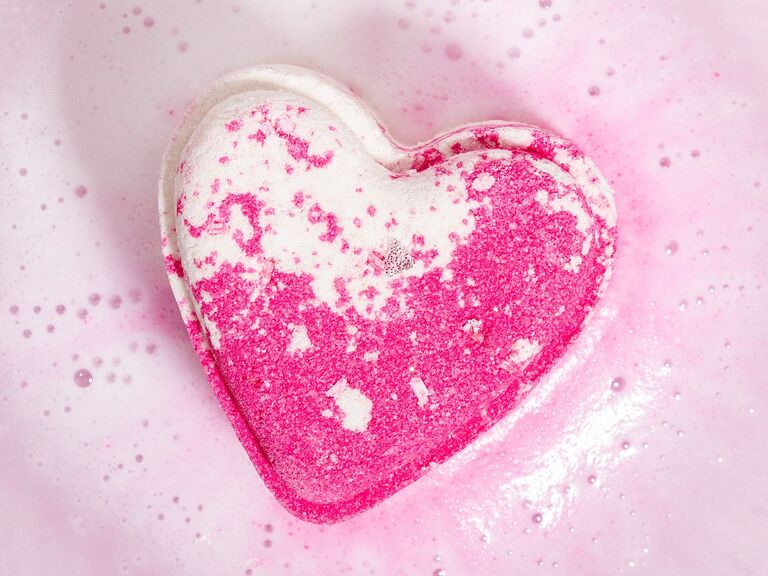 On the most romantic day of the year, your S.O. deserves some pampering. Encourage them to soak into a relaxing bath (or even better, run one for them!) with this super-cute gift idea. It's a set of four heart-shaped bath bombs scented with aromas of Asian pear and lily, and pink sugar. On top of that, this cruelty-free blend is made with soothing Epsom salt, moisturizing safflower oil, cleansing kaolin clay and a natural bubbling agent.
45. On-Theme Cupcakes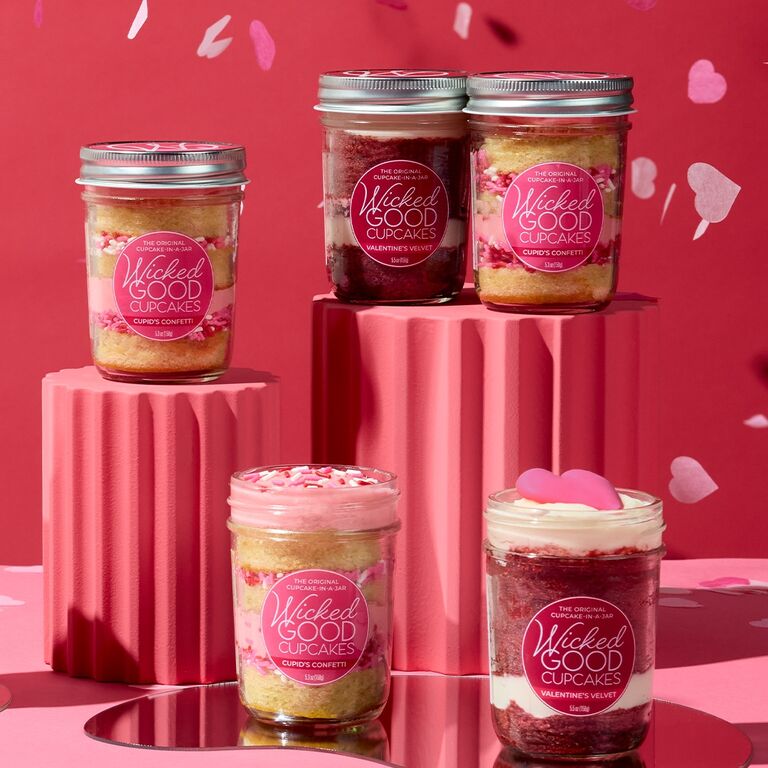 Searching for a Valentine's Day gift for your boo that's on the sweeter side? Wicked Good Cupcakes has plenty of delicious gift sets to choose from. The site lets you give your S.O. tasty cupcake jars (hello, Valentine's Velvet and Cupid's Confetti) alongside a bottle of vino. You're basically giving them the gift of an amazing night in. All that's missing is you and their favorite rom-com.
46. Monogrammed Coffee Mug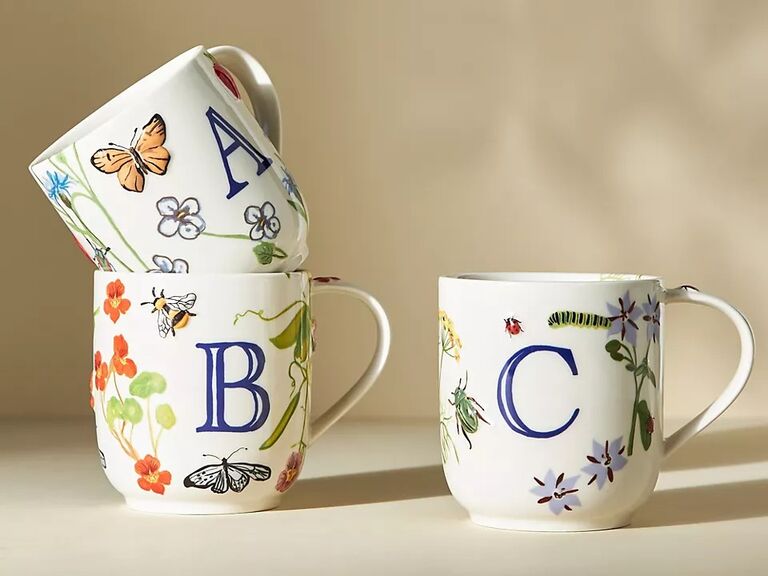 If you agreed to keep it simple this year when it comes to V-Day presents, you might be feeling a little stumped. Good news: There are actually lots of small and cute gift ideas out there that you can buy on a budget. This gorgeous coffee mug has a personal touch thanks to the monogram decal. We bet pretty much anyone would appreciate the garden-inspired design, but it's an especially thoughtful present for a person with a green thumb.
47. Single Rose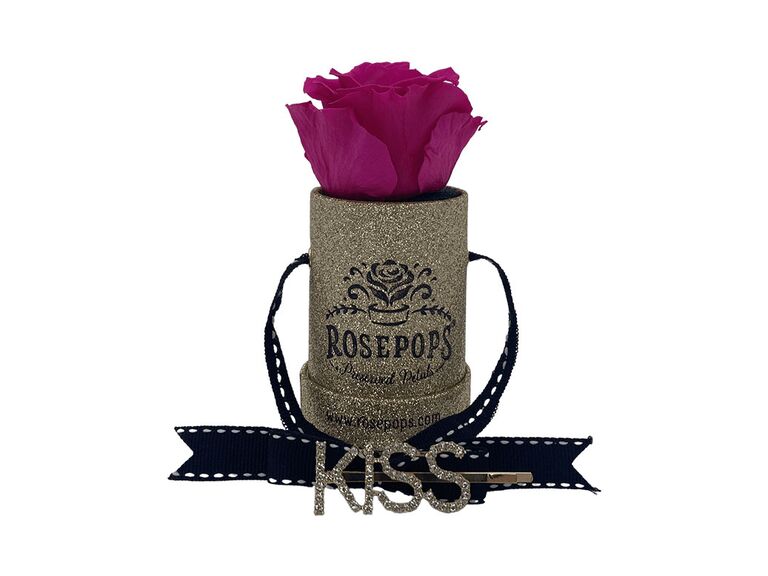 Rosepops makes gifting preserved flowers easy (and there are options to suit budgets big and small). This single rose is one of the most romantic V-Day gifts on our list because the flower will look freshly picked for up to a year or more. It comes in a glittery gold box finished with a sparkly "KISS" bow pin. Worried about how your rose will fare in transit? The company's cleverly designed boxes keep flowers safe and secure inside—they only pop up once opened. Get 25% off purchases through Valentine's Day 2023 with our exclusive code THEKNOT25.
48. Light-Up Star Map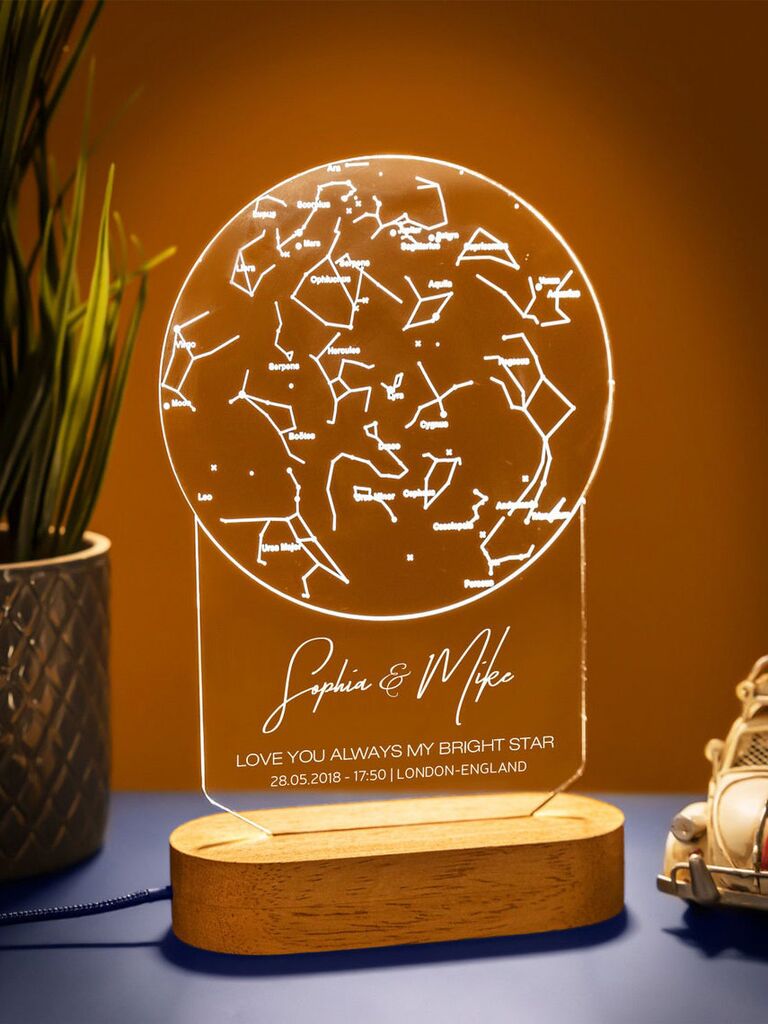 Etsy is easily one of our top places to find cute ideas for Valentine's Day. This cool LED lamp lights up an acrylic map of the night sky from the date and location of your choosing. It's a lovely way to commemorate a special moment, like the day you met, officially started dating, got engaged or tied the knot. You can also add your names and a personal message for your sweetheart.
49. Name Necklace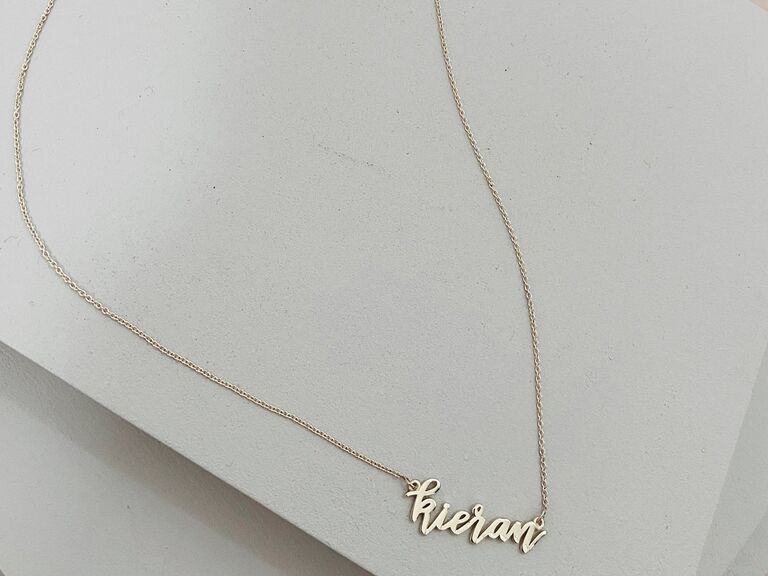 A necklace with your name on it for your S.O. to treasure is an exceptionally sweet Valentine's idea for him or her. Every time they wear it, they'll be reminded of you and how much you love them. The chain is available in 16, 18 or 20 inches and you can add a three-letter name up to a nine-letter name. The necklace comes in 14-karat yellow gold, rose gold or white gold.
50. Fresh Bouquet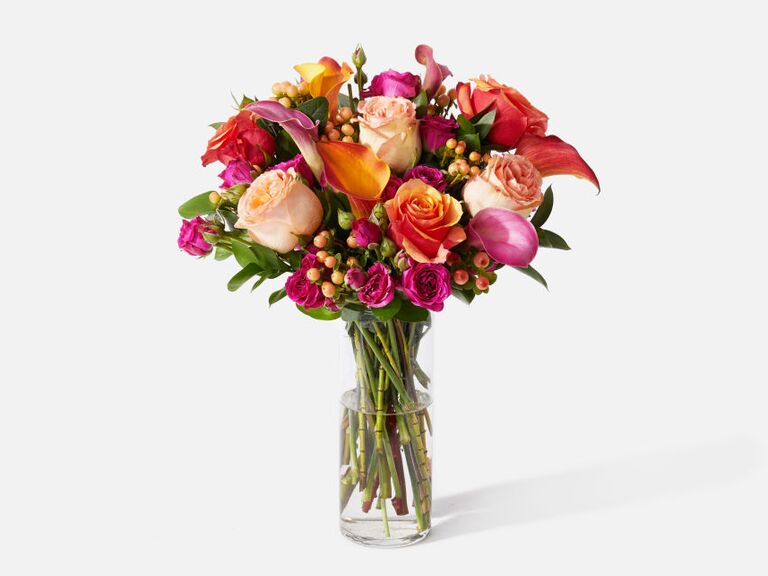 We love taking inspiration from classic Valentine's Day gifts. After all, they're classic for a reason. A romantic bouquet delivered to their home or office will let them know you're thinking of them on this special day. (But we recommend getting your order in early if you want to secure delivery on February 14—it's going to be a busy one!) This bright bunch of blooms is aptly named "The Heartfelt" and features roses, calla lilies, Ruscus and hypericum. (Psst, get 15% off dried and fresh arrangements from UrbanStems with our special code THEKNOT15.)
51. Cuddly Robe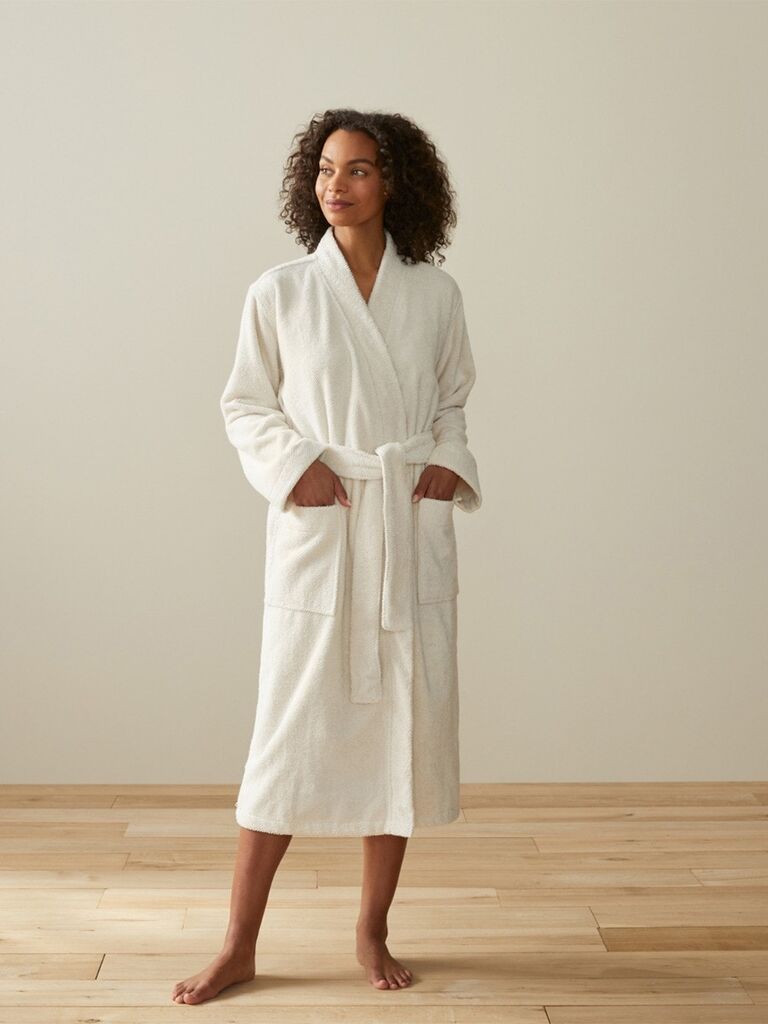 Gift your S.O. a spa-quality robe with the promise to pamper them for a lifetime. This cover-up is wonderfully soft, absorbent and well-made. It's the kind of at-home luxury you both deserve, so choose a matching one for yourself while you're at it. Coyuchi knows its stuff when it comes to home comfort, so it's no surprise that these lightweight unisex robes are a hit with reviewers.
52. Handmade Home Decor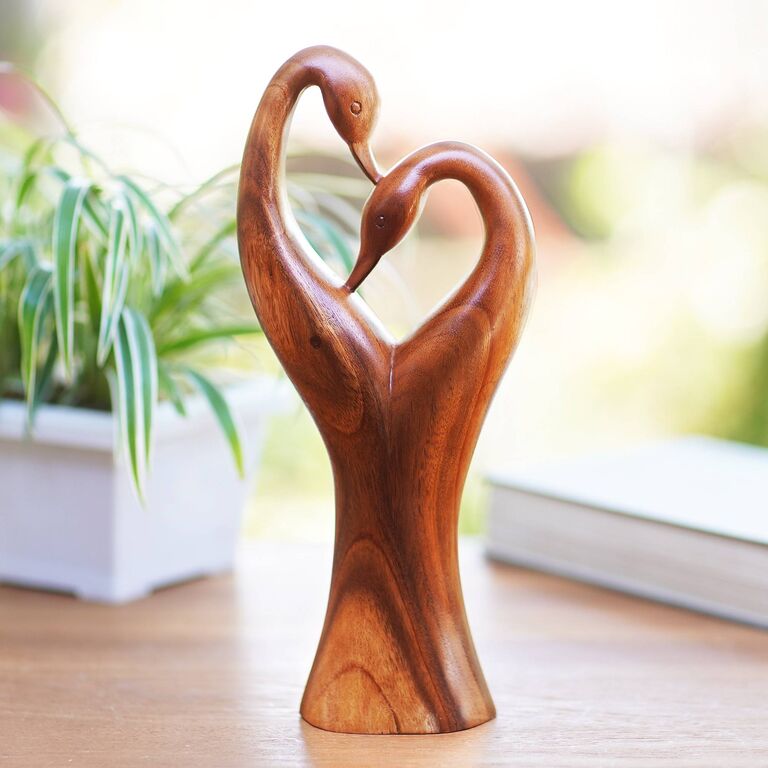 NOVICA is an ethical marketplace for small businesses and artisans to showcase their work. That means that this skillfully carved ornament is impactful in more ways than one. The wooden sculpture showcases two swans nuzzling to form a heart with their graceful necks. It's a unique addition to your home decor that promises a lifetime of love together.
53. Date Night Conversation Cards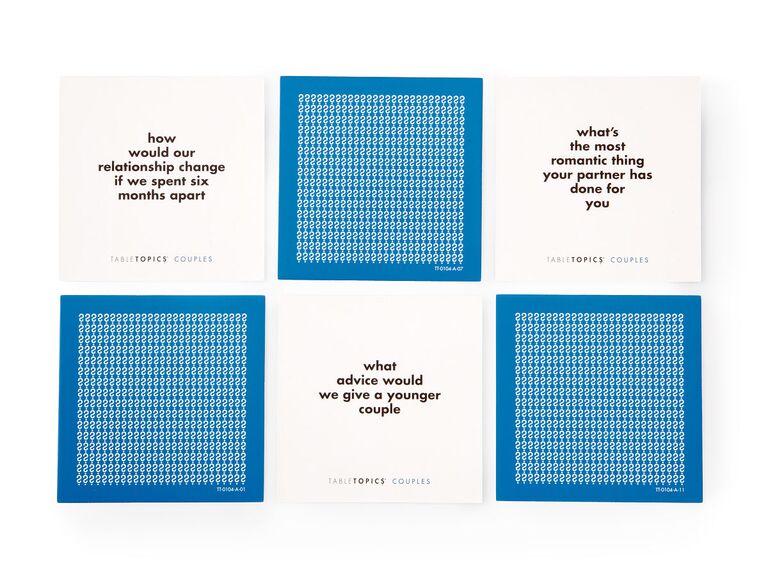 Why not choose a gift that shows your S.O. you want to get to know them better? These thoughtful conversation starters are an excellent accompaniment to romantic dinners, date nights, road trips and beyond. Each card has a thought-provoking question or prompt designed to strengthen your bond as a couple. This budget-friendly deck of cards is exactly the kind of cute gift idea we can really get behind this Valentine's Day (and many date nights to come).
54. Leather Toiletry Bag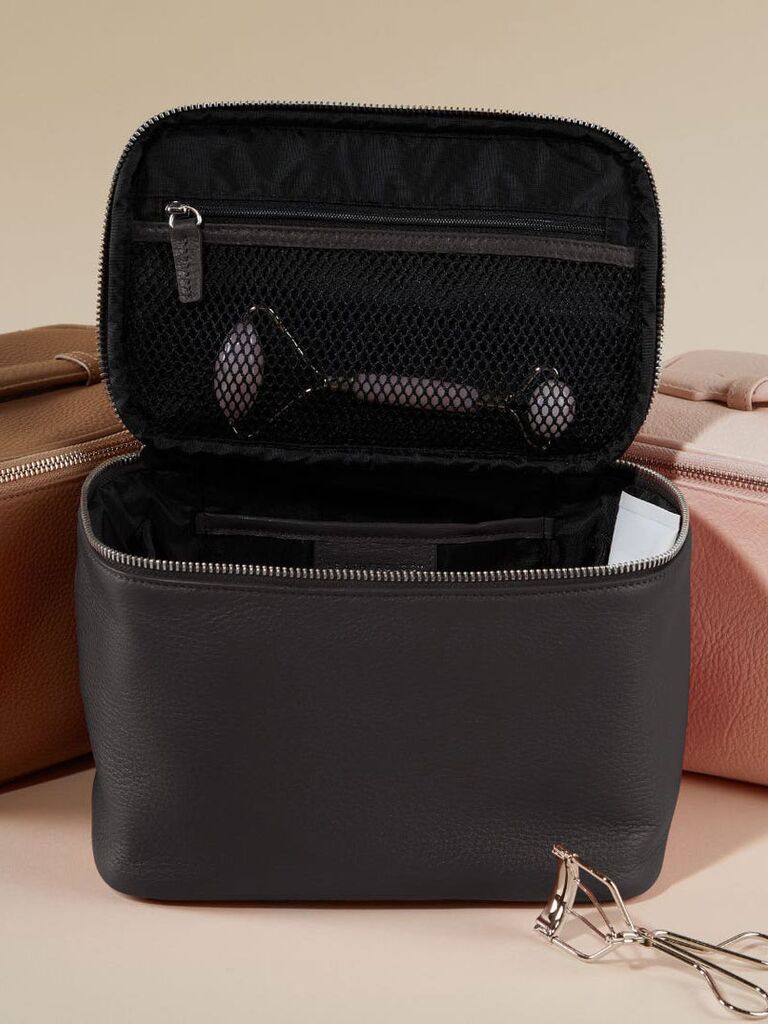 If your other half is obsessed with their grooming tools or beauty products, give them a luxe leather train case to help keep everything organized. It's one of our favorite Valentine's ideas that's nice and practical. There are seven chic colors to choose from, including classic neutrals (like black and camel) and standout shades of red and blue. Have it monogrammed, hand painted or personalized trapunto-style with their initials for a special finishing touch.
55. Meaningful Photo Print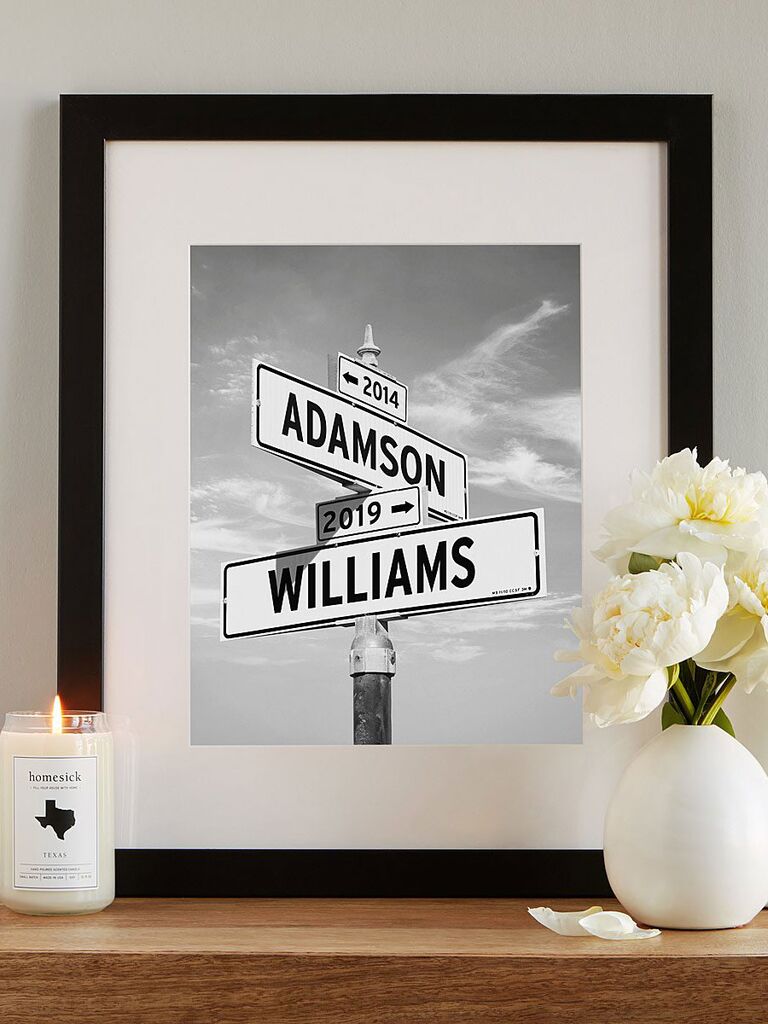 If you've been buying each other gifts for quite a few years now, you might be running low on inspiration. When shopping for the person who has everything, we suggest prioritizing sentimental and unique Valentine's Day gifts. This personalized photo print is just that: It depicts each of your first or last names on intersecting signs along with two important years in your relationship. There are also myriad framing options inspired by traditional anniversary themes.
56. Cozy Footwear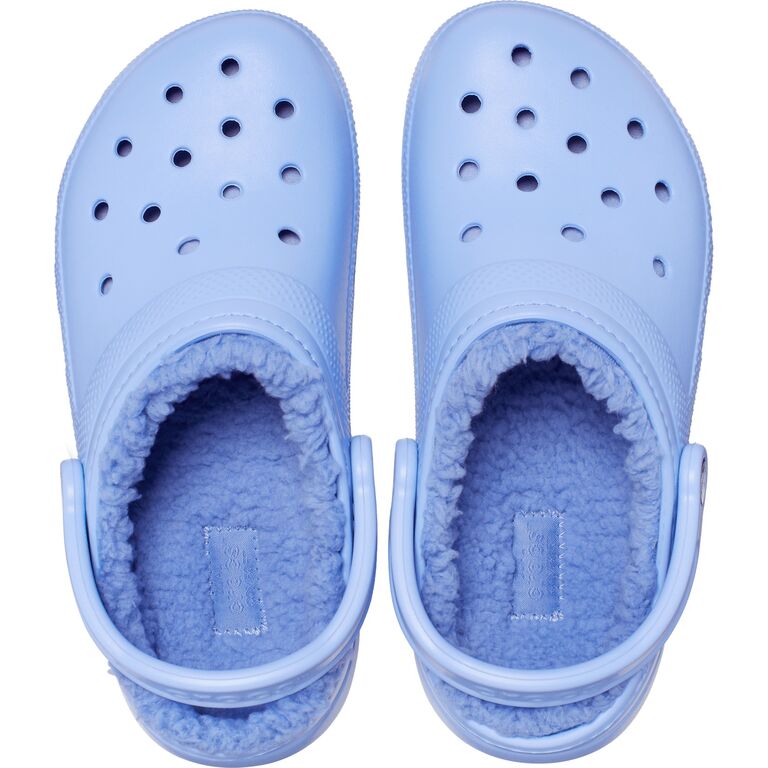 Does your spouse think there's nothing cuter than a pair of Crocs? If they're all-in on the recently revived footwear trend, we've found a cute Valentine's gift they'll love. The brand's classic lined clogs are basically a Croc and a slipper combined. No matter your stance on the iconic shoe, you can't deny it sounds pretty darn comfy. The fuzzy lined interior keeps toes toasty warm, whether they're relaxing at home or out running errands.
57. Sentimental Locket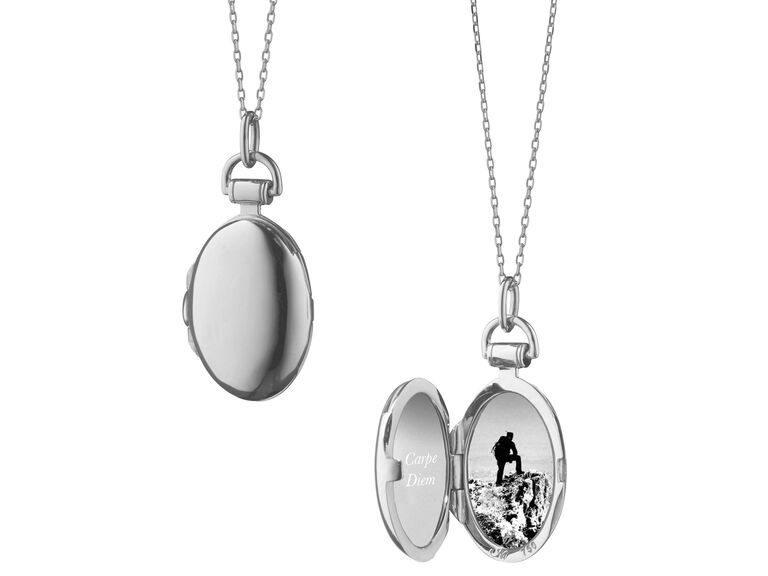 Jewelry doesn't get much more meaningful than a locket. Once complete with a photo of you and your other half, it becomes an heirloom-worthy keepsake. This petite sterling silver locket is the perfect size for everyday wear. And though it may be small, it still has space for two precious snapshots. To make things easy, you can upload your images directly onto the site to get the right sizing and then print them at home.
58. Chunky Weighted Blanket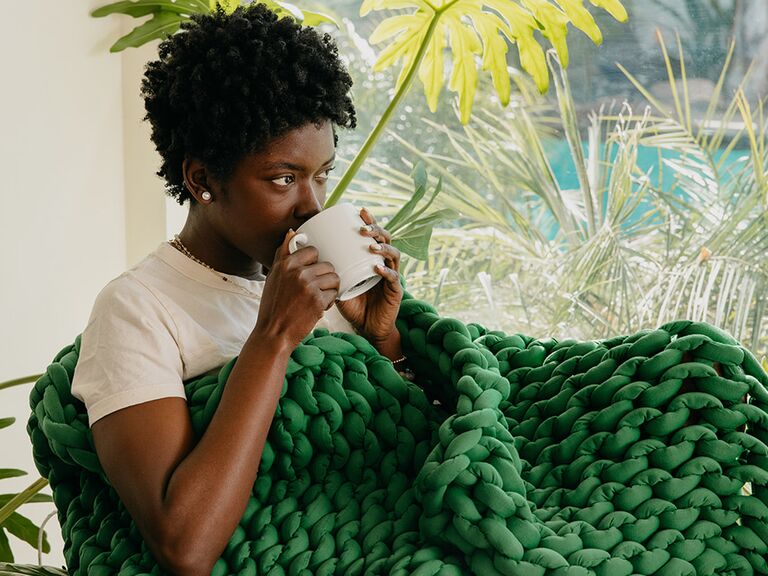 A cozy blanket that's weighted and has a chunky-knit design? Count us in. We can't imagine anything more stylishly snug than this bad boy. Anyone whose idea of the perfect night in involves their sofa and PJs will jump for joy at the sight of this cloud-soft blanket. Bonus: The filling is made from 100% recycled polyester fluff.
59. Recycled Vinyl Bouquet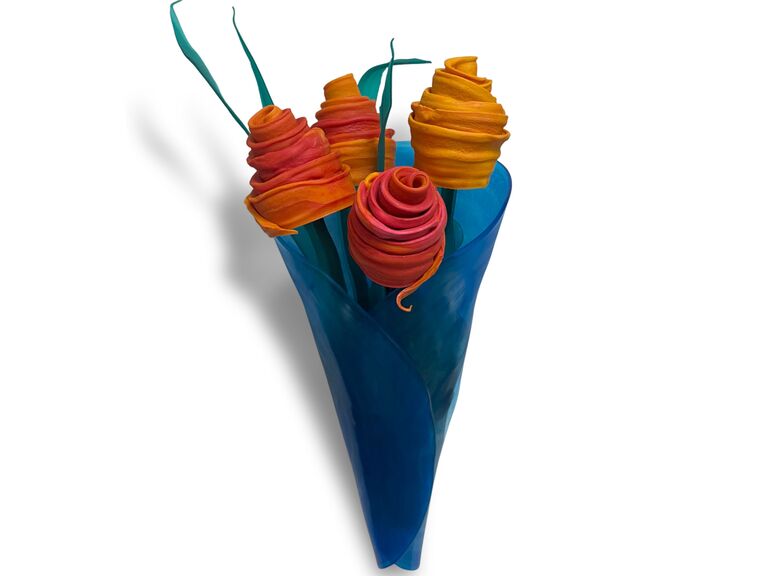 On the hunt for something cute but unusual? Check out this creative Valentine's gift. It's a bouquet of flowers ingeniously crafted from recycled vinyl records—perfect for a music lover.
60. Whimsical Keepsake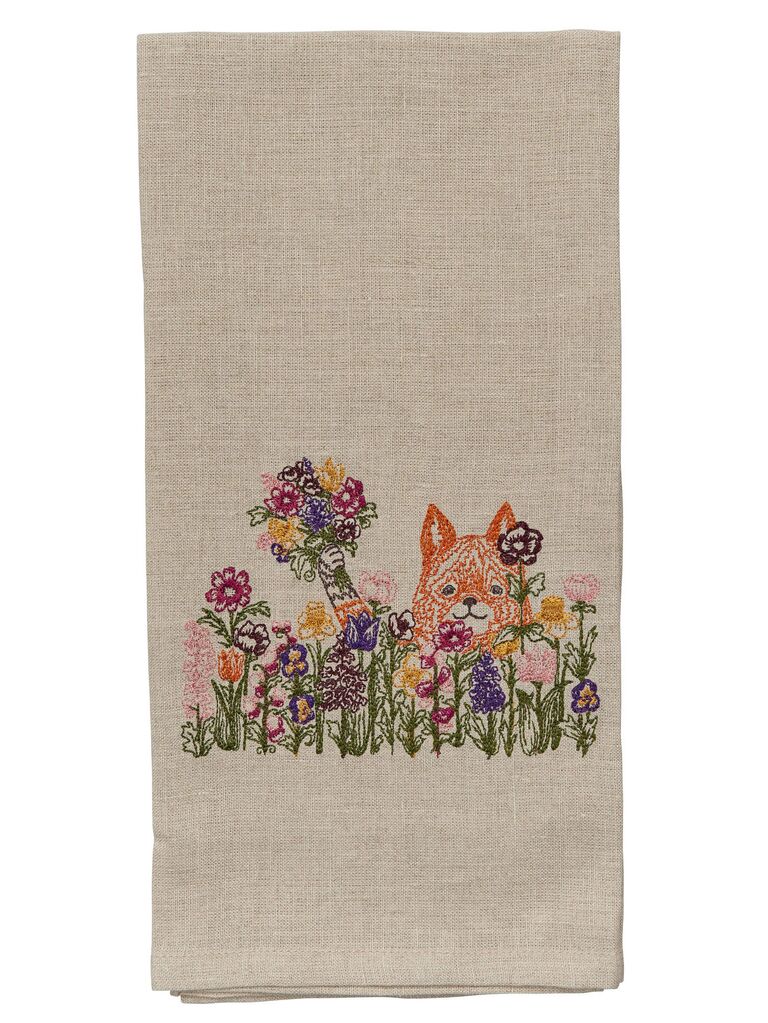 We couldn't end our list without this quintessentially adorable Valentine's gift. It's a tea towel hand-embroidered with a sweet little fox gathering a bunch of wildflowers (that we can only imagine is for its sweetheart). All in all, it's a sweet Valentine's keepsake you can give to anyone you love.