42 Cute Valentine's Day Gifts for Anyone You Love
Shop our favorite presents for fiancés and spouses alike.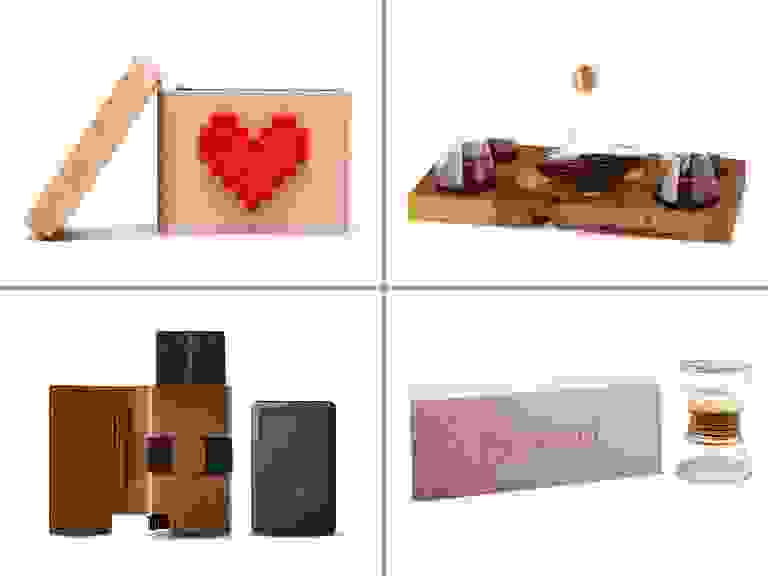 We have included third party products to help you navigate and enjoy life's biggest moments. Purchases made through links on this page may earn us a commission.
Hoping to surprise your S.O. with a cute Valentine's Day gift this year? Call us Cupid, because we're here to match you with the perfect present for your future or current spouse. To help you narrow down your search, we've broken down our recs by recipient, but truth be told, most of these cute Valentine's Day gifts would work for anybody.
In this Valentine's Day gift guide:


Cute Valentine's Day Gifts for Him 
Wondering what to get a guy for Valentine's Day? The more personalized, the better. Here are some of our favorite cute Valentine's gifts for him.
1. Salami Bouquet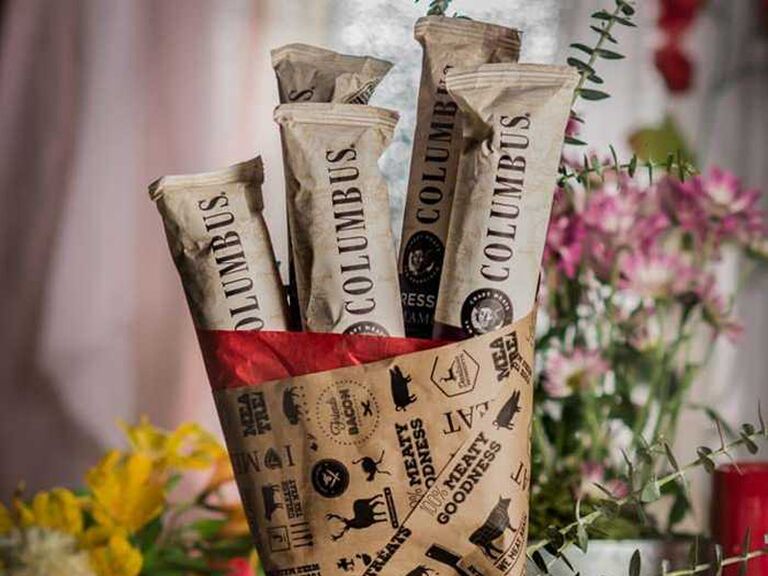 Don't get us wrong, flowers are great—but so is salami. He'll get a kick out of this meaty "bouquet," which is a playful (and tasty) twist on a classic cute Valentine's Day gift.
Man Crates salami bouquet, $60, ManCrates.com
2. Beer Cooler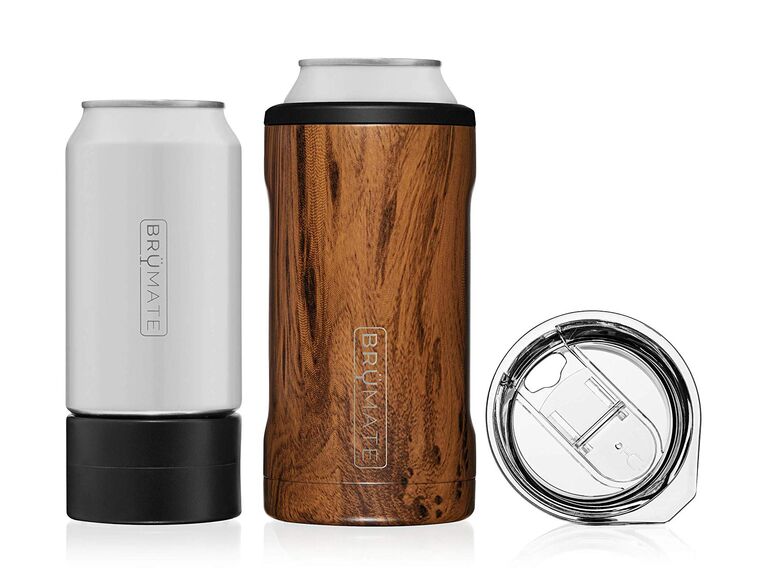 Cheers to your love with a cold one—a perfectly cold one, to be exact. This set keeps beer cans of all sizes cool. Bonus: It also transforms into a pint glass. We see lots of camping trips and picnics in your future when you surprise him with this cute Valentine's idea.
BruMate HOPSULATOR TRIO 3-in-1 stainless steel insulated can cooler, $25, Amazon.com  
3. Printable Fortune Cookies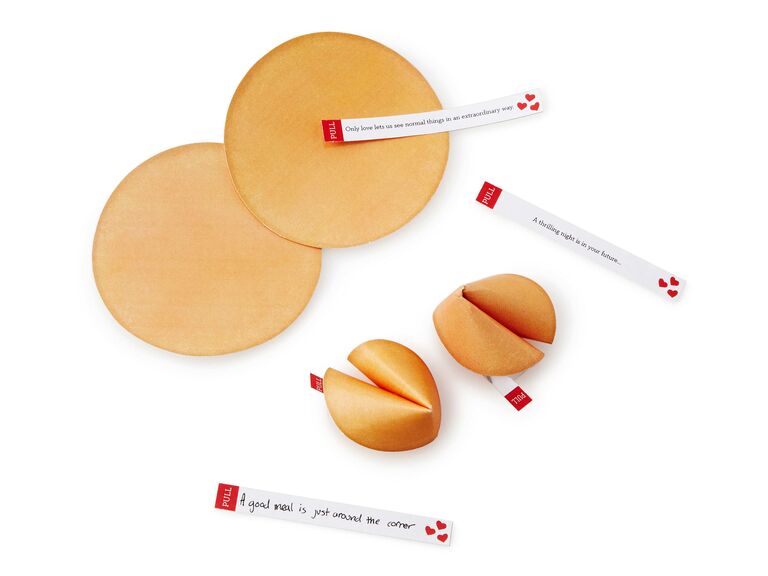 On the hunt for especially cute Valentine's Day gifts for him? Download this free printable for the cookie lover in your life. Four fortunes are prewritten and four are left blank for inside jokes and personalized messages. These easy-to-assemble paper treats are perfect to pair with take-out Chinese food.  Here's to creating your own good fortune together.
UncommonGoods printable fortune cookies in Love and Romance, free download, UncommonGoods.com
4. Leather Wallet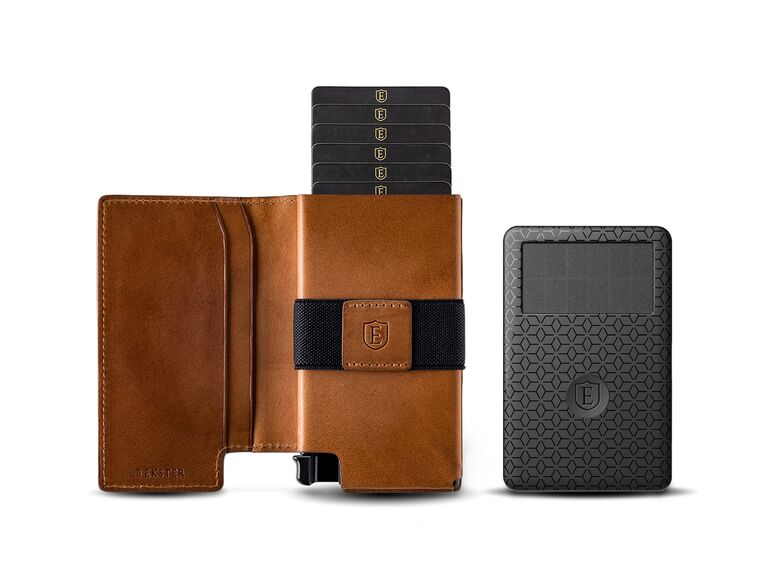 If he hates fumbling for cash, he'll obsess over this smart wallet. With the press of a button, his cards pop out for easy access. Better yet, you can pair the accessory with a tracking device. That way, he never has to worry about losing his precious moola. 
Ekster Parliament wallet, $69 alone or $108 with a tracker, Ekster.com 
5. Special Outing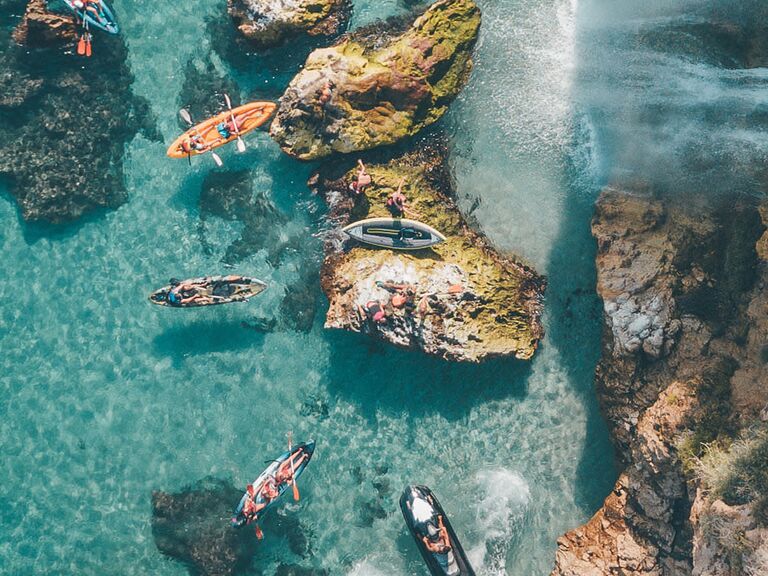 Want to know a secret? The gift of show tickets, a cooking class or sightseeing tour means you're kind of treating yourself too. Browse PlacePass for entertainment in a city near you. Or plan a Valentine's getaway—activities included—for an extra-cute Valentine's Day gift for him. PlacePass has options around the world! 
PlacePass tours and activities, PlacePass.com
6. Registered Star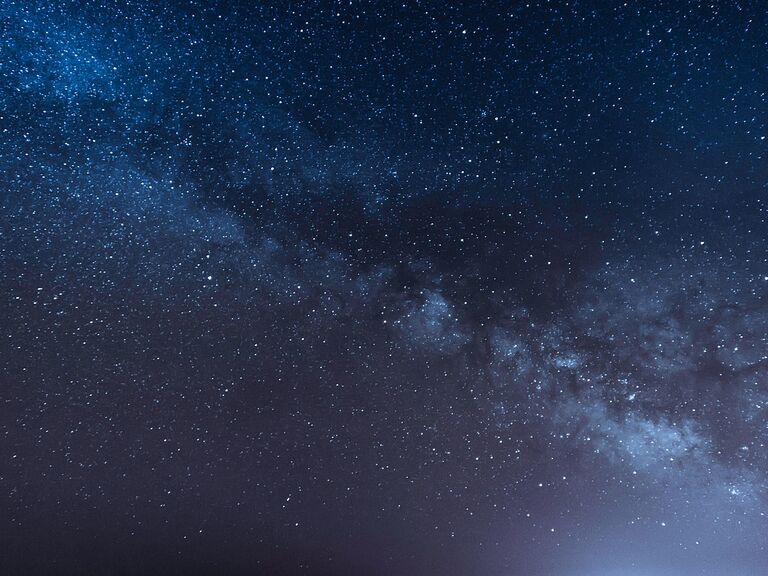 For the guy who's totally into space and has enough "stuff," we've got the perfect cute Valentine's Day gift: a star. Pick one to register for, name it and track it. Star Registration only offers stars you can actually see, so you won't be stuck investing in a crazy-expensive telescope to show off your gift.  For an ultra-cute Valentine's idea, pack a night picnic and tell your partner to "look up."
Star Registration Buy a Star, from $30, StarRegistration.net
7. Meal Subscription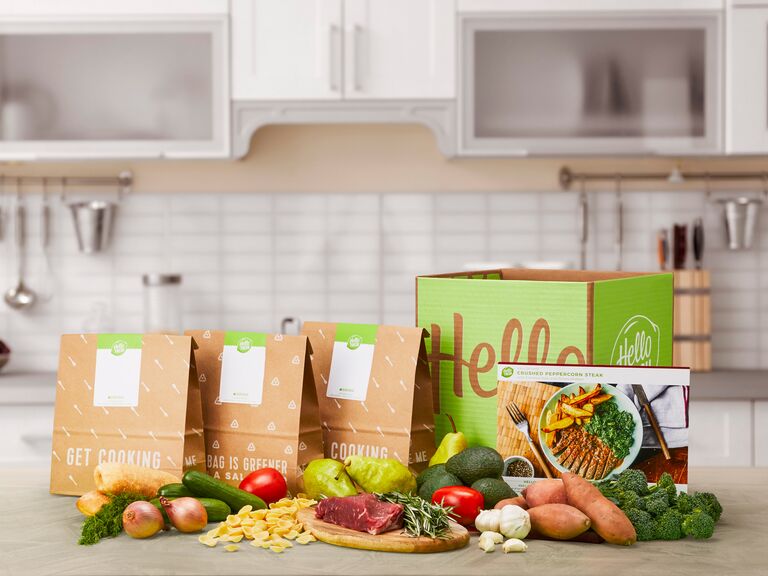 Give the aspiring home chef a chance to practice his skills with a meal delivery service that sends all the ingredients and instructions right to his door. That way, he'll spend less time prepping and more time enjoying his culinary creations. Promise to cook with him to make it even cuter. This cute Valentine's gift is a win-win for both of you.
HelloFresh gift card, from $61, HelloFresh.com 
8. Office Art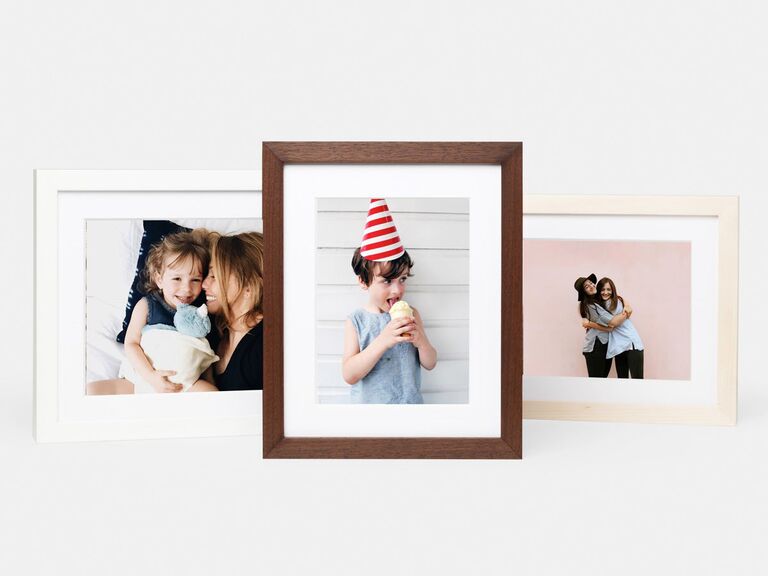 What's one of the last things he'd buy himself? Probably a nicely framed photo. A handsome wood frame like walnut or maple would look great in any space whether it's for his man cave or office. And your job is super-easy—just connect to Instagram and select your photo choice. This is one cute Valentine's gift that he'll treasure forever.
Artifact Uprising Instagram Friendly frames, from $69, ArtifactUprising.com
9. Interest Box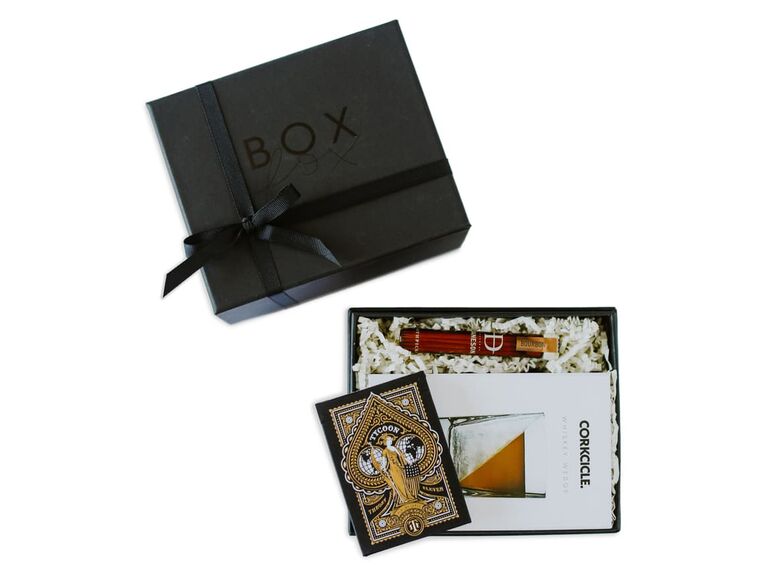 Honor his favorite things—like whiskey—with a curated gift box. This themed assortment includes an ice wedge, bourbon-flavored toothpicks and stylish playing cards for an elegant night in.
BOXFOX Spirits Bright whiskey set gift box, $50, Nordstrom.com
10. Bomber Jacket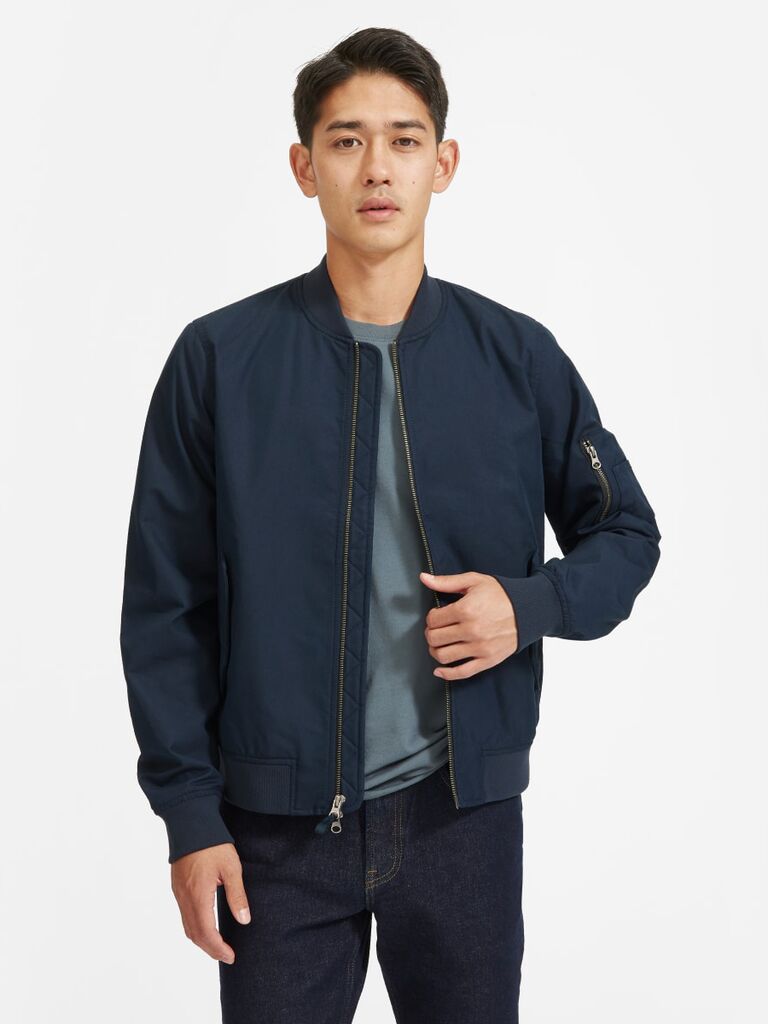 Who says clothes can't be cute Valentine's gifts for him? Put the finishing touch on his date night outfit with this dapper pilot-inspired jacket. (Psst... It's made from recycled fabric—yay for sustainability.) 
Everlane The Bomber jacket, $88, Everlane.com
11. Fancy Decanter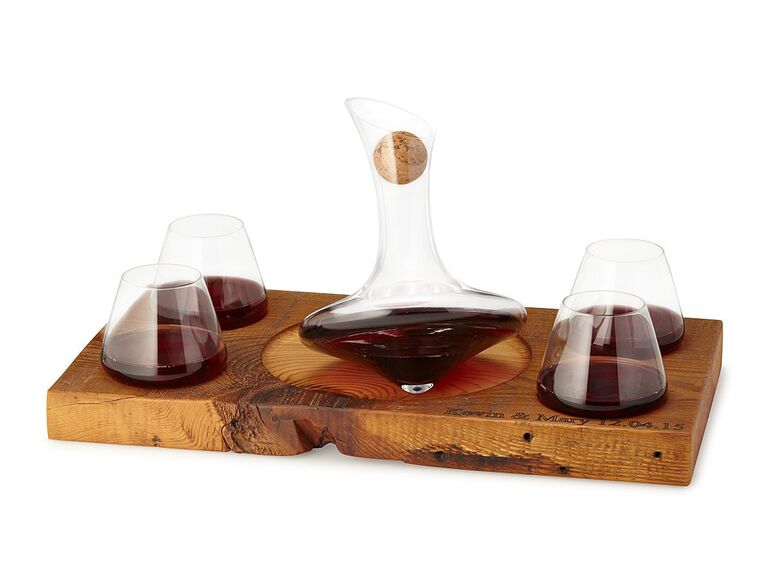 This decanter set is simply mesmerizing. The glasses spin like tops to aerate wine and spirits, and they come with an engravable display stand made from reclaimed barn wood. Consider all his friends jealous. And just think how fancy your next wine night will be together.
Patrick Fitzpatrick spinning spirits set, from $220, UncommonGoods.com 
12. Leather Catchall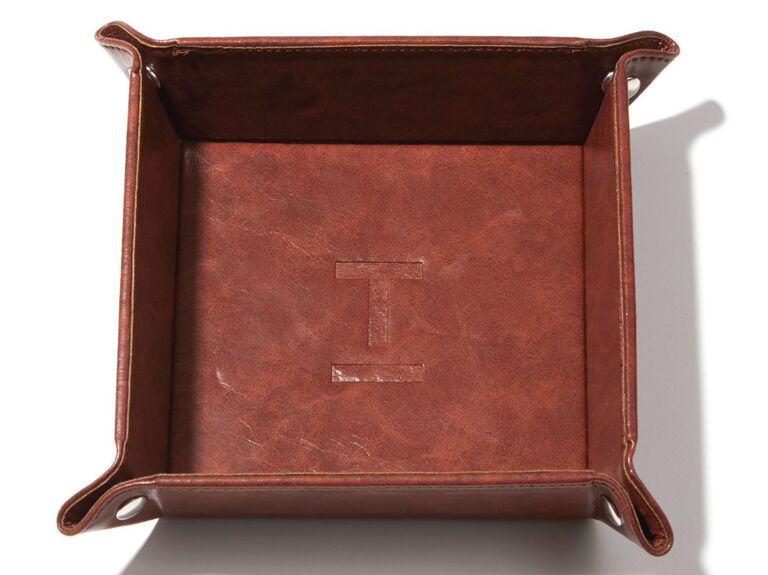 Helping him keep track of all his knickknacks is a gift in itself. Doing so with a sophisticated leather tray? All the better. And the best part? He'll never ask you where he left his keys again. 
The Tie Bar catch all tray, $12, TheTieBar.com
13. Romantic Cookies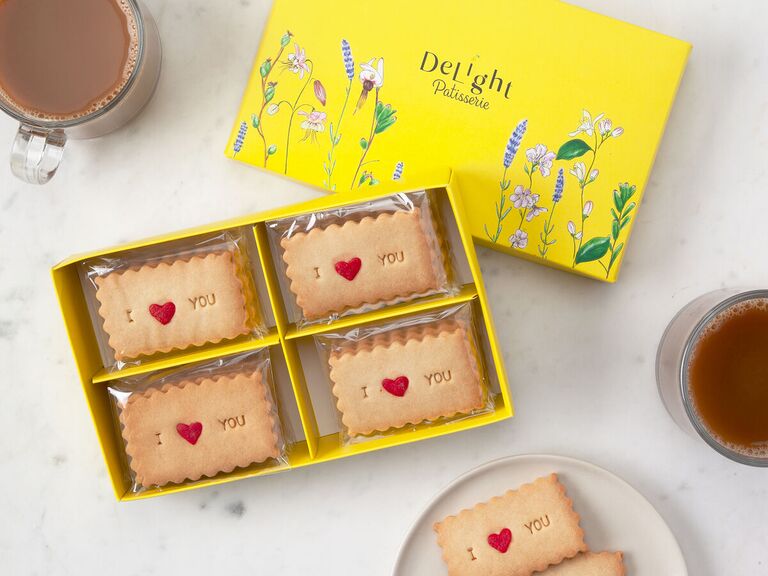 Satisfy his sweet tooth with a better version of conversation hearts: delicious shortbread cookies that say "I love you" or "be mine." Talk about cute Valentine's Day gifts for him. 
Celine Zhou love message shortbread cookies, from $36, UncommonGoods.com
14. Bottle Opener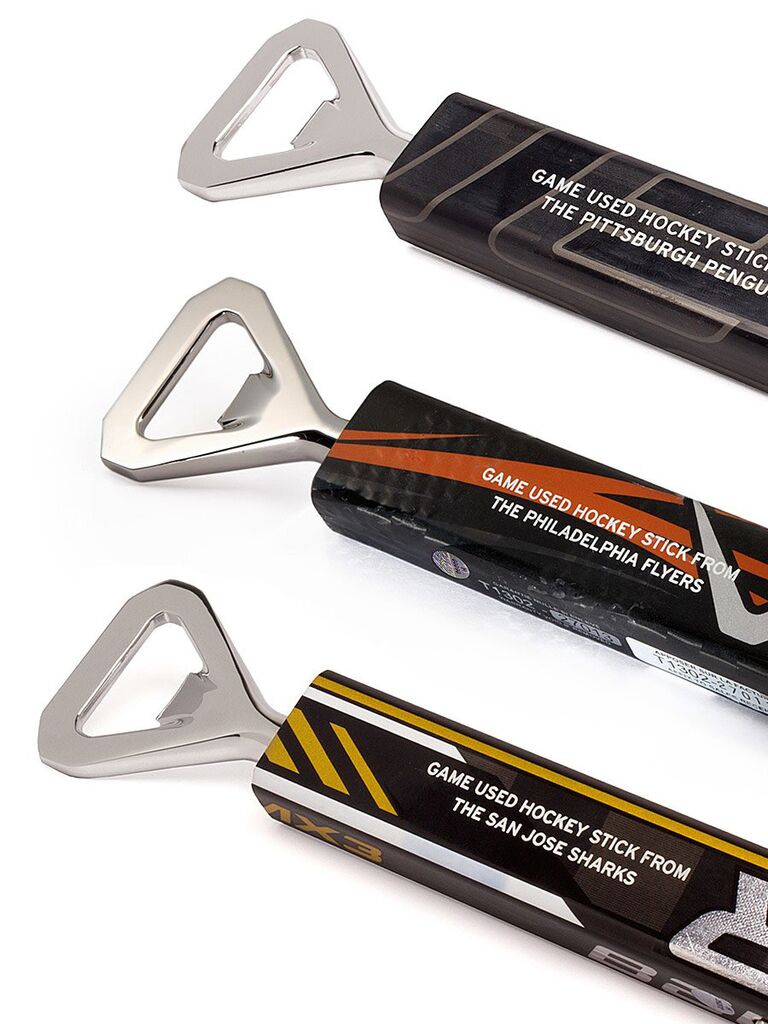 If he's a big sports fan, we'd venture to guess he can't get enough of sports memorabilia. These crafty bottle openers—made from game-used hockey sticks—are full of team spirit. (Note: There are also options for baseball lovers.)
Ward Wallau NHL game-used hockey stick bottle opener, from $95, UncommonGoods.com
15. Custom Collar Stays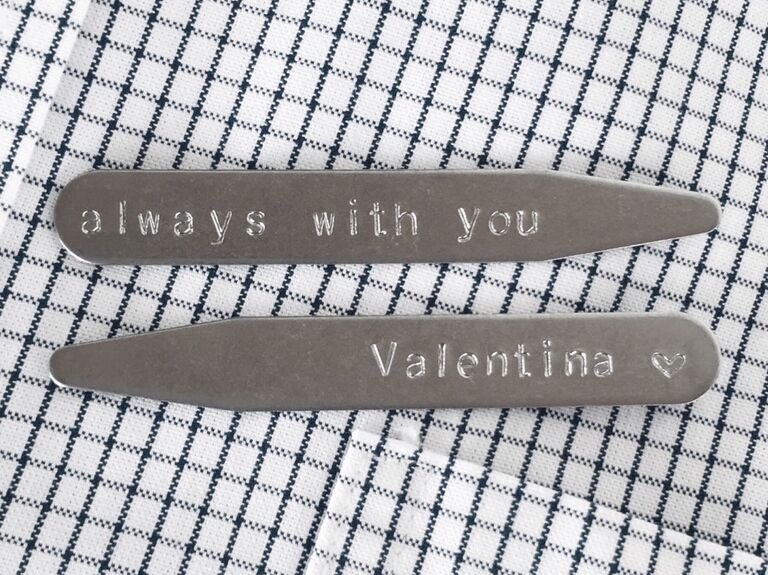 Now he can always keep you close, even if you two are the only ones who know it. Personalize these cute Valentine's Day gifts with your name, your anniversary date, an inside joke or anything else that's meaningful. It'll be your little secret.
Knox Thomas Designs personalized collar stays, from $14, Etsy.com
16. Phone Dock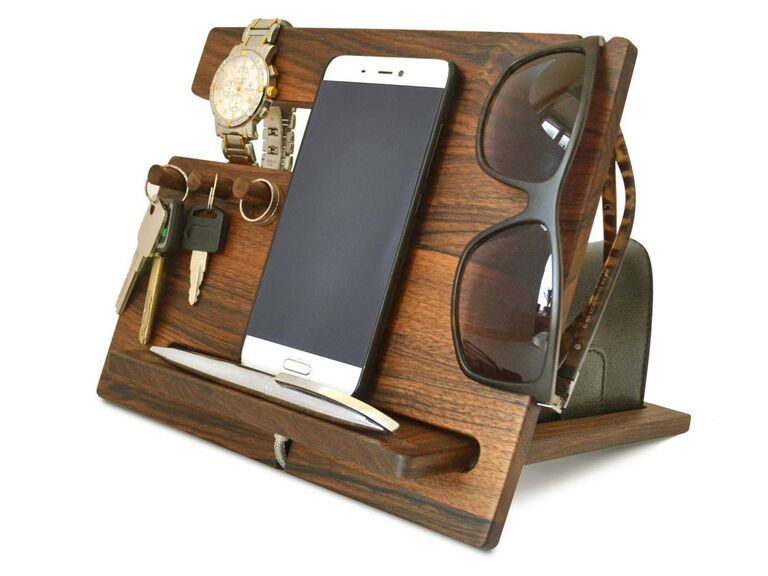 This incredible storage station has room for everything, from his wallet all the way down to his pens. Plus, it's designed to keep his phone standing upright—perfect for when he's FaceTiming you.
My Fancy Craft wood phone docking station, $41, Amazon.com
17. Sneaker Cleaning Set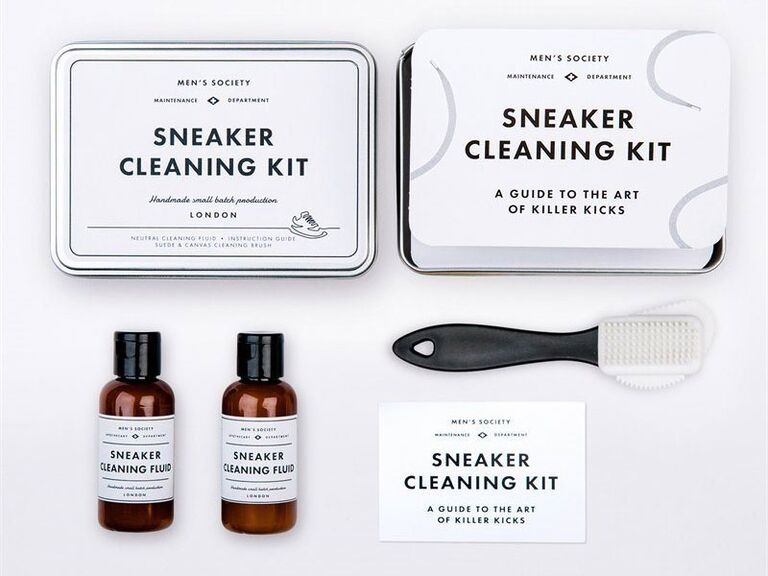 Shopping for a sneakerhead, but nowhere left to put more shoes? Help him keep his current collection in tip-top shape.
Men's Society sneaker cleaning kit, $33, Indigo.ca
18. Big Kiss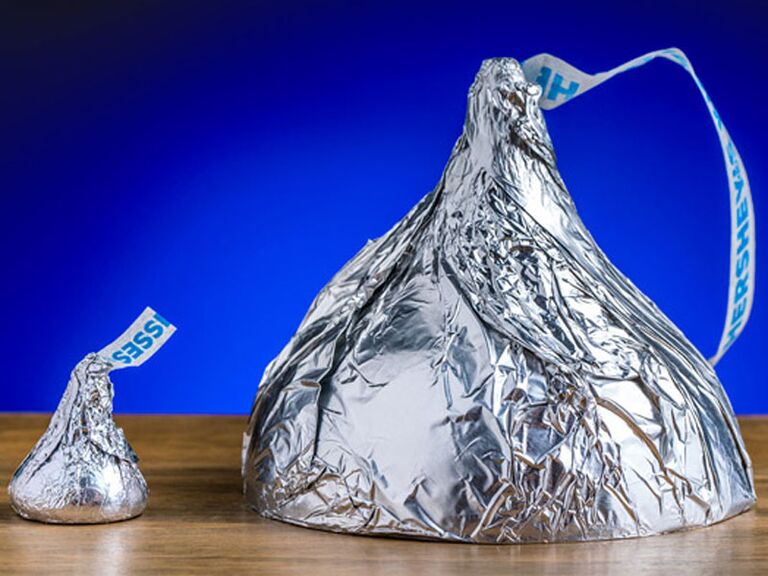 Want a cute Valentine's Day gift for him that's on the sweeter side? Bestow a big kiss—Hershey's Kiss, that is. It's sweet and delicious. The best part is that you won't break the bank when going in on this cute Valentine's idea.
Vat19 giant Hershey's Kiss, $10, Vat19.com
19. Scrapbook Album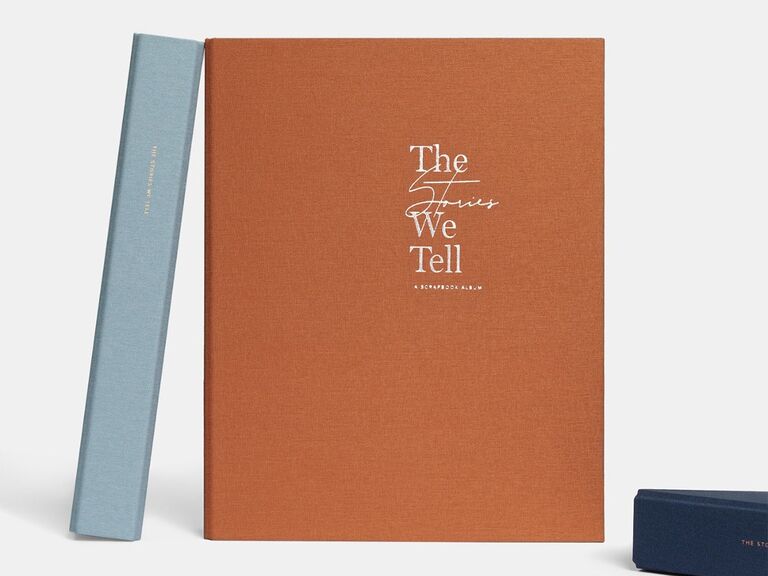 This could just be the ultimate cute Valentine's Day gift: a luxe scrapbook for recording all your cherished memories. Get it started to really impress him. Not only is it a thoughtful keepsake, but it's something you can both add to for years to come.
Artifact Uprising The Stories We Tell scrapbook album, from $119, ArtifactUprising.com
20. Barbecue Kit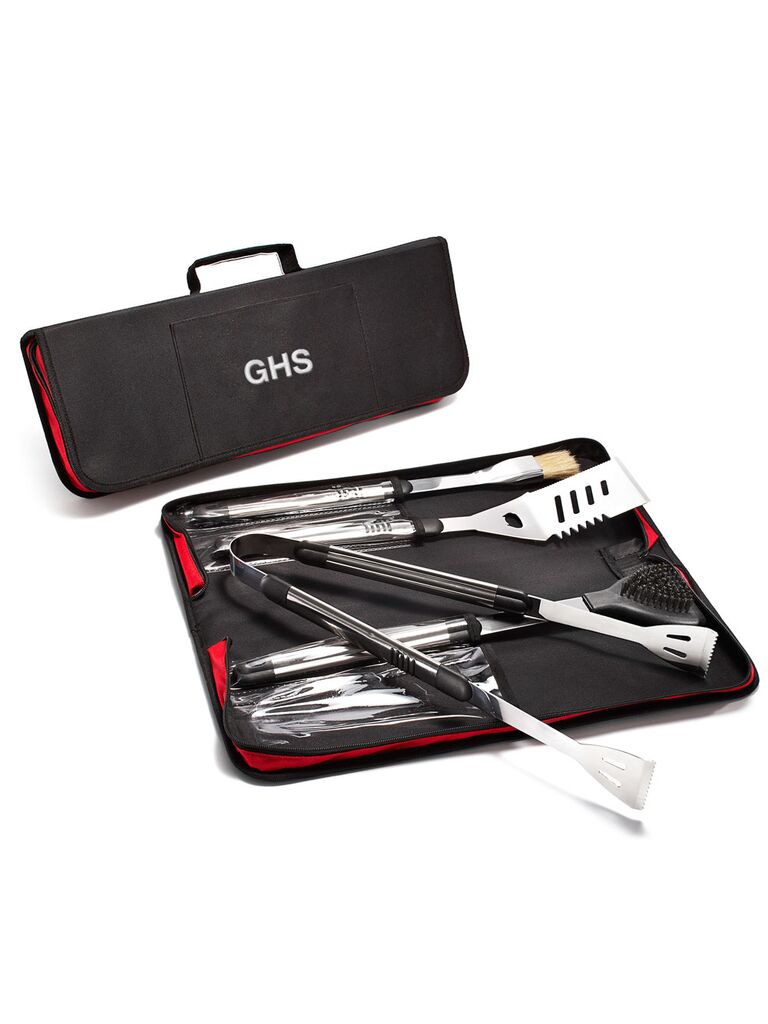 Heat things up with a personalized barbecue kit bearing his initials. Looks like you've got some tasty meals in your future. 
The Knot Shop barbecue kit, $30, TheKnotShop.com
21. Custom Watch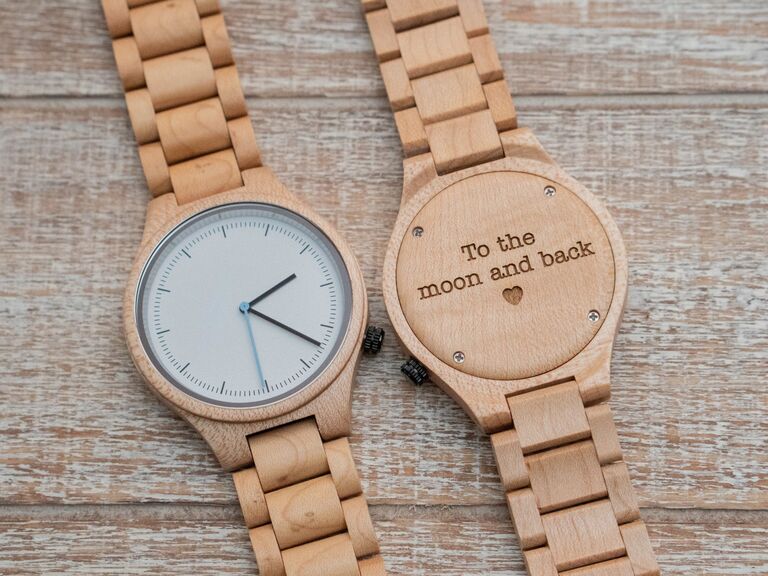 Show you know his style by gifting him a timepiece that perfectly suits his personality, whatever that may be. We personally like this modern wooden watch. The option to engrave it adds it to our list of cute Valentine's day gifts for him.
Ox and Birch personalized men's wooden watch, from $84, Etsy.com
Cute Valentine's Day Gifts for Her 
Shopping for a special lady? Look no further than this roundup of funny, unique and cute Valentine's Day gifts for her. You're about to earn a lot of brownie points with your wife or fiancée.
1. Scent Diffuser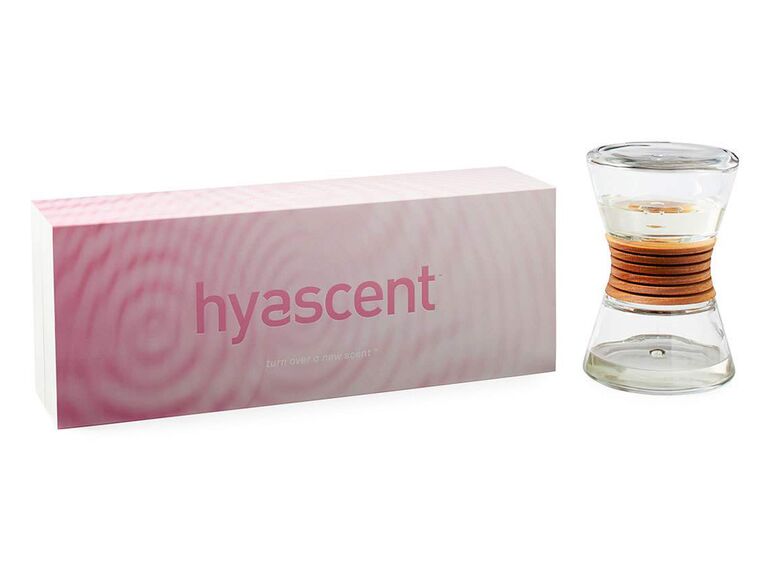 Turn her favorite space into an oasis with this elegant scent diffuser. Fragrances range from bright and refreshing to undeniably romantic—you decide what mood you want to set. 
Hyascent Cheeky Rose scent diffuser, $169, NeimanMarcus.com 
2. Chocolate-Covered Strawberries
Anything dipped in chocolate gets our vote. With next-day delivery, this is the perfect treat to show someone just how much they're loved—even if you waited until the last minute. 
Godiva milk chocolate dipped strawberries, $42 for 6, Godiva.com
3. Heart Earrings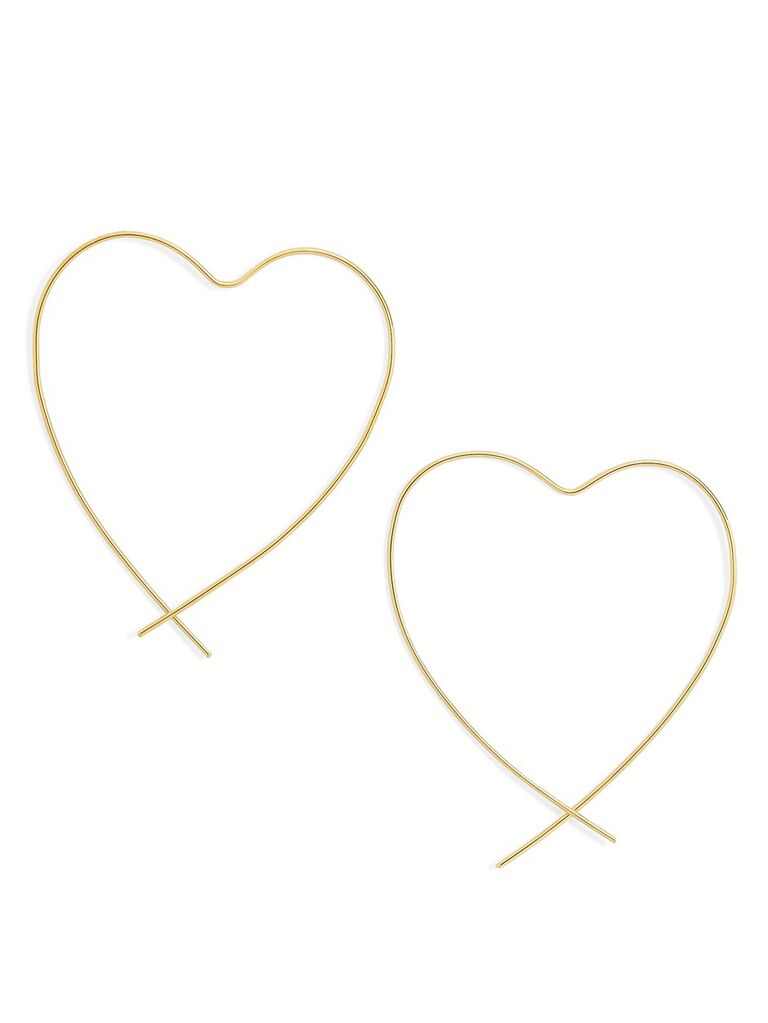 What would a list of cute Valentine's Day gifts for her be without heart-shaped jewelry? These earrings are ultra-trendy and she'll think of you everytime she wears them.
BaubleBar Corazon 18k gold vermeil earrings, $62, BaubleBar.com
4. Cozy Throw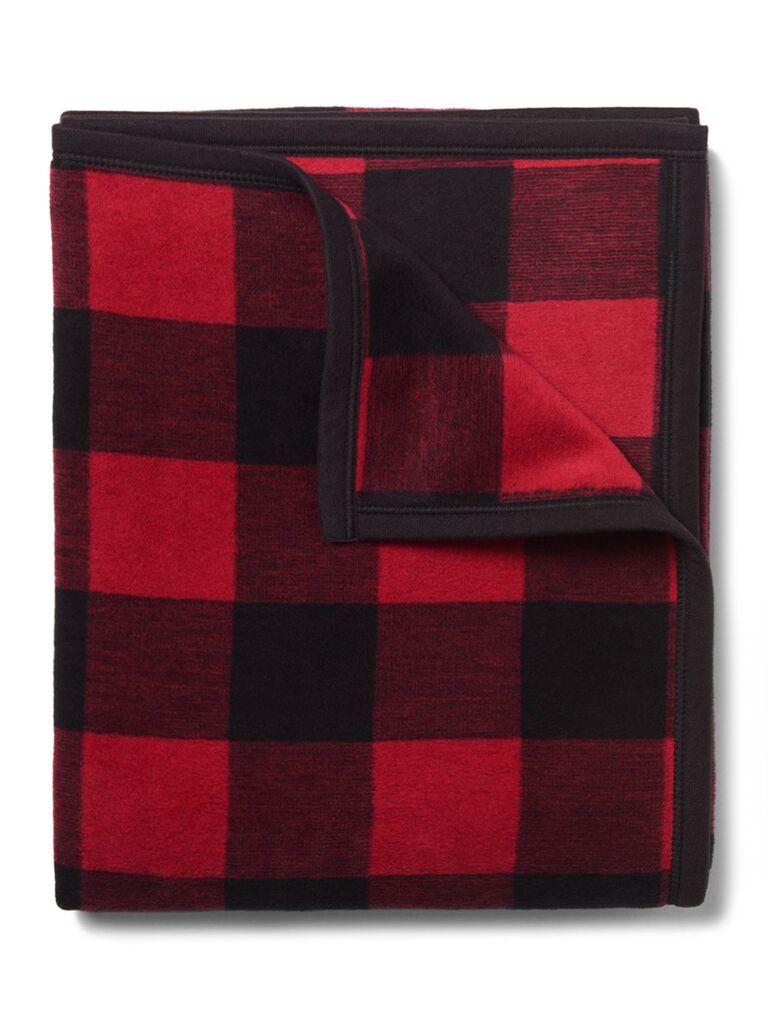 Get her through the rest of winter with a blanket made for snuggling under. It's machine-washable, so you can take it on all your most romantic adventures. Hello, movie night. 
ChappyWrap buffalo check blanket, $135, ChappyWrap.com
5. Weighted Blanket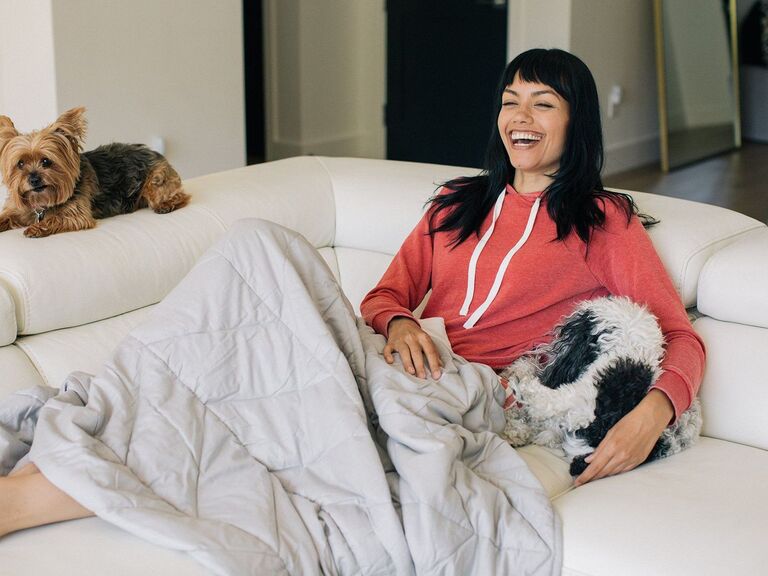 Or, consider this weighted blanket that'll cuddle her to sleep when you can't. How's that for a thoughtful and cute Valentine's Day gift for her?
Nest Bedding luxury weighted blanket, $129, NestBedding.com
6. Candy Delivery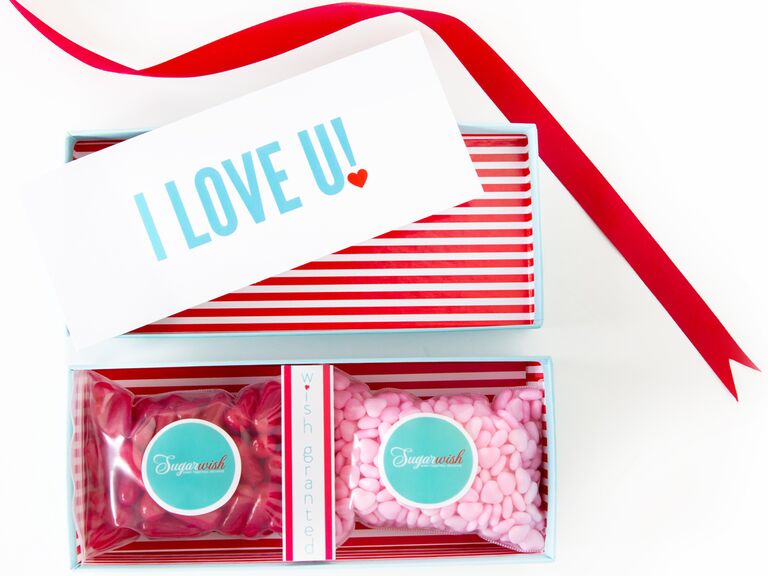 If you and your partner are separated by distance, send a candy-gram. Sugarwish will email her a gift code for candy. The lucky recipient can then choose her favorite sweets to be mailed directly to her doorstep. Now that's what we call a cute Valentine's idea. 
Sugarwish The Duet, $19, Sugarwish.com
7. Heart Art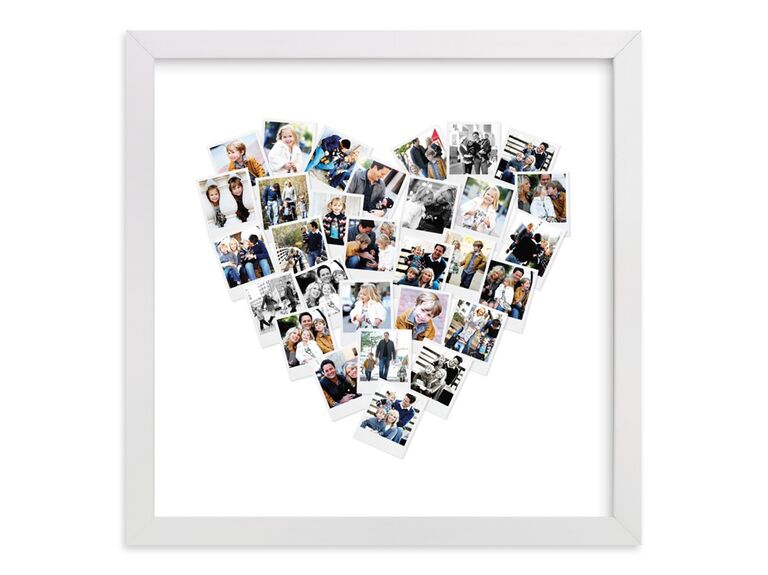 Fill this heart with 30 of your favorite photo memories—the perfect pick for someone you adore (and love to take selfies with). Have your art pre-framed for immediate wall display. Talk about not only a cute Valentine's gift, but a thoughtful one, too. 
Minted heart Snapshot Mix photo art, from $42 with a frame, Minted.com
8. Light-Up Sign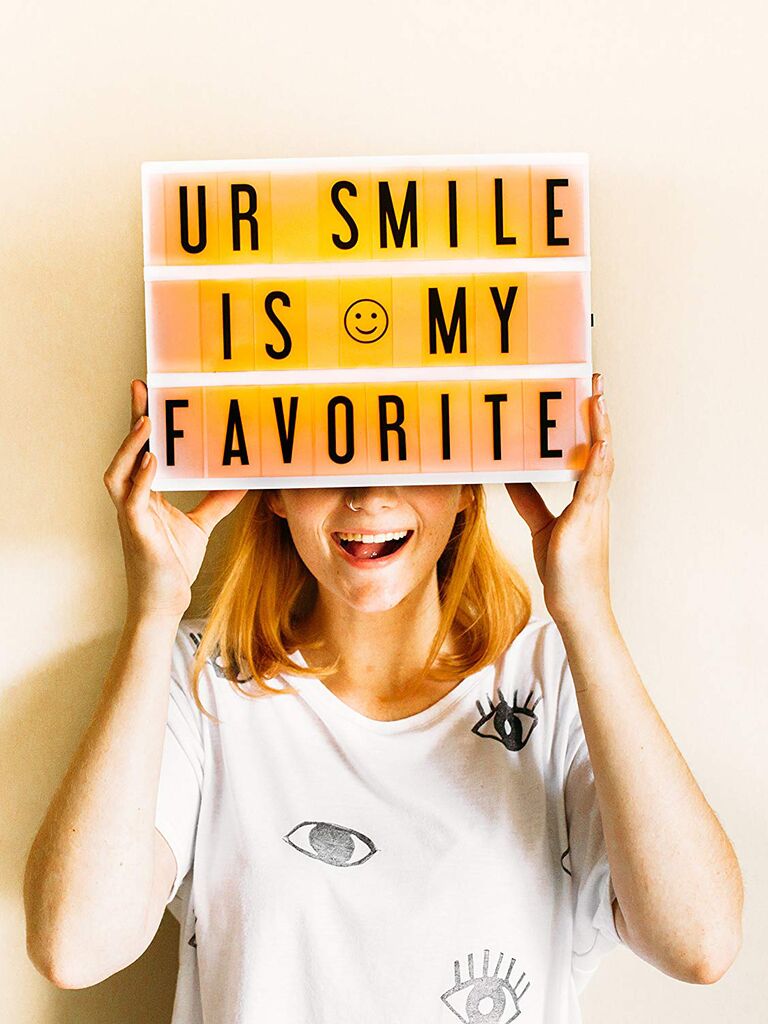 What makes this cute Valentine's Day gift for her so, well, cute? You can write a loving message on it before you give it to her. Then, she can use it to decorate the home (and beautify her Instagram feed). 
Amped & Co. My Cinema Lightbox The Original color-changing LED cinema light box, from $25, Amazon.com
9. Custom Mug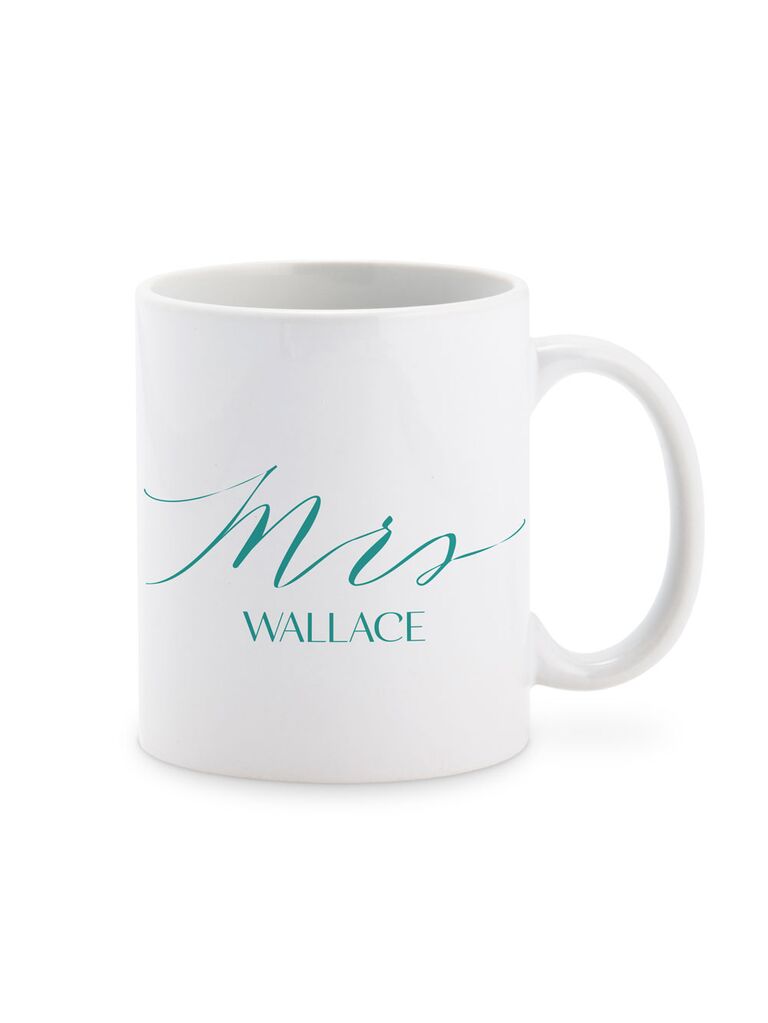 Shopping for a caffeine lover? Every time she takes a sip of coffee from this personalized mug, she'll think of you. As a bonus, gift her with some of her favorite coffee, so she'll be ready to rise and shine in style. 
The Knot Shop custom white ceramic coffee mug in Mrs. Print, $12, TheKnotShop.com
10. Dish Towels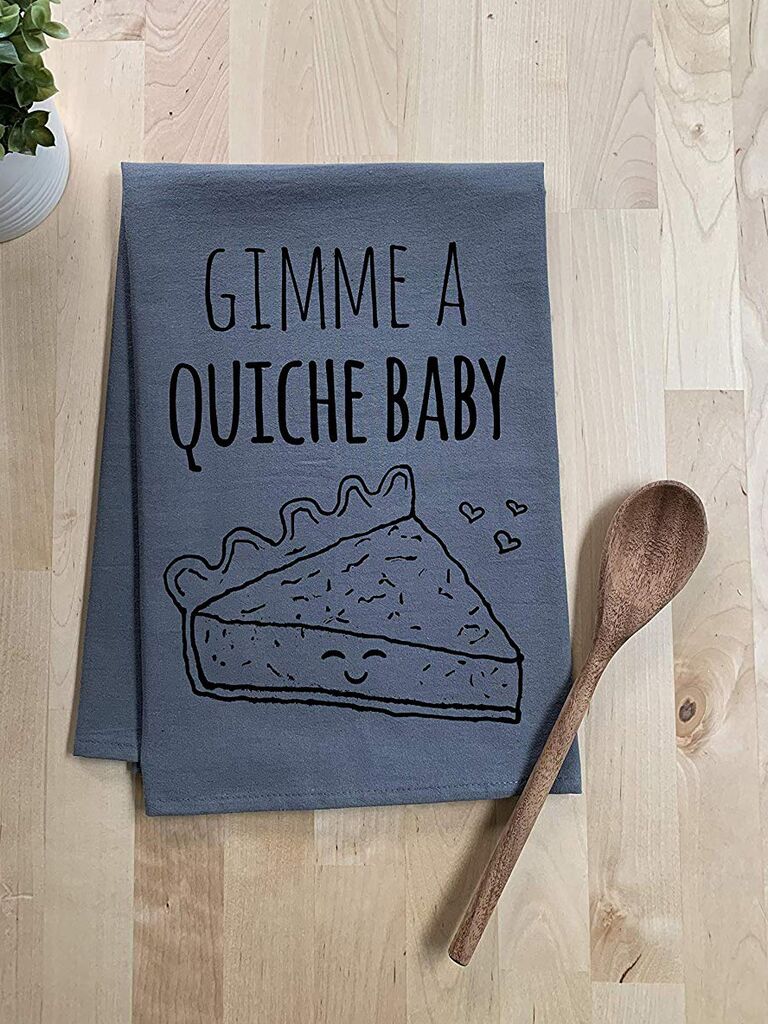 Thought kitchen rags weren't romantic Valentine's Day gifts? Think again. Not only do these towels sport some of the cutest  quotes (like "olive me loves olive you" and "I love you from my head tomatoes"), but she'll be extra-grateful if they come with a promise you'll wash all the dishes for a month.
Moonlight Makers Gimme a Quiche Baby funny kitchen cloth, $15, Amazon.com
11. Cuddly Robe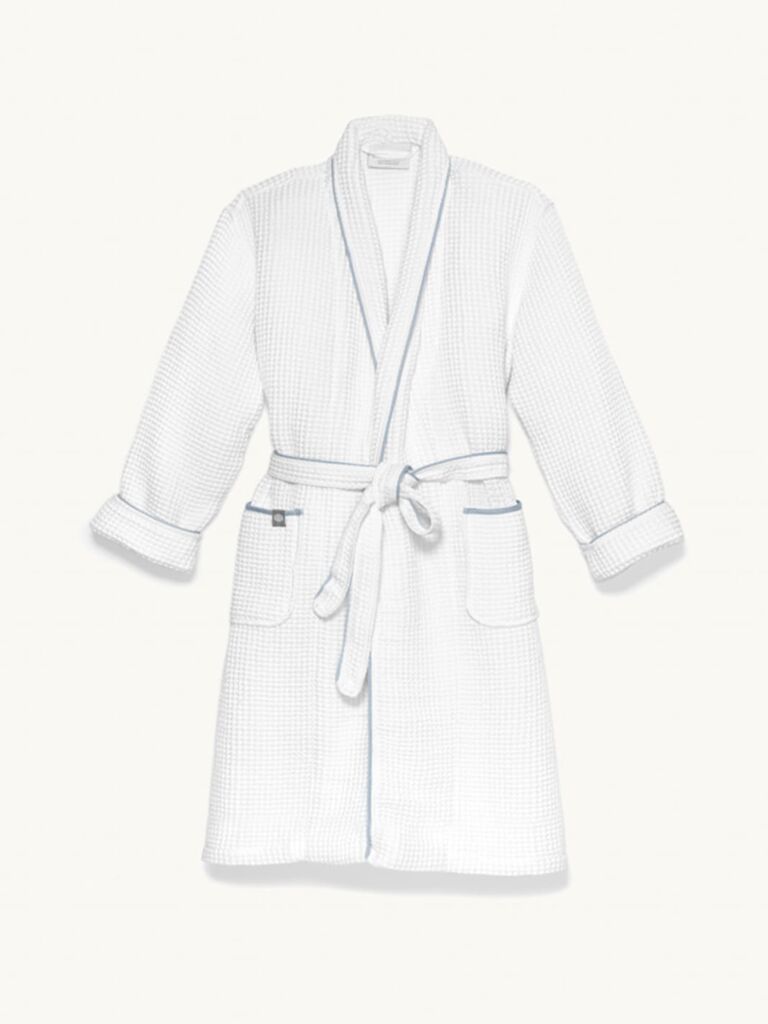 Gift her this spa-quality robe with the promise to pamper her for a lifetime. This cover-up is wonderfully plush, absorbent and well-made. It's the kind of at-home luxury she deserves! 
Boll & Branch women's waffle robe, $100, BollandBranch.com
12. Flower Delivery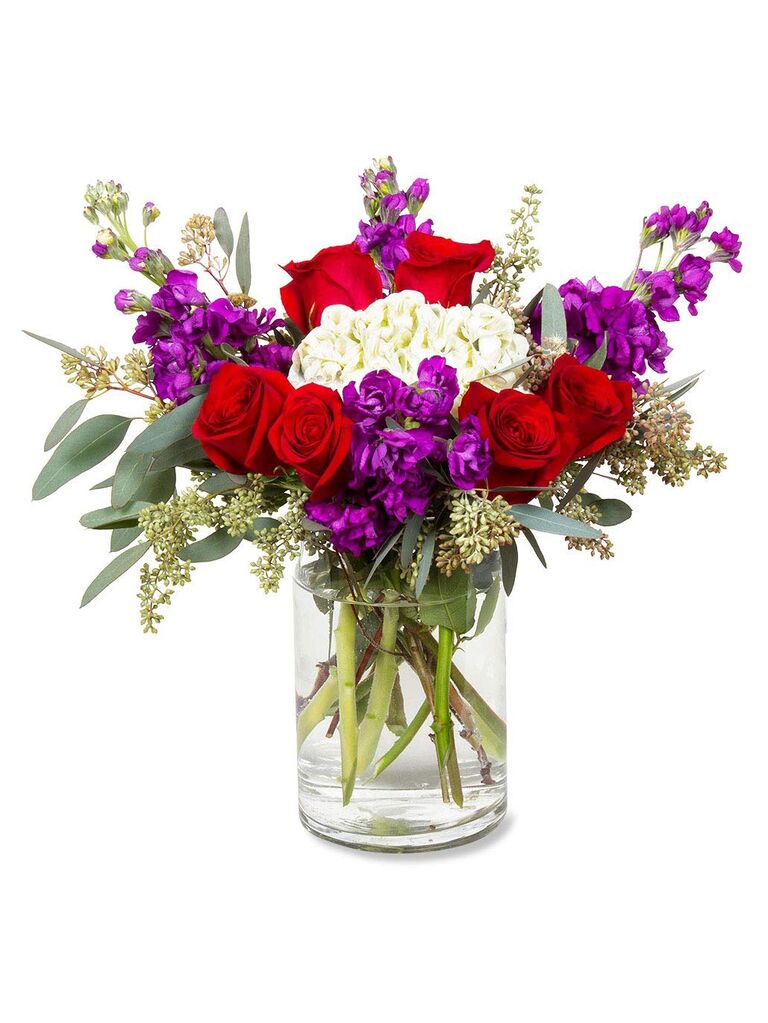 Of course, you can always go the traditional cute Valentine's Day gift route: fresh blooms. Nowadays, you can even order local flowers online to be delivered.
Amazon floral delivery, Amazon.com
13. Date Bucket List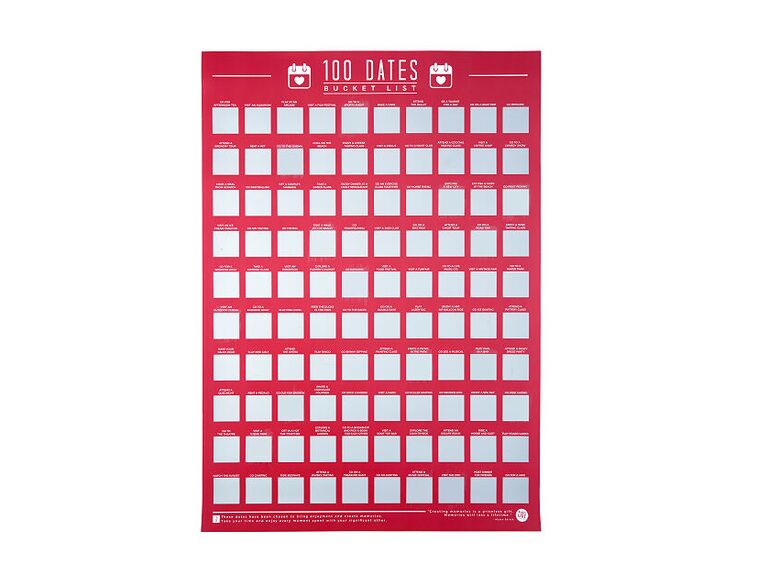 Spice up date night with fresh new ideas. This genius scratch-off chart gives you plenty of fun options and lots of activities to look forward to. Grab your calendar and start planning. 
UncommonGoods 100 Dates scratch off poster, $15, UncommonGoods.com
14. New Pajamas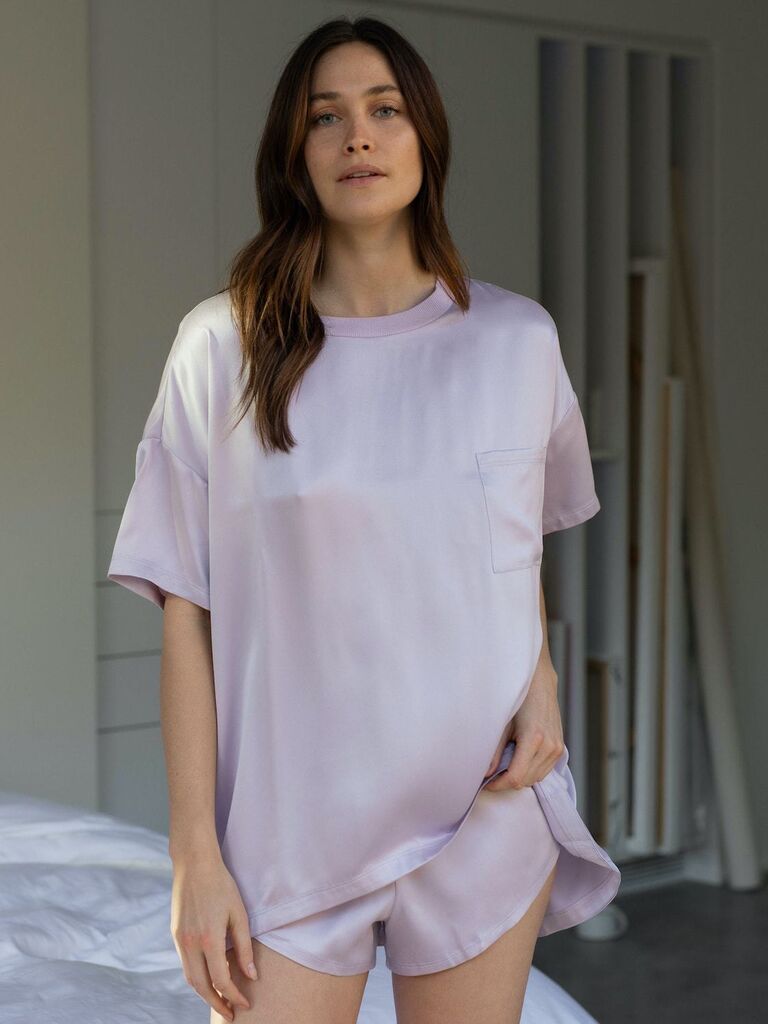 If she's always stealing your baggy tees, this is the cute Valentine's Day gift for her. The heavenly silk set provides all the comfort she craves and looks stylish to boot. Choose her favorite color (we're obsessed with this soft purple "mist" shade). 
LUNYA washable silk tee set, $198, LUNYA.co
15. Pink Globe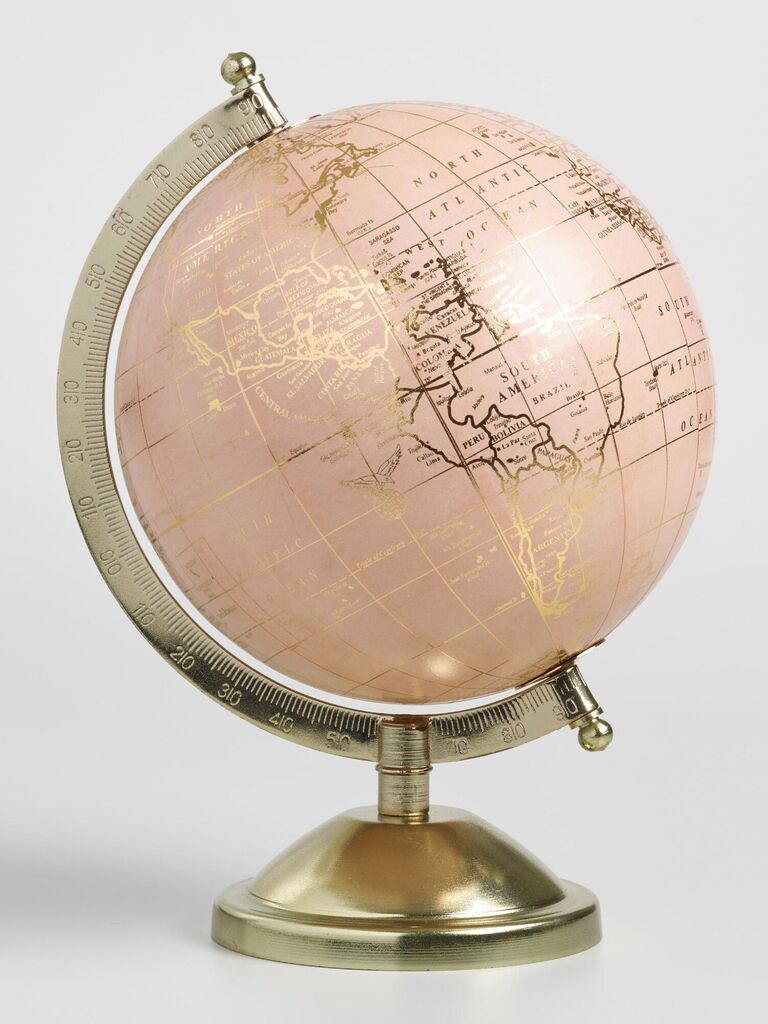 A gorgeous globe is a good gift on it's own, but it's also an excellent way to announce you're taking her on a surprise trip. When you present this cute Valentine's gift, tell her to start packing her bags for your grand adventure together. 
World Market blush and gold globe on brass stand, $20, WorldMarket.com
16. Custom Game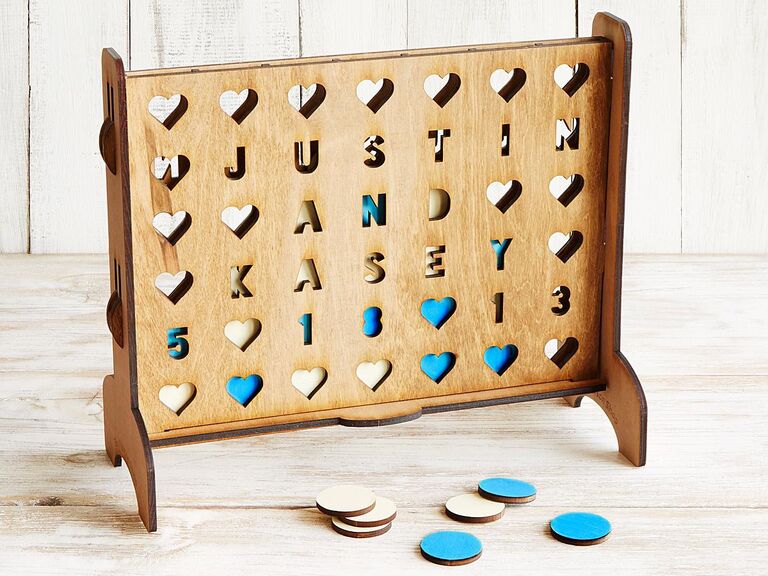 Challenge her to a date night-game night with this adorably personalized four-across game, carved with hearts and your two names. So sweet! 
Kasey and Justin Pearson personalized hearts four-across game, $85, UncommonGoods.com
17. Floral Soaps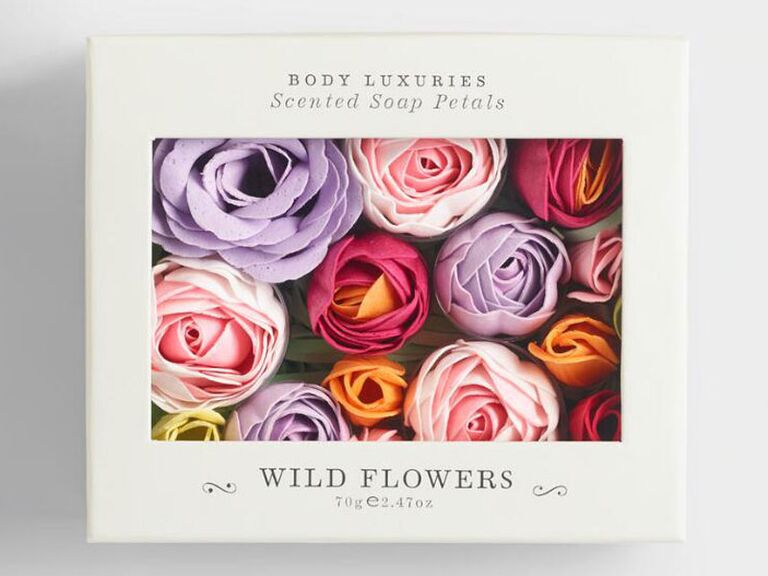 This gift (like many on our list) goes out to all the girls who love surprising home finds. She can leave these cute Valentine's Day gifts whole to serve as décor. Or, the flower-shaped presents work as actual soap: Pull off a petal for a single hand wash.
World Market Wild Flowers soap petals, $10, WorldMarket.com
18. Cocktail Kit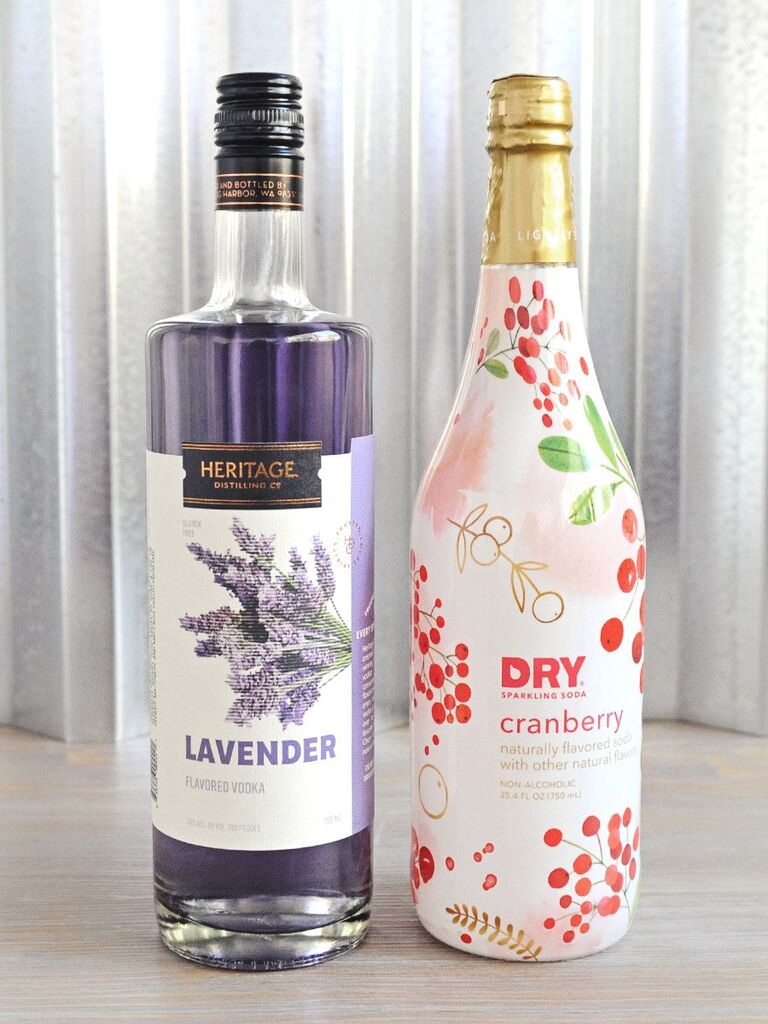 Engaged or married to a cocktail fan? Mixing up delicious drinks has never been easier thanks to this cute Valentine's Day gift for her. Bonus: She'll be obsessed with this vodka's dreamy color.
Heritage Distilling Co. Lavender Rickey gift pack, $31, HeritageDistilling.com
19. Preserved Rose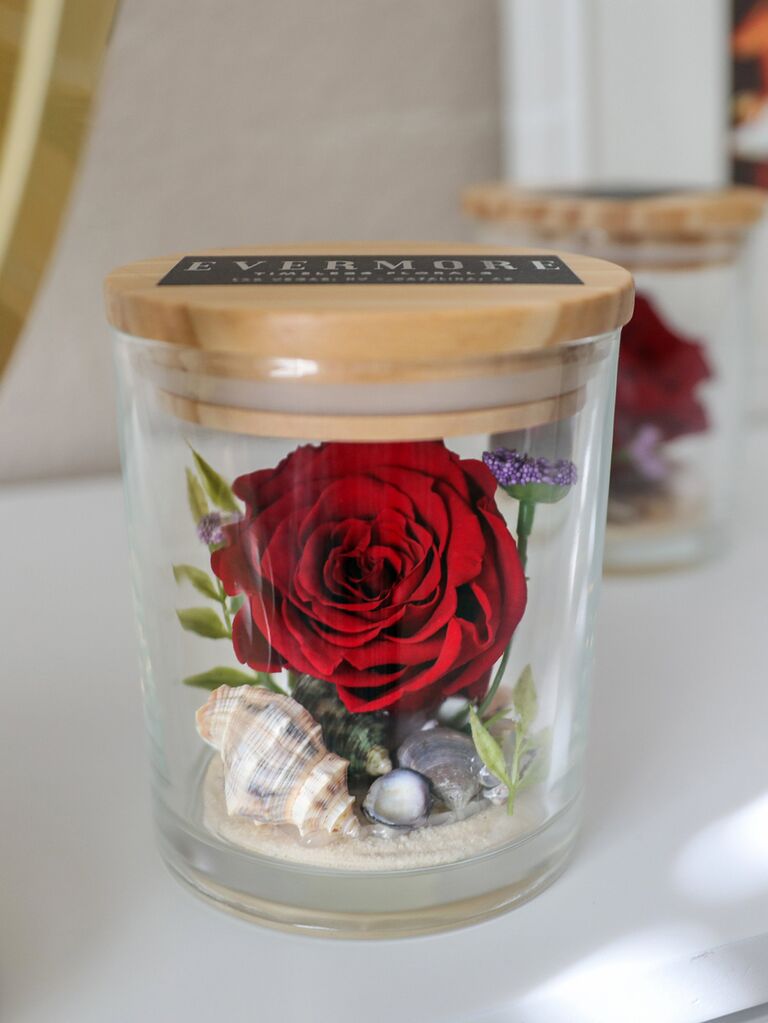 This sweet little jar contains a preserved rose that'll last years on her dresser, nightstand or desk. It'll be the perfect pick-me-up and reminder of your love whenever she glances at it. 
The Evermore Rose preserved red rose keepsake, $50, Etsy.com
20. Techy Love Note
Wondering how to best send love notes in the digital age? Buy one of these adorable boxes. Type out messages using an app then deliver them to the gadget. The heart spins whenever one arrives for her to read, making it one of the most unique cute Valentine's Day gifts for her.
Lovebox spinning heart messenger, $100, UncommonGoods.com
21. Sentimental Book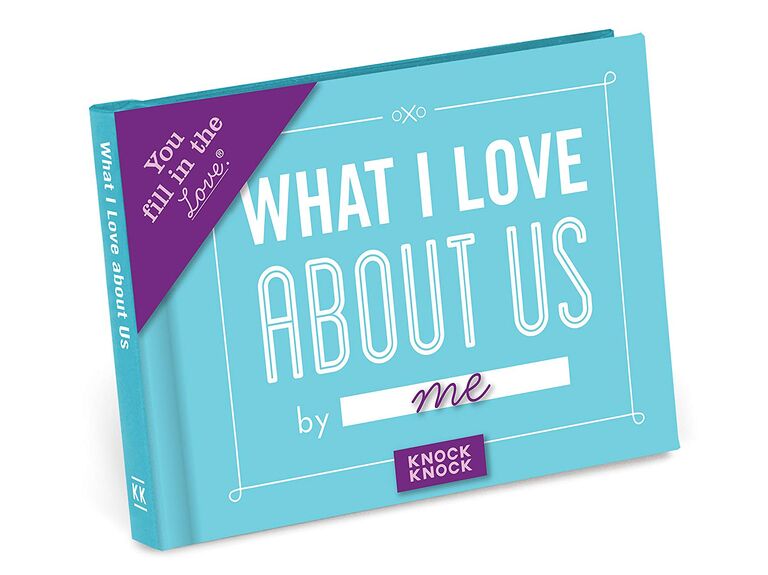 Choose from a few different prompt-filled books, including Why You're So Awesome, What I Love About You and What I Love About Us, then fill out the pages with thoughtful answers. It's a cute Valentine's Day gift for him or her that may just make them tear up when they read it. 
Knock Knock Fill in the Love book, from $11, Amazon.com