51 Cute Valentine's Day Gifts for Anyone You Love
Shop our favorite presents for fiancés and spouses alike.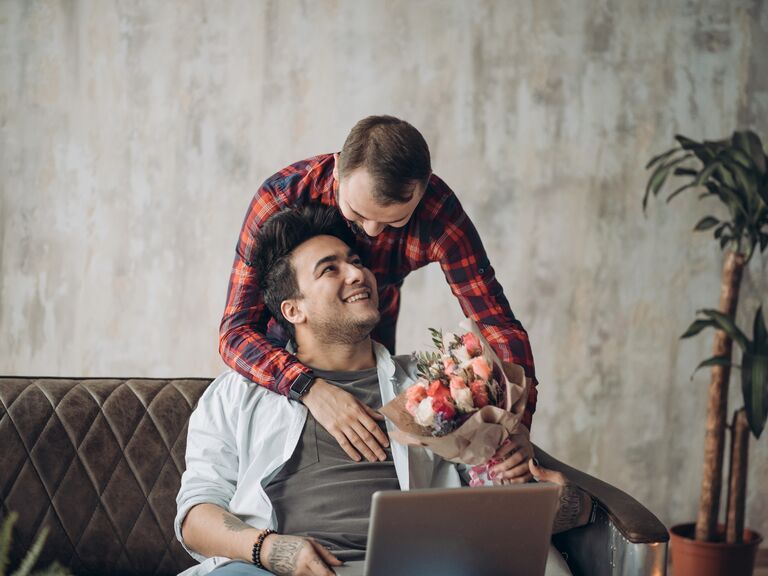 UfaBizPhoto / Shutterstock
We have included third party products to help you navigate and enjoy life's biggest moments. Purchases made through links on this page may earn us a commission.
Valentine's Day only comes around once a year, and it's the perfect opportunity to let your partner know just how much they mean to you. Picking out a cute Valentine's gift is one simple way to show your S.O. how you feel (and rekindle some of the romance that gets a little lost in everyday life). Of course, presents aren't everything. Simply taking time to be together, whether it's in person or over the phone, is already a great way of strengthening your relationship. But a gift is a welcome surprise that'll certainly show your appreciation. 
Ready to surprise your other half with a great Valentine's Day gift? Call us Cupid, because we're here to match you with the perfect present for your future or current spouse. Whether you're looking for something fun, romantic or just downright practical, we've got tons of good ideas in our Valentine's Day gift guide that'll brighten up their February 14. From classics like candy to more unique options (think: an actual star in the sky), one of these sweet picks is sure to impress.
Cute Valentine's Day Gifts for Your Other Half
Valentine's Day might look a little different this year, but that's all the more reason to surprise your partner with something special. To help you out, we've gathered the cutest Valentine's gifts you can conveniently shop online. These presents work for anyone, whether you're dating, engaged or married. 
1. Funny Coffee Mug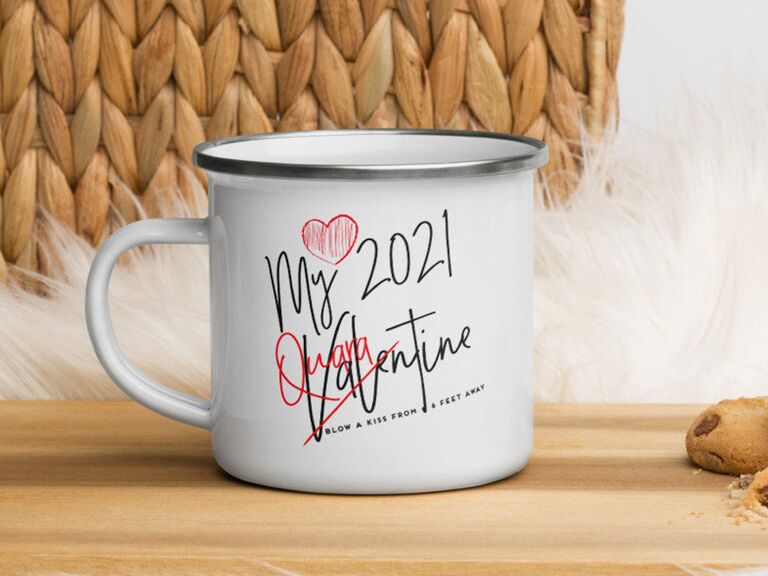 It's safe to assume couples living together may have had just a little too much quality time over the past year. But this cute coffee mug will let your S.O. know there's no one you'd rather self-isolate with. It cleverly says "My 2021 Quarantine" instead of "My 2021 Valentine." 
Lake House Design Studio Quarantine Valentine's Day mug gift, $26, Etsy.com
2. Electronic Love Note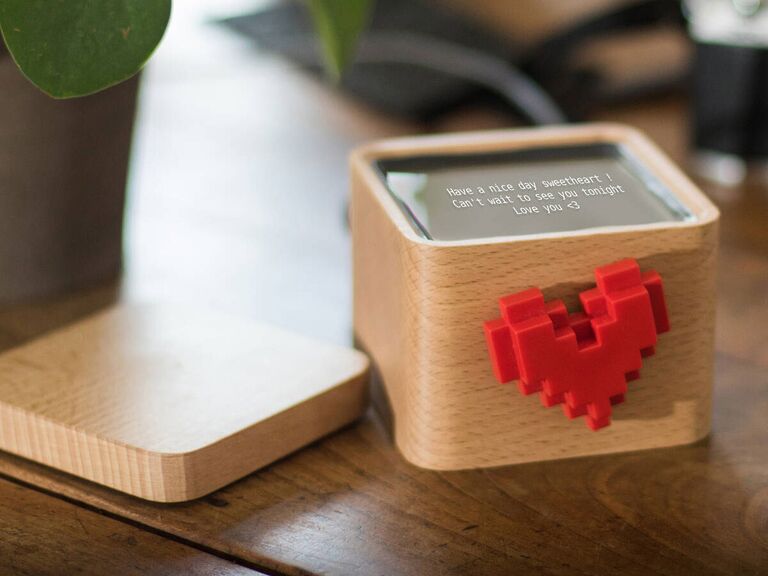 What if we told you there's a better way to send love notes? This adorable box will let you send messages to your S.O. straight from an app on your phone. The heart spins whenever a new one arrives, making this a cute Valentine's day gift for any modern romantic.

 Marie Poulle and Jean Gregoire Lovebox spinning heart messenger, from $100, UncommonGoods.com
3. Candy Delivery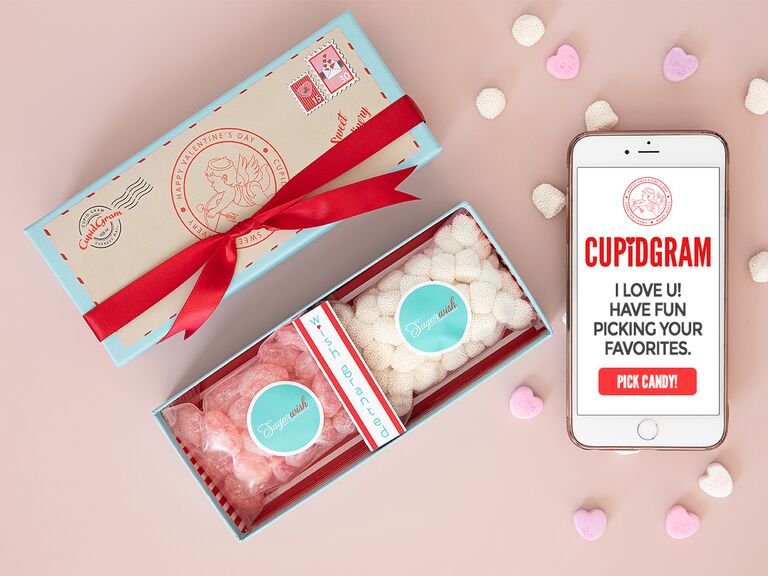 If you and your partner are separated by distance, send a candy-gram. Sugarwish will let you email, text or even Snapchat them a gift code. The lucky recipient can then choose their favorite sweets to be mailed directly to their doorstep. Now that's what we call a cute Valentine's idea! 
Sugarwish The Duet, $20, Sugarwish.com
4. Lingerie Subscription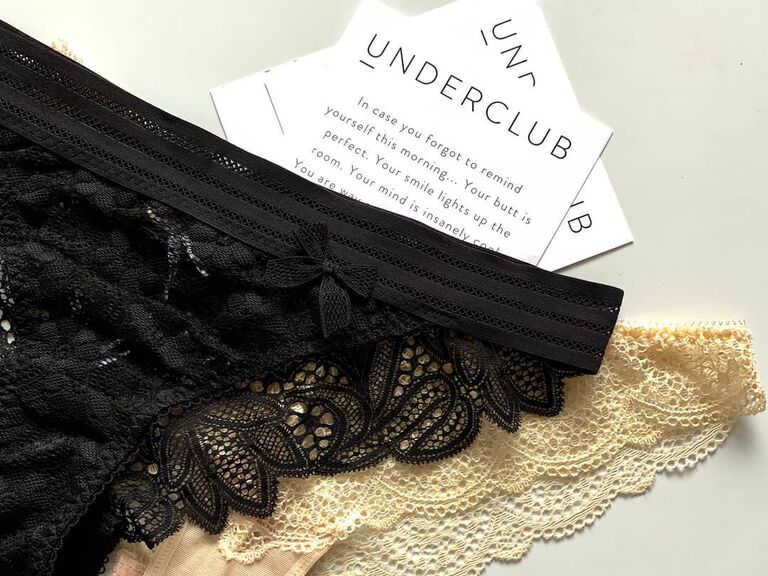 Whether you're both looking to heat things up in the bedroom or you just want to treat your other half to some comfy new underwear, Underclub's designer lingerie subscriptions are an awesome Valentine's Day gift idea. You can even pick out a few add-ons they'll receive with their first delivery.
Underclub gift subscription, from $45, Underclub.com
5. Registered Star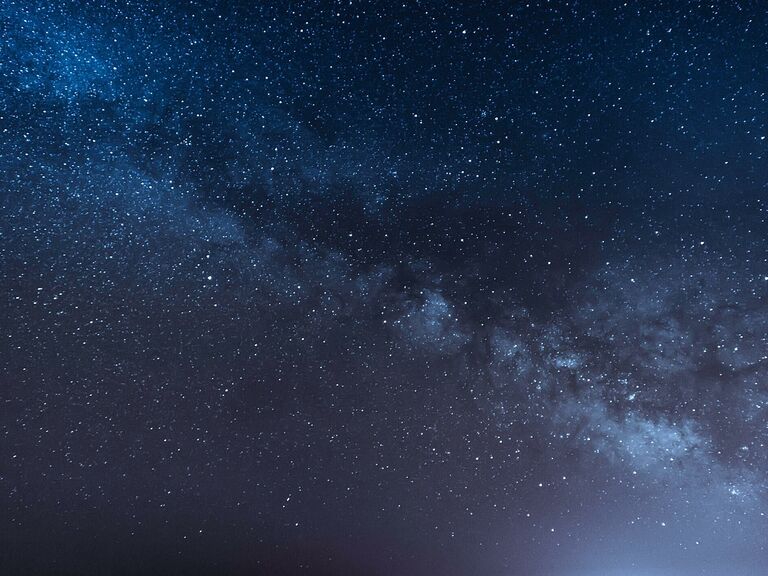 For the person who's totally into space and has enough "stuff" already, check out this cute Valentine's Day gift: a star. Pick one to register for, name it and track it. Star Registration only offers stars you can actually see, so you won't be stuck investing in a crazy-expensive telescope to show off your gift.  For an ultra-cute Valentine's idea, pack a night picnic and tell your partner to "look up."
Star Registration Buy a Star, from $40, StarRegistration.net
6. Sentimental Book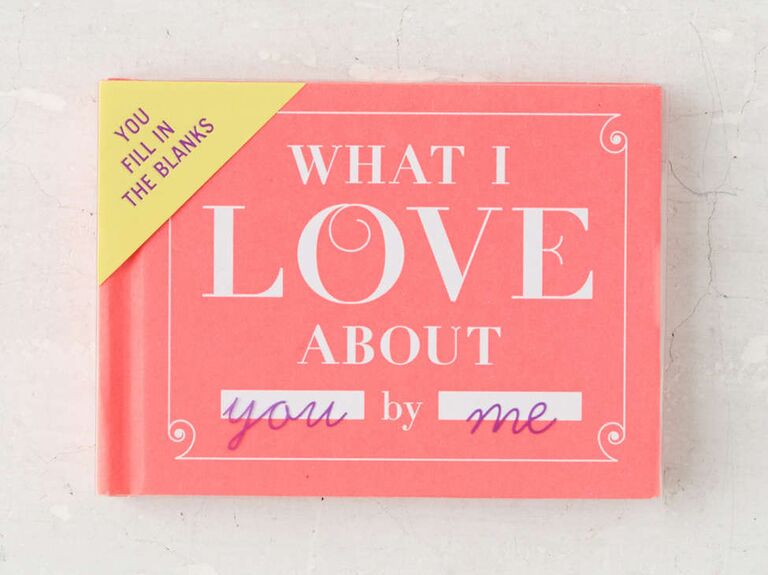 Fill out the pages of this adorable book with thoughtful answers highlighting what you love most about your other half. It's a cute Valentine's Day gift that may just make them tear up when they read it. 
Knock Knock What I Love About You fill-in-the-blank book, $10, UrbanOutfitters.com
7. Salami Bouquet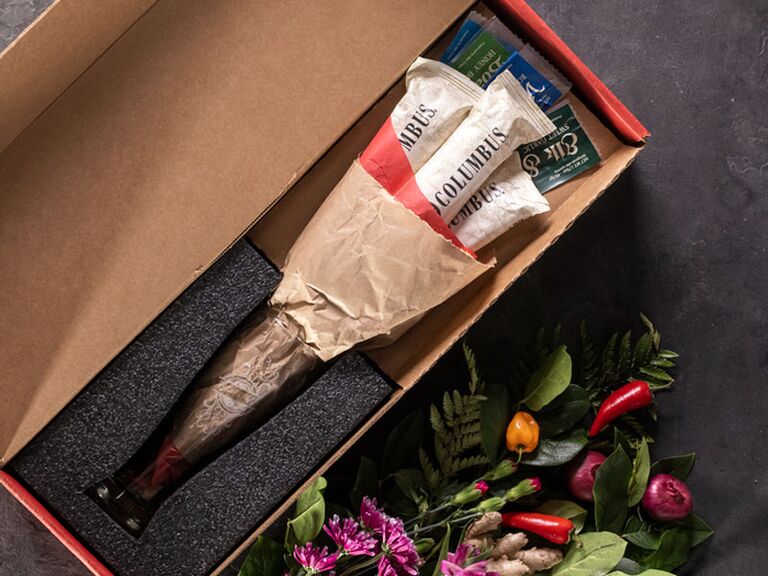 Don't get us wrong, flowers are great—but so is salami. Any meat lover will get a kick out of this one-of-a-kind bouquet, which is a playful (and tasty) twist on a classic cute Valentine's Day gift.

Man Crates exotic meats grand bouquet, $80, ManCrates.com
8. Romantic Earrings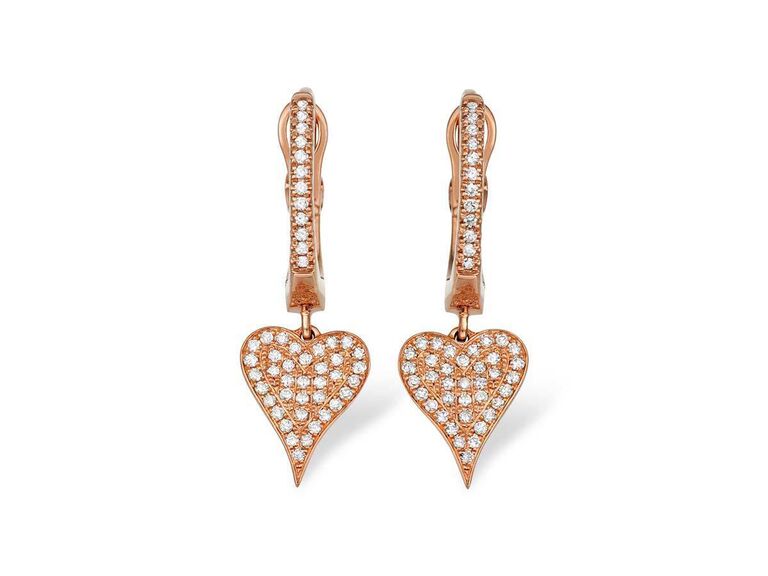 If your better half has been hinting at some sparkly new jewelry this year, check out these striking heart-shaped earrings from Serena Williams' From the Heart collection. Dazzling pavé diamonds and warm rose gold give off major Valentine's vibes. 
Serena Williams Jewelry heart drop earrings, $550, SerenaWilliamsJewelry.com
9. Bottle Opener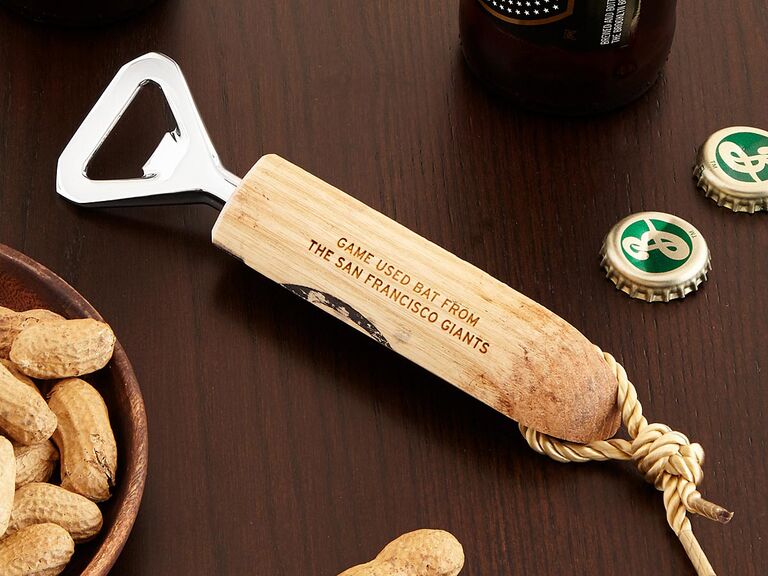 If your partner is a big sports fan, we bet they can't get enough of sports memorabilia. These crafty bottle openers—made from game-used baseball bats—are full of team spirit. (Note: There are also options for hockey lovers.)
Ward Wallau MLB game-used baseball bat bottle opener, from $115, UncommonGoods.com
10. Personal Fire Pit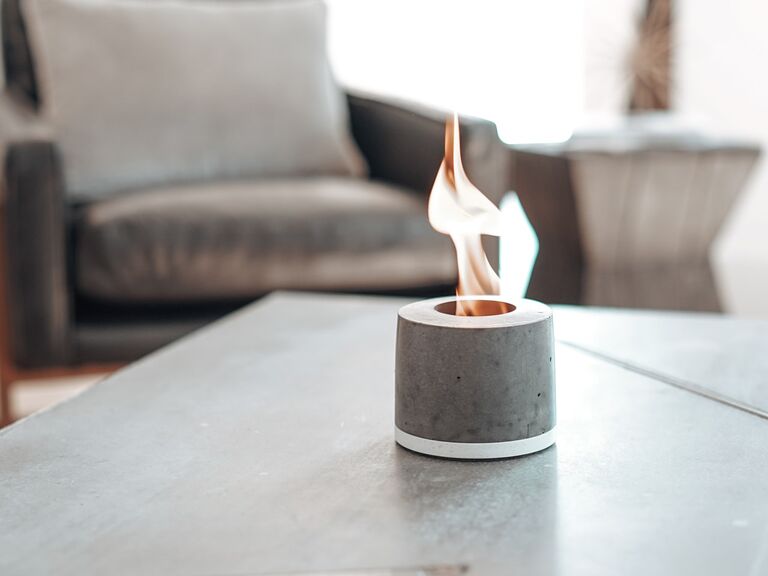 This adorable mini fire pit will bring nights in together to a whole new level. We see lots of toasted marshmallows in your future when you surprise them with this cute Valentine's gift.
FLIKR Fire personal concrete fireplace, $95, Huckberry.com 
11. Custom Game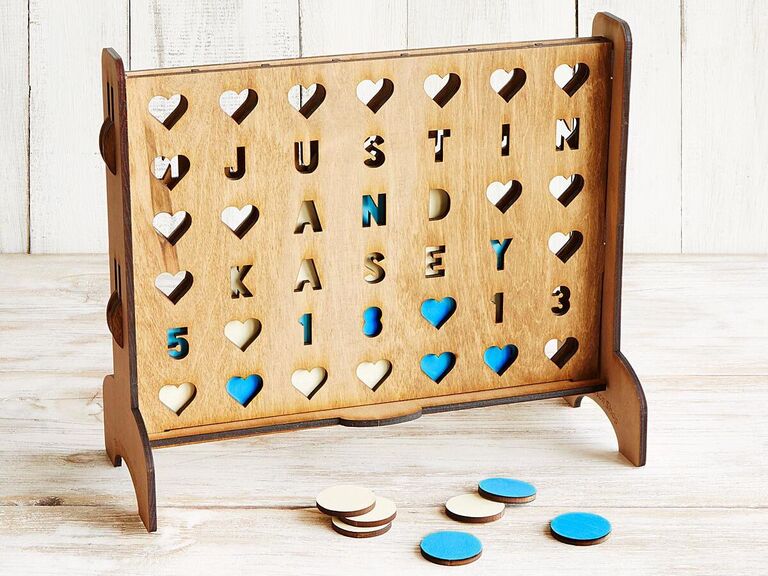 Challenge them to a game night with this adorably personalized four-across game, carved with hearts and both of your names. So sweet! 
Kasey and Justin Pearson personalized hearts four-across game, $85, UncommonGoods.com
12. Virtual Cooking Classes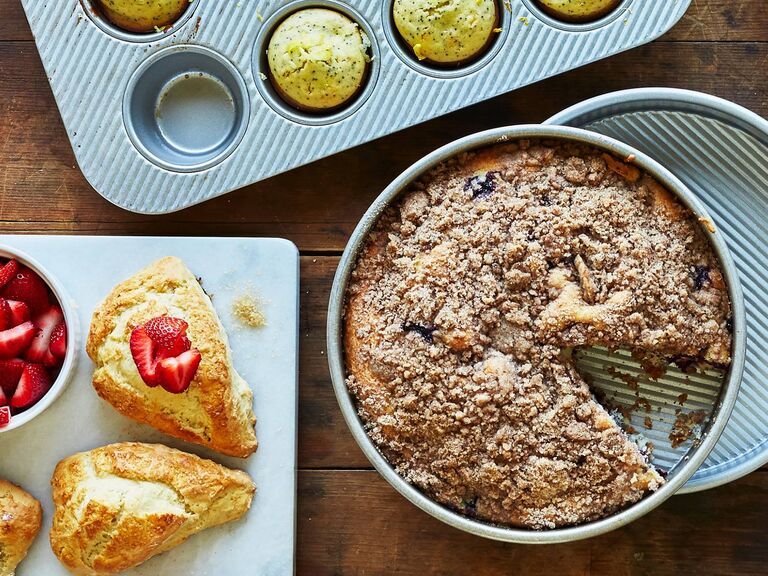 Looking for cute Valentine's gift ideas that double as a unique experience? Give the aspiring home chef a chance to practice their skills with an online cooking lesson. Make it into a fun date night by promising to cook with them—it's a win-win for both of you.
Sur la Table online cooking classes, from $29, SurlaTable.com
13. Unique Dish Towels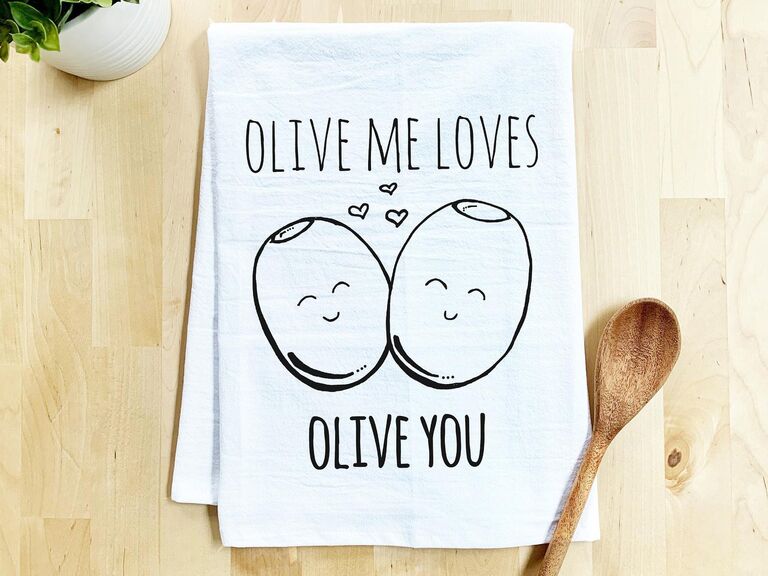 Cute Valentine's Day presents can be practical too. This punny kitchen towel reads "olive me loves olive you" alongside a sweet illustration of two adorable olives. Washing up together just got a whole lot more romantic.
Moonlight Makers Olive Me Loves Olive You flour sack dish towel, from $15, Etsy.com
14. Wine Delivery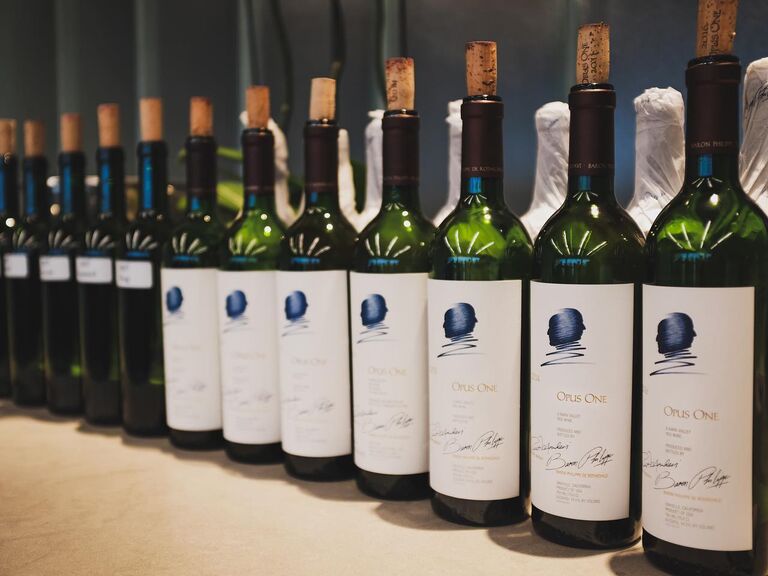 If you're spending February 14 apart this year, what's cuter than a surprise delivery of something they love? Wine Access offers a variety of wines for every taste and budget, delivered right to their door. (Psst, if your S.O. is a collector or connoisseur, why not sign them up for a Wine Club subscription?)
Wine Access wine delivery, prices vary, WineAccess.com  
15. Creative Wallet
If your other half hates fumbling for cash, they'll obsess over this smart wallet. With the press of a button, their cards pop out for easy access. Better yet, you can pair the accessory with a tracking device. That way, they never have to worry about misplacing their precious moola. 
Ekster Parliament wallet, $89 alone or $138 with a tracker, Ekster.com 
16. CBD Gummies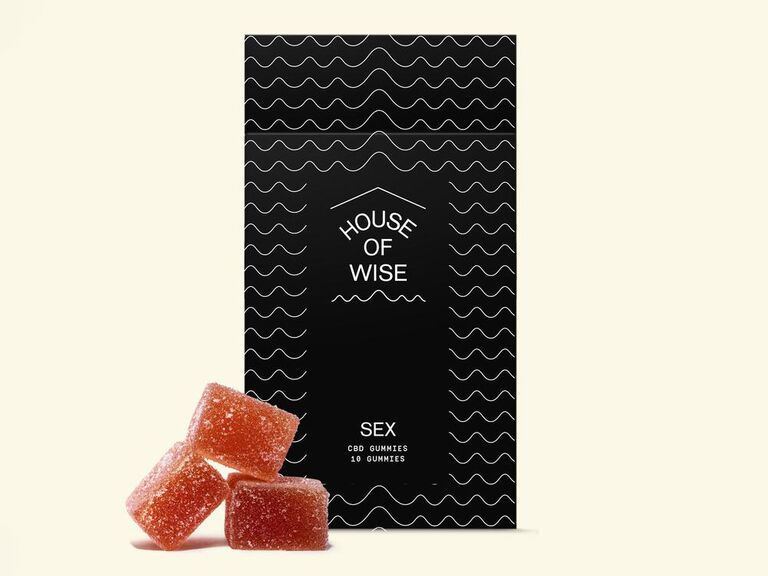 Swap out the traditional Valentine's box of chocolates for a pack of these desire-promoting gummies from House of Wise. This innovative woman-owned business helps other women to take control of their sleep, stress levels, and sex lives with edible CBD products. Designed to increase energy, concentration and sexual desire, they're the perfect gift to get you or your other half in the mood.
House of Wise Sex Gummies, $90, HouseofWise.co  
17. New Pajamas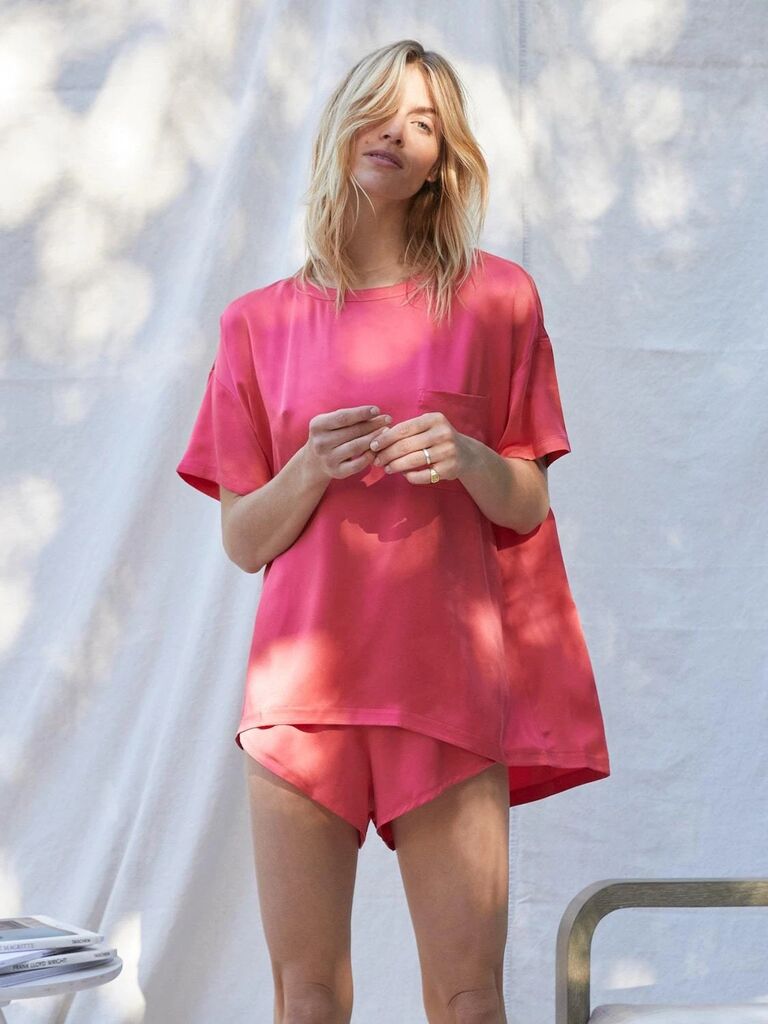 If she's always stealing your baggy tees, this is the Valentine's Day gift for her. Lunya's heavenly washable silk pajamas are just as comfortable and a lot more luxurious.
Lunya washable silk tee set, $198, Lunya.co
18. Gourmet Hot Sauce
Gourmet food is always a great Valentine's Day gift. Spice up their life by giving your sweetheart a bottle of TRUFF's finest truffle-infused hot sauce. The icing on the cake? A portion of the sale will go to TRUFF's charity partner, (RED).
TRUFF HOTTER Sauce, $18, TRUFF.com 
19. Floral Soaps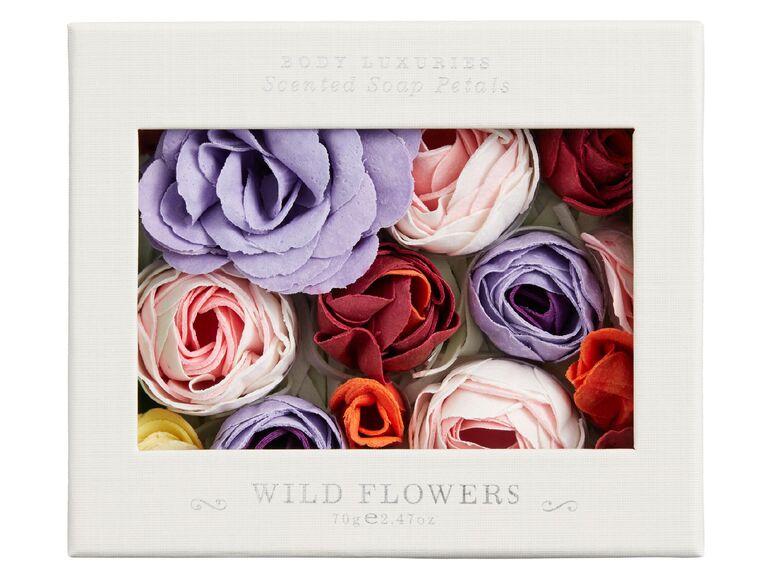 How adorable are these colorful scented soaps in the shape of rosebuds? Your partner can leave them out as decor, but rest assured that they're fully functional—just pull off a few petals as needed.
World Market Wild Flowers soap petals, $10, WorldMarket.com
20. Romantic Cookies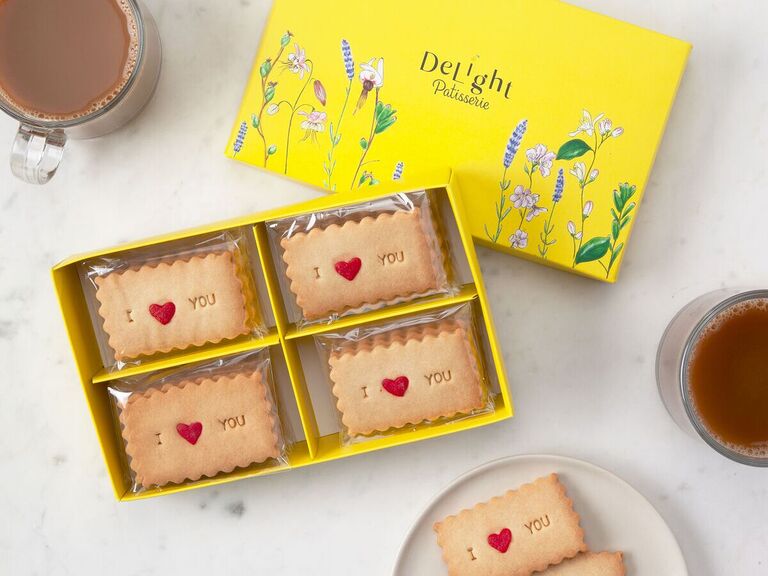 Satisfy their sweet tooth with this way-cooler version of conversation hearts: delicious shortbread cookies that say "I love you" or "love bug." They'll make a cute Valentine's Day gift for him or her, especially alongside a funny Valentine's card. 
Celine Zhou love message shortbread cookies, from $36, UncommonGoods.com
21. Bridgerton Mug

If your partner is half as obsessed with the Duke and Duchess of Hastings as we are, you can stop scrolling. This Bridgerton-themed mug will let them know just how much you "burn for them" every time they take a sip. 
Wild Moon Lady Whistledown's Society Papers mug, $23, Etsy.com
22. Diamond Ring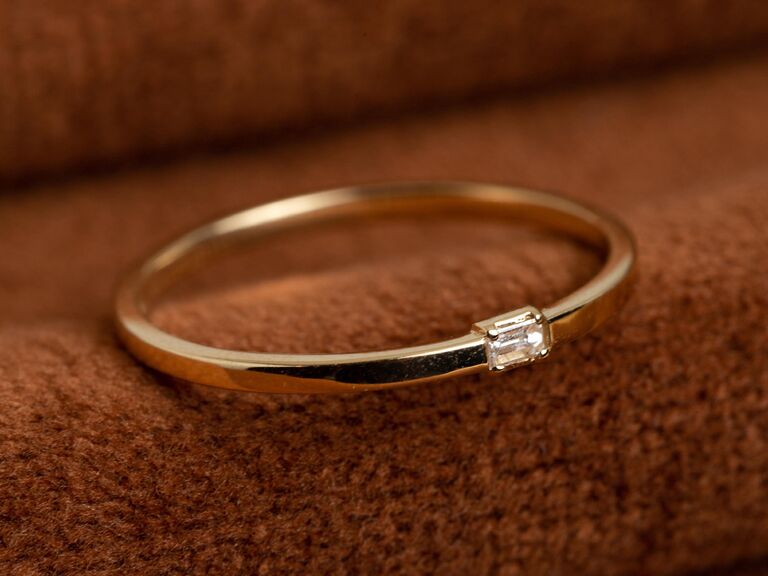 This romantic ring features a single baguette diamond set on a plain yellow, white or rose gold band. It's a minimalist piece of jewelry that'll subtly complement their engagement or wedding ring. Plus, Aurate's made-to-order accessories are sustainably produced in the US, meaning they won't weigh heavily on your conscience or your wallet. It's one of our top places to shop for Valentine's gifts!
Aurate solo baguette diamond ring, $400, AurateNewYork.com
23. Dried Bouquet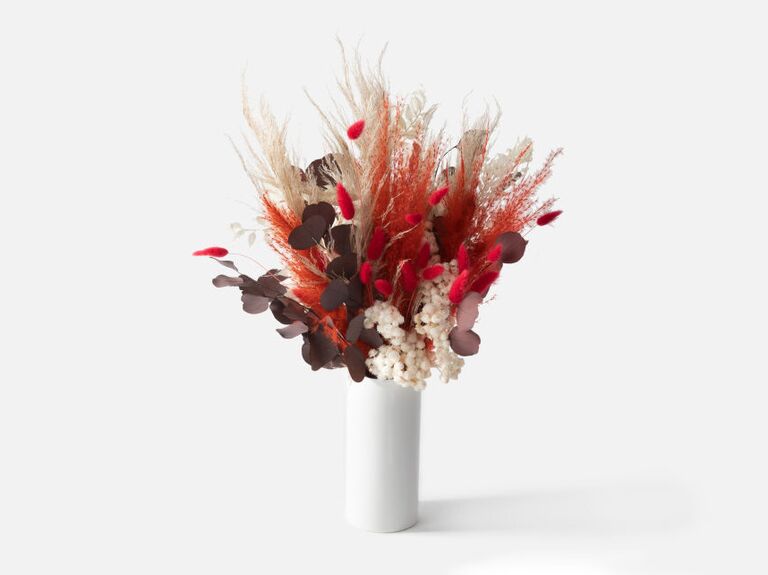 We love taking inspiration from classic Valentine's Day gifts to come up with fresh new ideas. A trendy dried bouquet will look stunning on your partner's desk, kitchen table or wherever—and just like your love, these flowers will never die. Still not sold? You can nab a free UrbanStems candle with your purchase until February 21 using the code XOXOTheKnot.
UrbanStems The Suri bouquet with vase, $115, UrbanStems.com
24. Heart Art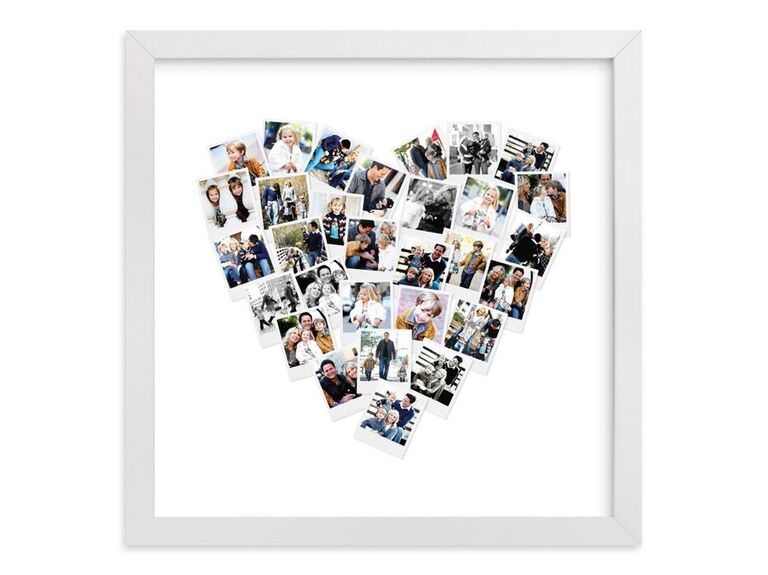 Fill this heart with 30 of your favorite memories for a picture-perfect present. You can even have your art pre-framed for a cute Valentine's gift that's ready to display. 
Minted Heart Snapshot Mix photo art, from $48 with a frame, Minted.com
25. Celebrity Cameo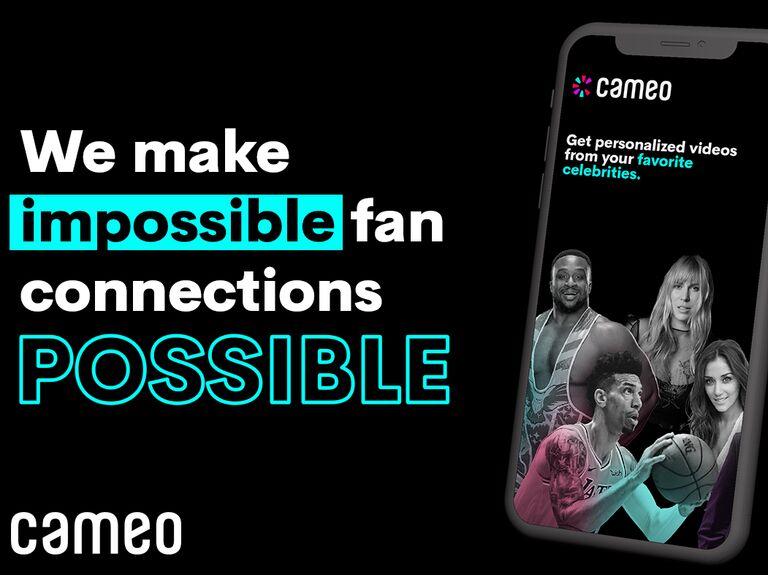 Who wouldn't love to hear from their fave actor, reality star or athlete on the most romantic day of the year? Spoil your S.O. with a cool and creative Valentine's Day gift from Cameo.
Cameo celebrity video message, rates vary, Cameo.com
26. Bomber Jacket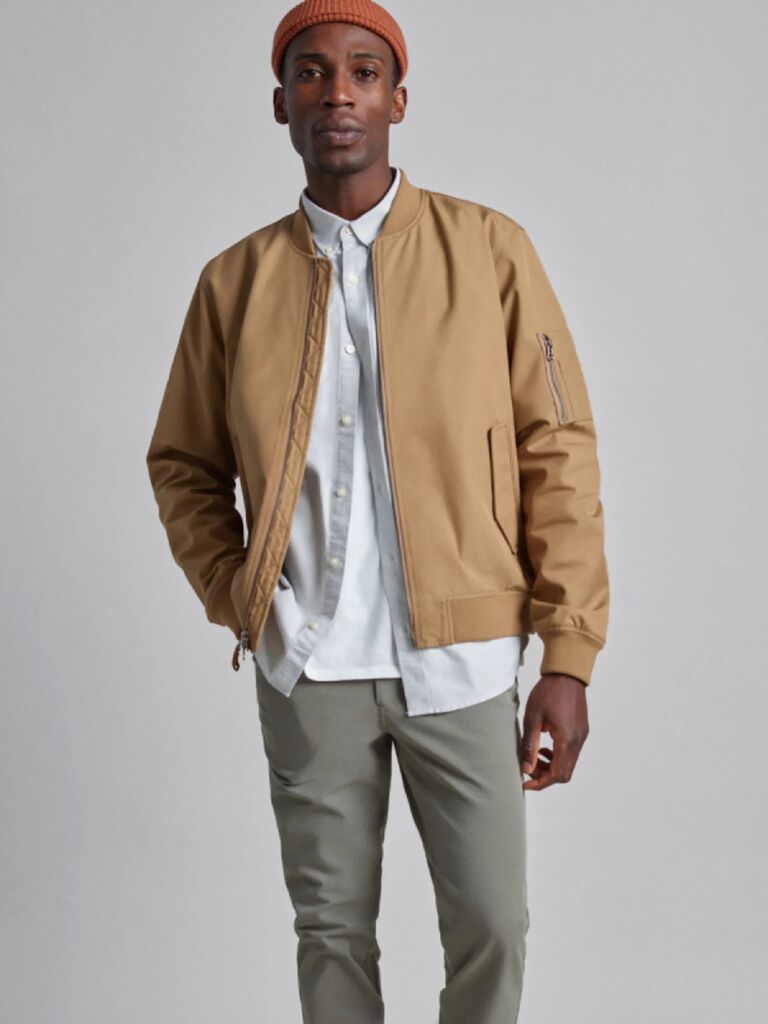 Who says clothes can't be cute Valentine's gifts? Put the finishing touch on your partner's date night outfit with this dapper pilot-inspired jacket. (Bonus: It's made from recycled fabric—yay for sustainability.) 
Everlane The Bomber jacket, $88, Everlane.com
27. Luxury Lingerie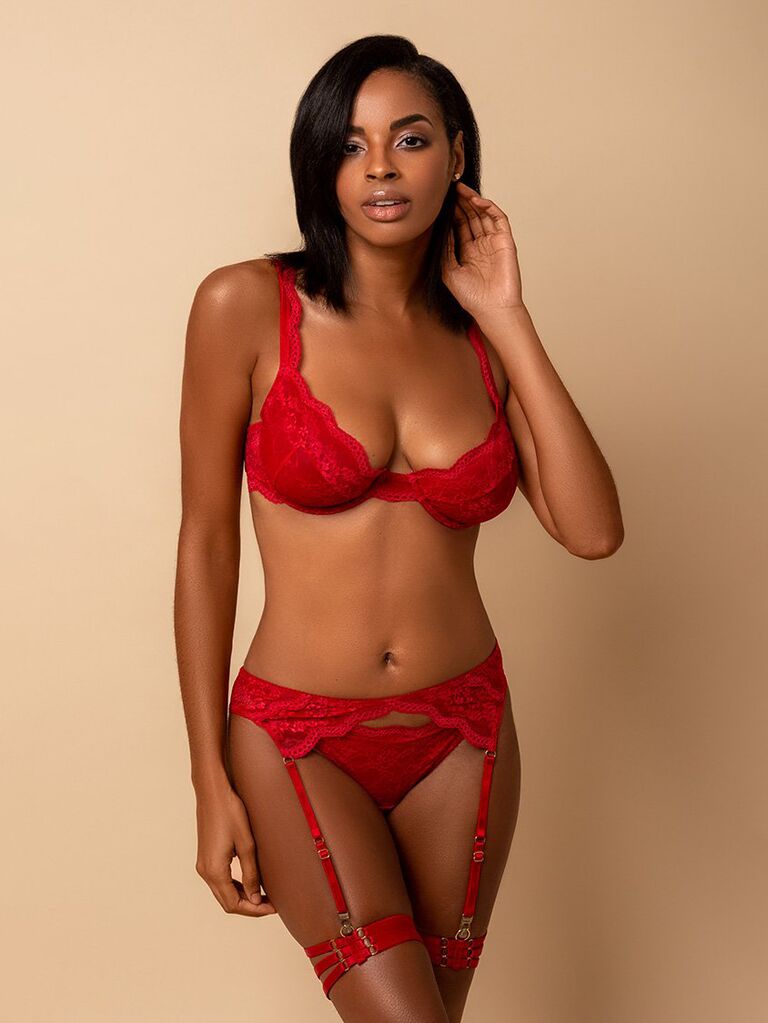 If you're looking for an excuse to buy your S.O. some sexy new lingerie, now's your chance. This lacy set is a red-hot Valentine's Day gift they'll want to try on right away.
Anya Lust Juliette lace lingerie set, $230, AnyaLust.com
28. Custom Collar Stays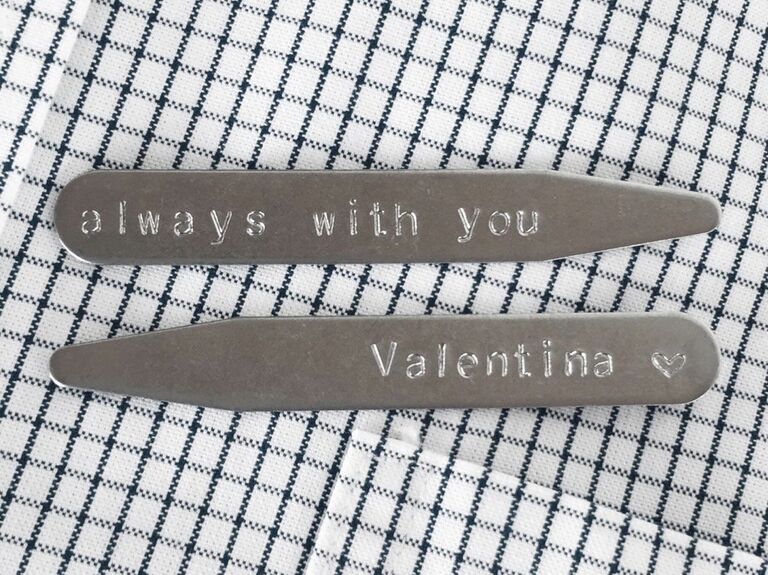 Now they can always keep you close, even if you two are the only ones who know it. Personalize these unique Valentine's Day gifts with your name, your anniversary date, an inside joke or anything else that's meaningful. It'll be your little secret.
Knox Thomas Designs personalized collar stays, from $14, Etsy.com
29. Cozy Cardigan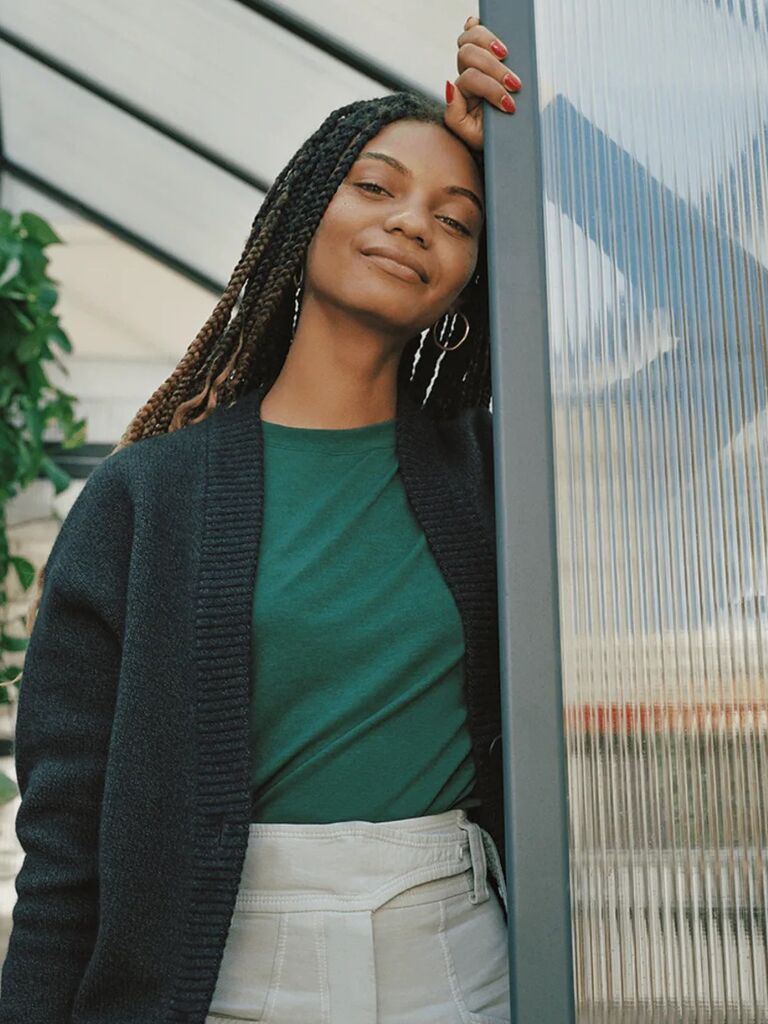 Taylor Swift made cardigans cool again, and we're 100% here for it. Your S.O. will be too when you present this cute and cozy Valentine's gift.
Allbirds women's wool cardi, $145, Allbirds.com
30. Bourbon Maple Syrup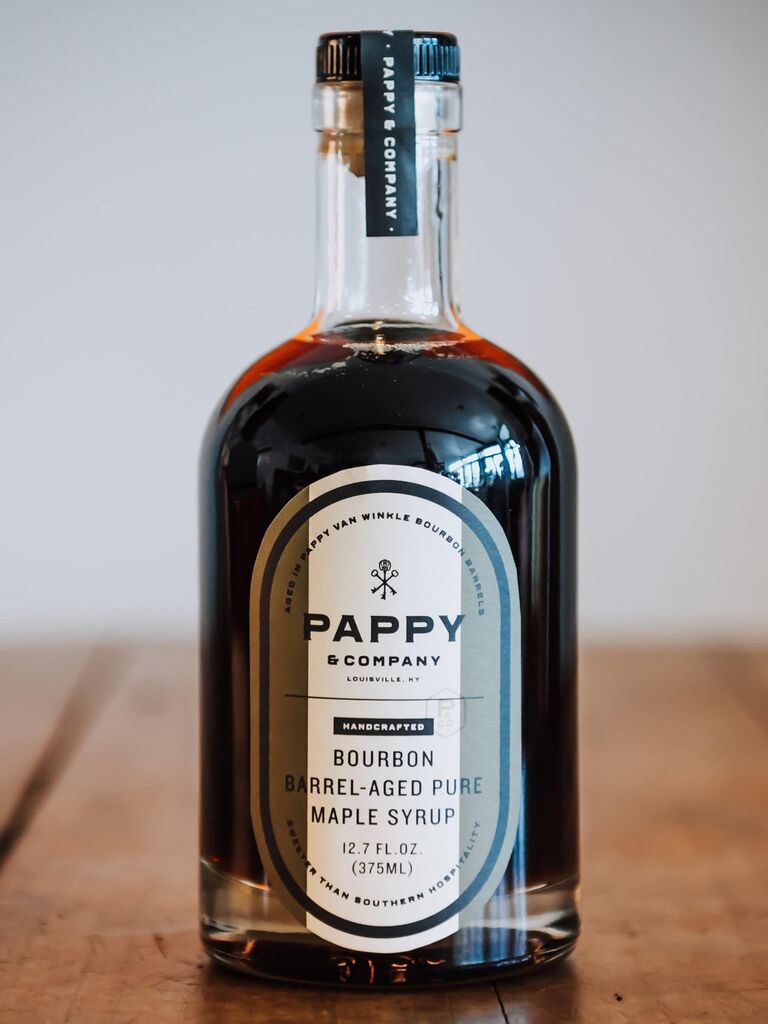 Searching for a Valentine's Day gift for your boo that's on the sweeter side? This bourbon-infused maple syrup will be a classy addition to their morning waffles. 
Pappy & Company Pappy Van Winkle bourbon barrel-aged pure maple syrup, $38, PappyCo.com 
31. Interest Box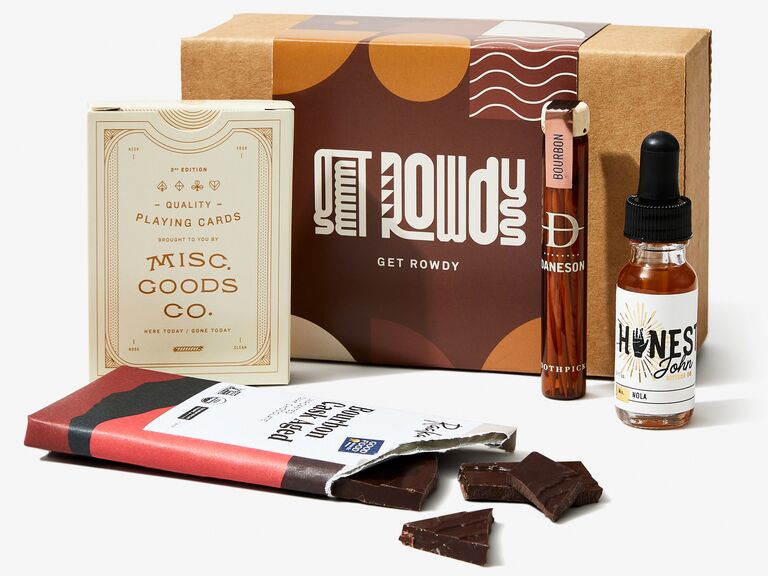 Honor your love's favorite things—like whiskey—with a curated gift box filled with thoughtful Valentine's presents. This themed assortment includes bourbon-flavored toothpicks, cocktail bitters, whiskey-infused chocolate and stylish playing cards for an elegant night in.
Bespoke Post Get Rowdy gift box, $35, BespokePost.com
32. Silk Slip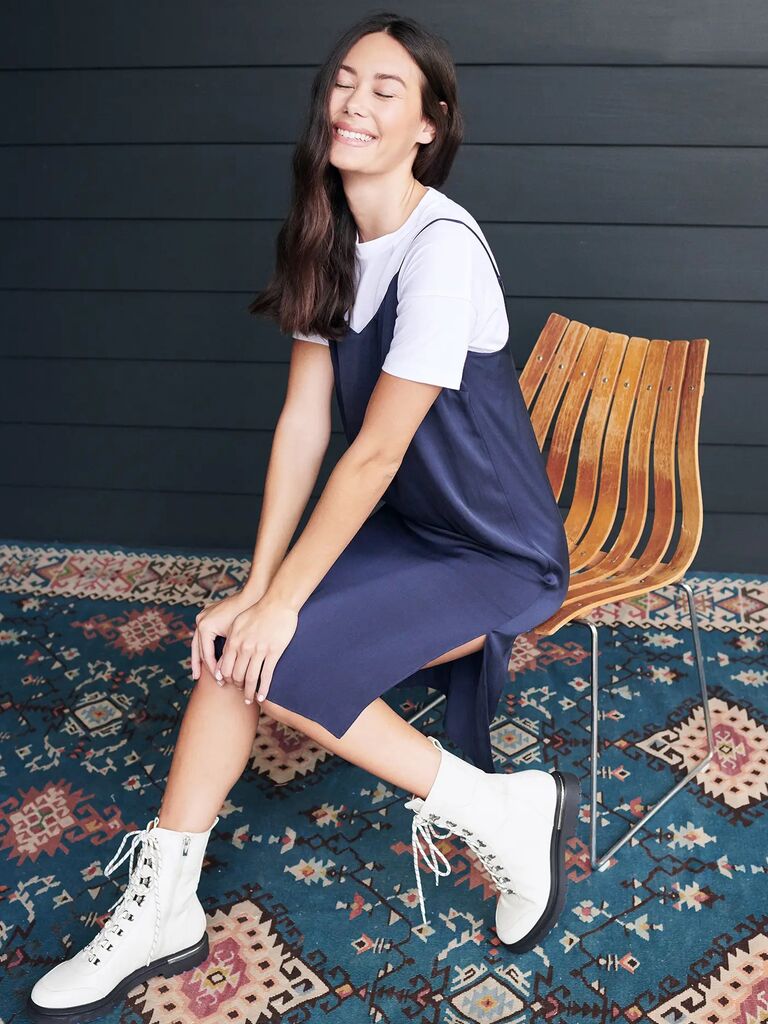 This chic silk dress is a cute Valentine's Day gift for her that she'll instantly fall in love with. It's stylish, machine washable and won't break the bank.
Quince washable stretch silk slip dress, $75, OneQuince.com 
33. Date Bucket List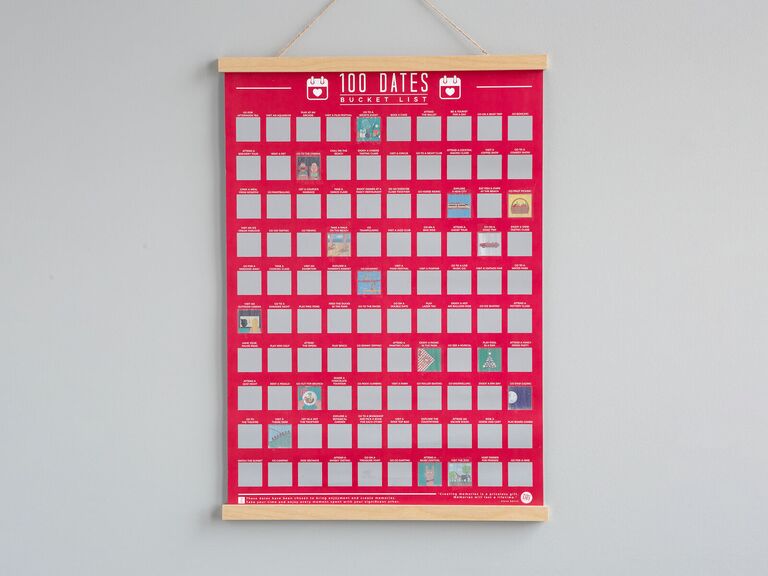 New date night ideas are always welcome. This genius scratch-off chart is a unique Valentine's Day gift that'll give you plenty of fun activities to look forward to with your favorite person.
Uncommon Goods 100 Dates scratch off poster, $15, UncommonGoods.com
34. Upgraded Loungewear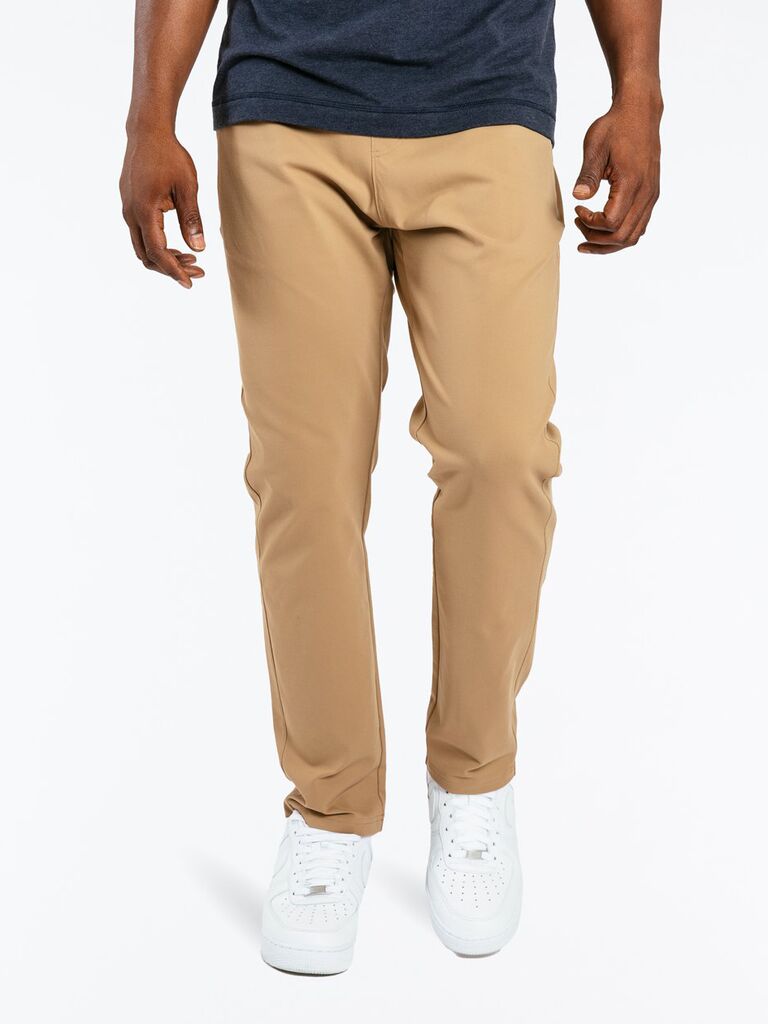 These best-selling pants look as put together as a pair of jeans but feel as comfortable as sweatpants. They'll instantly become your partner's go-to for everything from running errands to casual date nights.
Public Rec All Day Every Day pant, $98, PublicRec.com
35. Wishbone Necklace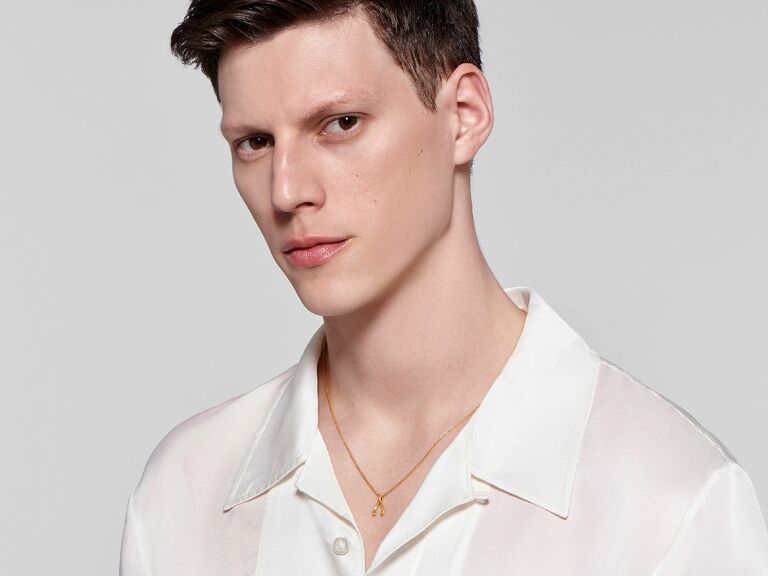 Jewelry can be a nice Valentine's Day gift for him too. All your wishes came true when you finally found your other half, and this cute wishbone pendant is the perfect symbol of that. 
Auvere wishbone pendant & chain, from $850, Auvere.com
36. Romantic Print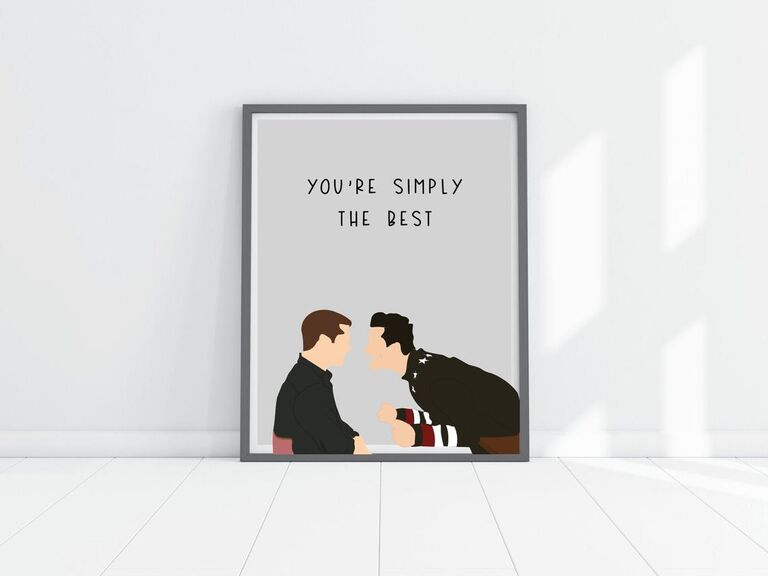 Great Valentine's Day gifts are inspired by your S.O.'s interests. We're obsessed with this printed illustration of one of our favorite TV couples, and if your partner rooted for David and Patrick from day one, this Schitt's Creek-inspired art will mean a lot to them too.
First + Paper Schitt's Creek Simply the Best quote print, from $10, Etsy.com
37. Single Rose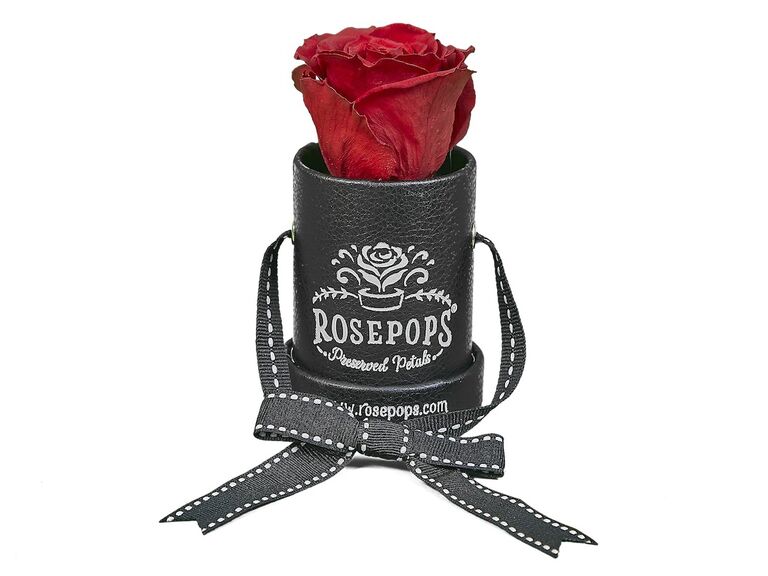 Rosepops makes gifting preserved flowers easy (and a lot more affordable than you'd think). This single rose is one of the most romantic V-Day gifts on our list.
Rosepops The One Up, $32, Rosepops.com
38. Craft Cocktails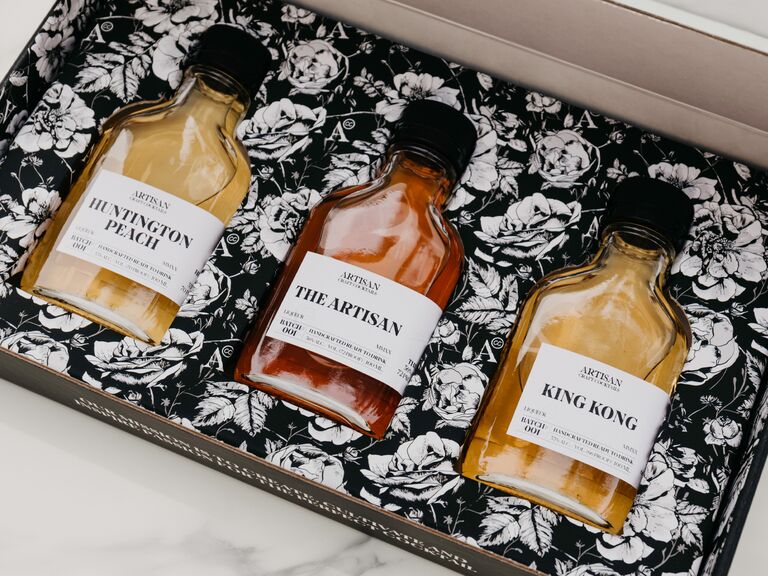 A delicious selection of dessert cocktails is a unique Valentine's gift, not to mention the perfect accompaniment to your next romantic night in. These bottled beverages are irresistibly sweet, just like your sweetie.
Artisan Craft Cocktails Trio gift box, $50, ArtisanCraftCocktails.com
39. Flower Delivery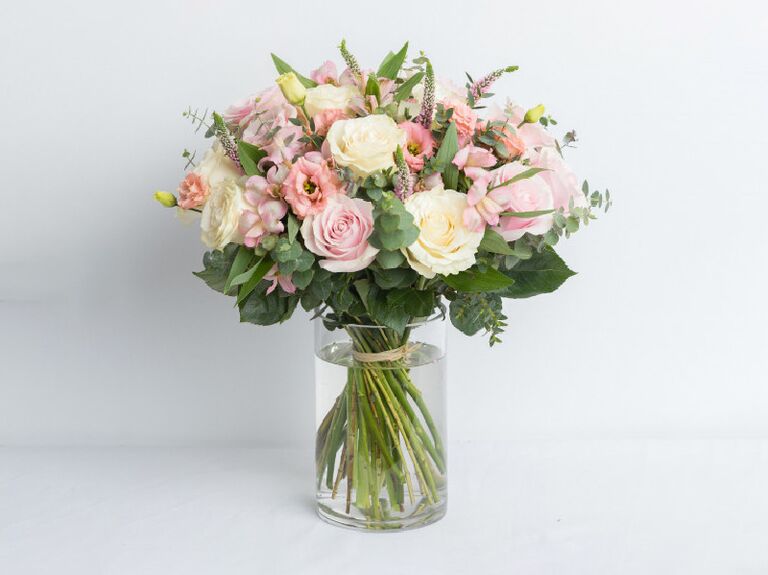 Of course, you can always go the traditional cute Valentine's Day gift route: fresh blooms. Nowadays, you can even order flowers online to be delivered the next day.
Ode à la Rose Felice bouquet, from $80, OdealaRose.com
40. Cuddly Robe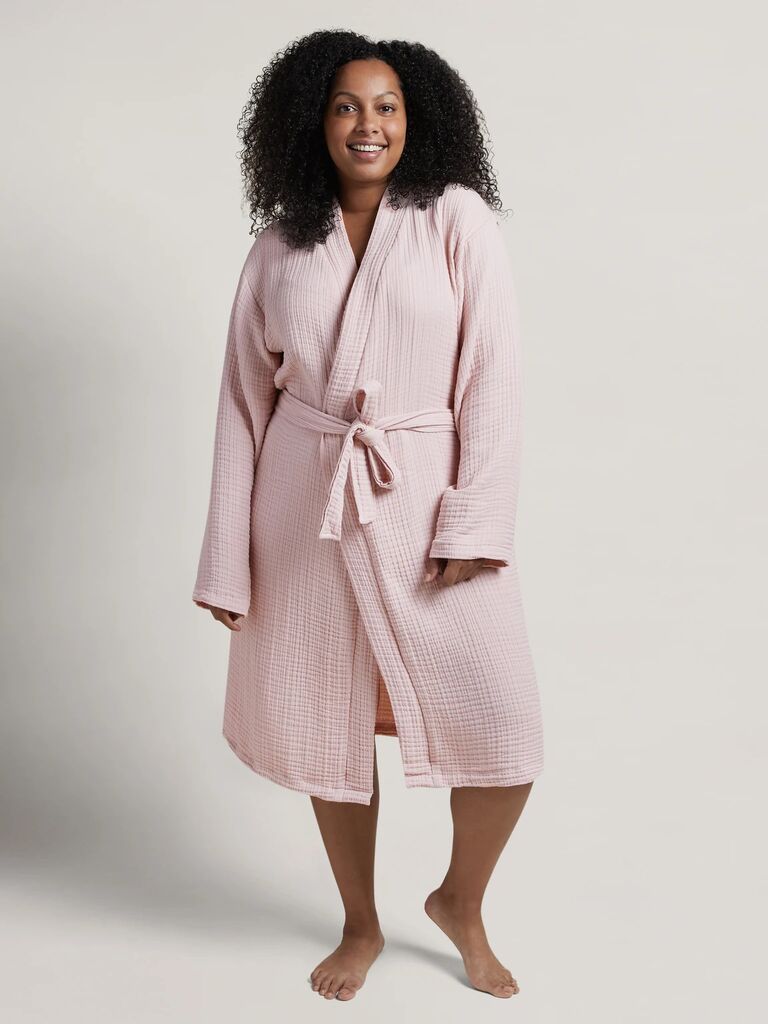 Gift your S.O. a spa-quality robe with the promise to pamper them for a lifetime. This cover-up is wonderfully soft, absorbent and well-made. It's the kind of at-home luxury you both deserve!
Parachute Cloud cotton robe, $99, ParachuteHome.com
41. Scented Candle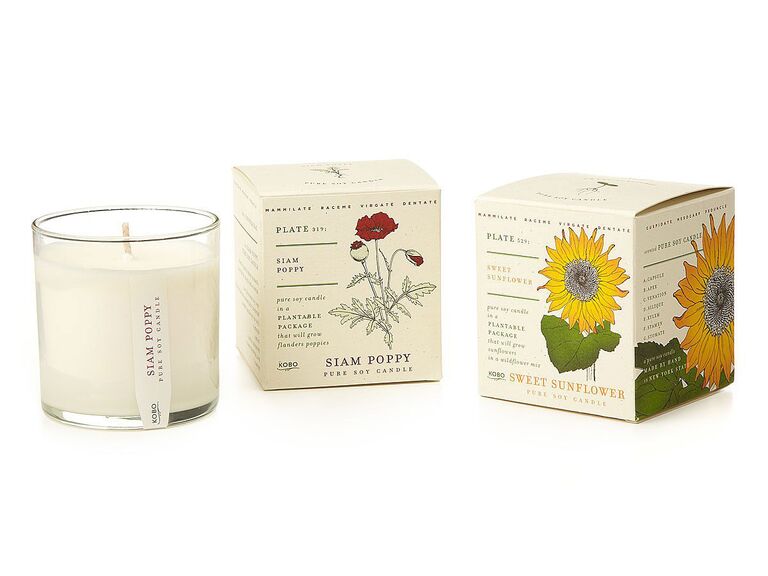 Candles are another cute Valentine's Day gift idea you can't go wrong with. Take it up a notch this February 14 with a botanical one that comes with plantable seed-infused packaging. How fun! 
Uncommon Goods plant the packaging floral candle, $28, UncommonGoods.com   
42. Comfy Sneakers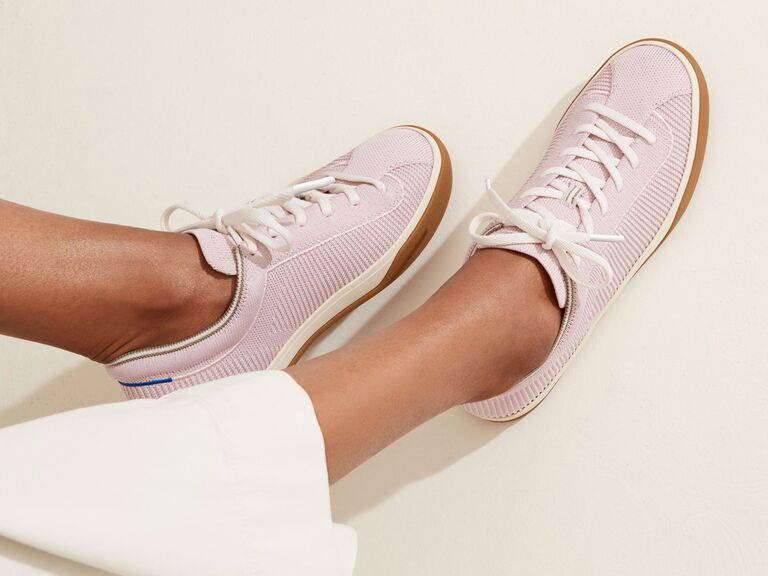 Who said style and sustainability can't go hand in hand? If protecting the planet is your partner's number one priority, they'll love these cute shoes made from recycled plastic and plant-based materials. The best part? They're super comfy to boot.

Rothy's The Lace Up sneaker, $165, Rothys.com  
43. Weighted Blanket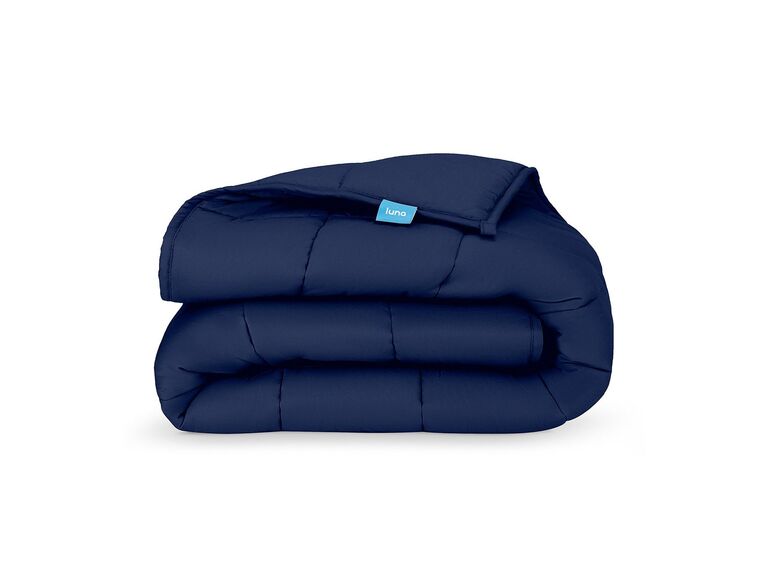 A weighted blanket is a cozy gift you'd both appreciate. On the flipside, if you can't be together in person right now, it'll offer your S.O. some extra warmth and comfort. How's that for a thoughtful and cute Valentine's Day gift idea?

Luna cotton weighted blanket, from $70, LunaBlanket.com
44. Fancy Decanter

When it comes to cool Valentine's Day gifts, this decanter set is a winner. The glasses spin like tops to aerate wine and spirits, and they come with an engravable display stand made from reclaimed barn wood. Consider all your partner's friends officially jealous. (And just think how fancy your next wine night will be together!)
Patrick Fitzpatrick spinning spirits set, from $220, UncommonGoods.com 
45. Office Art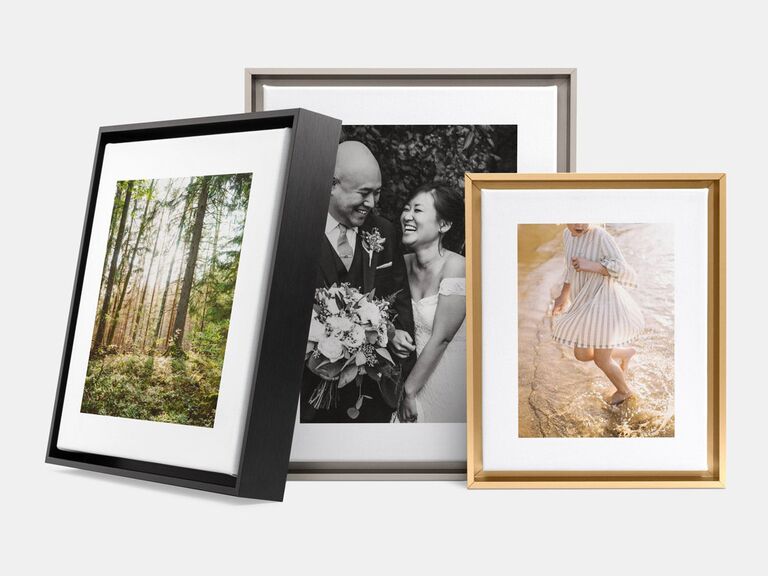 What's one of the last things they'd buy for themselves? Probably a nicely framed photo on canvas. A sleek metallic frame like silver or brass would look great in any space. And your job is super easy—just select the photo of your choice from whatever device you're using. This is one cute Valentine's gift that they'll treasure forever.
Artifact Uprising framed canvas print, from $119, ArtifactUprising.com
46. Wooden Phone Dock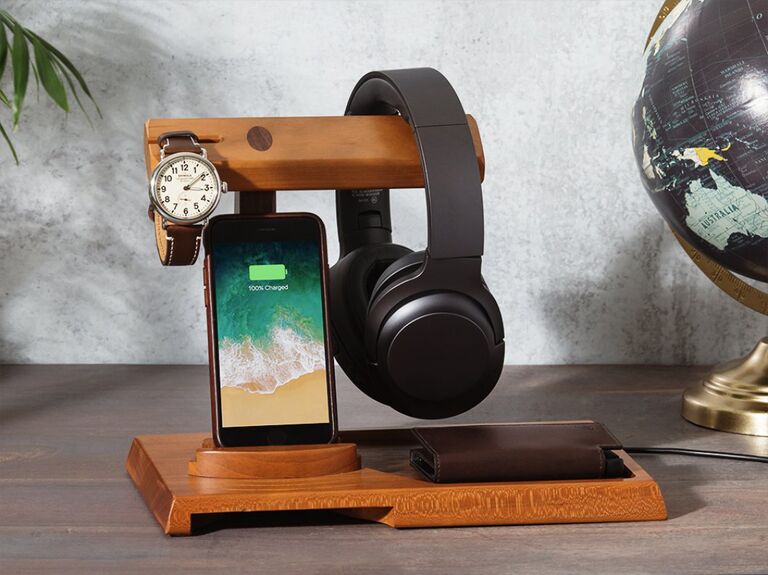 This incredible storage station has room for everything, from their wallet all the way down to their pens. Plus, it's designed to keep the phone standing upright—perfect for when they're FaceTiming you.
Thomas Work wooden valet charging station, $78, TheGrommet.com
47. Engraved Necklace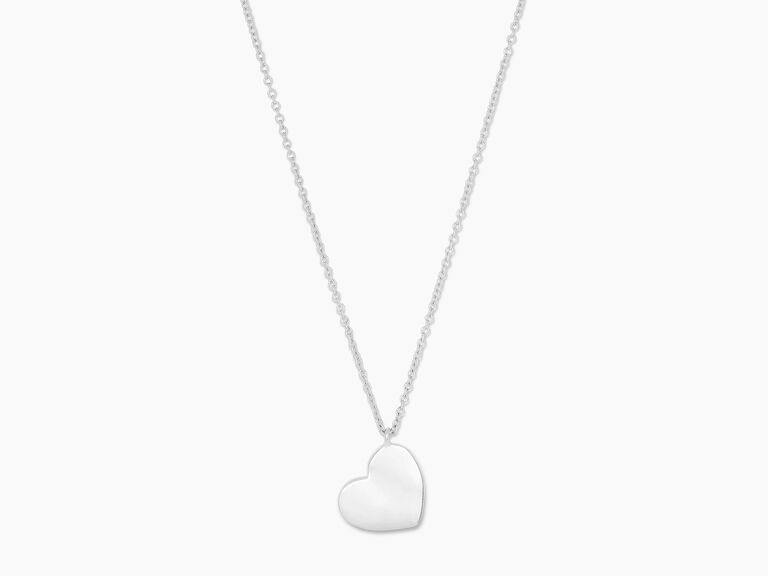 What would a list of cute Valentine's Day gifts be without heart-shaped jewelry? This understated necklace will go with practically anything. Get it engraved with something meaningful like your initials or anniversary date for an extra-special present.
Gorjana silver bespoke heart necklace, $70, Gorjana.com
48. Monogram Barbecue Kit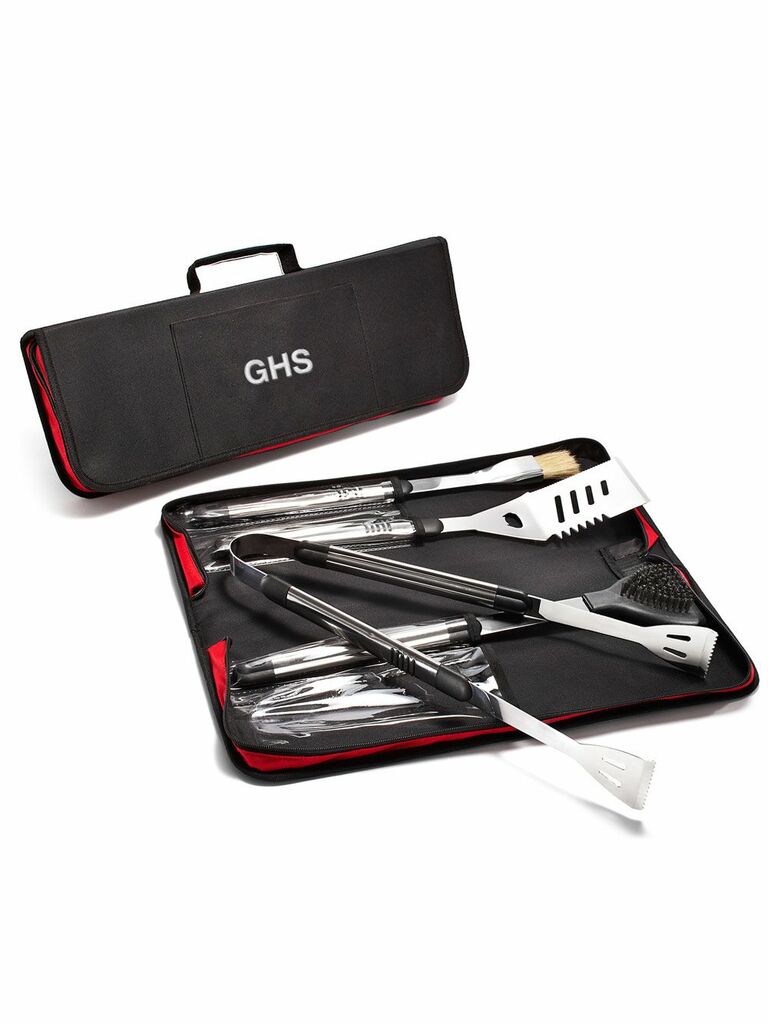 Heat things up with a personalized barbecue kit bearing your partner's initials. It looks like you've got some tasty meals in your future. 
The Knot Shop barbecue kit, $35, TheKnotShop.com
49. Scent Diffuser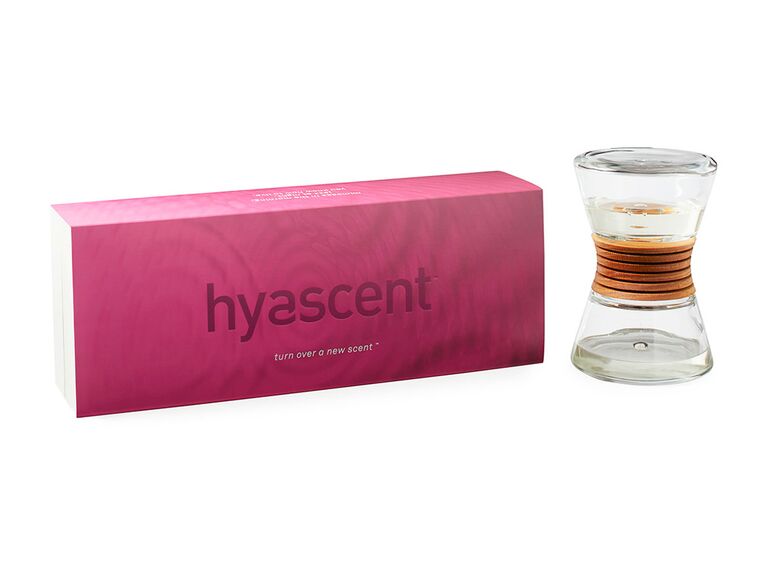 Turn their favorite space into an oasis with this elegant scent diffuser. Fragrances range from bright and refreshing to undeniably romantic—you decide what mood you want to set. 
Hyascent Hip to That scent diffuser, $169, NeimanMarcus.com
50. Leather Dopp Kit
If your other half is obsessed with their grooming tools, give them a luxe leather toiletry bag to help keep everything organized. It's one of our favorite Valentine's ideas that's nice and practical.
Satchel & Page shave kit, $175, Satchel-Page.com
51. Cookie Bouquet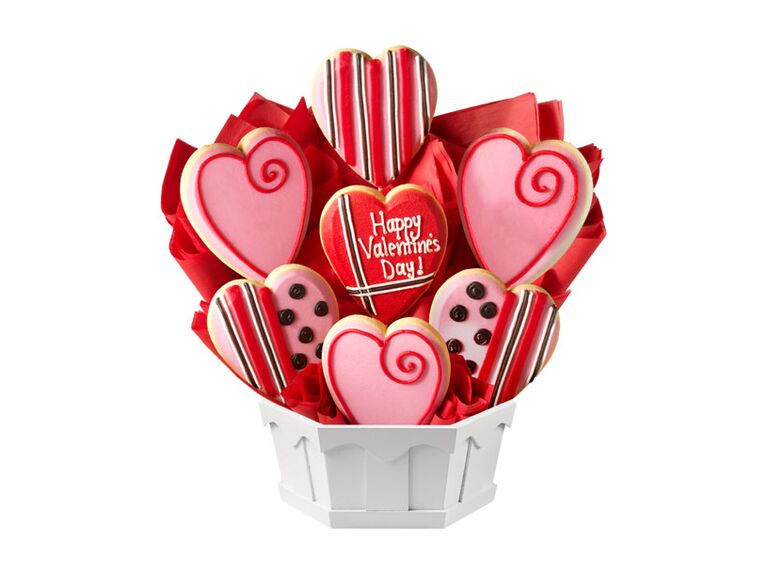 Don't be afraid to get creative with your Valentine's Day gifts. If flowers just aren't their thing, surprise them with a bouquet of something even sweeter—sugar cookies. 
Cookies by Design Sweet Valentine cookie bouquet, from $50, CookiesbyDesign.com