5 Ways to Beat Wedding Stress
While it's common to become overwhelmed during the wedding planning process, there's no reason to let it affect your health. Take a breather and review the top five ways to manage and reduce stress.
by The Knot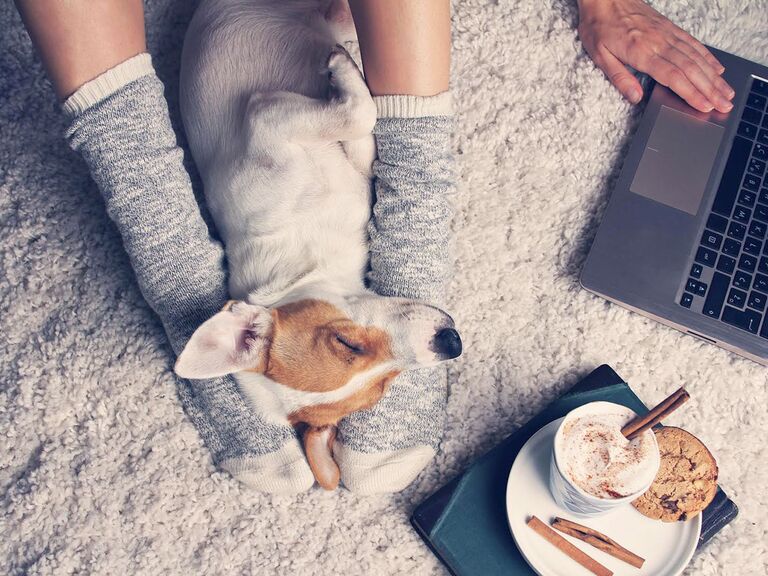 Delegate More Tasks
Learning to manage stress involves knowing what you're capable of handling. Think critically about all the tasks you have on your plate, including your daily responsibilities (work, chores, etc.) and all those wedding planning to-dos (DIY favors, florist appointments, and gown alterations). From there, decide what you can and cannot handle. Then call on your family and friends to help take over some of your wedding-related tasks.
Quick Fix: One of the most repeated pieces of advice from Knottie brides: Hire a wedding planner. You'll be surprised how much stress you'll avoid and how much more you'll enjoy the planning process when someone else is there to work through and execute all the nitpicky details.
Make Time for Touch Therapy
Touch therapy, or actively being touched, can help lower stress. We're not suggesting that you start holding hands with your wedding planner, but it's true that touching (in the form of a hug, a foot rub, or a massage) can activate the body's relaxation response and reduce the levels of stress-causing hormones.
Quick Fix: Grab your fiance and give him or her a squeeze. To calm down after a stressful week, make an appointment for a Friday massage, ask for an added foot massage with your pedicure, or request a scalp massage during your haircut -- all great ways to keep stress at bay.
Practice Yoga
Working to create unity of the mind and body, yoga improves energy through practiced, proper breathing and movements. Breathing mixed with yoga poses can help direct more oxygen to the body's vital organs, relieving tension, sharpening concentration, and decreasing stress.
Quick Fix: Stream a beginner practice online, sign up for a class, or just incorporate a few beginner's moves into your daily routine.
Eat Right
The right foods can aid in lowering stress. Recommended stress-busting foods include whole grains and any red, green, or orange vegetables. Keep the jitters away by limiting coffee and other caffeinated beverages. Stay away from fried foods too.
Quick Fix: Relax with a mug full of chamomile tea -- a time-tested herbal stress reliever.
Explore Acupuncture
Acupuncture is known for its stress-relieving effects -- it can lower blood pressure, increase energy, and therefore decrease stress. An acupuncturist determines the areas of the body with the most tension and applies acupuncture to those spots. There are, in fact, different acupuncture points for different stresses.
Quick Fix: Try the non-needle approach: acupressure. Using your forefinger and index finger, press on the stress-relieving pressure point located underneath the base of the skull about one to two inches from the spine on both sides.
Source: Jena la Flamme, AADP, founder and director of Jena Wellness in NYC.