7 Tips to Manage Stress While Wedding Planning
Hear it from a professional.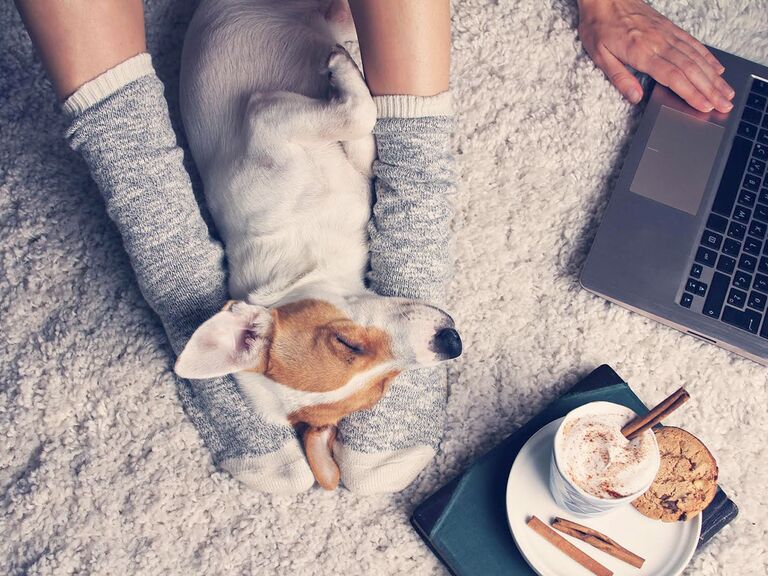 iStock

Wedding stress got you overwhelmed? Planning your nuptials can be one of the most exciting times of your life, but it can also be accompanied by sentiments of pressure. While you're balancing finding your ideal venue to finalizing seating arrangement charts, it's easy to get overwhelmed by your never-ending to-do list.
Lucky for you and your partner, there are plenty of resources available to help you manage wedding planning stress. Liz Colizza, a psychotherapist and Head of Therapy at Lasting, the number one couples counseling app, works with her clients to identify the best strategy to combat this common issue—and it all comes down to knowing your limits and practicing regular self-care. "In general, when I help people manage stress, I help them to first identify what they can control and what they can't control," she says. "Then we look at what they can practically do, within their control, to reduce stress."
If you're feeling tense as you mark off your checklist, this outline of Colizza's top tips for managing wedding stress is for you.
Take Breaks
It's important to plan time to actively discuss your wedding plans with your partner. Be intentional about the moments when you can talk about things like bridal party colors, décor and food. However, it's also necessary to set aside time to discuss other unrelated topics, like your career or The Office. "Plan times when you can't talk about your wedding," Collizza suggests.
You need time to step away from the intensity of planning a wedding. Not only is this necessary for your mental health, it's also healthy for your relationship with your partner. Schedule dates where you both promise to leave the wedding talk behind and decompress with an activity you both love.
Strengthen Your Relationship
It's easy to get wrapped up in the urgency of planning your big day, but don't forget to nurture your relationship in the midst of it all. Going to a therapist or taking premarital classes are both great ways to put your relationship first. While those options are available to some, others should consider using an app, like Lasting, to get personalized counseling that's affordable and easily accessible.
Regardless of what's best for you, Colizza encourages all couples to consider receiving some form of third-party help. "I think premarital counseling and relationship counseling should be required for all couples," she says. "It helps you create a safe place for opening up about concerns and expectations and sets a healthy foundation to build on going forward." From there, you'll be better equipped to manage any wedding stress you may encounter in the future.
Ask for Help
Practice letting other people help you. This might be easier said than done, especially when you're planning something as monumental as your wedding. But if your family and friends offer their involvement, Colizza encourages you to let them assist.
"Decide what you can allow other people to be in control of and then ask for help," she advises. "Be specific in what you need and express gratitude for how people step in."
Set Realistic Expectations
Most people have a general idea of what they imagine their wedding day to look and feel like, but it's important to set realistic expectations. . Determine which factors are most important to you while also taking into account things like your finances, the location of your wedding and the time of year you'll be getting married.
From there, determine what is and what isn't possible. Focus your energy on the things you can control (like decorations for your venue), but try not to dwell on factors that are out of your hands (like the day-of weather). Once you set realistic expectations for yourself, you'll be able to manage stress that arises from circumstances that are beyond your control.
Talk Openly About Your Fears
Don't lose sight of the fact that your wedding is a life-altering occasion.. Given its magnitude, you'll likely experience a roller coaster of emotions throughout the planning process. Instead of suppressing those feelings, Colizza encourages her clients to talk through them with their partner.
"Rather than letting those emotions spill out in surprising ways, take time to discuss your fears and worries with your partner," she suggests. "You are merging two lives, two families, and two inner worlds." Make time to discuss important topics like sex, money, commitment, expectations, and in-laws. Programs like those offered through Lasting exist to help make tough conversations easier to have with your partner.
Practice Mindfulness
You might be able to manage some wedding planning stress by regularly practicing mindfulness. This doesn't mean you have to commit to a two-hour yoga session three times a week. Instead, mindfulness can be as simple as taking ten minutes every day refocus your thoughts and clear your mind. But in order to be effective, this should become part of your daily routine.
"When practiced regularly, mindfulness and meditation exercises help reduce stress and anxiety," says Colizza. When you feel your tensions rising, take a few moments to focus on your breathing and clear your mind of distractions and fears, and instead think solely about the current moment. Once you've refocused your thoughts, you'll have clarity on how to handle the stress you're feeling in that moment.
Breathe Deeply
If you need an immediate stress-reliever, focus on your breathing. Making a conscious effort to take long, deep breaths (instead of short and shallow ones) can help you refocus your energy and alleviate your tension. "When you feel anxiety starting to take over, stop what you're doing and take some deep breaths," Colizza says. By actively focusing on your breathing and calming your heart rate down, your anxiety levels will start to decrease. Gain some perspective on the emotions you're feeling, and remind yourself of what is and isn't important. "Remember that you are preparing for life together, not just for a ceremony or celebration," Colizza suggests.
If you're in the midst of planning your wedding and are feeling overwhelmed, remember to be kind to yourself. Your stress may be stemming from factors you can't control or from the magnitude of the situation, but there are ways you can ease those feelings. Incorporating self-care tactics into your day-to-day routine is a vital way to effectively manage your stress.
If you want additional help, resources like licensed therapists or science-based apps like Lasting can provide you with the tools you need to manage your stress and keep your relationships strong.