Creating My 120-Person Guest List Was Hard Enough, Now It's Down to 30
Firsthand advice from one bride's experience of cutting her guest list for COVID.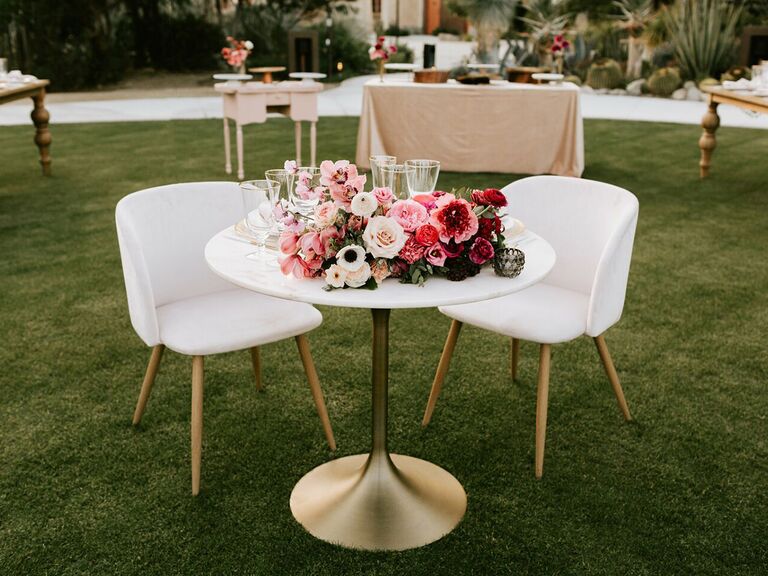 Lauren Scotti Photography
Like most brides, when it came to planning my wedding, certain aspects like finding my dress and brainstorming decor ideas were sources of pleasure. But the guest list, whew, that gave me anxiety. Figuring out how to cut our wedding guest list down to 120 people pre-COVID was difficult enough, but with new restrictions in place, my fiancé and I were now facing a 30-person list. Honestly, I had NO idea what to do (or where to start) at first. To help, I crafted a few pointers that helped me tackle this delicate matter, plus reached out to top wedding planners for their etiquette tips.
Reenvision Your New Wedding + Focus on Your Essentials
This is a tough one but you have to break up with your "old" wedding and fully embrace your "new" one with open arms. It's hard because you want to keep reminiscing on what once was but in order to plan effectively you have to move on. As much as I was obsessed with the concept of my desert-inspired, New Mexico wedding, in order to plan a more intimate ceremony I had to mentally shift gears. For me, hiring a planner was a non-negotiable since I needed to still tie up a few loose ends with my other venue.
Once we got the greenlight that we could get married in New York versus New Mexico, my fiancé and I sat down at the dinner table to discuss the guest list. We considered multiple things ranging from age to location, and comfort-level. Our priority was making sure that our aging parents felt safe and confident being in attendance.
"I always tell my friends to remember what the wedding is all about," explains owner of Pop The Knot, Michele Velazquez. "It is about finding the love of your life and your commitment to that person forever. It isn't about a party. If you can focus on that, it won't seem as bad."
Be Realistic
Despite Governor Cuomo allowing gatherings at 50 people in phase four, our venue, Brooklyn Grange, was enforcing a 30-person cap — which meant our 120-person guest list was not going to fly. It was time to make some tough decisions and figure out how to cut down our wedding guest list, but what helped us stay focused on local family members and super close friends.
"Plan a guest list for where your city regulations and your venue regulations are now," advises founder of Fallon Carter Events, Fallon Carter. "Don't create a guest list of where you hope the regulations will be for your wedding. If you are nervous about hurting feelings, stick to immediate and extended family if you can't make a decision on which friends to choose."
Another tip? Talk to your vendors. "Identify what's necessary from your vendor partners i.e. COVID tests, temperature checks, waivers, masks, etc. — consider who will be willing to meet all of these thresholds to attend your wedding. If people aren't willing, they may not be able to attend," adds Carter.
Start The Process
Founder and lead designer of Right as Rayne Events, Kinsey Sarian shares her tactical approach about how to cut your wedding guest list down. "Start with plus ones if you are having a reduced ceremony.It is important that the person you are close to is there, if you don't have a relationship with their significant other, they will understand you saving the seat," she explains.
Next up, consider your current relationship. "Ask yourself...have you seen or spoken to them more than once in the past few months i.e. about things other than their attendance at your wedding. If not, maybe they will be okay not to be there," adds Sarian.
Finally (and most importantly, be empathetic). COVID-19 has produced numerous life changes from furloughs to layoffs, to pregnancies to engagements. While your focus is your wedding, the world has still been turning — and life has been happening.
Personally, two of my best friends both have small children under 3 years of age. Realistically, while I really wanted them there to celebrate our big day in person, I need to touch-base with them individually to see how they were feeling overall, and about travelling.
I spoke to one friend very candidly about how she was feeling (note: not the other way around) and emphasized that her attendance was not contingent upon continuing our friendship. Naturally, she was relieved not to have to travel with her son or figure out childcare. The other, opted to leave the kids at home and travel solo.
"Consider the health condition of your guests...are any not in a great place or taking care of someone ill? Check in to see if people are uncomfortable coming, and would prefer to Skype or Zoom in," advises Sarian. "You may be able to cut the list down by your guests choosing not to attend if they know it is okay with you!"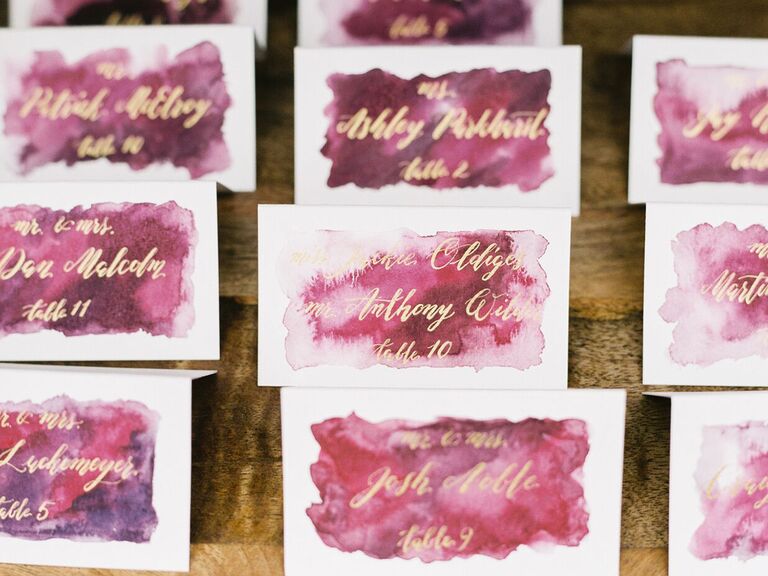 Communicate Effectively (and Efficiently)
Before we had to shift to a smaller wedding (and was hoping that we could still proceed in 2020), I sent several emails to our guest list to touch-base. The first note was a poll to see if people still felt to travel, a formal cancellation email, and an update that we would be having a virtual component that they could still enjoy the festivities. It might seem like overkill, but keeping everyone up-to-speed ensures that there aren't any surprises down the road.
For older family members, myself, my fiancé, and my fiancé's mother called them directly and explained the change of plans. While disappointed, they understood the change of plans and expressed their excitement to still celebrate in the future. Velazquez suggests having the following talking points below ready with a well-thought response.
Why you decided to lower the guest count
How the situation makes you feel
Why you chose a new date or are sticking to your new date. "This is important because guests will wonder why you can't just postpone so that they can come," adds Velazquez.
How you came to the very difficult decision to lower your guest list to immediately family only (or whatever your decision was)
If you have plans to live stream or record the wedding so they can still experience your special day. "Zoom... use it, 100%. Instead of maybe having a full Zoom wedding, break out Zoom event dates to make it more intimate," adds Carter.
Plans for another ceremony or large party post-pandemic
Prepare for Hurt Feelings
Weddings always come with a touch of inevitable drama — but no-one anticipates being "uninvited" to a wedding. Unfortunately, some people will take your change of plans more personally than you anticipate.
"Lead with the fact that you're also hurt. But, at the same time, this is also your wedding, so it's important for you to recognize safety is key for that," explains Carter. "And you want to walk away from this without catching COVID either."
If it's really going to be a hard conversation, like with a friend you haven't seen in awhile or someone who has already spent money (and possibly lost money), consider sending a gift. "Send them something nice, whether it's a Seamless certificate or a bottle of champagne, flowers, any of that…just love on them and let them know if we were not in a pandemic this would not be the case," adds Carter.
Here are a few additional pointers from Sarian to help soften the blow:
Remind them that if COVID was not a problem, you would have loved for them to be there
Plan a dinner or time after the wedding when you can sit down and tell them about it (plus, celebrate safely)
Ask them to be there virtually!
Explain how much it means to you that they understand this wasn't something you wanted—and they are still a big part of your life!
Overall, have faith that your friends and family want the best for you, shares Fallon. And if that means they can't attend...they will understand," explains Carter. "If they don't..they probably shouldn't have been on the original invite list anyway!'
And, although you may be struggling to find the silver lining. "I also point out one secret benefit to cancelling your large wedding," explains Velazquez. "A lot of venues that are normally over $20,000 are allowing microweddings at their location, so you could end up getting a dream venue for a fraction of the cost and have the fanciest elopement ever."