18 Wedding Cake Ideas With Silver and Gold Bling
Go big or go home with metalic foil, sparkling crystals and tall, towering tiers.
Adding a few gold foil details or a ribbon of rhinestones to white wedding cake tiers can bring a simple wedding confection to a whole new level. What we love about glamorous, glitter-covered wedding cakes is that they double as both a delicious dessert and a statement piece of decor to round out a glamorous wedding theme.
If you have an idea of what you want your blinged-out wedding cake to look like, make sure to save a few of your favorite photos to bring to your baker. And don't forget to ask their opinion too! They might have a new idea to bring to the table that you never may have expected, but totally love. Start your glamorous wedding cake search here with some of our favorite blinged out wedding cakes.
1. Metallic Gold Details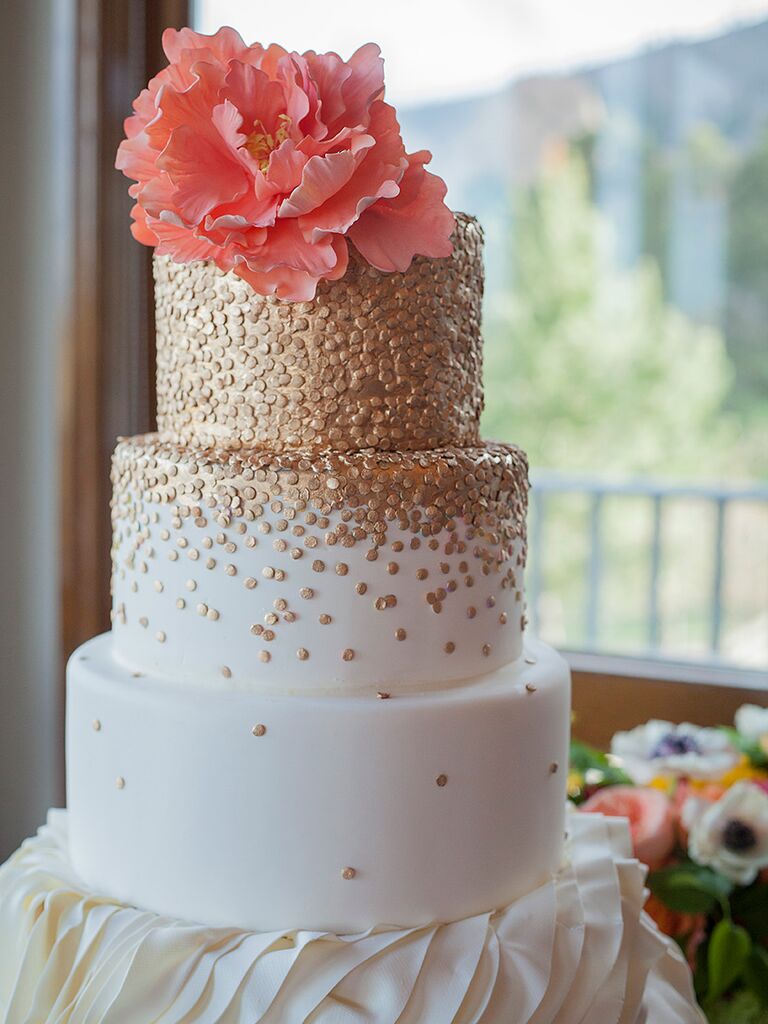 From: A Shabby-Chic Wedding at Arrowhead Golf Course in Littleton, Colorado
2. White Wedding Cake With a Single Glitter-Covered Tier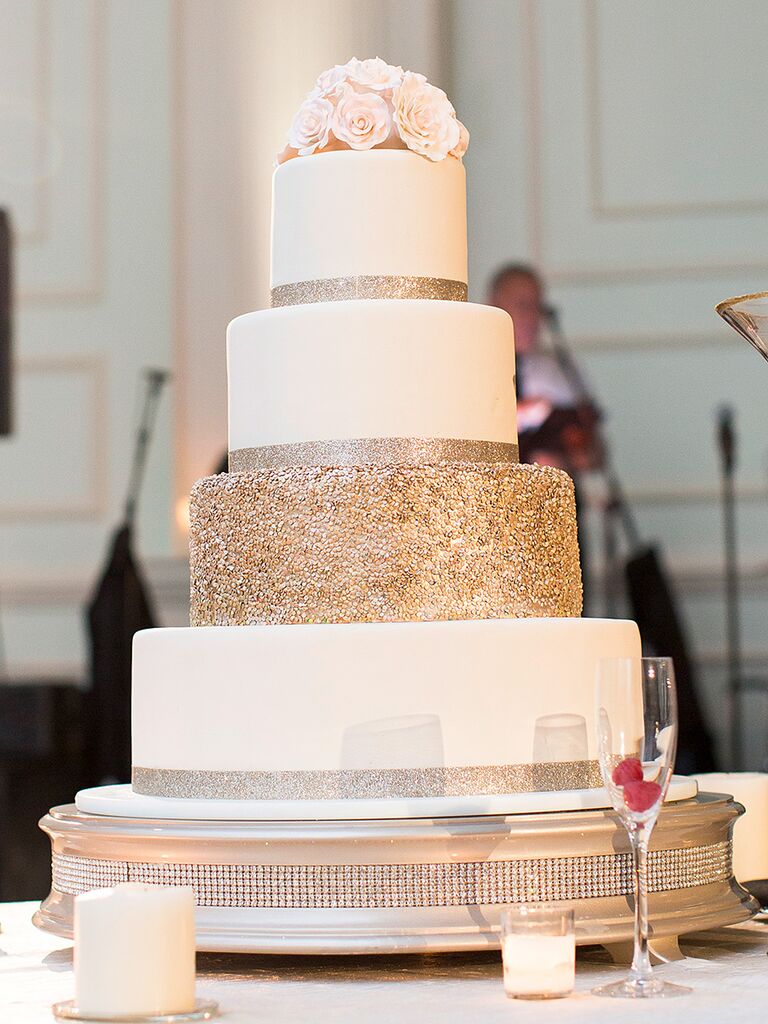 From: A Vibrant Wedding at Cescaphe Ballroom in Philadelphia, Pennsylvania
3. Metallic Gold Sparkling Sugar Accents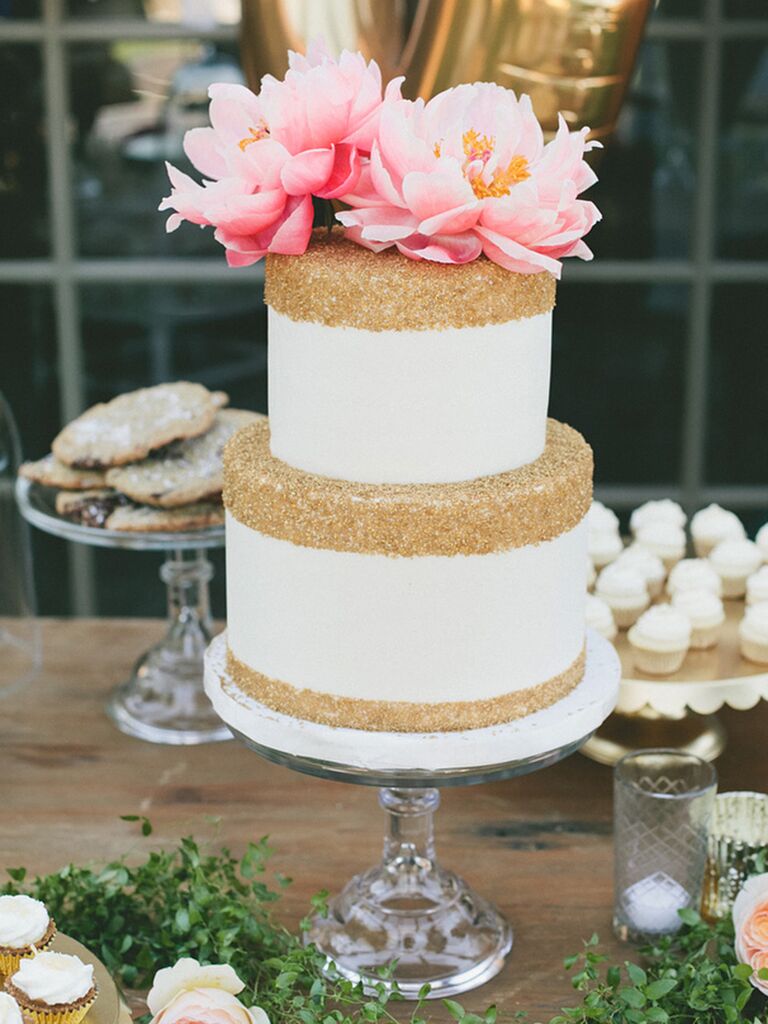 From: An Intimate, Rustic-Chic Wedding at Saddlerock Ranch in Malibu, California
4. Mini White Wedding Cake With Gold Swiss Dots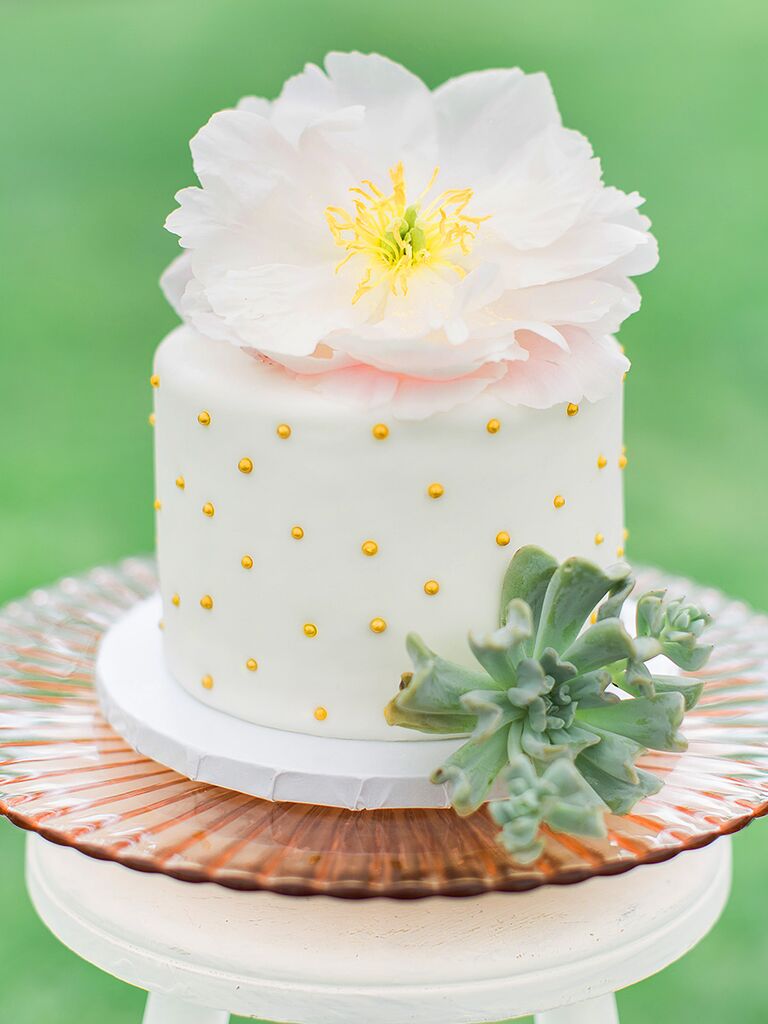 From: A Whimsical, Woodland Wedding at a Private Lakefront Estate in Meredith, New Hampshire
5. Modern Square Wedding Cake With Crystal Bling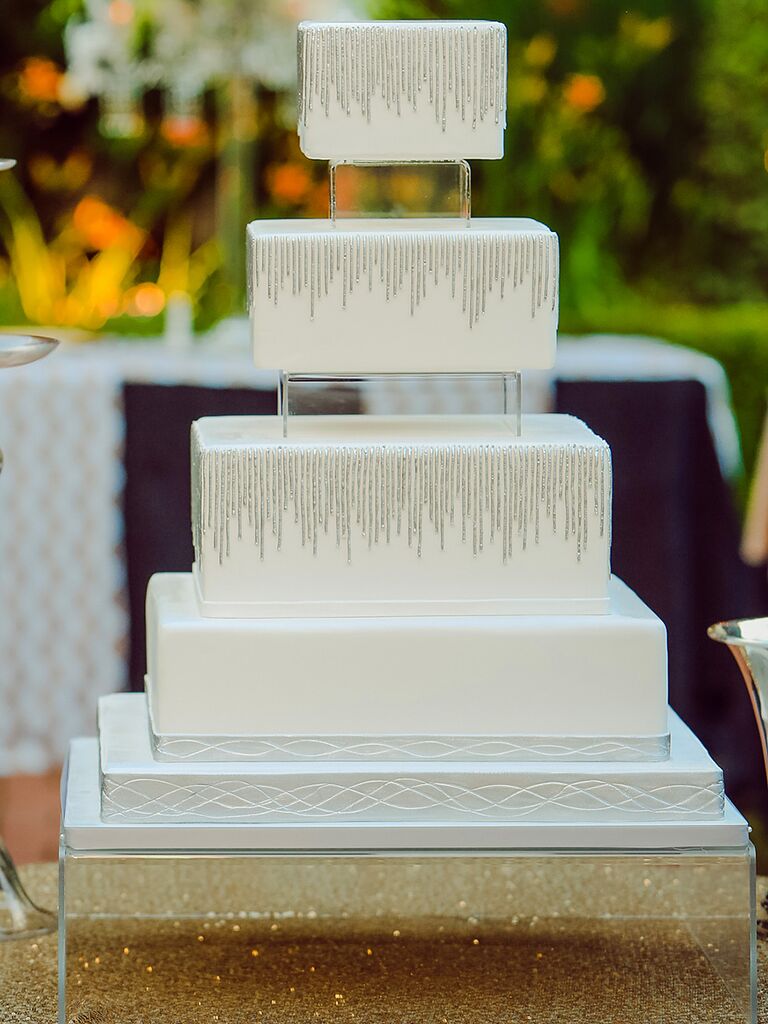 From: A Glamorous Terrace Wedding at Little Gardens in Lawrenceville, Georgia
6. Quilted Fondant Pattern and Rosette Designs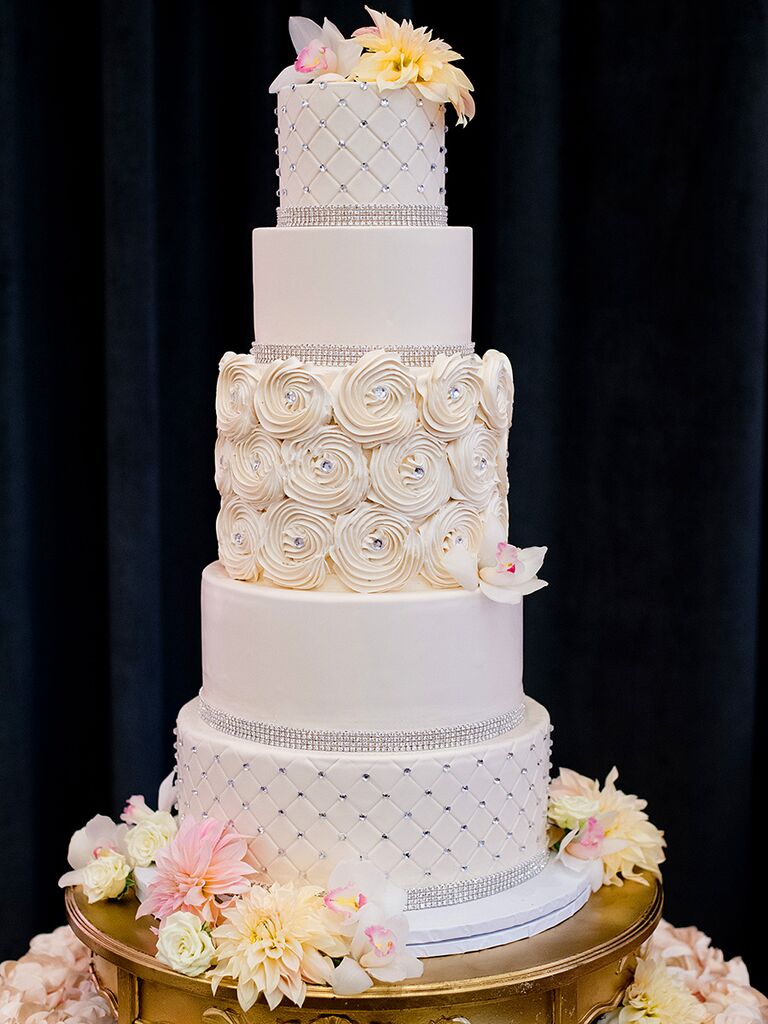 From: An Elegant Ballroom Wedding at Kimpton Hotel Monaco Pittsburgh in Pittsburgh, Pennsylvania
7. Mixed Square and Circle Tiers With Scallop Accents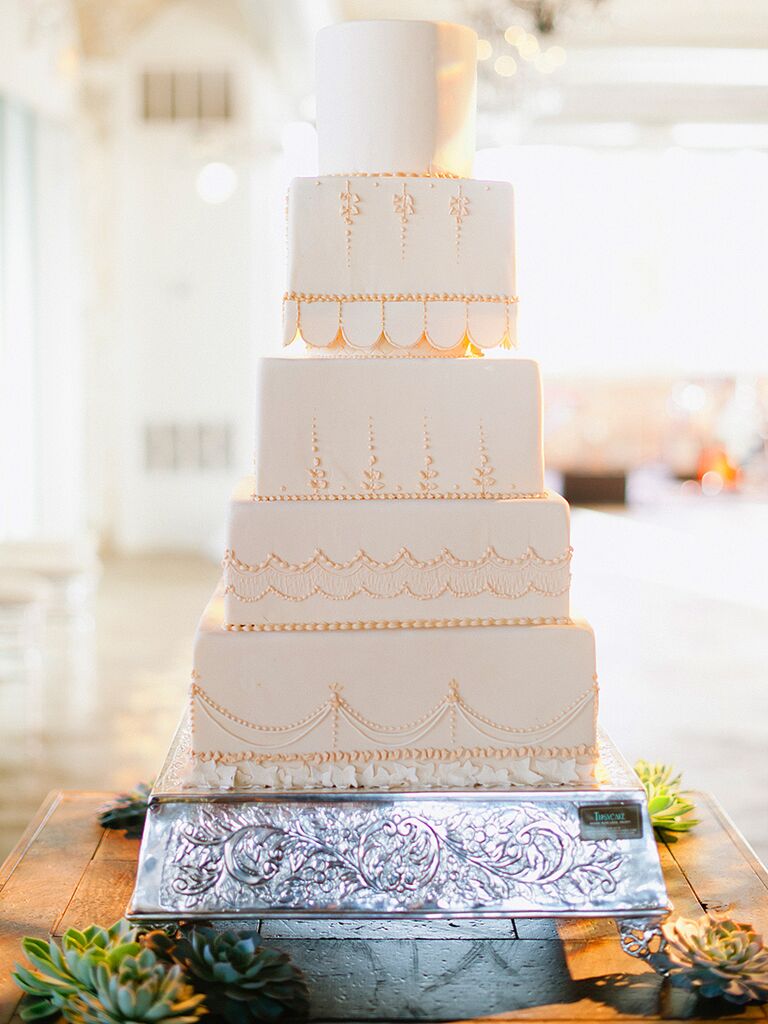 From: A Chic Vintage Wedding at Room 1520 in Chicago, Illinois
8. Square Tiers With Gold Leaves and a Matching Monogram
From: A Glamorous, Romantic Wedding at Villa Miani in Rome, Italy
9. Quilted Diamond Pattern With Ribbons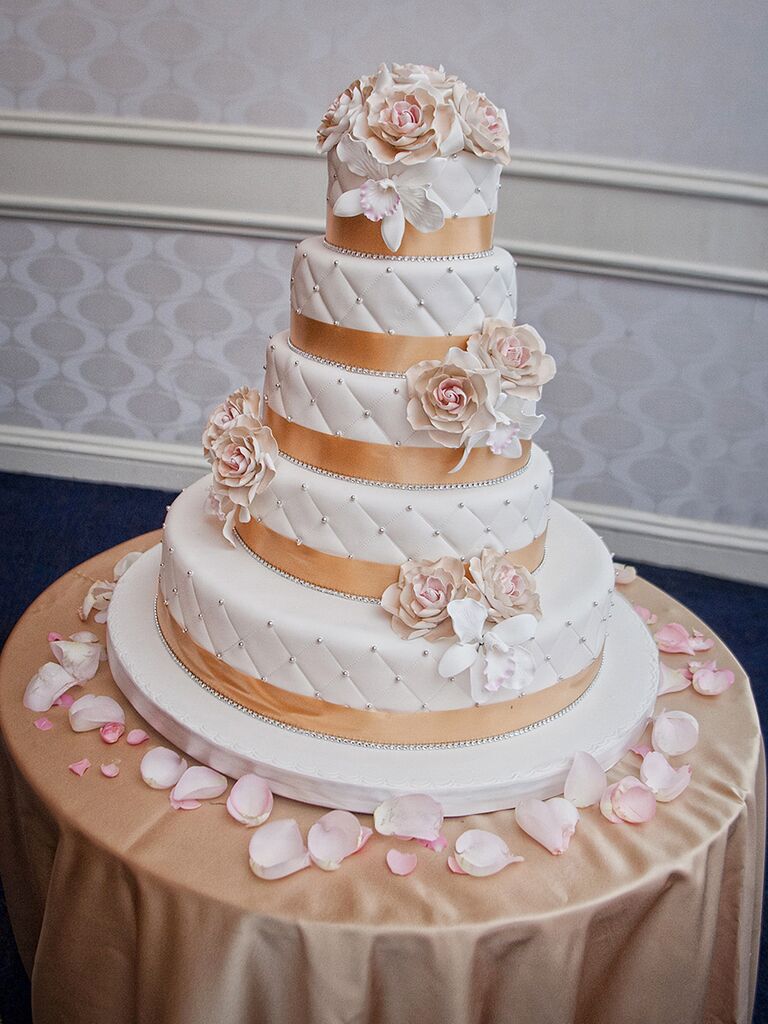 From: ATraditional Jewish Wedding at the Eden Roc Hotel in Miami Beach, Florida
10. White Wedding Cake With an Ornate Crystal Design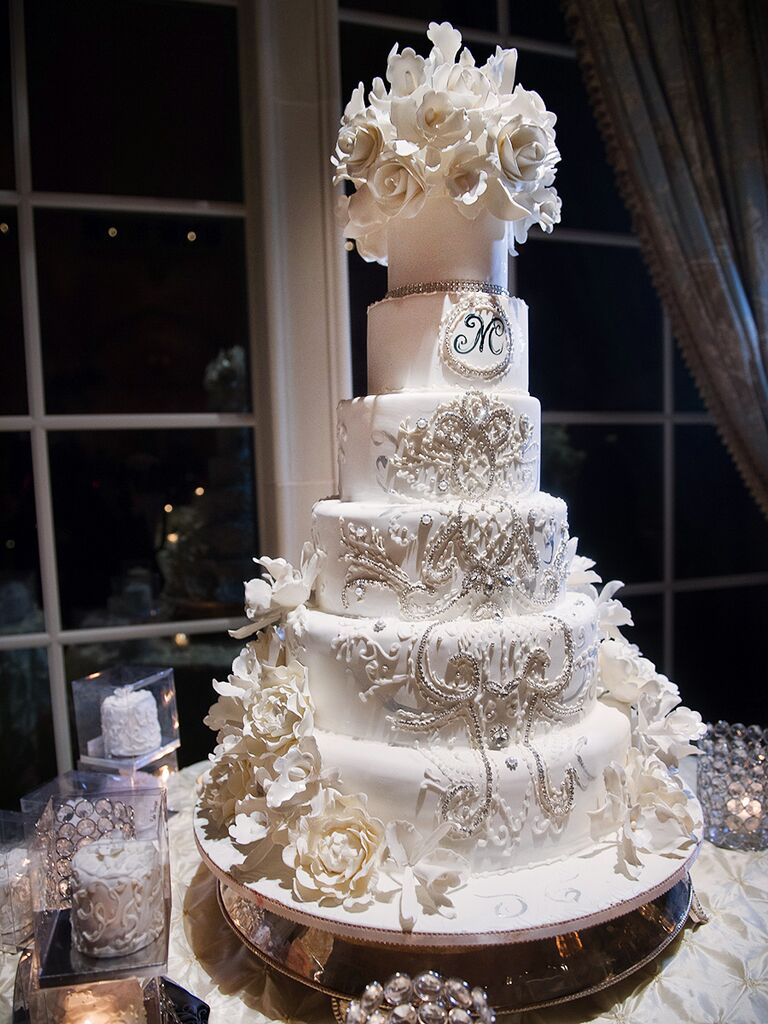 From: An Extravagant Wedding at The Ashford Estate in Allentown, New Jersey
11. Ombre Cake Color With Simple Gold Foil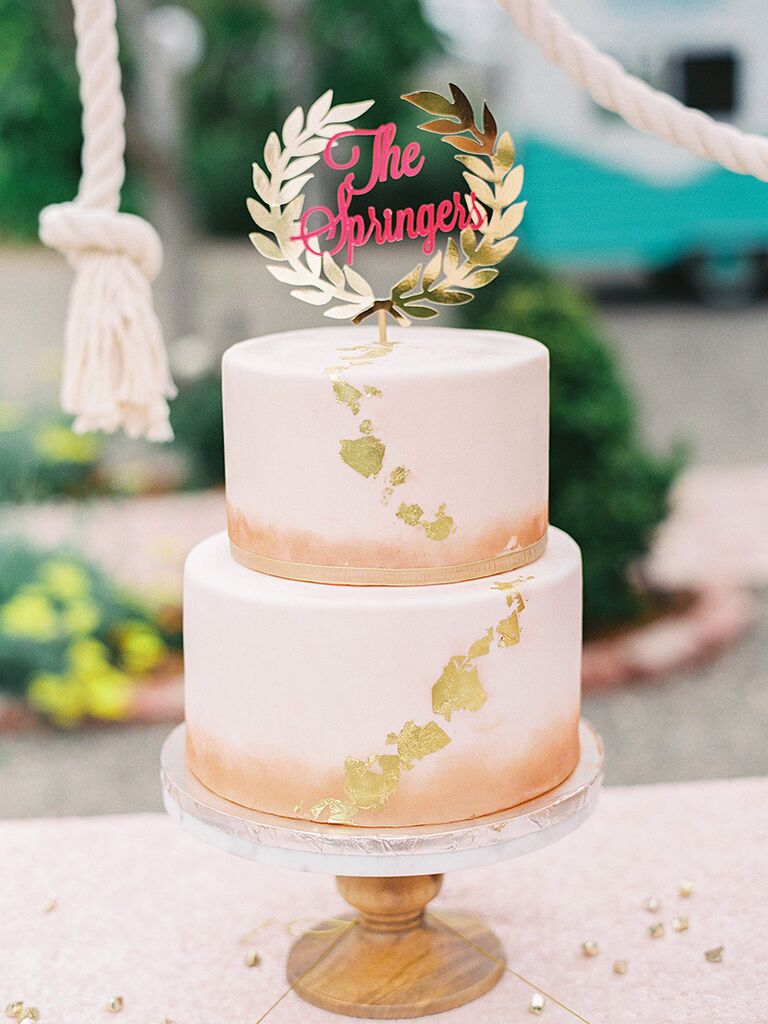 From: An Intimate, Rustic-Chic Wedding at Saddlerock Ranch in Malibu, California
12. Blue Art Deco Themed Wedding Cake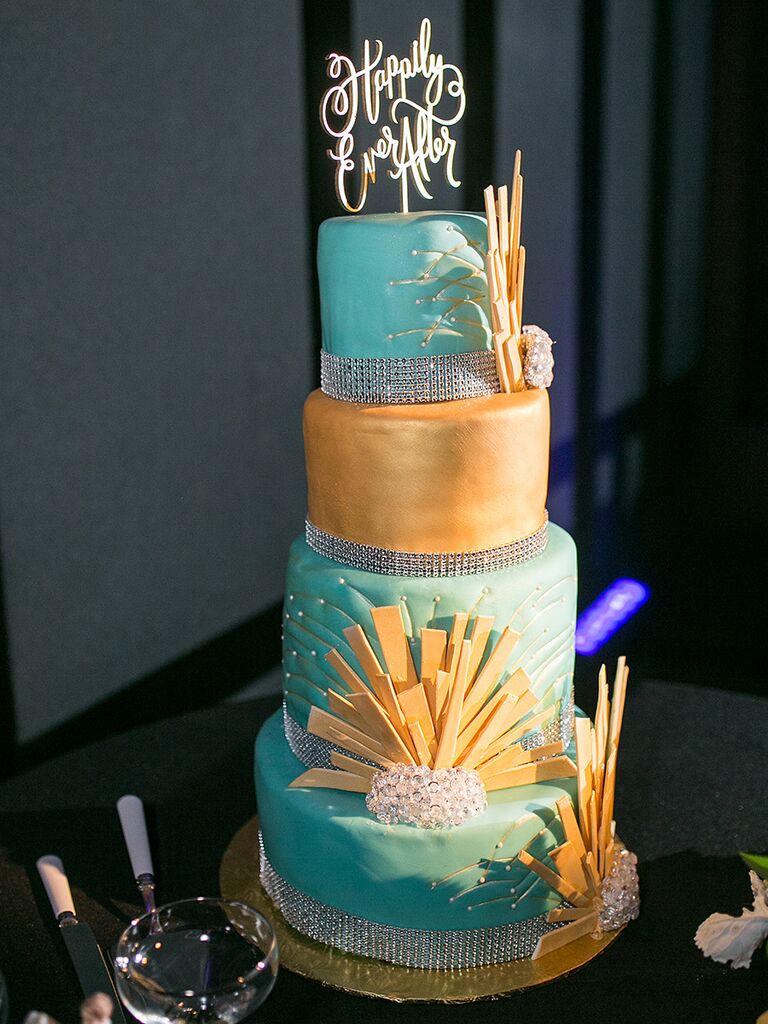 From: A Vintage, Art Deco-Themed Wedding at NorVa in Norfolk, Virginia
13. Elegant White Wedding Cake With Metallic Gold Detailing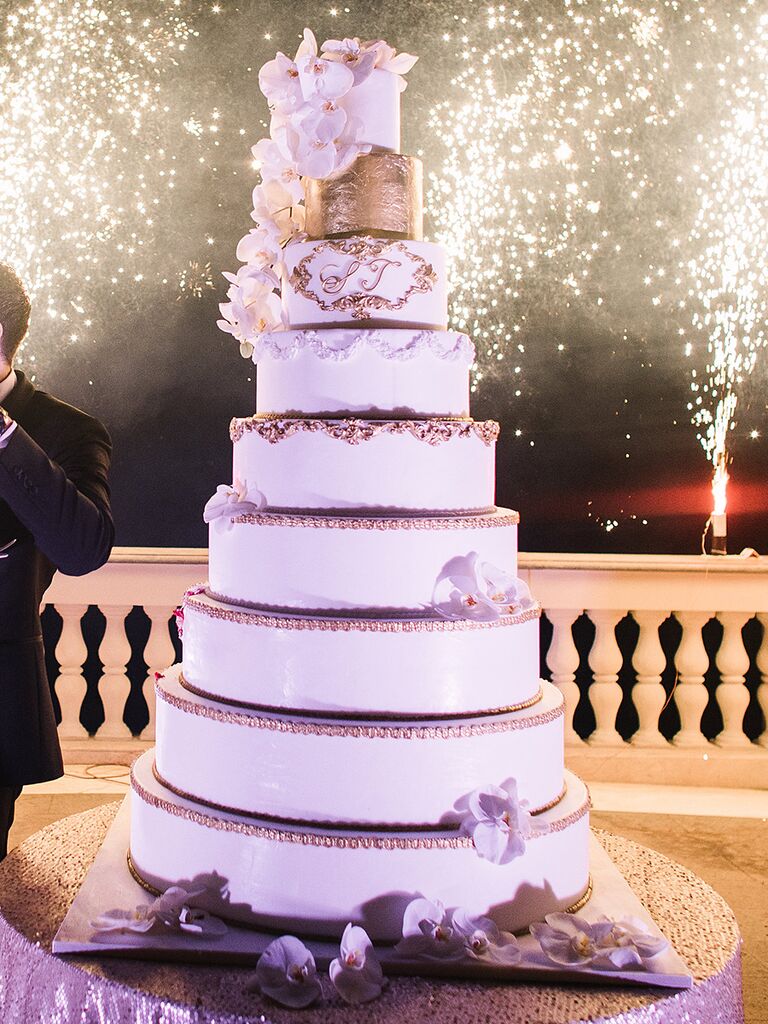 From: A Glamorous, Romantic Wedding at Villa Miani in Rome, Italy
14. White and Yellow Wedding Cake With Crystals and Pearls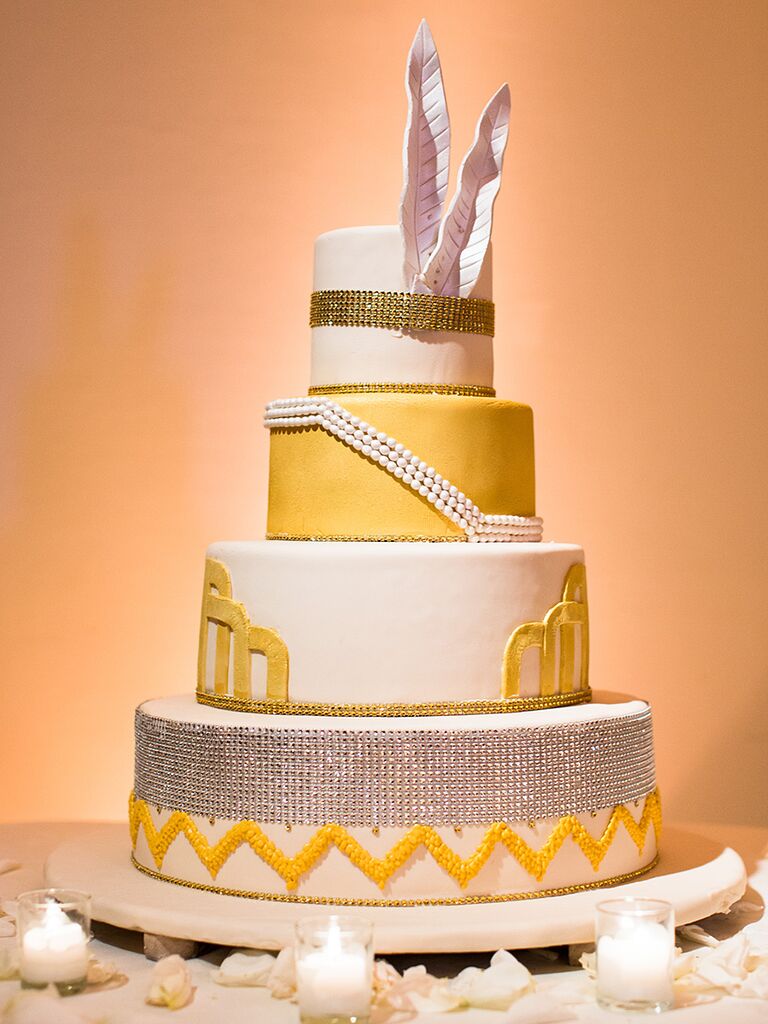 From: A Luxe Wedding at Cold Spring Country Club in Huntington, New York
15. Metallic Gold Wedding Cake With a Pink Peony
From: A Vizcaya Museum & Gardens Wedding in Miami, Florida
16. Small White and Gold Wedding Cake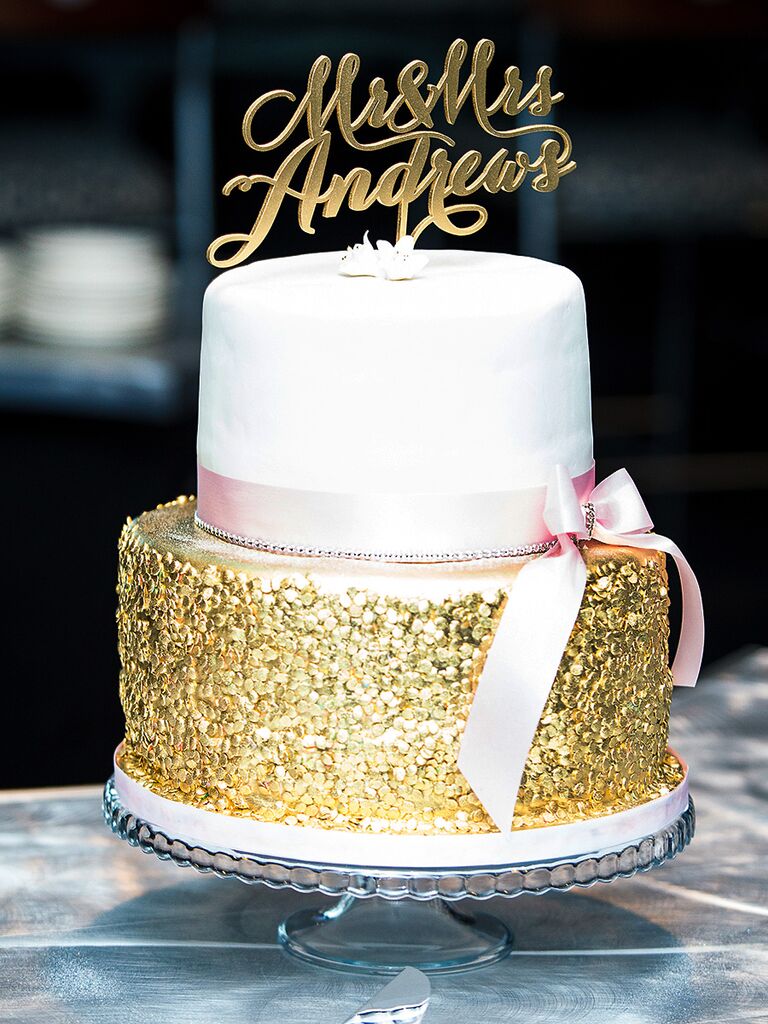 From: An Indianapolis Colts-Themed Wedding at Lucas Oil Stadium in Indianapolis, Indiana
17. Rhinestone Covered Cake With a Glitzy Dessert Stand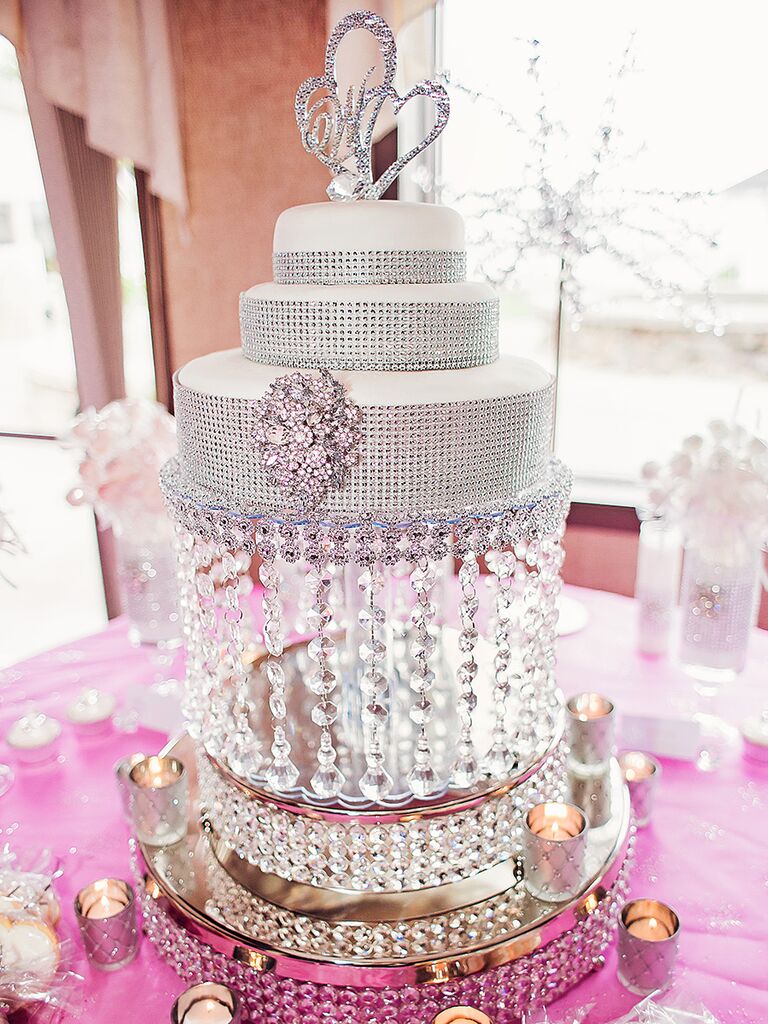 From: A Glam Hot Pink Wedding at the Terrace Bay Inn in Escanaba, Michigan
18. Tall Wedding Cake With Crystal Covered Tiers and Sugar Flowers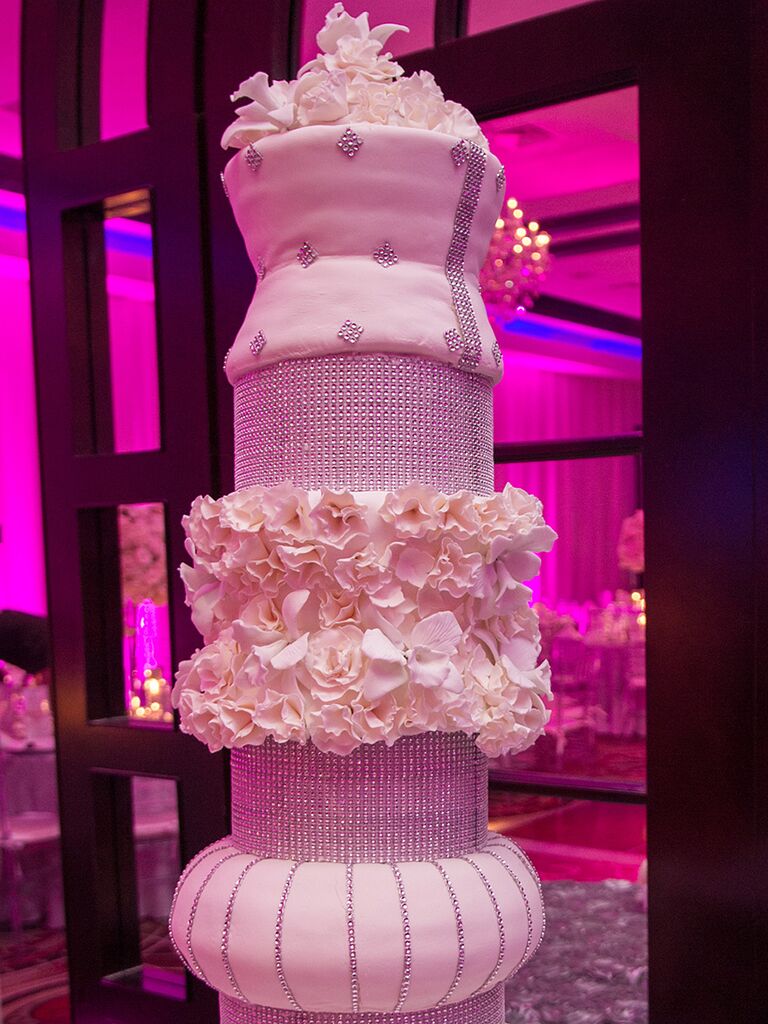 From: A Traditional Jewish Wedding at the B'Nai Israel in Boca Raton, Florida