Wedding Reception Centerpiece Styles to Inspire Your Florals
From over-the-top glam to shabby chic, see what your options are and how to tell which will work wonders for your wedding.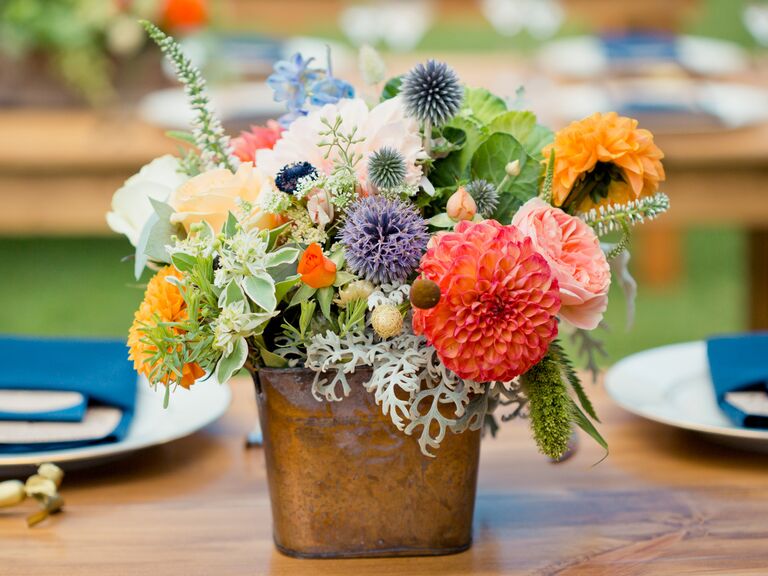 Heather Scharf Photography

The Rustic Wedding Centerpiece Style
Why You Might Want It
The wedding ceremony or reception (or both!) is near an outdoor setting, whether that be a refurbished barn or vineyard estate. Most of the décor will be taken care of by the beautiful scenery, so the florals are there to enhance the setting, not battle against it.
But Is It Really for You?
If you embrace the just-picked look that earthy arrangements offer, you'll be right at home with natural groupings. Also, if you really want to get the authentic rustic look, you'll have to shop for in-season stems, giving you less of a selection. Still, that doesn't mean your centerpieces will look too uninteresting; just think about how beautiful forests and gardens are!
Common Elements
Unstructured shapes
Found-in-the-wild fillers (think: raspberries and thistles)
Wicker baskets, metal tins or wood containers
Mixed textures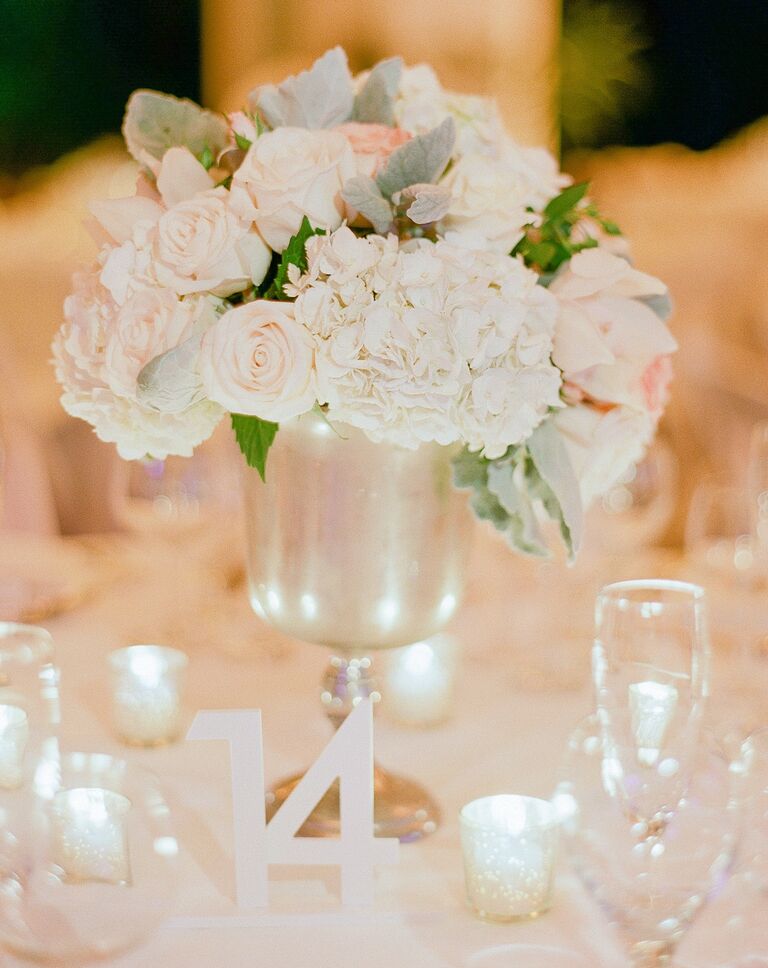 The Classic Wedding Centerpiece Style
Why You Might Want It
Everything about your wedding is timeless—a neutral color palette, modest gown, family traditions (or heirlooms) and formal attire are all must-haves, even in the early stages of wedding planning.
But Is It Really for You?
Since the look of these arrangements is so impressionable, adding any type of accent, like frilly feathers or glitzy crystal embellishments, changes the entire feeling of the arrangement. So if you're looking for classic, keep it simple.
Common Elements
Light-colored blooms
Classic bridal flowers like hydrangeas, roses, baby's breath and tulips
Medium- to small-sized arrangements
A structured design
Understated cases or urns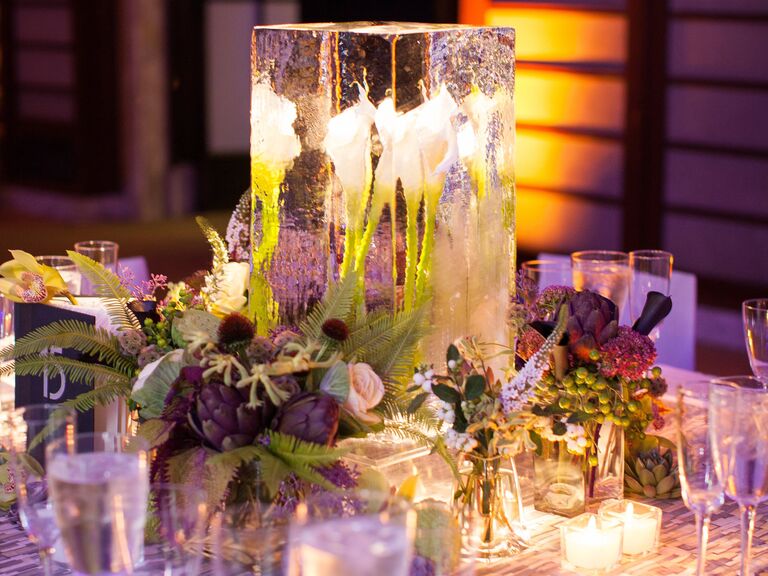 The Modern Wedding Centerpiece Style
Why You Might Want It
If your reception is in a less traditional space, such as an art gallery or lounge, modern centerpieces will play off the setting's trendy vibe. If you have a more conventional setting, they'll transform the venue to match your avant-garde style. Break the single-centerpiece mold with clusters of centerpieces displayed in varying heights.
But Is It Really for You?
Do you follow—or set—trends? These fresh ideas will likely make you happy. If you hate the thought of showing photos from the wedding years from now and everyone being able to tell that you had a 2015 or 2016 wedding, then tone down the progressiveness.
Common Elements
Graphic, exotic flowers
Square or rectangular vases
Minimalistic, like a single branch of flowers
Very little greenery
An architectural feel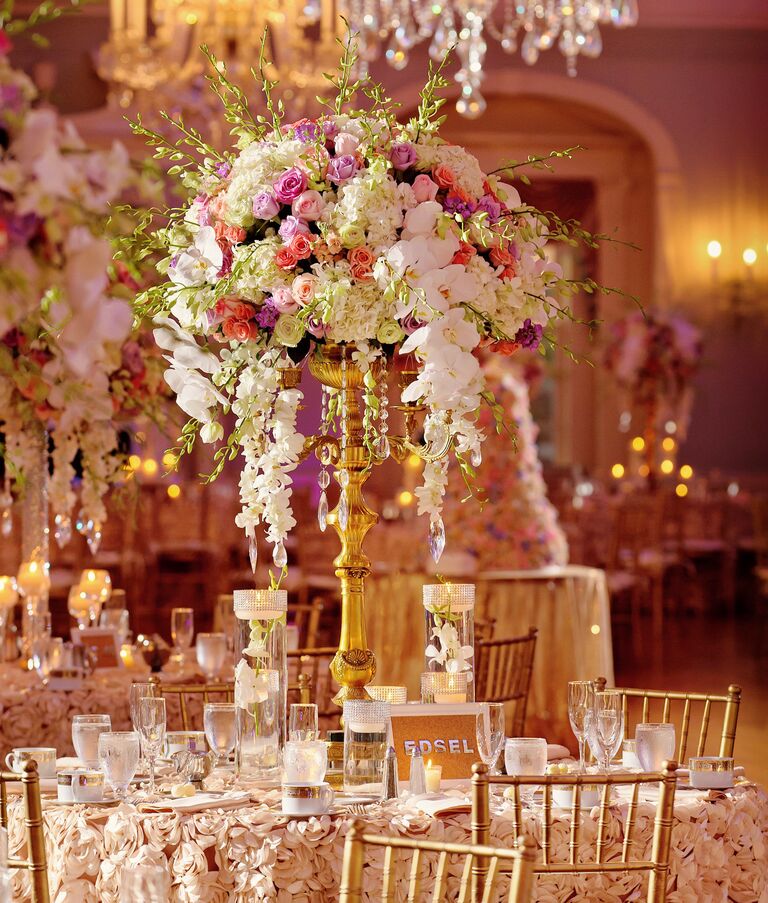 The Glamorous Wedding Centerpiece Style
Why You Might Want It
You're looking to impress and drop some jaws—in other words, go big or go home. If you've got a blank slate venue to decorate, like a tent or loft, these centerpieces will instantly dress up your space. High-drama arrangements can also match the regal mood of historic settings—or overshadow their most charming parts.
But Is It Really for You?
With big, ornate centerpieces, you're going for a dramatic effect at the sacrifice of practicality. Depending on your dining setup, guests may have a hard time chatting with each other across the table. On the other hand, a striking flower arrangement is well worth it.
Common Elements
Height
Large, full, cascading shapes
Crystal embellishments
Multiple colors in one arrangement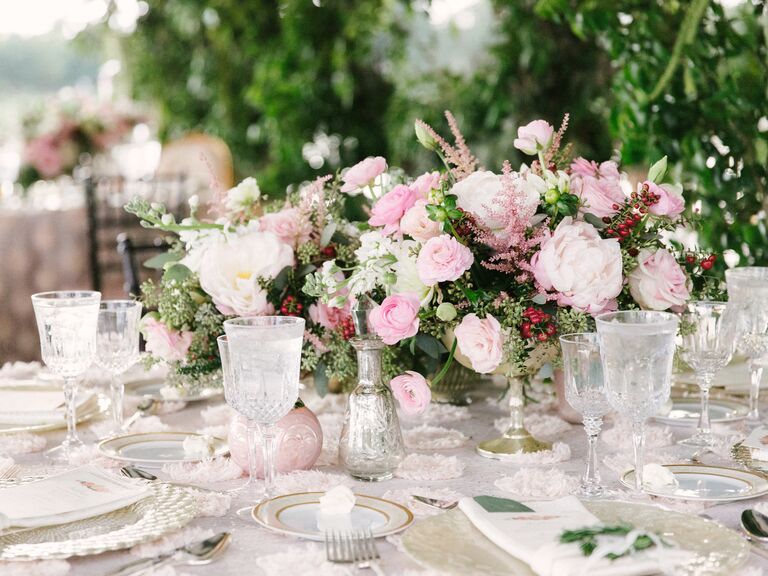 The Vintage Wedding Centerpiece Style
Why You Might Want It
Not only is lace your best friend, but you're sourcing most of your wedding décor from antique shops and accessorizing your bridal look with sentimental family heirlooms.
But Is It Really for You?
"Vintage" can mean different things to different people, varying from glamorous art deco (orchids and tall feather accents) to simple shabby chic (roses and ranunculus), so you'll have to define your angle. The DIY bride should keep in mind that re-creating an authentic vintage tablescape can be a challenge—homecrafted centerpieces might end up looking a little too faux-antique or upcycled.
Common Elements
Muted color palettes
Low vases, footed trays or compote bowls
Antique props (clocks, books, old-school milk bottles)
Special thanks to Donna O'Brien of Beautiful Blooms, Philadelphia; Natalie Willett of Zuzu's Petals, Orland Park, IL; and Orly Khon of Tangerine Creations, Boston