The Best Wedding Cuff Links to Rock on Your Big Day
From a signature monogram set to wooden versions for the wedding party, these special occasion accessories are sure to stand out.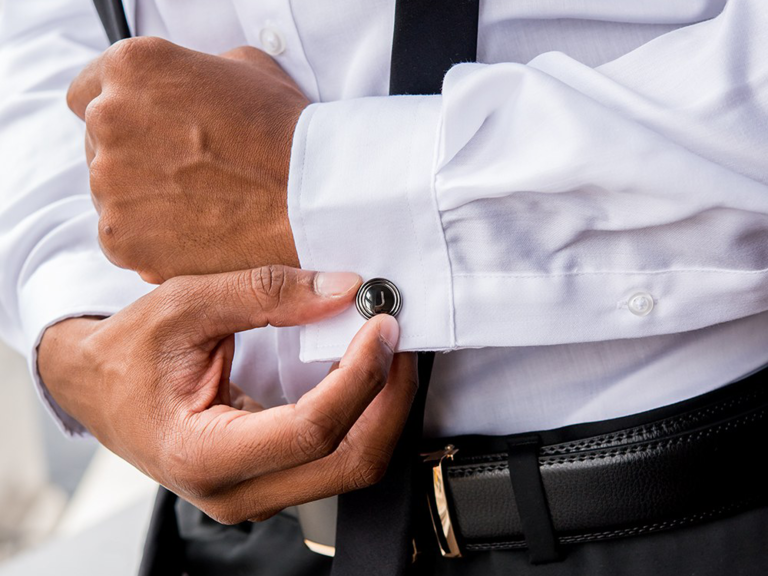 We have included third party products to help you navigate and enjoy life's biggest moments. Purchases made through links on this page may earn us a commission.
Cuff links have been an integral part of dress attire since the late 18th century when people wanted something nicer than ties for their shirt cuffs. Today, wedding cuff links are a sure sign of class when worn correctly and make for a perfect dose of sophistication on the big day. Because they come in so many designs, prices and colors, cuff links are an easy and playful way to add a dose of personality to your wedding day suit or attire.
To wear cuff links, you'll need to be rocking a shirt with cuffs that boast two button holes on each, rather than buttons or snaps—a quick google search for double-cuff or French-cuff shirts should do the trick. And, because you'll want those cool cuff links to get noticed, we recommend a white or light blue shirt for maximum contrast—really, just about any solid color or subtle stripe works. Beyond that, there are at least eight different types of cuff link closures, from the common toggle closure to ornate chain wraps.
If you're looking for a fun way to coordinate your cuff links with your wedding suit, you can match them to the details in your shirt, the color of your tie or tie clip or even to a pair of decorative socks.
Cufflink Shop Boutique Initials Cufflinks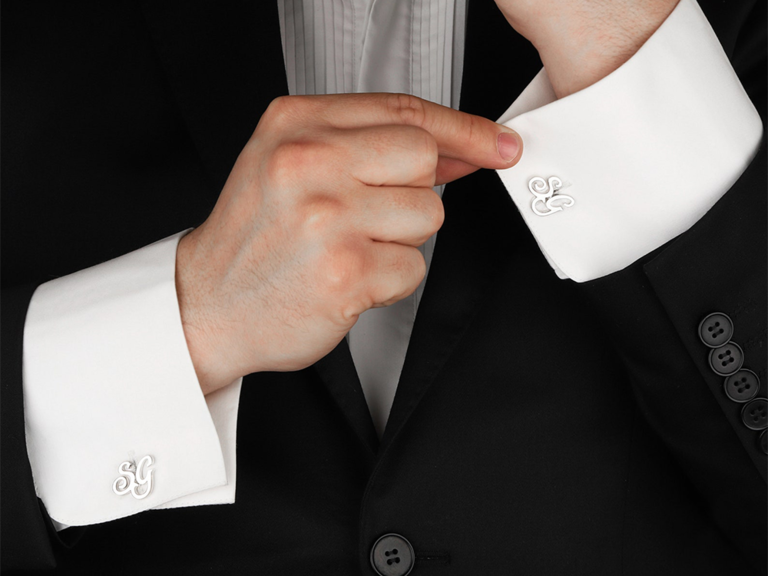 Elegant initials cuff links are a great gift idea for the groomsmen and wedding party to wear on the big day—and to every formal event from here on out. Choose from 26 different fonts or do something more custom, like your actual handwriting, by messaging the seller directly.
Montblanc Meisterstück Goldstone Round Cufflinks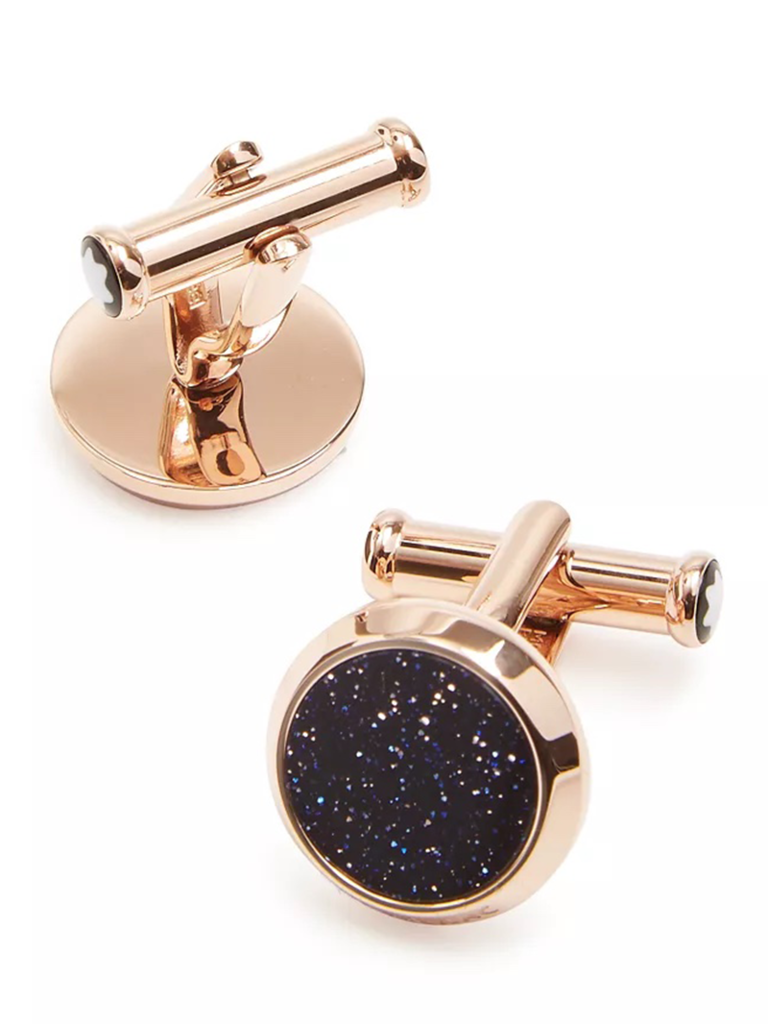 Sometimes a special occasion calls for pulling out all of the stops, and these goldstone inlaid Montblanc cuff links are the perfect sophisticated status symbol. Give them as a wedding gift and watch guests' jaws drop.
The Blue Agave Studio Gatsby Retro Monogrammed Initials Personalized Cufflinks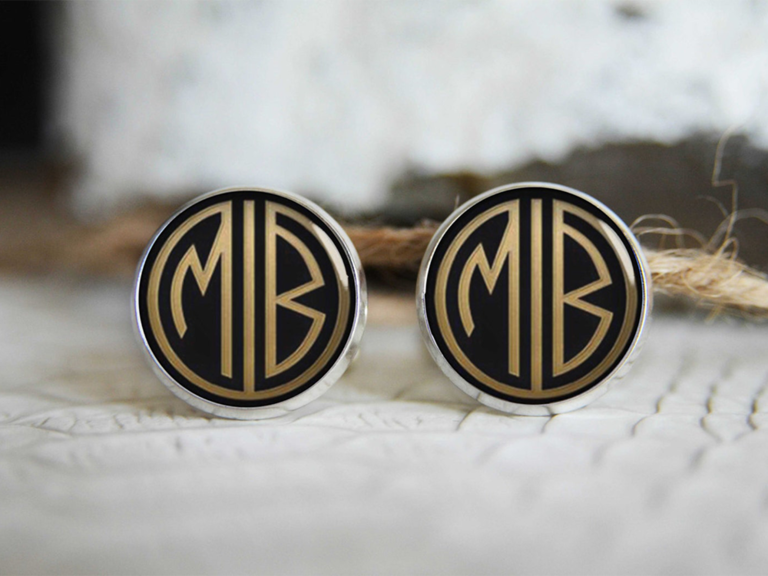 If monogrammed cuff links are more what you're looking for, these are an absolute steal. They're perfect groomsmen gifts because of the price, the customization and the fact that they can be in your hands in about two weeks. Choose from five different metal finishes, including brushed bronze for an antique look or trendy rose gold plated.
Cufflinks Inc. Stainless Steel Tartan Plaid Cufflinks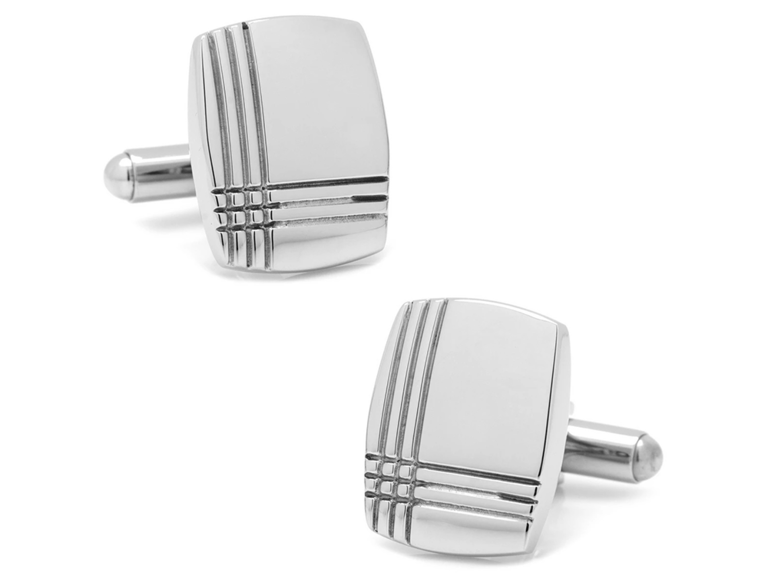 Stainless steel's non-corrosive properties mean that it will pretty much never break down or look worn out, making these cuff links the gift that will last a lifetime. They boast a simple but slightly oversized plaid design that will standout but never go out of style.
A and L Engraving Engraved Cufflinks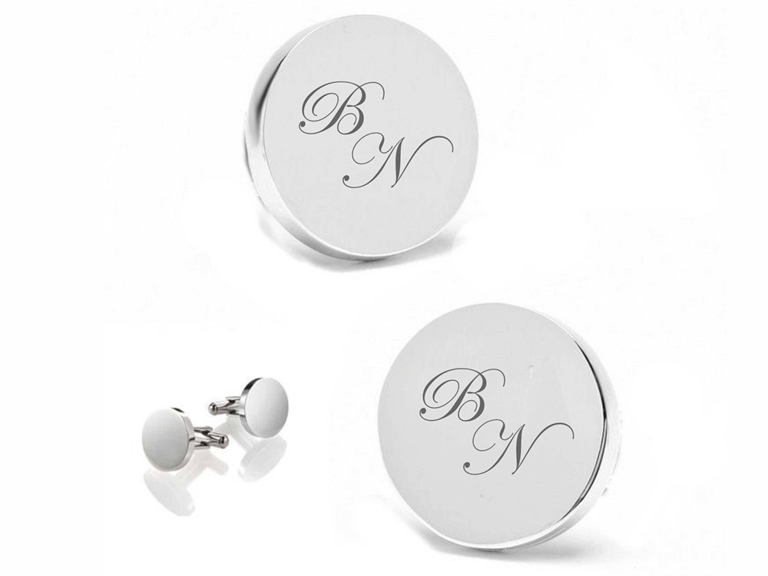 Choose from 14 font styles—including an interlocking monogram—when personalizing these simple circular bullet back cuff links. They come in a black jewelry gift box and make a great present, so consider personalizing them for your whole wedding party. You can also have a custom logo or other design engraved by contacting the seller before you checkout.
Rhona Sutton Sutton by Men's Silver-Tone Father of the Bride Cuff Links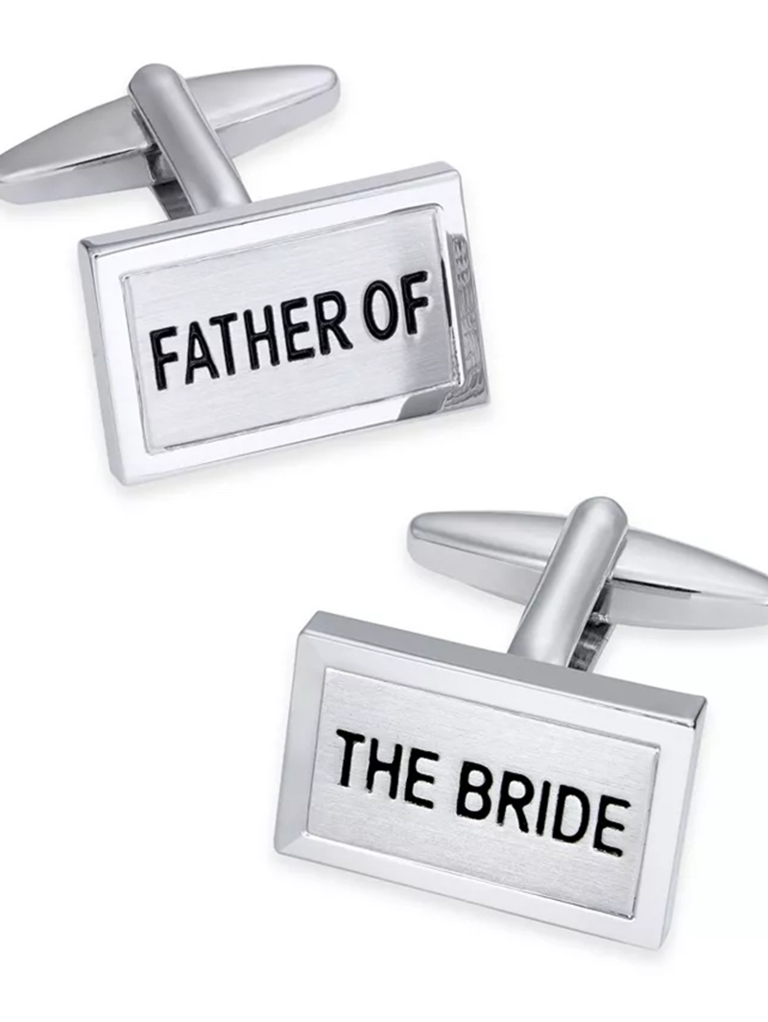 We love this witty set of wedding cuff links for the father of the bride with a sense of humor (or maybe serious nerves about walking down the aisle). They're sure to become a keepsake he will treasure fondly for decades to come.
Macy's Men's Sterling Silver Love Knot Cuff Links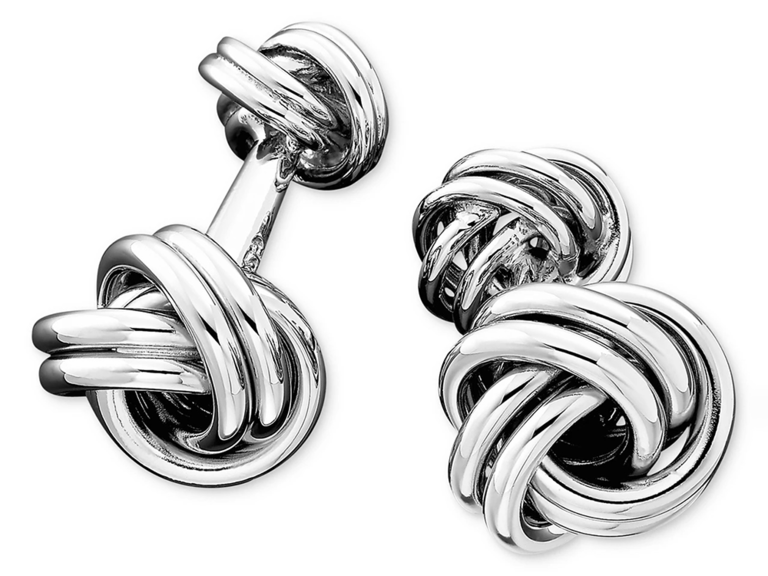 Knot cuff links are one of the most classic cuff fasteners. In fact, many shirts come with silk knots on the cuffs that can be used or replaced with metal. These sterling silver knots represent tying the knot in a sophisticated and traditional style that can be worn daily or as evening formal.
BCR Designs Mother of Pearl Sterling Silver Cufflinks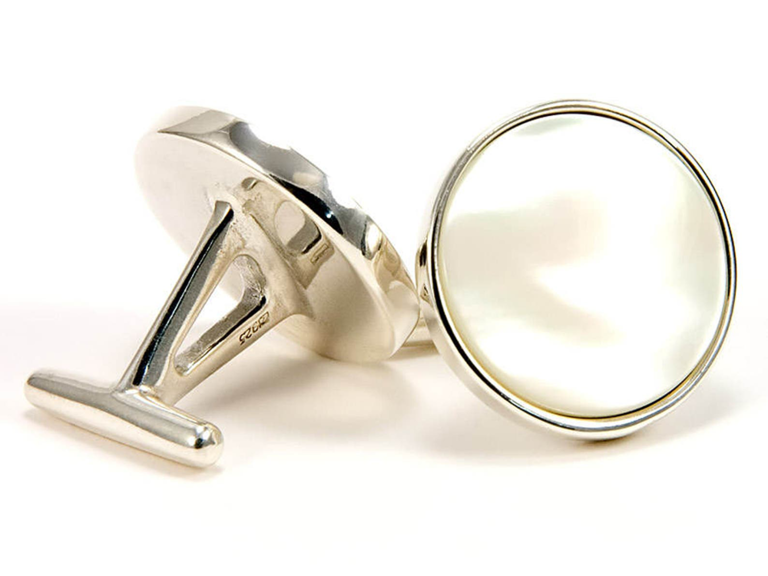 Each pair of these elegant formal fixed back sterling silver cuff links is made to order and the Etsy seller is happy to work with you on pricing for ordering multiples, too. They come in a lovely jewelry box that makes them stunning gifts for small wedding parties or just the best man.
Ox & Bull Trading Co. I Love You Enamel & Stainless Steel Cufflinks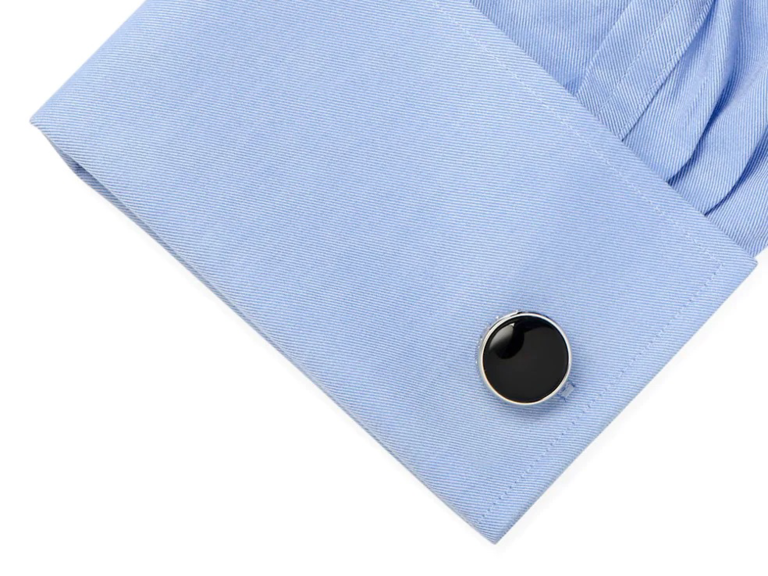 Stainless steel that's polished to a mirrored finish sets the stage for these classic onyx black cuff links. The swivel backs make them easy to put on, while the 3/4-inch diameter means they're big enough to be seen without demanding attention. However, it's the engraving of the words "I love you" around the steel rim that make them a perfect wedding day gift.
One Memory Lane LLC Custom Rose Gold Handwriting Cufflink Set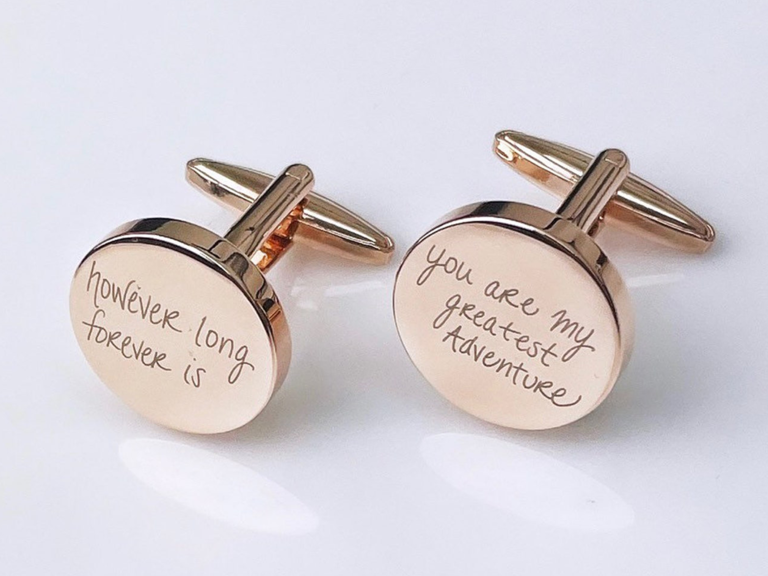 For a truly one of a kind pair of custom cuff links, have your handwriting engraved onto the surface. Just send this Etsy star seller an image of what you want on each rose gold swivel back cuff link and let them work their magic.
Wuz Line Personalized Wood Cufflinks and Tie Clip Gift Set with Wooden Box
Couples hosting rustic weddings, woodworkers, craftsmen, architects and builders will appreciate this cuff link set and matching tie bar for the gift box alone. But the goods inside are equally as awesome. Engrave one or all three components in your choice of fonts and designs, including a thank you version for groomsmen gifts and other commemorative styles that include a monogram and date. You can upload your own design, too—and get a discount for ordering more than five.
Joseph Cirincione Custom Love Letter Cufflinks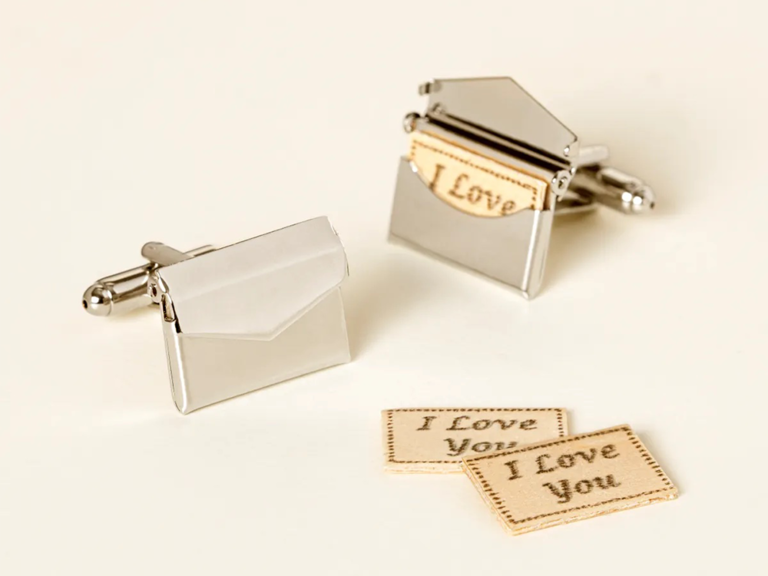 Love letters don't have to be a thing of the past—these brass cuff links are an adorable way to pass a note to your sweetheart. Each envelope's wood "letter" can be printed with an existing design or your own writing or doodle. Just be aware that a custom design must be very simple in order to fit onto the wood card, so a couple of words or small art will do.
The Knot Shop Round Gunmetal Cuff Links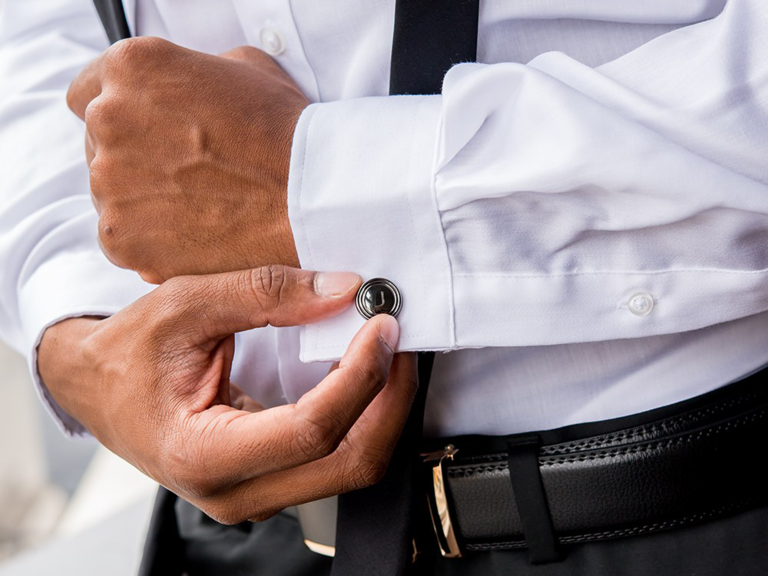 Gunmetal is a darker gray metal that comes across more casual and less fussy than gold or silver. These toggle back beauties are a crowd pleaser for grooms, groomsmen and coordinating wedding parties. Customize each set with a single initial and a gift box, or leave them blank. Either way, they're great for dressing up everyday outfits and special occasion suits alike.
The Knot Shop Vintage Book Locket Cufflinks
It doesn't get more thoughtful than these book locket cuff links for bibliophiles, book worms and those whose fairytale dream is coming true. Customize what you put into each oval frame—four in all—and swap them out whenever the mood strikes. They're also a fun gift idea for the wedding party with photos from the story of your pre-matrimony history.
Joseph Cirincione Illuminated Constellation Cufflinks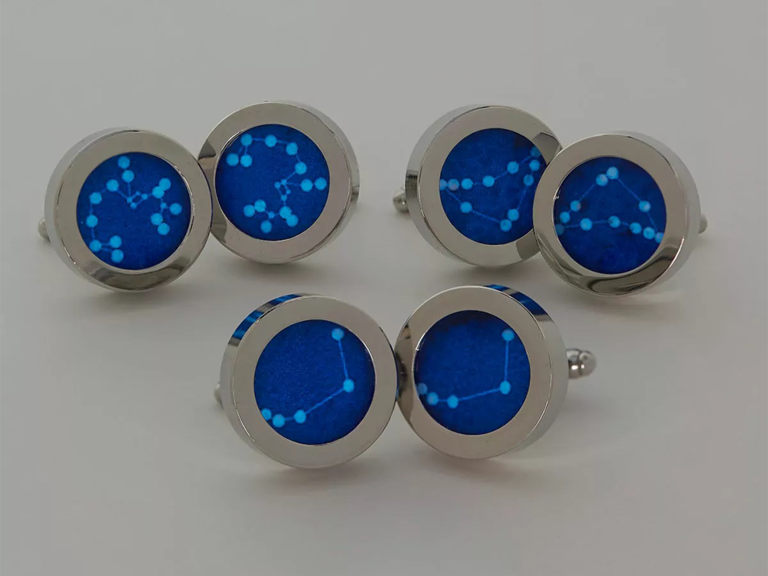 One of the most unique cuff links on this list are these illuminated stunners. The artist adds special luminous pigment powder under mineral glass to create a constellation of any zodiac sign that will light up the dance floor. They're perfect for a duo that consider themselves star-crossed lovers.
Janice Sears Custom Map Cufflinks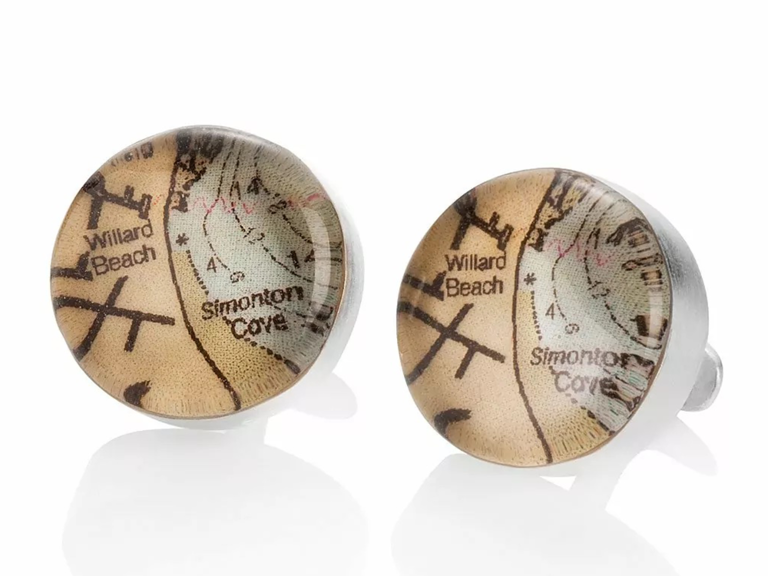 Commemorate a place you hold close to your heart, like where you grew up, where you met your love, where you got engaged or where you're getting married. These customized sterling silver cuff links encase actual paper map clippings to your specifications and you can add a monogram or date on the back of each.
Paul Frederick Sodalite and Swarovski Crystal Cufflinks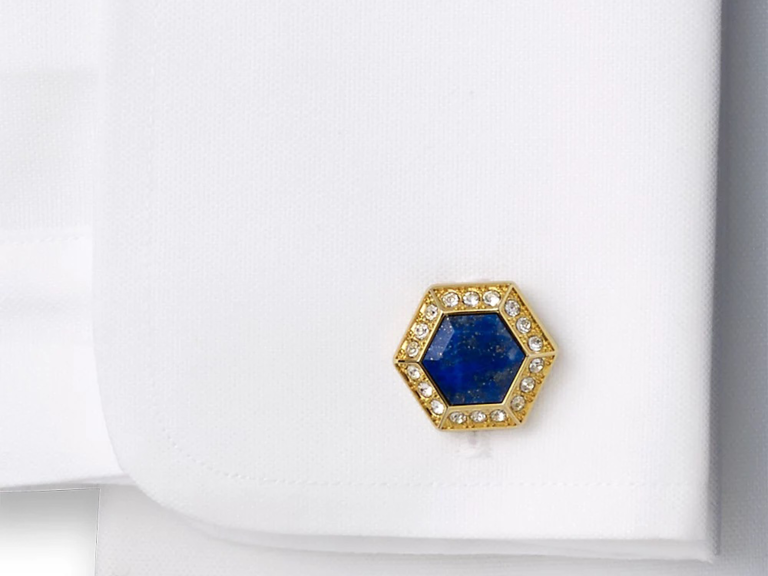 For the look of luxury—without the sticker shock of diamonds—these Swarovski crystal cuff links deliver. The brilliant blue sodalite stone and super polished gold plating finish is fit for a king or queen on a budget. We love these for a classically ornate and glamorous evening wedding.
Ox & Bull Trading Co. Men's Double Sided Round Beveled Cufflink and Stud Set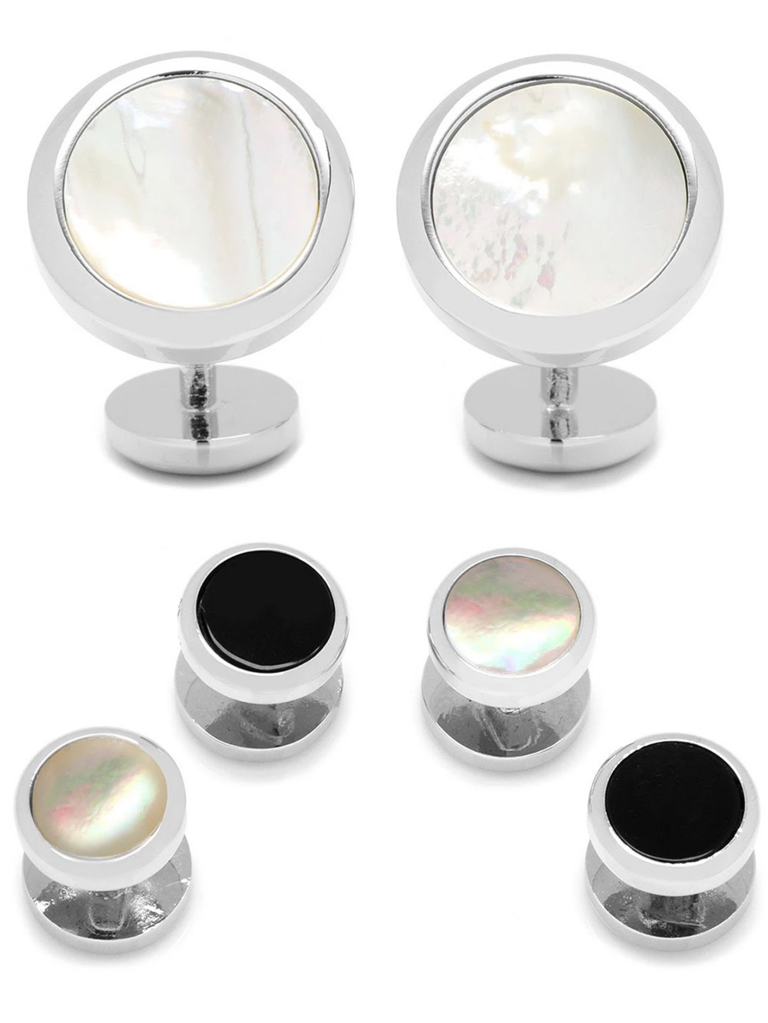 This versatile set of studs and tuxedo cuff links will make it easy to look your best come wedding day. Classic onyx and mother-of-pearl inlays are featured on either side so that the wearer has the versatility to go all mother-of-pearl, all onyx or mix and match. Either way, this is a gift that will keep on giving (options).