Everything You Need to Know About Sex on Your Wedding Night
Here's how to prepare for your first night as newlyweds.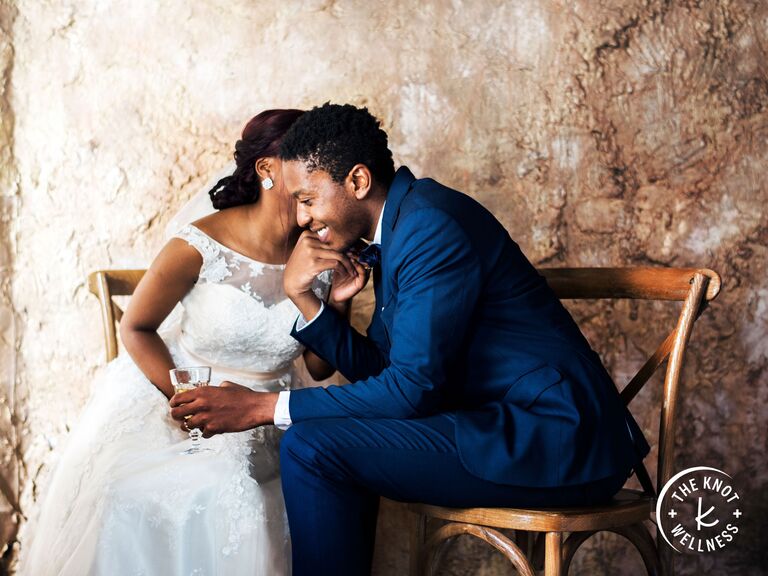 Rawpixel / Getty Images
In the months leading up to your "I do's," pretty much all of the focus is on planning your wedding day. It makes sense—planning an entire wedding is no easy feat! But as the nuptials get closer, it's a good idea to start thinking about your wedding night too (and more specifically, wedding night sex). Just as it's important to consider what kind of venue you want, which wedding cake flavors you love the most or what flowers are non-negotiable for your decor, it's equally important to give some thought to your ideal wedding night.
Is it important to you to get physically intimate with your new spouse right away? Or are you content just falling asleep next to them after a long day of celebrating your love? For many couples, sealing the deal on the night of the wedding isn't a dealbreaker, but for others, it feels like the perfect end to a perfect day. Painting a picture of your ideal wedding night—whether or not that includes sex—will help you communicate your desires to your partner and have an effective discussion about expectations.
Of course, sometimes expectations aren't grounded in reality. To help you understand what happens on the wedding night and how to prepare, we've connected with experienced couples therapist and founder of Heal Your Roots Wellness, Kira Yakubov.
Do You Have to Have Sex on Your Wedding Night?
When it comes to your wedding, there are very few things that you have to do. We're all for breaking tradition if it's what you and your S.O. want. That said, how much of a tradition is having sex on your wedding night, really? "The idea that there 'should' be amazing sex or sex at all on a wedding night is quite outdated, misleading and can cause shame when it does not live up to the hype," says Yakubov. And while sex on the first night of marriage seems like the norm on TV and in films, the real-life stats might surprise you. Our company data from a 2018 survey shows that less than 40% of couples actually have sex on their wedding night.
There are lots of reasons why a couple might wait until after the wedding night to get physically intimate, but often it's down to one simple thing: tiredness. "By the time you actually get to your marital room for the night, most people will want to crash and go to sleep, which is completely understandable," says Yakubov. "Now let's add in the pressure to not only be aroused but have enjoyable, romantic sex that should be magical and different from any other time you've had sex with your partner. How realistic does this sound?" she continues. So, not only is it okay to not have incredible sex on your wedding night, it's also totally normal to have no sex on your wedding night.
What to Expect From Wedding Night Sex
It's all too easy to get caught up in unrealistic expectations, especially for experiences that aren't always accurately depicted, like sex. "Our society's depiction of sex does not take into account the many factors that impact a person's ability to become aroused and experience desire," says Yakubov. You and your fiancé are human beings, and having connected and pleasurable sex is not as simple as flicking the "turned on" switch. Expecting that to change all of a sudden will only exacerbate pressure and potential disappointment down the road.
Wedding day sex is even less accurately depicted, with many of us building our beliefs from places like film and TV. "Films and shows romanticize the wedding night to be a chemistry-filled, sparks-flying, sexually charged experience when really it can be so far from that," says Yakubov. While we've all reveled in the fantasy of Regé Jean Page and Phoebe Dynevor's characters in Bridgerton, it's important to understand that it's fiction and not real life.
The pressure to have great sex after your wedding can directly impact your or your partner's ability to participate in or enjoy physical intimacy. "Pressure and expectation are huge turn-offs for many and do not allow our bodies and minds to be in the present moment, which is an essential ingredient for pleasure," explains Yakubov. By expecting a fairytale scenario or the best night of your life, you could actually be pushing yourself and your partner further away from meaningful and enjoyable sex.
Questions to Ask Each Other Before Your Wedding Night
Knowing what you envision for your wedding night is just half of the picture. It's important to understand your fiancé's feelings about wedding night sex too. As with many wedding planning decisions, this may be something that you have to talk through at length. "Creating these shared experiences by processing and sharing feelings ahead of time allows the couple to be on the same page and decide what actually works for them," says Yakubov. Here are some helpful questions to discuss together:
What do you think typically happens on a couple's wedding night? Yakubov suggests starting the discussion by sharing what each of you has learned to expect on the wedding night, both from yourselves and each other. This will set you up for a productive conversation based on current beliefs.

What does wedding night sex signify to you? "Take time to explore why this is important for each of you and what it means to the relationship," suggests Yakubov. Dig into each other's values when it comes to wedding sex. Is it an important event for either of you? If so, why?

Where does that belief come from? "Being open and honest about these beliefs or narratives is important in discussing if this is actually what they want to experience," says Yakubov. "Allowing outside expectations to dictate how their marriage and sex life should look is a dangerous game to play," she continues.

How does wedding night sex make you feel? Gauge how each of you is really feeling about doing the deed on your wedding day. You or your partner may be feeling extra anticipation, anxiety or pressure to perform on such a momentous occasion. Make sure you are actively listening and taking your S.O.'s feelings on board. "Ultimately, it's important for the couple to be flexible and empathetic towards each other," says Yakubov.

How would your ideal wedding night play out? Finally, listen to each other's ideal wedding night experience. Yakubov recommends communicating how different wedding night scenarios might make you feel, as this is helpful in understanding each other's expectations and desires. It will also help you plan for a variety of potential scenarios, so if your ideal experience doesn't happen, you're somewhat prepared.
What to Do If You Feel Disappointed After Your Wedding Night
Sometimes things don't go as planned, whether you're both too tired, have one too many glasses of champagne or just aren't ready to leave the party yet. The postwedding blues are real, and it's okay to have negative feelings about not having sex on your wedding night if it's something you were looking forward to. "A level of disappointment is a normal part of any relationship because people will not always live up to our expectations and ideas of what we want," says Yakubov. The couples therapist explains that this isn't necessarily a bad thing. "The way in which you handle and address disappointment is more impactful to your future relationship," she says.
With that in mind, communication is key. "It is important to share those feelings of disappointment in a respectful way and not harbor them because this will eventually lead to resentment," advises Yakubov. But, as you acknowledge feeling upset or disappointed, try to recognize all the other emotions associated with your wedding day too. Feelings of love, gratitude, joy and pride should be felt in equal measure. Don't let one part of your day have a disproportionate impact on how you feel about the day as a whole.
It's also helpful to acknowledge the things you did instead. Was it incredibly fun mingling with your loved ones until the after-party ended? Was that extra glass of bubbly all the fuel you needed to tear up the dance floor? Did you and your S.O. sleep blissfully for the rest of the night? Just because it didn't go exactly as planned doesn't mean you didn't make priceless memories. You and your partner deserve some grace for navigating such an incredible (but exhausting) life milestone—now onto the honeymoon!