The 21 Best Honeymoon Dresses to Pack for Every Destination
Because everyone knows that planning the perfect trip and planning the perfect outfit go hand in hand.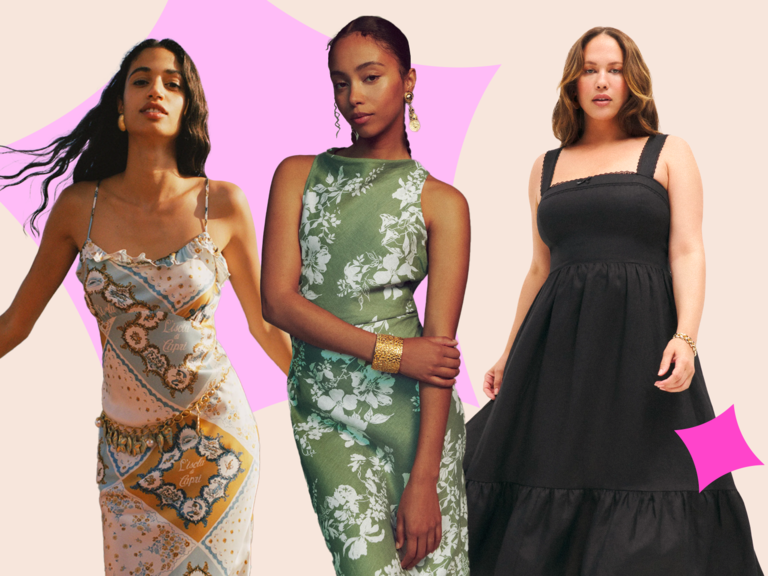 Photo: Reformation,Design: Tiana Crispo
We have included third party products to help you navigate and enjoy life's biggest moments. Purchases made through links on this page may earn us a commission.
Every fashion lover knows that part of the fun of planning a trip is getting to plan the outfits you'll wear. For newlyweds, planning a honeymoon destination means planning a special honeymoon dress or two.
Just like not all brides share the same style, not all honeymoon dresses will look alike for newlyweds. Whether your closet leans towards floral midi dresses from Reformation, edgy Cult Gaia sets or breezy Free People minis, we've found a honeymoon dress for you. Your own personal taste and style as well as the destination you're headed to will largely inform your honeymoon wardrobe. A beach honeymoon will have very different day-to-day activities than a mountainous honeymoon and your wardrobe will reflect that.
Whether you're jetting off to the Amalfi Coast, enjoying a serene stay on Nantucket, or venturing out west to Jackson Hole, we're here to ensure you're the best dressed on your honeymoon. Grab a suitcase and your travel-sized sunscreen and let's start packing!
The Best Honeymoon Dress For Every Destination
Whether you're planning a week of lounging poolside at a tropical resort or an adventurous week of hiking in the mountains, we shopped the best editor-approved honeymoon outfits you'll want to pack no matter the destination. Bon voyage!
Capri Honeymoon Dress: Reformation Aribella Silk Dress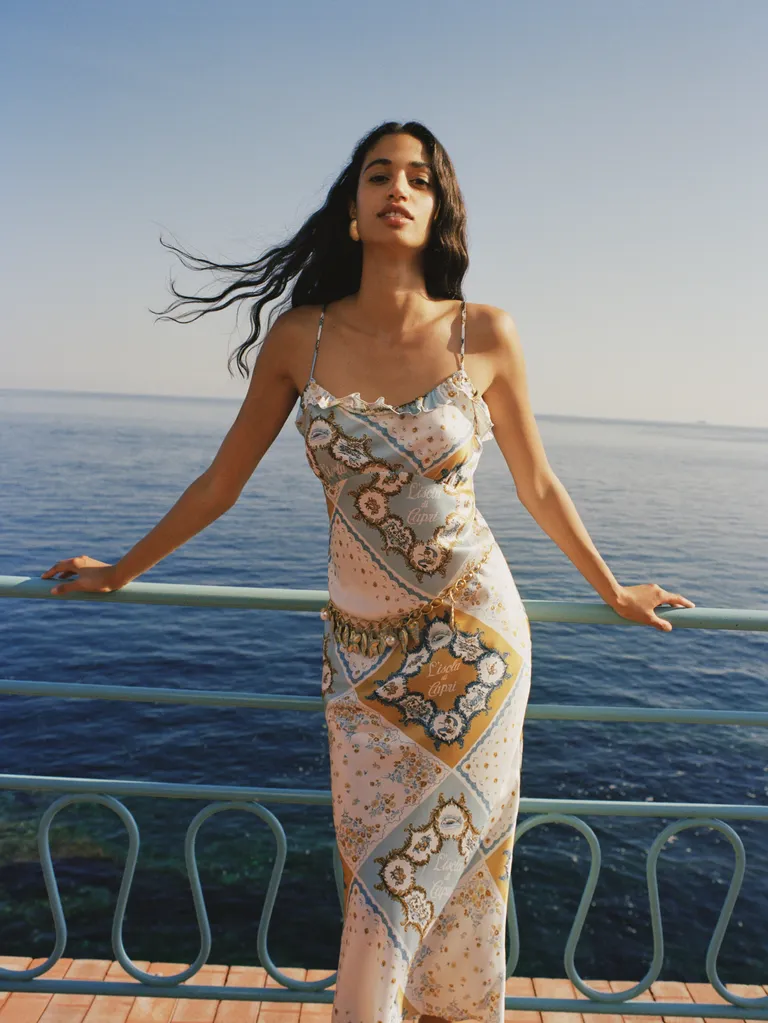 This dreamy silk mini will be your travel companion for a romantic week in the seaside Italian town of Capri. Fitting, considering this colorway is called "L'Isola Di Capri". It's comfortable enough to wear on a long day while you enjoy romantic sunset cruises and stunning views — and of course, snap the perfect Instagram worthy photo.
Size Range: XS - XL
Sedona Honeymoon Dress: ASTR the Label Josiane Dress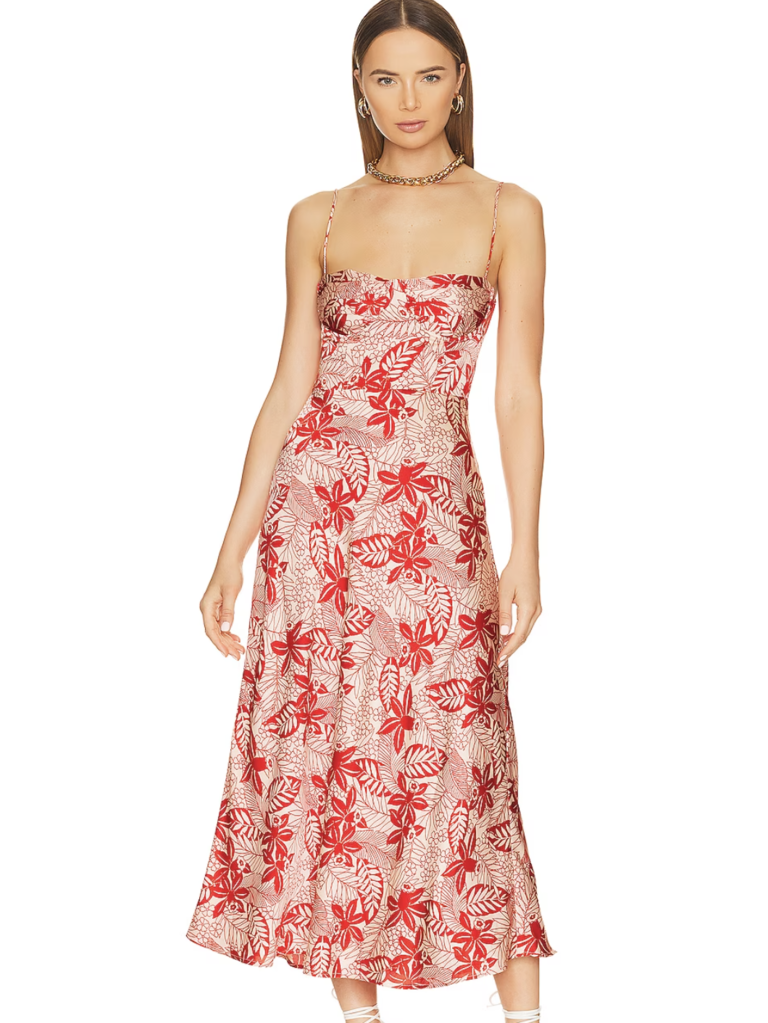 Match the famous red rocks of Sedona, Arizona in this breezy printed midi dress. It's versatile enough to wear with sandals during the day and with a stiletto heel for evening.
Size Range: XS - L
Banff National Park Honeymoon Dress: Christy Dawn The Adelaide Dress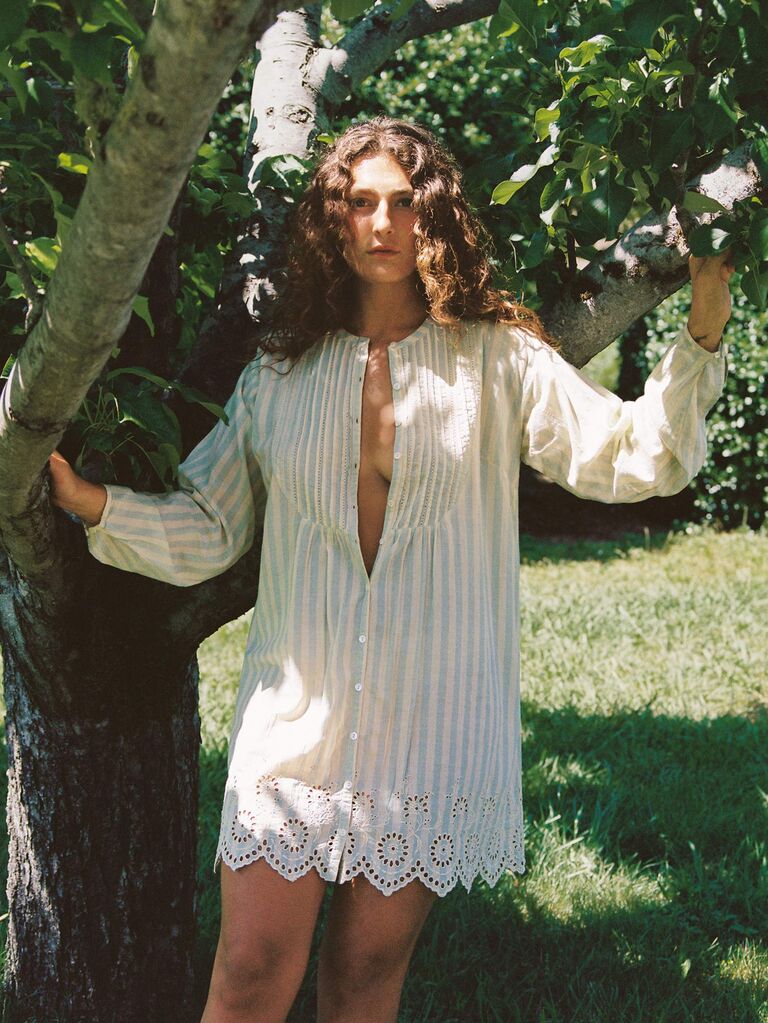 This lightweight mini is perfect for an outdoorsy trip to take in the breathtaking landscapes of Banff National Park in Canada. Pair it with boots for an adventurous day of exploring the great outdoors. Plus, Christy Dawn's sustainably made dresses are a Taylor Swift favorite.
Size Range: XS - XL
Napa Valley Honeymoon Dress: Saylor Lesli Midi Dress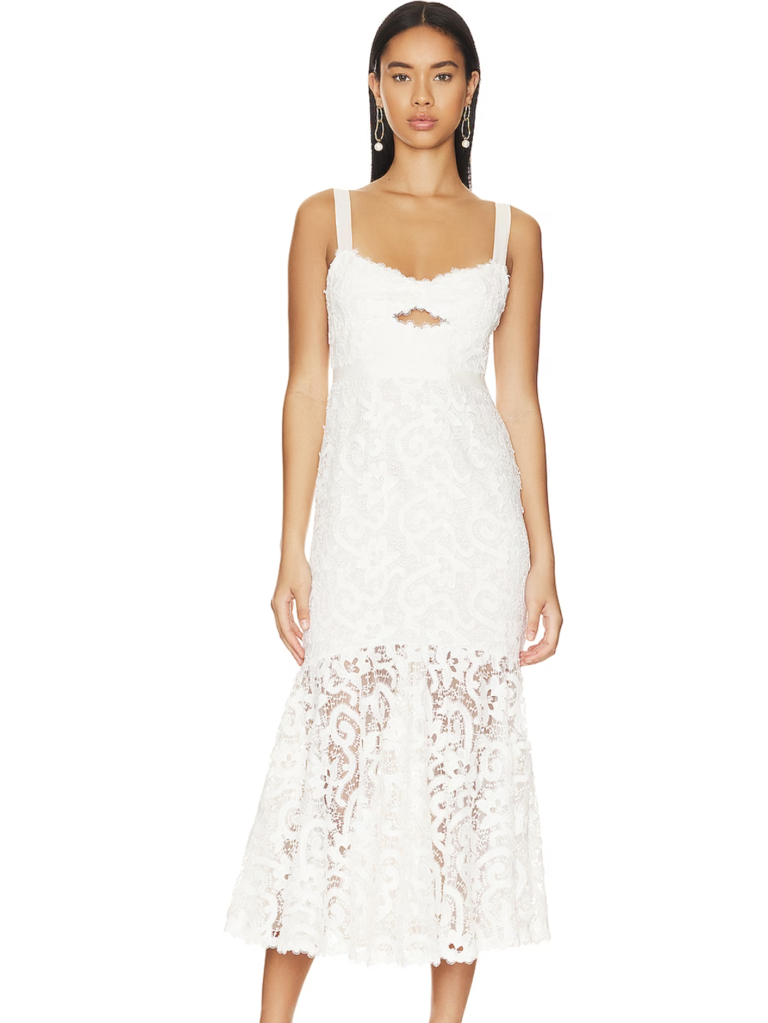 No honeymoon is complete without one last bridal white dress, and this one from Saylor is sure to turn heads. The lacy midi is an especially chic choice for exploring the best vineyards of Napa Valley. The perfect finishing accessory: a cold, crisp glass of sauvignon blanc.
Size Range: XS - L
Bali Honeymoon Dress: PatBO Hydra Cross-Front Beach Dress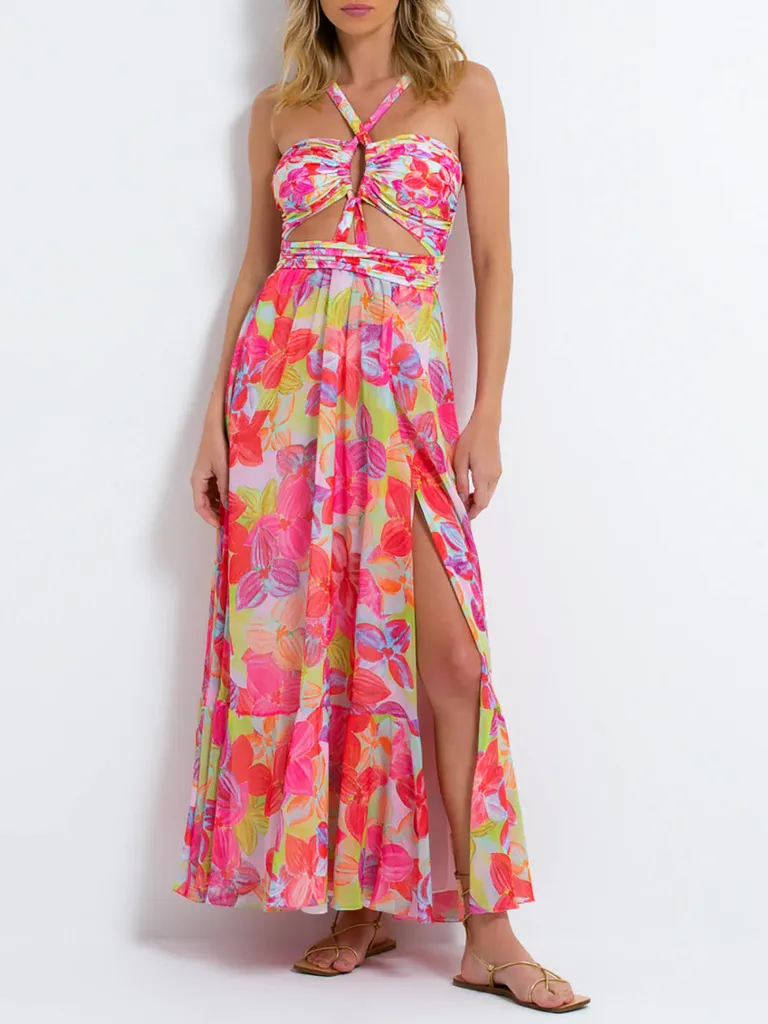 The island of Bali is a popular honeymoon destination known for its tropical beaches and cascading mountain views. Add to the views with this statement making beach dress from PatBO. An airy skirt and lycra bodysuit make it the perfect dress for an island getaway.
Size Range: XS - L
French Riviera Honeymoon Dress: Reformation Rowen Linen Dress Es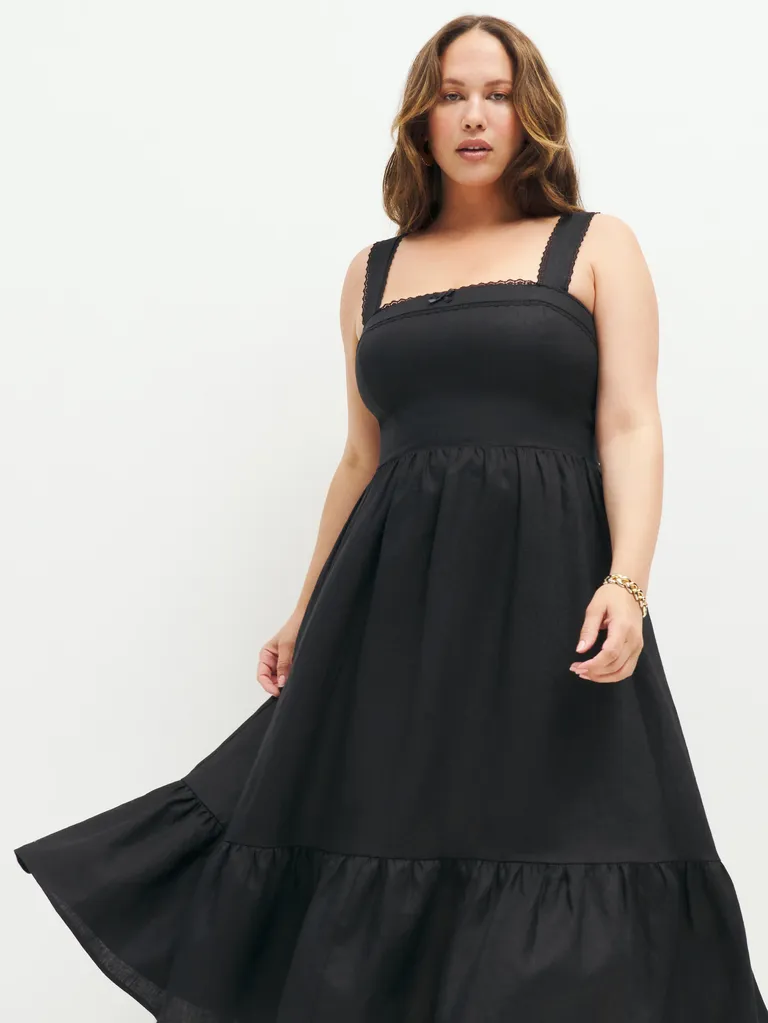 This linen co-ord set is a breezy, comfortable option for exploring the French Riviera. Whether you're frolicking through the lavender fields or enjoying seaside truffle pasta and Palomas, this dress will keep you feeling comfortable and looking amazing throughout your stay.
Size Range: 14 - 24
Nantucket Honeymoon Dress: Free People Sundrenched Printed Maxi Dress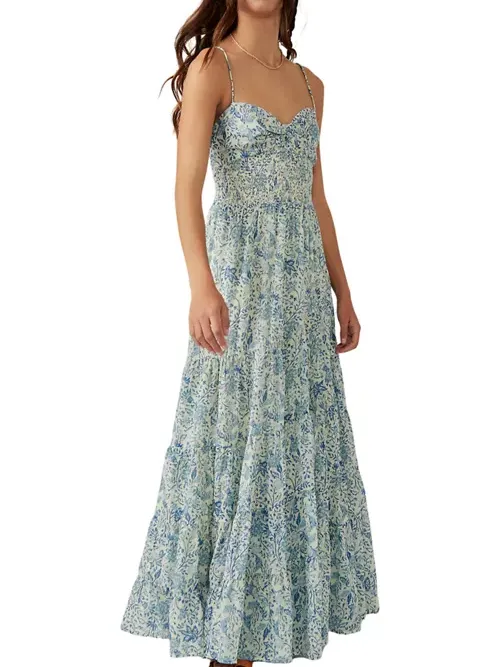 This periwinkle dress is a nod to the exploding blue hydrangeas that cover the island of Nantucket. You'll feel right out of an Elin Hilderbrand novel while you enjoy oysters and rosé at Nantucket's many scenic beaches and waterfront restaurants.
Size Range: XS - L
Amalfi Coast Honeymoon Dress: Lulus A La Tart White and Yellow Lemon Print Wrap Dress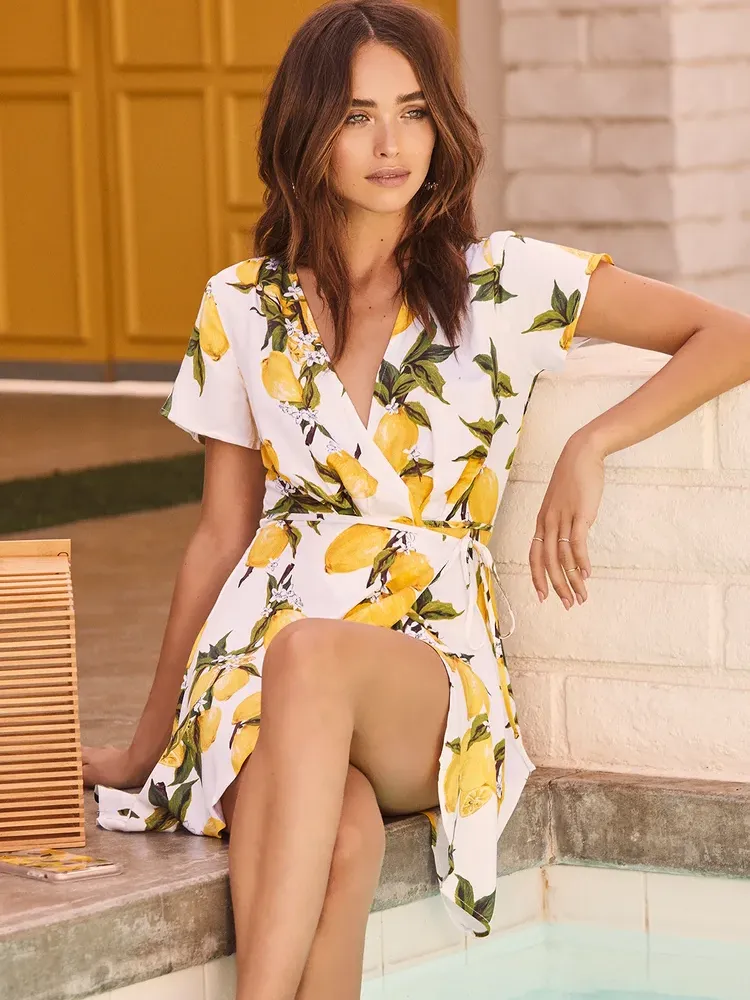 Lemon print is a no brainer for a trip to the Amalfi Coast. This sweet mini is your perfect companion for strolling the picturesque streets — limoncello spritz in hand — and enjoying a scenic boat ride along the coast.
Size Range: XXS - XL
Bahamas Honeymoon Dress: Rhode Giovanna Dress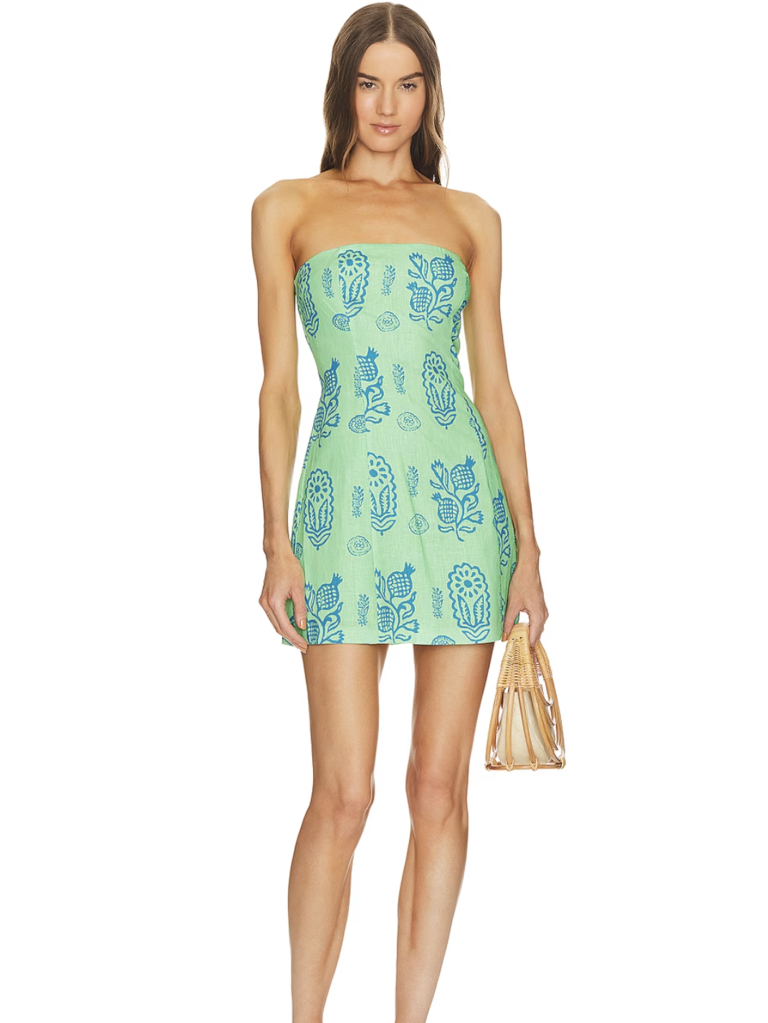 A trip to paradise calls for a bright colored mini dress. This printed Rhode dress is perfect for throwing on after a long day spent at a Bahamas beach. A strapless fit is perfect for showing off your new glowing tan.
Size Range: 0 - 12
Kyoto Honeymoon Dress: Hill House The Ellie Nap Dress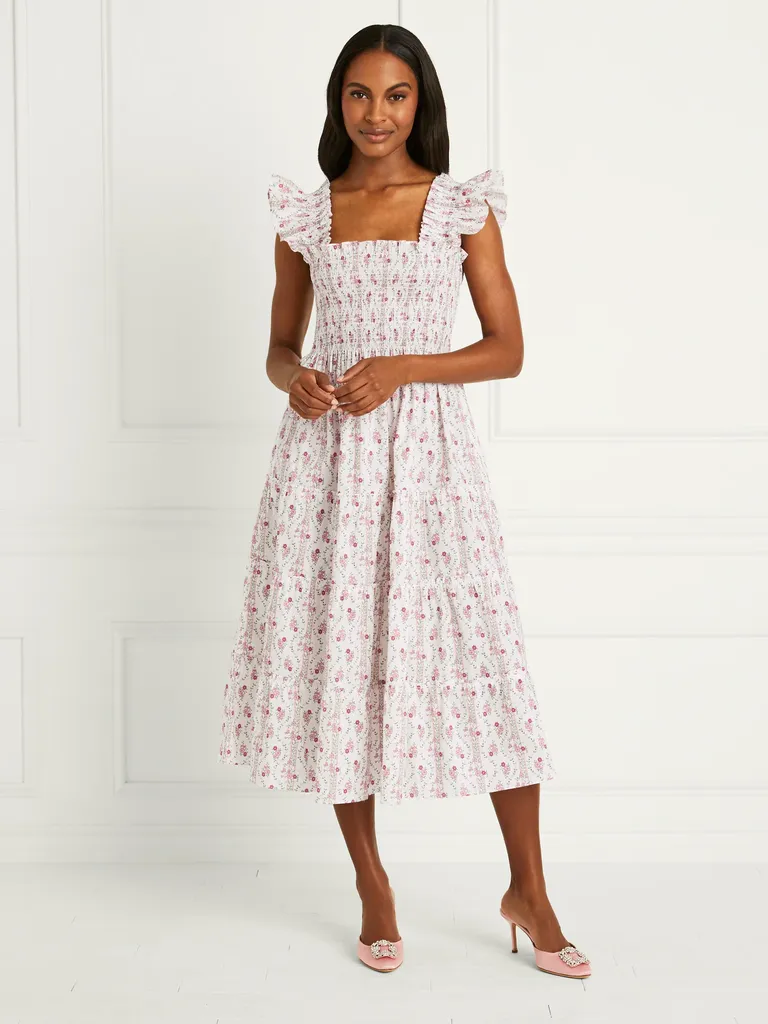 The cult-classic Nap Dress is perfect for taking in the famous shrines and temples of Kyoto. Plus, the pink tones floral print is practically made for strolling through the cherry blossoms.
Size Range: XXS - XXL
Santorini Honeymoon Dress: Abercrombie Emerson Poplin Puff Sleeve Midi Dress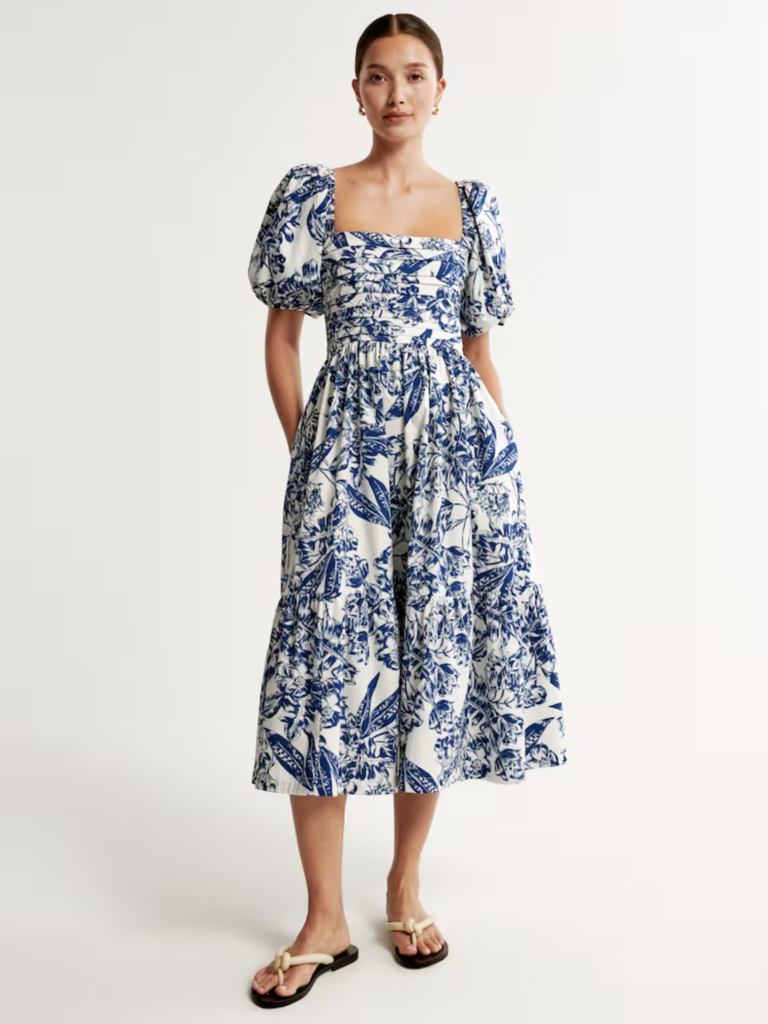 One of the most iconic parts of the Greek islands is the blue painted roofs that dot the towns. This blue and white midi dress is a perfect complement to the ocean scenery and Greek architecture of Santorini. Enjoy delicious Greek food, fantastic wineries and long beach days—basically you'll be living in your Mamma Mia! dreams.
Size Range: XXS - XXL
Hawaii Honeymoon Dress: Reformation Casette Linen Dress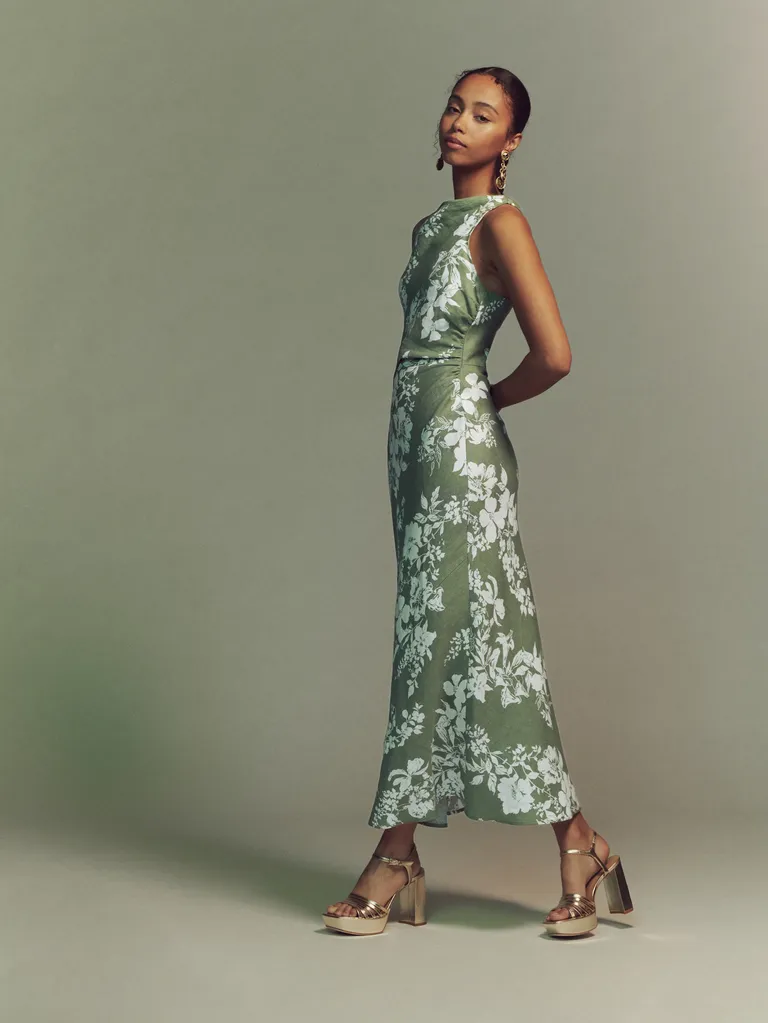 This backless midi drapes effortlessly over the body like silk, but is made of a comfortable, breathable linen. It's the perfect choice for a sunset dinner on the beach.
Size Range: 0 - 12
Bora Bora Honeymoon Dress: Agua Bendita Gillian Mini Dress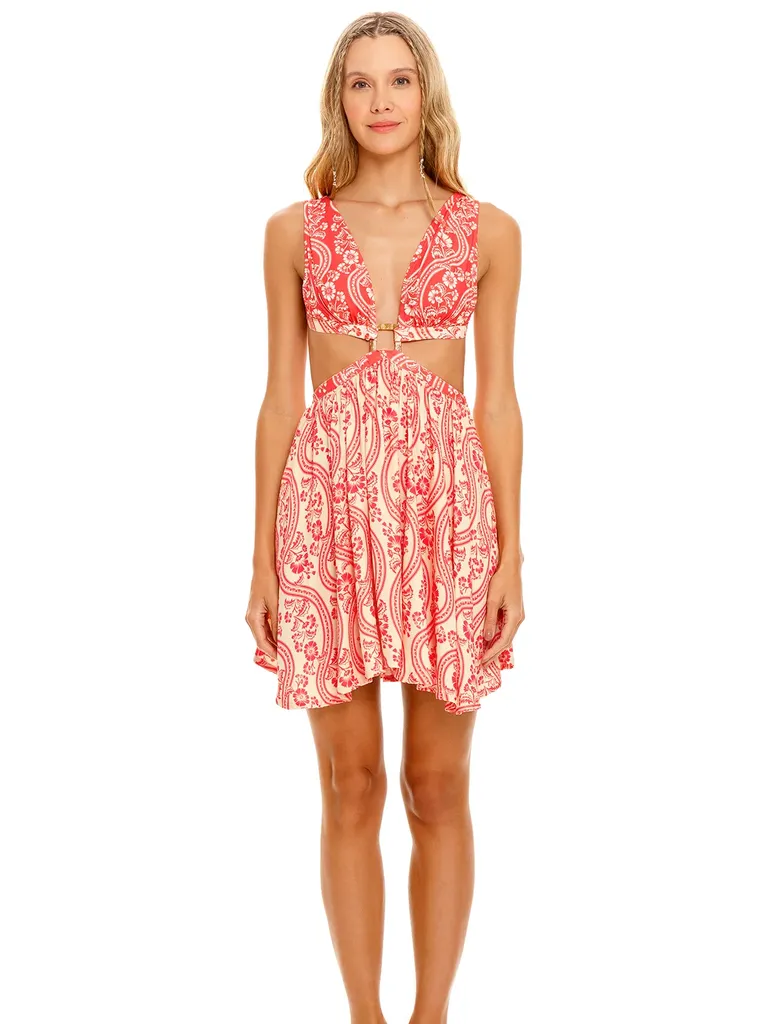 A sexy cutout mini dress is a must-have for a Bora Bora honeymoon. Picture luxury villas, crystal clear water and you and your spouse in utter relaxation. It doesn't get better than this.
Size Range: S - L
Jackson Hole Honeymoon Dress: Christy Dawn The Emma Dress Extended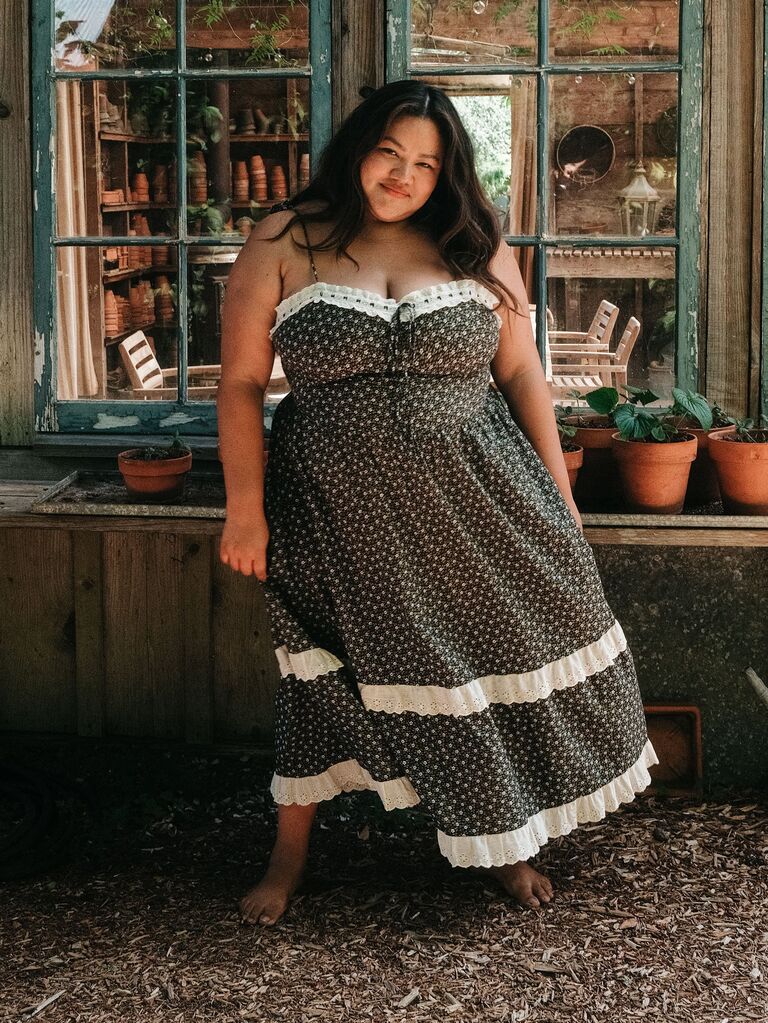 For the outdoorsy couple who wants to take in the rustic charm of the American West, Jackson Hole is the place to be. Pack along this vintage inspired maxi dress for romantic starry picnics and breathtaking sunsets over the mountains. Plus, it would look great with a pair of cowboy boots.
Size Range: 1X - 3X
Martha's Vineyard Honeymoon Dress: Birdy Grey Balloon Sleeve Mini Dress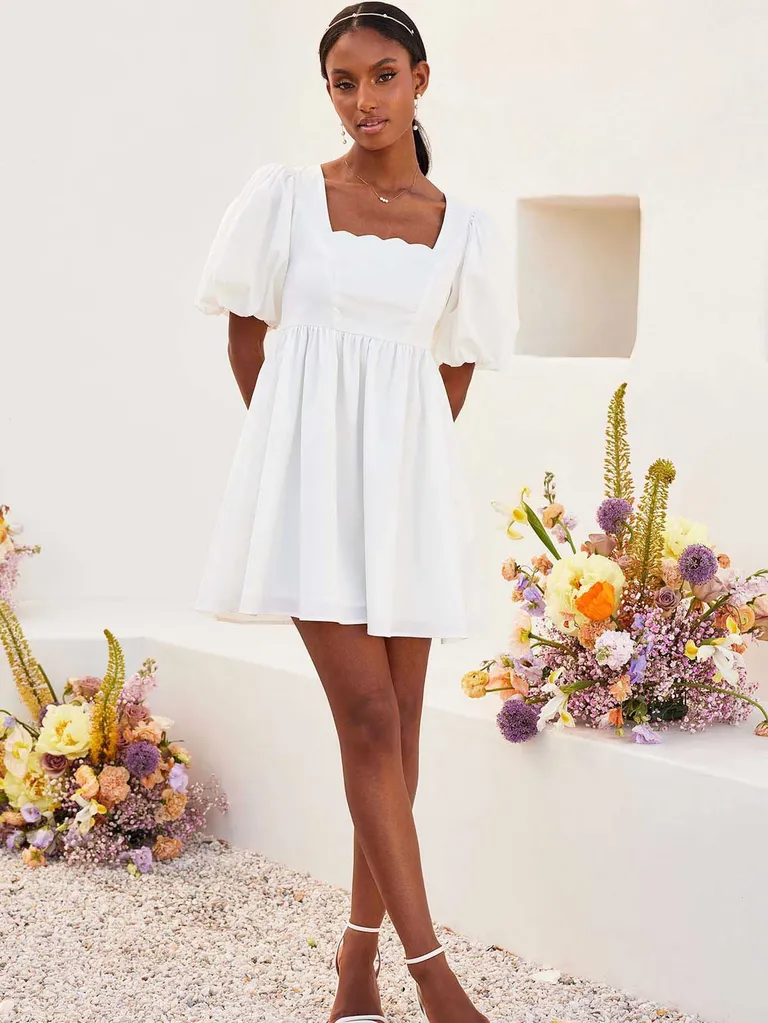 This is what coastal grandmother dreams are made of. A sweet white mini is perfect for evening bike rides and seaside dining in this quaint New England town.
Size Range: S - L
Australia Honeymoon Dress: Savannah Morrow Bambi Dress Cream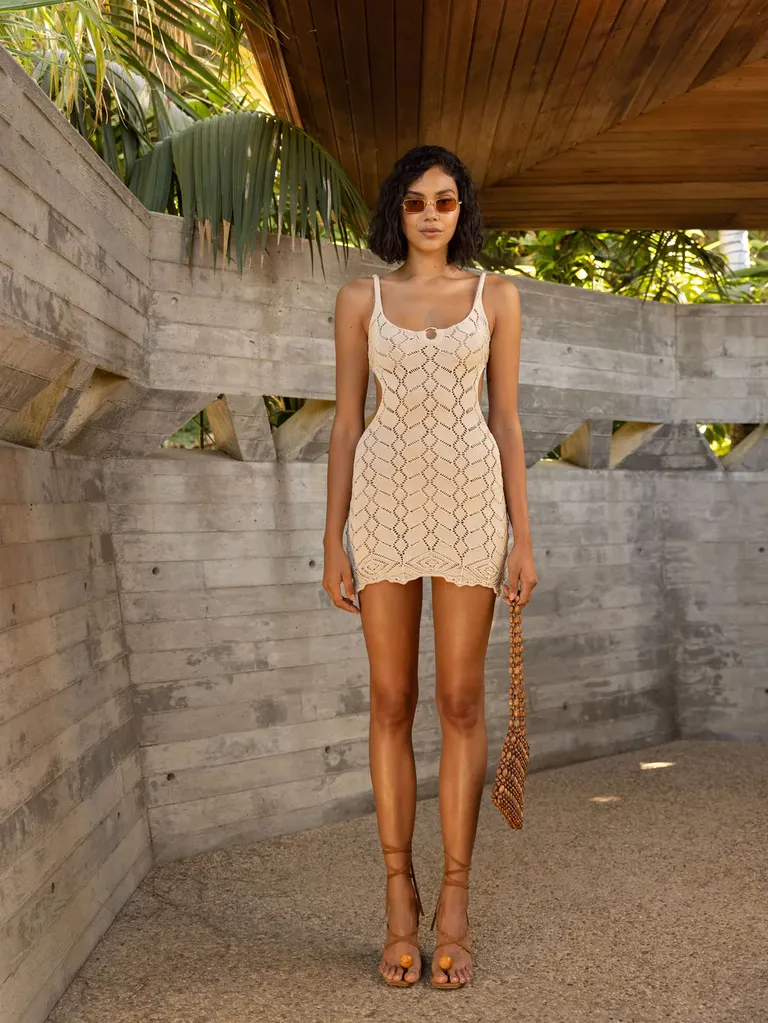 This sultry knit mini dress is a honeymoon must-have. It features an open back with a tie closure for an adjustable fit. Pack it in your carry on for a tranquil stay on the beaches of Australia.
Size Range: XXS - XXL
Ireland Honeymoon Dress: Free People Eye-Catching Mini
A plunging neckline and bow closure elevate this effortless mini dress. It's casual enough to wear while enjoying a Guinness at the pub, but will also look adorable in all of your Instagram photos exploring the castles and cliffs of Ireland.
Size Range: XS - XXL
Mexico Honeymoon Dress: Windsor Out Of Office Tropical Print Maxi Dress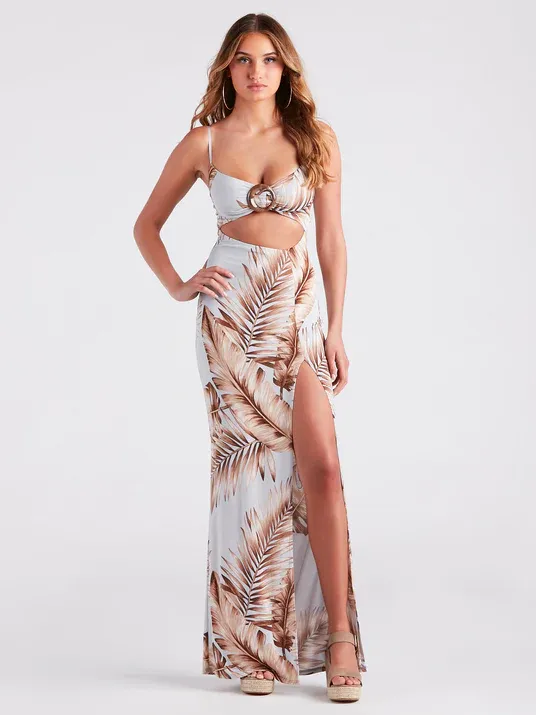 Sprawling ocean views and sand for miles calls for a tropical printed dress. A stomach-baring cutout and leg slit make this sexy maxi dress perfect for a romantic sunset dinner in Mexico.
Size Range: XS - L
Palm Springs Honeymoon Dress: Saylor Rogue Set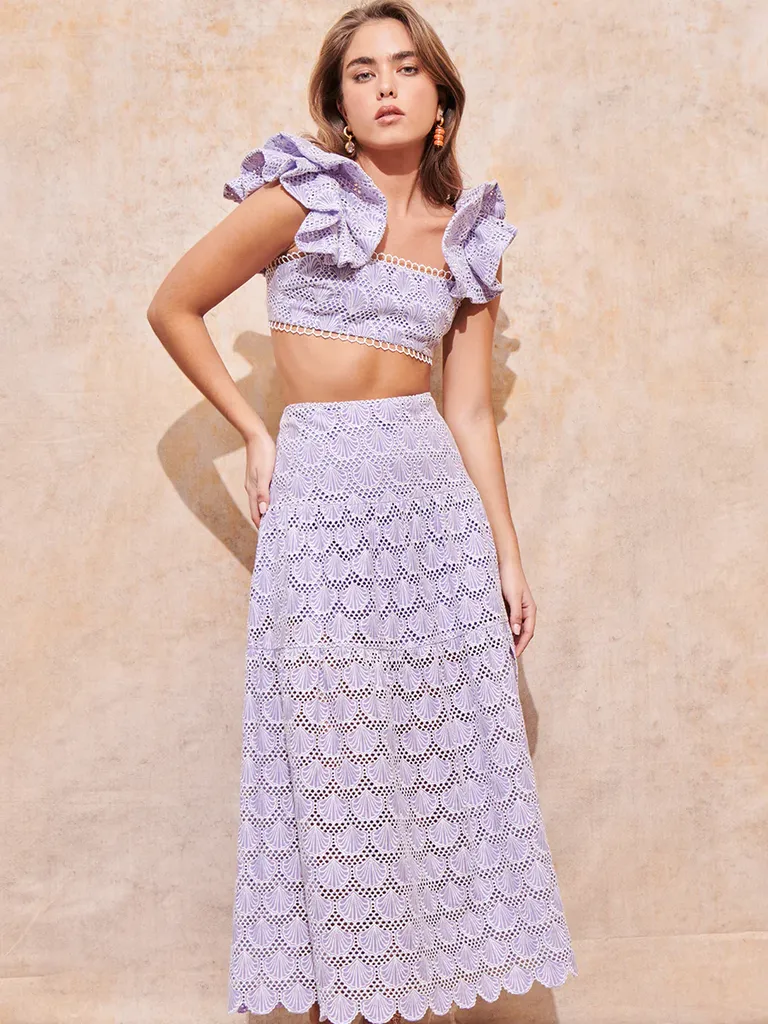 Cue "Lavender Haze" by Taylor Swift. This dreamy two-piece set perfectly fits the retro-glam vibes of sunny Palm Springs. You can dress it down for a day of downtown shopping or dress it up for a fancy resort dinner in the evening.
Size Range: XS - L
Colorado Honeymoon Dress: Dôen Franique Dress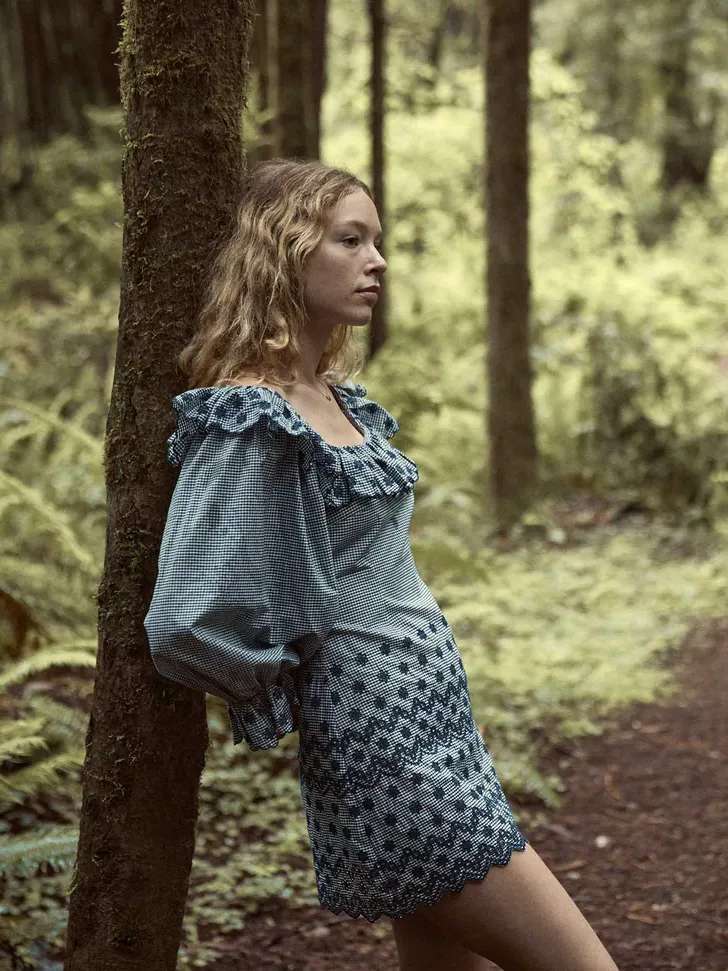 From the mountains of Aspen to the Cliff Palace of Mesa Verde National Park, Colorado honeymooners are in for an adventure. This sweet long sleeved mini dress is your perfect travel buddy because it's just as comfortable as it is stylish. Pair it with your favorite boots for an effortless yet functional look.
Size Range: XS - XL
Florida Keys Honeymoon Dress: LoveShackFancy Maple Mini Dress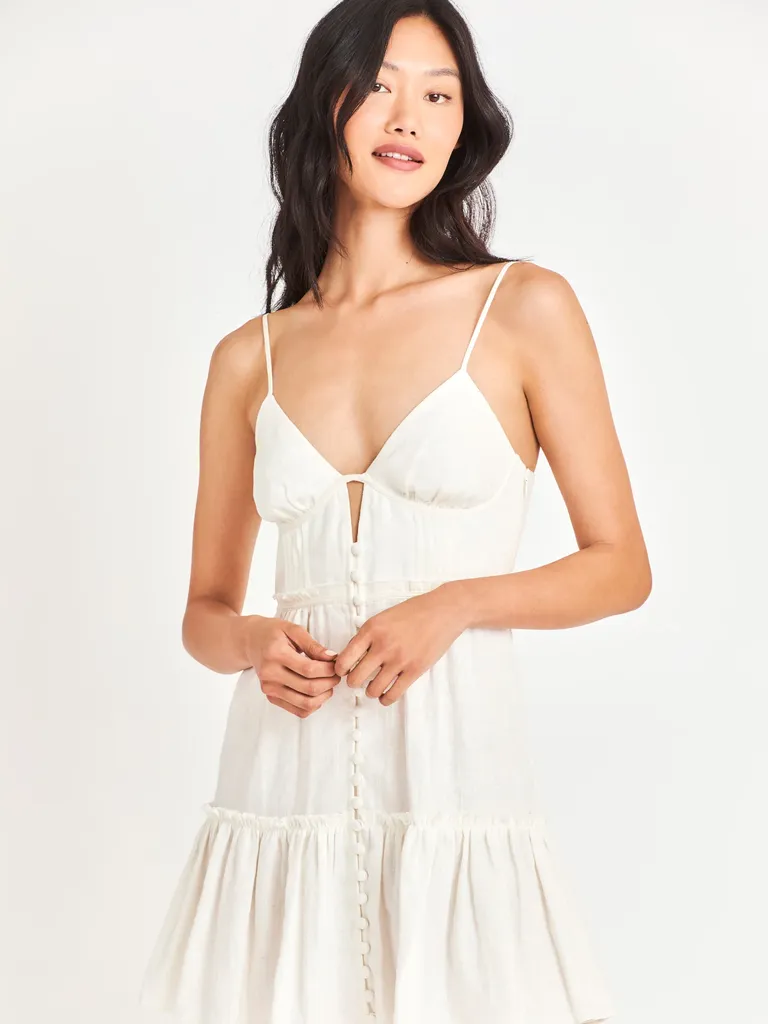 This honeymoon destination is a favorite for a reason. Pop on this white mini dress for a bike through town, keep cool for a day at the beach, and of course, consume as much key lime pie as humanly possible.
Size Range: 00 - 14
Costa Rica Honeymoon Dress: Cult Gaia Marina Knit Dress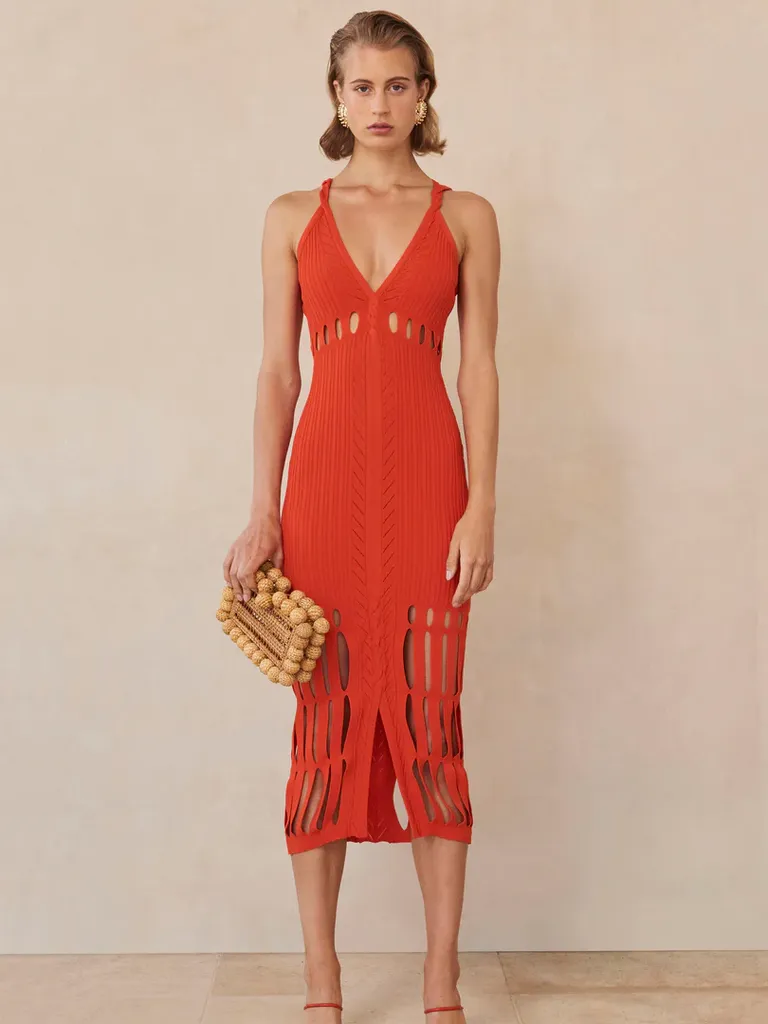 Embrace "La Pura Vida" (the pure life) in this red hot knit midi dress. Enjoy a romantic dinner in this fiery dress after a day spent surfing and end the night with mineral volcanic massages.
Size Range: XS - XL
Where to Buy Honeymoon Dresses
Shopping for honeymoon outfits should be fun, that's why we made it easy by sharing our top retailers for finding your perfect honeymoon outfit. No matter the destination, there's a honeymoon dress for you.
For Rustic Dresses: Christy Dawn
Vintage inspired dresses are what Christy Dawn does best. Their stunning dresses are truly like nothing you've ever seen. They can be dressed up for a nice dinner or dressed down with your favorite worn-in boots. Plus, their Farm-to-Closet mentality means they utilize regenerative cotton, making them a sustainable choice for conscious consumers.
Dresses starting at: $88 | Size Range: XS - 3X
For Tropical Dresses: Revolve
Online retailer Revolve is a mecca of stunning dresses made for tropical getaways. With brands like PatBO, Saylor, Free People and Rhode, to name a few, you're sure to find a new vacation favorite.
Dresses starting at: $49 | Size Range: XXS - 4X
For Sightseeing Dresses: Abercrombie
Abercrombie has an amazing range of dresses no matter your honeymoon plans. Whether you plan on exploring all day or want a romantic dinner outfit, there's a dress for you. Their dresses are especially comfortable and can be dressed up or down, making them a great option for sightseeing vacations.
Dresses starting at: $60 | Size Range: XXS - XL
Honeymoon Dress Shopping Tips
Shopping for a honeymoon dress is similar to shopping for any other special occasion. You'll want something that you feel comfortable in that's just a bit more elevated than your everyday outfits. Keep reading for our top honeymoon dress shopping tips.
Keep comfort in mind.
A vacation is typically filled with early mornings and late nights, so you'll want to make sure you're wearing something comfortable that you can wear all day. Be sure to try on any dress before your trip so that you can ensure you won't be awkwardly adjusting your dress all day long.
Embrace the aesthetic.
The dress you wear on a beach in Bali may not be the same dress you'd choose for exploring Jackson Hole. Be sure to think about where you're headed to on your honeymoon so you can dress accordingly. Think bright colors and daring cutouts for a tropical vacay and soft linen and delicate prints for something more rustic. You can really lean into the aesthetic of the trip and have fun with your wardrobe.
Consider the fabric.
The climate of your honeymoon destination will inform the types of fabrics you choose to pack along. Hot climates call for breathable linen and cotton to wick away sweat while cool climates allow for heavier knits or even denim and corduroy. The fabric of the dresses you pack goes hand in hand with how comfortable you'll be. Pro tip: pack a portable steamer if you're bringing anything that you're worried will wrinkle.
Stay true to your style.
It can be intimidating thinking you have to strap on sexy stilettos and form-fitting mini dresses just for your honeymoon. Keep in mind that your spouse loves you for *you* and you don't have to change your personal style to fit into a mold of how you think you "should" dress for your honeymoon. No matter what you are wearing, confidence in yourself will always shine through.